Joliet Catholic tops the Whitlatch field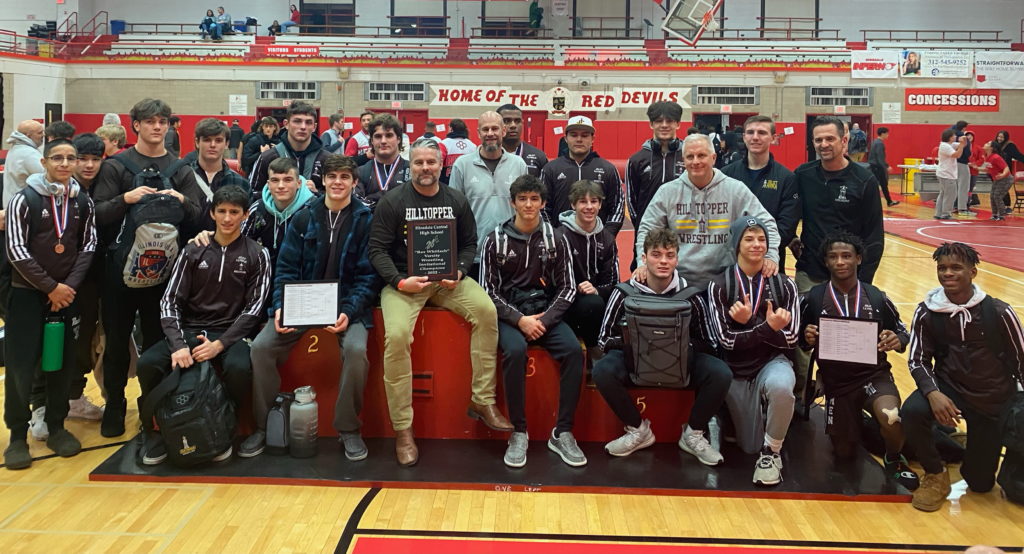 by Mike Garofola
When Ryan Cumbee arrived on the scene at Joliet Catholic Academy in 2017, the Hilltoppers' program was light years behind state power Marist when the East Suburban Catholic Conference (ESCC) tournament came to an end.


For that matter, Joliet Catholic trailed most of its opponents during that season.
However, with the help of a young, burgeoning star by the name of Dean Hamiti, the Hilltoppers program began to rise from the dead to become the 2A dual team state champion, and No. 1 in the IWCOA polls.
And on Saturday at the 56th Rex Whitlach Invitational, Joliet Catholic ran away from an impressive field to lift the championship trophy.
"We've become a real close-knit family and it shows in the way we come into the room, compete, and carry ourselves in order to build something we can all be proud of," Cumbee said. The Hilltoppers were just seven points ahead of Dekalb (76-69) after the first day of play, before exploding on Day Two to finish with 250.0 overall points.

Second-place Warren finished with 162.5 points, while Neehan, Wisconsin was third (162), followed by Sandberg (151.5) and DeKalb to round out the top five on the leader board.
"There's so much depth on our team and all of the guys — even if they're not starters right now — are all working hard," said Joliet Catholic's Gylon Sims. "It showed when Mason (Alessio), Dillan (Johnson) and myself were at the Ironman last weekend, when the team still was able to finish a real strong second at the Prospect tournament."
"I'm proud to be a part of our program. We have a great coaching staff and we're all are working to be our best each time we go out and compete," Alessio said.
Second-place Warren, with a young, talented bunch, gave head coach Brad Janocek plenty to be happy with when this long-time tournament came to an end.
"We were able to get an individual champion (Aaron Stewart, 152) and had so many of our guys contribute in so many ways with eight place-winners, and all fourteen guys earning points for us over the two days. So we're obviously very happy with our result here," Janocek said.
Visiting Neenah did well in the 24-team event, grabbing its fair share of medals, including a quartet of top-four medals to edge Sandburg for the third spot.
"It was a good overall tournament for us," Sandburg coach Clinton Polz said. "Especially from our three sophomores, who all won championships. Having those three strong sophomores (Rocco Hayes, Madden Parker, and Ryan Hinger) has all of us excited for the future.
"They are all very close friends, but also very competitive with each other, and I really believe it helps drive them to out-do the other, and hopefully this weekend was just the start."
2022 Rex Whitlatch champions:
106: Rocco Hayes, Sandburg
No. 4 Rocco Hayes would validate his lofty status in the state polls following two days of superb work on the mats, which would include his 4-1 decision over Belleville West sophomore Rocky Seibel to capture the top prize at 106 pounds.
Hayes moved his record to a spotless 17-0 with his hard-fought victory that saw the Sandburg sophomore relentlessly stay on the ankle of Seibel (17-1) near the edge, before the referee signaled a two-point take-down near the end of the first period.
"That first period takedown was big. It set the tone for the rest of the match," said Hayes, whose patience was rewarded when he executed a near-perfect reversal to extend his advantage to 4-0.
"I knew he was big and strong, so it was important to get that first take-down, then make him work because I can be tough on top as well," said Hayes, who made it tough on Seibel to get anything going offensively in the third period.
"I was a 91-pound 106-pounder last year, so I put some weight on and got a lot stronger," Hayes said. "I feel ready and more confident for this season." Hayes won 27 matches last in his rookie season last year.
"It's important for me to carry on the Hayes name at Sandburg, and to continue the success my older brothers Louis and Sammie enjoyed in our program," Hayes said.
Louis Hayes went on to become an All-American at the University of Virginia, while Sammie, sixth overall in Champaign last season, is now wrestling at Illinois.
Noah Avina (Joliet Catholic Academy, 10-4) and Tim Sebastian (18-3) finished third and fourth, respectively.
113: Madden Parker, Sandburg
In a weight class that saw the top two seeds knocked out in the semifinals, it was fourth-seeded Madden Parker who stood atop the podium at tourney's end.
The Sandberg sophomore did everything right during his two days on the mats, using a variety of results to reach his final with Zev Koransky (OPRF, 15-2). Parker dominated from start-to-finish en route to a 17-0 tech-fall (4:23) triumph to give his club the second of three titles on the day.
"I'm really lucky to have a guy like Rocco (Hayes) to go with everyday, and to be in a room that has so much talent and desire to get better every day at practice," said Parker, whose dedication and perseverance has paid off according to head coach, Clinton Polz
"Madden was actually our back-up at 106 last year," Polz said. "He was behind Rocco, and was unable to beat Ryan (Hinger) who was our 113-pounder.
"(Madden) spent a lot of time filling in for us at 120 while Sammie Hayes was on the injured list. He had to chug water bottles before weigh-ins to be heavy enough to make the minimum weight to be eligible to wrestle at 120.
"Even though he was that under-sized, he still found a lot of success along the way and helped us out a ton of times."
It was plenty of one-way traffic for Parker, who used a three-point near-fall to make it 5-0 after one period, before a reversal and another near-fall increased his advantage to 10-0, en route to his dazzling tech-fall finish.
"I did a lot of upper body work during the offseason, and just kept working on everything to get myself ready for the challenge of being (full-time) in our lineup, and making a contribution to the team," said Parker.
Jason Hampton (Joliet Catholic Academy, 11-3), who gave Parker a difficult test in the quarterfinals, would come back to earn third place over Barrington freshman Jimmy Whitaker, who is now 16-10 on the season.
120: Gylon Sims, Joliet Catholic Academy
Reigning 2A state champion Gylon Sims rolled into the 120-pound final only to find a determined Declan Koch (Neenah, 14-2), who would have loved nothing more than to send off the No. 1 man in Illinois with a loss.
It appeared that plan would not come about after Sims (13-4) went out to an early lead, only to find himself in a 7-7 contest, with Koch having all the momentum going forward.
"It's not always good for my heart, but my style of coaching lends itself to putting yourself at risk at times, and just letting the fur fly and just wrestle," began Hilltoppers head coach Ryan Cumbee.
"With Gylon, he's not afraid to wrestle free and with reckless abandon, so this was a good situation for him to be in," Cumbee said.

Sims opened the third period down and with some crafty and clever work, he recorded a three-point near-fall to build a 13-7 advantage before slowly pulling away to an eventual 15-8 victory.
"During the offseason it was all about doing a lot of work on all parts of my game, including my work on top, feet, and just improving the mentality to be as confident as I can heading into each and every match," said Sims, who used his recent experience at the Ironman as one to learn and build from.
Sims won his first three matches before running into eventual Ironman champion Luke Lilledahl from prep power Wyoming Seminary, who edged Sims by 3-0 decision.
"I didn't get the overall results I wanted but nonetheless, I learned a lot and will use that experience going forward."
Carter Mikolajczak (Lemont, 16-2), and Jose Ordonez (Warren, 16-5) finished third and fourth at 120.
126: Jase Salin, Lincoln-Way West
Jase Salin was as honest as the day is long when asked to describe his semifinal upset win over top seed, Jacob Herm (Neenah High School), who is one of the best in the state of Wisconsin in his weight class.
"I have to be truthful — it all happened so fast and so early in the match that I can hardly remember what happened," Salin said. "I I knew he was a great wrestler from Wisconsin. It was a single that carried him onto his back, I think."
Salin later claimed top honors when his finals opponent, Bobby Conway (Brother Rice) was unable to go after he sustained an injury in his previous contest.
Conway was the 2021 Whitlach champion at 120.
"I really wanted to wrestle that final, but I feel bad that (Conway) had that injury, I just hope he gets healthy real soon," said Salin, who recalled his first state appearance in Champaign last February.
"I was completely obliterated by (Loyola Academy's Massey) Odiotti in my first round match, and before I knew it I was out when I lost (to Marist's Will Denny) to end my first trip downstate," Salin said.
"I learned a lot from that experience and I've worked hard to clean things up this year, and use different shots in certain situations," Salin said. "So the plan is to get back downstate and get onto the podium."
Herm (14-2) was a Wisconsin state runner-up last season after claiming conference, regional, and sectional championships for the Rockets. He went on to third place after his major decision victory over Oak Park-River Forest freshman David Ogunsanya.
132: Ryan Hinger, Sandburg
Sandburg sophomore Ryan Hinger (18-1) dashed the hopes of a second-straight Whitlach title for Zachery Montez, handing the Geneseo sophomore his first defeat with a pin at 5:15, ending a thriller to capture the top prize at 132.
After a first period that was more like a chess match, Montez (19-1) wriggled free to claim an escape at three minutes, but then conceded the same to Montez.
Each man would trade take-downs until a crafty Hinger recorded a take-down and a pin to end this affair in style. Afterward, Hinger was quick to praise the man in charge of the Eagles program and the Sandburg coaching staff.
"Polz is amazing," Hinger said. "We have a hall of fame coaching staff that have meant so much to me. This program has a great history, and one that I'm proud to be a part of.
"I knew how tough (Montez) would be, so I just tried to stay in our game plan. When he went for a front head lock I was able to counter and put him to his back. I knew then that I could finish him off," Hinger said.
"Hayes, Parker, and Hinger are three great kids who bring our entire program up," Polz said. "They out-work everyone in the room and hold their teammates accountable."
Hinger was a Whitlatch blood-round casualty a year ago at 113 and went on to post a 28-9 season's record.
Montez entered the tournament as the No. 4 rated man in his weight class, and is coming off a 40-win season from a year ago.
Neenah senior Jayden Sheppard (17-1) beat OPRF sophomore Joseph Knackstedt (16-3) to claim third place.
138: Lorenzo Frezza, Stevenson
The hits just keep coming for Stevenson star Lorenzo Frezza, who won here for the second consecutive season following his dominating two-day performance. It ended when the No. 2-ranked man in the state beat league rival Evan Onstad (10-2) from Warren.
The Patriots senior, headed to the Ivy League (Columbia) next fall, would bookend a tech-fall in his quarterfinal contest between a pair of pins to advance into his final, where he built a 2-0 first-period lead into a 9-1 advantage after two periods on his way to a 11-3 victory.
"It's great to win a title here at a tournament like this," Frezza said. "I always go into a match looking to score a lot of takedowns, add as many points along the way, and continue to add to my lead. I just think I might have gotten a little too lazy on top in my final.

"I guess I just settled a little too much in the final period, but I'll continue to work on that when we get back in the room."

Stevenson coach Shane Cook appreciates what Frezza brings to his program.
"Lorenzo is just laser-focused on the goals he's set forth for himself," Cook said. "He's a terrific young man and one that I wish was with us another year or two."
Evan Onstad (10-2) is quite a story himself; he suffered a broken arm in middle school, then suffered a concussion, followed by a COVID year during which he played baseball as the two sports ran together in the spring two years ago.
Onstad decided just ahead of last season to wrestle, and made the most of it by claiming a regional title and just falling short at the Barrington sectional.
Jacob Lachs (Glenbard West, 20-1), and Cale Stonisch (Minooka, 3-2) finished third and fourth, respectively.
145: Cody Tavoso, Hinsdale Central
The big, wide smile on the face of Cody Tavoso meant the Hinsdale Central senior not only won on his home mats, but did so for the second consecutive season following his 6-2 decision over Luke Hamiti (Joliet Catholic Academy) in the final at 145.
"It feels real good to win here again. It's something to remember for a long time," said Tavoso (19-1) who just two days prior officially commited to wrestling next fall at Princeton University of the Ivy League.
"I dealt with a hip injury last year but it didn't stop me from finishing sixth at 132. Now the work ahead of me is to stay healthy and sharp, get downstate and atop the podium in February," says Tavoso, who's aiming to become the third wrestler in Central's program history to earn four state medals during a sensational prep career.
Former Red Devils Brian Allen and Juwan Edmond are the other two four-time medal winners, Allen reached the top in 2013 in the heavyweight division before starring in football at Michigan State, and now plays in the NFL for the Los Angeles Rams.
"Cody is the epitome of what a team leader and role model should be, in and out of the room," Red Devils coach Jason Hayes said. "He's stingy in giving away points, and he's just a tough, hard nosed competitor who is always in every one of his matches."
The No. 4 rated man at 138 needed to be as tough as possible in order to hold off Austin Martin (DeKalb) during his 4-2 semifinal victory which began with Tavoso recording a take-down in the first 10 seconds of the contest.
"That semifinal and final were tough matches," said Tavoso, who built a 6-2 advantage after two periods against Hamiti. "I thought there were near-fall points that I could have gotten, but you just work through that in order to won those close matches."
Martin (DeKalb, 14-5) finished third after his second period pin over Wilson Wright (16-5) from New Trier.
152: Aaron Stewart, Warren
There's a new man on the scene at 152 — one that many in the sport know from the off-season, and one who appears to be ready to make his mark in high school.
Warren freshman Aaron Stewart (17-1) is nowhere to be found in the current Illinois state rankings, but he put together a stunning two days of work which ended when he beat No. 2 Harrison Konder to claim what figures to be several tournament championships during his prep career.
"Despite all of the success he's enjoyed prior to coming to Warren, Aaron is a very level headed, mature, and hard working young man," Warren coach Brad Janacek said. "He comes into the room and just keeps working. He makes for a terrific presence in our room."Stewart has acclimated quickly to high school wrestling.
"I've really enjoyed being at Warren and being part of the wrestling program," Stewart said. "The biggest adjustment for me has been the level of talent that I see each time I go out and wrestle."
The Blue Devils rookie has already assembled quite a resume at the youth level. He can list national titles in folkstyle, Greco-Roman, and freestyle in the under-14 division to become the only wrestler in the country to manage the feat.
In his match with Konder, who entered the tournament undefeated in 18 matches, Stewart grabbed a late 2-0 first-period lead with a takedown. He conceded an escape to start the second period before a wild and furious flurry towards the end of the period resulted in Stewart doubling his lead (4-2) with another takedown.
Stewart ensured his victory with a super-quick takedown near the end of time.
"I've wrestled a lot of guys in middle school before this season, but you still have to come out and be smart, stay strong, stay with your plan, and wrestle hard for six minutes to be successful in high school," Stewart said.
Sophomore Dominic Serio (West Aurora, 10-1) placed third with a major decision win over Luke Swan (Downers Grove South, 14-5).
160: Mason Alessio, Joliet Catholic Academy
One of three No. 1-rated men in Illinois for Joliet Catholic, Mason Alessio has the look of a wrestler ready for a long postseason run, based on what the Hilltoppers' senior has already accomplished during the first half of the 2022-23 campaign.
Alessio pinned his way into his 160-pound final where he finished off his successful two-day effort with an impressive 13-3 victory over Noah Quintana (West Aurora, 16-2). It was Alessio's first tournament title of the season, to go with his third-place medal at the high profile Dan Gable Donnybrook two weeks ago in Coralville, Iowa.
"Mason reminds me of an old school Russian wrestler," coach Ryan Cumbee said. "His composure and emotion are both methodical and relaxed. It's been very exciting and satisfying to have seen him become such an accomplished wrestler. And he's a terrific young man."
Alessio was a 2A state runner-up last season and a key figure in the Hilltoppers' 2A dual-team state title.
"I've put in a lot work and I'll continue to do so until this season is over, but all the credit goes to a coaching staff that is second to none," Alessio said. "We're really fortunate to have them in the room every day."

Alessio (13-3) built a 9-2 lead after two periods in his finals match, and added to his lead up until the final whistle to earn his second straight Whitlatch title.
"I wanted to set the tone early on, and did that by shutting down his underhook," Alessio said. "After that it's all about adding points as the match goes on," Alessio said.

Quintana, No. 3 in 3A and a state qualifier, cruised into the finals with a pin and then a pair of major decision victories.
Stevenson senior Thomas Schoolman (19-2), was third after recording a 12-1 victory over Royce Gomez (16-6) from Warren.
170: Jon Fier, Barrington
The disappointment of falling short of joining three of his teammates in Champaign last season has stayed with Jon Fier, but the Barrington senior hopes his Whitlach title is just what the doctor ordered during his effort to earn his spot in this year's 3A state tournament.
"Things ended way too fast at sectionals last year – two quick losses, and that was it for me," said Fier, who finished 28-9 at 160 last season.
"When your season is cut short, and so quickly, it really makes you look hard at what needs to be done before your next season," Fier said. "I spent a lot of time during the offseason trying to improve everything in order to reach my goal of getting downstate.

Fier grinded out victories in his last two matches to earn the lone title for the Broncos, who finished 9th overall with 101.0 team points.
Fier opened the tournament with a pin and then a major before a 3-1 decision over state-ranked Francisco Solis (West Aurora, 13-5) sent him into his final with RJ Samuels of Downers Grove.
Once there, it took some fine defensive work from Samuels to keep things level at 2-2 heading into the third period, where an escape off the whistle gave Fier the lead for good.
"I had some really close matches today, but I stayed composed and just did my basic stuff to win them both. I've been working a lot on my footwork since the Moore-Prettyman, and today it felt like that hard work paid off."
Solis finished third ahead of Stevenson junior Richie Gueorguiev.
182: Chuck Connolly, Brother Rice
There's nothing like a little inspiration provided by a former teammate to add extra incentive, and that's exactly what Chuck Connolly used en route to his 182-pound title Saturday afternoon in Hinsdale.
The Crusaders' senior had a first hand look at the 2A state title Brother Rice's Tom Bennett earned last season, and that look helped fuel him past a quartet of opponents to earn his spot atop the podium inside the Red Devils' historic gym.
"Oh yeah, watching Bennett win his state title is something that gave all of us a lift," Connolly said. "There's no doubt that I'd like to follow in his footsteps in Champaign." Connolly is now undefeated in nine matches after his hard fought 8-3 decision over Nathan Wrublik from Lincoln-Way West.
"I'm a lot more comfortable in all parts of my game this season, and the extra work in all areas has really improved my confidence as well," added Connolly, a state qualifier a year ago at 21-13 in the 170-pound division.
Connolly, who opened with a major and then a pin to reach the semifinals, took the lead for good at 3-2 against Wrublik with an escape, before staying active enough to extend his lead to 5-2 toward the end of the second period.
A and sharp move to earn an escape after starting the third period down made it 7-3, which became 8-3 after a penalty point for stalling.
Connolly then rode out his win for the final 60 seconds of regulation.
Jovanni Piazza (Hinsdale South, 12-1) and Nate Elstner (Lincoln-Way West, 13-8) finished third and fourth overall.
195: Cooper King, Lyons Township
Cooper King gave the Lyons Township faithful some nervous moments in his 195-pound final with DeKalb senior, David Stewart, but the LT senior would find his way back before the first period ended to eventually earn a 9-4 decision.
"That's not the way to start any match, especially a final," King said. "I got caught and was in a lot of trouble. Fortunately, I stayed composed to finish strong at the end of the period to fight off a real strong opponent and get a win here. I've really wanted this for a long time."
King is the grandson of Mark King, who was named LT's head coach in 1974 and stayed in that role for 31 years. King was inducted into the IWCOA Hall of Fame in 1994, and then served as 2002 Grand Marshall at the state tournament, to go along with a laundry list of career coaching achievements.

Cooper King, who plans on playing college football with an eye on perhaps a career at DePauw University in Greencastle, Indiana, ensured his championship with a takedown, twenty seconds from time.
"Stewart was really strong but I knew if I could get the lead, then get on top and play to my strength, I could stay in control and win this thing," said King (18-1), whose well-executed three-point near fall erased an early 4-0 deficit, and sent the LT star into the second period with a 6-4 advantage.
Stewart, who survived an exciting 5-4 overtime victory in his semifinal over third-place Jeremija Hixson (Warren, 12-5), is now 16-2 overall. Anthony Sherman (Lincoln-Way West, 15-6) finished fourth.
220: Marko Ivanisevic, Hinsdale Central
Red Devils fans had one more championship to celebrate when Marko Ivanisevic finished off his 220-pound final in style with a pin at 2:29 over Joliet Catholic Academy senior Hunter Powell, claiming his second big trophy of the season, and second here in his home gym.
"It obviously feels great to win on your own mats, and for the second year in a row, but after my win at the Moore-Pettyman I mentioned how I needed to clean a few things up, and it appears there's still some cleaning up for me to do," said Ivansevic, now a perfect 19-0 on the season to further validate his No. 1 spot in the latest state rankings.
The Red Devils junior was not too happy with his his effort in his two matches prior to his terrific finish, as he noted more could have been done in order to win in a more comfortable fashion.
"My opening match was solid, but that 3-0 quarterfinal (vs. Mike Rydell, Sandburg) was a tough one, and my semifinal (Eric Schaufelberger, Neenah) was was too close for comfort," admitted Ivanisevic.
"I was too stiff and really not mentally where I need to be in those kind of close matches. But the one positive to take away is I was able to grind out victories, and when things become more important, that's something I'll need to do."
Eric Schaufelberger (Neenah, 15-3), came back to claim third place after his 4-2 win over Tim Stohl from Geneseo.
285: Dillan Johnson, Joliet Catholic Academy
The all-out attacking assault Dillan Johnson heaped upon his opponents last year saw the Joliet Central Academy heavyweight enjoy a pin frenzy that few others enjoyed in recent memory, and that frenzy continued into this season.
The reigning 2A state champion began his sensational run towards a state crown with two pins to win a league title and went on to reel off nine straight pins from regionals through the state tournament, and then another trio of falls to help the Hilltoppers secure its 2A dual-team state title.
And in those 12 post-season pins Johnson recorded, it took a mere 17:47 to finish off each and every one of his victims on his way to a 39-0 overall record.
"Dillan is just Dillan," coach Ryan Cumbee said. "He's a quiet, humble young man who doesn't say a lot about himself, but our expectation is for him is to be the most dominant heavyweight in the country. So far, he's met those expectations and I look forward to his continued success." 

Johnson posted a brilliant performance at the prestigious Walsh Jesuit Ironman last weekend in Ohio, and repeated after the big man destroyed the competition at Hinsdale Central.
Downers Grove North senior Ben Bielawski, who suffered his first loss of his season in his final with Johnson, is quite a story himself despite falling short in his bid to become a two-time Whitlach champion.
The three-time state qualifier, who was 37-6 a year ago at 182, recently would commit to playing football next fall at UW-Whitewater as a defensive lineman.
"Ben is just an amazing young man," DGN coach Chris McGrath said. "His ability, drive, work ethic, and desire have helped him reach the goals he's set forth for himself thus far, and hopefully the rest of the way."
"Ben fell one match short of placing at state two years in a row, so he's really hungry to get on the podium this year. His leadership is invaluable to the team and our program, and it's been fun watching him grow in all aspects of his life."

Bielawski, No. 7 in the IWCOA state polls, hit the weights hard in advance of the football season, and entered the current wrestling season at 230 pounds. After a few weeks to start the season, he told McGrath he would stay as a heavyweight in the Mustangs' lineup.
Alex Paquale (Lemont, 16-2), and Kenwyn Horne (Belleville West, 12-8) finished third and fourth overall.
Team Totals:
Joliet Catholic Academy 250.0, Warren Township 162.5, Neenah 162.0, Sandburg 151.5,
DeKalb 147.0, Lincoln-Way West 14