Chicagoland tournament roundup for Dec. 11th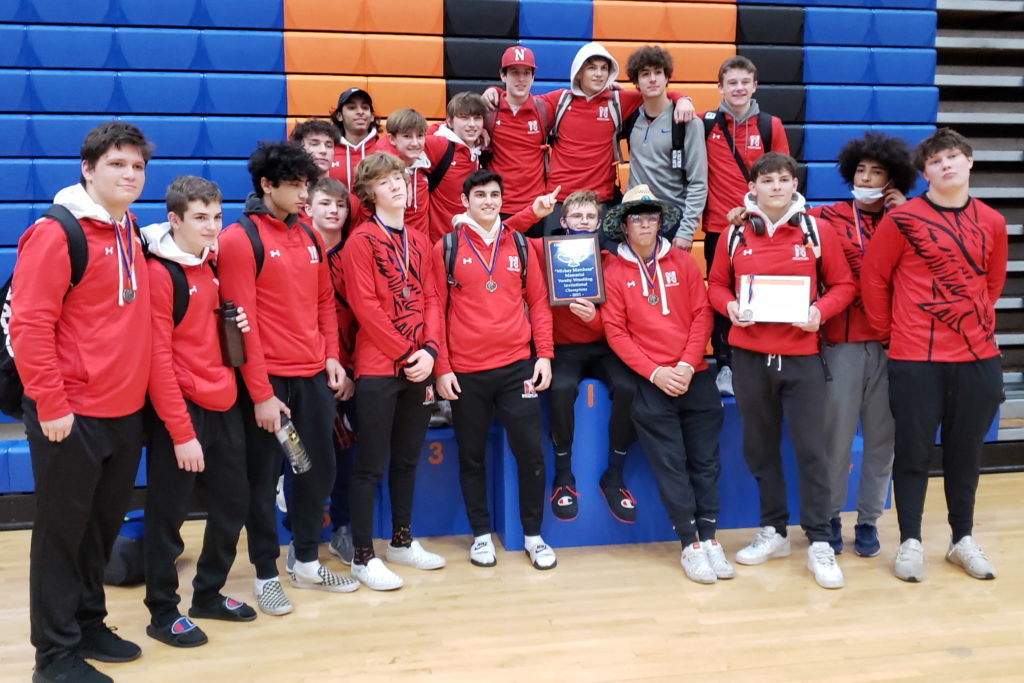 By IWCOA reports
Naperville Central wins title at Hoffman Estates' Mickey Marchese Memorial Tournament
Naperville Central had five champions and five second-place finishers on Saturday to help it easily claim the title of Hoffman Estates' Mickey Marchese Memorial Tournament with 283.5 points. Harlem placed second in the 13-team event with 141 points and Homewood-Flossmoor edged Notre Dame of Niles 115-114 for third, even though it had some of its top performers competing at the Ironman in Ohio.
Capturing titles for coach Noah Fitzenreider's Redhawks were Tyler Martin (113), Ethan Olson (120), Tommy Porter (138), Ayden Lutes (152) and David Pirozhnik (182). Taking second were Chris Bern (138), Chris Ramirez (145), Charlie Morgan (160), Niko Besterio (220) and Nick Antonietti (285).

Finishing third for Naperville Central were Mitchell Kaszuba (132),Tristen Hall (170) and Muhammad Totten (220) while placing fourth were Gavin McDonald (106) and Luke Moen (120).
Other champions were Willowbrook's Isaiah Smith (126) and Nick Mabutas (170), Notre Dame's Aodan O'Sullivan (220) and Karl Schmalz (285), Elgin's Julius Avenado (106), Harlem's Myles Babcock (132), South Elgin's Nico Clinite (145), Lane Tech's Fernando Lopez (160) and Cary-Grove's Wade Abrams (195).
Also placing second were Wheeling's Jatuthep Rattanahattakul (120) and Patrick Tinsley (126), Harlem's Justin Lewis (106) and Marshal Cunz (152), Willowbrook's Chris Giroux (113), Cary-Grove's Andrew Mohr (132), Homewood-Flossmoor's Romeo Williams (170), Hoffman Estates' Jalen Curtis (182) and South Elgin's Will Ardson (195).
Two titles matches were decided by one point while two others were settled by two points. Smith edged Tinsley 7-6 at 126 and Lopez prevailed 8-7 over Morgan at 160. Babcock claimed a 4-2 win over Mohr at 132 and Lutes was a 6-4 victor over Cunz at 152.
Winning titles by fall were Avendano (106), Olson (120), Clinite (145), Pirozhnik (182), Abrams (195) and O'Sullivan (220) while Porter (138) won by technical fall. Mabutas (170) captured a major decision and Martin (113) and Schmalz (285) also won decisions.
Also taking third place were Lane Tech's James Zavala (120), Matt Ridley (126) and Finn Merrill (145), Homewood-Flossmoor's Jermaine Butler (138), Haku Watson-Castro (182) and Rahmal Graham (195), Notre Dame's Johnny Sheehy (106) and Quinn Mahoney (160), Wheeling's Max Katz (113), Hoffman Estates' Julian Bonilla (152) and Elgin's Adam Lambaz (285).
Other fourth-place finishers were Maine West's Matt Westerlin (113), Claudio Castellanos (138) and Dilan Ramirez-Zavala (160), Harlem's Donavin Vanderheyden (126) and Ben Larsen (170), Notre Dame's Emmett Chipman (182) and Aiden Rice (195), Streamwood's Erwin Morales (145) and Richard Rodriguez (285), Willowbrook's Elijah Smith (132), Elgin's Chris Santana (152) and Lane Tech's Gustavo Diaz (220).

Lake Zurich claims top honors at Buffalo Grove's Rex Lewis Invitational
Lake Zurich had two champions, five finalists and 12 individuals in the top five to win the title at Buffalo Grove's Rex Lewis Invitational with 200 points. Elk Grove took second place with 158 while Vernon Hills had 150 for third place. Romeoville edged Schaumburg 143-141 to place fourth in the 16-team competition.
Leading the way for coach Jake Jobst's first-place Bears were champions Scott Busse (138) and Dan Hull (182) and second-place finishers Luca Poeta (106), Tomas Troutman (152) and Ethan Medina (220). Finishing in third place were Alex Kahler (113) and Matt Luby (195) while Jack Turner (285) finished fourth.

"Overall our guys competed really well," Jobst said. "We had some standout performances by Luca Poeta, Scott Busse, Dan Hull, Tomas Troutman and Ethan Medina. We have a strong core of juniors that really bring the team together. I think everyone wrestled solid and won big matches, even the wrestlers that lost early on were able to score some bonus points in the wrestlebacks and place as high as they could. Scott Busse and Dan Hull also both had dominating performances scoring bonus points in all of their matches."
Vernon Hills, Schaumburg and St. Patrick all had three champs while Elk Grove, Geneva and Morris also had one title winner apiece.
Vernon Hills' champions were Will Ludolph (160), Jake Psaras (195) and Max Acettura (285); Schaumburg got titles from Brady Phelps (106), Callen Kirchner (113) and Caden Kirchner (126) and St. Patrick's champs were Olin Walker (120), Sean Conway (132) and Gio Hernandez (170). Other title winners were Morris' Tyler Semlar (145), Geneva's Nicky O'Keefe (152) and Elk Grove's Chance Guziec (220).
Also claiming second-place finishes were Elk Grove's Grant Madl (113), Benny Schlosser (182) and Brady Tosterud (195), Grant's Sean Rogan (120) and Douglas Zimmerman (132), Romeoville's Sergio Dondiego (145) and Francisco Gonzalez (285), Buffalo Grove's Max Turner (126), Vernon Hills' Garry Gurevich (138), Geneva's Maguire Hoeksema (160) and Schaumburg's Jacob Acevedo (170).
Two of the tightest championship matches were the one at 170 where Hernandez won 5-3 over Acevedo on a tiebreaker and the one at 195 where Psaras edged Tosterud 3-2.
Capturing titles by fall were Caden Kirchner (126), Ludolph (160), Hull (182) and Acettura (285) while Conway (132) was a winner by technical fall. Callen Kirchner (113), O'Keefe (152) and Guziec (220) all claimed major decisions while Phelps (106), Walker (120), Busse (138) and Semlar (145) also won decisions.
Other third-place finishers were Romeoville's Brian Farley (106) and Mason Gougis (170), Schaumburg's Daniel Pasman (132) and Logan Meyer (160), Elk Grove's Danny Gaskil (138) and Ty Macina (182), Grant's Vinny Potempa (126) and Ivan Hernandez (285), Geneva's Dylan Schlegel (120), Buffalo Grove's Cristhian Sanchez (145), Carmel's Umar Mukhetdinov (152) and Palatine's Leonel Franco (220).
Also finishing in fourth place were Buffalo Grove's Danny Diaz (113), David Rodriguez (120), Isaac Wilson (132), Chris Chi (152) and Dilshod Sultanov (160), Larkin's Max Zamudio (170) and Hector Flores (182), Geneva's Joey Sikorsky (106) and John Schmidt (195), Romeoville's Alan Amaya (126) and Johnathan Espinoza-Luna (220), Carmel's Ethan Onan (138) and Elk Grove's Marco Avelar (145).

Wauconda captures first place at Richmond-Burton's DuBois Invite
Wauconda captured five individual titles to help it claim top honors at Richmond-Burton's DuBois Invite in Richmond with 162.5 points. Marengo (117.5) edged Hampshire (114.5) for second while Quincy (104.5) took fourth, Lake Forest (100.5) was fifth, Richmond-Burton (98.5) placed sixth and Woodstock (92.5) claimed seventh in the 16-team event.
Winning title for coach Mike Buhr's champion Bulldogs were Lucas Galdine (106), Cooper Daun (126), Cole Porten (138), Colin Husko (145) and Nick Cheshier (152) while Matthew Merevick (220) finished second and Zac Johnson (160) placed third.
Winning titles for Marengo were Ethan Struck (132) and Michael Macias (285) while Logan Miller (138) was second, Matthew Rose (126) and Eddie Solis (195) took third and Addis Robel (120) placed fourth. Hampshire was led by a second-place finish from Patryk Barnas (285) while Anthony Marlett (145), Niko Skoulikaris (152) and Dimitrios Skoulikaris (170) were third and Chris Napiorkowski (138) and Tyler Boyd (195) finished fourth.
Other champions were Quincy's Owen Uppinghouse (160) and Kayden Garrett (170), Woodstock's Caleb Sciame (120) and Gavin Loiselle (220), Richmond-Burton's Emmett Nelson (113), Lake Forest's Charlie Heydorn (182) and Johnsburg's Hayden Lucas (195).
Also claiming second-place finishes were Lake Forest's Robbert Biddle (113), Julian Olenick (120) and Seth Digby (132), Woodstock's Max Hodory (126) and Alex Iversen (152), Grayslake North's Connor Kozaneck (145), Winnebago's Lucas Cowman (170), Quincy's Bryor Newbold (182) and Genoa-Kingston's Julian Torres (195).
Four of the title matches were settled by three points or less. Cheshier beat Iversen 5-4 at 152 while Lucas prevailed 11-9 over Torres at 195. Macias claimed a 6-4 victory over Barnas at 285 while Struck won 7-4 over Digby at 132.
Galdine (106), Porten (138), Uppinghouse (160), Garrett (170), Heydorn (182) and Loiselle (220) all won by fall in their title matches while Nelson (113) and Husko (145) both won by technical falls in their finals matches. Daun claimed a major decision at 126 and Sciame won 8-1 over Olenik at 120.
Other third-place finishes were turned in by Richmond-Burton's Clay Madula (106), Dalton Youngs (120) and Brody Rudkin (132), North Boone's Gavin Ekberg (113), Winnebago's Waylon Hanke (138), Johnsburg's Kyle Rasper (182), Genoa-Kingston's Ben Younker (220) and Rockford Auburn's D'marion Love (285).
Also claiming fourth-place efforts were Winnebago's Reid Shellhorn (145) and Charley Murray (160), Grayslake North's Alex Carbaja (152) and Peter Weitgenant (170), Genoa-Kingston's Shayden McNew (106), Woodstock's Daniel Bychowski (113), Richmond-Burton's Dane Sorensen (126), Johnsburg's Landon Johnson (132), Durand's Logan Braun (182) and Quincy's Gavin Schumacher (220).

Marmion Academy wins Downers Grove South's Larry Gassen Dual Team Invite
Marmion Academy captured its second tournament championship of the season when it claimed top honors at Downers Grove South's Larry Gassen Dual Team Invite, which featured 16 teams. It opened the season by capturing the title at Barrington's Moore-Prettyman Tournament.
Coach Nathan Fitzenreider's Cadets, who are ranked fifth in the IWCOA rankings for Class 3A, defeated Barrington 65-16 in the championship dual after winning 55-12 in the semifinals over the host Mustangs, who beat Lincoln-Way West 42-22 to finish third.
Marmion only lost four matches on the mats in its pool victories over Oak Forest, Wheaton Warrenville South and Crystal Lake Central, with all of those coming in a 44-27 victory over Crystal Lake South.
Posting perfect marks for the Cadets for the day were Donny Pigoni (106), Jameson Garcia (113), Tyler Aters (120), Santino Scolaro (138), Kenny Siwicki (160), Tyler Perry (170), Jack Lesher (182) and Sean Scheck (220).
After beating Coal City 44-28 as well as Maine South and Warren in their pool, the runner-up Broncos won 38-30 over Lincoln-Way West in the semifinals before falling to Marmion for the title. Brian Beers (126), Chuck Jones (132) and Zach Meyer (195) were undefeated for Barrington.
The host Mustangs beat rival Downers Grove South 42-24 as well as Bartlett and Belleville West in their pool before falling to Marmion in the semifinals and defeating Lincoln-Way West for third place. RJ Samuels (160) won all his matches for Downers Grove South.
Lincoln-Way West got past Plainfield North 38-33 and also beat Crystal Lake South and Glenwood in its pool before falling to Barrington 38-30 in the semifinals and then to Downers Grove South for third. Jase Salin (120) and Michael Sneed (220) were unbeaten for the Warriors.
Plainfield North took fifth after going 2-1 in its pool with wins over Crystal Lake South and Glenwood and a 38-33 setback to Lincoln-Way West. After capturing a 49-27 victory over Coal City, the Tigers capped their 4-1 day with a 48-18 win over Downers Grove North. Jared Gumila (170) and Jacob Macatangay (132) both went 5-0 with the latter getting the most pins in the least amount of time.
Downers Grove North took sixth after beating Bartlett and Belleville West and falling to rival Downers Grove South 42-24 in its pool. After claiming a 38-27 win over Crystal Lake Central, the Trojans lost 48-18 to Plainfield North. Harrison Konder (145), Ben Bielawski (182) and Jordan Lewis (285) all went 5-0 for their team.
Crystal Lake Central took seventh after beating Oak Forest and Wheaton Warrenville South and falling to champion Marmion in its pool. The Tigers bounced back from a 38-27 loss to Downers Grove North with a 49-30 victory over Coal City. Dillon Carlson (152) went 5-0 for Crystal Lake Central while Brant Widlowski (120) did the same for the Coalers.