Downstate tournament roundup for Dec. 11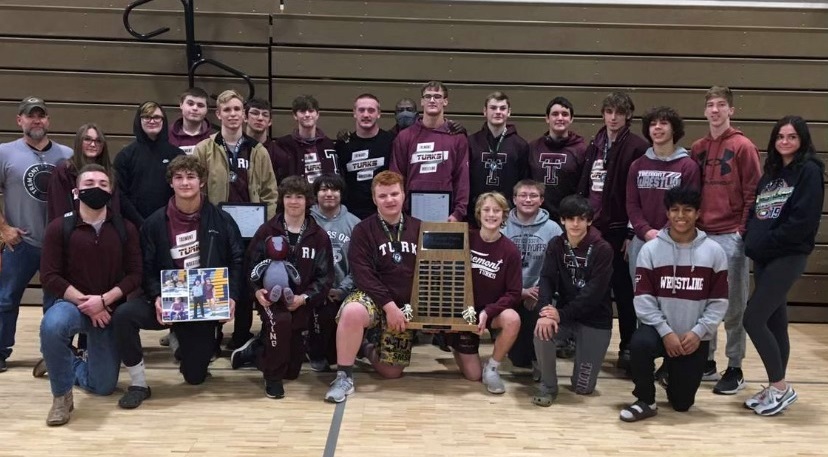 By Curt Herron
For the IWCOA
Tremont rolls at PORTA Rex Avery Invite
Tremont scored 240.5 points which helped it to easily capture top honors in Saturday's Rex Avery PORTA Invite, which was held in Petersburg. Canton edged Auburn 157.5-157 for second place while Kewanee (126), Shelbyville (119), Lincoln (116.5), Knoxville (109), Cumberland/Newton (107.5), Ridgeview/Lexington (101) and PORTA/A-C Central/Greenview/Havana (99.5) rounded out the top 10.
The Turks, who were third in Class 1A in Rob Sherrill's IWCOA rankings, are coached by 2006 IWCOA Hall of Famer TJ Williams, who won four IHSA titles at Mount Carmel and only lost once and won two NCAA titles at the University of Iowa. His team had two champions and two second-place finishers and had seven other individuals who placed sixth or better in the 25-team competition.
Winning titles for Tremont were Levi Leitner (152) and Cooper Wendling (195) while Lucas Wendling (170) and John Rathbun (220) both placed second. Finishing in third place for the Turks were Chase Stedman (113), Mason Mark (132) and Logan Stedman (160) and placing fourth was Luke Sauder (285).
Champions for Canton were Trenton Hedges (126), Joseph Norton (170) and Weston Swise (285) while Danny Murphy (182) placed fourth. Winning titles for Auburn were Anthony Ruzic (113) and Dresden Grimm (132) while Colby Willhite (138) finished second and Skylar Fay (182) and Cole Edie (285) both took third place.
Also capturing championships were Cumberland/Newton's Hank Warfel (106), St. Joseph-Ogden's Holden Brazelton (120), Lincoln's Kaden Osland (138), Carlinville's Jack Schwartz (145), Knoxville's Hunter Fox (160), Sacred Heart-Griffin's Cory West (182) and Ridgeview/Lexington's Evan Antonio (220).
Other second-place finishers were Shelbyville's Calvin Miller (120) and Kaz Fox (132), Cumberland/Newton's Colby Ryan (195) and Noah Carl (285). Litchfield/Mt. Olive's Alex Powell (106), Farmington's Keygan Jennings (113), Ridgeview/Lexington's Payton Campbell (126), Lincoln's Isaac Decker (145), PORTA/A-C Central/Greenview/Havana's Brayden Barner (152), Deer Creek-Mackinaw's Gage Sweckard (160) and Warrensburg-Latham/Mt. Pulaski's Austin Stock (182).
In the closest title matches, Warfel edged Powell 8-6 at 106, Brazelton won 3-1 in sudden victory over Miller at 120, Schwartz claimed a 7-5 victory over Decker at 145 and Norton prevailed 4-3 over Lucas Wendling at 170. Ruzic (113), Hedges (126), Grimm (132), Osland (138), Leitner (152), West (182) and Swise (285) all recorded falls in their title matches while Cooper Wendling claimed a major decision at 195, Fox won 8-1 over Sweckard at 160 and Antonio captured a 7-1 win over Rathbun at 220.

Other third-place finishers were Kewanee's Hayden Davis (126), Kadin Rednour (152) and Nathaniel Lockett (195), Mt. Zion's Mason Gray (106), Ridgeview/Lexington's Braydon Campbell (120), Beardstown's Jonny Marquez (138), Shelbyville's Will Fox (145), Cumberland/Newton's Iysten Syfert (170) and Hillsboro's Magnus Wells (220).
Also finishing fourth were Mt. Zion's Bradley Wilson (120), Lawrence Trimble (160) and Remington Hiser (220), Monmouth-Roseville's Dayanna Ortiz-Mora (106), Ridgeview/Lexington's Anthony Wolinsky (113), Knoxville's Gage Fox (126), Kewanee's Will Taylor (132), PORTA/A-C Central/Greenview/Havana's Vance Witherall (138), Monticello's Jaxon Trent (145), Lincoln's Colbie Glenn (152), Pittsfield/Pleasant Hill's Mason Davis (170) and Sacred Heart-Griffin's Jack Ludolph (195).

Marion captures third-straight title in own Wildcat Duals
Host Marion won all five of its dual meets to capture its third-consecutive championship in its own Wildcats Duals Tournament on Saturday.

Coach Darren Lindsey's Wildcats entered as the second-seed and proceeded to defeat the other seeded teams in the final three rounds, beating third-seed Kennett of Missouri 60-20, fourth-seed Carbondale 60-15 and top-seed Waterloo 54-29 in the finale.
Marion got outright first place finishes from Tate Miller (126), Ricky Wade (132) and Nate Dampier (152) while Malakei Weatherly (182) and Garrett Berendson (285) both shared titles. Earning outright seconds were Brennan Vogt (113) and Aden White (160) while Hunter Gibb (138) tied for second. And the hosts got third-place finishes from Caleb Ohnesorge (170) and Levi Tanner (220).
Waterloo, which was surprised by Carmi-White County 42-39 in its first dual, needed a win in the final dual to try to force a three-way tie with Marion and Carmi-White County. But the Wildcats won five of the first six matches to take a 30-5 lead and after Waterloo got a fall, Marion responded with two pins of its own to go up 42-11 to end the drama.
Carmi-White County only lost one dual meet, its second of the day, when it fell 48-30 to Carbondale. But the Bulldogs bounced back with decisive victories over Carlyle, Sparta and Red Bud/Valmeyer 54-15 in its final dual to earn second-place honors.
Matt Wilson (113) won an outright title for Carmi-White County while Isaac King (182) and Titus Wood (285) tied for first place. Noah Pollard (132) and Gavin Payton (220) both had outright seconds while Trent Belford (138) and Nelson Rider (195) tied for second and Caleb Siebers (152) finished third.
Waterloo responded to its early loss with three-straight wins, edging Carbondale 34-33 and beating Kennett 50-30 to set up its dual with Marion.
Claiming outright titles for Waterloo were Gavin Hearren (120) and Jordan Sommers (220) while Ty Kinzinger (106), Adron Winget (145) and Brandon Lloyd (170) all tied for first place.
Carbondale beat Kennett 30-27 to join Waterloo with 3-2 records but took fourth place as a result of their one-point loss. Kennett and Red Bud/Valmeyer both went 2-3 and Carlyle also won one dual.
Capturing outright titles for the Terriers were Aiden Murphy (138), Isaiah Duckworth (160) and Aiden Taylor (195). Brendon Banz (152) took second and Gabriel Roman (120) and Ryan Hawk (182) had outright thirds while Aaron Johnson (126) tied for third place.
Red Bud/Valmeyer had two individuals who shared honors with Mitch Fleming (145) tying for first-place and Zack Manning (126) tying for third.
Carlyle's Tyson Waughtel (106) and Owen Birkner (170) both shared first-place while Sparta's Cody Martin (160) took third place.

Riverdale top Illinois team in own Jim Boyd Invite
The three Iowa teams that competed at Riverdale's Jim Boyd Invite in Port Byron took the top three sports in the 10-team competition. Pleasant Valley won the title with 241 points while Wilton took second with 196 and Davenport North was third with 154 points. The top three squads also captured eight of the individual titles.
Leading the way for the seven Illinois teams that participated were the host Rams taking fourth with 143.5 points while Sterling (128) edged Sherrard (123) for fifth. Riverdale had four individual champions, which was tied for the high mark along with Pleasant Valley.
Winning championships for Illinois schools were Riverdale's Brock Smith (132), Blake Smith (138), Zach Bradley (152) and Alex Watson (160), Sterling's Drew Kested (145) and Sherrard's Ryder Roelf (170). Finishing in second place were Riverdale's Kolton Kruse (126) and Eli Hinde (145), Mercer County's Ethan Monson (120), Seneca's Asher Hamby (152) and Sterling's Thomas Tate (160).
In the closest title matches for Illinois athletes, Blake Smith prevailed 12-11 over Wilton's Owen Milder at 138, Kested won 7-1 over Hinde at 145, Bradley captured an 11-8 win over Hamby at 152 and Monson lost 7-2 to Wilton's Jordan Dusenberry at 120. Recording falls in championship matches were Watson over Tate at 160, Brock Smith at 132 and Roelf at 170 while Kruse was pinned at 126.
Claiming third place were Sterling's Dylan Ottens (132), Isaiah Mendoza (152), Joey Cordell (170), Diego Leal (220) and Alejandro Arellano (285), Sherrard's Pierce Findlay (113), Austin Fratzke (138) and Walker Anderson (195) and Seneca's Kyler Hahn (106) and Jaden Casey (126).
Finishing fourth were Sherrard's Jayden Thomsen (132), Cyrus Hoke (152) and Dylan Russell (160), Seneca's Owen Feiner (145) and Chris Peura (195), St. Bede's Jake Migliorini (170), Mercer County's Bodie Salmon (182) and Polo's Blake Diehl (220).