Class 2A Individual State Finals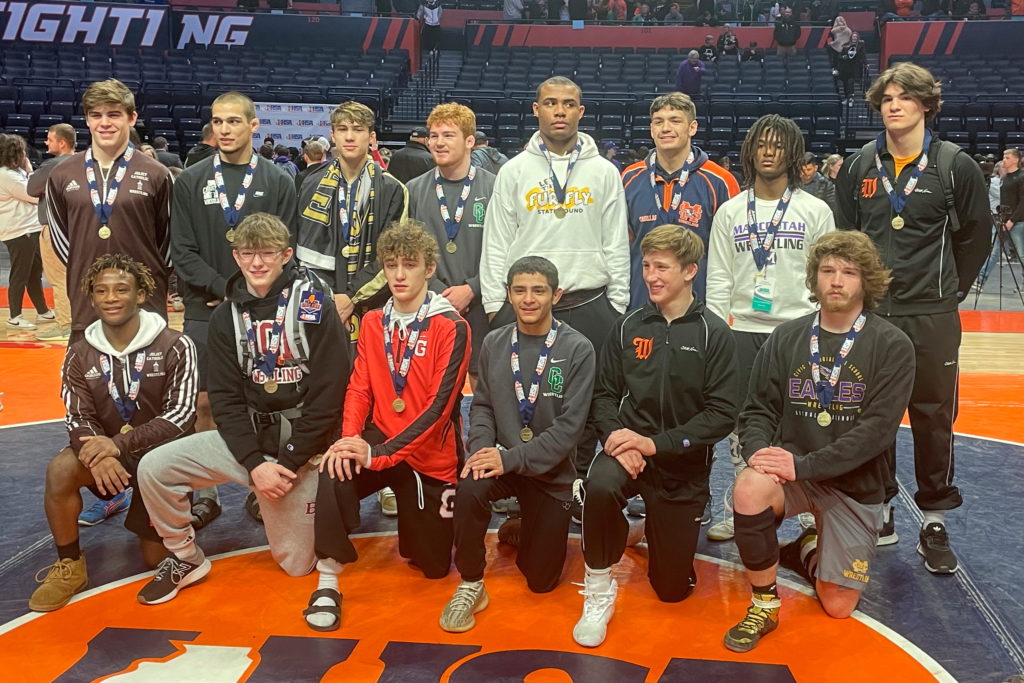 By Patrick Z. McGavin
CHAMPAIGN – Everything old proved new again—with some delirious twists and turns.
Redemption was the ruling metaphor of the Class 2A State Championships at State Farm Arena here Saturday night.
By one measure, the dominant teams took hold on Mat 2–Joliet Catholic with five finalists, Washington four, and Aurora Christian three.
The most satisfying story was the possibility of the comeback.
Four wrestlers had a year to imagine and ponder a different scenario than what befell them last year—the heartbreak of losing a state championship match.
If the best teams invariably produce the best wrestlers, success begets deeper levels of accomplishment. The best wrestlers tend to come back—again and again.
"Illinois is one of the best states in the country for wrestlers," said Washington senior Kannon Webster, a three-time state champion.
"It is not a shocker that kids are coming back year after year, and putting themselves in the finals, and putting themselves on the top of the podium."
The rankings refer to Rob Sherill's Illinois Matmen standings. Seeds refer to the IHSA points-based system.
Here is a closer look at how the state championship matches played out.
Class 2A state champions
106: Anthony Alanis, Grayslake Central, junior
The rivalry of Anthony Alanis and Gavin Rockey constitutes its own narrative.
Their paths have been inescapably intertwined throughout the state series—clashing in successive weeks in the regional, sectional and fittingly, the largest stage.
Alanis seized the early advantage with two first period takedowns and withstood the rally of Rockey for the tense and superbly contested 8-6 final.
Alanis (44-1) reached his dream of ascending one level higher at the state podium after he lost to Drew Davis of Glenwood in the 106-pound state championship match last year.
His only loss came against Antioch sophomore Gavin Hanrahan at 113 pounds.
"A big difference from last year is that I was definitely not as nervous," Alanis said. "I have been in this environment before, and I have been on this mat before.
"I felt more comfortable."
Scoring first is also a great psychological advantage.
"Compared with our other matches, I think personally what was different was that I already knew what I wanted at the beginning of the match," Alanis said. "I knew I was going to go as hard as I could for six minutes, and I wasn't going to let up at any point in the match."
He was dominant through the early stages of the tournament, posting a first period fall and technical fall en route to the upper bracket championship.
As a runner-up in the regional and sectional, Rockey (29-6) had a more contested path. He also posted a first period fall and a decisive quarterfinal victory.
Four of his defeats came against Alanis.
As riveting as the title match proved, it was eclipsed to some extent by the history making effort of Bremen freshman Morgan Turner.
She became the first female wrestler in state history to capture a medal by defeating Civic Memorial sophomore Bradley Ruckman 4-2 in the third-place match.
Turner (35-3) eschewed a chance to capture a girls state championship. She took Alanis to the brink in the semifinal before falling 3-0.
"It feels great," Turner said. "Along the journey, I felt like I could have done better. I just wanted a bigger challenge of going up against the boys as a way of really raising the bar."
Freshman Harrison Dea of Morton (Ill.) captured fifth place with the 10-4 decision over junior Ivan Munoz of Ottawa.
113: Drew Davis, Glenwood, junior
Any defending state champion has a natural aura. They also have a massive target on their back, the one everybody wants to take down.
Drew Davis survived the odds, and punched his return ticket with the hard fought and deeply satisfying 3-2 victory over Wauconda freshman Nate Randle.
Davis is angular and rangy, and blessed with superb technique and explosive athleticism.
He posted back to back technical falls to begin his title defense. He ended the perfect run of Montini junior Ben Dunne with the 8-1 victory in the semifinals.
Randle (31-9) achieved something almost unprecedented—he finished higher at the individual state meet than the sectional, where he was third behind Dunne and Hanrahan.
Randle improved with each match, showing toughness, verve and natural instincts.
He gave Davis everything he wanted, using his power and speed to throw off the lightning forays of Davis.
Scoreless at the start of the second period, Davis finally created some breathing space with an escape and takedown.
Randle stayed tight and restless, showing burst and energy.
Sophomore Deven Casey of Aurora Christian captured his second consecutive third place trophy with the 3-1 victory over Joliet Catholic freshman Jason Hampton.
Casey (40-8) seized control with a second period takedown.
Hampton (39-10) edged Dunne 4-3 in the semifinal wrestleback. Rock Island junior Truth Vesey earned fifth place with the medical forfeit over Dunne (18-3)
120: Gylon Sims, Joliet Catholic, senior
As a freshman, Gylon Sims made a surprise run to the state championship at 106 pounds.
He made it a habit.
A four-time state finalist, Sims put the finishing touches on his stunning individual career with the 5-3 sudden victory over Aurora Christian sophomore Josh Vazquez.
Sims (41-6) created the high-wire drama with an escape with about 18 seconds remaining in regulation.
Vazquez (26-7) proved a skilled and creative adversary in his own right.
The two wrestled earlier this year, with Sims pulling out the 3-2 victory. Vazquez had several benchmark wins, most significantly a victory over Class 3A state champion Massey Odiotti of Loyola.
Vazquez appeared in the driver's seat after his takedown put him up 3-2 late in the third period.
"I think my biggest motivation was this was my last year, and I knew I could not go out like that," Sims said. "He was fighting hard not to give up any points, and obviously I had the same mentality."
Given new life with the late escape, Sims took control in the extra time, getting the jump on Vazquez.
"I lost in the finals as a freshman, but I wasn't really expecting to make it," Sims said. "Once I did, I remember telling myself I never wanted to miss out on that experience.
"I made sure I made that march every year."
Bremen senior Nore' Turner fell just short of matching the achievement of his younger sister.
Senior Tyler Evans of Prairie Ridge secured the 5-2 victory in the third-place match. Evans finished 42-5.
Nore' Turner posted a final record of 33-5.
In the fifth-place match, Rock Island junior Daniel McGhee (27-7) pulled out the 7-6 decision over freshman Kameron Luif (36-12) of Montini.
126: Bobby Conway, Brother Rice, sophomore
Bobby Conway packed three or four different matches into one berserk and helter skelter action.
The results proved revealing, spectacular, and intensely dramatic.
Facing undefeated defending state champion Colby Crouch of Triad, Conway staged two amazing comebacks at the start of the first period and the second period, went up and then fell behind.
He nearly pinned Crouch twice only to lose his balance and get reversed. A stunning combined 28 points were scored until Crouch suffered an injury.
Conway was declared the winner by injury default when Crouch was unable to complete the match.
"I just kept pushing forward," Conway said. "In that situation, the moment you stop it's over. Confidence is everything.
"You come into any match just thinking you're not losing. When I was in that tunnel, I didn't see myself losing. I couldn't see the possibility of losing. I had great energy, and I was confident. Even if he put me on my back, I was confident I would win."
Crouch (31-1) led 4-0 early in the first period and 9-4 at the start of the second period.
Conway was unbowed, twice scoring back points, yielding three times and four lead changes.
Crouch had gone up 15-13 late in the second period at the time of the injury.
Conway (23-1) overcame a stained knee injury during the season, becoming the second Brother RIce state champion in consecutive years.
Wiry and long, Conway utilized his superior length to throw off Crouch to catch him twice on his back.
"When he got me right off the bat, if I had not been long enough, he might have put me on my back," Conway said. "I might have gotten stuck.
"It's a good thing I am long enough."
Ranked No. 6, Conway suffered his only loss against Loyola state champion Massey Odiotti.
Conway edged No. 5 Jordan Rasof, the tournament second-seed, in the semifinals.
Crouch had two first period falls en route to the upper bracket title.
In the third-place match, Washington freshman Wyatt Medlin registered a 20-5 technical fall over junior Tyler Weidman (40-13) of Grayslake Central.
Medlin gave Crouch his toughest match in the lead up to the final before falling in the competitive 10-5 decision during the semifinals.
In the fifth-place match, Caleb Scott (39-12) of Civic Memorial outlasted Rasof (44-8) with the 4-2 ultimate tie breaker decision.
132: Santino Robinson, Mascoutah, senior
Santino Robinson played out the most satisfying outcome in his mind.
Then he realized it.
Robinson has crossed borders to arrive at this point. A two-time state finalist in Missouri, he completed his magic run.
Robinson (41-0) completed his perfect season with the 4-2 tiebreaker over Washington sophomore Peyton Cox.
The mesmerizing showdown felt preordained given the two were ranked 1-2 throughout the season.
Cox (44-3) suffered his second consecutive heartbreaking state finals loss, having dropped the 120-pound title against Crouch last year.
After a scoreless first period, the two alternated escapes, setting up the dramatic conclusion.
"I knew that if I was able to take him down, I was going to win the match," Robinson said. "That was my whole thinking, I just had to get the takedown."
The clash of styles made the match all the more bracing and illuminating, with Robinson holding the advantage in quickness and athleticism, Cox carrying out the edge in power and strength.
Robinson deployed his speed and quickness to maneuver out of potentially dangerous moments.
His superior quickness finally broke Cox down, his escape and takedown turning the tide.
"I got in on his legs a couple of times, but I was not able to finish it," Robinson said. "I knew eventually I was going to be able to finish one if I kept firing."
Sophomore Zachary Montez of Geneseo earned the impressive 8-6 victory over junior Edgar Albino of Antioch to capture third place. 
Montez (48-3) won four consecutive matches after a tough quarterfinal loss against Robinson. Albino (34-5) defeated Normal West junior Evan Willock in the semifinal wrestleback.
In the fifth-place match, Oak Forest senior Caden Musselm (35-5) posted the second period fall of Willock (39-7).
138: Gauge Shipp, Galesburg, junior
If ever the name fit the athlete, Gauge Shipp proved the moment prophetic.
He was the athlete everybody else in his field was ultimately measured against.
He proved himself a performer without peer.
Shipp hit multiple milestones as an undefeated champion who reached the 50-win threshold with his 15-0 technical fall of Joliet Catholic senior Jake Hamiti.
He made quite the leap, jumping up three weight classes after he finished sixth at 120 pounds last year.
Ranked No. 8, Shipp (50-0) overpowered Hamiti in the championship with his impressive command of speed, power, and technical prowess.
He punctuated one of the lopsided runs in the tournament with a fall, technical fall and major decision.
"I came in every day this season, and I worked on just getting better," Shipp said. "I never plateaued. I am always working.
"There is a certain thing in my brain that I just unlocked this year. I just feel like every time I am out there, I am the best wrestler. I am completely confident in myself, and my abilities."
Ranked No. 3, Hamiti edged Patrick Mullen of Aurora Christian in the quarterfinal and followed with a decisive victory over top-ranked Anthony Streib of Antioch in the semifinal.
Shipp was at a different level, ultimately untouchable.
Streib (27-4) recovered from his semifinal loss to Hamiti with the 8-2 decision over senior Sammy Schuit (33-10) of Lemont in earning third-place distinction.
In the fifth-place match, Dylan Watts (34-8) of Bloomington edged sophomore Ben Capitosti of Mattoon (43-10).
145: Kannon Webster, Washington, senior
The pound for pound question is a natural and highly entertaining one to ponder.
With the three state championship classes unfolding simultaneously, the kaleidoscopic view allows one to entertain all possibilities.
Kannon Webster certainly belongs at the top of any order, and very much in the discussion for the best wrestler in the state, regardless of class or weight.
Webster decimated the field for the third time in his career. He was the closest the class had to a fait accompli—meaning an outcome that was already decided.
Webster captured his second consecutive state title and the third of his illustrious career with the 18-8 major decision over Bryce Griffin of Civic Memorial.
Webster (50-0) won at 106 pounds as a freshman and defeated Santino Robinson last year at 132 pounds.
His breathless pace and relentless speed allowed Griffin little time to breathe.
He posted three falls during the preliminary bouts to capture the upper bracket.
"I am just going to go out there, and just compete the same every time and score as many points as possible," Webster said.
"I like to be the one who sets an example with my leadership qualities, for the rest of the team and be the one that kids look up to. I hope they take something away from my wrestling."
Ranked No. 2, Griffin (48-5) edged second-seeded and No. 3 Caleb Nobiling of Antioch 6-5 in the semifinals.
Nobiling (38-9) captured third place recognition with the 5-3 decision over junior Aidan Blackburn of Mattoon.
Blackburn (41-8) also qualified for the top bracket semifinal.
In the fifth-place match, Nolan Mrozowski (42-11) earned the major decision over senior Josyah Holland (25-8) of Crete-Monee.
152: Taythan Silva, Aurora Christian, senior
Taythan Silva had a different memory of a year ago.
After losing in the fifth-place consolation semifinal, he realized he had nothing tangible to show for his efforts.
"Every practice this year, I realized I didn't really do anything last year, and I had to keep going," he said.
Silva made a grand statement with his riveting 1-0 victory over Montini junior David Mayora in the championship match.
He secured his escape in the second period and then used his quickness, speed and power to subdue Mayora in the final period.
"We wrestled in freestyle last spring, and we have also wrestled before when we were younger," Silva said. "We have known each other, and we know how each other wrestles.
"It was about trying to wear him down, and see who was going to score."
Silva (39-7) gave Aurora Christian another state champion, a hallmark for the new powerhouse.
The top-seed and top-ranked Mayora (47-3) won by technical fall, decision and major decision in reaching the championship.
In the third-place match, Sycamore's Gus Cambier posted the second period fall of Joliet Catholic's Connor Cumbee.
Glenwood's Aden Byal defeated Collin Reif of Jacksonville by major decision in finishing fifth.
160: Mason Alessio, Joliet Catholic, senior
Motivation takes on many forms and permutations.
Of the multiple state finalists who came up just short a year earlier, Mason Alessio of Joliet Catholic accomplished what nobody else could claim.
He eviscerated the sting of that memory.
Alessio punctuated a dominant run with a first period fall of Dunlap junior Nick Mueller.
Alessio (43-3) lost only once in state, against Lockport state finalist Logan Swaw.
He also wiped clean the memory of his loss against Jayden Colon in the 145-pound state championship last year.
Colon transferred from Montini to St. Charles East, and stunned previously unbeaten Noah Tapia of Moline to win the Class 3A 145-pound state championship.
In registering the only state finals fall in Class 2A, Alessio completed another extra piece of the equation.
He did not concede a point during the state series run, massing a 31-0 cumulative score in his preliminary results.
Mueller (43-8) was overpowered in the championship match. His tournament run was impressive, with a major decision in the quarterfinals and a sharp performance in the semifinals.
In the third-place match, Sycamore's Zack Crawford stormed back from his quarterfinal defeat against Montini's Will Prater to win four consecutive matches.
In the third-place match, Crawford (43-2) defeated Zane Hulet of Washington by major decision.
Hulet (29-15) defeated Prater (42-8) by medical forfeit in the wrestleback semifinal.
Ben Butler (38-13) of Crystal Lake Central also defeated Prater by medical forfeit in the fifth-place match.
170: Abe Wojcikiewicz, Civic Memorial, senior
Events come at you fast, no matter the circumstances.
A year ago, Abe Wojcikiewicz was sailing toward an apparent undefeated state run until he was stunned in the semifinals.
It was the ultimate wake up call. At state, anything is possible.
Wojcikiewicz removed any questions or doubt about his follow up action with a dominant 17-5 major over Washington senior Blake Hinrichsen.
Wojcikiewicz (47-2) registered two victories by technical fall and a first period fall in the semifinals.
"That is going to weigh on anybody who experiences that, and my whole mentality this year has just been to dominate people," Wojcikiewicz said
Hinrichsen (41-7) was also masterful in the run up to the state final. In one of the best matches of the tournament, he edged Aiden Cohen of Deerfield 12-10 in the semifinals.
In the third-place match, Cohen (47-5) ended his remarkable individual career with the 10-2 major over Crystal Lake South sophomore Cayden Parks (40-8).
Amare Overton of Rock Island captured fifth place with the first period fall of Brenden Benz of Carbondale.
182: Matty Jens, Grayslake Central, junior
Second place was not an option.
Matty Jens had a year to mull over the circumstances of his 5-3 loss in the championship last year against rival Shane Moran of Crystal Lake South.
Funny enough, Moran saw the future a year ago, acknowledging that Jens was just a sophomore.
"He still has two more years."
Jens actually led Moran 3-0 in that championship match.
Cognizant of that, he never let up against Joliet Catholic sophomore Nico Ronchetti.
He posted two first period takedowns in the 9-1 major decision.
"I think the early takedowns were not a surprise," he said. "They were just a part of the game plan. I think I was in control the whole time, and he was kind of broke early."
Like his teammate Anthony Alanis, Jens had to work through the extreme disappointment of coming so close.
Jens did not have to worry about a long wait. The three state championship matches began at his weight.
He did not have to mull over his options.
"It was definitely weird being the first match up," he said. "I have never had to do that before. I even asked Anthony what I should do.
"It definitely gave me less time to think, and I was just ready to wrestle.
Jens (32-0) is now 79-3 his last two years of wrestling.
He posted two falls and a 7-4 decision against Steven Marquez of Rock Island in the semifinals.
He had a private bond with Alanis through their shared experiences, and now joint state titles.
"We always brought up last year's final with each other, and we would always push each other and use that as fuel in everything we did," Jens said.
Ronchetti (32-17) was one of the wild cards of the finals, a literally out of nowhere sophomore who stunned top-seeded Brennan Houser of Mahomet-Seymour 7-6 in the semifinals.
His magic ran out against Jens.
Marquez edged Phil Shaw IV of Danville 7-5 in the third-place match.
In defeating Koen Rodebush of Triad by technical fall in the fifth-place match, Houser achieved a special distinction of a 50-win season
220: Justin Hoffer, Washington, senior
In the toughest, deepest draw in the class, Justin Hoffer was the last man standing.
Ranked No. 3, he took out top-ranked Connor Lorden of LaSalle-Peru 5-2 for the championship.
His speed and athleticism was the difference maker, yielding takedowns in the second and third period.
Justin Hoffer (43-1) won by technical fall in the quarterfinals, and edged No. 2 and top seed Jack Barnhart 6-4 in the semifinal.
The top-ranked Lorden edged previously unbeaten Alex Jackson (35-2) of Bremen in the quarterfinals, and beat Alex Hamrick of Glenwood in the semifinals.
In the third-place match, Hamrick (46-5) subdued Jackson 4-3. He previously had two top-five finishes at 285 pounds.
Leo Meyer (47-7) of Mattoon captured fifth place by medical forfeit of Barnhart.
285: Dillan Johnson, Joliet Catholic, junior
Watching the deep curved ceilings of the State Farm Arena is the typical fate of anybody who goes up against Dillan Johnson.
The defending state champion needed less than two and a half minutes of time to post two falls.
Aurora Christian senior Braden Hunter made Johnson work.
In the end, Johnson reigned supreme, staking his claim to being the best in the country.
Hunter used his explosive combination of power and speed to register four takedowns in the 8-2 victory.
Johnson (43-0) has not conceded a takedown. He posted falls of Class 3A finalists Ben Bielawski and Jonathan Rulo.
"I don't really focus too much on the rankings or things like that," Johnson said. "The one thing it does is motivate me to just keep working hard.
"It's a difficult task sometimes, but my dad helps me out a lot with that."
In the first period, Johnson got in tight on Hunter with a single leg. Hunter used his superior height and weight to offset the action.
Eventually Johnson was just too quick and powerful.
"I just focus on what I am going to do, and what my takedowns are," he said.
Despite the loss, Hunter (12-1) made a remarkable recovery just to get to this point. He suffered a torn meniscus last fall playing football.
He also dealt with complications of the flu on Friday. He soldiered on.
"The final didn't really go the way I wanted, but I will take what I can get with the month that I had," Hunter said.
Third is the second charm for Notre Dame's Karl Schmalz (34-3), who ended his standout career with his second consecutive third-place state finish with his 4-2 comeback victory over Andy Burburijia of Crystal Lake South.
"I didn't wrestle well enough against Braden Hunter, and I wanted to come back strong," Schmalz said.
The third-place match was a repeat of the title match of the Illini Classic that Schmalz won in sudden victory.
A junior Burburijia finished the season 33-5.
In the fifth-place match, Lincoln Cooley of Sycamore defeated Max Accettura of Vernon Hills by ultimate tiebreaker 2-1.