Class 3A State Champions stories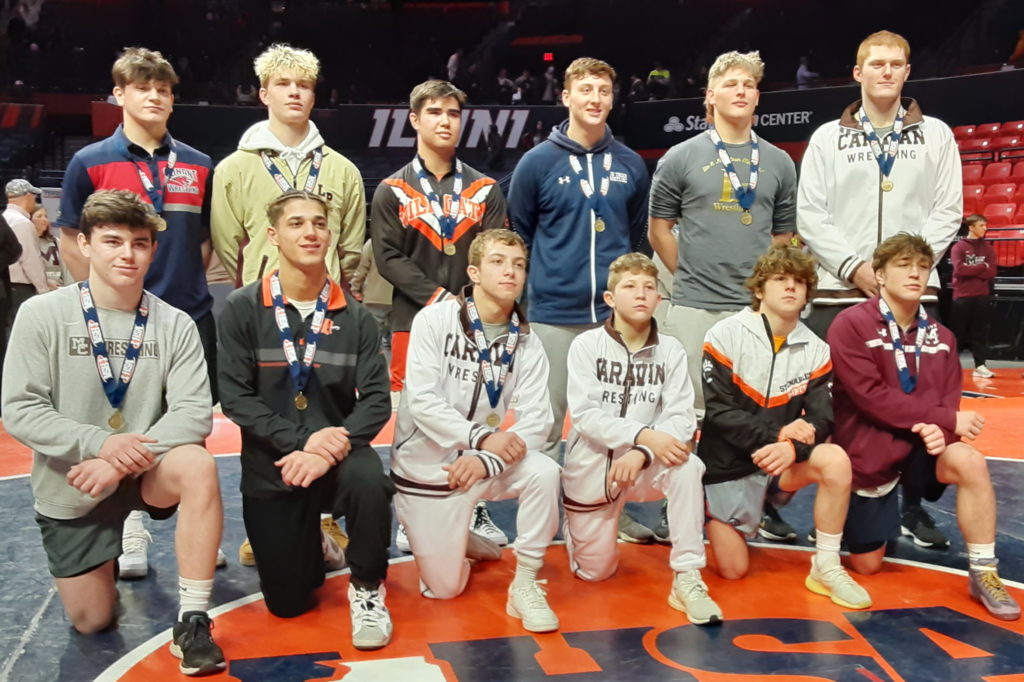 By Mike Garofola
For the IWCOA

CHAMPAIGN — Mt. Carmel dominated the headlines at the 84th IHSA State Wrestling Championships.

The Caravan collected four individual state titles, and seven medals overall when the final whistle completed a glorious three days of 3Acompetition inside State Farm Center.

The Caravan's seven medals led all teams, followed closely by DeKalb (6) and Marist (5), while a handful of other clubs came in with four overall medals.

Here are the stories of this year's individual 3A state champions:

106 Seth Mendoza, Mt. Carmel

Seth Mendoza stormed through to his state final after completing the destruction of all who stood before him – then continued doing so one last time to capture his first IHSA crown, and sixth major of the season following his impressive technical fall victory at 2:39 over Fremd senior Wiley Jessup.

"(Wiley) had a great tournament to get into the final, so I wanted my effort to be physical and non-stop. Once I scored that first take-down, I was immediately confident that if I continued wrestling that way, I could win the match and a state title," said Mendoza (39-2) who was a Fargo champion back in mid-July at 16U.

"I've been working hard on my conditioning and cardio from the very start, and have really watched what I eat. Plus we have a great coaching staff, led by coach (Alex) Tsirtsis, and a really supportive group of teammates that are in the room working really hard every day, encouraging all of us to be better," continued Mendoza, who grabbed a first period lead with a pair of near-falls to go out to a 10-2 advantage after two minutes of play.

"I fully expected Seth to be a very difficult opponent, but he was so tough, and nearly impossible to defend. He clearly was the best at 106," said Jessup (42-6) who took full advantage of another opportunity to shine after sustaining a blow to his armor and a fourth-place finish at individual sectional one week prior.

"I was not feeling really good about my sectional, and wasn't sure what this weekend would end up to be," Jessup said. "But coach (Jeff) Keske and I worked through a few things and he reminded me that I had a fresh start here at state. Although it doesn't feel good to get this close and lose, in a day or so I'll realize a second-place finish at state is something to be proud of."

Medal winners: Mendoza, Jessup, Deion Johnson (Homewood-Flossmoor, 38-7), Ino Garcia (Batavia, 42-6), Ethan Spacht (Bradley-Bourbonnais, 29-5), Brady Phelps (Schaumburg, 30-6).

113 — Jameson Garcia, Marmion Academy

After a nervous start to the tournament, Jameson Garcia got himself up on his front foot and with the wind in his sails, put his game in full throttle en route to his second state championship following a 11-4 victory over Damian Resendez (30-9) of Mt. Carmel.

Garcia, who won an IWCOA crown last summer, overcame upset-minded Rory Burright (16-6) in his opening bout on Thursday when the senior from DeKalb nearly sprung the biggest surprise on day No. 1.


"(Jameson) had a big scare in his first match when he got put on his back, and was nearly pinned, but it takes a lot of heart and toughness to fight off being on your back in a situation like that," said Marmion Academy head coach Nathan Fitzenreider.

"After his 8-7 win, I looked at Jameson and said, 'well, we now have that out of the way'. He said he was all good so I knew after that it was going to be a very good weekend for him. HJe does such a great job of keeping his composure in all of his matches, while still being aggressive."

"Yeah, that was kind of a scary moment for me in that match," admitted Garcia, now 32-4 overall in advance of dual-team sectionals. "But this is an environment that I like, and feel comfortable, so after getting that first day out of the way, I felt as good as I possibly could."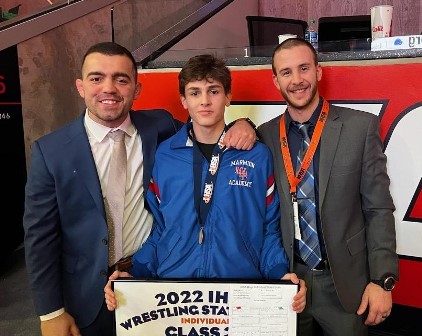 On day No. 2, Garcia recorded a 7-0 win over Bryce Durlacher, then turned in a dazzling six minutes on his way to a 14-4 semifinal triumph against Michael Esteban from Marist.

Once in his final with Resendez, it was all Garcia, who just 18 seconds into the match registered a take-down, increased his lead to 6-3 after two periods, then slowly added to his advantage en route to his win.

"There really wasn't any game plan we put together for Resendez. It was just me going out and wrestling my style, because I feel most comfortable competing that way," said Garcia, who beat Resendez one week earlier in his sectional semifinal at Hinsdale Central.

"Jameson's final was a thing of beauty," begins Fitzenreider.

"Most of the state finals before his were low scoring, and very close, so I told him to just go out and let it fly, and that's exactly what he did. He scored really quick, and he never stopped, and it was great to see that big smile of his after his match was over.

"Jameson works harder than anyone I've seen, and it showed this weekend."

Medal winners: Garcia, Resendez, Evan Gosz (Fremd, 42-4), Trevor Silzer (Andrew, 35-4), Bryce Durlacher (Mundeleiin, 40-4), Michael Esteban (Marist, 36-13).

120 — Ben Davino, St. Charles East

There's no way around it – Ben Davino has set the 120-pound wrestling world on fire this season.

The St. Charles East sensational sophomore has been red-hot since the first whistle of the season. Saints coach Jason Potter says when Davino is 'feeling it' there's just no stopping him.

Davino completed the rout of his weight class here in Champaign after storming past the superb junior from Loyola Academy, Massey Odiotti (40-5) with a 19-4 technical fall victory at 5:58, much to the delight of Potter and the Saints' faithful.

"For Ben, in an atmosphere like this, he just wants to go out there and put on a show, and with all due respect to a talented kid like (Odiotti), that's exactly what he did tonight," said Potter after Davino recorded his 26th tech-fall of the season.

"He's well on his way to breaking so many school records, including tech-falls. He easily passed my 'measly' (21) tech-falls in a season," said Potter, a former Saint himself.

Davino (37-1) recorded five consecutive tech-falls — three on his way to a sectional title and three out of his four bouts downstate.

Now a two-time state champion after winning an IWCOA state title last year, Davino (37-1) has been magnificent since exploding into his sophomore year.

"Ben pushes the pace really hard, and I really couldn't keep up with it. He's so quick and really never slows down," said Odiotti, who became the first in Loyola program history to advance into a state final.

"Massey is very strong, and looks to throw whenever he can," Davino said. "With that in mind, it was important for me to get an early lead, keep adding to my lead, and just not allow him to get comfortable at any time in the match.

"With each day I'm always trying to improve in some way or another by watching film, going live, and always just having fun," said Davino, whose close control, pace, strength, and clinical finishing gives him a well-balanced, and impressive portfolio.


"Ben enjoys a challenge and at times this season, he would see someone at a weight above him and ask if he can bump in order to go with that person. It's a real joy to watch him compete," says Potter.

Odiotti enjoyed a break-out junior season under former Neuqua Valley star, Matt Collum, now in his third season at Loyola. Odiotti claimed seven tournament majors this season, four of which came at 126 pounds.

Medal winners: Davino, Odiotti, Caelan Riley (Libertyville, 40-5), Daniel Aranda (DeKalb, 31-10), Joey Malito (Lincoln-Way Central, 44-3), Sammie Hayes (Sandburg, 112-3).

126 — Sergio Lemley, Mt. Carmel

It was easily one of the most anticipated finals of the evening and why not?

No. 1 Vincent Robinson (Homewood-Flossmoor, 32-3) vs No. 2 Sergio Lemley (Mt. Carmel, 40-1), two nationally ranked stars who were meeting for the first time since Robinson's sudden victory (3-1) in the semifinals at the Ironman tournament.

Whole sections of wrestling walls are devoted to such an event and in the end it would be Lemley's impressive 10-5 victory that would add another memorable piece to the Mt. Carmel wall.

The Caravan junior would stay cool, calm, and composed during a tense second period in which Robinson would concede two penalty points (three for the match) in and around injury time, before Lemley simply had too much for his long-time rival en route to his second state title. It was the third of Lemley's career, with another coming in the state of Indiana in 2021, before he made his way back across the border to wrestle for head coach Alex Tsirtis at Mt. Carmel.

"I just went out there and let it fly from the first whistle, and with each injury time and penalty point he gave up it just made me push the pace even more, to the point when I knew he was just gassed," said Lemley, who is a Folkstyle National Champion.

"I was really looking forward to avenge my loss at the Ironman. It was my only defeat of the season. When the chance came to take the lead I wanted to keep it and continue to add to it."

A third penalty point gave Lemley the lead for good at 6-5, before he made it 10-5 with an explosive move, much to the delight of the big crowd.

"We're so fortunate to have a great coaching staff, which has made me the wrestler that I knew I could be. With a strong room of teammates, training harder than I ever have before, and watching what I eat, I feel like I can be even better as we go forward," said Lemley.

In one of the deepest and most talented divisions, Stevenson junior Lorenzo Frezza would bounce back from a 8-5 loss in the semifinals to Robinson to take home a third-place medal following his 8-2 decision over senior Jacob Macatangay (45-3) from Plainfield South.

Medal winners: Lemley, Robinson, Lorenzo Frezza (Stevenson, 41-2), Jacob Macatangay (Plainfield North, 45-3), Brian Beers (Barrington, 43-8), Paul Woo (Glenbard North, 334-8).

132 — Nasir Bailey, Rich Township

It was another No. 1 versus No. 2 – and once again, it was the No. 1 that prevailed in a history-making performance.

Rich Township junior and nationally-ranked Nasir Bailey (41-0) capped his perfect season with a well deserved 6-1 decision over IWCOA reigning state champion, Will Baysingar (Prospect, 47-2) to bring home the first ever state title in program history.

"It feels real good to be the guy who won the first state championship at Rich Township" Bailey said. Bailey is now a three-time state champion, his second coming in the state of Texas a year ago at Martin High School, and two years after claiming the 120-pound crown while at Thornton Fractional North in his rookie season.

"I think getting that early lead was the difference in our match, plus I thought my pace made it impossible for (Baysingar) to get anything going," said Bailey, an Ironman champ this season and a junior Freestyle champion at 132 in Fargo in the summer of 2021.

"(Nasir) is a tough opponent," Baysingar said. "I just wish I would have come back from that early take-down to make it 2-1, because then I could have gone to my ties, and been tough on top. The entire complexion of the match could have been different," '

Baysingar conceded a trio of take-downs in the first period, forcing the University of Illinois recruit to chase a 6-1 advantage after the first period.

Medal winners: Bailey, Baysingar, Tyler Guerra (St. Charles East, 32-6),Billy Meiszner (Providence Catholic, 32-9), Danny Curran (DeKalb, 31-6), Cody Tavoso (Hinsdale Central, 26-6).
138 Kole Brower, Moline
After winning a Mudge-McMorrow tournament title early in the season, Brower promised that he'd land atop the downstate podium at season's end.

"I never break my promises," Brower said.

The Illinois-bound Moline senior won his second straight state title and seventh major of the season with his 13-3 major victory over Batavia junior Kaden Fetterolf, who himself enjoyed an extraordinary tournament in his third downstate visit.
"I won this state title tonight because of my family, friends, teammates, and especially Noah Tapia, who has been a great partner in the room, and a great friend. Without him, I would have never had the success I've had here at Moline," said Brower, now 46-1 on the season.
"The support from all of the people here tonight is kind of overwhelming, so for me, this state championship is for them also," added Brower, who had 2A two-time state champion Kannon Webster (Washington) on hand when Brower accepted his championship bracket plaque.
Webster, Brower and others were all on the 2021 Junior Greco/Roman team from Illinois that won the team title in July of 2021.
Brower went to work quickly against Fetterfolf (41-6) who was seeking a second consecutive state crown for Batavia after Mikey Caliendo won Batavia's first state title last summer. Fetterolf's chances were dashed when Brower went up 6-2 midway through the second period and added to his lead when it became 11-3 with 30 seconds remaining in the second period.
"The game plan with Kole was the same as it's been all season – win the match on your feet, because we knew (Fetterolf) was very good on top," said Moline head coach, Jacob Ruettiger. "We wrestled a very tough schedule to get the team and our individuals ready for this exact moment."
For the season, Brower collected 27 pins, 7 tech-falls, 5 majors, and an astounding 301 take-downs.
This Group of Granite weight class would feature seven men with 40 wins or more on the season, two of which were unable to break through and into the top six.
Junior Jimmy Nugent of Downers Grove South nearly pulled a stunning upset in his semifinal match when he would head-lock Brower in the first period, only to have the eventual state champ find a way to stay alive en route to a 13-9 victory.
Stevenson senior Cole Rhemrev, who will wrestle in the fall at Indiana, arrived here on his fourth visit, and came away with a second state medal after coming back from a heart-breaking 6-2 loss in his semifinal with Fetterolf.
Medal winners: Brower, Fetterolf, Jimmy Nugent (Downers Grove South, 39-7), Harrison Konder (Downers Grove North, 43-5), Cole Rhemrev (Stevenson, 40-2) Dylan Gvillo (Edwardsville, 46-8).
145 Tommy Curran, DeKalb
With the memory of of back-to-back second place finishes firmly etched into his mind, DeKalb's Tommy Curran (30-1) erased that disappointment away in the closing seconds of his championship bout with Noah Tapia.
The four-year veteran, on his way to North Carolina State in the fall, escaped from a wild scramble at the edge to earn the two-point winner in opening finals match of the evening.
"Everything happened so quick near the end of my match with Noah," said Curran, moments after his 3-1 victory.
"He was a great opponent and I tried to push the pace as often as I could, knowing I had to get to his legs. When I finally did, I was able to get the two points for the win."
"I was so nervous heading into this match because of what happened the last two years in the state tournament. I didn't want that to happen again so I really feel I was way too cautious throughout the match, and not as explosive as I have been," said Curran, who pinned his way to a sectional title, and added two more pins downstate to give him 20 heading into dual-team sectionals.
"Noah left it all out there tonight," said coach Jacob Ruettiger. "It was just a great effort on his part, and I could not have been prouder of him."
Medal winners: Curran, Tapia, Jayson Robinson (Homewood-Flossmoor, 33-7), Charlie Fifield (Fremd, 45-6), Antonio Alvarado (Belvidere North, 42-7), Drew Landau (Edwardsville, 36-12).
152 — Ethan Stiles, Conant
It was a masterful piece of tactical planning and execution that led to Ethan Stiles' second state championship.
The Conant junior, who won at an IWCOA crown last summer in Springfield, earned another in Champaign in a tense six-minute contest that ended in a 1-0 decision over Damari Reed, who himself captured a 2021 IWCOA state title
Reed looked ready to continue his offensive assault against Stiles after roaring past all three of his rivals. It was Stiles' (30-1) workmanlike style and effort that sent him easily into his final.
"Ethan is a cool and calm customer,"Conant head coach, Andrew Guilde said. "It's all business with him but he can also be a relentless opponent to anyone, regardless of their style and ability. It's his focus and desire to succeed that makes him so tough out there."
"My plan all along was to limit Damari's chances and make him work for anything and everything," Stiles said. "Most importantly, I wanted to get on top and ride him out hard when the opportunity presented itself."
Stiles would defend a late first period shot, leading into a second period in which Reed (35-1) chose to begin down – a decision in which played to the strength of Stiles, who did his best boa constrictor imitation for the entire two minutes.
Reed deferred to start the third period to give Stiles the only point he would ultimately need. Despite two attempts to score with 43 and 12 seconds remaining, Reed was unable to pry open Stiles, who defended magnificently to the end.

Stiles also ended a long IHSA dry spell for a Cougars program that last celebrated a state champion in 1996 when Dan Weber won a state title in the same weight class.
"It's a nice feeling to get this state title for myself and the Conant program," Stiles said. "The program has been very supportive of me once I arrived, it has a great coaching staff and a terrific atmosphere in the room which leads to success.
"One of the things I take great pride in is not allowing points to be scored on me, and especially not from being taken down," added Stiles, who would concede just a few escape points in his four downstate matches.
"Ethan's commitment to the sport is far reaching," Guilde said. "His diet, values, training regimen, and work in the classroom is second to none. We're all very proud of him for all of that, and obviously his work on the mats as well."
Medal winners: Stiles, Reed, Damien Lopez (DeKalb, 30-5), Will Collins (Glenbrook South, 25-4), Collin Carrigan (Marmion Academy, 27-5), Logan Swaw (Lockport, 32-8).
160 — Colin Kelly, Mt. Carmel
Colin Kelly won the first major championship of his career and third of the day for Mt. Carmel in stunning fashion when he beat previously undefeated Chris Moore (48-1) of McHenry, 3-1 in the 160-pound final.
The sophomore recorded a sudden victory decision to send the Caravan faithful into orbit, who knew the odds were stacked against Kelly; Moore was second last summer at the IWCOA Championships, and first in 2020 at 113 when he won 43 matches as a member of 2A state power, Marian Central Catholic.
"It's an amazing feeling being a state champion but to be honest, coming from a room like ours at Mt. Carmel, with our great coaching staff, and all the extra time I've been spending at Izzy Style — I guess I always felt I could have a great chance to win if I had the opportunity," Kelly said.
Kelly went into the weekend as the No. 2 man behind Moore, who had a close call in his semifinal bout with Antonio Torres (32-3) the four-time state qualifier from Waubonsie Valley.
Moore would pin Torres at 6:45, while Kelly managed to edge Justin Warmowski (Grant, 22-5) in his semifinal to insure a spot in the Grand March.
"I felt strong in my final that all of the work on my conditioning would really pay off, so I feel like that was a big difference in that match," offered Kelly.
Warmowski surprised a quality weight class with his eventual third-place medal — something that earlier in the season appeared to be difficult to achieve after the Bulldogs best man suffered a high ankle sprain.
"I missed a lot of time and that injury takes awhile to come back from, but in the last couple of weeks I really felt I was as close to being a hundred percent. So this was a great way to end the season and my high school career," said Warmowski, who beat four-time state qualifier, Jared Gumila (Plainfield North, 48-6) in the quarterfinals, 8-3.
Medal winners: Riley, Moore, Jason Warmowski (Grant, 22-5), Antonio Torres (Waubonsie Valley, 32-3), Tommy Boland (Marist, 37-8), Jared Gumila (Plaiinfield North, 48-6).
170 Brayden Thompson, Lockport
As the state tournament goes deeper and deeper into the weekend, the cream tends to rise to the top, and when the best are on center stage there's nothing better to watch for a fan of the sport of wrestling.
Brayden Thompson is the best in the state, and in the country, and the Lockport junior put an exclamation point on his three days in Champaign with a near perfect performance during his 7-2 victory over Marmion Academy senior, Tyler Perry.

It was Thompson's first state title and a remarkable ninth major of the campaign.
Thompson, now 45-0, lifted the big bracket board atop the podium, which he will add to an impressive array of hardware claimed this season, which includes tournament victories at the Donnybrook, Dvorak, Powerade, and Cheesehead, all against a dazzling array of opponents.
"When I lost here in the quarterfinals (to eventual state champion, Luke Odom) two years ago, I told myself that's the only loss I am going to take here ever again. Tonight, I fulfilled that promise I made to myself," began Thompson.
"Like all of us, I was a little nervous but I've been doing this awhile and have been going to every good tournament since I was a little guy. I've been telling myself I'm the best in the country, and if you want to be that guy you have to get it done on the mat with everyone watching you real close."
Thompson had the advantage at 2-0 with a half minute remaining in the first period, extending his lead to 3-0 with an early escape to begin the second period before earning four more precious points in the period on the way to his eventual 7-2 win.
Perry's coach was quick to praise him in Champaign.
"Tyler's tournament was a thing of beauty all weekend long," Marmion coach Nathan FItzenreider said. "Talk about seizing an opportunity For a senior who has never been to the tournament, he was so calm and to see him handle the pressure the way he did was incredible.
"He will be a guy our program talks about forever because of how much he progressed. He was a jayvee starter at 106 and turned himself into a state finalist."
Medal winners: Thompson, Perry, Austin Gomez (Libertyville, 35-11), Brody Hallin (McHenry, 44-4), Matthew Liberatore (Marist, 21-4), Matthew Janiak (Plainfield South, 31-15).
182 Josh Knudten, Libertyville
During the long and exasperating down time due to COVID, Josh Knudten took his training to another level and said he would climb atop the podium should the state tournament return to State Farm Arena during his senior year.
Knudten (39-3) would fulfill his dream when he outlasted No. 1 Bradley Gillum 30-3) of DeKalb in sudden victory, 3-1, to give the Wildcats' program its first state title since Mike Baumann did so in 1991.
"Coach (Dale) Eggert and I had been talking about the last time we had a state champion here at Libertyville, so in the back of my mind it was something that I wanted to do for everyone associated with the program and coach," Knudten said. "So have that opportunity, and to be successful in doing so makes it all that much better."
"Josh escaped a couple of dangerous pickles in his match but he also put Gillum in a few spots as well," began a relieved but ecstatic Eggert, now in his 35th year in charge.
"Despite the low score, I thought it was quite an exciting bout, a real battle of nerves. In the end, it was (Josh) who never got himself out of position that proved the difference, and I'm very proud of him right now."
"That was an amazing effort by Josh," added Libertyville assistant coach Vinnie Jiuditta. "He showed great hand control, positioning, and a lot of grit in order to beat a great opponent. He has the heart of a lion."
Knudten, second a year ago in the IWCOA at 170, and thrice a state qualifier, admits to dreaming of a state title since sixth grade. His ability to reach that goal came due to his ability to work the edge, keeping his back right up against it when Gillum looked to score.
"I felt like I was getting stronger as the match went on and that was because of all the extra work with my conditioning," said Knudten, who pushed the pace as much as possible throughout. He felt that high pace was slowly taking its toll on the No. 1 Gillum, who is off to SIU-Edwardsville in the fall.
Knudten is off to the University of Michigan, where he will pursue a degree in Bio-Medical Chemistry Studies, with the hope of doing research work possibly in genetics.
"The academics at Michigan are amazing, and I felt real comfortable when visiting with the wrestling program," Knudten said. "My club coaches said Michigan holds people to a high standard and that made my decision to go there so much easier."
Medal winners: Knudten, Gillum, Dominic Thebeau (Belleville South, 37-2), Jack Lesher (Marmion Academy, 40-6), Aidan McCain (Round Lake, 39-13), Rylan Breen (Mt. Carmel, 28-15).
195 — Jack Cummings, New Trier
The sight of walking into the Barrington fieldhouse had to give Jack Cummings a feeling of deja vu last weekend with the memory of bitter back-to-back blood round defeats standing between him and his one last opportunity to make it downstate.
The affable New Trier senior would finally put to rest those losses when he advanced downstate, but in doing so Cummings (36-3) finished third overall and thus received a less favorable spot in the downstate field of 16.
"When the brackets came out, I was relieved to have three of the top guys at (95) – Philip Dozier (Glenbard West), Bryson Buhk (DeKalb) and especially (Peter) Marinopoulos (Marist) on the other side of my bracket," Cummings said. "I thought that if I'm at my best, and can get past the second round, that there's a good chance I could be in the Grand March."
Cummings' pin over Henry Chang (Conant, 30-9) booked his spot in the final with Marinopoulos (39-1) and once there, he dashed the hopes of an undefeated season for the Marist star with a 3-1 victory.
"(Marinopoulos), in my opinion was always the favorite in this weight class, despite how deep it was, so to stay away from him until the very end could not have worked out better," admitted Cummings, who went through three other opponents who all ended up on the podium.
"When I got that takedown late in third period to go up 3-0, I felt like he was finally broken," Cummings said. "Then I just rode him out for the win."
Cummings is awaiting notice from the Naval Academy, with Purdue already accepting the four-year Trevians veteran, and with Illinois, Michigan, and and Penn in the wings.
"Jack works a lot on top and I honestly believe that's what won him that match. He's just a dominant wrestler," said a proud Trevians head coach, Marc Tadelman after his best man gave the program its first state champion in 46 years.
"It's an amazing feeling to win an IHSA state title, there really isn't anything like it in the country, except for maybe the state of Pennsylvania," Cummings said.
Medal winners: Cummings, Peter Marinopoulos, Bryson Buhk (DeKalb, 29-10), Elliot Lewis (Mt. Carmel, 27-12), John Pacewic (Plainfield south, 34-5), Henry Chang (Conant, 30-9).
220 — Andrew Blackburn-Forst
Ask Andrew Blackburn-Forst how his 2022 IHSA state title compares to his 2021 IWCOA state title, and his response is a clear and concise — he's equally proud of both titles.
But ask the all-American football player and nationally-ranked wrestling star about his decision to attend Northern Colorado to play both sports, and Blackburn-Forst's face lights up.

"It was love at first sight. The mountains, the fresh air, it's the BIG 12 — what's not to like," said top-rated Blackburn-Forst, who put one giant stamp on his regular season with a hard fought 3-2 victory over No. 2 Ghee Rachal (Marist, 32-3) to ensure his victory.
Blackburn-Forst's takedown 30 seconds from time was enough against Rachal, who was fourth last summer at the IWCOA state tournament. Rashal recorded a pair of majors then a pin in his semifinal to move on, while Blackburn-Forst mashed all three of his rivals with a tech-fall in the quarters wrapped around lightning quick pins, neither more than 24 seconds in length.
"Ghee is a tough opponent, we know each other from Freestyle and Greco, so it was great to get that win," Blackburn-Forst said, "but I really wanted one last pin to close things out, so I fell a little short in my bid to do so."
North Carolina had its eyes on Blackburn-Forst, but the call of the Rockies was too great. Knowing that former Lockport teammate and state champion Baylor Fernandes was at Northern Colorado also helped.
"The coaching staff and head coach Troy Nickerson are fantastic," Blackburn-Forst said. "I had a great visit there and I stayed with Branson Britten (Texas native). Plus, knowing Fernandes, and (Vincent) Zerban (Civic Memorial) made it all an easy choice for me."
Medal winners: Blackburn-Forst, Rachal, Justin Thomas (Homewood-Flossmoor, 36-10), Manny Mejia (Hersey, 46-7), Marko Ivanisevic (Hinsdale Central, 37-4), Gavin Engh (DeKalb, 27-10).
285 — Ryan Boersma, Mt. Carmel
There have been a handful of big men who have dominated the field in the heavyweight division in recent years. Most recently it was Hononegah's Anthony Cassioppi, who crushed the competition in 2018 en route to his 44-0 state championship campaign, and is now an all-American at the University of Iowa.
You might be hard pressed not to place Ryan Boersma on the list with Cassioppi after the Mt. Carmel senior captured his second consecutive state title in the land of the giants. Boersma defeated Sandburg's talented Kevin Zimmer (17-2) for the second straight time in the 285-pound state championship bout.
Boersma (40-2) won 6-0 over Zimmer, one week after pinning him in the Hinsdale Central sectional final. Boersma now has six majors on the season, including one at the Dvorak back in December.
"It's all about going out there and being physical, and to be better each time I go out there," Boersma said. "Tonight, with Kevin and I just in the sectional final last weekend, it was important to wrestle intelligently. I just wish I could have opened up a little bit more."

Boersma lone two losses of the season came to out-of-state opponents at the Ironman, where the nationally-ranked Marist star finished fifth overall.
"Winning an IWCOA state title meant a lot to me, and this one tonight at the IHSA, probably means just a little bit more because it's held here down in Champaign, where everyone wants to come to win a state title," admitted Boersma, who recently committed wrestle next fall at Missouri.
"Mizzou was always my first choice for college," admits Boersma, who twice qualified to state while at Providence Catholic before moving over to Mt. Carmel ahead of his junior year.
"They have a world class coaching staff, in my opinion, and I had a great visit there to make it easy for me to commit to going there," added Boersma, who will begin his studies out of the BioMedical Sciences Department, with an eye on medical school following his collegiate career.
A trio of former stars from Illinois — Dack Punke (Washington), Noah Surtin (Edwardsville) and Jeremy Jakowtisch from Huntley — will be there to greet their new teammate.
Medal winners: Boersma, Zimmer, Paulie Robertson (Glenbard North), Tyler Haynes (Pekin), Isaiah Hill O`Fallon), Jordan Lewis (Downers Grove North).
FROM THE IWCOA: If you are enjoying these articles, please consider a small donation to the IWCOA so that we can continue funding feature stories for our website and social media. The IWCOA is non-profit, 501(c)(3) organization. Click this link to make a donation. Thank you!