Yorkville Christian, IC Catholic Prep ready for Class 1A Dual Team State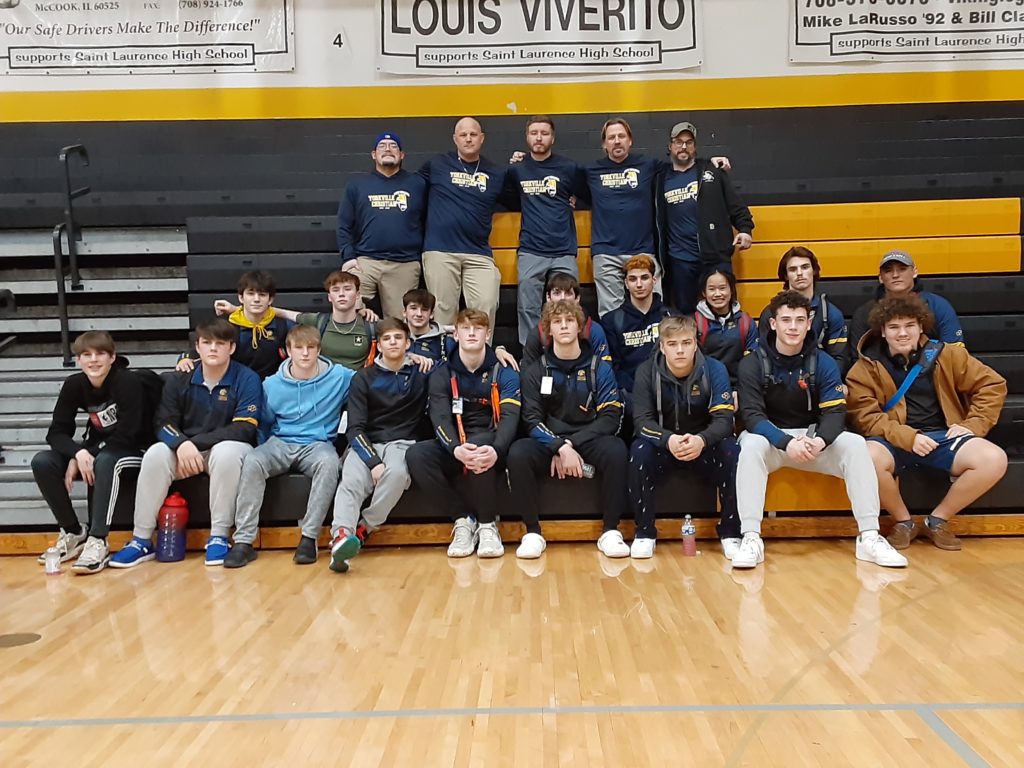 By Curt Herron
For the IWCOA
BURBANK – There were a lot of interesting story lines on Tuesday at the IHSA Class 1A St. Laurence Dual Team Sectional, which took place in Burbank.
First there were two teams that are ranked in the state's top 10, Yorkville Christian and IC Catholic Prep, who both had five state placewinners and nine qualifiers and they were seeking to advance to this weekend's IHSA Dual Team State Tournament at the Grossinger Motors Arena in Bloomington.
Then there were the host Vikings, who won a regional title for the first time since 1990, the year that they made their only state tournament appearance and won a state title.
And Phoenix Military Academy got the opportunity to compete in a sectional, which was a good reward for a Chicago school that won three tournament titles this season.
Yorkville Christian, which has only had a program for four seasons, is headed to state for the first time after capturing a 56-21 victory over Phoenix Military Academy. In the other dual, IC Catholic Prep will make its second state trip and first tr since 2018 with hopes of competing in more than one dual this time following its 66-12 win over St. Laurence.
Coach Mike Vester's Mustangs (20-6), who were ranked second heading into the postseason, make their state debut on Friday at 7 p.m. when they face another newcomer to the competition, Ridgeview/Lexington (23-5), who's ranked 23rd and earned its spot in the quarterfinals after claiming a 43-32 win over Prairie Central at the Tremont Sectional. Fourth-ranked Unity (31-3) and sixth-ranked Vandalia (32-4) will also compete at 7 p.m.
"I looked at a note I wrote to myself four years ago when we started the program and it was a message that I sent to the first two parents that joined," Vester said. "I said that here is my philosophy, if you build something good, it doesn't matter if you have two, four or six kids, people will see it and will want to be a part of it and little by little, we got the right people. Did I think that we would get to state in four years? I don't know about that. "
One of the biggest reasons for the team's success was the decision to go up against the best competition that was available. That's why Yorkville Christian competed in tournaments like Antioch's DeRousse, DeKalb's Flavin, The Cheesehead in Wisconsin and Mahomet-Seymour's Williams to see bigger schools and it also had dual meets against highly-ranked teams in 3A and 2A, such as Deerfield, Joliet Catholic Academy, Lockport, Rock Island and Washington.
"I think that was the difference maker, honestly," Vester said. "They think that they can compete with anybody, so when you have that, you don't have a lot of doubt. We talk about the goal, we don't talk about the people. What's really cool about that is that it doesn't matter who's there, you just put the goal out there and wrestle who's there."
Getting falls for the Mustangs, who won the Seneca Regional, were Braulio Flores (138), Tyler Martinez (160), Jackson Gillen (170), Christopher Durbin (182), Jackson Mehochko (195) and Michael Esquivel (285) while Drew Torza (152) and Noah Dial (132) won major decisions and Aiden Larsen (106) and Isaac Bourge (120) had forfeit wins.
"It's definitely exciting," Durbin said. "I was here as a freshman, left my sophomore year and now I'm back here and I'm just happy to be a part of the program. I'm really excited since we've definitely built up a nice team and I think that we are going to sit well in the state finals. Hard work is in the room and everyone is pushing each other all of the time. And since day one, this was always the task of being able to wrestle in Bloomington. This year we have a lot of tough guys and even the newer guys are tough, they're hammers and I'm happy to have them in the room with us. We were wrestling these bigger and tough schools and that really contributed to our success this season."
Coach Daniel Curin's Firebirds, who were champions of the Chicago Hope Academy Regional, received falls from Rafael Soto (145), Kaleb Abney (220) and Jose Lua (126) while Adan Bucio (113) won a 7-1 decision over Brooklyn Sheaffer.
Yorkville Christian's five placewinners are champion Gillen (170), runner-up Bourge (120), third-place finishers Martinez (160) and Esquivel (285) and fifth-place finisher Larsen (106). Falling one win shy of medals were Dial (132) and Torza (152) while Grason Johnson (126) and Flores (138) also were state qualifiers. And Brooklyn Sheaffer has the unique opportunity of not only being a part of a team that is seeking to win a state championship but is also competing individually in the inaugural IHSA Girls State Finals.
"This has been my favorite team, by far," Sheaffer said. "They've accepted me since day one and wanted to work with me. If I have a question or if I'm upset after a match, they're always going to help me out. Every single person on the team has really impacted me and made me become a better wrestler. Most of my wins are because of my teammates. We're always really supportive of each other. After each match we'll tell each other if we need to work on something. It's just a really good learning experience for anybody. Everybody on the team has known each other since they were nine, so we're a really tight group."
Firebirds who competed in the state tournament were Vin Moreno (120), Omar Ramirez (132), Brendyn Shields (285), Lua (126) and Soto (138).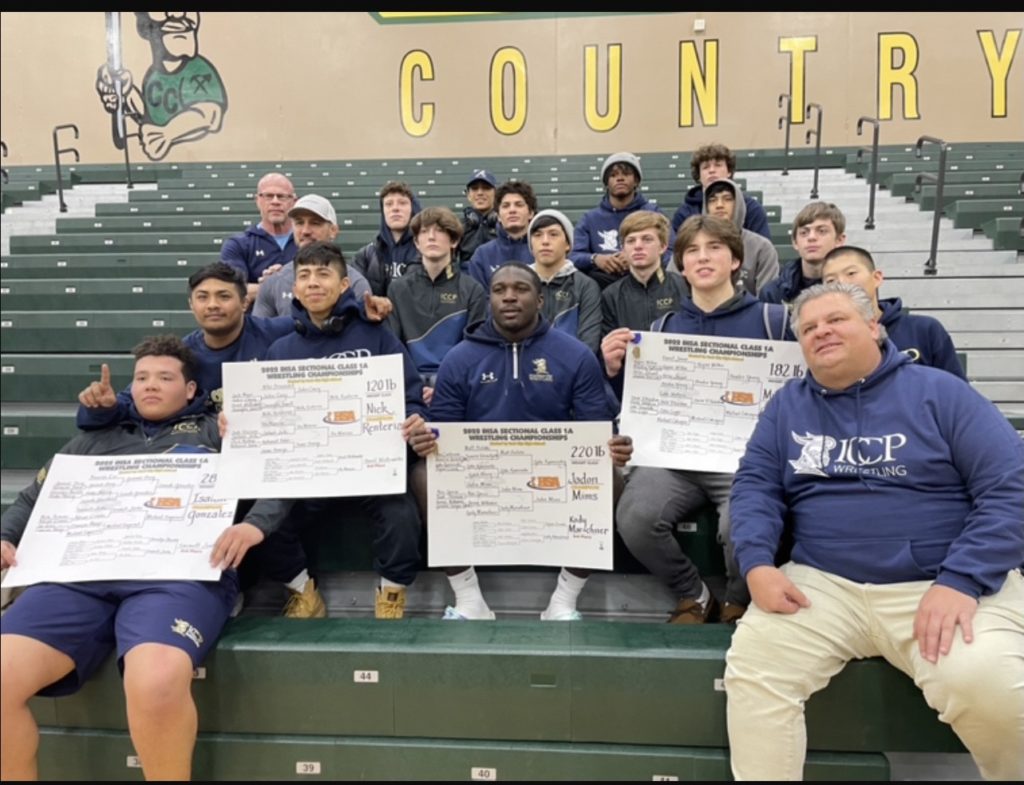 Coach Jason Renteria's ninth-ranked Knights (13-5) are headed to state for the first time since their initial appearance in 2018 and will face the other team that advanced from the Tremont Sectional, the host Turks, in a 5 p.m. dual meet on Friday. Seventh-ranked Tremont (26-3) beat Kewanee 68-15 to advance to state for the third time, with the others being in 2020 and 2019, and that program also hopes to win its first trophy. Also competing at 5 p.m. are 11th-ranked Sandwich (22-4) and 20th-ranked Harvard (18-3).
Although this is his first opportunity to coach a team at state, the high level of competition that he'll see there is nothing new to the four-time finalist and two-time state champion who competed for Oak Park and River Forest from 2013-2017, helping the Huskies to Class 3A titles in 2014, 2015 and 2016 for head coaches Mike Powell and Paul Collins.
"I think that the morale going into the team state finals is definitely moving in the right direction," Renteria said. "The kids are excited and it's all about doing my job to make sure that they are ready and being prepared, so I'm on my toes, strategy-wise. I know how team duals go, I was on three state championship dual teams. I understand the whole strategy and everything else that comes into play. So I know that me and my coaching staff have to be ready for whatever gets thrown at us.
"The guys are really starting to buy in and really believe in not only themselves but also believing in each other. So when we come into team stuff now, it's not only the guys that are wrestling, it's the whole team. And that's what's really starting to become special about this team, it's really becoming a family and a brotherhood, and that's all I can ask for. The whole brotherhood and the family-type situation comes from the way that Oak Park laid it out for us in high school. I know how lucky that I was to be a part of that type of family and brotherhood, and I'm just trying to build something new at a different school."
Recording falls for the Knights, who were the champions of the Walther Christian Regional, were Nathan Brown (138), Michael Calcagno (182), Vinnie Gonzalez (195), Jadon Mims (225), Sam Stec (285), Bryson Spaulding (126) and Omar Samoyoa (132). Picking up victories by forfeit were Joseph Gliatta (145), Marcheon Griffin (170), Andrew Alvarado (113) and Nick Renteria (120).
"We've just worked all of the time and just got the job done," Gliatta said. "We've been training hard in the room and it just shows that if you train hard that you can do great things. The champs worked their butts off and they did what they had to do and it just showed that we're dominant in 1A. I like the chemistry that we have. We're always hanging out and having fun, that's just the biggest thing that we have. We're going to practice hard these next two days and hopefully bring back the championship."
State champions for IC Catholic Prep are Renteria (120), Calcagno (182) and Mims (220) while Isaiah Gonzalez (285) took second and Gliatta (145) placed sixth. Alvarado fell one win shy of a medal while Brandon Navarro (170), Spaulding (126) and Samayoa (132) also competed at the state finals.
"I just wanted to help the team get down there and just perform like I usually do," Alvarado said. "We know that all of the work that we've put in the room has been paying off since we're going back down there. I'm just excited to see what it's like. The state tournament was very fun. I wish that I could have done a little bit better, but it was still a lot of fun. We all started very slow but in the end, we've picked it up and we're just grinding in the room. I like the coaching. Jay really helped me a lot and made me a lot better."
Coach Marcel Cook's Vikings, who advanced to the event after winning the title at the Bowen Regional, had a pair of winners, Joseph Barnett (152), who recorded a fall, and Henry Coughlin (160), who won by forfeit to make it 12-12 in the early going. Mike Gentile (170) fell one win shy of placing while Coughlin was St. Laurence's other qualifier.
Lena-Winslow/Stockton was top-ranked but fell 34-32 to Sandwich at the Rock Falls Sectional while 14th-ranked Newman Central Catholic also was eliminated in the Rock Falls Sectional in a 43-28 loss to Harvard and 19th-ranked Auburn fell 54-30 to Vandalia in the Unity Sectional. Half of the top 20 teams saw their hopes dashed in the regionals.
While the field now looks to be wide open and Yorkville Christian is the highest-ranked remaining in the field, the Mustangs aren't focused on the rankings considering that programs like Vandalia, Sandwich and Harvard have many state appearances and trophies to their credit and Unity, Tremont, and IC Catholic Prep have all made recent trips.
Throughout the years, 165 schools have advanced to the dual team finals and 100 of those did not place in their first appearance, which is a bit more than 60 percent of the total. And only nine schools have won titles in their initial visit to state, one of which was St, Laurence's 1990 squad, which is just over five percent.
After being a one-day competition in recent years, the Dual Team Tournament now starts on Friday for all three classes with quarterfinals at 5 p.m. and 7 p.m. and the semifinals will be on Saturday at 9 a.m. and 11 a..m. and the first- and third place dual meets are at 7 p..m.
The change in schedule was made in order to accommodate the inaugural IHSA Girls Individual State Tournament, which is at the same site with first- and quarterfinals-round matches and the first rounds of wrestlebacks on Friday morning and afternoon and the semifinals will be at 9 a.m. on Saturday with consolation and placement matches following. The initial Grand March will be at 1:45 p.m. with the title matches set for 2 p.m.
FROM THE IWCOA: If you are enjoying these articles, please consider a small donation to the IWCOA so that we can continue funding feature stories for our website and social media. The IWCOA is non-profit, 501(c)(3) organization. Click this link to make a donation. Thank you!