Coal City rolls to championship at ABE's Rumble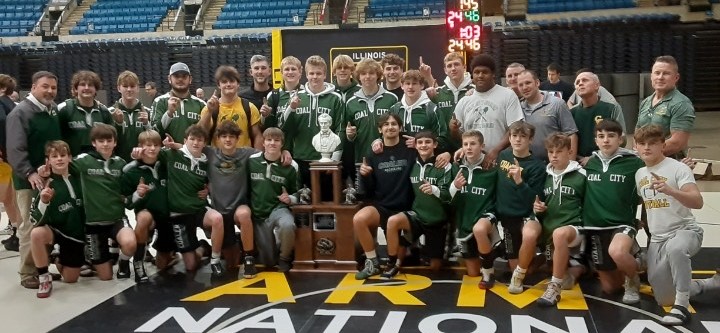 By Curt Herron
SPRINGFIELD – When a team goes 103-23 in nine dual meets, outscoring its opponents by a 63.1-10.8 margin and not losing more than four matches in any meet, it's definitely a very impressive performance.
And that's just what Coal City accomplished over two days at the 60-team ABE's Rumble, which was held at the Bank of Springfield Center in Springfield.
Coach Mark Masters' Coalers won the largest dual team tournament in Illinois for the third time and for the first first time since 2018 after capturing a 46-24 victory over Riverdale in the championship dual meet.
Coal City trailed 6-3 after the first two matches but then won five in a row to take a 28-6 lead and after Riverdale claimed its second win with a fall, the Coalers won the next four matches to go up 46-12 before coach Myron Keppy's Rams ended the dual meet with two falls.
The Coalers, who are top-ranked in Class 1A, rolled through the Gold Division bracket in impressive fashion, beating sixth-ranked Oregon 59-9, winning 59-18 over 14th-ranked Vandalia in the quarterfinals and capturing a 48-13 triumph over seventh-ranked Lena-Winslow/Stockton in the semifinals before facing fifth-ranked Riverdale for the championship.
Two weeks earlier, Coal City won 48-22 over second-ranked and defending Class 1A champion Yorkville Christian and 39-34 over Washington, who's ranked second in Class 2A. The team's lone losses came to top-ranked and defending Class 2A champion Joliet Catholic Academy and to Lincoln-Way East, which is ranked tenth in Class 3A.
The Coalers took second to Lena-Winslow/Stockton last season at ABE's Rumble and this is their first tournament title of the season, with their previous-best showing being a third-place finish at Downers Grove South's Larry Gassen Dual Team Tournament. Coal City competes in its first individual invite this weekend at Princeton's Lyle King Princeton Invitational Tournament.
Masters is understandably pleased about his team's performance thus far, and the Coalers hope to get back to the dual team tournament after missing out on that competition last season. From 2015 to 2020, Coal City advanced to the state dual team finals five times and finished second on three occasions and were third in their other two visits.
Perhaps this is the season that Coal City can finally win an elusive state championship. The Coalers took second place in 1984 for George Dare, second in 1995 under Sean Poston and second in 1998 for Brett Porter, all in Class A, and Masters' teams took second place in 2016 and 2020 in Class 1A and second in Class 2A in 2019 with thirds in 1A in 2015 and 2018.
"We were a tough matchup for everybody and our guys wrestled extremely well," Masters said. "This is the toughest dual team tournament in Class 1A, without a doubt. They were extremely motivated to win this. We've had a pretty tough dual season so far. We wrestled the defending champs and got the chance to beat those guys. We wrestled JCA and took it on the chin, but we beat Washington for the first time. The guys have just been on a roll and our seniors are doing a great job of leading and we have a great group of freshmen who are figuring things out, but they're talented and they're doing a great job for us.
"We had coaches getting our guys ready and we have a great coaching staff. It's a total team effort because you have to have good teammates and good practice partners. And we've had the Little Coalers and we have great coaches along the way, and when we've had good parent support. The kids and coaches, everybody has a common goal in mind, and everyone is pushing for that goal. I told the kids as a joke that they named a street in Coal City after me, Second. It would be nice if we can put it together and get to that point."
Several Coalers went unbeaten through the tournament. They were Drake Dearth (9-0 at 220), Luke Munsterman (6-0 at 113), Michael Gonzalez (6-0 at 285), Braiden Young (4-0 at 195), Cade Poyner (3-0 at 182/195) and Tyler Porth (3-0 at 285).
"It was really exciting," said Young, who's ranked ninth and also qualified in 2021 for the IWCOA. "We have a lot of fighters on this team and we battle through adversity. We've had a couple of injuries early on, but our team fights through it. We battle tough programs. We faced JCA earlier and went to a tough dual team tournament at Downers Grove South. So we are definitely battle-tested since we see a lot of good competition. Everyone works hard and no one takes time off. Our practice room is very competitive and our coaches care and the kids care and I think that just brings everyone up because everyone cares about the program."
"I feel like we kind of outworked everybody," said Dearth, a senior who's ranked eighth. "I feel like we put in more work than a lot of teams and it shows on the mat. Our starting lineup is probably as solid as it gets. And we have really backup guys that can fill in for us when we need it. It's fun being on this team, it's a really good time."
Other top Coal City performances were turned in by Culan Lindemuth (8-1 at 106), Brock Finch (7-1 at 126/132), Derek Carlson (7-1 at 170), Landin Benson (6-1 at 152), Joey Breneman (6-1 at 182), Mataeo Blessing (5-1 at 145), 5-1; Brody Widlowski (4-1 at 113/120) and Evan Greggain (4-1 at 132/138). Lindemuth, Carlson and Young all qualified for state last year while Blessing was a state qualifier in 2020.
"It's been fun these last two day," said Blessing, who's ranked sixth. "Coach Masters gets us ready for competing two days in a row because he does a lot of duals in a row over multiple days and we do weigh-ins, so we're ready for it. They always talk in the practice room about winning a team state championship, so that's always our main goal. My favorite thing about this group is that we're all so close. When one person gets down, someone else picks them right up. We're all helping each other and that's why we've been getting better since the season started."
Riverdale advanced to the finals with a 39-38 victory over Unity and then won 38-28 over Stillman Valley in the quarterfinals. The Rams, who went 8-1 in the tournament and ranked fifth, earned their spot in the title meet with a 54-30 win over Tremont.
Riverdale's unbeaten competitors were Dean Wainwright (9-0 at 106), Brock Smith (9-0 at 138) and Collin Altensey (9-0 at 160).
The Rams feature three returning state placewinners, who are all seniors. Top-ranked Smith, won was the 132 champion last season and placed fifth his freshman year; top-ranked Altensey, who was the champion at 152 a year ago and also took fifth as a freshman; and Alex Watson, who's ranked sixth at 170 and placed fifth at 160 last season.
Riverdale last qualified for dual team state in 2007 and the last time that it won a state trophy in that competition was in 1993. Needless to say, the program is hoping to be one of the eight finalists this year in Bloomington.
"I'm really proud of myself and the whole team," Altensey said. "But I have a lot of stuff to work on and everybody knows what they need to work on. This is my favorite tournament, by far, because the whole team is together. We've been with each other when we were four foot tall and super young, so we all have a wrestling friendship. I had a little hiccup in my match today against Stillman (Valley) but I know what I need to work on now. And it doesn't really matter until down the road."
"I'm very excited for the opportunity that me as well as my team has to compete," Brock Smith said. "And I'm also very happy that we had a full squad this time and we really showed everybody what we're about and how we work. But everybody still has work to do and hopefully next weekend we can make the adjustments and get back some losses or just do better than what we thought we could have done. I think that all of our guys kind of have this work, work, work attitude and this tournament is just about being tough and who can be the grittiest when you get nine or 10 matches in a weekend. It's a great experience and I think that we're all starting to come around on the idea that this is all just to get better, and at the end of the year, that's when we need to be the best that we can be."
Other top performers for coach Myron Keppy's second place Rams were Blake Smith (8-1 at 145), Alex Watson (8-1 at 170) and Eli Hinde (7-1 at 152).
"Coal City is tough, but we all have stuff to work on," Watson said. "We just have fun and we enjoy coming to all of these tournaments, especially these team tournaments because we won't bring all of our guys to Princeton, so it's nice having everyone here. It doesn't matter if this team beat that team, it's all about matchups. We just all have fun and we wrestle hard and we work hard and we have a good time."
In the championship dual meet, Coal City used five-straight early victories to capture a big advantage and then responded to a Riverdale fall with four wins in a row to wrap it up.
Coaler Landin Benson edged Eli Hinde 6-4 in the opener at 152 before Collin Altsensey recorded a fall in 0:48 over Jack Poyner to give the Rams their lone lead. Coal City tied it when Derek Carlson won 3-1 by sudden victory over Alex Watson before Joey Breneman won 12-3 over Zac Bradley, Braiden Young followed with a fall in 1:29 over Jake Schradeya, Drake Dearth won by fall in 0:35 over Iyezaha Hill and Michael Gonzalez got a pin in 0:24 over Jake Baustian to give the Coalers a decisive 28-6 advantage.
Dean Wainwright won by fall in 1:01 over Culan Lindemuth to cut the margin to 28-12 through 106, the Coalers responded with a 9-2 decision from Luke Munsterman over Tharren Jacobs, a 3-0 decision from Aiden Kenney over Thad Jacobs, a forfeit win by Brock Finch and a fall in 5:35 from Evan Greggain over Kolton Kruse to make it 46-12. Riverdale closed with a fall from Brock Smith in 3:55 over Mason Garner and a pin by Blake Smith in 0:57 over Chase Dehler.
Defending champion Lena-Winslow/Stockton opened Gold Bracket competition with a 54-16 win over Seneca before defeating Auburn 45-30 in the quarterfinals. After falling to eventual champion Coal City in the semifinals, the squad beat Tremont 43-36 to finish third.
Unbeaten competitors for coach Kevin Milder's third-place squad, which went 8-1 in the tournament and is ranked seventh, were Garrett Luke (9-0 at 152), Griffin Luke (9-0 at 182/195) and Carson McPeek (3-0 at 138/145).
Lena-Winslow/Stockton has two senior placewinners back, second-ranked Garrett Luke, a senior who won the championship at 145 a year ago and placed third as a freshman and was a runner-up in the IWCOA in 2021, and the top-ranked individual at 182, Griffin Luke, who finished second at 170 last season and was fourth in the IWCOA in 2021.
"I thought that we performed pretty well," Garrett Luke said. "We pretty much destroyed everyone in pool play, it was nice to get a decent seed for that. Obviously Coal City was a rough one and we only had a few wins in that, but we came back and got third. I thought I could have done a little better in my Coal City match, but it is what it is."
With state championships in 2017 and 2019 and a second-place finish in 2012, the bar is always set high for the co-op program that's run by IWCOA Hall of Fame coach Milder. After falling just shy of a state trip a year ago, Lena-Winslow/Stockton is a team on a mission.
"With how many teams that are good here, it shows what moves kids need to work on and just shows you what you have to learn," Griffin Luke said. "We should have a great season, but we just have a few things that we have to work on with the lower weights, they're having a few problems down there. But we'll work with them and get it along.."
Other top performers for the Panther Hawks were Jared Dvorak (8-1 at 160), Eli Larson (8-1 at 170), Mike Haas (8-1 at 220), Henry Engel (8-1 at 285) and Karl Hubb (7-1 at 145).
"Those quality bouts exposed our weaknesses and what needs to be worked on," said Engel, who's ranked fifth at 285. "So we go into practice knowing what needs to be ironed out. It's good here because you get so much experience with so many matches. We had nine matches, so everyone is able to find someone good to go against in their weight class. I feel like the desire to win is strong here through all of our kids."
Tremont took fourth, its same finish from a year ago. The Turks opened Gold Bracket competition with a 44-34 victory over Pontiac and then won 40-36 over PORTA/A-C Central/Greeview in the quarterfinals after going 4-1 down the stretch and getting a fall in the final match. After falling to Riverdale in the semifinals, it lost to Lena-Winslow/Stockton for third.
Unbeaten performers for coach T.J. Williams' fourth-place Turks, who went 7-2 in the tournament and are ranked 18th, were TJ Connor (9-0 at 182/195), Payton Murphy (7-0 at 120), Bowden Delaney (7-0 at 126/132), and Mason Mark (7-0 at 132/138 while Konnor Martin (8-1 at 113) was another top winner for Tremont. Delaney and Connor are returning state qualifiers.
"It's really tough," said Connor, a senior who's ranked third at 182. "If you're not prepared mentally, you'll go out there and lose. Last year, I lost every single match, except two, and as soon as I lost the first two, I was out of it. It's really amazing. He (T.J. Williams) pushes us in practice, and it's not like him yelling at us, it's more of him being there with us. Doing moves and talking through with us and letting us knows he cares for us. If we have an off day in warmups, he'll tell us, 'hey guys, you aren't looking too hot, you've got to pick it up,' and we'll start looking better and feeling better."
A year ago, the third time proved to be the charm for IWCOA Hall of Famer T.J. Williams and his Turks as their third-straight visit to the dual team finals resulted in their first trophy, and as a bonus, they got the privilege of competing for a state championship against Yorkville Christian.
"Obviously we had some people out, but just had to do our job," said Murphy, who's ranked ninth at 120. "Some of our guys came through and even if some didn't, we had to counter that and just wrestle hard. We see each other as family and it feels like they're on the mat with you. And when you've got the crowd and the coaches with you like that, it just makes the program 10 times better and makes you love wrestling more. Of course, we want to be back (at state) and be even better than we were last year. The second half of the year is coming up and we have bigger and better things on our minds."
"I've had him (as a coach) since I was six or seven years old, so it's just been fun getting to learn and having all of those adventures with him, whether it was kids' tourneys or last year going to state," Delaney said. "It's just fun and we've built a bond over the years, he's just a great coach. He pushes us every day and he makes sure that we work hard and puts us with the best people and it's just a great room to be in. We all just have trust in each other, it's just like a family. If one of us needs something, we'll be there for each other. It's just great."
Stillman Valley went 8-1 and took fifth place. After beating Roxana 42-39, coach Jamie McCarty's Cardinals fell to Riverdale in the quarterfinals. But they won their last two dual meets, beating PORTA/A-C Central/Greenview 38-34 and Auburn/Franklin/New Berlin 42-39.
Leading the way for Stillman Valley, which is ranked ninth, were Michael Pannerale (6-1 at 106), Henry Hildreth (6-1 at 126), Aiden Livingston (6-1 at 152), Jack Seacrist (6-1 at 160/170), Porter Needs (3-0 at 152/160) and Randy Manos (4-1 at 160/170).
Seacrist took second place at state at 152 a year ago, losing to Altsensey in the finals. Andrew Forcier (182) and Livingston are also returning state qualifiers.
Like any team that's ranked in the top 10, competing as a dual meet team on the biggest stage, at the finals in Bloomington, is the ultimate goal. Stillman Valley last did that in 2011 when it capped a run of four-straight state visits, with two runner-up finishes and two third-place efforts.
Just as was the case a year ago, the IHSA map has again created a juggernaut regional in the state's northwest where five teams that are currently ranked ninth or better will be competing.
The Polo Regional features third-ranked Dakota/Orangeville, sixth-ranked Oregon, seventh-ranked Lena-Winslow/Stockton, eighth-ranked Dixon and ninth-ranked Stillman Valley. And the route to dual team state will also be very challenging since second-ranked and defending champion Yorkville Christian, fourth-ranked Marian Central Catholic and fifth-ranked Riverdale are amazingly in the brutal Oregon dual team Sectional along with the five teams from the Polo Regional and just two of those will be able to qualify for state.
So squaring off against a lot of good teams at an event like ABE's Rumble should prove to be beneficial for those squads listed above who also participated in the 60-team competition.
"We knew coming down here that we were going to go up against tough teams," Livingston said. "We saw a lot of good guys and good teams and we were just excited to come out here to compete. We knew that we had a team that can come and compete and that's what we tried to come out here to do. I like that we're hard-working. We don't have all of the best guys at every weight but we work hard every day."
The Cardinals clearly understand the value of each match since they saw that play out in a tough fashion when they hosted their holiday tournament on December 17 and Oregon beat them for top honors by seven points.
"It's rough, but we placed higher than them at this tournament," said Seacrist, who's ranked third. "It's nice, but at the same time, I'm not satisfied enough. We just have to keep on working. We have all of the talent in the room to possibly even make it to state as a team, but it's all about us pushing ourselves to the limit. I have so many partners that I can work with to help me get better, as well as I help them to get better. We just always look to improve each other. We all look for each other and it's just awesome. I lost a close one today against the number-one ranked kid. So I'm not satisfied and you just have to go out there and wrestle again."
"Just like our coach said, this is a way to see how we are, not only as individuals but as a dual team and how we work as a team and we did really well," Forcier said. "We did really well getting fifth, but there's always room for improvement and we can get better. Otherwise, I'm really proud of this team and we did really well. We work our butt off in the room every day and we get after it. We love each other, as well, we're brothers and partners, and we cheer each other on and get excited for every win and everything that happens in a match. We were right there (in their tournament) and it just shows how crucial it is of staying off your back. I feel like today we were able to keep those points off."
Auburn/Franklin/New Berlin went 7-2 to finish in sixth place. Coach Matt Grimm's Trojans beat Canton 44-31 before falling to Lena-Winslow/Stockton in the quarterfinals. After beating Vandalia, 43-33, it fell to Stillman Valley in the fifth-place match.
The Trojans were led by Joey Ruzic (9-0 at 120/126) and Dresden Grimm (9-0 at 138/145).
"It really wasn't what we wanted," Dresden Grimm said. "We had some guys step up and in some places they did and in some they didn't, but we'll work on that in the practice room. Our heavyweight got banged up and he didn't wrestle the last dual and we ended up losing 42-39.
"I broke my leg in football so this was my first tournament back. I felt smooth and felt back to my true self. I've been practicing for three weeks with Joey and that makes me a lot better. I've got a guy who can push me and I push him. We kind of coach each other while we're practicing."
Ruzic was the 106 champion last season, was third at the IWCOA in 2021 and is top-ranked at 120 while Grimm took third at 132 a year ago and was sixth in the IWCOA in 2021 and is ranked second at 138. They're not only excited about what they can do individually but would like to get back to dual team state, where they were fourth in 2020.
"It's definitely a big deal since we showed a lot of improvement from last year, when we were 15th," Ruzic said. "We've been on that state podium before, so we can get there again. I just like the people on this team. I feel like we're all in this together and we're all on the same page. I feel good out there. I feel ready to compete and to do my best."
Vandalia also posted a 7-2 record. Coach Jason Clay's Vandals opened the Gold Bracket with a 45-23 win over Illini Bluffs before falling to Coal City in the quarterfinals. After losing 43-33 to Auburn/Franklin/New Berlin, Vandalia beat PORTA/A-C Central/Greenview 42-33 for seventh.
The Vandals were led by Owen Miller (8-1 at 138/145), Dillon Hinton (8-1 at 132/138), Eric
McKinney (8-1 at 160), Wyatt Dothager (8-1 at 195/220) and Deon Moore (3-0 at 126/132). Miller and McKinney are returning state qualifiers for the team.
Vandalia has qualified for the IHSA dual team finals 12 times since 2007 under Clay and has won four trophies in that time so expectations are always high for the 14th-ranked Vandals.
"We have a great program," said McKinney, who's ranked eighth at 160. "We start young and we have great coaches, as well. "This is a tough tournament and the flip really matters at the beginning of the match. You've got to be focused because it's a lot of matchesIt's a lot of matches and you have to maintain your weight for the two days. I think that in every meet and every practice, we're improving every day. We've beat well-known teams."
PORTA/A-C Central/Greenview went 6-3 to finish in eighth place. After beating Frankfort Community 59-24, Tremont rallied to beat the Bluejays 40-36 in the quarterfinals. PORTA lost another close dual to Stillman Valley 38-34 before losing to Vandalia in the seventh-place meet.
Leading the way for coach Jeff Hill's Bluejays were Bryar Lane (9-0 at 182), Issak Espenschied (5-0 at 285), Brandon Barner (5-0 at 152) and Issac Guinan (4-0 at 285).
PORTA is ranked tenth and the program would like to get back to dual team state again after a few years off, somewhere they went 10 times between 2002 and 2014 for IWCOA hall of fame coach Jeff Hill, who holds the IHSA record for the most dual meet victories in his career.
"We've been doing really well," said Espenschied, who's ranked eighth and is a returning state qualifier. "Everybody is tired, but we fought through it. I like that we work and that we don't give up. We have the right mindset and we don't get mad when we lose. I just like wrestling because it makes me better. It feels amazing (to be at PORTA). He's a great coach and we're really close to each other."
Hill, a 2011 IWCOA Hall of Famer who entered the season with an IHSA best 739 dual meet wins since he took over the program at the school in Petersburg in 1992. Hill, who was the National Wrestling Coaches Association Illinois Coach of the Year in 2022, is happy to add to his impressive career credentials the opportunity to be able to help run the state's biggest tournament, ABE's Rumble, along with Auburn/Franklin/New Berlin.
"We have 60 A Class teams and teams from the north and south can come here and see each other, and 11 out of the top 15 schools are," Hill said. "It's a crazy atmosphere but it's perfect for Class A and the Springfield area is great. We're 20 miles away and happy to host with Auburn for the sixth year and we're going to keep doing it.
"If you're here and you make it to dual team state, your mind is ready since you've already been through it. It's the largest one in the United States, I'm told by Rob Sherrill that there's not any other 60 teams like this at one location. Our team is pretty young and we only have two seniors. We're pretty happy to be finishing in the top eight, I think that's the highest that we've finished since we started hosting this, so it's all good."
Oregon, which is ranked sixth, went 7-2 to claim ninth place after winning its final three duals against Illini Bluffs, Canton and Roxana 46-34. Leading the Hawks were Grant Stender (8-1 at 152) and Gabe Eckerd (8-1 at 170/182).
Roxana, ranked 12th, went 7-2 and finished in tenth place. Leading the Shells were Justis Theis (9-0 at 120), Branden Green, Jr. (9-0 at 126), Logan Riggs (8-1 at 132), Lyndon Thies (8-1 at 138), James Herring (8-1 at 220/285) and Chase Allen (7-1 at 285).
Canton, who's ranked 15th, went 6-3 to finish 11th after beating Frankfort 47-30 in its final dual. The Little Giants were led by John Davis (9-0 at 120/126), Trevor Hedges (9-0 at 126/132), Joseph Norton (9-0 at 170/182), Connor Williams (3-0 at 285) and Asa Reed (5-1 at 285).
Finishing in 12th place was Frankfort Community, which went 6-3. Top performers for the Redbirds were Brandon Turner (9-0 at 195) and Gavin Mann (8-1 at 145).
Unity fell to 13th in the rankings after taking 13th place with a 6-3 record after closing with a 52-25 win over Seneca. Leading the way for the Rockets were Nick Nosler (9-0 at 195), Hunter Shike (8-1 at 126), Kyus Root (8-1 at 170), Kaden Inman (7-1 at 132), Hunter Eastin (7-1 at 182), Alex Abrahamson (6-1 at 285) and Avery McGraw (4-1 at 132/138).
Seneca, which is ranked 24th, finished 6-3 and finished in 14th place. Top performers for the Fighting Irish were Asher Hamby (9-0 at 160), Kyler Hahn (8-1 at 106/113) and Ethan Othon (8-1 at 113/120).
Illinois Bluffs claimed 15th place with a 5-4 record after beating Pontiac 37-35 in its final dual. Leading the way for the Tigers were Paul Ishikawa (9-0 at 145/152), Hunter Robbins (9-0 at 106/113), Avery Speck (8-1 at 120/126) and Jackson Carroll (8-1 at 138/145).
Pontiac finished in 16th place after going 5-4 in the event. Top performers for the Indians were Aidan Scholwin (8-1 at 106) and Ethan Gray (7-2 at 152/160).
Silver Division
Clifton Central/Iroquois West captured first place in the Silver Division with a 44-36 win over El Paso-Gridley 44-36. The Comets were led by Gianni Panozzo (8-1 at 145), Hunter Hull (8-1 at 195/220) and Noah Gomez (7-1 at 285) while top performers for the Titans were Logan Gibson (8-0 at 120) and Dax Gentes (7-1 at 160).
Peotone won 53-30 over Robinson to take third in the Silver. Top performers for the Blue Devils were Marco Spinazzola (9-0 at 152/160), Micah Spinazzola (8-1 at 126), Santino Izzi (8-1 at 132/138) and Alex Cardenas (8-1 at 220). Leading the way for the Maroons were Kahne Hyre (8-1 at 152) and Jared Hermann (5-1 at 170).
Westville/Georgetown-Ridge Farm was a 57-19 winner over Murphysboro to finish fifth in the Silver Division. Leading the Tigers were Tre Ramirez (9-0 at 220), Hayden Weaver (8-1 at 132), Craig Johnson (8-1 at 182) and Ethan Miller (8-1 at 195). Top performers for the Red Devils were Bryce Edwards (7-1 at 132/138) and Liam Fox (5-1 at 145/152).
Anna-Jonesboro defeated Shelbyville 42-39 to finish seventh in the Silver. Top performers for the Wildcats were Drew Sadler (9-0 at 113) and Daniel Dover (8-1 at 126/132). Leading the Rams were Calvin Miller (8-1 at 126), Will Fox (8-1 at 160) and Aydan Fisher (8-1 at 182/195).
In the ninth-place match in the Silver Division, Benton was a 42-39 winner over Macomb. Leading the Rangers were Anthony Hernandez (9-0 at 138/145), Mason Tieffel (8-0 at 138/145), and Kobe Cali (7-1 at 126/132). The Bombers were led by Max Ryner (9-0 at 195/220) and Ethan Ladd (8-1 at 220/285).
Lawrenceville/Red Hill won 45-36 over Monticello to take 11th place in the Silver. The Indians were led by Nathan Blackwell (9-0 at 182/195), Dylan Camden (9-0 at 220), Brian Seed (8-1 at 160/170) and Kasen Ochs (8-1 at 160/170). Top performers for the Sages were Gavin Ridings (8-1 at 138/145) and Hunter Romano (6-1 at 170/182).
In the 13th-place match in the Silver Division, Erie/Prophetstown defeated Chicago Hope Academy 51-30. Erie/Prophetstown was led by Jase Grunder (9-0 at 152/160) and Wyatt Goossens (8-1 at 126/132).
Morrison won 42-24 over Newman Central Catholic to take 15th place in the Silver. The Mustangs were led by Evan McDonnell (5-1 at 285) while leading the way for the Comets were
Carter Rude (8-0 at 138/145), Zhyler Hansen (8-1 at 113) and Briar Ivey (8-1 at 120/126).
Bronze Division
Olympia/Heyworth claimed first in the Bronze Division with a 48-34 win over Rockridge 48-34. The Spartans were led by Bentley Wise (8-0 at 152) and Nolen Yeary (6-1 at 220/285) while Jude Finch (8-0 at 126), Ryan Lower (8-0 at 160), Tyler Morrisey (7-0 at 170) and Zayd Evans (7-1 at 182) led the way for the Rockets.
Cumberland/Newton was a 48-30 victor over Farmington/Cuba for third place in the Bronze. Leading the Pirates were Peyton Groves (8-0 at 106), Hank Warfel (8-0 at 113/120), Owen Mcginnis (7-1 at 145) and Noah Carl (6-1 at 285). Top performers for the Farmers were Keygan Jennings (8-0 at 113/120) and Bradlee Ellis (6-1 at 126/132).
Oakwood/Salt Fork beat Mt. Carmel 54-19 for fifth in the Bronze Division. The Comets were led by Reef Pacot (8-0 at 145), Tyler Huchel (7-1 at 113), Jack Ajster (7-1 at 120) and Pedro Rangel (7-1 at 132). Top performers for the Golden Aces were Evan Berberich (7-1 at 195) and Mason Rayborn (7-1 at 220).
Camp Point Central/Southeastern/Brown County defeated Wilmington 42-34 to take seventh in the Bronze. Leading the Panthers was Hunter Bolton (7-1 at 152) while Hunter Hayes (8-0 at 195/220) was the top finisher for the Wildcats.
Reed-Custer was a 42-36 victor over Knoxville for ninth in the Bronze Division. The Comets were led by Kody Marschner (8-0 at 220), Gunnar Berg (8-0 at 285), Jeremy Eggleston (7-1 at 138), and Rex Pfiefer (7-1 at 170). The top performers for the Blue Bullets were .Gage Fox (7-1 at 132), Mitchell Parrish (7-1 at 138/145), Brydon Walters (7-1 at 160), Jaxin Johnson (7-1 at 170) and William Stowe (7-1 at 285).
Warrensburg-Latham/Mt. Pulaski won 45-34 over Quincy Notre Dame to finish 11th in Bronze. The Cardinals were led by Charlie Wittmer (7-0 at 106/113), Kaden Roberts (7-1 at 120/126), Brycen Stock (7-1 at 285) and Logan Roberts (6-1 at 113/120). The top performer for the Raiders was Bradi Lahr (6-1 at 132).
In the 13th-place match in the Bronze Division, Litchfield/Mt. Olive won 39-36 over Sherrard. Leading the way for the Purple Panthers were Vinny Moore (7-1 at 106), Alex Powell (7-1 at 113), Braxton Kieffer (7-1 at 126) and Seth Kenter (7-1 at 182). Pacing the Tigers was Walker Anderson (7-1 at 195/220).
St. Joseph-Ogden won 65-6 over Walther Christian to take 15th place in Bronze. The Spartans were led by Holden Brazelton (8-0 at 132/138).
Copper Division
Mercer County took top honors in the Copper Division with a 44-30 victory over Mt. Zion. The Golden Eagles were led by Zeke Arnold (8-0 at 145), Bodie Salmon (5-0 at 170) Kale Stirn (7-1 at 113) and Ethan Monson (7-1 at 120). Leading the Braves were Aiden Ledbetter (5-0 at 285), Sydney Cannon (7-1 at 106), Mason Gray (7-1 at 113) and Remington Hiser (7-1 at 220).
Beardstown beat Hoopeston Area/Milford 66-18 for third place in Copper. The Tigers were led by Jonny Marquez (7-1 at 132) and Owen O'Hara (7-1 at 220) while the top performer for the Cornjerkers was Talon Nelson (8-0 at 120/126).
Prairie Central won 33-27 over Deer Creek-Mackinaw to take fifth in the Copper Division. Leading the Hawks were Connor Steidinger (7-0 at 182/195) and Ethan Ziller (6-1 at 152).
Carlinville defeated Dwight/Gardner-South Wilmington 34-30 to take seventh in Copper. The Cavaliers were led by Jake Schwartz (7-0 at 160/170).
Hillsboro took ninth in the Copper Division when it won 39-39 on criteria of first points scored over St. Bede Academy. Leading the Hilltoppers were Gavin Vollintine (6-1 at 126) and Zander Wells (5-1 at 152) while Ryan Migliorini (7-0 at 195/220) was the top performer for the Bruins.
Sparta won 48-18 over Sacred Heart-Griffin to finish 11th in Copper. The Bulldogs were led by
Jayden Jones (6-1 at 220) while Cory West (6-1 at 195/220) led the way for the Cyclones.
ABE's Rumble – Championship dual meet – Coal City 46, Riverdale 24
152 – Landin Benson (Coal City) D 6-4 Eli Hinde (Riverdale), C 3-0
160 – Collin Altensey (Riverdale) F 0:48 Jack Poyner (Coal City), R 6-3
170 – Derek Carlson (Coal City) SV 3-1 Alex Watson (Riverdale), C 6-6
182 – Joey Breneman (Coal City) MD 12-3 Zac Bradley (Riverdale), C 10-6
195 – Braiden Young (Coal City) F 1:29 Jake Schradeya (Riverdale), C 16-6
220 – Drake Dearth (Coal City) F 0:35 Iyezaha Hill (Riverdale), C 22-6
285 – Michael Gonzalez (Coal City) F 0:24 Jake Baustian (Riverdale), C 28-6
106 – Dean Wainwright (Riverdale) F 1:01 Culan Lindemuth (Coal City), R 12-28
113 – Luke Munsterman (Coal City) D 9-2 Tharren Jacobs (Riverdale), C 31-12
120 – Aidan Kenney (Coal City) D 3-0 Thad Jacobs (Riverdale), C 34-12
126 – Brock Finch (Coal City) FFT No opponent, C 40-12
132 – Evan Greggain (Coal City) F 5:35 Kolton Kruse (Riverdale), C 46-12
138 – Brock Smith (Riverdale) F 3:55 Mason Garner (Coal City), R 18-46
145 – Blake Smith (Riverdale) F 0:57 Chase Dehler (Coal City), R 24-46