Homewood-Flossmoor's Robinsons claim titles at Pennsylvania's Powerade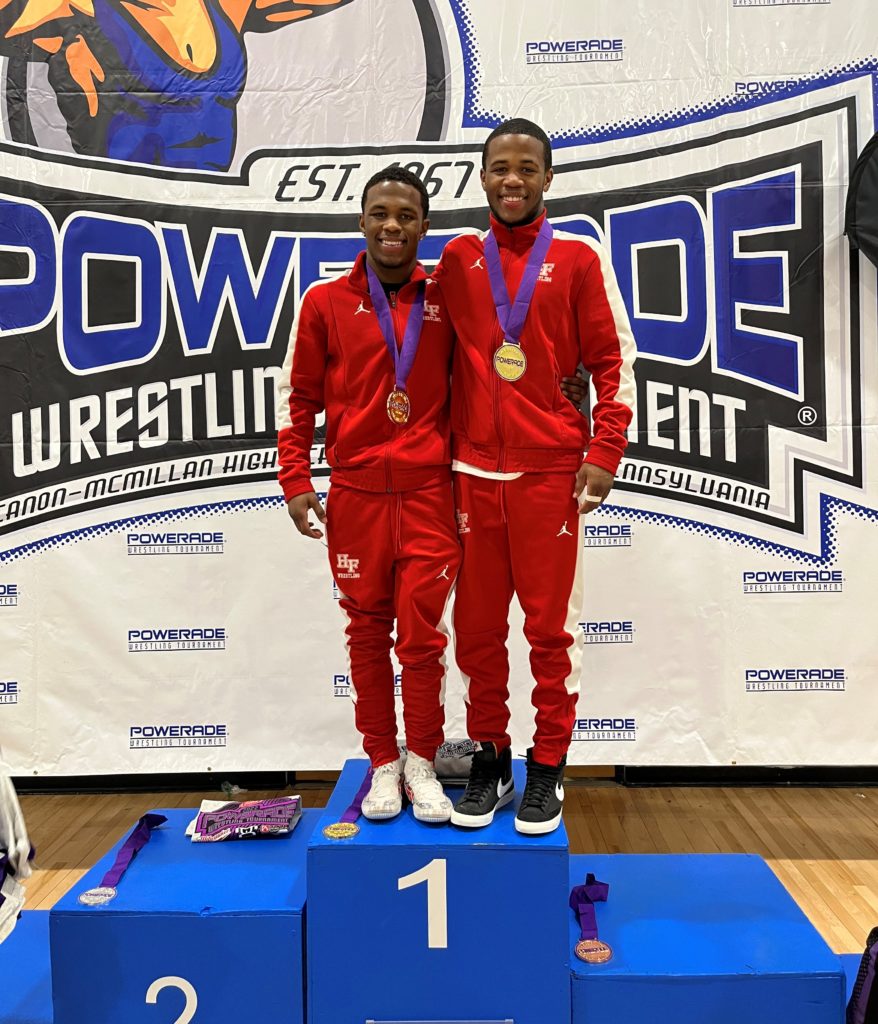 Homewood-Flossmoor's Robinsons claim titles at Pennsylvania's Powerade
History was made by Illinois wrestlers at the Powerade Tournament in Canonsburg, Pennsylvania, and it was made by just one team, and as a matter of fact, by two brothers.
Homewood-Flossmoor brothers Vincent and Jaydon Robinson both won individual titles in one of the country's biggest tournaments when senior Vincent took first at 133 and junior Jaydon won the title at 145.
Thanks in part to their efforts, the Vikings took 12th place in the 67-team competition with 89 points. They were the lone Illinois team to take part in this year's tournament.
The only other schools that had more than one title winner were champion Wyoming Seminary and Bishop McCourt, which are both Pennsylvania schools.
Both brothers had to win close decisions throughout most of their final rounds of competition in order to reach the top of the awards stand.
In the 133 finals, Vincent got a third-period takedown to help him claim a 3-2 win over Central Mountain, PA's Dalton Perry. Then in the 145 title match, Jaydon got a takedown late in the first overtime for a 3-1 sudden victory over Williamsville North, NY's Cameron Catrabone.
Jaydon claimed a 3-2 victory over the top-seed at 145, Waynesburg, PA's Mac Church in the semifinals. Meanwhile, Vincent advanced to the title mat with a 4-1 win over Malvern Prep's Jack Consiglio.
There was more drama in the quarterfinals as Vincent won 7-2 by sudden victory over Waynesburg, PA's Joe Simon while Jaydon claimed a 9-4 victory over Bishop McCourt's Ryan Lander.
Jaydon, who wasn't seeded in the tournament, also won a 6-2 decision in the round of 16 and a 10-5 decision in his initial match. Vincent, who was seeded third, also won a 6-2 decision in the round of 16 after recording a fall in 1:49 in his opening match.
Vincent, who is second-ranked at 132 in Class 3A, placed second last year at 126 and also was second at 120 in 2020 and this was his third tournament title of the season adding to first at Joliet Central and Crown Point, Indiana.
Jaydon, ranked second at 145 in Class 3A, finished third last year at 135 and this was his second tournament title this season, with the other also coming at Joliet Central.
"We've been waiting for Jaydon to have his breakout at one of these national tournaments, as he's been coming up one win short of placing seemingly every time," Vikings coach Jim Sokoloski said.
"Both the Robinson boys wrestled incredibly well throughout the entire tournament and kept their composure in tough, close matches. Both of them had to win overtime matches at some point and beat nationally-ranked guys.
"Overall, it was a great tournament for our team, as we finished in 12th out of 67 teams. But obviously these two did their thing and we couldn't be more proud."
Senior Deion Johnson, who was seeded fourth and is ranked second at 113, fell one win shy of a medal at 114 after losing his second match and winning two close decisions before losing to the eventual fourth-place finisher.
Also for the Vikings, Jermaine Butler (152) won four matches while Roan Dukes (107) and Jon Fulgencio (160) both won three matches.
It was the first time since 1993 when Mount Carmel won the second of its three-straight titles in the event that Illinois had more than one champion. Champions for IWCOA and National Wrestling Hall of Fame coach Bill Weick's team 29 years ago were IWCOA Hall of Famers T.J. Williams and Tony Davis, as well as Jason Pero.
Williams, who's currently the coach at Tremont, won a title every year that the Caravan took top honors in the tournament, from 1992 to 1994. He was the lone champion for his team in 1994 and one of five title winners in 1992.
Since Williams completed that amazing run of success for his program in the Powerade, only two others from this state have won titles, both of whom competed for Lockport. Ronald Tucker, Jr. took top honors in 2015 and Brayden Thompson placed first last season.
Hersey wins Wisconsin's Mid-States Classic championship
Hersey captured top honors at the Mid-States Classic in Whitewater, Wisconsin, leading a strong Illinois contingent that claimed four of the top five spots and had six of the first eight in a field that featured 41 teams.
Coach Joe Rupslauk's Huskies easily claimed the title by a 333.5-293 margin over Amery, WI. McHenry (270.5), Marian Central Catholic (251.5) and Wauconda (239) rounded out the top five while Downers Grove South (204.5) took seventh and Bradley-Bourbonnais (203.5) was eighth.
Hononegah, Morton, Round Lake, Dundee-Crown, Harvard and New Trier were the other Illinois teams that participated.
Leading the way for the champion Huskies were runners-up Maksim Mukhamedaliyev (126), Aaron Hernandez (160) and Ben Erhabor (220) while Esteban Delgado (120) and Oleg Simakov (285) placed third. Taking sixth was Leo Delgado (195) while Abdullokh Khakimov (113), James Shaffer (138) and Anthony Cambria (182) finished seventh.
Top performers for coach Dan Rohman's third-place Warriors were champion Chris Moore (170), runner-up Pedro Jimenez (145) and third-place finisher Ryan Hanson (106). Lucas Van Diepen (126) finished fourth, Ruben Melgarejo (152) took fifth and Andy Lara (220) and Jesse Saavedra (285) both claimed sixth place.
The Marian Central Catholic coaching duo of Jordan Blanton and Ryan Prater was busy on the title mat, with three individuals winning championships and two others placing second. Taking top honors for the Hurricanes were Kaden Harman (126), Vance Williams (132) and Charlie Fitzgerald (145) while Nick Davidson (138) and Ethan Struck (152) settled for second place and Max Astacio (160) went 6-1 to claim third place.
Coach Trevor Jauch's fifth-place Wauconda squad had four individuals who were sixth or better. Leading the Bulldogs were runner-up Gavin Rockey (106) and third-place finisher Nick Cheshier (152). Finishing in fifth place was Cooper Daun (132) while Cole Porten (145) took sixth.
Leading the way for coach Sean Lovelace's seventh-place Mustangs were champion Luke Swan (152), third-place finisher RJ Samuels (170) and Donnie Fields (120), who took fourth.
Coach Micky Spiwak's eighth-place Boilermakers were led by champion Ethan Spacht (113) and third-place finisher AJ Mancilla (182) while Levi Greenlee (138) and Tyler Starr (145) finished fifth and Tate McCord (106) placed sixth.
Hononegah was led by a fourth-place finish from Jackson Olson (106) while Elliot Diemel (182) and Isaak Smith (220) both took fifth.
Morton received fifth-place efforts from Harrison Dea (106) and Payton Ferrill (120).
Round Lake was led by fourth-place finisher Alejandro Cordova (113) while Grayson Kongkaeow (120) took sixth and William Cole (285) was seventh.
Leading Dundee-Crown were runner-up Porter Leith (195) and third-place finisher Teigen Moreno (220).
Harvard received fourth-place finishes from Marques Merida (132) and Riley Vest (220).
And leading New Trier were sixth-place finisher Tagg Miller (160) and Wilson Wright (145), who took seventh place.
Spacht was the Illinois leader in team points with 47.5, which was just .5 behind two others. Moore was fourth in team points with 47 while Swan tied for eighth with 45, Williams had 43.5, Harman collected 43, Hernandez had 41.5 and Fitzgerald finished with 40.
Three championship matches featured all-Illinois finals. One was at 126 where Harman edged Mukhamedaliyev 2-1. Another was at 145 where Fitzgerald also won a close decision, by a 4-2 score over Jimenez. And the 152 finals was also decided by a decision, a 6-2 score, as Swan defeated Struck.
In other title wins for Illinois athletes, Spacht won by technical fall in 5:32 over Amery's Brendan Burke at 113, Williams claimed a 9-3 decision over Union Grove's Cole Dummer at 132 and Moore won by technical fall in 4:45 over Nicolet's Ben Ott at 170.
Titles matches involving Illinois competitors that were won by those from north of the border included Rockey falling to Pecatonica-Argyle's Aidan Gruenenfelder 5-1 at 106 and Davidson losing an 8-2 decision to Darlington-Blackhawk's Owen Seffrood at 138.
Leith suffered his first defeat in a 7-5 decision to Amery's Grant Cook at 195, Erhabor got pinned in 0:46 by Weyauwega-Fremont's Vanden Hoffman at 220 and Hernandez was unable to compete at 160 against Appleton North's Jake Stoffel at 160 due to an injury.
Top records from Illinois finalists following the tournament include Moore (26-0, 1.000), Leith (20-1, .952), Spacht (24-2, .923), Rockey (16-2, .889), Jimenez (24-4, .857), Hernandez (17-3, .850), Williams (20-5, .800) and Swan (20-5, .800).
Mid-States Classic championship matches
106 – Aidan Gruenenfelder (Pecatonica-Argyle, WI) D 5-1 Gavin Rockey (Wauconda)
113 – Ethan Spacht (Bradley-Bourbonnais) TF 5:32 Brendan Burke (Amery, WI)
120 – Lane Anderson (Amery, WI) D 6-4 SV Ethan Aird (Darlington-Blackhawk, WI)
126 – Kaden Harman (Marian Central Catholic) D 2-1 Maksim Mukhamedaliyev (Hersey)
132- Vance Williams (Marian Central Catholic) D 9-3 Cole Dummer (Union Grove, WI)
138 – Owen Seffrood (Darlington-Blackhawk, WI) D 8-2 Nick Davidson (Marian Central Catholic)
145 – Charlie Fitzgerald (Marian Central Catholic) D 4-2 Pedro Jimenez (McHenry)
152 – Luke Swan (Downers Grove South) D 6-2 Ethan Struck (Marian Central Catholic)
160 – Jake Stoffel (Appleton North, WI) INJ Aaron Hernandez (Hersey)
170 – Chris Moore (McHenry) TF 4:45 Ben Ott (Nicolet, WI)
182 – Wyatt Ingram (Amery, WI) F 4:30 Kasey Gish (West Bend East, WI)
195 – Grant Cook (Amery, WI) D 7-5 Porter Leith (Dundee-Crown)
220 – Vanden Hoffman (Weyauwega-Fremont, WI) F 0:46 Ben Erhabor (Hersey)
285 – Koy Hopke (Amery, WI) F 1:57 Jackson Mankowski (Madison LaFollette, WI)
Pratt captures championship at Missouri's The Wonder Woman
Four Illinois teams competed in The Wonder Woman, which was an 84-team competition which took place in Columbia, Missouri and Edwardsville's Mackenzie Pratt led the way by winning a title at 140 while three other individuals finished sixth or better.
Pratt improved to 15-0 after winning all six of her matches by fall. Only one of those extended into the second period and that came in the semifinals, where she finished the match in 4:00. In the championship at 140, she pinned Capital City, MO's Jacinda Espinosa in 1:56. Pratt, who tied two others for the most team points in the competition with 38, only needed just over 10:00 to record her pins.
The Tigers also received a fifth-place finish from Holly Zugmaier, who fell in the 125 semifinals before winning her final match.
Collinsville's Taylor Dawson also took fifth at 130 after losing in the semifinals and again in the consolation bracket before ending with a victory. She won her first four matches by fall.
Belleville East's Alexcia Hardin took sixth place at 105 after getting sent to the wrestlebacks in the third round and then responding with four-straight falls to give her five for the tournament.
Civic Memorial seventh at Indiana's Mater Dei Holiday Classic
Civic Memorial had two champions to help it claim a seventh-place finish with 130 points at the 19-team Mater Dei Holiday Classic in Evansville, Indana.
Bryce Griffin (145) and Abe Wojciekiewicz (170) both captured titles for the Eagles, who were the lone Illinois team in the field. They also received fifth-place finishes from Bradley Ruckman (106), Caleb Scott (126) and Kale Hawk (220) while Logan Cooper (195) took sixth place.
Griffin opened with three falls before getting a win by technical in the semifinals and then captured a 5-1 victory over Louisville Trinity, KY's Bryant Beane in the finals at 145 to improve to 22-3 on the season.
Wojcikiewicz followed the same pattern as Griffin with one exception. After opening with three falls and a win by technical fall, he won a 12-0 major decision over Louisville Trinity, KY's George Ferree in the 170 finals to improve his record to 21-2.
Wojcikiewicz led all competitors in the event with 30.5 team points while Griffin scored 29.5 points to finish with the fifth-best total.
Ruckman, Scott, Cooper and Hawk all advanced to the semifinals and all but Cooper wound up losing to the eventual champions at their weights.