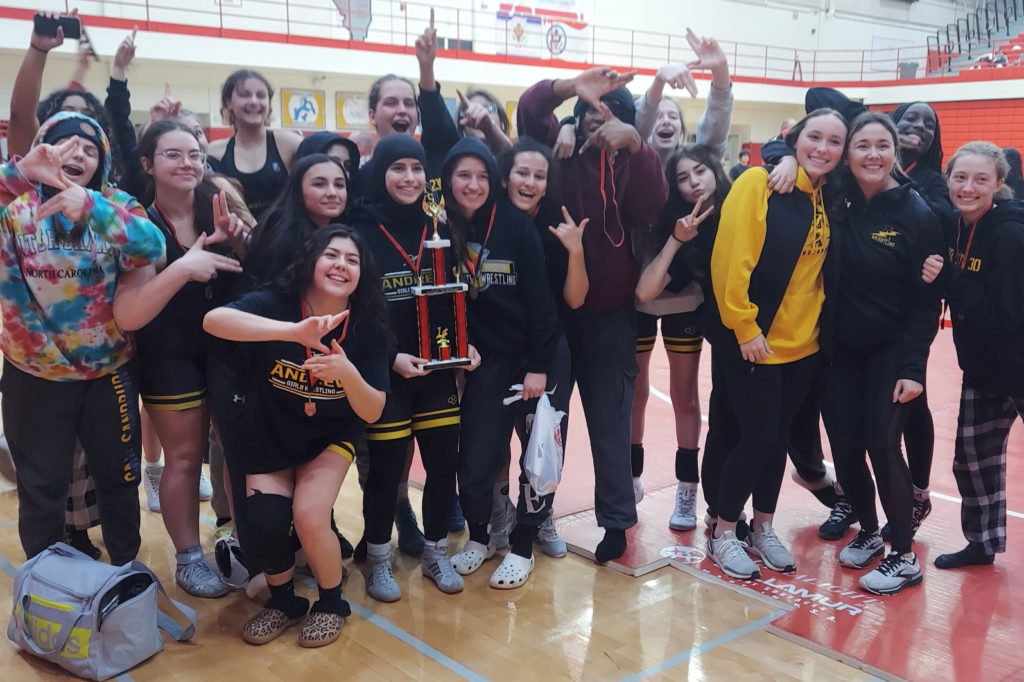 By Gary Larsen
District 230 strikes again.
The co-op team comprised of girls from Andrew, Stagg, and Sandburg won its third tournament title in December on Thursday, out-pacing the field at this year's 2nd annual Sally Berman Holiday Classic, hosted by Palatine.
 Coach Demeri Pajic's team also won team titles at Pontiac and Schaumburg in December, sending 2022 out with a bang.
"I'm so happy for them," Pajic said. "We're undefeated as a team right now so I told them coming in we're the team to beat, and to keep doing what they're doing. They work so hard."
District 230 won with 217 team points to second-place Oak Forest's 172. Minooka (158), Homewood-Flossmoor (145.5) and Round Lake (106) rounded out the top five team places.
Pajic has more than 30 girls in her practice room this season.
"It's a larger team so we have wrestle-offs going on this year, and It's very competitive in our room. We have girls that are really passionate about the sport," Pajic said. "This season has been so much fun. They're my family, they're my life, and they know it. We're all like sisters on this team."
Pajic got individual titles from Alyssa Keane (135) and Janae Vargas (190) in Palatine, and seconds from Sophia Figueroa (110), Katherine Cygan (120), and Emma Akpan (190) among its four individual finalists.
The field at Palatine was a good one. Mickaela Keane was a runner-up at 170 in Pontiac but lost a tough decision to eventual Palatine champion Ileen Castrejon of Zion-Benton.
"Mickaela had a tough one in her first match at 170 and she only had one loss this year, and she was a state qualifier last year," Pajic said. "And a shoutout to Charlianne Johnson (115), our senior. She's a tough cookie and she goes out there and just works everything."
 Cygan's second at 120 followed up her second-pace finish in Pontiac, and Figueroa's title match Thursday at 110 went into overtime against Grant's Ayane Jasinski. Figueroa also placed second at Pontiac.
Second-place Oak Forest got an individual title from Alex Sebek (105) and seconds from Sabrina Sifuentez (130), Maya Coreas-Funes (140), and Jessica Komolafe (235).
Homewood-Flossmoor led the field with three individual champions in returning state champion Attalia Watson-Castro (130), Alima Toheeb-Lawal (145), and Jocelyn Williams (235).
Other wrestlers winning titles in Palatine were Grant's Ayane Jasinski (110), Burlington Central's Tori Macias (115), Hoffman Estates' Sophia Ball (120), and Lockport's Claudia Heeney (125), who was named the tournament's outstanding wrestler.
Also winning Berman titles were Round Lake's Riley Kongkaeow (100), Lemont's Suzie Knutte (140), Palatine's Jasmine Hernandez (155), and Zion-Benton's Ileen Castrejon (170).
 Here's a breakdown of this year's 2022 Sally Berman Holiday Classic champions:
100: Riley Kongkaeow, Round Lake
Round Lake freshman Riley Kongkaeow is currently ranked No. 4 at 100 in Illinois, in Rob Sherrill's Illinois Matmen rankings, and she kicked off the first of 12 pins recorded on the title mat in Palatine.
Kongkaeow won by fall in her first two matches before doing so in the championship match against Rickover Naval Academy's Mia Vazquez, who is currently an honorable mention wrestler in the rankings at 100 pounds.
Kongkaeow only started wrestling one year ago as an eighth-grader and she is acclimating well to high school wrestling.
"The biggest adjustment for me from middle school wrestling is to now wrestle girls, since all I wrestled were boys last year," Kongkaeow said. "My brother (Grayson Kongkaeow, a boys' sectional qualifier last year) is basically my coach. We get along really well and he's been a big help for me."
Kongkaeow fought off two Vazquez takedown attempts in a scoreless first period, then chose bottom position to start the second. She reversed Vazquez and pinned her to take the Berman crown at 100.
"I was a little nervous before my final and I knew (Vazquez) was strong," Kongkaeow said. "I just wanted to stay away from her and keep moving, and getting those first points with my reversal was really important."
105: Alex Sebek, Oak Forest
Fourth-ranked freshman Alex Sebek trailed Bartlett's Emma Engels 2-1 after one period of their title match, so she knew she only had two minutes to turn things in her favor. Having Engels in bottom position to start the third period was a good beginning.
"I was freaking out but top is my favorite position and I'm pretty good at adjusting to situations," Sebek said. "As soon as I saw she was on her shoulder I immediately went to a signature move that I love and it worked."
Sebek's third-period fall was her third of the day. Engels — who went 23-13 and placed eighth in Illinois at 100 last season and is currently ranked No. 7 at 110 — earned a first-period takedown and led 2-0 heading into the second. Sebek escaped bottom to make it 2-1 before taking control over the lankier Engels in the third period.
"I've seen (Engels) wrestle before but I'm kind of used to wrestling taller people. I'm very defensive against tall people and the key is just going low and shooting low," Sebek said.
Sebek won by fall in her semifinal against Grant's Snow Khi, who placed eighth in Illinois at 105 last year. while Engels won 8-1 over Lakes' Zariah Mouzan in her semifinal match. The sophomore Engels won an individual title at Larkin this season and was a state qualifier last year.
Sebek is aiming to grab the brass ring in her rookie campaign.
"My goal is to win state this year," Sebek said. "I just need to get a little better on my feet and in adjusting to different situations on my feet. I used to only wrestle with boys and I'm still on boys' varsity, so seeing all the girls here and wrestling here has been super cool."
110: Ayane Jasinski, Grant
The lone championship match decided by straight decision went to overtime, with Grant's Ayane Jasinski earning a takedown in the first minute of overtime for a 3-1 win over Andrew's Sophia Figueroa.
"I did a slide-by," Jasinski said. "I was very nervous because obviously the match could be over at any second. And you don't have a chance to come back."
Jasinski posted a trio of pins to reach the finals and won by fall in her semifinal against Saint Viator's Natalie Gubernaut. Figueroa pinned Minooka's Holli Coughlen to reach the title mat.
Jasinski went 11-3 as a sophomore last year and placed fourth in Illinois at 100 pounds. "It was cool because it was only my second year wrestling," Jasinski said. "I'm better on top this year but I still need work on my feet."
115: Tori Macias, Burlington Central
Last year's fourth-place finisher at 110 last year, Burlington Central's Tori Macias went 23-6 as a freshman. This year, the diminutive sophomore moved up to 115 and thus now faces wrestlers with more length than she'd been used to last season.
Her approach is simple: "Stay low," Macias joked.
Macias lowered the boom in her title match, winning by fall over Grant's Joanna Szelag at the 1:19 mark, but not before Szelag earned an early takedown. But Macias earned a lightning-quick reversal and worked it to a pin.
"I tried to get my bar and run it as hard as I could," Macias said. "If I can't get it I'll recover, but I got it."
It was Macias' fourth pin of the day and she reached the finals with a semifinal fall against Round Lake's Ireland McCain.
Macias is currently ranked fourth in Illinois at 110 and wrestling is in her blood: her older brother is former Burlington Central star Austin Macias, a two-time Illinois state champion.
"I've been wrestling since sixth grade. I saw my brother (Austin) wrestle and said 'I want to do that'," Macias said. "I was a little sloppy last year but I feel like I'm cleaning that up a little. I just want to keep cleaning up my technique and get things done right away."
 Macias also placed second in tournaments at Larkin and Maine East this year. She won by fall in her Berman semifinal match over fifth-ranked Ireland McCain of Round Lake, who was fifth in Illinois at 120 last year. Szelag won a 15-5 major decision in her semifinal over Lockport's Liz Ramirez.
120: Sophia Ball, Hoffman Estates
Hoffman Estates junior Sophia Ball went 17-8 and finished eighth in Illinois at 115 last year as a freshman. This year, she won an individual title at this year's Maine East tournament and she pinned her way to a Berman title on Thursday, culminating in a win by fall on the title mat against Andrew's Katherine Cygan.
Both Ball and Cygan are currently ranked as honorable mention wrestlers at 120.
"I got better this year under pressure because when I'm anxious I get too frantic," Ball said. "And I had a pretty good takedown last year but it definitely got better this year. I want to place (downstate), obviously, and I still need to get better at bottom and at defending."
The sophomore is enjoying her second season of Illinois high school wrestling.
"Definitely," Ball said. "And we have a bigger girls team this year, which makes it even more fun."
Ball pinned Minooka's Sabina Charlebois in their semifinal match while Cygan won a 7-6 decision in her semifinal against Fremd's Zuri Sarmiento.
125: Claudia Heeney, Lockport
 The winner of the tournament's Outstanding Wrestler Award added a Berman Classic title to her resume, which includes tournament wins at Niles West and this year's Gable Donnybrook tornament. On Thursday, Lockport freshman Claudia Heeney won a wild, 23-9 major decision that saw her leading 9-7 in the finals over a tough Ava Babbs of Lakes after one period, before Heeney broke the match open.
Those close, nail-biter matches are fun, right Claudia?
"It's fun because the whole crowd is cheering, but it's also a lot of pressure," Heeney said. "There were a little bit of nerves but I looked around and found one of my best friends, and she just told me to calm down. So it's hard to be in those kinds of matches, but winning them feels even better."
Heeney used three falls to reach the finals, capped by a semifinal fall over Burlington Central's Soraya Walikonis, a state qualifier last year. Heeney has worked hard to keep an even keel on the mat.
"When I was younger I'd get more emotional on the mat so that's something I've worked on for a few years now," Heeney said. "I want to get better at keeping things tighter and more technical but I'm pretty happy with everything right now."
Heeney is currently ranked fourth at 125 and Babbs — who placed eighth downstate at 135 last year, won a tournament title at Antioch this year, and is ranked as an honorable mention wrestler — won by fall in her semifinal match against sixth-ranked Emmylina O'Brien of Hoffman Estates.
130: Attalia Watson-Castro, Homewood-Flossmoor
After going 17-1 and winning a state title at 135 last year as a junior, Homewood-Flossmoor's Attalia Watson-Castro had to figure things might different in her senior year.
"Last year nobody really knew who I was and this year everyone does, but I welcome the challenge," Watson-Castro said.
 Top-ranked at 135, Watson-Castro met all challengers and pinned them in Palatine, capped by her fall on the title mat against Oak Forest's Sabrina Sifuentez, currently ranked fifth at 135. Watson-Castro won her semifinal match by fall against Minooka's Eva Beck, while Sifuentez won by fall against Conant's Ewa Kroupa in their semifinal match.
Watson-Castro also won individual tournament titles at Normal and Pontiac this season, but an accumulation of titles isn't what she thinks about.
"I approach it one match at a time," she said. "I always try to humble myself and never (assume) I'm going to win. Wrestling is all about thinking and anyone can win, no matter what the rankings say, so you just have to stay smart and stay close with your moves."
135: Alyssa Keane, District 230
Ranked sixth in Illinois at 130, District 230's Alyssa Keane and Conant's Mannie Anderson (No. 4 at 135) squared off in the only finals match that featured two of Illinois' top-5 ranked wrestlers.
It was a wild but short-lived championship bout.
 Keane led 2-0 on a first-period takedown, and Anderson escaped to make it 2-1. Anderson then scored a takedown and three near-fall points to take a 6-2 lead, only to be reversed and pinned by Keane at the 1:57 mark.
Keane also won the B division title at 135 in Pontiac on Dec. 9.
"Alyssa Keane is one of the hardest workers in the room and she's somebody who's always confident," District 230 coach Demeri Pajic said. "When she knows someone is ranked, she's always like 'I've got it'."
Anderson won by fall in her semifinal match against Hoffman Estates' Annie Rackoci, while Keane won by fall against Round Lake's Raven Burnett in their semifinal.
"(Keane) is a second-year wrestler and was a state qualifier last year," Pajic said. "She put in the work all throughout the summer and continues to be completely locked in."
140: Suzie Knutte, Lemont
If you're looking for someone who understands that sports are supposed to be fun, look no further than Lemont's Suzie Knutte. Asked about her three quick pins in winning the title at 140 Thursday, and Knutte had a simple explanation:
"I like to get things over and done with," she joked.
In only her first season as a high school wrestler, the senior Knutte is making waves. She already won tournament titles at Waukegan and Ottawa, and added a Berman title to that list with a pin on the title mat against Oak Forest's Maya Coreas-Funes.
The quick pins that occur across girls' wrestling might carry with them a risk of wrestlers not being as conditioned as they need to be in longer matches that go the distance. But Knutte isn't worried.
"My last tournament two days ago I won a 9-0 decision," Knutte said. "I'm in good shape. I run a lot and the conditioning at Lemont is so good. Third periods are no problem.
"I just want to clean things up and learn a little more. I think I have the strength and endurance but technically I have a lot to work on."
Knutte won by fall in her semifinal match against Homewood-FLossmoor's Grace Gibbs, while Coreas-Funes won her semifinal by fall against Minooka's Bella Cyrkiel.
145: Alima Toheeb-Lawal, Homewood-Flossmoor
"It was a tougher match and I was a little bit winded," Toheeb-Lawal said. "You want to do everything you can to get your team points. With a 6-1 decision I was cutting it close there and I didn't want to let her get any more points. I scored on a lot of throws."
"I'm faster and more skilled. I wrestled in the offseason, went to Fargo — everyone is getting better. When I started as a freshman I had a good record and now, in my senior, it's like 'dang, everyone has gotten great'. There are a lot of great wrestlers now."
 155: Jasmine Hernandez, Palatine
The first of the day's two title matches featuring teammates happened at 155, when Palatine's Jasmine Hernandez and teammate Sabrina Cargill squared off in their home gym.
After a period that featured a lot of handfighting but not much else, Hernandez — who placed sixth downstate at 145 last year and is currently ranked No. 2 at 155 — posted a second-period pin to win a Berman title.
There was more going on in the match than people knew.
"We both have asthma and I didn't want her to have an asthma attack, so during the first period we did a bunch of hand-fighting to get our blood flow up," Hernandez said. "Then during the second period, I worked my moves.
 "And we had to make it interesting for the (fans) that are cheering. It's my last year and I'm trying to make this year fun."
Her title-mat fall was Hernandez's fourth of the day, and it was set up by a fall in her semifinal match against Minooka's Abbey Boersma. Cargill reached the finals with a semifinal pin against Burlington Central's Jada Hall.
Hernandez also won a title at Granite City this season. With just a little more than a month remaining in the wrestling season, Hernandez aims to fine tune her way to a state title.
"I want to keep working on my technique. That's the number one thing that has improved," Hernandez said. "And I want to maintain my physique and stay in shape, lift more weights and get stronger."
170: Ileen Castrejon, Zion-Benton
As a sophomore last year, Zion-Benton's Ileen Castrejon went 14-6 and was a state runner-up at 170 pounds. Now a junior, she's back for another bite at the apple.
Castrejon opened her Berman tournament with a 7-4 decision win over District 230's Mickaela Keane, who placed eighth downstate last year and was second at Pontiac's 38-team tournament on Dec. 9. Castrejon then reeled off three pins to win the tournament title at 170, capped by a fall in the finals over Downers Grove South's Gracie Swierczynski.
Castrejon's fall in the semifinals over Minooka's Jaiden Moody set up her finals win, while Swierczynski won by fall in her semifinal Oak Forest's Riley Ensing.
190: Janae Vargas, District 230
Teammates Janae Vargas and Emma Akpan did battle for a Berman title at 190, just a few weeks after Akpan won the title at 190 in Pontiac. Vargas was the starter in Palatine but while Akpan's run to second place didn't earn District 230 any team points, coach Demeri Pajic has a pair of rock-solid wrestlers at 190 in her practice room.
"Our two girls in the finals together have both been wrestling off for (190) this year," Pajic said. "Janae got to wrestle as our starter today so I told them before the final that this was a wrestle-off for the two of them. Janae took home the win but they've pushed each other."
Vargas won by fall over Evanston's Ashland Henson in her semifinal match, while Akpan won by fall in her semifinal against Oak Forest's Isabella Peralta.
235: Jocelyn Williams, Homewood-Flossmoor
The third Homewood-Flossmoor wrestler on the day to win a Berman title, Williams went 15-9 and reached a state semifinal last year before finishing fourth in Illinois. The fourth-ranked junior won the title at 235 on Thursday with a pin against Oak Forest's Jessica Komolafe, and she feels like a different wrestler this year with the post-season right around the corner.
"I was too emotional last year and that makes you wrestle too wild," Williams said. "I had to start looking at it as just having fun. That's all. Just have fun and if you lose, just learn from your mistakes."
"And I actually listen to my coaches this year. They'd tell me to do things last year during a match and I'd second-guess them. I want to win state this year. I have to win state. And it's not really part of my weight class but I want to start shooting."
Komolafe reached the finals with a pin against Conant's Rye Reyes. Williams had three pins on the day, including a semifinal fall against Downers Grove South's Brianna Fellows.