Maine South captures Berman crown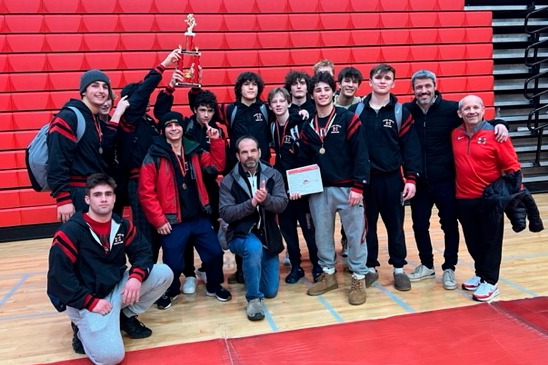 By Mike Garofola
With the return of several key men from its state power football program, it appears that Maine South now has the proper depth and talent needed to make rivals in the Central Suburban League take notice.
That goes for teams competing at weekend tournaments as well.
The Hawks showed it can be a dangerous bunch to deal with as Kevin Hansen's club claimed 11 medals, nine in the top four, and 188.5 overall points to hold off hard-charging South Elgin, which finished second with 174.0 points.
York, with a tourney-high four individual titles, was third with 162.0, followed by Geneva (148.5) and Mundelein (145.0) at the 67th annual Berman Holiday Classic hosted by Palatine.
"It was a very good overall effort from the guys today," Hansen said. "We obviously would have liked to finish off things in the finals, but it's starting to come together for us with everyone back from football. Today is something we can build from going forward."
Maine South advanced four to the finals and got an individual title from Danny Spandiary at 152.
The Hawks were up by 30 over then-second place Mundelein (109-79) at noon, and 20 over Jim Gloudemans' club from South Elgin (137-117) heading into the final round.
The South Elgin skipper liked what he saw from his team.
"We came into the tournament a little short-handed, but the guys stepped up to score bonus points with pins," Gloudeman said. "With Demetrios (Carrera, champ at 106) and our heavyweight champion (Tommy Roath) leading with their focus and effort, I can't be more proud of these guys today."
Gloudeman also got second place medals from Andre Rios (132) and Leo Rosas (138) and gave high praise to his senior, Nico Clinite, whom he calls "the rock" of the South Elgin team.
Here now is a look at the individual weight divisions:
106: Demetrios Carrera, South Elgin
Demetrios Carrera helped get South Elgin off to a perfect start in the final session when the freshman recorded a 6-3 decision over Joey Sikorsky (20-3) of Geneva, who recently won a title at the Porter Invite.
"We talked a little beforehand about staying tight, and getting to my shots, and I feel like I was able to do that for most of the match," said Carrera (21-1) who now has three major titles on his resume after winning titles at Fenton and Hoffman Estates.
"Demetrios kept great position and always looked to score today in all his matches," Gloudeman said.
Carrera pinned his way into the 106-pound in just under five minutes. He recorded a takedown and two near-fall points against Sikorsky as the first period came to an end, and built his lead to 6-1 with a reversal to start his third period.
Sikorsky overwhelmed Morgan Turner in his semifinal to tag the talented Bremen freshman with his first defeat of the season to advance into the final. Turner went on to finish third and Maine South's Brett Harman placed fourth.
113: Elijah Wofford, Bremen
Elijah Wofford (16-0) was one of five individual champions for Bremen at the recent Sciacca-Holtfretter Invite at Harvard, and the sophomore continued his winnings way here after his hard fought 5-4 decision over Lake Park sophomore Nick Merola.
Wofford, a 2A state qualifier a year ago, claimed his third title of the season and led 4-1 with an escape with 3.6 seconds remaining in the second period.
"(Merola) was strong and to be honest, I was getting tired in that second period," Wofford said. "So it was important to stay mentally strong after I was hit with that warning (stalling) in the third period, because I had to hang on until the very end." Wofford conceded a take-down at the edge to draw Merola (12-5) within one (4-3) after the opening whistle of the third period.
Wofford overwhelmed his first two opponents with a major decision and then a tech-fall in his semifinal to advance, while Merola pinned second-seeded Pablo Bacerra (14-4) to reach the final.
Bacerra finished third and Maine South's Christos Vaselopulos was fourth.
120: Zach Parisi, York
After surviving in overtime over No. 2 seed Nore Turner (12-1) of Bremen, York junior Zach Parisi (18-1) went on to impress with a marvelous six minutes to defeat Maine South's Teddy Flores 7-0 to capture the top prize at 120.
"That first take-down was big for me," Parisi said. "After that I felt real comfortable, especially on my feet." Parisi came ranked No. 8 in Rob Sherrill's rankings at Illinois Matmen, one spot ahead of No. 7 Flores. Both were state qualifiers last year.
"I wasn't real happy with my overall performance at (Prospect's Mudge-McMorrow) in my loss in the final to (Fremd's Evan) Gosz so I've really stepped up my work in the room," Parisi said.
"My teammate Sean (VanSleet) is a great 'legger' and everyday my coaches have put me down against him. He has really given me a workout with his legs, which was great for me because if I can get that part of my game better, it will compliment my ability on top."
Parisi showed just how tough he can be on top when he rode Flores for the last 90 seconds of the second period, after increasing his advantage to 5-0, then again after adding to his lead at 7-0 with one minute left in regulation.
Despite the loss, Flores provided Dukes fans with a special moment when he stunned No. 4, and top seed, Bryce Durlacher (Mundelein, 19-3) in his 4-3 overtime semifinal victory.
Durlacher was later forced to take an injury default in his third-place bout with Turner.
126: Sean Berger, York
Perhaps inspired by teammate Zach Parisi's title win, York's Sean Berger proceeded to claim the 126-pound trophy after holding off the talented Emmett Nelson from Richmond-Burton, during a well-played six minute contest which ended 4-2 in Berger's favor.
"He was a very good opponent," Berger said. "I knew to look for his under-hooks, and his 2-on-1 collar ties but I felt like I wrestled real solid all throughout the match." Berger is currently ranked 7th with a victory over sixth-ranked Aidan Huck (Batavia) to his credit thus far.
The returning state qualifier got back level (2-2) with an escape near the edge at five minutes, then executed a terrific takedown to go up for good moments later.
That takedown was the first Nelson conceded on what has been a magnificent year thus far. The sophomore was second at the 1A state tournament last season and has already won three majors this season to help validate his spot as the No. 2 rated man at 120.
Berger has his eye on wrestling next fall at either a D-II or D-III school, but is undecided as to where his new address will be.
"I feel like things are beginning to come together for me, so I look forward to the second half of the year, and getting back downstate," said Berger, who was 2-2 in Champaign a year ago to finish at a dazzling 40-7.
Benji Albavera (Mundelein, 14-5), and Luke Morrison (Maine South, 8-3) were third and fourth, respectively, in Palatine.
132: Sean VanSleet, York
Returning state qualifier Sean VanSleet continued York's lower-weight magic in spectacular fashion to claim the first major of the season.
"Like (Parisi), I wasn't too happy with the way things ended for me (at Prospect)," VanSleet said. "It was a loss to Will Baysingar (Prospect) in the final so I've been making adjustments along the way since that weekend. I feel like I've cleaned some things up thanks to our coaching staff, and working with Parisi and Berger in the room,"

VanSleet improved to 15-3 in Palatine, after going 31-10 last season.
"I've been able to gain a lot from working with Berger, whose style is kind of funky," Van Sleet said. "Because of him I've been able to prepare for that kind of opponent. I've also cleaned up my stance and base to make both real solid."
VanSleet would storm past his two earlier opponents via 15-0, and 16-0 tech-falls, while Rios pinned his way into the final. Ethan Banda (Mundelein, 14-6), and Gavin Hoerr (Maine South, 15-8) were third, and fourth overall.
138: Lorenzo Frezza, Stevenson
As the season continues to progress, so does the level of expertise from Lorenzo Frezza, who continues to provide Stevenson fans and his coaching staff with one superb effort after another.
The Patriots' senior left little doubt as to how things would come to an end in the 138-pound division as he registered consecutive pins in less than three minutes in his first two matches of the day before finishing off his next two opponents with tech-falls. His day was highlighted by an electrifying effort during his 23-8 victory over South Elgin freshman Leo Rosas (17-3) which came to a close at 5:01.
"This was a much stronger way to finish a tournament," Frezza said. "I was disappointed in how I didn't continue to score points in my final (at the Whitlatch tournament), especially in the third period."
Frezza improved to 23-0 with his title win in Palatine.
"It's always about going against the best in order to prepare for the final few weeks of the season," said Frezza, currently ranked second behind reigning state champion Nasir Bailey of Rich Township.
Vince Merola (Lake Park, 13-4), pinned Malakai Scott (Bremen, 16-5) to earn third-place honors.
145: Scott Busse, Lake Zurich
With league rival and good friend Lorenzo Frezza watching along the edge, Lake Zurich senior Scott Busse demolished the field at 145 for the second straight weekend to collect some extra silverware for this trophy case.
"I'm healthy, feeling really good, having fun, and really looking forward to this second half of the season," Busse said. "I feel very confident about how things will finish for me at state."

Busse who won his state opener a year ago before suffering a season-ending injury in his second-round match with Jimmy Nugent of Downers Grove South.
Busse reached the finals and placed second at the Moore-Pettyman and Mudge-McMorrow tournaments, before unloading on a quartet of opponents to win a title at the Porter Invite (Niles West).
He dominated the field in Palatine.
"I felt like I could have done a few things a little differently in my final with (No. 4) Antonio Alvarado (Belvidere North) at Barrington, and I was right there at 5-5 with the top-rated guy in the state (Noah Tapia, Moline) in my final at the Mudge," Busse said. "So it's all about keeping strong and staying focused in the third period to turn those types of results around."
Busse needed just over 4 1/2 minutes to pin his way into the final where, after a modest 2-0 lead, he went on a scoring spree that ended at 3:29 with a 28-13 advantage.
Maine South senior Nathan Beltran (17-2) was a deserving finalist with two pins and a hard-fought 7-5 decision over the No. 2 seed, Nico Clinite (South Elgin, 24-3), who went on to claim third place with a pin of Brody Rudkin (17-4) of Richmond-Burton.
152: Danny Spandiary, Maine South
The success of Maine South football forced Danny Spandiary and others to begin their wrestling season a little late, but the Hawks senior is thrilled to be back on the mats and he has been celebrating his return in style.
Spandiary kept his record spotless at 16-0 following his 12-5 victory over Maguire Hoeksema (Geneva, 18-4) to win the lone individual title for the tournament's team champion.
"Even though we lost a close one (37-34) to Glenbard West in our quarterfinal, the football season provided a lot of great memories for all of us, but now it's time to turn my full attention towards wrestling," Spandiary said. "I want to make my last year here the best that it can be.
"I worked on getting bigger, stronger, and more fit for this season because I want to be a hundred percent ready for the rest of the year to get downstate."
Spandiary pinned his way into the finals, where he dashed the hopes of Hoeksema (18-4) who went to Palatine in search of a second straight title after winning it all at Niles West's Porter Invite.

With some nice control at the edge in order to keep his toes inside the arc, Spandiary took the lead for good (2-0) in the first period against Hoeksema, then extended his advantage to 6-2 with a third-period reversal before seeing Hoeksema close to 7-5 with 16.0 seconds from time.
Hoeksema went for broke with an inside trip that Spandiary turned into a takedown and then a near-fall to finish off the match.
"We were both a little gassed at the end, but I'll continue to work on getting into great shape," Spandiary said. "That will help me win the close ones in the really important matches later on."
Javier Hurtado (Rolling Meadows, 8-3), and Noah Demarco (Oswego East, 18-7) were third and fourth.
160: Dylan Konkey, Geneva
Geneva senior Dylan Konkey (20-2) and his teammate Jon Schmidt have been on a tear of late, and when the action here got underway in Palatine, Konkey stayed nearly untouchable against his 160-pound opponents.
Konkey pinned his way into his final and once there he added another to his stats sheet at 3:30, winning by fall over Mundelein senior Ty Murray.
With his title win in Palatine, Konkey now has three majors to his credit, the first two coming at the Rex Lewis (Buffalo Grove) then the Porter Invite (Niles West), where the Vikings came close to overtaking Joliet West for the team title.
"Right now both Konkey, and Schmidt are just doing their jobs," Geneva coach Tom Chernich said. "They're doing a lot of things really well to help each of them have the success they've had."
Konkey admitted to a good dose of senior-year urgency at play.

"It's my senior year so it's important to be as good as I can be to get myself downstate and on the podium," Konkey said. "Since the end of my sophomore year, it's been three or four times a week in the room training, and I have not stopped training since then."
"Dylan is finishing his opponents off with pins and beating a lot of quality guys along the way," Chernich said. "If he continues this way, he'll get himself downstate where he can compete for a medal."
Murray is now 16-6 overall. Stevenson's Everett Ciezak finished third and Lake Zurich's Maciej Szelazek finished fourth.
170: Danny Decristofaro, York
York's Danny Decristofaro won his first major of the season and in doing so he gave York its fourth individual crown on the day.
Decristofaro was in control of his title match from early into the second period when the score went from 4-0 to 9-0 in a blink of an eye, en route to a 15-2 major decision victory over Alec Miller (14-4) of Hinsdale South.
"This sport can be humbling, there are so many ups and downs," Decristofaro said. "It's important to show a lot of respect to your opponents and to stay humble."
Decristofaro opened the tournament with two pins before recording a third against top seed Sam Bartell (Maine South) in just 47 seconds.
"I decided to turn all of my attention to wrestling and give the sport my complete dedication," Decristofaro said. "I've spent a lot of time training at Izzy Style, which has given me the chance to be in the room with a lot of talented wrestlers to train with."
The aforementioned Bartell (12-3) would earn third place honors, while Oswego East senior, Dylan Crawford (16-11) claimed the fourth place medal.
182: Jovanni Piazza, Hinsdale South
After a quiet entrance into the final session here in Palatine, Jovanni Piazza brought Hinsdale South to life with a hard fought 6-4 victory in the 182-pound final over Lake Zurich's Matt Luby. That win also provided a bridge to the Hornets' second title on the day when Griffin Carr won minutes later at 220.
Piazza (16-1) did what every wrestler knows is most important to his success, and that was to register the first takedown. He then double his advantage before the first period came to an end.
"That first takedown is big and for me, it gave me the momentum and confidence for the rest of the match," said Piazza, a junior, who entered the tournament as the No. 10-rated 182-pounder in 2A.
"(Luby) was looking to go with an underhook at the start so when I defended that and turned it into a takedown, I really feel like I set the tone for the rest of the match," Piazza said. Piazza conceded an escape to Luby and then record another takedown with 25 seconds remaining in the opening period.
"I basically lost most of the last season when I tore my labrum, had surgery, and went through six months of rehab," Piazza said. "So this year is really important to me and I feel a hundred percent healthy. I feel like I can get downstate and on the podium."

Both Piazza and Luby pinned their way into the final. South Elgin's Josh Taylor was third while Cary-Grove's Gabe Simpson was fourth.
195: Jon Schmidt, Geneva
Like a shark in the water looking to feed, Geneva's Jon Schmidt has been on a lethal pin frenzy of late. That spree has taken the senior to three major titles after his sensational day of wrestling came to a close when he beat Tommy Porello (Maine South, 10-4) by fall at 2:32 of their title match.
Schmidt (19-2) won at the Rex Lewis (Buffalo Grove) with a trio of pins, then record a remarkable five pins in 13:33 minutes to claim the top prize at the Porter Invite (Niles West). He finished up the first half of his season with two more pins in Palatine.
"I had a nice little streak of pins going before that 7-1 decision in my semifinal, so I guess it's something like eight out of my last ten matches have been pins," said the Vikings 95-pounder, who aims to get back to state after earning his first trip in 2021 to the IWCOA state tournament.
"I lost in the blood round at the Conant sectional last year so for me, it was time to turn up my work in the offseason," Schmidt said. "I've been working as hard as I could since the season began and right now I feel like my confidence, work in (neutral), and my shot-taking is so much better than last year."

Schmidt went 36-17 last season.
"Jon has been on a real roll of late," Geneva coach Tom Chernich said. "He's so tough on top and he has a real presence out there this year. He's just a real tough 195-pounder."
Hunter Meyer (Lake Zurich, 15-7) beat Danny Viscuso (South Elgin, 15-6) for third place.
220: Griffin Carr, Hinsdale South
Inspired by teammate Jovanni Piazza's title win at 182 pounds, Hinsdale South's Griffin Carr (14-4) ended a day of dominance at 220 with a pin at :49 of his title match against Joe Petit (South Elgin, 17-6).
It was Carr's second major of the season.
"Watching Jovanni go out there and win for us really got me going for my final," Carr said. "I went out there and went to work right away to get the pin and the title.
"I won earlier at our own tournament but I wasn't happy at all with my performance at the Whitlach, so I went back into the room and worked on cleaning some things up. I fixed a couple of the bad habits from that tournament to get myself ready for this tournament and the second half of the season."
After taking home regional and sectional crowns a year ago, Carr's first foray at Champaign didn't go as he had hoped, as two quick losses ended his season.
"Yeah, that was a rough one down in Champaign, and not one that I want to repeat," Carr said. "That kind of gave me the motivation to work even harder during the offseason."
After considering Butler and Valparaiso, the 6-4 Carr is honing in on D-3 power, UW-Whitewater as his next stop.
Austin Bagdasarian (York, 12-7), and freshman Logan Abrams (Cary-Grove, 10-4) were third and fourth, respectively.
285: Tommy Roath, South Elgin
In the always entertaining and unpredictable heavyweight division, the bracket would stay true to form when the last final of the day saw top-seeded Eric Perez-Nava of Bremen standing across from second-seeded Tommy Roath of South Elgin.
Both combatants earned their spot in the finals with two pins in advance, and as expected this match needed six full minutes to decide the champion.
Roath struck early with a second-period takedown, added another later, then stifled his talented opponent from Bremen with a hard ride until the final whistle to earn a 6-2 decision and the 285-pound title.
"Watching Eric beforehand I knew he was big, strong, and long, which can give guys like me who are (shorter) heavyweights a lot of trouble," began Roath, now 20-4 on the season.
"I kept my position and stance real steady throughout the match, got that first takedown, and I knew with all of the cardio I've been working on that if I could get the lead, I could ride him out," Roath said.
The junior, who went 12-7 in his abbreviated season last year, also plays football for the Storm as a right guard.
"Heavyweight is a push-pull division, with a lot of the matches either ending with a fall, or the full six minutes. So for me, my fitness will be so important in the second half of this season," Roath said.
Perez-Nava (15-2) who plays on both sides of the line for Bremen football, was looking to grab his second tournament title of the season to go along with the one he earned at Harvard where he was voted outstanding wrestler in the upper weights.
Dominic Begora (York, 14-5) and Gavin Slaughter (Hinsdale South, 8-6) were third and fourth overall.
TEAM STANDINGS
Maine South 188.5, South Elgin 174.0, York 162.0, Geneva 148.5, Mundelein 145.0, Hinsdale South 129.0, Lake Zurich 115.5, Richmond-Burton 105.5, Stevenson 98.0,
Bremen 95.5, Rolling Meadows 81.0, Lake Park 80.0, Oswego East 73.0, Leyden 61.0, Cary-Grove 54.0, Grayslake North 34.0, Palatine 21.0, Zion-Benton 14.0