DeKalb flexes Sectional muscle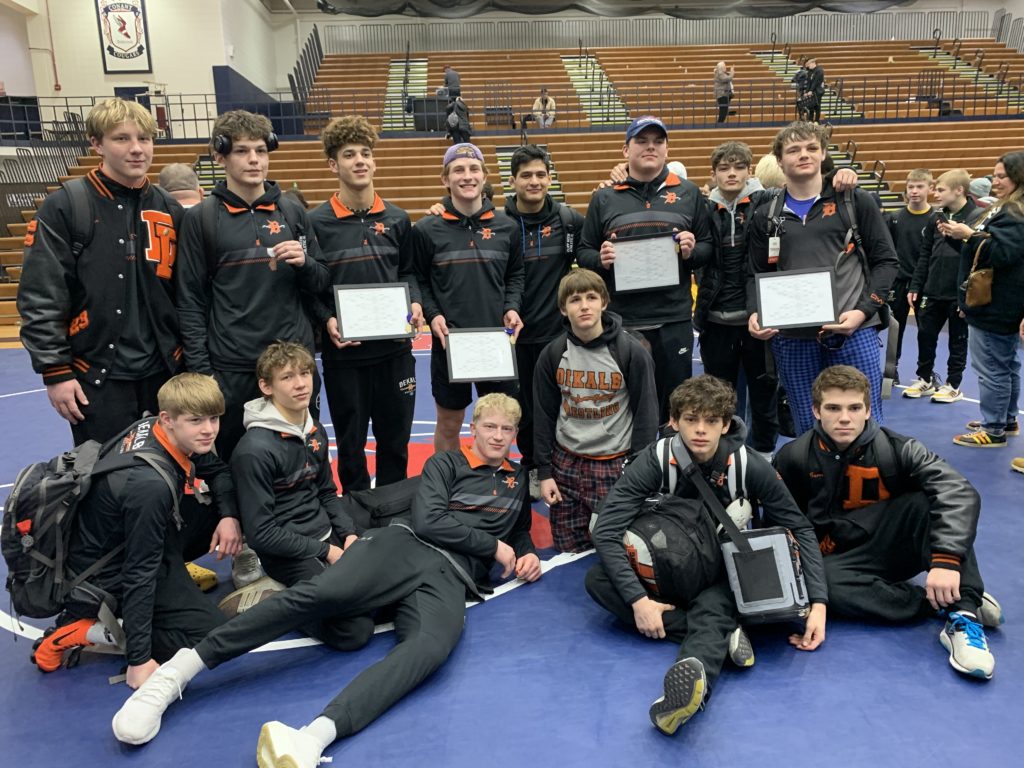 by Mike Garofola
For the IWCOA
No. 1 DeKalb (14-0-0) continued its dream season when it advanced 12 into the state tournament, including 4 individual champions who will all set sail for State Farm Arena when the 3A state tournament begins at the University of Illinois in Champaign.
The Barbs, led by a superb senior group, and top rated Bradley Gillum (182) and Tommy Curran (145) were head and shoulders above a quality field inside William Perry Gymnasium at host Conant High School in Hoffman Estates – which is something both men anticipated the moment they set foot in the Barbs room.
"We knew when we all came in that we could do something really special here at DeKalb, and with the addition of a few new faces along the way, we're in position to have a successful (individual) state tournament and a great chance at dual-team state," said Gillum.
"We've been talking about what we could do when we're all seniors. We know with continued hard work we're capable of some great things, both individually and team-wise. Now we just have to go out and do it during the next two weeks," added Curran.
The 'knock-out' stage of the state series began in earnest all across the state, with the blood round, as always, being an unfriendly place to be for those who knew it was win or go home for those living on the edge.
St. Charles East is sending a half-dozen downstate, followed by Glenbard West with five, then Batavia, Conant, and Glenbard North each. East coach Jason Potters' also had three individual champions.
Here is a closer look at the 14 weight classes:
106 – Ino Garcia, Batavia
The hits just keep coming for Batavia sophomore Ino Garcia (38-4), who continues to raise the bar at 106 following his 9-5 decision over the talented freshmen from Schaumburg, Brady Phelps (27-3), who took control of his own fate with superb work to reach the final.
"Ino was been one of the best six-pounders in the start since the very beginning, and the only reason, in my opinion that he didn't finish among the top at this weight last season was because he let nerves get to him in the postseason," Batavia coach Scott Bayer said.
"This year he's just been a hammer. He bumped up to go against top kids at 113, where three of his four losses have come, each by a single point or a single scoring maneuver."
"What has allowed him to wrestle his best right now, and what will keep him on a continued path for the rest of his life, is that he makes the conscious choice to be one of the most competitive, humble, focused, and coachable kids in our program.
"He has great parents, and an equally great coach, Ryan Farwell, one of our assistants."
Garcia, who began this weekend as the No. 9 man in the state polls, collected his fifth major of the season.
Schaumburg coach Mike Levanti was happy with the two-day effort put forth by Phelps.
"The most impressive thing about Brady is how much he loves to compete, and his work habits are very good and getting better," Levanti said.
"We knew Garcia would be a problem. He's giant for this weight class. But we appreciate the effort and (Phelps) gave himself a chance to win in the third period."
Freshmen Kalani Khiev (Glenbard North, 29-10) and Kaden Klapprodt (DeKalb, 25-7) also both earned well-deserved spots downstate.
113 Zack Parisi, York
With no clear cut favorite in this division, it would be Zach Parisi (39-4) who would navigate around and past a trio of difficult stops along the way to claim his biggest prize of the season.
The York sophomore, who up until this weekend had collected four majors this season, began this weekend on his front foot by defeating the ever-improving Ulises Rosas (Glenbard West, 33-9) with an 11-6 decision. Parisi then edged top- seeded Aidan Huck, 28-9) of Batavia to set up a final with Callen Kirchner (29-8) of Schaumburg.
Once there, Parisi would decision Kirchner, 3-1.
Aidan Huck (Batavia, 28-9) who won at the Erb (Glenbrook South) and last week at regionals, came back to defeat Rory Burright (DeKalb, 16-4) to claim the third- place medal.
120 – Ben Davino, St. Charles East
Ben Davino unleashed a devastating all-out attack on this weight class, recording three consecutive tech-falls to easily capture the 120-pound title, his fourth major of the season.
"Davino (33-1) put on another dominating performance," Saints coach Jason Potter said of Davino, currently ranked No. 1 in Rob Sherrill's IWCOA rankings.
"When you're at his level it can be difficult to see growth but I feel like every week he adds more to his offense and his overall game. He can score from any position, and he goes out there to not only win, but wants to put on a show at the same time."
Davino has kept his shoulder to the wheel.
"I've been working on opening up more and with each day in the room, I like to advance my game at each level and just have fun when I go out there," said Davino, the reigning 2021 IWCOA state champion.
No. 9 Sean Berger (York, 38-5) would defeat No. 7, Daniel Aranda (27-8) in his semifinal (8-4) to advance into the final with Davino, and later, Aranda, 5th last summer at the IWCOA state championships, would grab third place honors over Glenbard North sophomore, Christian Chavez (13-6) who is a state qualifier for the first time.
DVC champion, Aranda (27-8) came back from his heart-breaking semifinal defeat to Berger, and defeated Christian Chavez (Glenbard North, 13-6) with a pin to earn third place honors, and his second trip downstate
126 Paul Wood, Glenbard North
Paul Woo continued his postseason success following his his victory over Schaumburg junior Caden Kirchner (30-8) by a fall at 2:34.
The Glenbard North senior, who two years ago lost in the blood round to eventual 106-pound state champion, Joe Fernau, then of Montini, used a pin in his quarter-final, then a 5-2 decision over Dominick Mallinder (Lake Park) to reach his third final of the postseason.
Woo's win over Kirchner earned him his first sectional crown and a top four seed in Champaign.
No. 8 Dominik Mallinder ( 28-5) earned his second trip downstate, one year after his runner-up finish at the IWCOA state tournament at 126. Sean VanSleet (York, 31-8) celebrated his first visit downstate.
132 – Tyler Guerra, St. Charles East
The start of an avalanche against his opponents began at the DuKane Conference tournament, through the DeKalb regional, and ended when St. Charles East sophomore Tyler Guerra marched through one of the toughest brackets at Conant.
Guerra would cruise on his way to his DuKane crown with a pin, then tech-fall in his final, followed by a command performance at regionals where he stunned top seed, and No. 4 Danny Curran (DeKalb) during a 5-0 regional final.
Pace, perseverance, and an unerring finish returned the No. 3-rated 32-pounder atop the podium on Saturday, when he won by major decision over No. 8 Pierre Baldwin (36-3) of West Chicago, who is now a three-time state qualifier.
"Tyler is wrestling at his best at the right time of the year," Saints coach Jason Potter said.
"He has found great balance between his attacks, and his defense on his feet, and he has really bought into being a hammer on top.
"For the second straight week, he has ridden out the top contenders at his weight, and his ability to stay relaxed in big moments has impressed me most. I'm excited to see what he can do at state."
Baldwin (36-3), sixth at the IWCOA state tournament last summer, pinned Curranat 7:26 in a semifinal contest. Curran went on to finish third overall, while Colin Roque (26-5) of Taft became the second CPS wrestler to advance downstate from this venue.
138 – Kaden Fetterolf, Batavia
It was yet another sensational individual performance from Kaden Fetterolf of Batavia, who for the fourth time this season would defeat league rival Mike DiBenedetto in a championship match.
The Bulldogs junior registered a 6-0 decision over DiBenedetto (Lake Park, 34-6) to earn his earn a top four seed this weekend in Champaign.
"It's always difficult to wrestle anyone three or four times in one season, but right now, I feel like I am putting more distance between him and I," said Fetterolf (38-5), who like DiBenedetto is now a three-time state qualifier.
Fetterolf, fifth overall at last year's IWCOA state championships, was an IHSA state qualifier as a freshman. He went 30-14 that year, going 1-2 overall in the tournament in a star-studded 106-pound weight class.
"It was a good experience in (Champaign) and one that I learned a lot from," said Fetterolf, who this season has 19 pins and is second on the club in near falls with 70.
Fetterolf, who went into this weekend as the No. 5 man in the state, recorded a 17-4 major in his opener, then cruised into the final with No. 7 DiBenedetto with a pin at 5:54.
Austin Martin (DeKalb, 28-9), and regional champion Jacob Lachs (Glenbard West, 31-12) finished third and fourth, respectively.
145 – Tommy Curran, DeKalb
North Carolina State-bound, and top-rated Tommy Curran (28-1) pinned his way to his second straight sectional title when he recorded his 18th fall of the campaign over St. Charles East sophomore Gavin Connolly (28-8) at 5:06.
Curran, now with four major titles to his name this season, will go after an elusive first state title after claiming a pair of second place trophies (2021, 2020) which preceded his sixth-place finish as a freshmen at 113.
"I am feeling really good right now," Curran said. "One of the things I've been working at is to open things up more, plus my movement. Right now I feel confident and capable of winning a state title next weekend if I stay focused on one match at a time.
"My visit to NC State with my brother (Danny) was a really good one. The head coach and his staff were impressive, and I really like their overall program. It's going to be a great place for both of us."
Connolly (25-8) who would avenge back-to-back losses to eventual third-place medal winner, Cael Andrews (Batavia, 38-8) with his 5-0 shutout over the Batavia junior to advance into the final with Curran.
"Gavin had opportunities to avenge previous losses on Saturday, and he did just that," Saints coach Jason Potter said. "He beat Cael (Andrews, Batavia) in his semifinal after dropping his last two to Andrews at conference and regionals."
CPS, and regional champion, Finn Merrill (Lane, 34-10) is on his way to Champaign for the first time in his career.
152 – Ethan Stiles, Conant
The top half of the 152-pound bracket had all the look of a Navy Seals testing grounds with Nos. 2 (Ethan Stiles, 26-1) and No. 3 (Damien Lopez, 26-4) on a semifinal collision course come Saturday morning.
Plenty of hardware between these two state giants, and most important, bonus points towards the seeding of the top four in Champaign next weekend.
"Lopez is so good, and extremely tough – obviously we did not take him lightly at all," said Conant head coach, Andrew Guilde.
"That said, our plan was simple: get to our offense, and ride tough on top. We knew if the first take-down went our way,Ethan could ride tough on top."
Stiles did just that, and after a scoreless opening period, Stiles got an escape, a takedown, and rode Lopez hard to change the course of the match.
"(They) took neutral in third, Ethan was able to to get another takedown to make it 5-0, and he then rode Damien out for the win.
"Ethan was dialed in all weekend, and he's ready to make his push for a second consecutive state title. He haselevated his mat wrestling all season long, and he's getting better with each day."
Stiles, who leads the Cougars in takedowns, defeated Glenbard West senior Brennan Skoda (34-6) with a tech-fall at 4:23 to collect his sectional title.
Lopez went on to beat Devin Medina (Wheaton North, 40-11) in the third-place bout.
160 – Brody Murray, St. Charles East
Like his teammate, Tyler Guerra, Brody Murray has separated himself from all others at 160-pounds since the start of the postseason.
Two pins led to the Saints sophomore lifting the individual trophy at regionals, leading up to another dazzling two days of work at Conant, culminating in his 7-0 decision over Glenbard West star Max Konopka (34-5) in a comprehensive six minute effort.
"I've been watching a lot of film lately in anticipation of facing (Joe) Olade (Lake Park) who we knew was strong, and an upper body guy," offered Murray, before his 7-1 victory over Olade. Olade later took an injury default in his third place bout with Caleb Wall of DeKalb.
"Brody has put great back-to-back performances for us, and I really like how he's approaching his matches, and the way he's able to control the pace of the match," Saints coach Jason Potter said.
"Earlier in the season, we felt he was giving up points he didn't need to, so the focus has been to be stingy with his defense. He and Gavin (Connolly) have made great strides and it showed this weekend."
"Max has a rhythm to his matches, and not to take anything away from Brody (he) wrestled such a strong match, but all of the blood time seemed to throw off the flow of the match, and I believe it Max was distracted by it," said Glenbard West head coach, Nick Posegay.
"We'll work on avoiding that distraction before state."
The aforementioned Wall (20-8) and Olade (30-4) are first time state qualifiers.
170 – Lukes Schmerbach, DeKalb
Plenty of hard work and a little good fortune helped put Lukes Schmerbach in place to enjoy a memorable final season at DeKalb. The Barbs senior took full advantage of good health to provide head coach Sam Hiatt with another terrific piece in his all-star lineup.
Schmerbach (31-2) gave his sectional opponents little chance to challenge over the two days here – including a masterful effort in the 170-pound final with Mikey Rosch (28-17) from Wheaton North that ended in a 16-6 major decision victory.
"Two times I tore my labrum, once during my sophomore year that required reconstructive surgery, then last year when I injured it again at Izzy Style," Schmerbach said. "The labrum was replaced with a cadaver labrum that was drilled into the bone."
To no one's surprise, Schmerbach has an interest in kinesiology, physical therapy, or chiropractic care in college.
"It's great to see Lukes having such a solid season after his sophomore year was cut short, then missing all of last season," says Hiatt.
"Even with my injuries, it's been a great four years at DeKalb, and one that all of us who are seniors were really looking forward to us having the year we're having as a team, and individuals," said Schmerbach, who has (14) pins on the season.
Regional champion Nick Matubas (Willowbrook, 32-5) was third overall, while Elijah Chiaro (St. Charles East, 22-7) was fourth.
182 – Bradley Gillum, DeKalb
An avalanche named Bradley Gillum (27-2) fell upon the 182-pound weight class over two days of play, and the No. 1 man in the state would validate his lofty status with yet another superb performance, ending with a 7-1 decision over Batavia star Jackson Tonkovich (28-5), who was sixth at the IWCOA last season.
The reigning state champion and now, four-time state qualifier added to his impressive team stats resume with a pair of pins to send him into his final. Gillum also has a second-place finish at the formidable Dvorak tournament on his season's resume.
"This is an important win for me personally and the biggest is obviously next week. After that we're going to work hard to get ourselves to the dual-team state tournament, where we'll look to win it all," said Gillum, who has committed to wrestle next season at SIU-Edwardsville.
"I looked around at lot, had some schools looking at me during a long process but SIU was always there for me, and when I went on my visit, I just loved the campus, coaching staff, and everything about the college," said Gillum, who was the 2019 under-16 Greco-Roman national champion.
"I've been working hard on my conditioning, and looking to clean things up, and be as sharp as I can heading into this final weekend. I know as the No. 1-ranked guy in the state, everyone will bring their best when they face me."
Third place AJ Hernandez (Conant, 24-11), and fourth place Seth Skamra (Addison Trail, 25-8) will be making their debut in Champaign.
"(Hernandez) does nothing but put a smile on my face," Conant coach Andrew Guilde said.
"He wasn't rattled after his loss to (Tonkovich) in the quarters, he knew after that it was just one match at a time, and he's a young man who just believes in himself, knowing it would come down to a tough blood round match."
195 – Henry Chang, Conant
What a ride Henry Chang has been on during these past three weekends of wrestling.
The Conant senior claimed the top prize in a wicked-good 195 weight class to add to his post season collection, which now includes both an MSL and regional championship trophy.
"Henry was phenomenal all weekend long," began Guilde.
"He had lost twice before to (Colin) O'Neill (22-5) from Leyden, who has great defense, so we worked on getting guys out of position, and finishing his take-downs. That was the difference in (that) semifinal."
Chang won 6-3 in his semifinal match.
On the top half of the bracket, it was two 95-pound monsters meeting in the semfinal: No. 1, Philip Dozier (Glenbard West, 40-2) versus No. 6 Bryson Buhk (25-9) from DeKalb.
"(Buhk) had a good practice plan against us, and unfortunately Philip didn't change up his attacks when his first approach wasn't working," Glenbard West coach Nick Posegay said. "Usually he is flexible enough to do so."
Buhk won by fall over Dozier.
"We learned some valuable lessons each time out and I know Philip's focus is on his goals at state."
Chang would go on to defeat Buhk with the same tactical approach taken with the aforementioned O'Neill – good position, clean finishes, and wrestling tough.
"Henry lost earlier in the season to Buhk also, so we knew what to expect – he's such a hard worker, and has no quit in him, the entire coaching staff is so proud of him," Guilde said.
Dozier would use two pins to push him over 100 for his career to earn third place honors, while senior Brady Tosterud (Elk Grove, 20-8) is on is way downstate for the first time in his career.
220 – Gavin Engh, DeKalb
Gavin Engh (24-7) became the fourth and final man from DeKalb to collect a sectional title, after his 5-2 decision over Leyden senior, Gus Tosterud (24-7), who is making his second consecutive appearance at state.
Engh, No. 10 in the IWCOA rankings prior to this weekend, won the DVC title three weeks ago, then followed up with a regional crown in his home gym.
Engh would add two more pins to his resume, giving him 14 on the season to book his place opposite Testerud. Engh's second pin came at the expense of CPS champ Ryan Porebski (Taft, 33-8) who later fell short in the blood round to Chance Guziec.
Guziec (30-8, 13 pins) will join the aforementioned Brady Tosterud on the bus to Champaign to give the Grens two state qualifiers.
"I really cannot remember the last time we had two go downstate, but with Chance, he is been wrestling really intelligent of late," Elk Grove coach Dan Vargas said. "He has a plan for each period, minimizes his mistakes, and makes sure to put himself in positions he is his strongest at."
Conant sophomore Harley Stary (20-17) worked his way back through the consolation brackets to earn his place downstate.
"Harley is just a sophomore, who didn't wrestle last season because of COVID, so he spent most of this year just catching up, and getting used to varsity wrestling," Guilde said.
"He is all guts and to take a year off, then qualify for state is a testament to his work ethic, and belief in himself, and his unwillingness to give up."
285 – Paulie Robertson, Glenbard North
No. 2 Paulie Robertson (Glenbard North, 28-1) began his quest to reach the state final, with No. 1 Ryan Boersma (Mt. Carmel, 36-2) firmly in his sights as we head into the final weekend of the season.
Boersma, the reigning state champion dealt Robertson his lone defeat of the season in the Dvorak final, 4-1.
"I learned a lot from that loss and I've filed it away, and plan to be ready if and when I face Boersma again," Robertson said after his DuKane Conference tournament victory, which he followed with another major at regionals.
Robertson would defeat Morley Coval, 4-2 in his sectional final to earn a top four seed in Champaign, while Glenbard West head coach, Nick Posegay cannot wait for his big man to begin play on Thursday inside State Farm Arena.
"Morley is one of those rare kids who does not see rankings after someone's name on the IWCOA website. That approach that has helped him make his way up the ladder," West coach Nick Posegay said.
"Early season wins over state-ranked opponents such as Jordan Lewis (Downers Grove North) and RJ Schneider (Providence Catholic) gave him confidence. He's a thinker, and very strategic wrestler, and with him closing the gap on Paulie is a natural extension of that."
Third place Austin Barrett (St. Charles East, 25-12) and Adam Lambaz are first time IHSA state qualifiers. For Barrett it was his hard fought 4-3 victory over CPS champion Grzegorz Krupa in the blood round that ensured his spot in the state field.
"One of the more exciting matches for us this weekend was Austin's comeback victory in the blood round," Saints coach Jason Potter said.
"He doesn't have years of experience in the sport like so many others, but he loves the sport and he believes in the work ethic wrestling has taught him.
"Wrestling coaches all over the country try to get football players to just how much this sport can help them, and most coaches have a list of top college and pro football players who have wrestled, and use it to prove the point."
"I am looking forward to the day when Austin's name in on that list, so I can help the next generation of football players see the value of our sport."
FROM THE IWCOA: If you are enjoying these articles, please consider a small donation to the IWCOA so that we can continue funding feature stories for our website and social media. The IWCOA is non-profit, 501(c)(3) organization. Click this link to make a donation. Thank you!
---