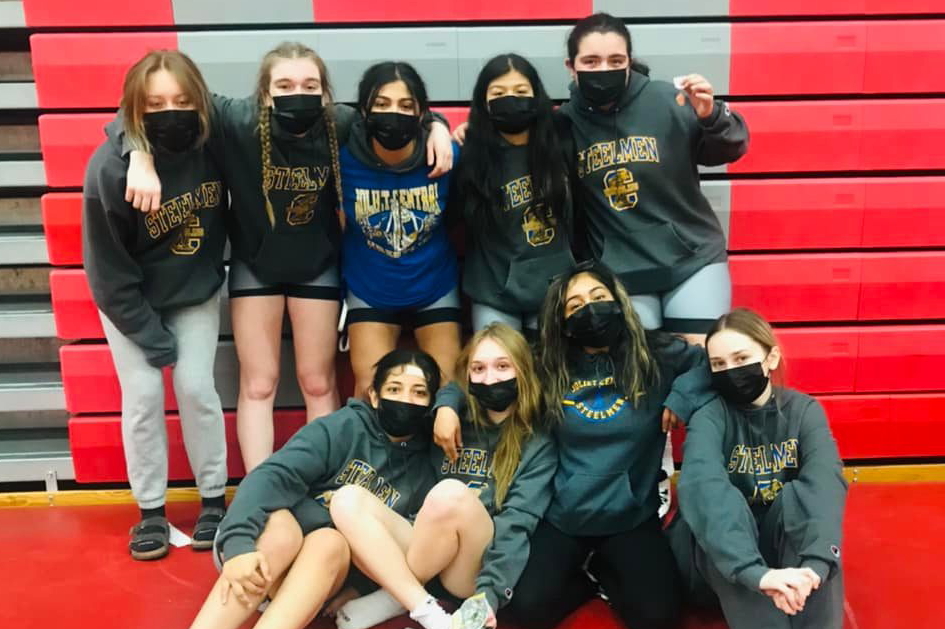 By Gary Larsen
For the IWCOA
Naperville Central
At day's end, Joliet Central led all teams in Naperville with five state qualifiers of their nine wrestlers entered, and led all teams with 103.5 points to finish atop the field in team scoring. Minooka's 11-girl team finished second with 81 points, West Aurora's three wrestlers scored 68 points in third, Lockport's nine wrestlers were fourth with 66 points, and Hononegah's four wrestlers rounded out the top five team finishes with 65 points.

Three wrestlers will enter the state finals from the Naperville Central sectional with unbeaten records to their name, in Glenbard North's Gabriella Gomez (8-0 at 105), Plainfield South's Alexis Joniak (8-0 at 130), Batavia's Sydney Perry (17-0 at 145).
Yorkville's Natasha Markoutsis (26-1 at 125), Larkin's Maria Ferrer (20-1 at 170), and Lockport's Skylar Wojcik (6-1 at 235) all enter the state finals with a single loss on their records.
Here are the 1st- and 3rd-place match results and state qualifiers:
Naperville Central championship
100 Angelina Cassioppi (Hononegah) over Emma Engels (Bartlett) F 1:38
105 Gabriella Gomez (Glenbard North) over Ella McDonnell (Morris) F 1:38
110 Shea Reisel (Somonauk co-op) over Victoria Macias (Burlington Central) F 1:21
115 Yami Aguirre (Yorkville) over Itsel Vivanco (Joliet Central) 9-1
120 Cadence Diduch (Freeport) over April Ortiz (Joliet Central) F 1:31
125 Natasha Markoutsis (Yorkville) over Dahlia Leighton (Glenbard East) F 1:25
130 Alexis Janiak (Plainfield South) over Katie Ramirez (Bolingbrook) TF 3:41
135 Netavia Watson (Boylan) over Sandra Sanchez (Batavia) F 1:47
140 Sara Meyer (Ottawa) over Madison Schlismann (Joliet Central) F 5:23
145 Sydney Perry (Batavia) over Dyani Rivera (West Aurora) F 2:48
155 Giselle Ayala (Larkin) over Violet Cherep (DG South) F 1:28
170 Rose Casssioppi (Hononegah) over Ionicca Rivera (West Aurora) F 1:02
190 Brittney Moran (West Aurora) over Gracie Swierczynski (DG South) F 1:30
235 Skylar Wojcik (Lockport) over Keira Enright (Plainfield South) F 4:46
Naperville Central 3rd-place matches
100 Kat Bell (Montini) over Kameyah Young (East Aurora) F 5:39
105 Brooklyn Doti (Minooka) over Chloe Wong (Joliet West) F 1:13
110 Grace Laird (Joliet Catholic) over Angelina Carpintero (Bartlett) F 2:56
115 Eliana Paramo (Joliet West) over Brooklyn Sheaffer (Yorkville Christian) SV-1 6-4
120 Stejah Allen (Joliet West) over Soraya Walikonis (Burlington Central) F 3:45
125 Dyani Torres (Kaneland) over Charlene Bahnfleth (West Chicago) F 3:42
130 Khatija Ahmed (Glenbard West) over Jayda Rosenow (Erie co-op) F 0:43
135 Stephanie Serna (Joliet Central) over Elizabeth Ruter (Oregon) 8-2
140 Jaiden Moody (Minooka) over Ani Navarro (Glenbard West) F 1:28
145 Elisa Russell (Rock Falls) over Lexie Carden (Durand co-op) F 5:29
155 Maya Kalombo (WW South) over Marisa Janecek (Kaneland) F 1:49
170 Maria Ferrer (Larkin) over Kelli Watkins (Lockport) Inj. 0:00
190 Jayden Huesca Rodriguez (W. Chicago) over Aurelia Gil-Lane (Bolingbrook) F 1:09
235 Fernanda Miranda (Joliet Central) over Linnie Saldeen (Glenbard West) 5-3
Richwoods
Host Richwoods and its nine wrestlers entered finished atop the team scoring, 80-70 over second-place Edwardsville and its eight sectional wrestlers. Richwoods advanced five wrestlers to this year's state finals in Bloomington.
Goreville (five wrestlers) placed third with 69 points, Belleville East (five) scored 62 points to finish fourth, and Lawrenceville co-op (two) rounded out the top five team finishers with 49 points.

Wrestlers from the Richwoods sectional who will arrive with unbeaten records at this year's IHSA state finals are Richwood's Kyley Bair (19-0 at 105), Glenwood's Maya Davis (5-0 at 115), Edwardsville's Mackenzie Pratt (9-0 at 120), and Belleville East's Kiara Ganey (11-0 at 235).
Here are the 1st- and 3rd-place match results and state qualifiers:

Richwoods championship matches
100 Brianna Richey (Lawrenceville co-op) over Rebecca Ferguson (Rock Island) 5-4
105 Kyley Bair (Richwoods) over Alexcia Hardin (Belleville East) F 2:14
110 Shaina Hyre (Lawrenceville co-op) over Brooklyn Murphy (Jacksonville) 3-2
115 Maya Davis (Glenwood) over Mikah Merrill (Goreville) M. For.
120 Mackenzie Pratt (Edwardsville) over Avery Smith (Red Budd co-op) F 1:28
125 Lauren Dothager (Vandalia) over Bri Bynum (Sherrard) F 0:56
130 Berlin Kiddoo (Westville co-op) over Abby Rhodes (Edwardsville) 7-0
135 Alivia Ming (Goreville) over Kelly Ladd (Macomb) F 2:19
140 Antonia Phillips (Alton) over Savannah Hamilton (El Paso-Gridley) 6-0
145 Hayley Nappier-Feth (Richwoods) over Sanaa Hampton (Rock Island) F 2:59
155 Lexi Ritchie (Unity) over Jaida Johnson (Richwoods) TF
170 August Rottmann (Highland) over Kami Ratcliff (Belleville East) F 4:26
190 Keely Rulo (Cahokia) over Ruby Sepeda (Moline) 3-0
235 Kiara Ganey (Belleville East) over Shelby Hailey (Normal Community) F 1:57
Richwoods 3rd-place matches
100 Olivia Coll (Edwardsville) over Sammy Lehr (Normal West) F 1:00
105 Bailey Lusch (East Peoria) over Molly Merrill (Goreville) F 2:51
110 Maddaline Bryant (Charleston) over Baya Perez (Richwoods) F 0:17
115 Alexis Seymour (Jacksonville) over Isabella Motteler (Richwoods) 12-11
120 Pyper Wood (Normal Community) over Josie Barham (Deer Creek-M.) F 5:33
125 Taylor Dawson (Collinsville) over Oregan Dover (Anna-Jonesboro) TF
130 Avery Schlickman (GCMS co-op) over Jordan Bicknell (Olympia co-op) 15-13
135 Ava Vasey (Unity) over Jaylah Dalton (Pekin) F 1:55
140 Maggie Ramaker (Trico) over Charley McColpin (Robinson) F 2:52
145 Arie Johnson (Richwoods) over Aubrianna Putman (Canton) F 2:39
155 Samir Elliott (Granite City) over Autumne Williams (Limestone) F 0:32
170 Faith Barrett (Mt. Vernon) over Katie Marvel (Canton) 7-1
190 Olonna Rehmer (Belleville East) Bye
235 Oriana Casey (Warsaw) Bye
Evanston
Schaumburg's 12 wrestlers entered finished atop the field with 117 points, while Hoffman Estates' eight girls finished second with 88, and Lakes' five wrestlers placed third with 67 points. Fenton's six wrestlers posted 65 points in finishing fourth in team points and Zion-Benton's four wrestlers rounded out the top five team finishes with 64 points.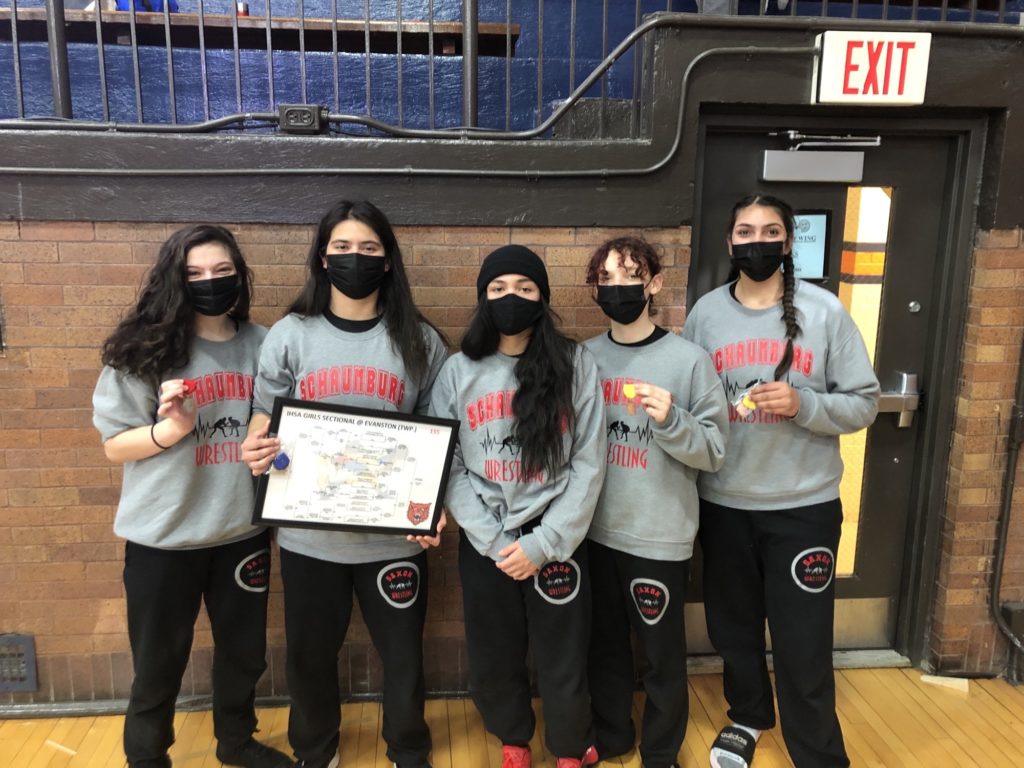 Evanston sectional champions advancing to the state finals with unbeaten season records were Lakes' Olivia Heft (11-0 at 115), Taft's Kaila De Toro (4-0 at 125), Grant's Crystal Villegas (15-0 at 130), and Palatine's Jasmine Hernandez (27-0 at 145).

Sectional champs advancing downstate with a single loss this season were Grant's Ayane Jasinski (8-1 at 100), Niles West's Al Ghala Mariam Al Radi (14-1 at 135), Zion-Benton's Rachel Williams-Henry (11-1 at 140), Schaumburg's Valeria Rodriguez (27-1 at 155), and Fenton's Noelia Vazquez (22-1 at 190).

Here are the 1st- and 3-place match results and state qualifiers:

Evanston championship matches
100 Ayane Jasinski (Grant) over Autumn Oregon-Williams (Addison Trail) F 0:37
105 Harlee Hiller (Loyola) over Vianny Hernandez (Round Lake) F 0:35
110 Taylor Casey (Huntley) over Ariana Flores (Evanston) F 6:00
115 Olivia Heft (Lakes) over Justyce Sieber (Warren) F 2:50
120 Hannah Suboni-Kaufman (Maine East) over Ireland McCain (Round Lake) F 1:17
125 Laila Del Toro (Taft) over Bethany Regione (Schaumburg) F 5:16
130 Crystal Villegas (Grant) over Madeline Zerafa-Lazarevic (Schaumburg) F 6:00
135 Al Ghala Mariam Al Radi (Niles West) over Keira Dafnis (Wauconda) F 0:43
140 Rachel Williams-Henry (Zion-Benton) over Noemi Marchan (Lane) F 3:20
145 Jasmine Hernandez (Palatine) over Adriana Demos (Warren) F 6:00
155 Valeria Rodriguez (Schaumburg) over Yamile Penaloza (Fenton) F 3:58
170 ILeen Castrejon (Zion-Benton) over Naomi Miles (Lake Forest) F 2:31
190 Noelia Vazquez (Fenton) over Josephine Larson (Lakes) F 6:00
235 JD Quijano-Perez (Addison Trail) over Jasmine Mejia (Rickover Naval Academy) Inj.
Evanston 3rd place matches
100 None
105 Samarah Goldstein (Stevenson) over Snow Khi (Grant) F 1:30
110 Amy Villegas (Maine East) over Evelyn Simon (Hoffman Estates) F 1:44
115 Sophia Ball (Hoffman Estates) over Madyson Meyer (Schaumburg) 13-3
120 Nyah Lovis (Lane) over Gianna Rossi (Hoffman Estates) 3-1
125 Emmlina O'Brien (Hoffman Estates) over Noelani Rodriguez (Waukegan) F 4:47
130 Abby Ji (Hoffman Estates) over Yannel Perez (Fenton) F 0:40
135 Samantha Anderson (Conant) over Ava Babbs (Lakes) F 4:42
140 Emma Garrett (McHenry) over Victoria Ryszawa (Jacobs) 8-2
145 Kaia Fernandez (Barrington) over Sajra Sulejmani (Stevenson) F 1:03
155 Julianna Conroy (Buffalo Grove) over Alize Ramirez (Evanston) 6-3
170 Alexandra Strzelecki (Huntley) over Denver Gier (Cary-Grove) F 0:40
190 Eliette Gomez (Waukegan) over Alya Razzak (Schaumburg) F 1:06
235 Kennedi Atkocaitis (Taft) over Medina Kadic (Ridgewood) F 0:50