Downstate/Out-of-state roundup for Jan. 8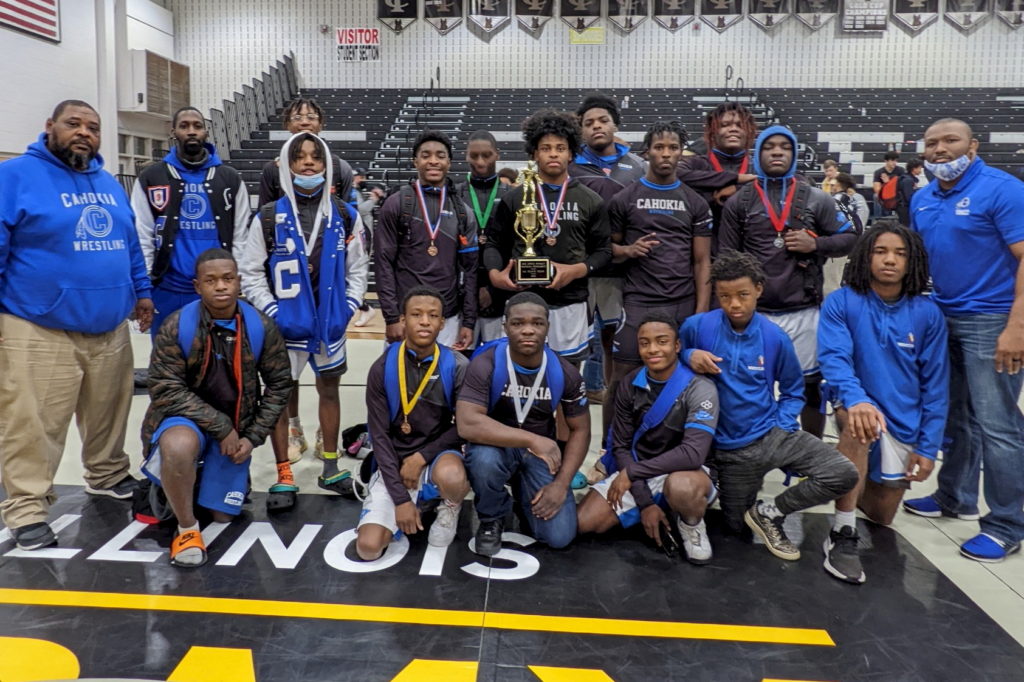 By Curt Herron
For the IWCOA
Cahokia wins title at Carbondale's Murdale Tournament
On a weekend where 12 teams won individual titles at Carbondale's 60th annual Murdale Tournament, Cahokia was one of the few among top scoring squads who didn't put anyone on top of the awards stand.
But three seconds, two thirds, two fourths and a fifth helped lead the Comanches to the championship of the 24-team competition with 168 points, giving them a good advantage over runner-up Murphysboro, who had 144 points, while Quincy edged the host Terriers 124-122 to claim third place and Anna-Jonesboro beat out Fairfield 119-118 for fifth.
Leading the way for coach EJ Brooks' Comanches were second-place finishers Nick Deloach, Jr. (152), Corron Midgett (170) and Berylonte Shegog (285). Demerious McGill (126) and Correion Midgett (182) took third and Nicholas Scott (106) and Damien Phipps (160) finished fourth.

"My kids battle hard at every weight," Brooks said. "We are a young team and my inexperienced guys got some much-needed mat time. The tournament was great for my team to build on as we head into the later part of the season. Great win, but we still have work to do."
Top finishers for coach Shea Baker's runner-up Red Devils were champions Arojae Hart (138) and Dayton Hoffman (160) and second-place finishers Liam Fox (126) and Patrick Campbell (145) while Kaiden Richards (106) and Bryce Edwards (132) took third place.
Marion also had a pair of champions, Nate Dampier (152) and Kanye Gunn (285). The other 10 title winners were Carlyle's Tyson Waughtel (106), Harrisburg's Tony Keene (113), Centralia's Nate Lecrone (120), Richland County's Carson Bissey (126), Benton's Mason Tieffel (132), Anna-Jonesboro's Caleb Mays (145), Quincy's Kayden Garrett (170), Mt. Vernon's Jared Shafer (182), Carbondale's Aiden Taylor (195) and Glenwood's Jaidyn Lee (220).

Waughtel (25-0), Keene (20-0), Dampier (27-1), Hart (21-1), Bissey (13-1), Tieffel (31-2), Mays (28-2), Shafer (19-2) and Gunn (18-2) owned some of the top records of champions following the competition.
Other second-place finishers were Carbondale's Gabriel Roman (120) and Aiden Murphy (138), Anna-Jonesboro's Drew Sadler (106), Goreville's Briley Lehmen (113), Herrin's Blue Bishop (132), Highland's Ben Mitchell (160), Quincy's Bryor Newbold (182), Harrisburg's Bryant Lester (195) and Mt. Zion's Remington Hiser (220).
Two of the closest title matches were at 160, where Hoffman edged Mitchell 2-0 in sudden victory, and at 195, where Taylor captured a 5-4 triumph over Lester.
Keene, Lecrone, Bissey, Dampier, Garrett, Shafer, Lee and Gunn all recorded falls in their title matches while Hart captured his title win by technical fall and Waughtel and Mays both claimed major decisions in the finals.
Also claiming third place finishes were Fairfield's Konnor Dagg (195), Payton Allen (220) and Jaxon Combs (285), Marion's Brennan Vogt (113), Frankfort's Eli Klus (120), Mt. Vernon's Bradden Davis (138), Benton's Holden Allsopp (145), Effingham's Jon Perry (152), Carbondale's Isaiah Duckworth (160) and Carlyle's Owen Birkner (170). Allen (22-1) suffered his first loss to champion Lee in the semifinals.
Others finishing in fourth were Frankfort's Gavin Mann (138), Hunter Stitley (220) and Tutt Braxton (285), Mt. Zion's Bradley Wilson (120) and Devin Mahan (170), Quincy's Evan Wakefield (113) and Gage Bringer (195), Anna-Jonesboro's Brett Smith (126), Highland's Tyson Rakers (132), Pinckneyville's Abel Runyon (145), Carbondale's Brenden Banz (152) and Fairfield's Landon Stewart (182).

Championship matches at Carbondale's Murdale Tournament
106 – Tyson Waughtel (Carlyle) over Drew Sadler (Anna-Jonesboro), 9-0
113 – Tony Keene (Harrisburg) over Briley Lehman (Goreville), F 1:07
120 – Nate Lecrone (Centralia) over Gabriel Roman (Carbondale), F 4:23
126 – Carson Bissey (Richland County) over Liam Fox (Murphysboro), F 5:26
132 – Mason Tieffel (Benton) over Blue Bishop (Herrin), M. Fft
138 – Arojae Hart (Murphysboro) over Aiden Murphy (Carbondale), TF 4:38
145 – Caleb Mays (Anna-Jonesboro) over Patrick Campbell (Murphysboro), 11-0
152 – Nate Dampier (Marion) over Nick Deloach, Jr. (Cahokia), F 3:54
160 – Dayton Hoffman (Murphysboro) over Ben Mitchell (Highland), SV 2-0
170 – Kayden Garrett (Quincy) over Corron Midgett (Cahokia), F 4:54
182 – Jared Shafer (Mt. Vernon) over Bryor Newbold (Quincy), F 1:37
195 – Aiden Taylor (Carbondale) over Bryant Lester (Harrisburg), 5-4
220 – Jaidyn Lee (Glenwood) over Remington Hiser (Mt. Zion), F 1:09
285 – Kanye Gunn (Marion) over Berylonte Shegog (Cahokia), F 3:42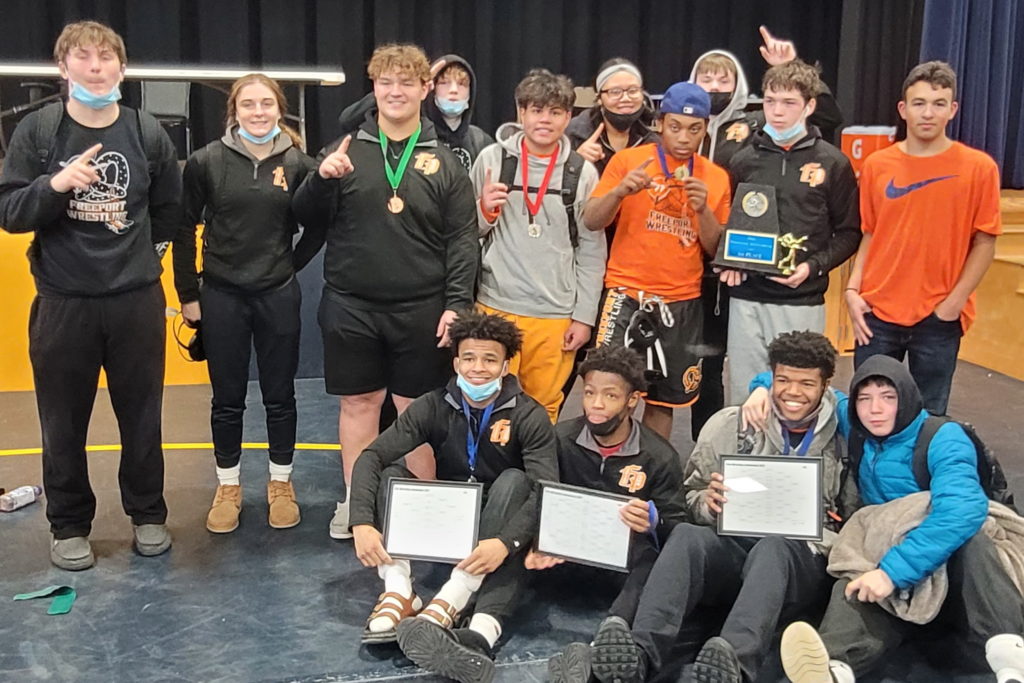 Freeport claims top honors at Polo Invitational
Freeport captured six titles and had another finalist among its nine participants to help it capture the title at the 16-team Polo Invitational with 195 points while Genoa-Kingston took second place with 130 points and the host Marcos finished third with 116 points. Richmond-Burton edged Parkview/Albany of Wisconsin 99-98.5 for fourth place.
Winning titles for coach Anthony Dedmond's Pretzels were Cadence Diduch (120), Markel Baker (126), Tyler Calam (132), Jaylon Hail (145), Tarrone Jackson (152) and Braxton Castle (182) while Donavyn Fernandez (160) claimed second place.
Diduch (13-3), who captured Fargo and IWCOA girls titles in the summer, won her second title this season in a boys tournament, after also taking first at Rockford East, where unbeaten Baker (15-0), an IWCOA champion and 2020 IHSA runner-up, joined her as a title winner. Baker received the Outstanding Wrestler Award for the lower weights while Diduch continues to impress in boys competition.
"Markel Baker was the lower level Most Valuable wrestler," Dedmond said. "And Cadence Diduch won at 120 pounds, pinning her opponent in the finals. I believe she may be the first female to win this tournament. We took nine wrestlers and ended with six champions. I am extremely happy with our effort, even through these difficult times."
Leading the way for coach Ashton Brown's runner-up Cogs was champion Aiden Vasak (160) and second-place finishers Nathan Dutton (145) and Brady Brewick (152). Placing third were Patrick Young (106), Shayden McNew (113) and Michael Sauber (182) while Julian Torres (195) finished fourth.
Winning titles for Richmond-Burton were Clay Madula (106) and Emmett Nelson (113) while Fulton got titles from Ben Fosdick (138) and Zane Pannell (170) and champions for Erie/Prophetstown were Andrew Bomleny (195) and Elijah Friedrichsen (285). Parkview/Albany's Wesley Egan (220) also won a title.

Champions with the best records by win percentage include Baker (15-0), Friedrichsen (18-1), Nelson (20-2), Pannell (21-3), Bomleny (17-3), Jackson (16-3), Diduch (13-3) and Hail (12-3).
Other second-place finishers were Oregon's Lane Halverson (132), Seth Stevens (138) and Evan Flaharty (285), Lisle's Ryan Hsu (106) and Joe Raineri (195), Polo's Wyatt Doty (126) and Wyatt Queckboerner (182), North Boone's Gavin Ekberg (113), Richmond-Burton's Dalton Youngs (120), Durand's Logan Braun (170) and Harvest Christian's Jacob Janisko (220).
In the narrowest title victory, Bomleny edged Raineri 2-1 at 195 while Calam won 9-6 over Halverson at 132, Fosdick captured a 7-4 victory over Stevens at 138 and Vasak was a 7-4 winner over Fernandez at 160.
Nelson, Diduch, Hail, Jackson, Egan and Friedrichsen won titles by fall, Pannell was a winner by technical fall and Baker and Castle claimed major decisions.
Others who claimed third-place finishes were West Carroll's Noah Rannow (120), Richmond-Burton's Dane Sorensen (126), Oregon's Anthony Bauer (145), Polo's Braydon Altherr (152), Lisle's Diego Lopez (160), Jefferson's Karlondo Dubois (195), Erie/Prophetstown's Nick Ballard (220) and North Boone's Ethan Delgado (285).
Also taking fourth were Polo's Lucas Nelson (132), Nicholas Cain (160), Wayde Reimer (170) and Blake Diehl (220), Lisle's Brady Collins (126) and Norbert Guzik (138), Harvest Christian's Sam Macek (106), Oregon's Griffin Marlatt (113), Durand's Ethan Foster (120), Dakota's Tristen Alexander (145), Richmond-Burton's Stephen Tower (152) and North Boone's Garrett Louis (182).

Championship matches at Polo Invitational
106 – Clay Madula (Richmond-Burton) over Ryan Hsu (Lisle), 11-5
113 – Emmett Nelson (Richmond-Burton) over Gavin Ekberg (North Boone), F 3:10
120 – Cadence Diduch (Freeport) over Dalton Youngs (Richmond-Burton), F 3:55
126 – Markel Baker (Freeport) over Wyatt Doty (Polo), 14-4
132 – Tyler Calam (Freeport) over Lane Halverson (Oregon), 9-6
138 – Ben Fosdick (Fulton) over Seth Stevens (Oregon), 7-4
145 – Jaylon Hail (Freeport) over Nathan Dutton (Genoa-Kingston), F 1:18
152 – Tarrone Jackson (Freeport) over Brady Brewick (Genoa-Kingston), F 0:52
160 – Aiden Vasak (Genoa-Kingston) over Donavyn Fernandez (Freeport), 7-4
170 – Zane Pannell (Fulton) over Logan Braun (Durand), TF
182 – Braxton Castle (Freeport) over Wyatt Queckboerner (Polo), 16-8
195 – Andrew Bomleny (Erie/Prophetstown) over Joe Raineri (Lisle), 2-1
220 – Wesley Egan (Parkview/Albany, WI) over Jacob Janisko (Harvest Christian), F 1:30
285 – Elijah Friedrichsen (Erie/Prophetstown) over Evan Flaharty (Oregon), F 1:53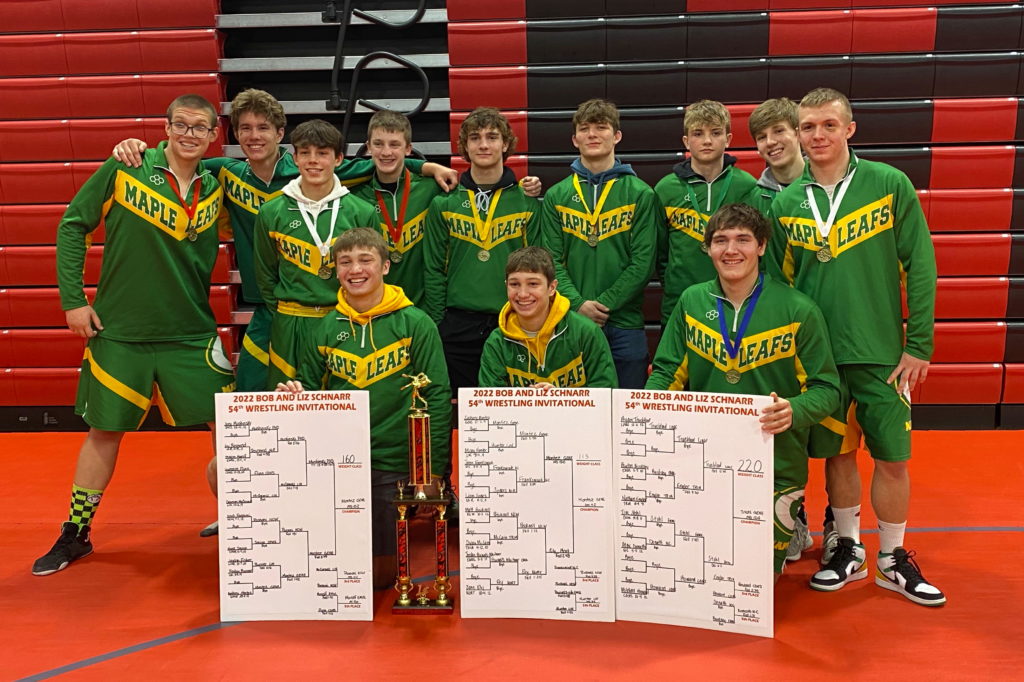 Geneseo finishes first at Morton's Bob and Liz Schnarr Invitational
Zachary Montez and Anthony Montez each won their third-straight tournament titles and Tim Stohl added another championship to help Geneseo claim top honors with 215.5 points in Morton's 16-team Bob and Liz Schnarr Invitational.
Coach Jon Murray's Maple Leafs won their second title, also taking first on December 4 at Rockford East's Giardini and they were fifth at Hinsdale Central's Whitlatch two weeks later. Geneseo opened the season at Antioch's DeRousse, where it took seventh and Anthony was second and Zachary took third.
Normal West claimed second place with 185.5 points while Triad scored 158 points to finish in third place with Normal Community (143.5), Central DeWitt of Iowa (135.5) and the host Potters (103) rounding out the top-six teams.
Finishing second for Geneseo was Jack Snyder (132) and Levi Neumann (285) while Carson Raya (126) and Harrison Neumann (170) were third and Josh Hock (145) and Aiden Damewood (152) finished fourth.
Top performers for coach Adam Richards' runner-up Wildcats were champions Austin Johnston (126) and Brock Leenerman (182) and second-place finishers Cody Sears (138) and Ben Smith (195) while Matt Bicknell (113), Froylan Racey (120), Xavier Edwards (152) and Noah Passoni (160) all took third place.
Other champions were Triad's Colby Crouch (120), Chase Hall (138) and Aiden Postma (145), Normal Communuity's Cole Gentsch (106) and Cooper Caraway (195), Mascoutah's Santino Robinson (132) and Logan Will (170) and Central DeWitt's Carter Donovan (152) Sam Gravert (285).
Also finishing second were Notre Dame's Ian Akers (106) and Joey Mushinsky (160), Morton's Zane Ely (113) and Connor Kidd (120), Normal Community's Brock Bacus (126) and Matthew Hudelson (182), Lincoln's Isaac Decker (145), Dunlap's Nick Mueller (152), Triad's Landon Tourville (170) and Limestone's Aydan Trueblood (220).
In one of the biggest title matchups, Crouch pinned Kidd in 2:16 at 120 in a clash of unbeatens. Crouch improved to 21-0 while Kidd suffered his first loss following 21 wins.
And Anthony Montez improved to 27-2 with a 10-2 major decision at 160 over Mushinsky, who hadn't lost in his first 24 matches.
The closest title matches featured Zachary Montez edging Ely 4-2 at 113, Donovan beating Mueller 8-6 at 152 and Gravert prevailing 4-1 over Levi Neumann at 285.
Other falls in title matches were recorded by Gentsch, Johnston, Robinson, Hall, Postma and Will while Anthony Montez, Leenermam, Caraway and Stohl won major decisions.
Some of the other top records for champions of the competition belong to Gentsch (24-0), Robinson (19-1), Caraway (23-2) and Leenerman (8-1). Others with an .800 win percent or better are second-place finishers Mueller I(15-2), Decker (21-3), Trueblood (13-3), Akers (21-5) and Ely (21-5)
Also placing third were Normal Community's Caden Correll (106), Morton's Jamison Almasy (138), Peoria High's Malachi Washington (195) and Triad's Matthew Hobbs (285).
Additional fourth-place finishers were Morton's Caleb Lenning (106) and Owen Gray (195), Normal Community's Jaren Frankowiak (113) and Dylan Conway (120), Notre Dame's Jac Couri (126) and Chase Daugherty (132), Lincoln's Dawson McConnell (160) and Nico Sundeen (182), Peoria High's Kenny Rutherford (138), Triad's Nathan Engler (220) and Springfield High's Shamar Richardson (285).

Championship matches at Morton's Bob & Liz Schnarr Invitational
106 – Cole Gentsch (Normal Community) over Ian Akers (Notre Dame), F 0:52
113 – Zachary Montez (Geneseo) over Zane Ely (Morton), 4-2
120 – Colby Crouch (Triad) over Connor Kidd (Morton), F 2:16
126 – Austin Johnston (Normal West) over Brock Bacus (Normal Community), F 3:59
132 – Santino Robinson (Mascoutah) over Jack Snyder (Geneseo), F 0:31
138 – Chase Hall (Triad) over Cody Sears (Normal West), F 0:51
145 – Aiden Postma (Triad) over Isaac Decker (Lincoln), F 3:31
152 – Carter Donovan (Central DeWitt) over Nick Mueller (Dunlap), 8-6
160 – Anthony Montez (Geneseo) over Joey Mushinsky (Notre Dame), 10-2
170 – Logan Will (Mascoutah) over Landon Tourville (Triad), F 4:48
182 – Brock Leenerman (Normal West) over Matthew Hudelson (Normal Community), 16-5
195 – Cooper Caraway (Normal Community) over Ben Smith (Normal West), 13-4
220 – Tim Stohl (Geneseo) over Aydan Trueblood (Limestone), 12-4
285 – Sam Gravert (Central DeWitt) over Levi Neumann (Geneseo), 4-1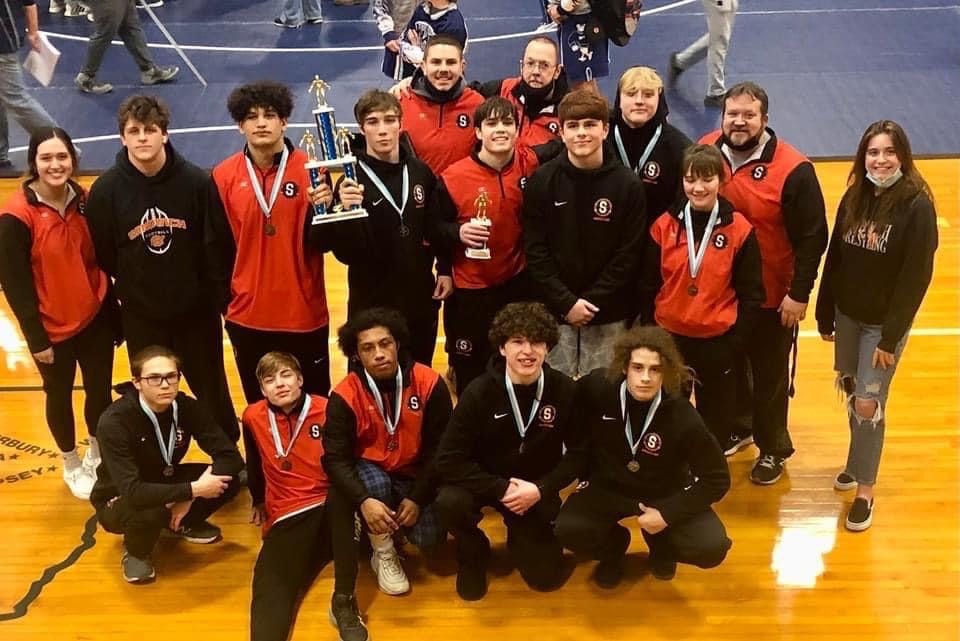 Sandwich captures title at Prairie Central Hawk Classic
Sandwich had three champions and two second-place finishers to easily capture the title of Prairie Central's 36th annual Hawk Classic in Fairbury.
Coach Derek Jones' Indians won their first tournament title of the season after scoring 199.5 points. Beardstown edged Hoopeston Area 137-134.5 for second place in the 12-team event while the host Hawks were fourth with 128 points to finish just ahead of El Paso-Gridley (127) and Camp Point Central (123).
Winning titles for Sandwich, whose previous-best finish was second-place at Plano, were Evan Reilly (138), Aidan Linden (152) and Alex Alfaro (182) while Miles Corder (126) and Bryce Decker (160) placed second. Ashlyn Strenz (106), Nolan Bobee (145) and Connor Holly (195) took third while Kadin Kern (120) and Sy Smith (132) were fourth.

"We wrestled tough," Jones said. "A couple years ago we took home second and many of the same kids were competing today. I knew we were capable of bringing home some hardware if we wrestled up to our ability.
"Evan Reilly is one of the many senior leaders in the program and he makes my job easy as a coach. He needs to finish the season strong, but has all the ability in the world to make it on the podium in Champaign. Alex Alfaro is another kid that makes my job easy. He spent less than three minutes on the mat, pinning every kid in the first period on his way to the title.
"Aidan Linden is stepping up as the vocal leader of the team this year. He is doing and saying many of the correct things. He wants to finish his career and cement his legacy in the strong Sandwich Tradition of wrestling. He has already put his name in the record books here at Sandwich and will continue to succeed on the wrestling mat. He teched his way through the tournament.
"We wrestled with 11 scoring wrestlers at the tournament, but we will, if everything goes correctly, wrestle with all 14 weights come IHSA Regionals. We are still getting some kids back at 113 and 285. I am excited to see what we can do as a full lineup come the IHSA State Series.
Leading the way for coach Joe Kolb's runner-up Tigers were champion Owen O'Hara (285) and second-place finisher Alex Dieme (145). Taking third place were Bryan Gil (132) and Jacob Hoffman (182) while Luis De La Cruz (113) and Wyatt Petersen (160) both finished fourth.
Other champions were Ridgeview's Danny Tay (113), Payton Campbell (126) and Evan Antonio (220), Hoopeston Area's Talon Nelson (120), Angel Zamora (160) and Abel Colunga (170), Cumberland's Hank Warfel (106), Herscher's Austin Grise (132), El Paso-Gridley's Dax Gentes (145) and Prairie Central's Connor Steidinger (195). Sandwich's Reilly was the OWA for the lower weights while Hoopeston Area's Colunga received that honor for the upper weights.
Also claiming second-place finishes were Cumberland's Iysten Syfert (170), Colby Ryan (195) and Noah Carl (285), Richwoods' Colton Boyer (106) and Jeremiah LeFlore (120), Camp Point Central's Jack Thompson (113) and Conner Griffin (152), Prairie Central's Donavan Lewis (132), El Paso-Gridley's Waylon Melick (138), Ridgeview's Connor Feit (182) and Plano's Andrew Harrelson (220).
Only two of the title matches were decisions and just one was a close one, at 126, where Campbell edged Corder 3-2. Recording falls were Nelson, Grise, Gentes, Zamora, Colunga, Alfaro, Steidinger, Antonio and O'Hara while Tay pinned Thompson in a pool match and Linden got a win by technical fall. Reilly won a major decision and Warfel came up one point shy of doing the same.
Some of the champions who possess the best records are Steidinger (19-0), O'Hara (16-0), Colunga (28-1), Antonio (23-1), Gentes (21-2), Reilly (20-2), Linden (31-3), Zamora (24-3), Warfel (22-4) and Campbell (21-4). Among the best records for second-place finishers are Carl (24-3), Ryan (23-3) and Syfert (24-4).
Also turning in third-place finishes were El Paso-Gridley's Logan Gibson (120) and Tyler Roth (126), Prairie Central's Jerome Brown (138) and Owen Steidinger (170), Plano's Gio Diaz (152) and Alex Diaz (285), Richwoods' Rykis Doss (113), Illini West's Shawn Watkins (160) and Hoopeston Area's Hunter Cannon (220).
Other fourth-place finishers were Richwoods' Bernard Cox (126), Mike Vincent (152) and Connor McDonald (170), Camp Point Central's Paul Schenck (106) and Konnor Bush (145), El Paso-Gridley's Parker Duffy (182) and JJ Evans (285), Illini West's Jacob Carpenter (138), Plano's Carnell Walls (195) and Prairie Central's Duane Lewis (220).

Championship matches at the Prairie Central Hawk Classic
106 – Hank Warfel (Cumberland) over Colton Boyer (Richwoods), 7-0
113 – Danny Tay (Ridgeview) over Jack Thompson (Camp Point Central), F 3:14 (pool)
120 – Talon Nelson (Hoopeston Area) over Jeremiah LeFlore (Richwoods), F 5:27
126 – Payton Campbell (Ridgeview) over Miles Corder (Sandwich), 3-2
132 – Austin Grise (Herscher) over Donavan Lewis (Prairie Central), F 5:24
138 – Evan Reilly (Sandwich) over Waylon Melick (El Paso-Gridley), 13-4
145 – Dax Gentes (El Paso-Gridley) over Alex Dieme (Beardstown), F 1:49
152 – Aidan Linden (Sandwich) over Conner Griffin (Camp Point Central), TF 2:25
160 – Angel Zamora (Hoopeston Area) over Bryce Decker (Sandwich), F 3:35
170 – Abel Colunga (Hoopeston Area) over Iysten Syfert (Cumberland), F 1:27
182 – Alex Alfaro (Sandwich) over Connor Feit (Ridgeview), F 0:49
195 – Connor Steidinger (Prairie Central) over Colby Ryan (Cumberland), F 1:51
220 – Evan Antonio (Ridgeview) over Andrew Harrelson (Plano), F 3:40
285 – Owen O'Hara (Beardstown) over Noah Carl (Cumberland), F 4:43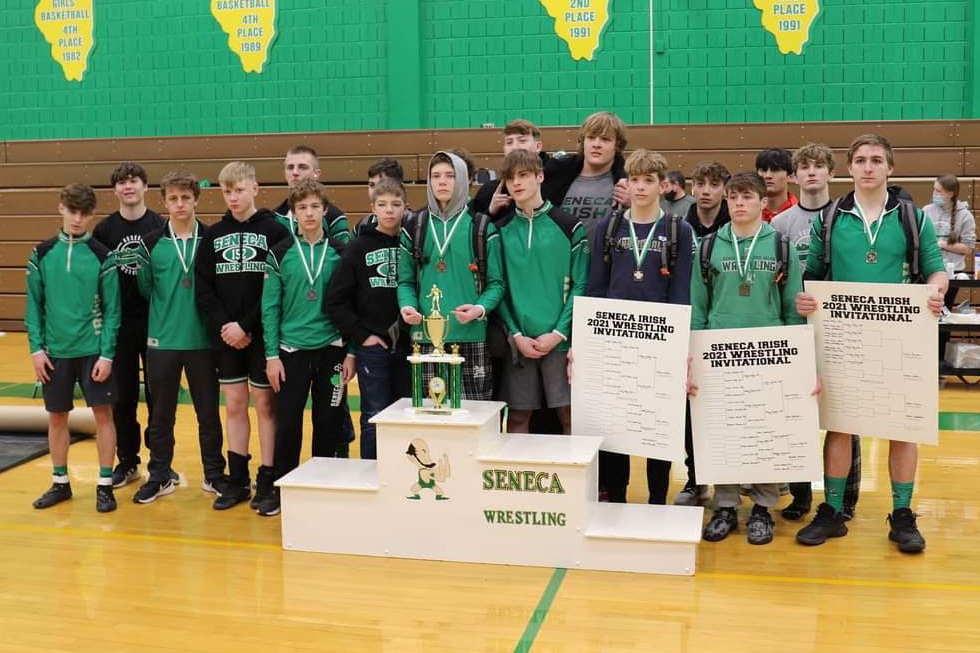 Seneca wins championship at rescheduled Irish Invite
While the field was significantly different from the Seneca Irish Invite that was scheduled for early December, that proved to be just fine for both the hosts and several of the other top finishers in the 12-team event.
Seneca beat Kewanee 183.5-170 for top honors while Pontiac took third with 139 points. Illiana Christian, Ottawa and University High rounded out the top half of the field.
Leading the way for coach Todd Yegge's champion Fighting Irish were champions Robby Nelson (132), Owen Feiner (145) and Chris Peura (195), second-place finishers Kyler Hahn (106), Tommy Milton (113), Bill Farcus (120), Will Milton (138) and Kyle Hamby (170). Finishing third were Nate Othon (132) and Ryan Flynn (138) while Jaden Casey (126) and Alex Bogner (220) were fourth.
Top performers for coach Charley Eads' runner-up Boilermakers were title winners Nathaniel Hampton (120), Max Kelly (138) and Kadin Rednour (152) and second-place finishers Hayden Davis (126) and Will Taylor (132) while Waylan Lambert (113) and Jaxson Hicks (160) both finished third.
Somonauk's Shea Reisel captured her second invitational title of the season in a boys tournament to add to her first at Plano, where she won the OWA for the lower weights.
Also winning titles were Pontiac's Aidan Scholwin (106) and Hunter Travis (170), University High's Isaiah Im (220) and Hunter Otto (285), Marian Catholic's Joey Baranski (126), Putnam County's Connor Brooker (160) and Eureka's Landon Wierenga (182).
Others who finished second were Pontiac's Dylan Ramsey (145), Jackson Crawford (182), Hunter Melvin (195) and Iziah Wright (285), University High's Zach Gross (152), Deer Creek-Mackinaw's Gage Sweckard (160) and Ottawa's Ryan Wilson (220).
The closest title match was at 152 where Rednour claimed a 4-2 decision over Gross. Recording falls on the title mat were Reisel, Hampton, Kelly and Otto while Wierenga, Peura and Im all won titles in a pool formal with three falls. Getting wins by technical fall were Feiner and Travis while Baranski and Nelson won major decisions and Brooker fell one point short of getting a major decision.
As the result of teams having more than one individual entered at a number of weight classes, Seneca and Pontiac had two of the top three placewinners at three weights. Seneca took first and third at 132 and second and third at 138. while Pontiac finished second and third at 285.
With the rescheduled tournament happening over a month after its original date, there were naturally several different schools that took part who would not have been on hand on December 4. That includes all of the teams who finished between second- and fifth-place and even featured an out-of-state squad, Illiana Christian, which was an Illinois school located in Lansing from 1945-2018, when it relocated across the border to Dyer, Indiana.
Also claiming third-place finishes were Ottawa's Jack Huggins (106) and Matt Finley (195), Illina's Alex Bosman (152) and Gage Bambic (182), Pontiac's Aaron Shrewsbury (220) and Kaden Gregory (285), Eureka's Garrett Kean (120), Somonauk's Aiden Rowan (126), Deer-Creek Mackinaw's Justice Rockhold (145) and Marian's Lloyd Mills (170).
Additional fourth-place finishers were Illiana's Jorge Bosio (120), Benjamin Bruinsma (145), Marc Rozendal (160) and Graham Goodfellow (195), Marian's Ian Toosevich (113) and Tanner Clasen (170), Ottawa's Nico Stanfil (132), Deer Creek-Mackinaw's Peyton Hixon (138), Eureka's Derrick Wiles (152), Pontiac's Santi Pina (182) and Putnam County's Alex Johll (285).

Championship matches at Seneca's Irish Invitational
106 – Aidan Scholwin (Pontiac) over Kyler Hahn (Seneca), 7-4 (pool)
113 – Shea Reisel (Somonauk) over Tommy Milton (Seneca), F 1:15
120 – Nathaniel Hampton (Kewanee) over Bill Farcus (Seneca), F 3:23
126 – Joey Baranski (Marian Catholic) over Hayden Davis (Kewanee), 9-0
132 – Robby Nelson (Seneca) over Will Taylor (Kewanee), 10-1
138 – Max Kelly (Kewanee) over Will Milton (Seneca), F 0:31
145 – Owen Feiner (Seneca) over Dylan Ramsey (Pontiac), TF
152 – Kadin Rednour (Kewanee) over Zach Gross (University High), 4-2
160 – Connor Brooker (Putnam County) over Gage Sweckard (Deer Creek-Mackinaw), 8-1
170 – Hunter Travis (Pontiac) over Kyle Hamby (Seneca), TF
182 – Landon Wierenga (Eureka) over Jackson Crawford (Pontiac), F 3:29 (pool)
195 – Chris Peura (Seneca) over Hunter Melvin (Pontiac), F 2:20 (pool)
220 – Isaiah Im (University High) over Ryan Wilson (Ottawa), F 2:22 (pool)
285 – Hunter Otto (University High) over Iziah Wright (Pontiac), F 0:41
=============
Lockport finishes fourth at the Cheesehead Invitational
Lockport scored 523.5 points to finish fourth in the 28-team Cheesehead Invitational that was held in Kaukauna, Wisconsin, falling 3.5 points behind the third-place team, Millard South of Nebraska. Simley of Minnesota won the title with 642.5 points while Southeast Polk of Iowa was second with 600 points.
Joliet Catholic Academy took seventh with 422.5 points, Yorkville Christian beat Edwardsville 236-232.5 for 16th and Aurora Christian was 21st with 202.5 points.

Leading the way for coach Josh Oster's fourth-place Porters were championBrayden Thompson (170) while Andrew Blackburn-Forst (220) took third place. David Vukobratovich (113) finished fourth, Keegan Roberson (145)took fifth, Nore Turner (106), Carlos Munoz-Flores (132) and Paul Rasp (182) all placed sixth, Paul Kadlec (160) was seventh and Aidan Nolting (195) finished eighth. Two years ago, Blackburn-Forst also took third while Roberson and Munoz-Flores both placed seventh.
Thompson, who improved to 26-0, captured a 1-0 decision over Millard South's Antrell Taylor in the 170 title match after claiming a 6-4 semifinals victory over Kasson-Mantorville's Cole Glazier after opening the tournament with four-straight falls. Four other Porters lost in the semifinals, Turner, Vukobratovich, Roberson and Blackburn-Forst. And four were beaten in the quarterfinals, Munoz-Flores, Kadlec, Rasp and Nolting.

Coach Ryan Cumbee's seventh-place Hilltoppers were paced by champion Dillan Johnson (285), second-place finishers Gylon Sims (113) and Mason Alessio (145), fourth-place finisher Owen Gerdes (220) and ninths from Shay Korhorn (126) and Owen O'Connor (138). Two years ago, Sims finished fifth in the tournament.
In title matches, Johnson won a 17-6 major decision over Stoughton's Griffin Empey at 285 while Sims dropped an 8-5 decision to Millard South's Miles Anderson at 113 and Alessio lost a 3-2 decision to Southeast Polk's Joel Jesuroga at 145. Gerdes fell in the quarterfinals.
Johnson followed four-consecutive falls with a 13-3 major decision in the semifinals over Amery's Robert Beese. Sims opened with two falls, a win by technical fall and a major decision before capturing a 4-1 decision over Wisconsin Rapids' Preston Spray in the semifinals. And Alessio had a win by technical, a default and two close decisions to advance him to the semifinals, where he won a 7-4 decision over Lockport's Keegan Roberson.
Aurora Christian received third-place efforts from Braden Stauffenberg (152) and Nathan Wemstrom (195) and a seventh-place showing from Deven Casey (106). Stauffenberg and Wemstrom both advanced to the semifinals while Casey reached the quarterfinals match.
Leading Edwardsville were third-place finisher Dylan Gvillo (138) and sixth-place finishers Jorden Johnson (152) and Evan Holderer (195). Gvillo and Johnson both lost in the semifinals while Holderer fell in the quarterfinals.
Yorkville Christian was led by eighth-place efforts from Tyler Martinez (160) and Michael Esquivel (285) and a ninth from Jackson Gillen (170). Esquivel and Martinez both lost in the quarterfinals while Gillen won four-straight matches in the consolation bracket.
Montini Catholic's top finisher was Jayden Colon (145), who took fourth place after winning twice in the consolation bracket following a quarterfinals loss.
Some of the individuals from the competition who have win percentages of .800 or better are Thompson (26-0), Dillan Johnson (16-0), Stauffenberg (29-3), Gvillo (27-3), Alessio (18-3), Gillen (26-4), Vukobratovich (19-4), Sims (17-4), Wemstrom (24-5) and Jorden Johnson (25-6).

Championship matches at the Cheesehead Invitational (involving Illinois athletes)
113 – Miles Anderson (Millard South, NE) over Gylon Sims (Joliet Catholic Academy), 8-5
145 – Joel Jesuroga (Southeast Polk, IA) over Mason Alessio (Joliet Catholic Academy), 3-2
170 – Brayden Thompson (Lockport) over Antrell Taylor (Millard South, NE), 1-0
285 – Dillan Johnson (Joliet Catholic Academy) over Griffin Empey (Stoughton, WI), 17-6
==========
Washington takes fourth place at The Clash XIX Duals
Washington took fourth place in Bracket A behind champion Waverly-Shell Rock, Iowa, runner-up Apple Valley, Minnesota and third-place Owatonna, Minnesota at The Clash XIX Duals, which took place in LaCrosse, Wisconsin.
In Bracket B, Huntley placed seventh and in Bracket C, Hersey finished third while Glenbard North took sixth.
Coach Nick Miller's fourth-place Panthers beat G-E-T/Melrose-Mindoro, WI 41-27 in the quarterfinals before falling 46-29 to Apple Valley in the semifinals and 42-27 to Owatonna for third place. Leading Washington were Kannon Webster (132/138) and Tyler Casey (220), who both went 6-0, and posting 5-1 records were Peyton Cox (120/126) and Justin Hoffer (195).
Huntley won its first three duals but then lost in the quarterfinals to Shakopee, MN and in the consolation round to Northfield, MN. Leaders for the Red Raiders were Sam Henkle (132) and Ryder Hunkins (182), who both finished 5-0 while Alessio Pezzela (145) went 4-1.
Hersey beat Ankeny Centennial, IA for third and North Scott, IA in the quarterfinals and fell to Saint Michael Albertville, MN in the semifinals. Leading the way for the Huskies were Manny Mejia (220), who went 6-0, and Anthony Cambria (182), who finished 5-1
Glenbard North beat Klein, TX in the consolation semifinals but fell to North Scott, IA for fifth in their bracket and lost to Ankeny Centennial, IA in the quarterfinals. Going 6-0 for Glenbard North were Dominic Marre (113) and Paul Woo (126) while Paulie Robertson (285) finished 5-0.