Yorkville on top at Sycamore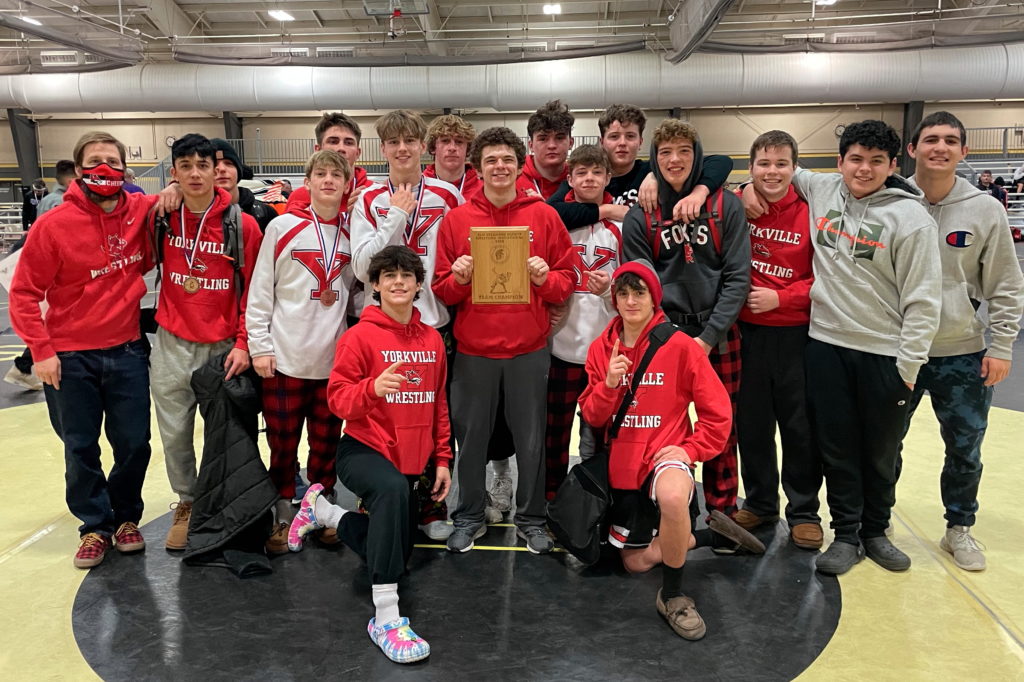 By Patrick Z. McGavin
For the IWCOA
Yorkville solved the ultimate riddle.
How do you get to the top of the mountain without quite reaching the top?
The answer: with a wealth of quantity and quality.
Despite not fielding an individual champion, the Foxes captured the Sycamore Invitational Saturday with 502 points, easily outdistancing runner-up McHenry (444.50) and third-place Oak Forest (436.50).
Class 1A power Tolono (Unity) was fourth at 430.50. Belvidere co-op was fifth at 404. The host Sycamores had 393 for seventh. Class 2A power Mahomet-Seymour was seventh at 372.50.
Ranked No. 16 in 3A, the Foxes had two second-place finishes, one third-place finish, a fourth-place and three fifth-place performers.
That was enough to secure the coveted top team prize.
"This is a tournament where you get a lot of matches in," Yorkville coach Jake Oster said. "We wrestled consistently. We didn't have any winners, but most of our guys only lost one match, and they came back and got third, fifth or second."
The 26-team field offered a range of clashing styles and different looks. The prestigious invitational served multiple purposes.
"There were a lot of good individuals from schools that we don't normally see, some 2A and 3A, schools, and it's good to have those different looks from different parts of the state," Oster said.
"Different guys wrestle differently, and it's good to see how our guys react to these different styles."
Bloomington had a tournament best three individual champions at 120, 132 and 220. Mahomet-Seymour was the only other double-winner, with champions at 106 and 195.
With the start of regionals about a month away, the Sycamore Invitational provided a vital measuring stick to assess its spot in the larger firmament.
"This is a great testing point," Oster said. "There are little things we see that we are doing well, and little things that we have to improve on.
"Right now, it's about getting healthy and having everybody ready to go. We had a couple of guys out. With what we brought here, they wrestled really well.
Sycamore Invitational champions:
106 – Caden Hatton, Mahomet-Seymour
In a showdown of two top-5 wrestlers, No. 5 Caden Hatton of Mahomet-Seymour pulled out the 4-2 decision over Kaneland's Cameron Phillips for the championship.
"My neutral was definitely my toughest position today," he said. "Nobody could really stop me, honestly."
By improving his record to 24-4, he also defeated Yorkville's Raymond Cavey 6-4 in the semifinals.
"I like a lot of freestyle stuff," Hatton said. "I don't like tying up much. Today was a big win for me, at this weight. It has definitely boosted my confidence."
Ranked No. 4, Phillips (16-2) had two falls to reach the finals.
Rock Island's Truth Vessey, ranked No 10, defeated Cavey by majority decision, 14-3, for third place. Brayden Tuenissen, of Belvidere co-op, defeated Angelina Cassioppi of Hononegah, 6-0, for fifth-place.
113 – Bryce Durlacher, Mundelein
Mundelein's Bryce Durlacher put on a technical tour de force with two pins and two decisions.
In an electrifying final, Durlacher (20-1) defeated York's Zach Parisi 5-4.
Durlacher won by fall over Nazareth's Javaughn Jossell. He earned the tough 6-3 decision over Rochelle's Xavier Villalobos in the semifinals.
Ranked No. 7 in 3A, Parisi (25-3) defeated Yorkville's Jack Ferguson in the quarterfinals. He dominated Rock Island's Samuel Niyonkuru with a 16-1 technical fall in the semifinals.
Villalobos defeated Niyonkuru by major decision for third place. Ferguson defeated McHenry's Jimmy Norris by technical fall for fifth place.
120 – Carson Nishida, Bloomington
Bloomington's Carson Nishida utilized balance, footwork and excellent technique for the 5-0 victory over Oak Forest's Tyler Evitts for the individual championship.
Ranked No. 2 in 2A, he has an inimitable style.
"I call it laidback, doing my own thing," Nishida said after he improved to 25-3. "Listening to my coaches, and trusting my own instinct a lot."
He was dominant with a technical fall and fall in the preliminary rounds to qualify for the finals.
"I'm always trying to get the first takedown, always trying to score as many points as possible," he said. "Not to sound too cocky, but I do this pretty often.
"I have been working hard for this the last 12 years of my life. I have dedicated everything just for wrestling. I love the sport."
Evitts (15-2) posted narrow victories in the preliminaries to reach the title.
Rock Island's Daniel McGhee (19-6) defeated Glenbrook South's Max Brown 14-6 for third place. Glenbrook South's Arnold Park defeated Kaden Inman of Tolono (Unity) 10-7 for fifth place.
126 – Chase Beckett, Portage WI
Chase Beckett of Portage (Wisconsin) was the only out of state individual champion.
He defeated Oak Forest's No. 4 Caden Musselman 8-1. He posted pins over Marcus Santos of Glenbrook South and Dominic Girardin of Belvidere co-op to qualify for the final.
Musselman (13-2) won by majority decision over Pedro Jimenez of McHenry. He defeated Yorkville's Dom Coronado 15-10 in his semifinal bracket.
Coronado recovered to defeat Girardin 13-4 for third place. Kaneland's Caden Grabowski captured fifth place with a pin over Willowbrook's Isaiah Smith.
132 – Dylan Watts, Bloomington
Bloomington picked up its second individual championship as Dylan Watts secured the 12-3 major decision over Frankie Salcedo of Grayslake North.
Watts posted a fall over Portage's Jeffry Jones in the quarterfinals and a dominant 17-1 technical fall over Andrew Mohr of Cary-Grove.
Salcedo recorded a technical fall over Ryan Rink of Tolono (Unity) and an 8-1 decision over Joe Loranger of Oak Forest.
In the third-place match, Mohr posted the pin over Loranger. In the fifth-place match, Kamryn Labeau of Belvidere co-op won by fall over Rink.
138 – Aoci Bernard, Rock Island
Rock Island senior Aoci Bernard made good on a personal vow.
"This is my second time at this tournament," he said. "My first time here, I finished 8th, and I told myself if I came back, I wanted to improve against that."
Ranked No. 5 in 2A, Bernard (22-2) won by injury default after Grayslake North's No. 10 Armen Jerikian was unable to compete due to illness.
He showed superb athleticism, quickness and power at the point of attack in his preliminary bouts.
"I am fast and explosive, and I am at my best just getting into my attack," Bernard said. "Setting up my opponent and using my movement, I like to push the pace.
"I just like to go into my shoot, and work, work and work until they can't go anymore."
He won by majority decision and decision to reach the final.
Until his illness, Jerikian had a fall and 8-4 decision over Logan Miller of Marengo.
Young had a dominant 17-2 technical fall over Miller in the third-place match. Sycamore's Trent DuMont recorded a fall over York's Jack Connell for fifth place.
145 – Antonio Alvarado, Belvidere (co-op)
In a signature final, No. 10 Antonio Alvarado of Belvidere co-op recorded the late third period pin over previously undefeated Tavius Hosley of Tolono (Unity).
Alvarado (22-3) won by technical fall and a fall in reaching the final.
Ranked No. 3 in 1A, Hosley (24-1) won by fall of Erick Nova of Mundelein and handed Drew Kested of Sterling his first loss with the 7-3 decision.
Ranked No. 3 in 2A, Kested defeated Bloomington's Jacob Barger of Bloomington 3-0 for third place. Oak Forest's Connor Nowicki won by pin over Nowa for fifth place.
152 – Brayden Peet, Sycamore
Sycamore's Brayden Peet continued his rampaging assault toward perfection by defeating Glenbrook South's Will Collins 8-3 in the championship.
Ranked No. 3 in 2A, Peet (26-0) also had a technical fall and fall in the run-up to the finals.
He felt very much at home.
"This felt great, especially since we didn't have the tournament last year because of Covid," Peet said. "This was my last year, so it felt great to be home and win it."
He has a flamboyant, driven style. He is fearless, a bit of a whirling dervish who simply overwhelms the opposition.
"I am just trying to maintain that intensity and be very aggressive, and be able to get up from the bottom," Peet said.
"I am very confident in being able to do what I want to do."
Collins (6-1) defeated Yorkville's Luke Zook by major decision, and and defeated McHenry's Ruben Melgarejo 6-0 in the semifinals.
Oak Forest's Ivan Corral defeated Melgarejo by 13-1 major decision for third place. Zook defeated Braeden Heinold 4-2 for fifth place.
160 – Chris Moore, McHenry
3A top-ranked McHenry's Chris Moore was virtually untouchable. He performed at another level with three consecutive major decisions.
His 22-7 major decision win over Sycamore's Gus Cambier earned him the most valuable wrestler award.
"Everything was clicking for me today," he said. "I was getting my shots down, and my fakes were also there, and they were falling for them a little bit."
Moore (30-0) also defeated Yorkville's Brody Williams 24-9 and Thomas Tate 28-13.
No. 3 in 2A, Cambier (21-3) won by fall and decision to reach his half of the final.
Glenbrook South's Patrick Downing defeated Tate 10-4 for third place. Williams defeated Nat Nosler of Tolono (Unity) 7-3 for fifth place.
170 – Brody Hallin, McHenry
In a draw marked by highly ranked competition, McHenry's Brody Hallin defeated Sycamore star Zack Crawford 5-1 in a riveting championship showdown.
No. 2 in 3A, Hallin edged 2A No. 2 Brennan Houser 3-2 of Mahomet-Seymour in the quarterfinals and posted a major decision 10-2 win over Nick Mabutas in the semifinals.
"I knew a lot of these guys I'd be going up against were bigger or had a greater reach than I did," Hallin said. "I just wanted to stay patient and pace them out, and work my way against them and tire them out."
The title path provided a sharp line for tracking his own progress.
"In the past years I was here at this tournament, and I got like second or third," he said. "It feels great to know I am improving and getting better."
No. 6 in 2A, Crawford (21-2) had a 6-1 decision over Kaden Combs and a pin over Joe Castenada of Oak Forest to capture his half of the brackets.
Mabutas won by fall over Castenada for third place. Houser won by fall over Combs for fifth place.
182 – Drew Surges, St. Charles North
Even with a perfect start to his junior season, St. Charles North's Drew Surges knew he had to operate outside of his comfort zone.
"I was probably more offensive today than I have ever been," he said. "I was attacking a lot more."
Surges (19-0) defeated Henry Goetz 8-3 for the championship.
He also had a fall and technical fall in his two preliminary matches leading up to the finals.
"Today, I felt like I had to be the aggressor," he said. "I felt like I had to come in and be better than anybody else in my division.
"I just had to be better."
Goetz (15-2) posted victories over Sycamore's Gable Carrick and Evan Grazzini of York to capture his half of the bracket.
Grazzini (23-5) defeated Belvidere's A.J. Piloni for third place. McHenry's Caleb Rezmer defeated Hunter Eastin of Tolono (Unity) by 14-3 major decision for fifth place.
195 – Mateo Casillas, Mahomet-Seymour
In one of the most challenging brackets, Mahomet-Seymour's Mateo Casillas outdueled Yorkville's Hunter Janeczko 4-2 in a brilliant, tactical final.
No. 2 in 2A, Casillas (30-1) defeated Rock Island's Steven Marquez and Bloomington's Anthony Curry by decision to reach the final.
Ranked No. 7 in 3A, Janeczko (19-2) posted a scintillating 4-3 quarterfinal victory over Nick Nosler of Tolono (Unity). He defeated Jack Callen by major decision in the semifinals.
Curry defeated Callen by major decision 14-4 for third place. Nosler (24-2) defeated Andrew Marquez of Rock Island for fifth place.
220 – Jack Weltha, Bloomington
Bloomington's Jack Weltha is his severest critic.
"Overall, I am still not where I need to be," he said. "There are areas where I need to keep working and get better."
Ranked No. 2 in 2A, Weltha (23-1) captured arguably the deepest division in the tournament with a 4-0 decision over Yorkville's highly regarded sophomore Ben Alvarez for the championship.
"I need to work more on my offense, and my movement, but this feels really good," Weltha said. "We are a 2A team, and this is mostly a 3A tournament."
Weltha had a fall and a 5-4 decision over previously undefeated Gabe Kaminsky of Nazareth in the semifinals.
Ranked No. 4 in 3A, Alvarez (29-4) had a fall and a 3-2 decision over Joey Pineda in his half of the draw.
Kaminsky (18-1) recovered from his first defeat to beat Pineda 6-3 for third place. Colton Crowley of Mahomet-Seymour pinned Logan Sowell of Cary-Grove for fifth place.
285 – Lee Smith, Rockford East
Sophomore Lee Smith of Rockford East captured the major decision 13-5 victory over Karson Richardson of Tolono (Unity) for the individual championship.
No. 6 in 2A, Smith (11-1) posted a 0:17 second fall in the quarterfinals over Camden Harms of Mahomet-Seymour. He also posted a first period fall of Eli Gustafson of Rock Island.
No. 10 at 220 in 2A, Richardson (23-2) recorded a pin over Dallas Dinkla of Grayslake North and a 10-3 decision over Sycamore's Lincon Cooley.
No. 6 in 2A, Cooley (22-1) responded to his first loss by pinning Gustafson for third place. McHenry's Luis Acleto defeated Hampshire's Patryk Barnas by injury default for fifth place.