Haak-led Portage prevails over Riverside-Brookfield at Harvard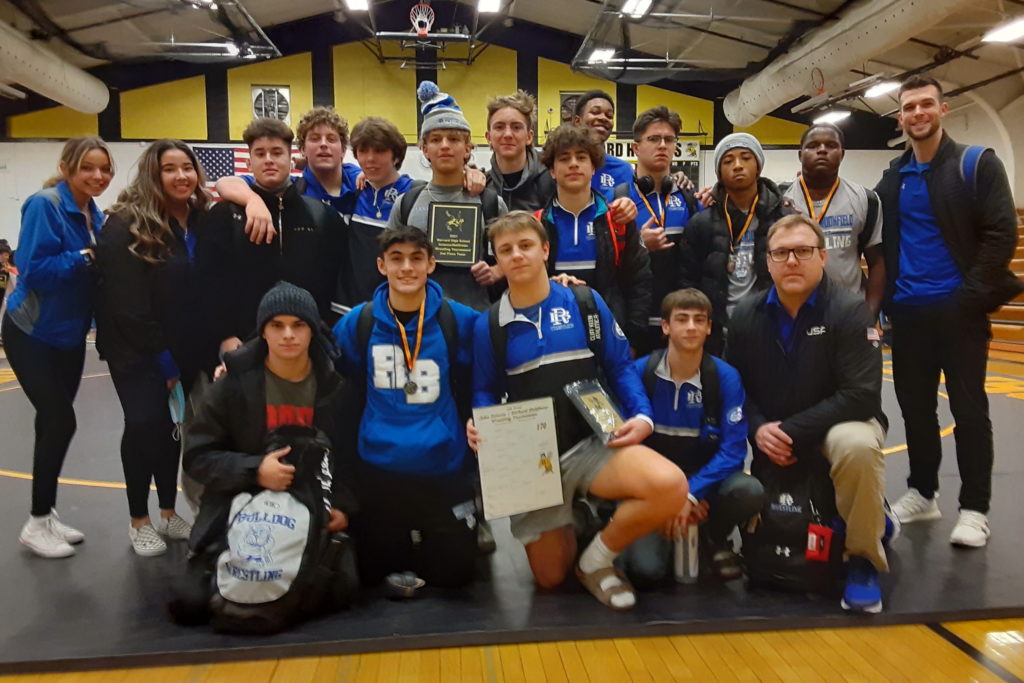 By Curt Herron
For the IWCOA
HARVARD – Tim Haak and his son Shane obviously have a lot of great memories about Harvard's Sciacca/Holtfreter Tournament, a staple in the sport for over half a century, and they were fortunate to be able to add another special chapter to the fascinating story on Saturday.
For 27 years, Tim was the head coach at Harvard, where he set an IHSA record for wins at a program with 636, which also ranked in the top-five nationally when he retired in 2014 as head coach in both wrestling and football. His program advanced to dual team state 13 times, placed four times with a title in 1992 and won 26 regional titles. He coached 105 qualifiers, 40 placewinners and 10 state champions and was on the IHSA wrestling advisory committee and also the IWCOA Board of Directors. Tim was inducted into the IWCOA hall of fame in 2001 and in 2018 he received the Lifetime Service to Wrestling award from the National Wrestling Hall of Fame Illinois Chapter.
Harvard has the rare distinction of having had three head coaches who were inducted into the IWCOA hall of fame, with tournament namesakes John Sciacca (1986) and Richard Holtfreter (1993) the others. Thanks to the efforts of their hall of fame coaches as well as six decades of dedicated Hornets athletes, the school has won over 1,100 dual meets, which ranks second behind Granite City.
On Saturday, the pair returned to Harvard with 2008 graduate Shane as head coach and Tim assisting him for Portage High from Portage, Wisconsin. Thanks to seven individuals placing fourth or better, the Warriors were able to capture the title of the 54th annual tournament with 170.5 points while Riverside-Brookfield finished in second place with 162.5 points and Harvard claimed third place with 157.5 points.
"This is gratifying," said Tim Haak, who has assisted Shane for four years. "I know two years ago when we came, my wife asked how is it going to feel when you come back. I said that it was going to be surreal but as soon as the whistle blows, we're going to be for our guys. The neat thing is that I get a chance to coach with my son and he's taken a program that had very few kids in it and built it up.
"I was at Woodstock, where I graduated from, when coach Sciacca coached here and I coached under coach Holtfreter when I first came here. It's rewarding to see that former athletes are back coaching and you can see how tough they are and the style of wrestling continues. It's exciting for me to come back because you give your whole life here, you want it to succeed, so I was real excited when David (Schultz) became the head coach. And it's about building relationships. I'm close to many of them and still stay in contact with so many of our former wrestlers and football players. It's humbling that you can build those life-long relationships and I've been very fortunate."
Nine schools had individual champions with the host Hornets leading the way with three. Prairie Ridge (134), Woodstock (134) and Richmond-Burton (132) finished fourth-through sixth in the 12-team competition and all of those schools had two champions.
Winning titles for Harvard were Brian Hernandez (106), Ivan Rosas (145) and Nathan Rosas (195) while Riverside-Brookfield's lone champion was Brock Hoyd (170) and Portage's only title winner was Chase Beckett (126), who also was also received tournament's outstanding wrestler award. He was one of several team members who competed in the tournament in 2019, when he won a title and his team took third place.
Harvard's head coach is David Schultz, a 2001 graduate of the school who was a Class A runner-up at 275 during his senior season. He was coached by Tim Haak and his father, Neil Schultz, who is also a former Harvard wrestler who was Haak's assistant coach for 20 years and ran tournaments there and the 2013 IWCOA hall of famer was on hand again to help during the tournament's return following its one-year hiatus.
"It's a tournament that I wrestled in and obviously grew up in," said Shane Haak, who's in his seventh year at Portage. "It's cool for Portage to bring them down here but just the tradition of the tournament since there's countless Division I All-Americans and state place-winning teams that have wrestled in it.
"Also what the sport does for your life as well and how it shapes you to be a better person and the Harvard program has certainly done that to countless individuals over the past 50-something years with the three hall of fame coaches and now David Schultz being here."
The top two Illinois teams in the field made trips to the IHSA dual team tournament in 2020 with coach Nick Curby's Riverside-Brookfield team advancing in 2A and Schultz's Harvard squad qualifying in 1A.
"We took second at the Fenton Invite a couple of weeks ago and were second here, it was a great job," Curby said. "We had our hopes set and going into the second day we were leading. We didn't have the semifinal round that we wanted, but we have a lot of young guys still in the lineup and they're still learning. They're going to take their lumps, but it's about learning from that and continuing to move forward and to get better and it will start showing up in the matches.
"On that state team we had seven or eight sophomores so we knew that we'd have some experience going into last year and we got as much out of last year as we could. We'll have a nice blend of upperclassmen and underclassmen on this team. And it's just about how those guys step in and start filling the shoes that we have to fill at the varsity lineup and they've been doing a great job. They're not want to be yet but they're working on it. As a coach, I can't ask for anything more than the hard work that they're putting in."
Prairie Ridge got titles from Tyler Evans (120) and Eddie Ferree (160), Woodstock's champions were Alex Iversen (152) and Gavin Loiselle (220), and Richmond-Burton got titles from Emmett Nelson (113) and Brody Rudkin (132). Also winning tournament titles were Belvidere/Belvidere North's Kamryn LaBeau (138), Woodstock North's Henry Goetz (182) and Bremen's Eric Perez-Nava (285).
Individuals who lost in the finals were Portage's Landon Heitmeier (138), Jordan Starr (170) and Jack Callen (195), Richmond-Burton's Clay Madula (106) and Isaac Jones (145), Bremen's Charles Portis (113) and Jesus Sanchez (132), Riverside-Brookfield's Mateo Costello (126), Prairie Ridge's Charlie Ferree (152), Harvard's Gabe Sanchez (182), Belvidere/Belvidere North's TJ Mitchell (220), North Boone's Ethan Delgado (285) and Portage extras Jayson Kreier (120) and Oz Gaytan (160).
The top three teams in the points standings all had seven medal winners for top-four finishes and the next three teams had six individuals who advanced to the awards stand. All but one of the schools in the 12-team event were able to have multiple medalists.
Here's a list of the tournament champions and their weight classes:

106: Brian Hernandez, Harvard
Harvard's Brian Hernandez became the first of three champions for the host school when he recorded a fall in 3:17 over Richmond-Burton's Clay Madula in the 106 finals.
This was the second tournament finals appearance for the senior, who placed second at Vernon Hills and he is now ranked sixth in Class 1A. After getting a first period fall in his opening match, Hernandez defeated Elmwood Park's Jack Dombeck 12-6 in the semifinals to earn his spot on the title mat.
"I'm excited to show what I can do this year," Hernandez said. "I participated in a tournament and I got second there when I wrestled 113. I love my teammates. Everybody is very talented and has their own set of skills. I can always count on my team to come through and if it's a tough meet, I'm confident sending out any one of them on the mat and am sure that they can get the job done."
Madula reached the finals with a fall in 3:37 over Riverside-Brookfield's Matt Decosola in the semifinals. Dombeck bounced back from his semifinal loss by getting a win by technical fall and then recording a fall in 5:12 in the third-place match against Woodstock North's Anthony Matejzk, who pinned Decosola to assure himself of a medal.

113: Emmett Nelson, Richmond-Burton
Emmett Nelson used two falls and a victory by technical fall to become the first of Richmond-Burton's two champions. In the 113 finals, he won by fall in 3:49 over Bremen's Charles Portis.
Nelson, a freshman who won a title and was co-outstanding wrestler at his school's DuBois Classic and took third at Rockford East, beat North Boone's Gavin Eckberg by technical fall in 3:56 to earn his spot in the finals.
"It's been a great season so far," Nelson said. "In middle school, we didn't get two seasons my last two years so it's great to come back. I haven't brought home any state medals yet but this year I'm hoping to. Our program has grown a lot over the years and there's a lot of big guys coming in."
Portis advanced to the title mat with a fall in his first match and a 2-1 decision over Woodstock's Daniel Bychowski in the semifinals. Eckberg recorded two falls in the consolation bracket and claimed third place with a pin in 5:49 over Bychowski.

120: Tyler Evans, Prairie Ridge
Prairie Ridge's Tyler Evans captured his first tournament title of the year following a second at Prospect and a fourth at Barrington when he recorded a fall in 0:28 in the title match over Portage's Jayson Kreier.
Evans, a junior ranked seventh in Class 2A who placed fourth in the IWCOA finals, recorded a fall in 1:17 in the semifinals over another Portage opponent, Jeffrey Jones, to earn his spot on the title mat.
"In the years past, we haven't really had that good of a team," Evans said. "This year we have a brand new coach who is a younger coach who came into the room and he's really everybodys' season around. Everybody is putting in the work and It's really paying off."

Riverside-Brookfield's Quintavius Murrell pinned Jones in 3:59 to reach the third-place match, where he was a winner by technical fall in 2:19 over Richmond-Burton's Dalton Youngs.
126: Chase Beckett, Portage
Portage senior Chase Beckett received the tournament's outstanding wrestler award after getting two pins and a win by technical fall to claim top honors at 126 which he secured with a fall in 2:35 in the finals over Riverside-Brookfield's Mateo Costello. The 2020 Wisconsin Division 2 state runner-up and 2019 Sciacca/Holtfreter Tournament champion had never won an OWA before.
Costello, a senior and two-time state qualifier who is ranked eighth in 2A with a title win at Fenton, opened with a pair of falls before capturing a 4-2 victory over Woodstock's Max Hodory in the semifinals.
"I was very happy coming to this tournament and not only winning it but also getting the most outstanding wrestler ," Beckett said. "But I feel like our biggest accomplishment and the thing that I was most proud of is our team. It was a big goal of the Haaks to come here to win this tournament being how historically significant it is to their careers. So we were very excited to come here and ultimately come out on top as a team and I think we earned it. The fact that we had a solid wrestler at every weight class and they fought hard and fought for every team point.The Haaks do so much for me. They've developed me as a wrestler and I continue to improve no matter which level I'm at and that's for every kid on our team, too. They're always working on building the best team and making us the best wrestlers and the best versions of ourselves, on and off the mat."
Prairie Ridge's Mikey Meade got bumped into the consolation bracket after falling to Beckett in the quarterfinals. But he responded with two falls and a 12-6 decision over Hodory to reach the third-place match, where he won 5-3 over Harvard's Marques Merida, who also had two falls and a decision in the consolation bracket following a quarterfinal loss to Hodory.

132: Brody Rudkin, Richmond-Burton
Brody Rudkin became Richmond-Burton's second champion of the day when he went 4-0 which featured two falls and a decision to send him to the 132 title mat where he won by technical fall in 5:04 over Bremen's Jesus Sanchez.
Rudkin, a sophomore who was second at Rockford East and third at his own tournament, earned his spot in the finals with a fall in 3:42 over Woodstock North's Landan Creighton. Meanwhile, Sanchez reached the finals with two falls, including one in 0:46 over Riverside-Brookfield's Josh Gonzalez in the semifinals.
"We've had a relentless training center going on with state champions Jordan Blanton and Ryan Prater and it's a great experience," Rudkin said. "I always try to get to state and I want to build up until I get to my senior year."
Prairie Ridge's Ryan Koelblinger bounced back from a quarterfinal loss to Sanchez to claim third place after recording a fall and a win by major decision over Creighton before recording a fall in 1:35 over Gonzalez in the third-place match.

138: Kamryn LaBeau, Belvidere/Belvidere North
Kamryn LaBeau was the only champion for Belvidere/Belvidere North after winning all three of his matches with first-period falls, capping his day with a title win at 138 with a pin in 0:45 over Portage's Landon Heitmeier.
LaBeau, a senior who had a third-place finish at Rockford East, advanced to the finals with a fall in 1:36 over North Boone's Maysen Smith while Heitmeier advanced with a pin in 1:59 over Richmond-Burton's Nate Madula.
"It's crazy," LaBeau said. "I come out here and I'm nervous every time before my match, but as soon as you step on the mat, it all just goes away and you think back to the wrestling room and do what you practice. I want to win conference and go to state, so I'm going to just keep working toward that and wrestling like I know how to."

Harvard's Daniel Rosas lost his quarterfinals match to LaBeau but then recorded three-consecutive falls in the consolation bracket, including one in the third-place match in 1:38 over Woodstock's Travis Cote, who had a pair of falls in the consolation bracket after losing in the quarterfinals to Heitmeier.

145: Ivan Rosas, Harvard
The host Hornets picked up their second of three titles when senior Ivan Rosas claimed top honors at 145 after winning by technical fall in 3:01 over Richmond-Burton's Isaac Jones. Rosas, who is ranked fifth in 1A, was a sixth-place finisher at the IWCOA finals.
Rosas earned his spot in the semifinals with a 12-4 major decision over Prairie Ridge's Xander York. Jones followed up on a pin by claiming a 7-4 semifinals victory over Riverside-Brookfield's Jacob Noe to reach the finals.
"We usually do pretty good every year and the last time that there was an IHSA event at the end of the year, we qualified for team state, and that was pretty nice," Rosas said. "We always have a good group of wrestlers and just like the way that we bond, it's nice. I love all of my teammates."
York bounced back from his semifinal loss to the eventual champion by recording a fall and then winning 6-0 over Portage's Garret Crawford in the third-place match.

152: Alex Iversen, Woodstock
Alex Iversen captured Woodstock's first of two titles when he capped a day in which he had three pins with a fall in 5:06 of the 152 championship match over Prairie Ridge's Charlie Ferree.
Iversen, a senior who also placed second at Richmond-Burton, recorded a fall in 2:29 in the semifinals over Riverside-Brookfield's Cade Tomkins while Ferree won his first two matches by fall, which included a pin in 3:22 in the semifinals over Portage's David Williams.
"I've been to this tournament before and I don't think that I've placed before, so it's really nice," Iversen said. "This is a completely different feel than the duals because you're watching everybody else wrestle and it gets you more hyped up for your own match. So it's just a really nice feeling out there."
Belvidere/Belvidere North's Nick Taylor lost to Ferree in his first match but responded with a win by technical fall and a pin against Tomkins to advance him to the third-place match, where he got a fall in 2:24 over Harvard's Kaden Vest, who fell in the quarterfinals to Tomkins and then won three-straight consolation matches, including a pair of two-point decisions.

160: Eddie Ferree, Prairie Ridge
Prairie Ridge's Eddie Ferree recorded three-consecutive falls to capture the championship at 160, with the final pin coming in 1:11 over Portage's Oz Gaytan in the finals.
Ferree, a senior, advanced to the title match with a fall in 3:50 over Riverside-Brookfield's Ethan Ranft while Gaytan reached the finals with a fall in 5:45 over Belvidere/Belvidere North's Jorge Hernandez in the other semifinal match.
"We have a great team right now but we're also a young team," Ferree said. "We just got a new coach this year, Justin Peete. It was great to see him step up and show us exactly what we need to do to succeed. Obviously I'm going to only have one year with him but I'm going to take full advantage of that.""
Bremen's Konya Lewis-Hunt lost his first match to Ranft in the quarterfinals but then recorded three-straight falls, including one in 1:59 over Ranft to claim third place.

170: Brock Hoyd, Riverside-Brookfield
Brock Hoyd rolled to three wins by fall to give runner-up Riverside-Brookfield its lone champion. He capped off his day with a pin in 2:43 over Portage's Jordan Starr.
It was the second tournament title of the season for Hoyd, who's a senior, with the other coming at Fenton. Hoyd, a senior who qualified for state in 2019, earned his spot in the finals with a pin in 0:33 over Prairie Ridge's Jimmy Stone while Starr advanced with a fall in 3:47 over Belvidere/Belvidere North's Tayvione Wilson.
"It was frustrating when our season got cut short, but we had to make the most out of it, and we got a lot of matches, which was good," Hoyd said. "This was some of the better competition that I've gotten this year, so it felt good to come out with the win. In my freshman year, (coach Nick) Curby kind of said it was a restart of the program since we didn't have many achievements in past years. And then in my sophomore year, we qualified for state as a team, which was really big."
Richmond-Burton's Alex Reyna lost his opener to Hoyd but won a 4-3 decision over Wilson and then claimed a 10-2 decision over Woodstock's Zach Canaday, who fell to Wilson in his first match.

182: Henry Goetz, Woodstock North
Woodstock North received its only championship from Henry Goetz who followed up on a pair of falls with a 5-0 decision over Harvard's Gabe Sanchez in the 182 title match.
Goetz, a senior, advanced to the title match with a fall in 2:36 over North Boone's Garrett Louis in the semifinals while Sanchez, a junior, recorded two pins, including one in 2:39 over Woodstock's Jovanni Murillo in the semifinals, to earn a spot in the finals.
"I'm going to make the most of this year and do as much as I can," Goetz said. "I've just been working on my neutral game and getting better. I feel more competitive and stronger out there so I feel good."
Riverside-Brookfield's Liam Cote fell to Goetz in the quarterfinals but responded with three-consecutive falls, with the last of those coming in the third-place match where he got a pin in 2:42 over Louis.

195: Nathan Rosas, Harvard
The host Hornets claimed the advantage for champions on the day with three when Nathan Rosas defeated Portage's Jack Callen in a 7-3 decision in the 195 title match.
Rosas, a senior who's ranked third in 1A who also won a title at Vernon Hills, finished in fifth place at the weight in 2021 in the IWCOA finals and in 2020 in the IHSA finals. He recorded falls in his first two matches, winning in the semifinals with a pin in 0:34 over Riverside-Brookfield's Thurman Givens. Callen advanced with an 11-1 semifinals victory over Elmwood Park's Jack Pedersen.
"It was really tough last year not being able to wrestle as many times as we were used to," Rosas said. "I feel like I have to make up for what I lost last year. Our team looks solid this year and I think we're going to do quite amazing, especially with the people that we have in the room. Wrestling and fighting every day us what we want."
Pedersen bounced back from his semifinal loss to claim third place with a 5-3 victory over Woodstock's Sean Ryan, who also fell to Pedersen in the quarterfinals before advancing with a pin and an 8-4 win over Givens.

220: Gavin Loiselle, Woodstock
Woodstock senior Gavin Loiselle followed a pair of first-period falls with a pin in 4:57 over Belvidere/Belvidere North's TJ Mitchell to capture the 220 championship.
Loiselle, who also won a title at Richmond-Burton, recorded a fall in 1:12 in the semifinals over Portage's Pierce Kristoff while Mitchell advanced to the finals with a fall in 0:37 over Elmwood Park's Omari Evans.
"It's really great to come out here every year," Loiselle said. "This is really what we look forward to. Sure, the duals are nice, but coming out and getting to wrestle three or four matches in a day and getting to wrestle the better competition in the area. McHenry County is a really good area and a lot of people are cut from the same cloth."
Kristoff beat teammate Eli Kimball by fall in 4:37 in the third-place match.

285: Eric Perez-Nava, Bremen
Bremen became the ninth team to capture an individual title in the event when Eric Perez-Nava won by fall in 1:37 over North Boone's Ethan Delgado in the 285 finals.

"This is a really big deal because it's my third year wrestling and I'm going through everything pretty quick," Perez-Nava said. "It's going good so far and it's fun going to places and wrestling. It's back to normal. I just try hard and practice hard and practice how you play."
After both bounced back from semifinals losses with first-period falls, Moyoti-Hernandez pinned Givens in 3:31 to claim third place.