Lemont's late charge wins Whitlatch title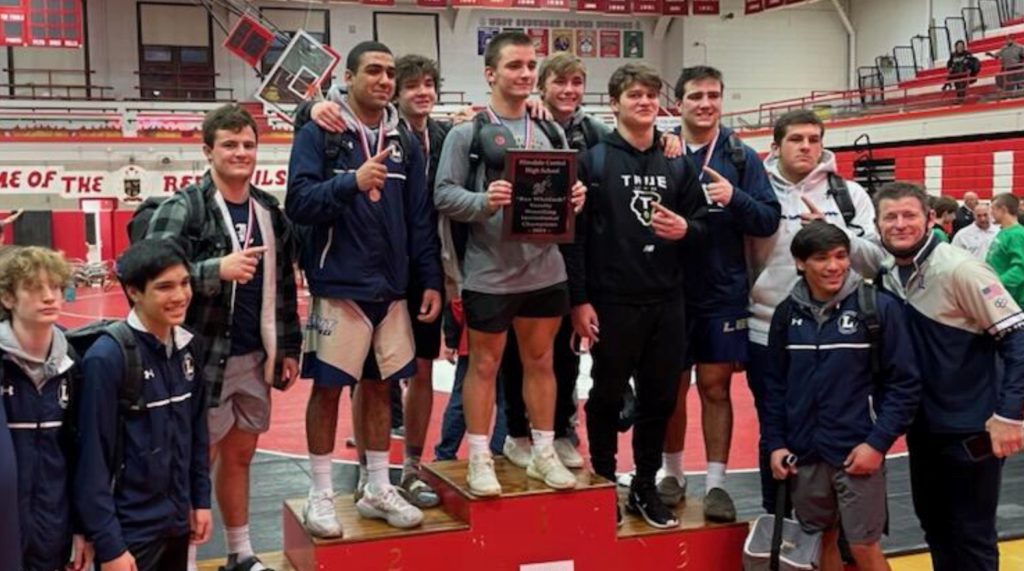 By Mike Garofola
HINSDALE — In a thrilling race to the finish line, it was Lemont that won by a nose.
Erik Murry's men found themselves chasing eventual runner-up Glenbard West all throughout the second day of the 55th annual Rex Whitlach Invitational. Lemont drew back even with the Hilltoppers 180-180 and then fell behind one last time at 191-188 before a strong finish at the upper weights ensured Lemont the team championship at host Hinsdale Central.

Final score: Lemont 197, Glenbard West 195. Joliet Catholic finished hot on their heels in third with 192 points.
"I cannot tell you how proud I am of this team, which stayed together all weekend, fighting for every point, especially in the final round when every point was the difference between winning this great tournament, or finishing second overall," Murry said.
Glenbard West rode its hot hand late into the afternoon but was unable to hold off Lemont. Stevenson (177) finished fourth and Geneseo (161) rounded out the top five on the leader board in a tournament that would highlight the strength of 2A wrestling, with Nos. 1, 3 and 7 (Joliet Catholic, Lemont, and Geneseo) proving they belong with the big boys.
"We obviously would have liked to hold on to the lead and win it all, but we asked a lot of the guys this weekend, and they came through with some terrific results and against a great field, which included some really terrific 2A schools," said Glenbard West head coach, Nick Posegay.
Joliet Catholic vied for the tournament title despite being shorthanded.
"We were down two state medal winners, one of which is a state champion, but the guys did all that they could to stay close," Joliet Catholic coach Ryan Cumbee said. "We're very proud of the effort and third-place finish."
Sevenson also went into the Whitlatch minus a few contributors.

"We're proving with each weekend that we're a very good tournament team," Stevenson senior Cole Rhemrev said. "When we get healthy and at full strength, we'll be even better, and we'll be ready to go when conference and state comes around." Rhemrev and teammate Lorenzo Frezza continue to shine in the lower weights for head coach Shane Cook.
Geneseo got marvelous performances from brothers Zachary and Anthony Montez and company, finishing 11 points clear of Lincoln-Way West to grab a well-deserved fifth place.
"We were thrilled to be a part of this terrific tournament," Geneseo coach Jon Murray said. "It gives us a chance to see where we are and it exposes what we need to work on from here on out. To come away with our best finish in recent memory says a lot about the effort all of our guys put in."
The Rex Whitlach tournament is one of the longest running tournaments in the state of Illinois, alongside Prospect's Mudge-McMorrow and Palatine's Berman Holiday Classic. The Whitlatch is named after the former Urbana High School star and two-time IHSA state champion, who went on to be named captain at the University of Illinois, where he earned MVP honors his senior year.
Whitlach, who passed away in October at the age of 84, was responsible for turning his own tournament into a high profile tournament which began with a modest four teams at its inception to this year's incarnation of 21 teams.
106 – Matt Soltis, Lincoln-Way West
Matt Soltis might soon find his name in the state rankings following his successful run to the 106-pound title Saturday afternoon in Hinsdale.
The Lincoln-Way West senior dropped down from 113 for this tournament, and the move proved a good one for both Soltis and his head coach Brian Glynn, who was thrilled with the effort Soltis turned in.
"Matt did very well today, made adjustments when needed, especially when we pointed out leading into this weekend that he was looking for the granby way too much," said Glynn, a two-tiime IHSA state champion and a two-time All-American at Illinois. "We worked on looking for different ways to attack and you saw in the second period how that was the turning point in the match."
After consecutive stalemates midway the second period, Soltis delivered his winning granby, which led to a near fall late in the period to extend his lead to 6-2 over Lemont sophomore Carter Mikolajczak, and an eventual 8-4 decision.
"We worked on ways to use the granby this week and I almost had it in the first period, but missed it," Soltis said. "When it was there in the second period, I went for it and got it."

Soltis also defeated top seed Rocco Hayes of Sandburg in a hard fought 3-2 semifinal match.
113 – Zachary Montez, Geneseo
The odds were stacked in the 113-pound field when the top-rated man in 2A at 120, Joliet Catholic's Gylon Sims dropped down to compete at 113.
The Hilltoppers' junior came in as the reigning state champion, with another state medal on his resume (2nd at 106 in 2020) and figured to be the favorite in this division.
Enter Geneseo freshman Zachary Montez, No. 5 in Rob Sherrill's IWCOA rankings before the Whitlach began and now at No. 2 after his smashing success at the tournament. Montez wrestled three marvelous matches to advance into his final with Sims, where he won a 6-4 overtime decision.
"I honestly felt like I was as good as (Sims) at the start of the tournament, and when I saw that he had to cut weight to make it to 113, I knew I'd be stronger and more conditioned against him because this is the weight I've been at this season," said Montez, who won the Whitlatch OWA for his superb work over the two days.
"I've been working hard since the end of the season last year, especially with my fitness, so when we went to overtime, I knew I would be ready to go for whatever came my way," Montez said.
Montez (18-2) started down after a scoreless first period, executed a nice escape and then a takedown near the edge after a wild scramble.
Sims roared back to level at 4-4 to force an extra session, which Montez quickly finished off with a takedown just 22 seconds into the overtime period.
"This was a big win for me, but there's a lot of work to be done ahead of me to keep it going for the rest of the season," said Montez, who also won at the Rockford East Invite after a third-place finish at Antioch.
120 – Bobby Conway, Brother Rice
When the aforementioned Sims dropped down to 113 for the Whitlatch, and a quartet of top 10-ranked 3A wrestlers at 120 in Sammie Hayes (Sandburg) Jalen Dunson (OPRF), Josh Killacky (Neuqua Valley) and Wilson Wright (New Trier) were out of action for the weekend, it created a window of opportunity.

Brother Rice freshman Bobby Conway climbed through that window, opening strong staying that way, ultimately recording a well-deserved 6-0 decision in his final over Jase Salin of Lincoln-Way West to claim his second individual crown of his career.
"It feel really amazing right now," said Conway, who also collected the top prize at Lake County, Indiana recently.
"My plan going into the final was to get a lot of shots, keep moving and keep my balance, and to go to work each time I scored points."
Conway did just that with a reversal at three minutes to go up 4-0 in the title match, before riding out the period to set up another strong two minutes, which culminated with a nicely-delivered takedown with 90 seconds remaining to ensure victory.
"(Rice) has been down a little bit but Alvaro Perez (138), James Crane (152), Tom Bennett (170) and myself are trying to help Brother Rice make a comeback," said Conway, now 13-2 on the season.
126 – Lorenzo Frezza, Stevenson
The dynamic one-two punch of Lorenzo Frezza and his Stevenson teammate, Cole Rhemrev, continue to knock out the competition, with Frezza turning in another magnificent two days to win his first Whitlatch title.
Top-seeded Frezza defeated one of his biggest rivals in Brian Beers (20-4) of Barrington to collect his second major of the season, and to push the No. 5-rated Patriots junior's overall record to 18-1.
"Obviously I would have liked to score more points but Brian and I know each other very well," said Frezza, who also won a title at Barrington in November. "He's not going to let me get much of anything off of him, so to get the lead and ride him hard in that second period was key."
Frezza slipped free of Beers, who had his ankle, and during the ensuing scramble Frezza grabbed two points to increase his second period advantage to 3-0.
"(Beers) is a very talented wrestler and he's tough to handle," Stevenson coach Shane Cook said. "But Lorenzo's ability to ride him throughout the second period and again in the third period was the way for him to seal the win."
132 – Cody Tavoso, Hinsdale Central
On mat No. 1 and in his home gym, Cody Tavoso gave Red Devils fans reason to celebrate when the Hinsdale Central junior secured the top prize at 132 after his 3-1 decision over his West Suburban Conference rival, Luke Swan of Downers Grove South.
"It doesn't get much better than this," said an elated Tavoso (4-0) who held his top seed throughout, going ahead for good with a takedown of Swan (15-3) with just 45 seconds remaining in regulation.
"I was a little too passive in the second period but after getting below his knee on a couple of occasions, I was finally able to finish my shot for the winning takedown," said Tavoso, who placed third at the Whitlatch as a freshmen in 2019.
"I just love everything about this sport," Tavoso said. "My goal is to get downstate for a third straight time and come home with a state title."
Tavoso defeated No. 6 Logan Kuhel-Trimmer (Joliet Catholic Academy) in his semifinal, 4-2, to advance.
"Cody is so passionate about this sport and his work ethic is second to none," Hinsdale Central coach Jason Hayes said.
"He's the first one in the room, and last one out. As our captain he sets an example for everyone to follow and he has high goals for himself, which include success in high school and at the collegiate level."
138 – Cole Rhemrev, Stevenson
Cole Rhemrev (18-0) opened his 138-pound final with an unstoppable attack against Downers Grove North's Harrison Konder, taking an early lead and building it to an 8-1 advantage after two periods.
The Patriots star eventually defeated No. 7 Konder(14-1) by a score of 15-9 to further validate his spot as the No. 4 man in the latest IWCOA poll.
"It was a good win for myself and the team, but I didn't particularly like that I gave up those points in the third period. It's not something that I want to get in the habit of doing," said Rhemrev, who won by tech-fall in his opener and followed with a pin during during his quarterfinal to advance.
Rhemrev conceded takedowns from Konder to bring the sophomore closer at 8-3, and then moments later at 9-5, before a thunderous throw from Rhemrev made it 11-5.The two traded takedowns before the final whistle ended this high- scoring contest.
Rhemrev, a three-time state qualifier who also won the title at the Moore-Prettyman this year, was fourth overall in Hinsdale in 2019.
145 – Mason Alessio, Joliet Catholic
On a roster filled with several high profile names, three of which are reigning state champions, it's easy to understand why Gylon Sims, Shay Korhorn, and Dillon Johnson are mentioned before teammate Mason Alessio.
But that's not the case among Alessio's coach and teammates, who fully recognize what they have in the Hilltoppers junior.
"Mason is a great story for us," coach Ryan Cumbee said. "He was out all last year after having back surgery and we are so proud of him because of the extra work he put in to get himself to where he has not only become an important piece in our lineup, but also an extremely good wrestler who can compete at a high level.
"He's a terrific athlete who's not afraid of hard work, and he really showed what he's made of in here," said Cumbee, pointing to his heart.
Alessio (13-1) dominated all four of his opponents, opening and finishing in style with pins in under two minutes, while recording a pair of majors in between.
Belleville West senior Will Dahm (11-4) was second, with Noah Quintana (19-4) from West Aurora third.
152 – Moses Quintana, West Aurora
Part of the resurgence of the wrestling program at West Aurora is due to the fact that brothers Noah and Moses Quintana, heavyweight Jordan Lishman, and others have turned in some wonderful early-season performances to help the Blackhawks earn the No. 15 spot in the current IWCOA team poll.
Moses Quintana's 152-pound title came at the end of a terrific two-day effort which featured a pair of pins and a nicely played 8-0 victory over Brennan Skoda of Glenbard West on the title mat.
(COVID) last year was tough on all of us, both in the classroom and in the room," Quintana said. "We had to take it easy a year ago but this season we're all pushing each other, working hard, and we're all seeing good results from all of our hard work."

Quintana was quick to say with a smile that his sophomore brother Noah is no challenge to him in the room or at home when the two spar.
Quintana (16-2) entered the Whitlatch as the No. 2 seed just behind Skoda, and took an early lead the Glenbard West senior with a takedown and came out of the second period with a 5-0 advantage.
The No. 9 rated Quintana added an escape and another takedown to ensure the first major tournament victory for the 2021 IWCOA state qualifier.
160 -Anthony Montez, Geneseo
Anthony Montez (20-2) pinned his way into his 160-pound final against top seeded Max Konopka (14-2) of Glenbard West. Montez used a takedown at the end the first period and another in the second period to double his advantage, before holding off his talented opponent en route to a 6-2 decision.
"I would have liked to score more points along the way and I wasn't happy with myself for keeping him around by not doing so, but I kept my focus and I was confident throughout the match to get the title," Montez said.

The Geneseo senior is a three-time state qualifier and finished fourth at the IWCOA state finals in June. He also won the title at Rockford East this season to go with a third-place finish at Antioch on Thanksgiving weekend.
"This was a big day for me, and my brother (Zachary), and a really important weekend for Geneseo wrestling because we showed we can compete at a high level tournament, and finish in the top five against some really great teams," said Montez, who plans on wrestling at the collegiate level. Coe College in Cedar Rapids, Iowa, is one of a handful of programs Montez is considering.
Montez, while proud of his younger brother Zachary for his accomplishments, and OWA honors, echoed West Aurora's Moses Quintana when quizzed as to who's the best of the two in the Montez household.
"No way Zachary can beat me now, or ever," the senior said with a smile.
170 – Alex Tagler, Lemont
When Alex Tagler claimed the top prize at 170 pounds for his Lemont teammates, it allowed the eventual team champions to stay neck-and-neck in the team race with Glenbard West.

Tagler started a late surge that earned he and and his mates the team trophy.
"Wrestling might be an individual sport, but it's really a team sport when you're in big tournaments like this one, so it was nice to help our team win the title," said Tagler, now 15-1 after his 7-1 decision over top seed Nick Mabutas of Willowbrook.
"Throughout the tournament I felt like I kept good position, executed well with my attack, and defended just like I did in the final," Tagler said. "I didn't give much up and never allowed him to get comfortable or in sync."
Tagler entered as the No. 7-rated man in 2A at 170 while Mabutas, champion last week at the Mickey Marchese tournament in Hoffman Estates, was No. 8 in 3A.
Tagler went up 5-0 with 30 seconds remaining in the second period, then prevented his opponent from taking a bite out of his lead after a wild scramble ended with both men falling far off the mat with seven seconds left on the clock.
"It felt good to get my first tournament win of the year. It's something that will help motivate me heading into the second half of the year and into the state tournament," said Taglor, whose victory drew Lemont within three points (191-188) of Glenbard West after the completion of the 170 matches.
182 – Ben Bielawski, Downers Grove North
In a title match at 182 between an experienced favorite and an upstart varsity newcomer, it was No. 1 Ben Bielawski of Downers Grove North who claimed the crown.
The Trojans' junior was on his front foot against Barrington's Ayden Salley (14-3), with some cutting-edge opening exchanges to race out to a 6-1 advantage, although the Broncos' sophomore halved the lead to 6-3 after one period.
It was 10-5 when the second period came to a close in advance of an offensive explosion that ended 16-9 in favor of Bielawski.
"He was a tough opponent and one that I have respect for, but I made a couple of mistakes and mental errors to allow him to stay close, so that's something we'll get after back in the room," said Bielawski, after celebrating his first major of the year, which moved his overall record to 14-0.
"Records and where my name is in the state rankings mean nothing to me — they're just numbers. What's important to me is to continue to work hard to earn a spot downstate, and win a state title," admitted Bielawski, who has made that trip twice, both times with his older brother Drew, who is now at Western Michigan University.
"Ben is a terrific young man, whose work ethic is way up there," Downers Grove North coach Chris McGrath said. "It's that and his ability, drive, and desire that will help him reach his goals."

Bielawski appreciates what the DGN program has given him.
"Coach McGrath and our staff are the reasons for my success thus far. He pushes me each and every day, and is the man that I trust to help me reach my potential," said Bielawski, who is also a defensive end on the Trojans football team.
"I might be under the radar in my weight class but that's okay, I like being there for now. But it only really matters when we're down in Champaign."
195 – Phillip Dozier, Glenbard West
Phillip Dozier continues to fight off the challenges associated with having the target of a No. 1 ranking on his back.
The Glenbard West senior tore through his first three opponents in just under 2 1/2 minutes before running into a stubborn and talented Zach Meyer of Barrington before being crowned champion at 195.
"Since eighth grade I've always been the one everyone is gunning for so it's made me a better person and wrestler," Dozier said. "So I don't mind being the top- rated guy in the state."

Dozier improved to 16-0 after his exciting match with Meyer (23-2) who came back from a 6-2 deficit to equalize at 8-8, before Dozier went ahead for good (10-8) late in the second period before winning a 12-9 decision.
"Dozier is so good, he has great hips, and he likes to use the headlock which we went in knowing," Barrington coach Dave Udchik said. "If we get another chance with him it will be important not to chase the match early, because we feel Zach now knows he can go with him."

Dozier is aware of the scouting report on him.
"I know a lot of my opponents think I'm a guy who exclusively uses the head lock, but the thing is it comes from a variety of angles and positions, and there are other parts of my game that I'll use as well," Dozier said.
Dozier, a two-time state qualifier and third-place state medal winner in June, plans to go into special education in college. Anderson College in South Carolina and Utica College in New York are two potential landing spots next fall for Dozier, who was also a Hilltoppers' football player this past season.
220 – Marko Ivanisevic, Hinsdale Central
Marko Ivanisevic conjured up memories of the past when the Hinsdale Central sophomore joined his older brother Niko as a Whitlatch champion on Saturrday. Niko Ivanisevic won the crown at 220 four years ago.
Niko Ivanisevic went on to finish a spectacular final season for the Red Devils with a second-place state medal after falling to All-American Anthony Cassioppi and finishing the year with a sparkling 39-3 record.
Marko Ivanisevic would like nothing more to be the next decorated member in the Ivanisevic household. If his two-day performance in Hinsdale says anything it's that his chance to enjoy a long postseason run is certainly a strong possibility.
"Marko (16-0) has a great support system at home with his family, and of course his big brother but he's been putting in the extra work on his own, and it really showed this weekend," said Red Devils head coach Jason Hayes, moments after Ivanisevics' 6-1 decision over Tim Stohl of Geneseo.
"I was nine years old when Niko won this tournament, before going on a great run to reach the state final," Ivanisevic said. "I remember all of the hard work and time he put in, in order to have the success he had. So I know it's the only way to get to the next level."

Like the heavyweight trio of Matt, Brian, and Jack Allen — all state champions — Ivanisevic would like nothing more than to give Hayes and the Red Devils another state championship at some point.
Interestingly, Niko Ivanisevic followed his brother Stefan to Princeton, where he has starred as an offensive lineman, while all three Allen brothers went on to do the same at Michigan State.
285 – Dillan Johnson, Joliet Catholic
All four of Dillan Johnson's opponents were humbled by the brilliance of the Joliet Catholic Academy sophomore, whose masterclass effort over the two days here ended when he delivered his fourth and final pin of the tournament to earn first-place honors.
In all, the reigning 2A state champion needed just over six minutes to send off his rivals en route to claim his first major of the season, while running his overall record to a spotless 9-0.
"Dillan is a superb athlete, who has an incredible motor," JCA coach Ryan Cumbee said. "He's big, strong, and extremely quick for a guy his size. As a freshman he didn't give up an offensive point.
"Dillan got a late start after being a part of our 4A state championship football team, but he's making up for lost time with a lot of hard work and dedication."
Johnson is inching his way back to form.
"I've been working hard with my footwork, drags, hitting my posts, and just getting in wrestling shape, but I feel like I'm getting closer with each week," said Johnson, whose father Eric Johnson played in the NFL with the New York Jets.
Johnson pinned Downers Grove North heavyweight Jordan Lewis at 1:14 to win the title. Lewis is also working to get back into wrestling shape for coach Chris McGrath.
"Because of COVID, Jordan has basically been away from the sport for nearly 18 months, but he's really come into his own since his sophomore year with us," said McGrath, after Lewis survived in sudden death overtime (4-3) over Jordan Lishman of West Aurora to book his place in the final.
"Jordan is the first one in the room, has a big heart, and always finds a way to win the close ones, so we're all very proud of him."