Hersey top of the table at Barrington's Moore-Prettyman Invite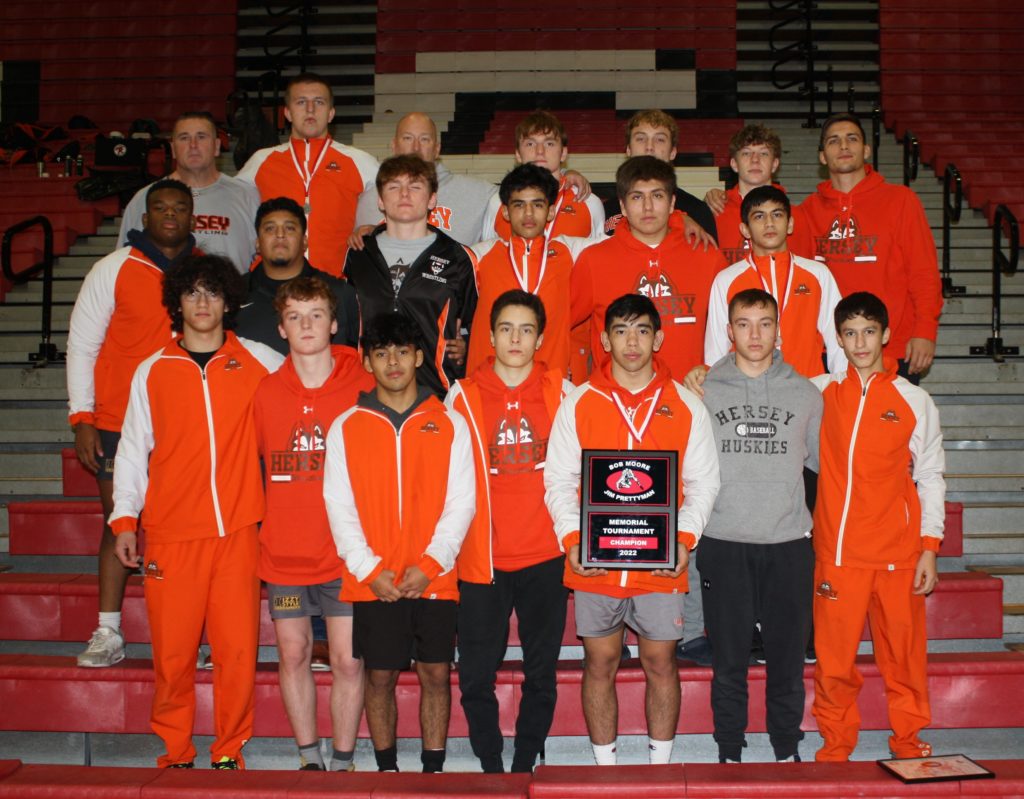 By Mike Garofola for the IWCOA
BARRINGTON – Building from the bottom up, by paying attention to the small details, and making the room at Hersey one of family-first, head coach Joe Rupslauk has moved the needle forward in just a short amount of time.
The Huskies, who last year won their first Mid-Suburban League title in 20 years, got their season off to a perfect start when they outscored the field of 31 at the Moore-Prettyman Invitational to lift the big trophy at this 31st-annual event that's hosted by Barrington.
"When I took over this program, we couldn't fill out a lineup, and our numbers were down all over – but I remember calling up-then Barrington head coach, Dave Udchik, and just begging him to let us into the Moore-Prettyman," recounts Rupslauk.
"Dave finally let us in, and even though I knew we were not ready to come anywhere close to being able to compete in such a great field of teams, I knew, with the great coaching staff we assembled (that) we could show we belong if we had the right young men in the program who wanted to work as hard as they could."
In 2018, the Huskies were 26th out of 27 teams with 29 points, claiming just one medal. Then in the following year, they were 21st out of 29 teams with 60.5 points, while doubling their medal count.
After Covid wiped out the 2020 tournament, the Huskies finished 14th in a 32-team field last season, with 84.5 points and six medal winners.
On Saturday, with plenty of depth throughout a lineup that grabbed bonus points whenever, and wherever possible, the Huskies used their lone individual title from Aaron Hernandez (160) and nine overall medals to collect 204.5 points, which was 22 more than second-place Libertyville, and 24 more than league rival Prospect, and its 180.
"Those first two years (here) all of our matches were at the back half of the Barrington fieldhouse because we were not good enough to have anyone wrestling on the four major mats in the championship bracket," joked Rupslauk.
"(But) when the current group of upperclassmen came into our program, we could see the change in the culture, and with the support of their families, administration and the wrestlers themselves who trained, and traveled all throughout the offseason, we've built something we can now be proud of, but the work never ends."
Over the two days of competition, the Huskies went a combined 48-22, with junior Daniel Lehman (106), Hernandez, and heavyweight, Oleg Simakov scoring nearly 70 team points between them.
"Hersey came out strong from the start, and had a really good showing in the first big weekend tournament of the year," said Libertyville coach Dale Eggert, whose team claimed seven medals, one of which was a first-place finish by junior, Matt Kubas at 170.
Third-place Prospect had as many medal winners as Hersey with nine, but three came on eighth-place finishes.
"We lost a couple of very good guys from last year's team, but we also returned a lot of our starting lineup, and have a couple of new guys who have been working hard in the room, and look like they're ready to step in to help us out this year," Hernandez said.
Last year, Marmion Academy put 215.5 points on the board to take home the championship trophy with Libertyville again earning runner-up honors with 193.5 points.
Here's a breakdown of the champions and their weight classes from Barrington's Moore/Prettyman Invitational:
106- Brayden Tuenissen, Belvidere
Brayden Tuenissen got the final session off to a roaring start with a fall in 4:54 over Hersey's Daniel Lehman to capture the first title of the tournament.
The Belvidere sophomore, who was a state qualifier in his rookie season for head coach Danny Martinez, took a first-period lead over Lehman, a sophomore, with a nicely-played double and increased his advantage to 3-0 with an escape near the edge to begin the second period before making it 5-0 with 30 seconds remaining in the period.
"Getting the first takedown of any match is really important (he) had a high stance, and I was in good position to take advantage of (that), and after that, I just concentrated on adding to my lead, and not allowing him to get any points," said Tuenissen, who lost to the eventual 106-pound state champion Mount Carmel's Seth Mendoza, in second-round action in Champaign, after winning his state opener.
"The experience of competing in a big stadium, and in that atmosphere is going to be really helpful for me this year," said Tuenissen, who had an impressive 42-7 record a year ago.
"Brayden has become a team captain for us this year, and had this event circled on his calendar since we committed to coming here, he's an exciting kid to watch wrestle, and he's always going for the pin," said Martinez.
Lehman pinned the second-seed, Hinsdale Central's Fernando Chavez, to advance into the final, while a couple of freshmen, Lyons Township's Griff Powell and Grant's Vince Jasinski rounded out the top four in this division with Powell claiming third with an 8-7 decision.
113 – Deven Casey, Aurora Christian
Deven Casey earned his second consecutive Moore-Prettyman crown after his hard-fought 3-1 decision over Bradley-Bourbonnais' Ethan Spacht in a contest that was all but decided off a late second period scramble in which the Aurora Christian sophomore recorded a takedown to build his advantage to 3-0.
"I knew (Spacht) was a big technique guy, and a senior with a lot of experience, so I wrestled smart, kept my spacing, and tried not to give him too many chances to get (in) on me," said Casey, who was third at 106 in the Class 2A state tourney a year ago and had a 32-7 record.
"I worked really hard during the offseason, particularly with my fitness in order to be in better shape than last year, especially after coming back from Fargo," said Casey, who came into the season ranked second in the state behind the reigning state champ, Glenwood's Drew Davis.
Spacht, a two-time state qualifier, who took fifth last season at 106 and finished 29-5, booked his place in the final with a 2-0 win over Jacobs senior Dominic Ducato, who he defeated 4-2 in the state opener for both last season.
Ducato, who was 25-7 last season, beat Plainfield South junior Rudy Silva 15-2 to place third.
120- Josh Vazquez, Aurora Christian
Josh Vazquez sprung an early tournament surprise when the Aurora Christian sophomore held off Loyola Academy's top-ranked Massimino Odiotti, 8-5, to claim the big prize at 120 pounds.
Vazquez, No. 2 in 2A at 132, and Odiotti, a state runner-up a year ago, gave the big crowd plenty to cheer about after Vazquez took a 5-1 lead 30 seconds before the end of the second period when he finished a terrific high single.
Odiotti, whose brilliant season a year ago was ended by St. Charles East's Ben Davino in the 120-pound finals, came roaring back to make a game of it with a takedown at the edge to make it 5-4, and then 6-5 to start the third period before Vazquez closed him out with a takedown in front of the scorers table with 14 seconds left.
"Odiotti is the type of guy who can go 6-7-8 minutes hard, (he's) big and strong, so that was something we were concerned about even before the match," said Aurora Christian coach Danny Alcocer.
"But Josh, who might have lost a match like this a year ago, has come a long way in parts of his game (he's) more offensive minded this year, he's able to continue to add points as the match progresses, and his movement and ability to take and finish his shots, has improved tremendously from a year ago,"
Prairie Ridge's Tyler Evans and Libertyville's Luke Berktold held their seeds and finished third and fourth, respectively, with Evans winning by fall in 1:34.
126- Evan Gosz, Fremd
Evan Gosz opened his sophomore season on a high note by overwhelming the competition at 126 pounds, including his final opponent of the tournament, Joliet SWest's Carson Weber, who he beat 9-0 to claim his second-straight championship trophy at Barrington.
"Evan just loves to compete and loves this sport, (he) knows where everyone is at in the state polls, and as you saw today, really enjoys watching other matches, he's just laser focused on the sport, and is especially that way when he steps onto the mat for his matches," Fremd coach Jeff Keske said.
Gosz, one of five Vikings to make it downstate a year ago, and one of three who brought back a state medal after finishing third, pinned his way into the final where he went up 4-0 during a marvelous second period.
"It was all about getting a good start right from the first whistle, and not letting up (trying) to hit my shots, and doubles when, and where I could," said Gosz, who competed at the Super 32 in North Carolina and at Fargo, where he was in the same bracket as the eventual champion, Ben Davino.
"I don't know how anyone can score on Ben, or for that matter beat him this year," said Gosz, who won conference, regional and sectional titles last season.
Prospect senior Joel Muelenbeck, a state qualifier last season, finished third following an 8-1 victory over Loyola Academy senior Patrick Zimmer.
132- James Wright, Jacobs
What a performance and what a scoreline for James Wright, who turned in a dominating two-day showing to easily capture the 132 pound title.
The Jacobs senior needed just a tick over six minutes to collect a trio of pins leading up to his semifinals win by technical fall and a mere 96 seconds to record another technical fall triumph, by a 19-4 score, in his finals with Libertyville junior Hunter Hill.
"James just loves to compete," Grant coach, Gary Conrad said.
"His offense is fun to watch, and he has always had a lot of energy, a great gas tank, which our program takes great pride in, and he likes to put (it) all out there with his aggressive style that utilizes the many tools that he has."
Wright, a three-time state qualifier, was 26-8 a year ago, with one of those victories coming in his state opener bhe y major decision before he ran into the eventual state champion, Mount Carmel's Sergio Lemley.
Wright grabbed another major decision victory in the consolation round before his dream of a state medal was dashed by Glenbard North's Paul Woo in a 4-2 loss.
Wright was second at regionals to Stevenson star Lorenzo Frezza and again one week later at the Barrington sectional.
"James is looking to medal at state this year after losing a close one in the blood round, he's looking to improve with each week leading up to the Dvorak in late December," Conrad said.
Wright has his eyes set on attending the University of Central Missouri next fall, where former Jacobs star and returning All-American John Ridle competes, as does Frezza's brother, Tommy.
Lyons Township's Claudio Rodriguez and Plainfield Central's Aiden Rudman rounded out the top four medal winners at this weight with Rodriguez claiming third with a 4-2 decision.
138- Lorenzo Frezza, Stevenson
Two high-speed trains collided in the 138-pound final, Lorenzo Frezza versus Will Baysingar, a clash of two senior stars with plenty of hardware in their trophy cases and well over 200 career victories between them.
Baysingar, No. 2 at 138 and Frezza, No. 3 at 132, both serious contenders for a state title in the spotlight before an anxious audience, who watched this dynamic duo dominate on their way to this final.
Frezza brought the fans to attention when he scored a takedown with 45 seconds remaining in the first period, conceding a quick escape, and another off the whistle to open the second period to signal chess-like action to send this affair into its final period level at 2-2.
Frezza started in the down position, and for the second time in this match, surprised his opponent with a clever, and crafty reversal 30 seconds in, before riding out the University of Illinois-bound Baysingar, who later drew closer at 4-3 with an escape.
Thrice the two combatants would fall out of the circle and start over in neutral, but Frezza held off the advances of his rival to secure a hard-fought 4-3 victory.
"I think that early first takedown kind of shocked Will a little, he almost never is taken down," said Frezza, third a year ago at state at 126 with a sparkling 42-2 record.
"Will is so quick, and strong, but I felt like I was able to counter those strength(s) with constant movement, and working to get my shots (in) – it was the type of match I expected," admitted Frezza, who will wrestle next fall at Columbia University in the Ivy League.
"This was an important win for Lorenzo, who is well aware that as big of a win this one is, that it is a long season, and he will have to continue to work hard (which) he is 150 percent on board with," Stevenson head coach Shane Cook said.
"It obviously was not the result we were looking for, or the effort (either), but we'll be back in the room and get back to work and I guarantee you this match will inspire him from here on out," Prospect head coach, Dan Keller said.
For his efforts, Frezza was named Outstanding Wrestler (O.W.) by the coaches who had a handful of worthy candidates to choose from.
Lane Tech senior Finn Merrill won 5-1 over Hersey junior Jake Hanson in the third-place match.
145- Antonio Alvarado, Belvidere
Turn back the clock to last February at Barrington, and Antonio Alvarado and Scott Busse both had advanced into a sectional final in their respective weight divisions.
Something obviously had to give when the two met in the 145-pound final after each man lost their sectional final – Busse at 138 to Cole Rhemrev and Alvarado to Charlie Fifield at 145.
In a tightly-contested six minute contest, it was Alvarado who would prevail, 6-5 to win his first title in the event, and the second on the day for Belvidere, who finished seventh overall along with Lyons Township, each with 114 points.
"Antonio has developed a relentless mindset, he stays in good position(s) and is constantly looking to create offense, with a high end pace that makes it difficult to keep (up) with over a six minute match," Blue Thunder head coach, Danny Martinez said.
"He's been known as 'Takedown Tony' through the years, so his ability to score multiple takedowns is what ultimately got him his title."
Both men would easily go through the bracket, and into the semifinals where Alvarado took a default advancement while Busse had a rougher go of it against three-time state qualifier and two-time state medal winner, Hinsdale Central's Cody Tavoso, a three-time state qualifier and two-time state medal winner, who is the No. 4 138-pounder in the state.
Busse took the lead for good with an escape to start the third period and then insured his 5-3 victory with a takedown at the edge and in front of Tavoso's corner.
Busse was a state qualifier a year ago,but suffered a broken ankle in his second-round match with Downers Grove South's Jimmy Nugent to put an abrupt end to his season.
"I spent a lot of time rehabbing, with plenty of physical therapy support, so I feel like I am ready to go after a state medal this year," said Busse, who was 33-6 a year ago.
"The improvement for Antonio comes from his confidence, I've noticed a maturity, and increased self belief in himself," says Martinez of Alvarado, who placed fifth at 145 at state with a 42-7 record.
"He had championship aspirations last season, and it was tough to come back, and work your way through wrestlebacks at state after realizing you will not reach the ultimate goal, but he's always been a kid that puts his head down, and fights through adversity."
Tavoso earned third place honors, winning by injury default over Joliet West's Austin Perella.
152- Nolan Allen, West Chicago
Nolan Allen gave the field at 152 a glimpse of what to expect from the West Chicago senior when he followed up two-straight pins with his overtime semifinals thriller over the top-seed, Aurora Christian's Taythan Silva in advance of an impressive six-minute effort in his final.
Allen defeated Belvidere's Colin Young 7-1 to claim top honors and to give the Wildcats their lone title of the weekend.
"I felt really good from the start of this tournament, and especially in my final, it all came together for me during these two days despite the fact that I've been dealing with a respiratory problem," Allen said.
"That semifinal was a really tough match against a very good opponent, but I stayed under control, and kept it together in each extra overtime period to get a big win," said Allen, who was chasing a 4-2 deficit to Silva after two periods.
It would stay even at 5-5 through extra time until Allen came away with a 6-5 triumph.
Allen was active, and kept moving his feet in his final, taking a 2-0 early lead, then riding out Young to hold his advantage after the first period.
An easy out after starting down, and a takedown made it 5-0 heading into the final period where Allen would concede an early escape before putting the finishing touches on this contest 30 seconds from time.
"It feels good to win at a tournament as big as this one and hopefully it's the first of many for me this season," Allen said..
Silva eventually finished third after claiming a 3-2 decision over Lyons Township junior Gunnar Garelli.
160- Aaron Hernandez, Hersey
One of the key figures in the memorable run a year ago for Hersey would give the Huskies their lone championship bracket when senior, Aaron Hernandez earned his first major title after a well-deserved 7-3 victory over a league rival, Prospect's Connor Munn.
Hernandez, whose thrilling 6-4 blood round victory at Barrington a year ago in sectional action gave him his first trip downstate, never trailed in his contest with Munn, grabbing a late-second period takedown to take a 3-0 lead into the final period enroute to his win.
"As a team, we're looking to build off of the success we had last season, and have an even better season this year and for me, all of my work during the offseason going to tournaments and working to improve my cardio and fitness (hopefully) gives me the chance to compete for a state medal," Hernandez said.
Hernandez,, No. 7 in the preseason polls, opened the tournament with a fall and major decision before running into Downers Grove South's Luke Swan, a two-time state qualifier who also qualified for Fargo, whom Hernandez led 4-1 before recording a 8-3 victory.
After a tepid first period, Hernandez got a hold of the left leg of Munn, and finally was awarded a take-down seconds before the second period ended to go up 3-0.
Working the edge smartly, Hernandez earned a pair of takedowns to increase his advantage to 7-2 before a late escape made it 7-3. Munn, No. 9 at 152, was a state qualifier last season.
In the third-place match, Stevenson senior Thomas Schoolman won 7-2 over Swan.
170- Matt Kubas, Libertyville
Matt Kubas threw plenty of praise to his teammates following his 12-4 major decision victory over Wheaton North's Mikey Rosch to capture the 170-pound title on Saturday.
The Libertyville junior used a variety of bonus point victories to reach the final, beginning with a technical fall to open his tournament, followed by a pin in his quarterfinals before consecutive major decisions gave Kubas his championship bracket.
"I'm really fortunate to have guys like Austin (Gomez), Cole (Matulenko) and Owen McGrory to (go) with everyday in the room – they were a big part of my success at this tournament," said Kubas, who last year qualified for state, but was forced out due to a knee injury.
"(The) knee injury that kept me out of state was disappointing, but after I was cleared to get back in action, I spent a lot of time training with coach (Zach) Brunson, who has really helped me with every part of my game."
Kubas finished a double halfway through the first period, conceded a nice reversal to Rosch and hen continued to build upon his lead as the match rolled on. Rosch, the No. 2 seed,, won 29 a year ago en route to his first state appearance.
Crystal Lake Central sophomore Cayden Park won 6-3 over Plainfield South sophomore Colin Bickett to claim third place.
182- AJ Mancilla, Bradley-Bourbonnais
It took just 30 seconds to come away impressed with AJ Mancilla whose magnificent two-day performance, and high character would culminate in the Bradley-Bourbonnais junior claiming the top prize at 182.
"When you talk about AJ, well, I just don't know where to begin," said Boilermakers head coach, Mickey Spiwak, who starred at Lake Zurich, then later at Cornell College in Iowa.
"I get real emotional when talking about (AJ) because he's such a terrific young man who leads by example and with high morals (who) cares about his teammates, and the students around him in school, who I've seen be a voice for those who are struggling in a variety of ways on a daily basis," Spiwak said.
"(Coach) Spiwak is the absolute best (he's) made me a better wrestler, and even better person," said Mancilla, second at Barrington a year ago and champion this year following his 3-2 victory over the top-seed,, Libertyville's Austin Gomez, who bumped up from 170 for this weekend.
"I take a lot of pride in going hard (for) six full minutes, and to make it near impossible to (be) taken down," said Mancilla, who never conceded a takedown in his four matches over the two days of play.
"My quarterfinal was tough, but again my fitness and work rate was the difference in my opinion," admitted Mancilla, who beat Fremd's Ali Adel 8-3 in an ultimate tie-breaker.
Once in his finals with Gomez, who was third last year at state, the two stayed in the center of the mat for most of the first period until they traded escapes.
Mancilla took the lead for good with a nicely-played double 30 seconds into the final period, then held off the Wildcats senior down the stretch.
"That first takedown, whenever it comes in a match is so important, and for me, it allowed me to work with the lead the rest of the way," said Mancilla, who was 36-6 last season,, losing in the blood round at the Granite City sectional.
In the third-place match, Fremd senior Ali Adel won 5-3 over Hersey junior Anthony Cambria.
195- Jaxson Penovich, Prospect
It's rare to find a freshman having any kind of success in the upper weights, let alone doing so with near-precision results.
Prospect rookie Jaxson Penovich dispatched all five of his opponents, the first two via pins and the last three by major decision, including his final contest of the two days against Libertyville senior Cole Matulenko.
Penovich overcame an early deficit to take a 3-2 lead after one period, before his unrelenting offensive assault ended in a 12-4 major decision and the first, of what could be several major titles for this confident youngster appears to be a terrific new addition to Dan Kellers' wrestling room.
"Jaxson is a big-time worker in the room, never stops, and if he continues, he has a chance to be a special kind of wrestler for us," said Keller, in his first full year in charge of the Knights after leading the club to its first-ever dual team state trophy last year, which was a fourth-place finish in Bloomington.
Penovich needed just over two minutes on opening day, followed by a 13-3 major to advance into the semifinals where he took down the top-seed, Plainfield South's Matthew Janiak, with yet another major, by a 16-7 score, to advance into his finals with three-sport star and returning state qualifier Matulenko.
Penovich was an Illinois Freestyle state champion, and IKWF state champ as well.
"I really feel like being in a room like ours at Prospect, and training (non-stop) at Relentless has made me capable of competing with anyone in my weight class this season," admitted Penovich, who says Relentless founders, Jordan Blanton, and Ryan Prater have helped fine tune his all-around game into one that will allow him to enjoy plenty of success this season.
Lyons Township senior Cooper King took third place after beating Janiak 11-7.
220- Marko Ivanisevic, Hinsdale Central
A taste of state tournament success last year has made Marko Ivanisevic wanting a bigger bite this time around for the Hinsdale Central junior, who entered this season as the No. 2 man at 220, and he's wanting more.
"(Andrew) Blackburn-Forst ended my run with a quick pin in the quarterfinals, so my goal this season is to get back down(state) and win it all," said Ivanisevic, whose 7-1 decision over Kai Calcutt, an impressive freshmen from Loyola Academy, gave him the title at 220 pounds.
"When the season was over last year, I went right away to (Izzy Style), getting bigger, stronger, and quicker, than with our football season ending sooner, than later, I lost 15 pounds and got right back to putting everything into my training for wrestling," said Ivanisevic, who play right tackle for the Red Devils.
Ivanisevic held a 5-0 advantage after two periods, before conceding an escape to start the third period, but stayed in control the rest of the way and then ensured victory with a takedown in the waning moments.
"This is a good way to begin the season, but there's a lot of work ahead of me," said Ivansevic, who finished fifth at state, and first at the Northern Plains Regional Freestyle tournament last May in Wisconsin Dells.
Ivansevic survived in overtime against the eventual third-place medal winner, Libertyville's Owen McCrory in the quarterfinals to stay alive in the front draw, before claiming a 5-0 win over Prospect's Conor Mitchell to book his place in the final.
McGrory defeated Mitchell 6-3 to claim third place in the tournament.
285- Wyatt Schmitt, Joliet West
In the always unpredictable, topsy-turvy heavyweight division, it was Wyatt Schmitt who came out untouched on his way to the 285-pound title.
The Joliet West junior, who began the tournament as the No. 3-seed, pinned his way into the finals against Hersey's Oleg Simakov, who's 6-8, where his work rate, pace, and desire to stay with his pre-match plan was enough to earn a hard-fought 3-2 decision.
"I honestly feel like my constant movement, and pace really was the difference because I thought in that third period (he) was running out of gas," said Schmitt, who was 33-12 a year ago after advancing to the state tournament.
It was a typical push-and-pull first period until Schmitt, starting down in the second period, recorded an escape, in addition to doing a solid job of staying away from Simakov, and his front headlock.
"I just kept him moving and not allowing him to get in on me," added Schmitt, whose takedown 30 seconds to make it 3-1. A late escape from Simakov finished the scoring.
Schmitt was a member of Team Illinois at the Freestyle National Duals last June.
Downers Grove South senior Semaj Croswell edged Libertyville's Caleb Christensen by a 4-3 score in the third-place match.
Team ResultsHersey 204.50, Libertyville 182.0, Prospect 180.0, Crystal Lake Central 127.0, Joliet West 125.5, Fremd 117.5, Belvidere North, Lyons Township 140.0 each, Barrington 113.5, Stevenson 111.0, Aurora Christian 101.5, Loyola Academy 101.0, Bradley-Bourbonnais 100.0, Hinsdale Central 98.0, Downers Grove South 93.0, West Chicago 85.0, Lake Zurich 83.0 Chicago Lane 77.0, Grant 73.0, Jacobs 71.0, Prairie Ridge 63.5, Hampshire 63.0, Plainfield South, Wheaton North 59.0 each, Washington 57.0, Bolingbrook 49.0, Glenbard East 48.0, Plainfield Central 45.0, Waubonsie Valley 34.0, Sandwich 32.5, Fenwick 18.0.