Lockport edges Hoffman Estates for title at inaugural Niles West Invite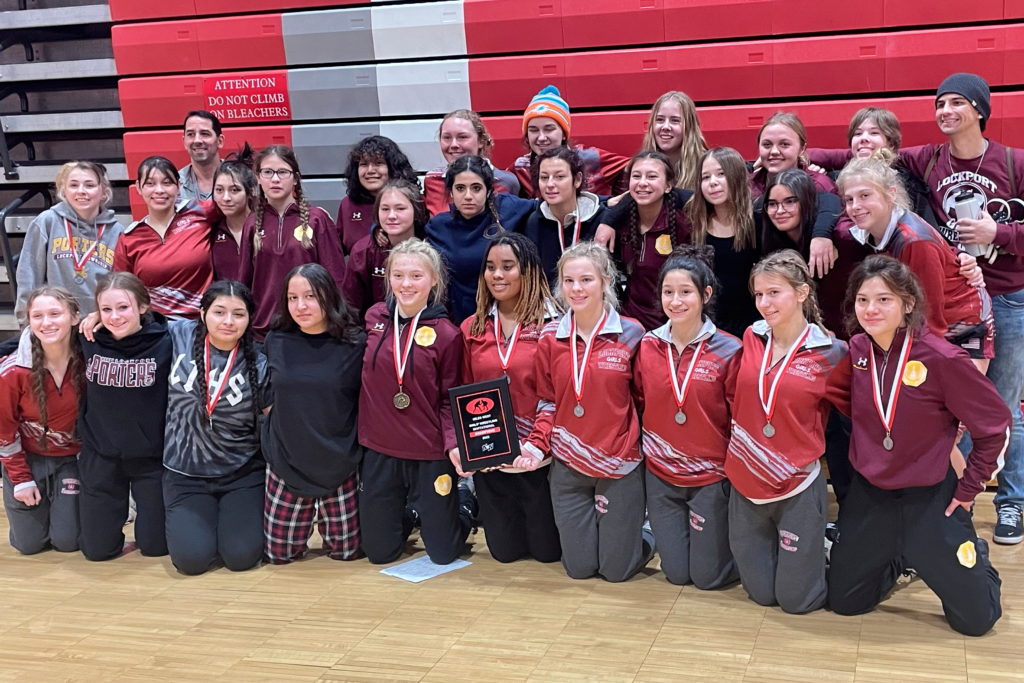 By Patrick Z. McGavin
SKOKIE – Lockport senior Claudia Heeney is a walking advertisement for the new possibilities of girls' wrestling.
"At my school, I know a lot of girls who come up to me, and talk about wrestling and ask me if it's fun, or if they should try it," Heeney said.
"I always encourage them to come out, and say what an amazing opportunity. It takes a lot of confidence. You have to be courageous to go out there."
As the state prepares for the second full season of a formal state series, girls' wrestling has never felt so immediate, impactful, and expanding.
Lockport is Exhibit A.
"Last year we had 14 girls, and we have eight returners," Lockport coach Nate Roth said. "They're moving along very well, and now we have 35 girls on the team.
"We have these girls who know how to wrestle, and then we have these girls who have been wrestling for three weeks. It feels like a different season, and it's very cool to see the new girls developing and learning how to wrestle."
The Porters showcased their depth, skill and rapidly expanding technical prowess in capturing the 22-team field of the inaugural Niles West Girls Invitational on Saturday in Skokie.
Heeney was one of the architects of the championship. She defeated Hoffman Estates' Sophia Ball with a fall in 2:40 for the 125-pound championship.
Lockport edged Hoffman Estates 172 to 165 for the team title. West Aurora finished third with 135 points while Conant had 121, Round Lake 112 and Yorkville had 103 points.
In the 14 weight class divisions, Lockport, Hoffman Estates, West Aurora and Round Lake each had two individual champions.
Underlining the growing popularity of the sport, the tournament featured seven auxiliary championships at 120, 125, 130, 155, 170, and 190 pounds.
The 230-pound class also featured an exhibition match.
The tournament format allowed teams to enter more than one wrestler per weight class.
Lockport took advantage.
"It's cool seeing the older girls who are the leaders, and teaching the younger girls how to do it," Roth said.
"The returning girls have done a great job of taking on that leadership role. It feels awesome that we have all of these opportunities for all of these girls."
Coming off the pandemic season of two years ago, last year was both transitional and groundbreaking. Schools like Lockport, Hoffman Estates, West Aurora, and Round Lake are realizing the groundswell of support and growth.
"Tons of the new girls on the team said, 'Wow, I wish I knew about this last year. I would have joined last year,'" Roth said.
"This year I was able to do a lot of advertising, and it paid off. These girls are gung-ho. I had one girl who had been running cross country for eight years, and now she says she likes wrestling better after three weeks."
A graduate and former wrestler at the school, Roth is now positioning the girls as an equivalent of the boys' powerhouse that won the Class 3A team dual state championship in 2017 and took third place last season.
Now the girls stand on their own.
"Last year we were still technically an umbrella of the boys' program," Roth said. "We are a separate entity. We are doing our best to live up to the Porters' name."
Champions and weight class finishers at the Niles West Invitational:
100 – Riley Kongkaeow, Round Lake
Round Lake freshman Riley Kongkaeow blitzed the field with three dominant first period falls.
She defeated her teammate Autumn Turner in the championship match with a fall in 1:00. After receiving a bye in the first round, she needed just 3:45 of mat time to register the three victories.
A senior, Turner also impressed on her side of the bracket with two falls to qualify for the championship.
In the third-place match, Montini's Kat Bell recovered from her semifinal loss with a first period pin of Lockport's Monica Skibicki.
Yorkville's Kayleigh Shannon defeated Conant's Nallely Zaragoza for fifth place.
105 – Vianny Hernandez, Round Lake
Senior Vianny Hernandez maintained Round Lake's dominance of the early weights by cruising to the championship with three first period pins.
She defeated Yorkville's Dani Turner with a fall at 1:55 in the finals.
All three of her pins were in the first period. Only Turner was able to last longer than a minute of mat time.
Turner also had two dominant performances in the early rounds to reach her side of the bracket championship.
Lockport's River VanderVelde captured third place with the 12-7 decision over West Aurora's Regan Mitchell.
Lane Tech's Sofia Guerrero defeated Hoffman Estates' Sophia Matias for fifth place.
110 – Caitie Cassello, Lockport
Lockport senior Caitie Cassello saved her best for last.
After posting two falls at exactly one-minute in her two preliminary matches, she seized the moment with a 21-second pin of Maine East's Eliana Badeen in the 110 championship match.
"There are some matches where I am definitely more of the aggressor, and others I am more technical," Cassello said.
"I had a lot of matches today, and sometimes that is a lot. In a way, I was just trying to get them over with. I was definitely very aggressive, and it worked out in my favor."
Badeen also impressed in the preliminary action with two first period falls.
Lockport's Averi Colella posted a fall in 1:34 over Round Lake's Leslie Jimenez-Chavez for third place.
Addison Trail's Veronica Cosio registered a fast pin of Lockport's Hannah Wolf for fifth place.
115 – Angela Lee, Maine South
In the first competitive final, Maine South senior Angela Lee prevailed over Evanston's Ariana Flores with a tough 6-1 decision.
Flores reached the final by defeating Lockport's Liz Ramirez 14-4 in the semifinal round.
In the third-place match, Ramirez won by forfeit over Addison Trail's Nina Matthews.
Metea Valley's Uliana Shevtsova defeated Niles West's Zoe Pomeranets 8-3 in the fifth-place match.
120 – Yamilet Aguirre, Yorkville
Yorkville junior Yamilet Aguirre revealed a dazzling and overpowering mix of technique, quickness and athleticism in dominating her weight class.
After two falls in the first minute to reach the final, Aguirre completed her superb run with the fall over Lane Tech's Nyah Lovis in 2:12.
Despite the loss, Lovis was impressive in the run up to the final, posting a third-period fall and a tough 6-3 decision over Round Lake's Ireland McCain in the semifinals.
McCain defeated Lockport's Ava Thompson 7-4 in the third-place match.
Lockport's Maya Hernandez defeated Addison Trail's Lluvia Sanchez-Galvan with a first period fall for fifth place.
125 – Claudia Heeney, Lockport
Precocious and disarming, Claudia Heeney showed few nerves in her high school debut.
Quick and explosive, the Lockport freshman got to her designated spots, and influenced the tempo and rhythm of each of her matches. After two first-period falls in reaching the championship, she punctuated her impressive day with a pin in 2:40 over Hoffman Estates' Sophia Ball.
"It's an amazing opportunity to be able to wrestle, and go out there and win," Heeney said. "The most important thing is just having confidence, and just knowing what I am doing, and I can go out there and win.
"I always have a game plan, and I always have a black up. Whenever I face a move I don't know how to do, I always look at my corner, or just know a move off of that. I always feel like I'm one step ahead of my opponent."
A sophomore, Ball was the equal of Heeney until the championship. She registered two pins that took less than a minute of wrestling time to capture her side of the bracket.
Evanston's Priscilla Hartwell defeated West Aurora's Alina Williams by fall in 2:39 in the third-place match.
Conant's Beth Ciavarella defeated Yorkville's Brooke Coy to finish fifth.
130 – Emmy O'Brien, Hoffman Estates
Hoffman Estates junior Emmy O'Brien is not passive or somebody who waits to react to an action.
"I'm very instinctive, and an aggressive wrestler, but not in an angry way," O'Brien said. "I get on the mat with the mindset that my opponent does not deserve to wrestle me.
"I go into every match just believing I am going to win, not ifs, or maybe kind of thing.I focus on speed, aggression, and technique."
O'Brien captured the individual title with a fall in 1:39 over Waukegan's Noelani Rodriguez.
O'Brien finished the day with three falls. Just one of those matches lasted beyond the first period.
"I either make the first move, or I figure out what my opponent likes to do, and I hand fight as much as possible," O'Brien said. "I can feel her instinct, like which arm she is going to shoot with, or what leg she is going to shoot with."
Despite the championship loss, Rodriguez showed her own impressive command, with just the right balance of speed, athleticism and power. She posted three falls in her preliminary matches.
Conant's Ewa Kroupa posted a fall in 1:29 of Lockport's Lucy Madrigal for third place.
In the fifth place match, Fenton's Roxana Patino defeated West Aurora's Rachel Lopez 7-4.
135 -Mannie Anderson, Conant
Conant senior Mannie Anderson had no peer with the most physically overpowering performance of the tournament.
Showing breathtaking technique, quickness and strength, Anderson needed just 1:13 of mat time to capture her individual championship.
She punctuated her remarkable turn by defeating Hoffman Estates' Gianna Rossi in 0:27 for the title.
Rossi recorded the first period fall of Addison Trail's Ruth Castillo to reach her side of the championship bracket.
In the third place match, Castillo won by fall in 2:35 over Zion-Benton's Emily Ortiz.
Mundelein's Khloe Heerdegen defeated Maine East's Soobin Chung for fifth place.
140 – Al Ghala Mariam Al Radi, Niles West
Senior Al Ghala Mariam Al Radi provided the host Wolves with their brightest moment with her fall in 1:33 over West Aurora's Giselle Marine for the title.
She won by technical fall and a first period pin to reach the championship match.
Marine had two second period falls to capture her side of the weight bracket.
Niles West's Aaizah Khan of Niles West captured the third-place trophy with a fall in 0:39 over Hoffman Estates' Annie Rokoci.
In the fifth-place match, Conant's Aubrey Mueller edged Maine East's Alyssa Gianola 14-11.
145 – Audreynah Gillentine, Zion-Benton
In a strategic, back-and-forth final, Zion-Benton's Audreynah Gillentine prevailed over Round Lake's Brianna Perez 12-8 in the championship match.
Gillentine reached the championship with two first-period falls.
Perez defeated West Aurora's Kymber Hall by first-period fall in the other semifinal bracket.
Hall defeated Lockport's Melanie Esparza with a fall in 1:31 in the third-place match.
Lyons Township's Jax Tamburello defeated Yorkville's Joanna Okunnu for fifth place.
155 – Sophia Sosa, Fenton
Sophia Sosa delivered Fenton's only individual championship with the dramatic and tough 6-3 decision over teammate Yamile Penaloza.
Sosa registered a first-period fall of Mundelein's Axel Warzecha in the semifinal bracket.
Penaloza also had back-to-back pins in capturing her side of the bracket.
In the third-place match, Warzecha beat Yorkville's Ellie Dubs by fall in 0:57.
Hoffman Estates' Nikky Hubbard defeated Lockport's Deylin Manteca Claros with a second-period fall to capture fifth place.
170 – Ionicca Rivera, West Aurora
West Aurora's Ionnica Rivera is ready for her encore.
"It's been kind of nerve-wracking because I made it to state last season, and I want to do it again," she said.
"I just have to work harder."
Rivera built off the promise and foundation of last season by posting a fall in 2:36 over Lockport's Kelli Watkins for the individual title.
She won her first two matches by fall and injury default.
"I felt like I had the advantage on top and was able to turn her once I got the takedown," Rivera said. "At the start of the second period, I was on the bottom, and I reversed it, and I felt like that was the moment where I really took control, and got her on her back.
Watkins dominated the upper bracket by making quick work of her two preliminary opponents. She registered an 18-second fall to qualify for the championship round.
Maine East's Alexa Garcia defeated Lyons Township's Alex Flores in the third-place match.
Hoffman Estates' Isabella Chiovari finished in fifth by defeating Lane Tech's Nicole Chmelar.
195 – Anji Gonzalez, Hoffman Estates
Hoffman Estates' Anji Gonzalez started out fast, and never looked back.
Her first match took just 12 seconds. That moment foreshadowed the rest of the day.
She concluded one of the most impressive actions with a fall in 1:27 over Maine South's Angelina Guanajuato for her crowning achievement.
"No girl could beat me, and it was all about a positive mindset," Gonzalez said. "I felt the pressure of the whole team relying on me, and that just pushed me more.
"I'm slowly getting into a more aggressive wrestler. Last year was my first year, and I was nervous. Now I feel more comfortable."
Guanajuato registered a fall, technical fall and 12-4 semifinal decision over Lyons Township's Maddy Pieroni to capture the lower bracket.
Waukegan's Val Millan defeated Pieroni by first period fall for third place.
In the fifth-place match, Addison Trail's JD Quijona Perez defeated Fenton's Caitlyn Platta with a second period fall.
230 – Brittney Moran, West Aurora
West Aurora sophomore Brittney Moran felt as light as a feather. She moved like lightning.
"I am usually at 190, and this is the first time I have ever wrestled at this weight," Moran said. "My second match today was really eye-opening because I saw how effective my shots were."
Moran proved too quick, explosive, and athletic with a 21-second pin of Zion-Benton's Naiomi Bell in the 230 championship match.
"I was just getting into the mobility of the match, and getting into the zone, and figuring out what they were going to do next," Moran said. "The biggest part was just sizing up my opponent."
Her three falls required just 2:04 aggregate mat time.
"I saw the opportunity of me growing as a person since I am only a sophomore," Moran said. "I feel like my wrestling should be better, so I am taking more shots, with the duck overs and also the headlocks, which I am actually using less.
"My coaches always told me to take shots, and I never listened until this year."
Bell had two falls in the preliminary rounds to capture the top bracket.
In the third-place match, Conant's Rye Reyes defeated Evanston's Jereni Marshall with a fall in 21 seconds.
Lyons Township's Sienna Garcia-Rizzo defeated West Aurora's Vicky Statkowicz for fifth place.
Auxiliary and exhibition results
120-2
1st place – Lilly Ritchy, Lockport over Ellie Frost, Lane Tech
3rd place – Olivia Pelayo, Hoffman Estates over Aizza Lopez, West Aurora
5th place – Enisa Hodzovic, Maine South over Jocelyn Cortes, Round Lake
125-2
1st place – Lizzie Rock, Lockport
2nd place – Justiss Silas, Yorkville
3rd place – Ximena Fernandez, Round Lake
4th place – Angie Hernandez, Yorkville
5th place – Jaelyn Gutierrez, Warren
130-2
1st place – Eunice Ji, Hoffman Estates
2nd place – Sophia Dolinar, Warren
3rd place – Jocelyn Guadararrma, Mundelein
4th place – Gloria Liaudanskis, Lockport
155-2
1st place – Abby Cacique, West Aurora
2nd place – Alena Oshana, Maine East
3rd place – Yanneth Estrada, Mundelein
4th place – Scarlett Dubs, Yorkville
170-2
1st place – Gracie Tanquay, Lockport
2nd place – Naomi Foote, Zion-Benton
3rd place – Marlowe Lang, Evanston
4th place – Lotus Alhyasat, Maine South
195-2
1st place – Elisabeth Villasenor, Addison Trail
2nd place – Sophie Kelner, Lockport
3rd place – Aberdeen Rios, West Aurora
4th place – Annalise Aberman, Conant
5th place – Alexa Rodriguez, Addison Trail
230 exhibition
1st place – Evelyn Villarreal, Addison Trail
2nd place – Anjolie Villarreal, West Aurora
3rd place – Carmela Pecoraro, Addison Trail
4th place – Xochiti Flores, Lyons Township