Hoffman Estates qualifies five individuals from Schaumburg Sectional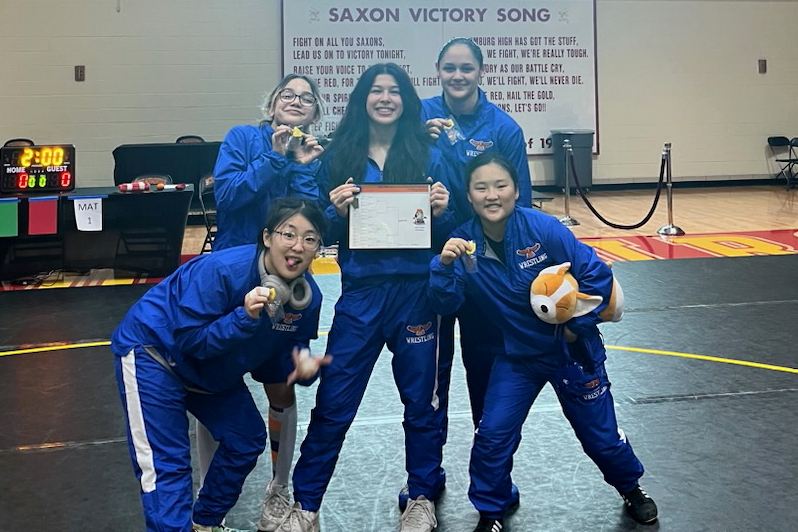 By Bobby Narang
SCHAUMBURG — The Schaumburg Girls Wrestling Sectional featured a number of interesting storylines.
First and foremost, the power-packed sectional was one of the best in the state, full of talented wrestlers across a wide region of Chicagoland.
After the Illinois High School Association's inaugural season of individual wrestling in 2021-2022, the second season of the growing sport among girls confirmed the tremendous potential of growth capable in wrestling.
In the two-day sectional, at the home of two-time boys state wrestling champion Josh Marchok, the all-girls event showcased wrestlers vying to earn their own place in family history, wrestlers aiming to move forward toward a repeat state individual title, and countless success stories for first-time wrestlers.
And the event was an outlet for girls who had been wrestlers for years but couldn't wrestle for their schools in an IHSA-sanctioned event.
All that has changed, making girls wrestling a rousing success. Saturday's Schaumburg Sectional was another example of that, with the top four place finishers from each weight class advancing to the state tournament at Grossinger Motors Arena in Bloomington from Feb. 24-25.
Athletes from 35 schools qualified for the second IHSA finals and Hoffman Estates had the most state qualifiers with five while District 230 co-op (Andrew/Carl Sandburg/Stagg), Huntley and host Schaumburg were tied for second with three individuals who are advancing.
Glenbard North sophomore Gabriella Gomez (29-0 at 115), Lockport Township freshman Claudia Heeney (39-0 at 125), Batavia junior Sydney Perry (30-0 at 145) and West Chicago junior Jayden Huesca-Rodriquez (15-0 at 190) take perfect records to the state finals.
Bartlett sophomore Emma Engels (14-1 at 100), Glenbard North freshman Nadiia Shymkiv (26-1 at 105), Schaumburg junior Valeria Rodriguez (33-1 at 140) and Palatine senior Jasmine Hernandez (32-1 at 155) have lost just once thus far.
The other sectional champions were Addison Trail sophomore Nina Matthews (21-3 at 110), Hoffman Estates sophomore Sophia Ball (39-4 at 120), Glenbard West senior Khatija Ahmed (22-8 at 130), Conant senior Mannie Anderson (32-4 at 135), Palatine sophomore Sabrina Cargill (26-3 at 170) and Batavia senior SueSue Paw (26-14 at 235).
Here are the Schaumburg Sectional champions and the other State Finals qualifiers
100 – Emma Engels, Bartlett
Bartlett sophomore Emma Engels stuck to a serious and focused approach throughout Saturday's final day of sectionals. Engels closed out a strong weekend by pinning Huntley freshman Janiah Slaughter (23-4) in 4:52 in the 100 title match to win the first weight class of the day, punching her ticket to state.
"I just tried to stay focused," said Engels, who is 14-1 this season. "Last year I got second at sectionals and finished top eight at state, so my goal is to get a medal. I feel so much better this year. I got a lot stronger in the offseason."
After winning her match, Engels (14-1) stayed on the mat to make sure Slaughter was not suffering from a serious injury. Slaughter laid on the mat for several minutes before one of her coaches carried her away.
"I think she was just exhausted," Engels said.
Engels said she started wrestling when she was nine years old and noted she was happy to top last season's second-place finish at sectionals. She fell short of earning a medal last season, but Bartlett coach Matt Pancamo said Engels is determined to finish in the top four, noting her overall record is 31-12 wrestling against boys and girls this season.
"She puts in overtime and goes to two practices a day," he said. "She comes into the kids' club practices, and also helps coach it. She spent the entire summer lifting weights and playing softball. She earned what she got today. She's a very intense wrestler. She's amazing. She's really a team leader. We consider her one of our best wrestlers at Bartlett."
Batavia freshman Lily Enos (40-11) won her 40th match with an 11-7 decision over Montini Catholic sophomore Kat Bell (14-8) to claim third place.
105 – Nadiia Shymkiv, Glenbard North
Glenbard North freshman Nadiia Shymkiv continues to make a big splash in her new country. After moving to the Carol Stream area this season from Ukraine, Shymkiv has dealt with a number of obstacles adapting to her new school and country.
Her biggest challenge is learning English. She can only speak a few words, but Shymkiv is proving to be adept at shining in wrestling. She continued her upward ascent by pinning Addison Trail junior Veronica Cosio (25-8) in 3:41 in the 105-pound final. Shymkiv (26-1) dominated in all three of her matches to seal a trip to state.
Speaking on her behalf, Glenbard North coach Chris Edwards said Shymkiv is a joy to coach.
"Nadiia doesn't speak much English, so that's been a little barrier for us," he said. "She came in being all freestyle and Greco. The biggest thing we had to teach her was not to lock her hands. She smiles all the time and is a hard worker. She's a lot of fun to watch, an explosive wrestler with great throws. She's got 17 pins on the year right now.
"I've had only one minor conversation with her dad. She's told me her mom isn't really happy that she's wrestling. I saw a picture of her in the Ukraine with medals all over her. She started coming to our preseason club."
Glenbard North sophomore Gabriella Gomez, who won the 115-pound sectional title, said Shymkiv is a natural in the sport.
"Nadiia is a sweetheart," Gomez said. "You have to do words with her, not long sentences. I used Google translate with her, and she dominated one of her matches."
Argo senior Michelle Kioltyka (11-4), the lone state qualifier for the Argonauts, won an 18-6 major decision over Elgin sophomore Mali Patino (18-10) to claim third place.
110 – Nina Matthews, Addison Trail
Addison Trail sophomore Nina Matthews is on the right path.
But Matthews admitted she has a long road ahead of her to match the athletic success in her family. Matthews (21-3) took a major leap on Saturday by pinning Huntley junior Taylor Casey (22-7) in 1:30 in the 110 championship match.
Her older brother, Jake Matthews, finished in sixth place in the 2021 Class 3A state championships in the 145-pound division. A four-time state qualifier, Jake Matthews, a 2021 graduate, wrapped up his storied career with 121 varsity victories to go with West Suburban Conference Gold Division All-Conference honors. He's currently wrestling at Wisconsin-Eau Claire. His sixth-place state finish marked the first all-state wrestler at Addison Trail since 2002.
Her older sister, Brianna, is a standout senior softball player at Addison Trail.
"I'm trying to do what my brother did in wrestling," Matthews said. "I'm surprised definitely making state. I just kept my head in the game and avoided mistakes."
Matthews joked that her recent success in wrestling is starting to challenge softball.
"I have equal success in both sports, but probably am better at softball," she said.
Addison Trail coach Steve Holland said Matthews, a second-year wrestler, is just scratching the surface of her vast potential.
"Nina comes from a wrestling family," Holland said. "Her brother was the first all-state wrestler at Addison Trail in over two decades. She grew up with the sport watching her older brother wrestle. We were hoping when she got older that she would be interested in wrestling.
"She's a tremendous softball player. Her sister just got a softball scholarship. We convinced Nina to go out for wrestling in her freshman year. She's extremely talented and just one of the bright spots in our program. She's the type of wrestler who you show a move to and she's able to translate immediately on the mat. Her success is a tribute to all of the hard work she's put into the sport."
Wheaton North senior Marya Mondavi (22-8), the lone state qualifier for the Falcons, won the third-place match with a fall in 5:05 over Bartlett junior Angelina Carpintero (13-4).
115 – Gabriella Gomez, Glenbard North
Name recognition is not a problem for Gabriella Gomez. The Glenbard North sophomore is fully entrenched in the wrestling world. She's a star in girls wrestling, and now becoming a bigger name with the sport gaining more attention in the last two years.
Gomez (29-0) took care of business at sectionals, closing out a memorable weekend with an 8-1 decision over Maine South senior Angela Lee (24-2) to capture the 115-pound title.
"It feels great to win at 115 after growing some," Gomez said. "I knew I could dominate at any weight class I went to, so I feel this is the right choice I made. I try not to overthink. I take what I do in the practice room and try and dominate out here. My coaches and teammates helped me put that puzzle together, so I can get closer to that state title."
Nine years ago, Gomez said she was introduced to wrestling. Her older brother, Austin Gomez, was one of the most highly recruited wrestlers in the country, earning the No. 11 overall recruit for the Class of 2017. A two-time Pan American champion, Austin Gomez wrestled at Iowa State and Wisconsin. A redshirt senior at Wisconsin, Austin Gomez was named the 2022 Big Ten Conference Co-Outstanding Wrestler of the Championships and was a 2022 All-American and Big Ten Champion. Her older sister, Alexis, is a senior wrestler at Grand View University.
So, yes, Gabriella Gomez has big aspirations due to her family's deep history in the sport.
"I grew up with the sport, since my dad ran a wrestling club, and just knowing my dad and brother were so successful and my sister, it brought the momentum that I wanted to try wrestling," Gomez said. "Alexis started just wanting to try out wrestling, so I just started from there. Seeing my brother being an entertainer made me want to wrestle even more.
"It was a great tournament, and I'm happy to see how everything turned out," Gomez said.
Edwards said Gomez is a dedicated wrestler with aspirations beyond high school due to her family background.
"Gabriella is one of those wrestlers who is self-motivated and comes in," Edwards said. "She's definitely focused on her goals and success, but always right there to help the other girls on the team."
Lockport Township junior Liz Ramirez (32-8), one of the two state qualifiers for the Porters, took third place with a win by medical forfeit over Hoffman Estates junior Emmylina O'Brien (29-7).
120 – Sophia Ball, Hoffman Estates
Hoffman Estates sophomore Sophia Ball rolled to the sectional title at 120 by pinning Riverside-Brookfield junior Eleanor Aphay in 2:19 in the championship match. Ball notched three victories by fall to push her record to a sterling 39-4.
"I thought I wrestled pretty good, just a few things I need to fix but I'm excited for state to see what I can do," said Ball, who was the lone sectional champion for the Hawks, who had a sectional-best five state qualifiers..
In a matchup between lone state qualifiers for their teams, Fremd senior Zuri Sarmiento (22-9) captured a 1-0 decision over Lake Park sophomore Valeria Malinowski (17-12) to place third.
125 – Claudia Heeney, Lockport Township
Lockport Township freshman Claudia Heeney needed a few extra minutes to decompress after her final match on Saturday. After pinning Schaumburg sophomore Madeline Zerafa-Lazarevic (28-5) in 3:26 in the 125 finals, Heeney (39-0) stormed away from the mat and headed up the stairs.
Lockport Township coach Nate Roth joked he fully understands Heeney's personality.
"She's in the zone," Roth said. "I generally don't talk to her before or after the match because she's in the zone and totally devoid of emotions 10 minutes before or after her match, but then she becomes a total goofball. She's super experienced and trains all offseason. She eats and sleeps wrestling, and I'm lucky enough to have her on the team."
Heeney admitted she's a focused wrestler with some unique methods. For Saturday's final, Heeney said she stayed in the moment by singing "Runaway" by Kanye West in her head.
"I just stayed focused and I like to pace before all my matches for 30 minutes, but for me, I have to focus," Heeney said. "I sang 'Runaway' over and over in my head and it calmed me down and helped me focus. I know most of the words. I played that over and over in my head. The whole thing about me is I like to be calm and focused on the mat because if I don't, then I get sloppy and can't think and do what I want out there."
Heeney said she maintains her game-face after matches for a reason.
"I smile a lot, but not during and after matches, I don't do a lot of celebrations," she said. "I don't like how it looks. I'm ready for state. I still have a lot to do in training."
At the only weight class where freshmen were able to win both place matches, Huntley freshman Aubrie Rohrbacher (28-5) recorded a fall in 3:26 over Hoffman Estates senior Eunice Ji (37-8) to claim third-place honors.
130 – Khatija Ahmed, Glenbard West
Glenbard West's Khatija Ahmed didn't spend much time in the spotlight on Saturday. In front of a large crowd, Ahmed pinned Maine East senior Miriam Lupu (15-3) in 2:42 to capture the sectional title at 130.
Ahmed, a senior with a 22-8 record, credited her state trip to spending a full season training in wrestling.
"I relied on my instincts because I haven't wrestled a long time," Ahmed said. "I've done a lot of other sports but started training specifically for wrestling. The girls on the team all helped me, and we all did amazing.
"In my final match, it wasn't perfect. I went over things in my head, but took what I was given. I knew I had an opportunity to win it. I didn't give up. It feels amazing going back to state after last year at state at 130. It was fun, but last year was more of a learning experience to see how much I love wrestling. This year it's the real thing. I'm excited to go down with a lot more technique and skill and just knowing this is the best overall version of me."
Bolingbrook junior Katie Ramirez-Quintero (16-1), the only state qualifier for the Raiders, claimed third place with a 6-0 decision over Hoffman Estates sophomore Abigail Ji (31-6)
135 – Mannie Anderson, Conant
Conant senior Mannie Anderson made school history last season by becoming the first girls wrestler to advance to state.
A year later, Anderson (32-4) is on track for a bigger prize. She notched a 14-2 major-decision victory over District 230 sophomore Alyssa Keane (28-4) to win the 135-pound title. Anderson finished in sixth place at state last season.
"It feels amazing because (Keane) actually beat me before," Anderson said. "It felt good to redeem myself and finally set the tone for a state championship. I'm really excited for that journey and hopefully I will be getting that title. Last year was amazing at state.
"I can always get better and am strong enough to lose but persistent enough to win."
Conant coach Brad Bessemer said Anderson is a building-block wrestler for his young program.
"Mannie is all heart and grit," Bessemer said. "She's amazingly tough. She got a little payback in the finals. Beyond wrestling, we're really a first-year program. This is the first time we really made a push. She's the face of Conant wrestling and the absolute leader of our team. I couldn't ask for a better kid to start this program up for us. She got kids out, got our numbers up and taught them to train and wrestle with courage. She's a program kid and so special."
In a matchup of freshmen in the third-place match, Riverside-Brookfield's Danely Villagomez (24-7) won by fall in 2:15 over Downers Grove South's Allison Garcia (22-12), who was the Mustangs' lone state qualifier.
140 – Valeria Rodriguez, Schaumburg
Schaumburg junior Valeria Rodriguez decided a special occasion warranted a special hair color. Rodriguez changed her hair color from brown to blond for the two-day sectional.
More importantly, Rodriguez (33-1) accomplished her goal of winning the 140-pound title by notching an 11-7 decision over Richmond-Burton junior Jasmine McCaskel (13-1) in the championship match.
"I colored (my hair) because it's fun, adds character and is unique," Rodriguez said.
On the mat, Rodriguez said she's motivated to top last season's third-place finish at 155 pounds.
Rodriguez, a full-time wrestler, said her success is partly due to dropping a few weight classes during the middle of the season.
"I was confident and had faith in myself, especially after getting third place at state last year at 155 pounds," Rodriguez said. "I feel a lot more springy and confident. I hate the thought of losing, so that's motivated me. I had fun and enjoyed my day and am proud of myself. I was more confident because it was my home base, and really wanted to get first place."
Schaumburg coach Matt Gruszka said Rodriguez showed her toughness in the hard-fought final.
"She had a big-time match and dominated," he said. "She stayed in her match, fought her way back into it. That's a great thing going down to state. She's been working so hard every day, just nonstop work. She does all the little things right that all add up to the big things. It's been a great day watching her wrestle."
Lemont and Dundee-Crown each had one state qualifier and they met for third place at 140. Lemont senior Suzie Knutte (26-3), a first-year performer in the sport who also is an all-state soccer player, won with a fall in 5:58 over Dundee-Crown junior Perla Lomeli (22-9).
145 – Sydney Perry, Batavia
Batavia junior Sydney Perry showed little emotion throughout Saturday's matches. She capped a stellar day with a sectional title at 145 by recording a 14-4 major decision over Barrington senior Kaia Fernandez (14-3).
Perry (30-0) has yet to lose a match in her varsity career over the last two seasons after winning a state title at 145 in the IHSA's inaugural individual girls state meet last season. An accomplished wrestler who has traveled the world, Perry maintained a stoic expression following her sectional championship victory.
"I feel like I did very good this weekend, but I wished I would've pushed the pace more and had cleaner takedowns but did overall pretty good," Perry said. "It's a lot more exciting this year because the sport is growing so fast. I've had a lot more competition in my bracket. I've just been working, working and working in the practice room."
Batavia assistant coach Edgar Alvarado said Perry is the consummate team wrestler.
"Sydney was consistent and grinded," he said. "She's been consistent and not had many surprises this year. She's had her mind set on winning another state title. She does a lot of offseason wrestling and training, and now focused more on a team environment and helped coach her teammates."
McHenry's lone state qualifier, freshman Natalie Corona (29-11) captured third place at 145 with a fall in 0:50 over Glenbard West senior Anika Navarro (31-6).
155 – Jasmine Hernandez, Palatine
Like Batavia and Glenbard North, Palatine also had a pair of sectional champions. Senior Jasmine Hernandez (32-1) led the way by winning the 155 sectional title to stay on track for another state medal. Her teammate, Sabrina Cargill, won the 170 title.
Hernandez, who pinned Larkin senior Maria Ferrer (27-5) in 0:39 in the title match, pushed herself to finish the sectional on a high note to build toward a second state medal in her career after placing sixth a year ago at 145. Hernandez plans on wrestling next season at Lakeland University in Wisconsin.
"I felt great today and just tried to win and get first place," Hernandez said. "I just tried to finish every (match) strong. It feels great to redeem myself after not winning state last year and winning state my sophomore year. My coaches really helped me."
In another matchup involving individuals who are the lone state qualifiers for their programs, Hinsdale South freshman Callie Carr (12-1) captured a 3-0 decision over Fenton junior Yamile Penaloza (17-5).
170 – Sabrina Cargill, Palatine
Palatine sophomore Sabrina Cargill was exhausted following her final match on Saturday. After watching Hernandez dominate her sectional title match, Cargill (26-3) notched a grueling 11-6 decision over District 230 senior Mickaela Keane (29-5) in the 170 finals.
Palatine coach Krista Semkiv said Cargill showed tremendous heart to pull out the sectional championship.
"Sabrina has a fight and drive in her that's hard to match," she said. "Last year she made it to the blood round but lost. I think that gave her motivation to push herself even more this year because she really wanted to win. She suffers from severe asthma, so in her mind, the faster she can get a takedown, the easier the rest of the match will go."
Semkiv said Cargill gained experience and confidence wrestling Hernandez numerous times throughout the season.
"It's been really great seeing both of the girls evolve this season, especially Sabrina," she said. She's a light 170-pounder, and has wrestled Jasmine in nearly every tournament. It's always been those two girls getting first and second in the 155-pound weight class, so it was really awesome to watch Sabrina bump up a weight class and claim her own first-place medal at the MSL Conference and at sectionals."
Proviso East junior Haley Arechiga (12-3) and Crystal Lake Central senior Mailei Hudec (12-3) are the lone state qualifiers for their schools and the pair met up in the third-place match at 170 with Arechiga winning with a fall in 1:27.
190 – Jayden Huesca-Rodriguez, West Chicago
West Chicago's Jayden Huesca-Rodriguez is putting her school on the map for girls wrestling. The junior is headed to state for the second year in a row, looking to make it 2-for-2 with first-place state medals.
Huesca-Rodriguez (15-0) started out the sectional with a bye, then recorded four victories by fall to notch a sectional title. She pinned Wheeling freshman Jasmine Rene (14-8) in 1:25 to win the sectional championship.
"I'm excited to be going to state again, and want to get another (title)," Huesca-Rodriguez said. "I hope winning gets more girls at my school to try out wrestling. I just trusted myself today. I didn't get in my mind too much, and stuck to it and finished it."
West Chicago coach Mason Day said Huesca-Rodriguez is striving to win a second straight 190-pound state title.
"Jayden really emphasizes and embodies what we do at West Chicago in that we're grinders," Day said. "We're going to push every opponent we have to the limit. We're going to be faster and stronger and I don't think there's a girl in the state who wants to wrestle Jayden. We brought several girls to sectionals, but Jayden is the only one going to state. Overall, she did a great job."
In the third-place match at 190, Schaumburg freshman Nadia Razzak (27-11) won over Hoffman Estates sophomore Anjali Gonzalez (25-9) with a fall in 3:24.
235 – SueSue Paw, Batavia
Batavia senior SueSue Paw closed out a long day of wrestling with a smile and a big hug.
Unlike most of Saturday's sectional winners, Paw was full of emotion. She wanted hugs and smiled nonstop in the immediate aftermath of pinning District 230 sophomore Emma Akpan (18-5) in the 235 final.
A first-year wrestler, Paw (26-14) said she relied on her track background to become a fast-riser in wrestling.
"Heart and determination were the keys for me," Paw said. "This is my first year wrestling. I have amazing coaches. I'm so happy."
A four-year varsity track athlete who competes in shot put and discus, Paw said wrestling was a surprise addition to her athletic portfolio.
"My coach was following me around school, so I decided to join wrestling this year for the first time, "Paw said.
Elgin sophomore Andrea Gordillo (18-6) won a 7-0 decision over Conant senior Rye Reyes (22-13) in the third-place match.
Schaumburg Sectional championship matches
100: Emma Engels (14-1) Bartlett F 4:52 Janiah Slaughter (23-4) Huntley
105: Nadiia Shymkiv (26-1) Glenbard North F 3:41 Veronica Cosio (25-8) Addison Trail
110: Nina Matthews (21-3) Addison Trail F 1:30 Taylor Casey (22-7) Huntley
115: Gabriella Gomez (29-0) Glenbard North D 8-1 Angela Lee (24-2) Maine South
120: Sophia Ball (39-4) Hoffman Estates F 2:19 Eleanor Aphay (20-5) Riverside-Brookfield
125: Claudia Heeney (39-0) Lockport Township F 3:26 Madeline Zerafa-Lazarevic (28-5) Schaumburg
130: Khatija Ahmed (22-8) Glenbard West F 2:42 Miriam Lupu (15-3) Maine East
135: Mannie Anderson (32-4) Conant MD 14-2 Alyssa Keane (28-4) District 230
140: Valeria Rodriguez (33-1) Schaumburg D 11-7 Jasmine McCaskel (13-1) Richmond-Burton
145: Sydney Perry (30-0) Batavia MD 14-4 Kaia Fernandez (14-3) Barrington
155: Jasmine Hernandez (32-1) Palatine F 0:39 Maria Ferrer (27-5) Larkin
170: Sabrina Cargill (26-3) Palatine D 11-6 Mickaela Keane (29-5) District 230
190: Jayden Huesca-Rodriguez (15-0) West Chicago F 1:25 Jasmine Rene (14-8) Wheeling
235: SueSue Paw (26-14) Batavia F 5:13 Emma Akpan (18-5) District 230
Schaumburg Sectional third-place matches

100: Lily Enos (40-11) Batavia D 11-7 Kat Bell (14-8) Montini Catholic
105: Michelle Kioltyka (11-4) Argo MD 18-6 Mali Patino (18-10) Elgin
110: Marya Mondavi (22-8) Wheaton North F 5:05 Angela Carpintero (13-4) Bartlett
115: Liz Ramirez (32-8) Lockport Township M. For. Emmylina O'Brien (29-7) Hoffman Estates
120: Zuri Sarmiento (22-9) Fremd D 1-0 Valeria Malinowski (17-12) Lake Park
125: Aubrie Rohrbacher (28-5) Huntley F 3:26 Eunice Ji (37-8) Hoffman Estates
130: Katie Ramirez-Quintero (16-1) Bolingbrook D 6-0 Abigail Ji (31-6) Hoffman Estates
135: Danely Villagomez (24-7) Riverside-Brookfield F 2:15 Allison Garcia (22-12) Downers Grove South
140: Suzie Knutte (26-3) Lemont F 5:58 Perla Lomeli (22-9) Dundee-Crown
145: Natalie Corona (29-11) McHenry F 0:50 Anika Navarro (31-6) Glenbard West
155: Callie Carr (12-1) Hinsdale South D 3-0 Yamile Penaloza (17-5) Fenton
170: Haley Arechiga (12-3) Proviso East F 1:27 Mailei Hudec (12-3) Crystal Lake Central
190: Nadia Razzak (27-11) Schaumburg F 3:24 Anjali Gonzalez (25-9) Hoffman Estates
235: Andrea Gordillo (18-6) Elgin D 7-0 Rye Reyes (22-13) Conant