Illinois recap: Ironman Tournament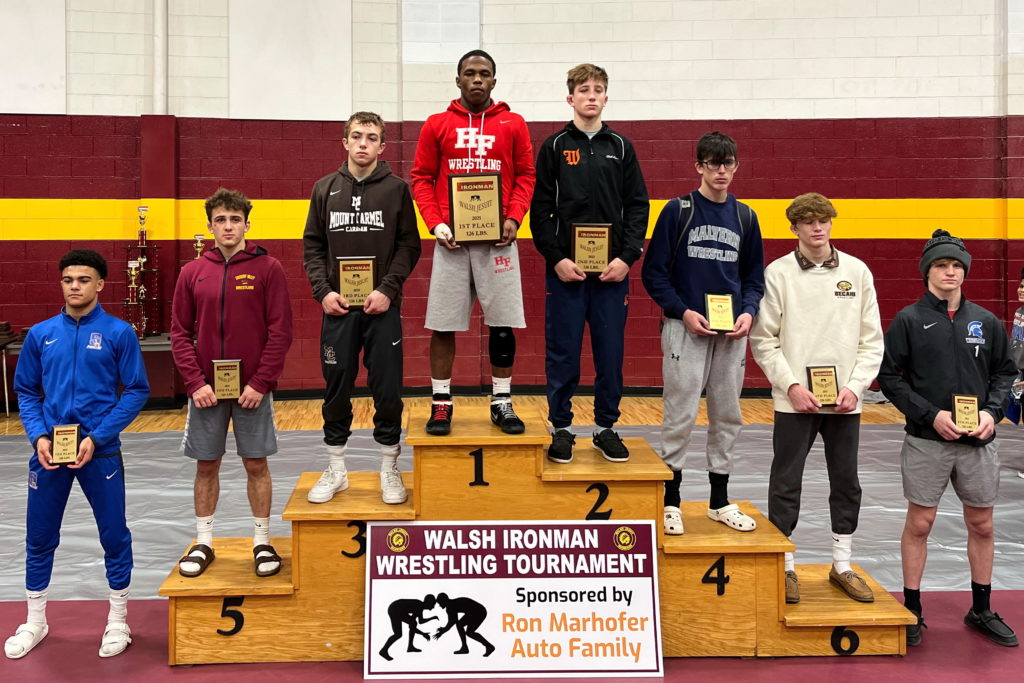 For the IWCOA
Two significant accomplishments that had only been done once before by competitors from Illinois were witnessed again this past weekend at the Walsh Jesuit Ironman XXVII Tournament in Cuyahoga Falls, Ohio.
For only the second time, individuals from multiple schools won championships as Homewood-Flossmoor junior Vincent Robinson captured top honors at 126 and Rich Township junior Nasir Bailey followed him by claiming the championship at 132.
The only other time that had been done was in Illinois' best year for winning titles, 2006, when Montini Catholic received titles wins from Mike Benefiel and Garrett Goebel and Glenbard North got a first-place finish from Tony Ramos.
Also for the second time, a champion and two other placewinners appeared on the awards stand in the same weight class. That also involved Robinson, who was joined on the next-highest spots on the podium by Washington Community junior Kannon Webster, who took second place, and Mount Carmel junior Sergio Lemley, who finished third.
The only other time a similar scenario occurred was in 2015, when Montini's Dylan Duncan won the 132 title and was accompanied by Oak Park and River Forest's Gabe Townsell, who took fourth, and Marmion Academy's Anthony Cheloni, who placed eighth.
Thanks to the titles won by Bailey and Robinson, Illinois ended a three-year drought in champions which was the longest that the state hadn't had a first-place finisher in the event since Benefiel captured the first title there in 2004. Illinois now has 13 individuals who've won 15 Ironman championships from eight schools with Montini winning eight and seven others with one champion.
One other individual competed in a championship match, St. Charles East sophomore Ben Davino, who took second place at 120. But the Saints missed out on having another medalist when sophomore Tyler Guerra fell one win shy at 132.
Mount Carmel had two other medal winners, both of whom took fifth place, freshman Seth Mendoza at 106 and senior Ryan Boersma at 285.
Another fifth-place finisher from the state is Aurora Christian senior Braden Stauffenberg at 150. Two others from that school came up one win shy of a medal, senior Joe Fernau at 126 and freshman Deven Casey at 106.
Homewood-Flossmoor also received a seventh-place finish from junior Deion Johnson at 106 while sophomore Jaydon Robinson, Vincent's brother, fell one win shy of a medal at 144.
Bailey, a 2020 IHSA 2A champion and 2021 Texas 6A champion who's first at 132 in 3A in Rob Sherrill's IWCOA rankings, added to tournament titles at Antioch and Joliet Central when he went 5-0, winning three of his matches by fall, one by technical fall and another in a major decision.
A fifth-place finisher in the Ironman in 2019, Bailey recorded a fall in 6:28 over Waynesburg Central's Mac Church to win the 132 championship. After winning with a first-period fall in the quarterfinals, he advanced to the finals with a 10-2 major decision over Tampa Jesuit. For his efforts, received the Mendoza Award for scoring a tournament-high 34.5 team points.

"This is arguably the hardest high school tournament in the nation and Nasir won the 132 pound title," Rich Township coach Alex Pell said. "He dominated his opponents from the first match to the last. He finished with a major decision, a tech fall, and three pin falls collecting bonus points from every match wrestled. With his dominant performance, he was able to win the Mendoza Award for winning the most team points in the tournament. I'm beyond proud of how hard this young man has worked and the success that he has created."
Vincent Robinson's road to the championship and 6-0 performance featured much more drama. His largest win was a major decision in his opening match and then he won two-point decisions in four of his next five matches.
Robinson, a 2020 3A runnerup at Marian Catholic who's top-ranked at 126 in 3A and was competing in his first tournament of the season, advanced to the semifinals with a 3-1 win over Malvern Prep's Nick O'Neill and then won 3-1 in sudden victory over Lemley in the semifinals. In the championship match at 126, Robinson captured a 5-3 victory over Webster in an all-Illinois finals. He was second in the voting for the Bill Barger Outstanding Wrestler Award, which went to Aurora's Dylan Fishback.
"It was just fun being in that atmosphere," Vincent Robinson said. "I went there my freshman year and went 1-1 and messed my shoulder up in the second round, so I already knew that you had to wrestle in every match and it wasn't going to be a breeze. We're real tough and we go into the practice room and work hard and come in there with a positive attitude. I'm the leader of the team so I have to bring the energy every day."
"What can be said about Vincent Robinson's tournament that hasn't already been said?," H-F coach Jim Sokoloski said. "He finished in second place for the OW of the tournament, defeating the second-, third- and fourth place finishers in the finals, semis, and quarters, respectively and he defeated two Illinois wrestlers as well. Vincent was absolutely locked in from match number one and kept it rolling the entire tournament. Winning this tournament is such an accomplishment and I really had no idea until I was able to see it first hand. To be able to navigate a bracket that is this difficult is truly special."
Webster, a 2020 2A champion who's top-ranked at 126 in 2A, went 5-1 in his first tournament of the season with a fall, a win by major decision and three decisions. After winning 7-2 over Blair Academy's Matthew Lopes in the quarterfinals, he advanced to the title match with a 9-5 semifinal win over Crescent Valley's Gabe Whisenhunt.
Davino, a 3A IWCOA state champion who's top-ranked at 120 in 3A, went 4-1 in his initial tournament of the season to advance to the 120 finals. He won a major decision in his first match and then won three-straight decisions, prevailing 7-2 over Legacy Christian's Dillon Campbell in the quarterfinals and then 5-2 over Nixa's Zan Fugitt. In the finals, he dropped a 5-2 decision to McGowan.
The Saints just missed getting another placewinner at 132 as Guerra went 4-2 thanks to four straight wins in the consolation bracket before falling 5-2 to Gonzaga Preparatory's Joshua Neiwart in his final match.
"Having Ben and Tyler get an invite to the Ironman was a huge step for our program," St. Charles East coach Jason Potter said. "We knew they could compete with the best and this gave us the opportunity to prove. They performed at a high level and we feel confident they have opened the door for our team and future Saints wrestlers. Our goal is to put our wrestlers in a situation to compete and beat the best and the Ironman did not disappoint.

"Ben had a great weekend and I am very proud of his performance. I know he was disappointed not to take home the title, but second place in the Ironman is an amazing accomplishment. He beat multiple athletes who are nationally ranked ahead of him and avenged a previous loss dominating Ohio's Campbell. His goal is to be the number one wrestler in the country, and this performance moves him closer to that goal.
"Tyler was a late entry into the tournament and was not seeded. This put him against the number-five seed right out of the gates. Tyler lost the closely-contested match but bounced back with four wins to get to the blood round. He competed hard and was in the match but fell just short of the podium. I am extremely proud of his effort and am excited to see what he can do at the Dvorak."
Mount Carmel was the top-scoring Illinois team in the tournament, finishing in 11th place with 70.5 points.
Lemley, a 3A champion in 2020 and Indiana champion in 2021 who's ranked second at 126 in 3A, went 5-1 with three falls, a win by major decision and a one-point victory following up on his first-place finish at the Dan Gable Donnybrook.
After beating Bixby's Clay Giddens-Buttram 18-5 in the quarterfinals, Lemley lost 3-1 in sudden victory to Robinson but bounced back with a fall over Bethlehem Catholic's Dante Frinzi and an 8-7 triumph over O'Nell to capture third place at 126.
Mendoza went 5-2 after opening with two falls before falling 11-6 in the quarterfinals to Malvern Prep's Anthony Mutarelli. The state's top-ranked individual at 106 in 3A who also won a title at the Gable tournament in Iowa, responded with a decision and win by technical fall before dropping a 6-1 decision to send him into the fifth-place match, where he claimed a 3-0 victory over Broken Arrow's Christian Forbes.
Boersma, a two-time placer and IWCOA 3A champion who's top-ranked in 3A at 285 and also took first at the Gable Donnybrook, went 5-2 with three falls, a major decision and a decision. After falling 4-3 in the quarterfinals to Mesa Ridge's Matthew Moore, he recorded a fall and won a decision before losing a one-point match and finishing with a 13-2 major decision over Waynesburg Central's Noah Tustin for fifth.
Despite having just four competitors, Homewood-Flossmoor finished in 21st place with 49 points. Johnson, ranked third at 106 in 3A and a title winner at Joliet Central, went 5-2 to place seventh at 106. After falling in an ultimate tiebreaker in round three, he won two decisions and claimed a forfeit win before losing to Mendoza. He won 5-0 over Greeneville's Carson Dupill for seventh place.
Jaydon Robinson went 3-2 after advancing to round three where he lost a decision. He bounced back with a win on a tiebreaker and then got a fall but lost his next match to miss out on a medal at 144.
"Overall, we finished in 21st place and we only brought four wrestlers," SokoIoski said. "I couldn't be more proud of our wrestlers and coaches. We have an incredible thing going at H-F right now and it continues to build momentum. Deion Johnson grinded through an incredibly tough bracket as an unseeded wrestler to finish in seventh place."
Aurora Christian finished 26th with 42.5 points. Stauffenberg, a 2020 3A placer who is ranked second at 152 in 2A and won a title at Barrington, went 6-2 to claim fifth at 150. After dropping a 5-4 decision in the third round, he responded with four-straight close wins, with three coming by sudden victory. After falling 7-5 by sudden victory in his next match, he won 3-0 over Palmetto Ridge's Carson Miller for fifth.
Fernau, a 2000 3A champion at 103 while at Montini who is ranked third at 126 in 2A, went 3-2 after getting a major decision and two decisions to reach the 126 quarterfinals, where he fell 11-3 to Whisenhunt. His hopes for a medal came up a win short when he fell 4-2 in the next match.