Morton has four champs at 3rd Annual Emiliano Hernandez Girls Open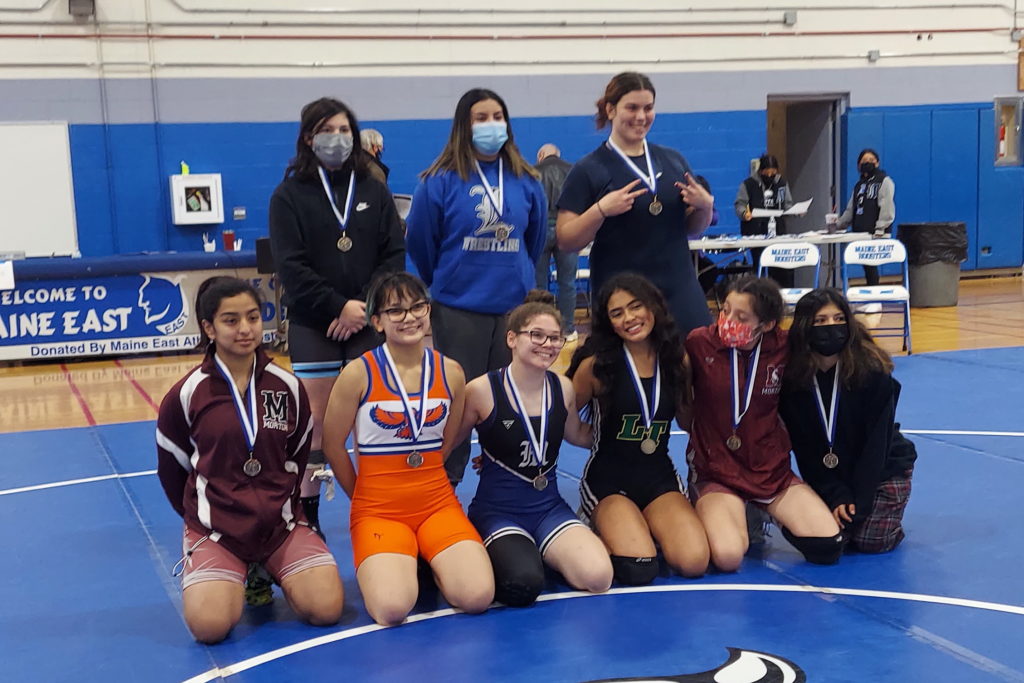 By Gary Larsen
If any further proof was needed that girls are simply cut from a different cloth than boys, consider this from Larkin's defending 170-pound state champion Maria Ferrer, who was in no hurry in a tournament title match Saturday against West Aurora's Ionicca Rivera at Maine East on Saturday.

Ferrer pinned Rivera late in the first period.
"I pinned (Rivera) at Fenton a few weeks ago and to be honest, knowing I pinned her the first time, I wanted to let it go longer today so she could get something from the match, too," Ferrer said.

"It's not only about me; it's about her, so she can get some experience, too," Ferrer explained. "I get to put more work in and she gets some experience from the match."

Good luck finding a boys' wrestler willing to mentor an opponent during a title match. But that's the extra support for each other that girls in every sport are noted for, and it was on full display at the 3rd Annual Emiliano Hernandez Girls Open.

Hernandez was the long-time head wrestling coach at Maine East, retiring after the 2018-19 season. He was present and working Saturday's event, along with Maine East coaches Austin Bautista and Lizeth Torres.

Torres wrestled for Maine East and wrestled in the first IWCOA state tournament for girls, as a high school senior in 2017. She placed second in state at 106. Her story in the sport is one that girls today no longer have to tell, now that girls wrestling are an IHSA-sanctioned sport.
"I started wrestling in middle school and there was no girls wrestling," Torres said. "My senior year was the first year for a girl's state tournament. I wrestled here with all boys. (Hernandez) was my coach and I was the only girl. So it's been really amazing to see how this sport has evolved for girls.
"I joined the sport because it taught me so many life lessons about being aggressive, and being tested mentally and physically."

Female wrestling coaches like Torres can now pass down their expertise to today's girls in the sport, during a school year that will see the first IHSA state tournament in history for girls wrestling.

And it will be wrestlers like Larkin's Ferrer helping the next generation of Illinois girls take the sport even farther and higher.

"Some people say it's a guys' sport — I say no," Ferrer said. "Girls can do it, too. And now that I'm really into the sport, I want to learn as much as I can about it and I want to coach someday."

There was no team champion crowned at Maine East but Morton led all schools present with four champions in Paris Flores (105), Jennifer Villagomez (110), Karla Topete (140), and Diana Rodriguez (190). There are 20 girls in Morton's program this year.
"We've got girls that are very excited about the sport," Morton coach Joe Helton said. "They're in the varsity room with the boys, working just as hard as the boys, working their tails off.

"We've got a number of girls that are interested in wrestling in college, they're in a competitive room, and they're really driving a whole movement for girls over at Morton right now."
Other individual titles came from Lane Tech's Sharon Moreno (115), Maine East's Hanna Suboni-Kaufman (120), Hoffman Estates' Emmylina O'Brien (125), West Aurora's Dyani Rivera (145), Downers Grove South's Violet Cherap (155), and Rickover Naval Academy's Jasmine Mejia (235).
Here's a breakdown of the 11 individual champions at Maine East:
105 – Paris Flores, Morton
The junior Flores posted pins over Oak Park-River Forest's Ana Banuelos and then Ottawa's Anastaisia Sheptenko to win the title at 105. Banuelos went on to place third by decision against Morton's Ariana Diaz and Maine East's Elyssa Guleng placed fifth.

Flores began wrestling as a freshman and took last season off due to COVID. She's back as an undersized 105-pounder but opponents shouldn't let her size fool them.

"When she's on the mat she can get real tough with people," Helton said. "She's working so hard and just scrapping with the other girls. She wants to do something special in her senior year and she's going to go out and fight with whoever is across the line from her."

Flores is happy to be back in the fold after a year's hiatus.

"I just have to wrestle smart and try to get stronger," Flores said. "But these girls are like my second family and we have a real bond with each other."
110 – Jennifer Villagomez, Morton
Three pins and a tournament championship made for a good Saturday for Villagomez, who captured the title at 110 in Park Ridge.

Villagomez pinned West Aurora's Emmaly Vargas, Huntley's Taylor Casey, and Lane Tech's Ellie Frost during her three-pin run to the title. Maine East's Emily Villegas won by fall on the third-place mat against Casey to round out the top four finishers.

The second of Morton's four champions placed sixth in state at the IWCOA finals in June and is one of the Mustangs' hungriest wrestlers.

"Jennifer is one of those girls who has been there since my first day in the building and she's just a very hard worker," Helton said. "She's always looking for the best competition and she works whoever she has in front of her to their limit.

"She's one of those people who might get frustrated if her practice partner isn't doing enough. We really love having her in the room."

115 – Sharon Moreno, Lane Tech
Lane Tech's Sharon Moreno improved to 8-1 this season with her title match win at 115 over Rickover Naval Academy's Kemely Trujillo. In her lone loss this season, Moreno was up 14-0 late in a match when she fell victim to a headlock and a pin.

Moreno went 1-2 at the IWCOA state finals in June and has used that experience to her benefit.
"I learned a lot there and I look back on that a lot," Moreno said. "My shots had to improve — entries, finishing — and really just being confidence in myself going in. Being more confident means going to my shot first, making first contact, setting the pace. That's what confidence means to me in wrestling."

Moreno was never involved in sports to any great extent — until she discovered wrestling.
"This sport is completely different," Moreno said. "Physically moving someone the way I want to, getting my hands on them and knowing that I have them there. And it's really emotionally balancing when you win. You just feel good about yourself."

120 – Hanna Suboni-Kaufman, Maine East
Now in her fourth year in the sport, Maine East senior Hanna Suboni-Kaufman is turning the corner from a defensive to a more offensive-minded wrestler.

Suboni-Kaufman opened with a pin against Huntley's Addison Drews, then won by major decision against Hoffman Estates' Evelyn Simon in a semifinal match.

After pinning Hoffman Estates' Sophia Bell on the title mat, Kaufman was pleased with the way she wrestled Saturday.
"I took a lot of shots today, I did that in the last tournament, and I'm glad I'm getting in there," Suboni-Kaufman said. "In my last match I saw an opportunity and I went for it."

Morton's Lellany DeLeon pinned Lane Tech's Nyah Lovis for third place, and Simon pinned Morton's Neida Arreola for fifth place.
Suboni-Kaufman's approach to the sport echoes what all the best wrestlers have always embraced.
"I love that it's so hard, and that you just rely on yourself," Suboni-Kaufman said.
"And just going against the best person I can find — anyone who is better than me that I can wrestle. I always want to go for those matches because even if you lose, you learn a lot."
125 – Emmylina O'Brien, Hoffman Estates
Hoffman Estates sophomore Emmylina O'Brien is proof positive that there is a popular endeavor away from the sport that can pay huge dividends for a wrestler.
"I'm a dancer as well so I can work on footwork, speed, flexibility, and agility," O'Brien said. "And strength is obviously important so I was in the weight room a lot last year, even if I didn't get to wrestle."

O'Brien began wrestling in eighth grade but sat out of the sport last season because of the pandemic.

O'Brien's pin on the title mat at 125 against Morton's Ximena Jaurez upped her season record to 7-0. She pinned Rickover Naval Academy's Annabella Guzman to start her day, then won a major decision in her semifinal match against Oak Park's Pearl Lacey to reach the finals.
Morton's Nayeli Rodriguez pinned Lacey for third and Lane Tech's Uyen Le pinned Larkin's Mia Reyes for fifth place.

O'Brien's hip toss worked well for her all day, and her sprawling ability stood out against Jaurez in the finals. She led 4-2 after a period and 9-4 after two periods before posting a third-period pin.

"This is the only sport I do. I don't really like running but I like hard, physical sports," O'Brien said. "I watched the sport in seventh grade but I was too chicken to actually do it.

"But in eighth grade I got into it, I met some of the varsity wrestlers and I'd watch someone who was down in a match but then get a cradle or something and come back and win. I was inspired."

140 – Karla Topete, Morton
Every team needs a veteran wrestler in the practice room who can help whip the younger wrestlers in the room into shape, and get them to understand what it takes to succeed in the toughest sport.

After Morton's Karla Topete won the title at 140 Saturday, coach Joe Helton pointed at her directly for being that veteran leader in the Mustangs' practice room.

Topete placed 7th at the IWCOA state finals in June.

"Karla is a young lady we've had since she was a young kid in the Little Mustangs program," Helton said. "She's been a lifer for us. She's a great leader with a lot of the girls in taking kids under her wing. She's making sure our freshmen know how to work, she loves to have fun, and I'm very proud of her mentality."

Ottawa's Sara Meyer forfeited to Topete in their title match, Morton's Faith Comas won by major decision for third against Hoffman Estates' Abby Ji, and Larkin's Quetzali Lara finished fifth with a major decision against Emma Schmidt.
145 – Dyani Rivera, West Aurora
There were only four wrestlers entered at 145, with West Aurora's Dyani Rivera posting two pins to win the title. She opened with a forfeit win and then pinned Hoffman Estates' Annie Rakoci before pinning Lane Tech's Noemi Marchan for the crown at 145. Marchan went 2-1 on the day, with pins over Rakoci and Oak Park-River Forest's Mayan Awaeli.

Rivera's win at Maine East came one week after she won an individual title in tournament action at Conant, and two weeks after a runner-up finish at Normal.

"This is really her first time competing against girls," West Aurora coach Andrew Plata said. "She's spent ten-plus years competing against boys and holding her own just fine."

Rivera — who is also a varsity softball player and cheerleader — has a quality Plata highly prizes, and one she shares with sister Ionicca, who competes for the Blackhawks at 170 pounds.

"She's such an awesome person," Plata said. "She has such a positive energy day in and day out, always working hard with a huge smile on her face. Her sister Ionicca is the same way. She's a sophomore and carries the same positive vibes in and out of the wrestling room."
155 – Violet Cherap, Downers Grove South
At 155, Downers Grove South freshman Violet Cherap showed what DGS coach Sean Lovelace knows all too well.
"Violet has all the tools to be a phenomenal wrestler," Lovelace said. "She is strong, aggressive, and has a high wrestling IQ. And she hates losing."

Cherap won by major decision over Oak Park and River Forest's Megan Barajas in her opening match, then pinned Lane Tech's Ninnette Martinez in a semifinal match.

Cherap then pinned Lane Tech's Keira Parker to win the title. Lovelace points to a loss Cherap suffered in a tournament title match earlier this year that propelled her forward.
"Since that match, I've noticed a much more cerebral and introspective approach by Violet," Lovelace said. "She is aggressive but now she's much more calculated. I really do think that she is going to be a special wrestler for us and for the state of Illinois for the next four years."

Parker opened with a major decision over Larkin's Giselle Ayala and then pinned Huntley's Gretchen Sweeny in a semifinal to reach the finals.
Ayala pinned Sweeny to finish third.

170 – Maria Ferrer, Larkin
Larkin junior Maria Ferrer is unbeaten this season, after winning the IWCOA state title at 170 in June. A major decision win in her semifinal match Saturday against Huntley's Alexandra Strzelecki set up her match in the finals, where she pinned West Aurora's Ionicca Rivera late in the first period.

Rivera pinned Downers Grove South's Camilla Quiroz and then Rickover Naval Academy's Clara Biela to reach the title match.
Ferrer's success at the state level last season as a sophomore came when began opening up her offense, which she had working on Saturday.
"I was too passive as a freshman but I was better about shooting more last year," Ferrer said. "This year I'm shooting even more and trying to learn anything I can that will help me for state."
Strzelecki pinned Biela on the third-place mat and Maine East's Claudia Domusiewicz placed fifth with a pin over Morton's Alejandra Velazquez.
190 – Diana Rodriguez, Morton
Pin, pin, pin, title.

If that's the preferred path of champions, Morton's Diana Rodriguez followed it on Saturday. Rodriguez pinned Lane Tech's Scarlett Ramirez, Hoffman Estates Anjali Gonzalez, and then Downers Grove South's Gracie Swierzynski on the title mat to win the crown at 190 pounds.

"She's been able to scrap with the best of them," Morton coach Joe Helton said. "She's gone up in weight to wrestle bigger girls and has worked her butt off. She has treated everything like it's all business this year."

Swierzynski pinned Maine West's Lilly Garrett in her opening match before winning by forfeit in her semifinal against Morton's Sofia De La Sancha.

Hoffman Estates' Gonzalez won by decision on the third-place mat against Morton's De La Sancha, and Garrett placed fifth with a decision win against Rickover Naval Academy's Camilla Martinez.

235 – Jasmine Mejia, Rickover Naval Academy
Rickover Naval Academy freshman Jasmine Mejia opened her day with a pin of West Aurora's Veronica Sanchez, and won by forfeit in her semifinal match before pinning Oak Park and River Forest's Tamera Erving to win the title at 235.

In her first year in the sport, Mejia already has a good handle on arguably the greatest life lesson that wrestling has to offer:
"When you feel like you're beat, to keep on going," Mejia said. "I do that pretty well but I want to keep working on that."

Mejia particularly likes the family aspect of the sport that she has experienced at Rickover thus far; in fact, that family aspect was what pulled her into the sport in the first place.
"My dad is the assistant coach, so is one of my teachers, so I thought 'maybe I can do this'," Mejia said. "At first I was (resistant) to it. But it's such an honorable sport and it helps you develop as a person. For girls, especially, it can help you build confidence. It helps you grow into yourself."

Erving reached the finals with a pin of Downers Grove South'sKat Rodriguez and a fall against Taft's Kennedi Atkocaitis. Sanchez also went on to pin Rodriguez on the fifth-place mat.