Joliet Catholic Academy beats Deerfield in 2A finals for first state title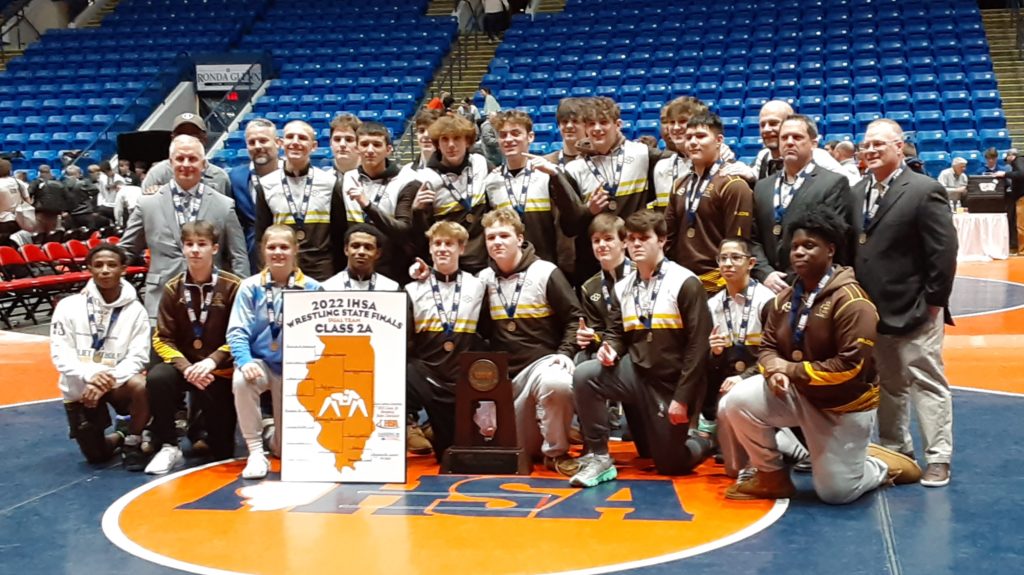 By Patrick Z. McGavin
For the IWCOA
BLOOMINGTON— Life has been a gilded dream for Hunter Powell the last couple of months.
Last fall the Joliet Catholic Academy junior started at defensive tackle and played running back on the Hilltoppers' undefeated Class 4A football state championship team.
He made the quick and sudden transition to wrestling, losing about 10 pounds to get into ideal shape.
On Saturday night at Grossinger Motors Arena, Powell had the decisive action that paved the way for a historic moment for the Hilltoppers.
His third period fall over Deerfield's Max Drumke in 4:43 unleashed a flood as the Hilltoppers captured six consecutive matches in their 39-33 victory for the IHSA Class 2A Dual Team State Championship.
Drumke reversed Powell late in the second period to pull within 6-4 but Powell responded with his own reversal. He led 10-5 when the end came at 4:43.
"I knew I could beat the kid," Powell said. "I was just waiting for the perfect opportunity. In those last 30 seconds of the second period, I wanted to at least get a reversal or an escape."
Starting on the bottom to open the third period, Powell again outmaneuvered Drumke for the reversal.
"I got out of it, and I just caught him on his back," he said. "The rest was history."
Deerfield had the fast start, breaking out to a 15-7 lead.
"We knew who their best wrestlers were," Powell said. "If I set the tone, it was going to be over."
Powell was the architect of the Hilltoppers' crush as JCA won six consecutive matches, including four by fall, in scoring 32 points.
Owen Gerdes, who finished fourth in the state at 195 pounds, started the streak with a 13-1 major decision over Devlan Schwartz.
The showdown at 220 pounds was decidedly open. Powell (8-5) only had wrestled 12 matches during the season.
"I am really thankful for Hunter," sophomore heavyweight Dillan Johnson said. "When he came in, he brought a certain intensity. He got the pin, and we just built the momentum off of that."
Powell and Johnson started alongside each other at defensive tackle in football.
Johnson (38-0) punctuated an extraordinary season with a fall over Garvin Crews in 0:47.
His postseason proved to be one of the most thrilling and devastating examples of his raw power, athleticism and speed.
Johnson posted four falls, none lasting deeper than the second period, in capturing the individual state championship at 285 pounds.
His 3-1 decision over Washington's Tyler Casey (third at 220) proved vital in their 30-29 sectional victory.
Johnson, who won the IWCOA title at 285 last year, steamrolled all three of his state finals' opponents.
"It's amazing," he said of his remarkable athletic season. "I don't know what to tell you. I'm very fortunate."
Like Joliet Catholic Academy, Deerfield was participating in its first dual team state finals.
Deerfield finished fourth in 3A in 2017. The only other downstate appearance, in the 3A quarterfinals, was a loss against Lockport in 2015.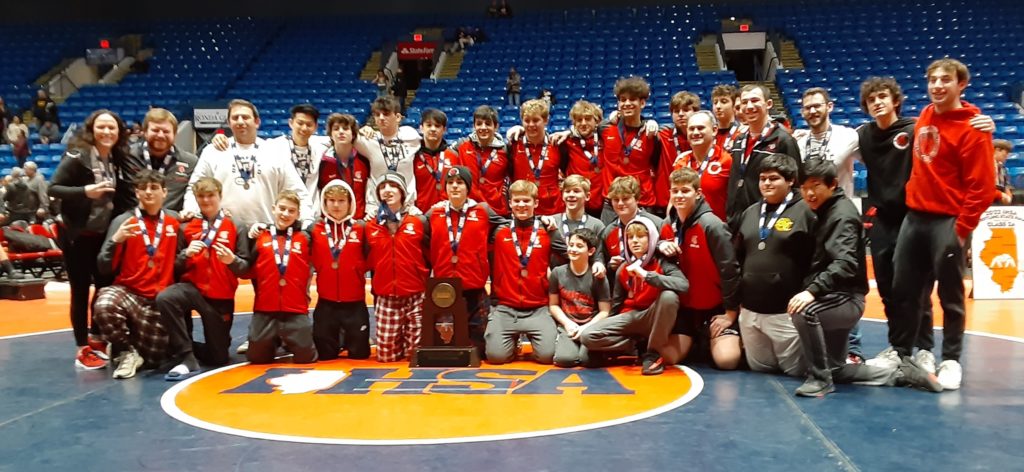 Coach Marc Pechter has built an under-the-radar powerhouse. From very humble beginnings, his first team won just two dual meets in 2001, Pechtar has amassed 380 career victories.
He has won at least 20 victories in 10 of the last 12 seasons. The Warriors won a school-record 30 matches two years ago.
"This was a once in a lifetime opportunity, and we had to take advantage of it," senior Kai Neumark said.
Neumark underscored the strength, power and athleticism of the Warriors' versatile and deep lineup.
In the quarterfinals Friday night, Neumark defeated Rock Island's Aoci Bernard 11-6 in a rematch of the 138 state championship, in which Bernard (51-4) was awarded the 7-6 victory with an escape as time expired.
"That was probably one of the most bittersweet matches of my career," Neumark said. "Obviously I got my redemption, but I felt like I could have beaten him the week before."
The state final confrontation of the two programs was the logical action.
JCA had three finalists and two state champions in Johnson and junior Gylon Sims (113 pounds). It also had eight individual qualifiers and five All-State wrestlers. In addition to Gerdes, Mason Alessio (38-5) was second at 145 pounds and Owen O'Connor (29-13) finished fifth at 138 pounds.
Shay Korhorn (21-9 at 120), Logan Kuhel-Trimmer (23-11 at 132) and Caden Moore (19-8 at 182) were the other state qualifiers. Korhorn lost in the consolation semifinals in making the final eight.
Deerfield had seven qualifiers, powered by the invincible Benjamin Shvartsman at 160 pounds. He put the finishing touches on a magnificent season by going 50-0.
"It was a special group," Shvartsman said. "We are all good wrestlers, but these guys—they're good people.
"Every team you go up against here is really good. We fought hard. Maybe we could have wrestled better in the final. It's been an honor to be on this team."
JCA coach Ryan Cumbee knew the Hilltoppers dodged a bullet with the final dual starting at 145 pounds.
That pushed Neumark and Renzo Morgan, who took sixth at 132 pounds, to the backend.
"Deerfield is really strong from 132 to 182 pounds," Cumbee said. "We knew if we could get a couple of wins and stay off of our backs, we were in a good position. The score at the beginning showed them in the lead, but we were optimistic."
In the semifinals on Saturday morning against Mahomet-Seymour, Neumark started off with a fall as Deerfield won five of the first six matches to take a 22-3 lead. The Warriors defeated Rock Island 41-34 in the quarterfinals.
That buffered them against the heavy hitters of Mahomet-Seymour. Jackson Palzer posted the second period fall at 126 pounds that propelled the 34-18 victory.
By contrast, JCA entered the state finals largely untested. After edging second-ranked Washington on Tuesday in the Washington Sectional, the Hilltoppers rolled past Riverside-Brookfield 65-7 in the quarterfinals and Antioch 64-10 in the semifinals.
By starting at 145 pounds, JCA had one of its big hammers, Mason Alessio, at the jump. He dominated Lucio Morgan (45-7, fifth at state) 12-0.
The coach's son, Connor Cumbee, also delivered in the clutch. He surprised Stamos Tsakiris (41-10, sixth at state) 7-6 for the Hilltoppers' 7-0 team lead.
"He found a way," Ryan Cumbee said of his son. "That was not expected."
The early success cushioned Deerfield's run with a fall by Shvartsman, a technical fall by Aiden Cohen (47-6, fifth at 170) and a major by Braeden Wittkamp (42-6 at 182). The run of 15 consecutive points put the Warriors up 15-7.
Ryan Cumbee looked at the big picture.
"Once we got through 182 relatively unscathed, we knew we were winning," he said.
The consecutive falls by Powell and Johnson altered the trajectory firmly in the controls of the Hilltoppers.
Noah Avina followed with another first period fall over Justin Sanger at 106 pounds.
The Hilltoppers' other individual state champion, Gylon Sims, continued the torrid stretch with a 16-6 major decision over Jordan Rasof at 113 pounds.
With three-time state champion D.J. Hamiti, now at the University of Wisconsin, Sims (37-4) personified the rise of the Hilltoppers to elite status.
As a freshman two years ago, he reached the state final at 106 pounds and last year he won the IWCOA title at 113.
Emboldened by that experience, he defeated Rochelle's Xavier Villalobos in the state championship match.
"I think my individual success, and Dillan and Mason, just made the rest of my team more hungry," Sims said.
"Maybe some of them didn't get to accomplish their individual goals, but this was a way to get them hungrier."
The major decision by Sims pushed the unanswered run to 26 points.
"We were not too worried about the score when we were down 15-7, maybe a little bit, but we stayed positive," Sims said.
"When Hunter came and got that pin, that turned the tide and confidence went through the roof."
Fittingly, Shay Korhorn secured the state title with his pin of Luke Reddy in 3:02 at 120 pounds.
It provided a moment of vindication after he went through a brutal draw at the individual state meet.
His quest for a state medal ended with a tight 3-1 loss against Galesburg's Gauge Shipp in the semifinal wrestlebacks.
"There could not have been a better kid to finish the dual," Ryan Cumbee said.
"He works very hard every day. He fell short in his individual goal. He contributed as a team member."
The football state championship JCA won last fall is standard operating procedure. The Hilltoppers own the state record for football state championships.
The wrestling title is the first of its kind.
Only Class 3A quarterfinalist Marist deprived the Hilltoppers (17-1) of a perfect season.
Ryan Cumbee took over the program three years ago after winning two state trophies at Marmion Academy.
Johnson and Sims reached the mountaintop. Now the rest of the team knows that exalted feeling.
"The individual title was nice, but this one was way better," Sims said.
"I'm going to experience this title for the next 15 years of my life with all of these guys here."
Jackson Palzet, Renzo Morgan (36-13, sixth at 132) and Neumark won by forfeit for the final margin.
Deerfield left its mark.
The Warriors (27-6) split with 3A fourth-place finisher Prospect and lost by one point to Marist, who was a 3A quarterfinals squad.
"We are all really close," Neumark said. "We hang out with each other, and we train together because we are all pretty close in weight. We do pretty much everything together."
Mahomet-Seymour captured the third-place trophy with a 35-34 victory over Antioch. Coach Rob Ledin's Bulldogs (30-4) won five of the first eight matches to grab a 27-14 lead over the Sequoits (23-6).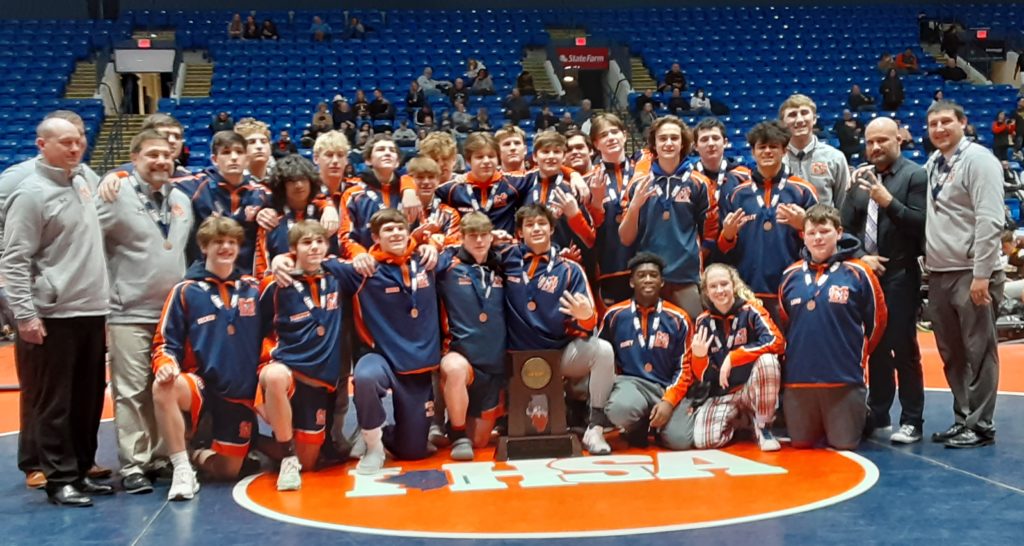 State finishers Matteo Casillas (57-2, third at 195), Caden Hatton (49-8, fifth at 106) and Brennan Houser (44-12, sixth at 170) were the standouts for the Bulldogs, who advanced to state for the third time in the last five seasons that the tournament was held and for the fourth time in Ledin's 16-year tenure.
Edgar Albino (44-2, third at 120) and Caleb Nobiling (42-7, third at 138) keyed the Sequoits' season surge. Brothers Ben Vazquez (38-9, 152) and Evan Vazquez (31-8, 170) also fortified the lineup, along with Gavin Hanrahan (36-11, 106) and Anthony Streib (36-11, 132).
In the third-place match, Mahomet-Seymour got falls from Braeden Heinhold (160), Houser (182) and Camden Harms (285) while Casillas (195) and Hatton (113) both won by technical fall, Alexander Demos (145) had a 13-5 major decision and Reese Wilson (126) won 6-3 over Tanner Jurinek.
Antioch received falls from Ben Vazquez (152) and Hanrahan (106), Evan Vazquez (170) and Streib (132) both had wins by technical fall, Briar Russell (220) won 8-3 over Colton Crowley, Albino (120) was a 7-2 winner over Camden Heinold and Nobiling (138) claimed a forfeit win in the final match.
Coach Wilbur Borrero made his seventh state appearance and captured his fourth state trophy at Antioch, which were all fourth place finishes, since 2012. He also had a team that took second place and two others who were fourth while at Waukegan.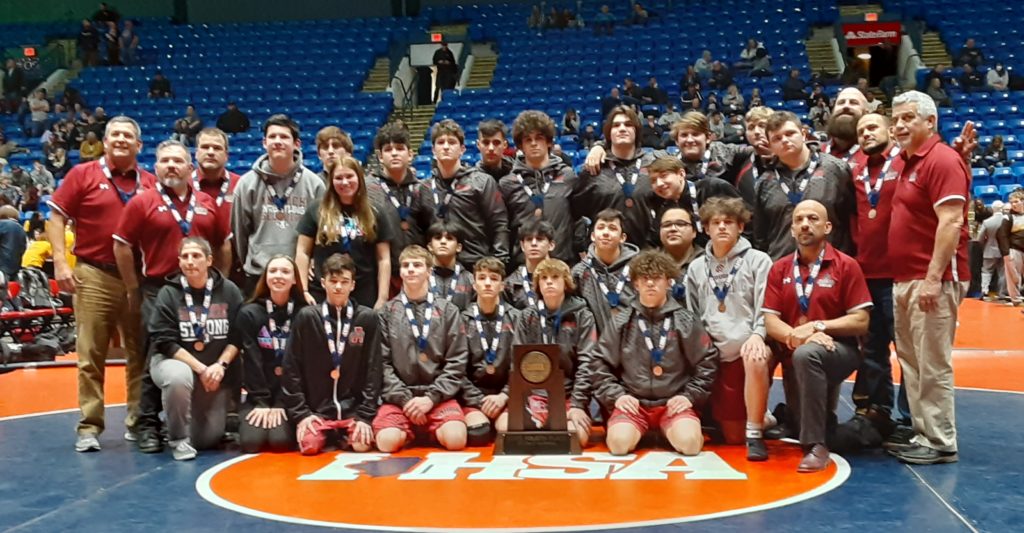 In the quarterfinals, Mahomet-Seymour defeated Brother Rice 49-25 while Antioch won 41-34 over Glenwood. Coach Jan Murzyn's Crusaders (10-5) were making their first state appearance while coach Jerod Bruner's Titans (14-6) advanced to state for the third time in the last four years that the event took place.
Brother Rice got a fall from 170-pound state champion Tom Bennett (34-1 at 182), a major decision from Connor Nelligan (145) and a 3-0 win from fourth-place finisher Nate Chirillo (160) to go along with late forfeit wins by Bobby Conway (120) and James Bennett (126).
Glenwood received falls from Brandon Bray (195) and Jaidyn Lee (220), a major decision from Aden Byal (152), a win by injury default by unbeaten 106-pound state champion Andrew Davis (19-0 at 113) and forfeit wins from fifth-place finisher Alex Hamrick (285) and Braxton Warren (126).
Rock Island (14-10) made its first dual team state appearance since 1992. In their 41-34 quarterfinals loss to Deerfield, coach Joel Stockwell's Rocks received falls from Steven Marquez (195), Eli Gustafson (285) and Truth Vesey (106) while Andrew Marquez (220) claimed a 14-4 major decision and Daniel McGhee (120) and Tyler Barbee (126) picked up late forfeit wins.
Riverside-Brookfield (17-8) returned to state after qualifying for the first time in 2020. Coach Nicholas Curby's Bulldogs got a 12-1 major decision from Mateo Costello (126) and a 7-5 victory from Brock Hoyd (170).