Yorkville Christian caps fourth season with Class 1A title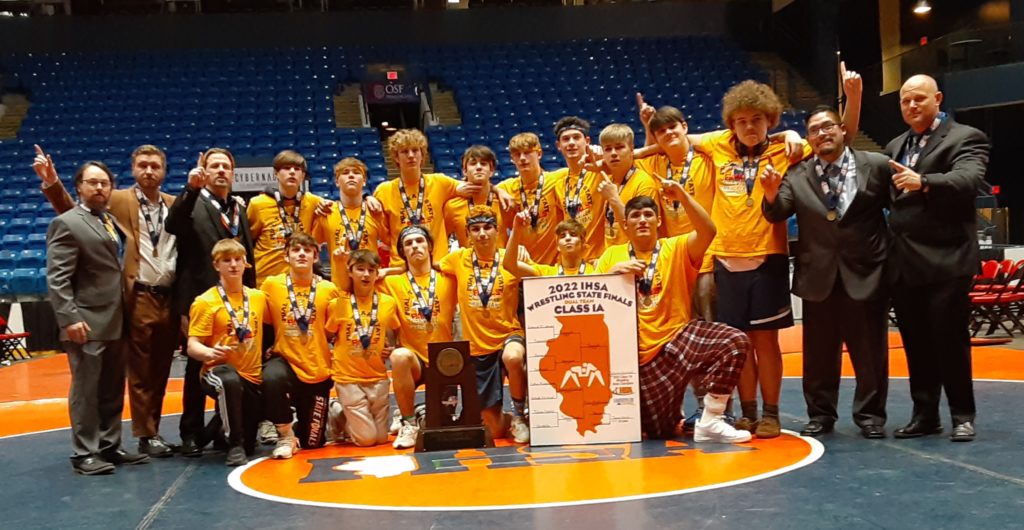 By Curt Herron
For the IWCOA
BLOOMINGTON – One of the best stories in Illinois high school sports occurs when a team doesn't get much respect both in the early going and then throughout much of its season yet the individuals on that squad and their coaches firmly believe that they have what it takes to win an IHSA championship.
While Class 3A title winner Mount Carmel and Class 2A Joliet Catholic Academy took the usual route of being one of the early favorites to capture IHSA Dual Team titles in their classes, Yorkville Christian was lightly regarded in Class 1A prior to winning the Plano Reaper Classic title and was still struggling to get into the top 10 late in the season.
But coach Mike Vester and his Mustangs knew that with their talented lineup, in addition to a lot of hard work and having a challenging schedule in which they went up against a lot of bigger programs, that it would likely all pay off, and that's precisely what happened as their average score in three dual meets at the the IHSA Class 1A Dual Team finals was 54-22 and the fourth-year program captured its first championship in the sport with a 48-24 victory over Tremont at Grossinger Motors Arena in Bloomington on Saturday.
Posting 3-0 records for the Mustangs were freshman Aiden Larsen (106), senior Isaac Bourge (120), sophomore Grason Johnson (126), junior Noah Dial (132), senior Braulio Flores (138), junior Drew Torza (152), junior Tyler Martinez (160) and senior Michael Esquivel (285) while juniors Jeremy Loomis (145) and Jackson Gillen (170) both went 2-1 and juniors Jackson Mehochko (182) and Christopher Durbin (195) also added wins. The squad won 30 of 39 matches, collecting eight pins in both the quarterfinals and the semifinals and had 19 pins overall, with its losses coming against five medalists, three other state qualifiers and an individual who was ranked throughout the season.
Gillen (49-6 at 170) was the program's first state champion while Bourge (34-11 at 120), the first four-year competitor for the Mustangs, was a runner-up at state. Martinez (45-11 at 160) and Esquivel (40-14 at 285) both took third place while Larsen (46-8 at 106) finished fifth to give the team five medalists. Dial (41-10 at 132) and Torza (41-16 at 152) both fell one win shy of placing at state while Flores (35-22 at 138) and Johnson (20-20 at 126) were other state qualifiers.
Yorkville Christian only had four individuals on its squad when it started competing in 2018-19. Since the first IHSA tournament won by Proviso in 1937, only two other programs are known to have become state champions in less time, with Aurora Christian winning the 1A title in 2018 in its second season and Hersey taking first in 1971 in its third season. The Mustangs also became the third program to win a state title in the same year that they also had their first medal winners, joining Proviso and Hersey in that exclusive club.
Since it's obviously difficult to pin down the first season of competition for all of the 54 schools that have won state titles in the sport, a good base point is the year that they had their first medalist. Using that criteria, the average time that it's taken a program to capture its initial team state championship after getting their first medal winner is 17.7 years. Since the dual team tournament was introduced in 1984 to determine the team champions, the average length of time between a first medalist and initial state title is 26.3 years.
Yorkville Christian finished its historic season with a 23-6 record. Its defeats came against Class 2A champion Joliet Catholic Academy, 2A runner-up Deerfield, 3A third-place finisher Lockport, 3A quarterfinalist Marist and 2A power Washington, who lost to JCA by a point in the sectional and one of its biggest wins came against Rock Island, which was a 2A quarterfinalist. In addition, the Mustangs,who were second-ranked behind Lena-Winslow/Stockton, competed in tournaments at Antioch, DeKalb, Mahomet-Seymour and Wisconsin's Cheesehead and that prepared them well for the Seneca Regional, where they took first in a field featuring third-ranked Coal City and tenth-ranked Reed-Custer.
The Mustangs only competed against 10 Class 1A teams in dual meets, with four of those happening during the last week in the IHSA state series. They won 56-21 over Phoenix Military Academy at the St. Laurence Regional to advance to state for the first time and then 63-12 over Ridgeview/Lexington in Friday's quarterfinals and 51-30 against Unity in the semifinals to earn their spot in the title meet against Tremont, who won its first trophy in its third state trip in the last three years which the event has been held.
"The kids were amped up and were beyond ready, but they weren't overconfident at all," Vester said. "In the long break between matches, they wanted to get back to the mats. We played it smart, we fed them, got them hydrated and they went back and took a nap. We got them up and got them warmed up again and then brought them here and they put on a show, they wrestled their butts off.
"One of the things was finishing matches. In some matches where we wrestled stiffer competition, if you let off the gas pedal for one minute, you can give up an escape at the end of the match, so if you get a chance to pin somebody, you've got to pin them. The coaching staff and the kids are aware of where we're really strong and we're young. Sometimes it's just keeping matches close and if you give up six, then they know that the next guy in line has got to pick them up.
"I'm connected with the wrestling community and have been for 20 years so I think that there's kids that are out there that if they want to get an education and if wrestling if their thing, then this is a good place to go to school. It's not for everybody because we don't have a football team. And being a teacher there, I have the perspective of what it's like to teach. I love it there and I think that's what gets the kids pumped up about going to school and they're excited about going to school."
In the title meet, Yorkville Christian got off to a great start as Loomis won by fall in 2:09 over Logan Poisal at 145 and Torza followed with a pin in 1:20 at 152 over Levi Leitner before Martinez recorded a 7-2 victory over Logan Stedman at 160 to give his team an early 15-0 advantage.
"We knew all along from the beginning of the season that we had a great chance of becoming the number-one team in the state," Martinez said. "So we just went out and pushed ourselves every single week and were wrestling the best competition and it really paid off. We wrestled a lot of the teams that were in the state finals in 2A and 3A.
"We knew that if we started off strong and got the momentum going that we'd be able to hold them off for the rest of the dual. We knew that they had a couple of hammers in there but we knew that if we came out and wrestled hard that it would end up well. This is amazing. Just knowing that all of the hard work has paid off and we came in number one in the state, there's really nothing else that you can ask for."
Esquivel and Martinez were both quoted following their team's championship at the Plano Reaper Classic that they believed that the Mustangs could be state champions. Having been members of state-placing teams at Aurora Christian along with Dial and had success in offseason events, the pair had a good idea of what made a championship team.
"I knew right away from top to bottom that this team is a bunch of hammers, from 106 to myself," Esquivel said. "So it's great to go out my senior year as a team state champion. I've been here before and suffered from the losses at 1A to Lena-Winslow in my freshman year and to Lemont in the semifinals my sophomore year. So finally, I said to myself, that the third time's the charm and I knew right away that these guys believed it. I want to thank the coaches for everything they've done. From eighth grade stepping in with Team 1006, so I want to thank them. I want to thank Yorkville Christian for welcoming me in right away as family. And I want to thank everyone who's been there along the way."
Tremont (28-4), which was seventh in the final IWCOA rankings, won the next four matches to claim its only lead in the dual meet at 18-15. Lucas Wendling, who was fourth at state, captured a 6-4 victory over state champion Gillen at 170 and TJ Connor followed with 3-2 triumph over Durbin at 182. Cooper Wendling, who finished fourth at 195, recorded a fall in 0:42 over Mehochko at 195 and then John Rathbun put his team ahead when he got a pin in 0:38 over Xander Oliver at 220. Despite being down after seeing their state champion drop a close match, the Mustangs definitely were determined that no one was going to stop their quest for a team state championship..
"I feel like we were looked down on in the rankings, so we wanted to prove everyone wrong," Gillen said. "We never really wrestled many 1A teams, so to go in and have the resume that we did, I thought was pretty good, even though some didn't really respect us, so we just wanted to show them. They took advantage early, but we pulled through and we just stayed together and didn't take our minds off of it. We just had the thought of us winning the entire season in our heads, we couldn't think of us losing, it just wasn't a possibility. So it's awesome for it to just manifest."
The tide started turning back in the direction of the Mustangs as Esquivel (285) and Larsen (106) received forfeit wins to put their team up 27-18 and after Tremont's Konnor Martin (113) won by forfeit, Bourge got a fall in 2:37 over Chase Stedman at 120 and Johnson followed with an 11-0 victory over Bowden Delaney at 126 to make it 37-24 with two matches remaining to seal the championship. After Dial won by technical fall over Josiah Grant at 132, Flores received a forfeit win in the final match at 138.
"For our small school, I think we really made a big name for ourselves here," Bourge said. "When we started my freshman year and we only had four kids, I would not have believed that we'd be where we're at, winning a team state championship, or that I'd be a finalist myself. It's just great. Our team has been practicing so hard and having this in our minds and just mulling it over and over and I think that really boosted our confidence, our morale and our bonding, everything."
Yorkville Christian utilized a similar approach in its semifinals victory over Unity, which was ranked fourth and also advanced to the dual team finals in 2020, when it also lost in the semifinals to the eventual champion and then bounced back to finish third.
The Mustangs won four of the first five matches as Flores, Martinez and Gillen all had falls and Torza won 5-1 over Braxton Manuel while the Rockets (33-4) received a fall from 145 runner-up Tavius Hosley to make the score 21-6. After Unity received falls from its other two second-place finishers, Grant Albaugh at 182 and Nick Nosler at 195 and Oran Varela followed with another pin at 220, it owned a 24-21 advantage. But Esquivel and Larsen responded with falls and after Trevor McCarter picked up a forfeit win for the Rockets, Bourge, Johnson and Dial closed out the victory with three-consecutive falls.
"This has been our vision since the start of the year," Dial said. "Like I said at regionals, our whole goal as a team was to win team state. And it's just crazy to see how all of this has unfolded. None of our duals were that close, according to the score, so it just shows how much of a powerhouse that we are. We all wanted this really bad. We had a pretty good individual tournament but some of us individuals didn't, but then we knew that we just had to go straight on to team state. I'll probably remember the energy that we bring when it's needed. When we come out to wrestle, there's just so much energy there. You can tell from our bench, since we got yelled at for being too loud."
In Friday's quarterfinals, Yorkville Christian only lost one contested match after winning the first eight against Ridgeview/Lexington, which was also making its debut in the event. Dial, Flores, Torza, Martinez, Gillen, Mehochko, Esquivel and Larsen all had falls while Durbin, Bourge and Johnson won narrow decisions and Loomis claimed a forfeit win.
Yorkville Christian only has two seniors, Bourge and Flores, so most of its team, which features seven juniors, two sophomores and five freshmen, could be back next season. And if some talented newcomers join the program, then the Mustangs likely will be a force to be reckoned with for some time.
"At the beginning of the season, we weren't at the top of the list, but we climbed up," Larsen said. "I think a big thing that helped us was that this team won a state title in IKWF and now we're IHSA champions. We definitely had the teammate chemistry built up over the years. This is a great feeling."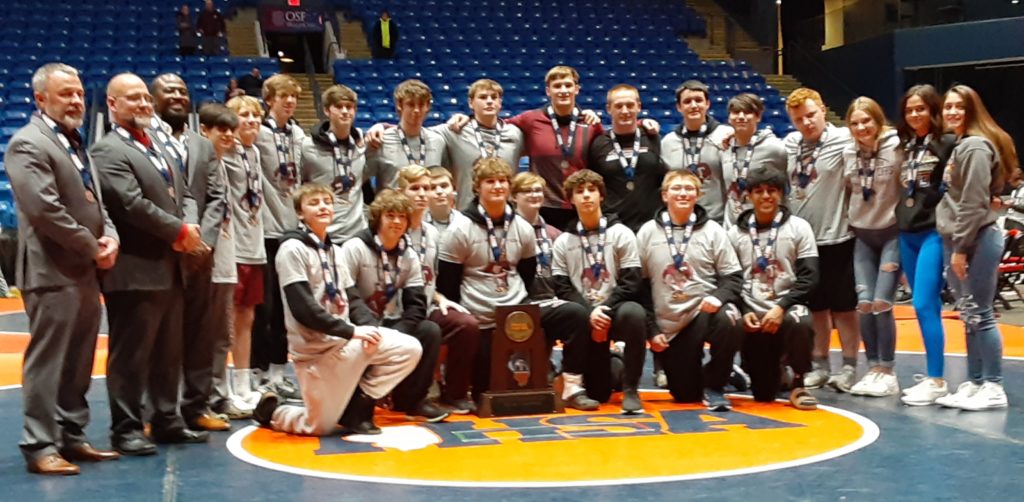 Tremont – Second Place
In their third-consecutive appearance in the dual team finals, coach TJ Williams' Turks assured themselves of the program's first trophy and ultimately, a trip to the title meet.
Going 3-0 for Tremont was Cooper Wendling (36-5 at 195) while Mason Mark (31-11 at 132/138) and TJ Connor (27-4 at 182) all went 2-0. Turning in 2-1 records were Konnor Martin (14-5 at 106/113), Bowden Delaney (38-8 at 120/126), Levi Leitner (35-10 at 152/160), Lucas Wendling (43-5 at 170/182) and John Rathbun (27-7 at 220/285).
"When my seniors were freshmen four years ago, I told them if you work hard, keep your head down and just listen and pay attention and take advice, you can be at the state tournament, individually and as a team," said Williams, who's a 2006 IWCOA Hall of Fame inductee. "But it's going to take hard work and it's going to take you being committed and disciplined. You might have less friends because of what you're trying to accomplish, and over the years, that's what we've done. We stayed focused and it wasn't always easy, but they came back every year and worked hard since they wanted to get better, and here's where we're at right now and I'm proud of these guys.
"Now we know what to shoot for. Nobody wants to get second, but second is better than a third. But now when we go back home, we'll enjoy what we accomplished and starting next week, we'll set a goal for next year. We teach our kids to be honest and have fun and don't be dirty, that's not what we are at Tremont. Yes, you want to compete and you want to win, but let's do it the right way."
In their 41-28 semifinals win over Harvard, the Turks led 24-12 after eight weights and then won three of the last four matches to move on to the title mat. Lucas Wendling, Cooper Wendling, Rathbun, Chase Stedman and Mark all recorded falls, Delaney won by technical fall, Leitner captured a decision and Connor won in sudden victory.
"These guys all work their butts off every day," Cooper Wendling said. "We have 5 a.m. practices every single day, and we show up ready to work despite the early morning. And we work together well as a team and everybody is cheering everybody on. All season we've been really tight-knit and it's a lot more fun when you have a team that's cheering you on and wants one another to win in every single match when they step out there.
"We came up short two times in a row, but this year we put in the extra work and wanted it a lot more. We didn't just want to be satisfied with making it to state, we wanted to come here and make our mark and show who Tremont is and make sure everyone knows that we're a legit, hard-working and tough team."
And in its 39-34 quarterfinals victory over IC Catholic Prep, Tremont led 27-13 with six matches to go but the Knights won four of the next five to move ahead at 34-33 before Delaney got a fall in 2:51 in the finale over Bryson Spaulding at 126 to assure the Turks of capturing a trophy. Logan Stedman and Cooper Wendling also got falls, while Mark captured a 2-1 victory and Josh Geyer, Leitner and Martin claimed forfeit wins.
"It's really nice to see all of the hard work pay off," Rathbun said. "I remember freshman year, getting in and just getting beaten up by all of the upperclassmen. So it's really satisfying to see it all come together. We had six seniors but our varsity lineup is filled with younger guys, and they are so hard-working, I'm excited to see how they turn out."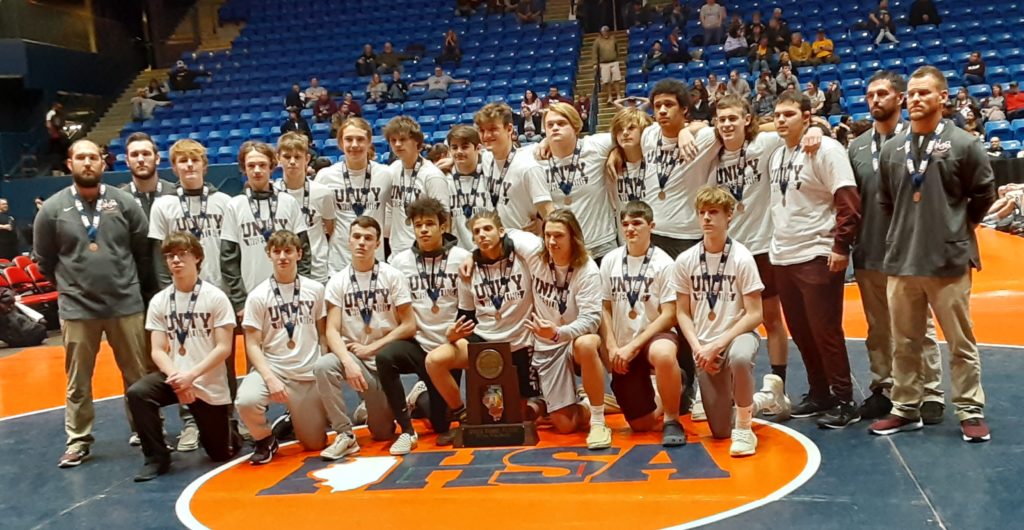 Unity – Third Place
While Unity (33-4) fell a bit short of its quest to reach the championship meet for the first time since 1989 after falling to Yorkville Christian in the semifinals, it captured a 46-28 victory over Harvard in the third-place meet to equal its tournament showing from 2020.
Coach Logan Patton's Rockets only lost to four quality squads, three of whom were on hand for the dual team finals, the top two finishers in Class 1A, Yorkville Christian and Tremont, and 2A champion Joliet Catholic Academy. Their only other loss came to third-ranked Coal City, who fell to Yorkville Christian in the Seneca Regional. Unity has gone 148-32 in the last five seasons under their coach.
The team had three second-place finishers this season, Tavius Hosley (52-4 at 145), Grant Albaugh (37-4 at 182) and Nick Nosler (50-3 at 195), and all of them completed their seasons with 3-0 efforts at dual team state. Going 2-1 for Unity were Ryan Rink (132), Braxton Manuel (152), Kyus Root (45-10 at 170), Oran Varela (37-8 at 220) and Karson Richardson (50-7 at 285).
"We came here in 2020 and lost to the eventual champs, Dakota, in the semis in a barnburner," Patton said. "And history repeats itself and we lose a barnburner to Yorkville Christian and they're the champs. But our guys bounced back and it's a great group of seniors to take third again.
"We've built a great culture and it's a family atmosphere and I feel like we're a better team than we are individually and we wrestle for each other and it showed this weekend. "They understand that they have to do their job, whatever their job is, they go and do it because these guys are best friends and family, so they understand to do that. One of these days we'll bounce through on the other side. That's the plan, that's what we're shooting for."
The Rockets hung tough with Yorkville Christian in the semifinals and led 24-21 eight matches into the meet, thanks to falls from Hosley, Albaugh, Nick Nosler and Varela. But the Mustangs responded with five falls to earn their spot in the finals, with Unity's lone win in that stretch coming on a forfeit to Trevor McCarter and the dual ended 51-30.
"It's a great accomplishment," Hosley said. "We're obviously pretty sad that we didn't get first, but ending on a win and ending muy high school career with a 'W' feels pretty good. The thing I liked the best was the chemistry. I've grown up with most of these kids and we've all wrestled together growing up, so the chemistry was awesome and wrestling with them was super fun. And a big shout out to coach Patton. He's been there every step of the way and gotten me through everything."
Unity kicked things off on Friday in a good fashion when it took control through the middle of the dual to defeat Vandalia 41-30, a much-closer meeting than the teams' earlier matchup on December 17 when the Rockets won by 25 points. After the Vandals grabbed a quick 9-0 lead, the Rockets won eight of next nine matches to go up 41-12. Hosley, Manuel, Varela, Richardson and Joey Young all recorded falls while Albaugh and Nick Nosler both won major decisions and Root claimed a 7-0 victory.
"It kind of leaves a bad taste in your mouth to take third, but it still feels great to be here," Nick Nosler said. "Next year, I think if we keep grinding together in the wrestling room then we'll keep trending in the right direction. I think it's just the environment, everybody's cheering you on and if somebody loses a match, there's someone to back you up. The environment is just great. I think that we have one of the hardest-working wrestling rooms in the state, so it's just great to be on this team."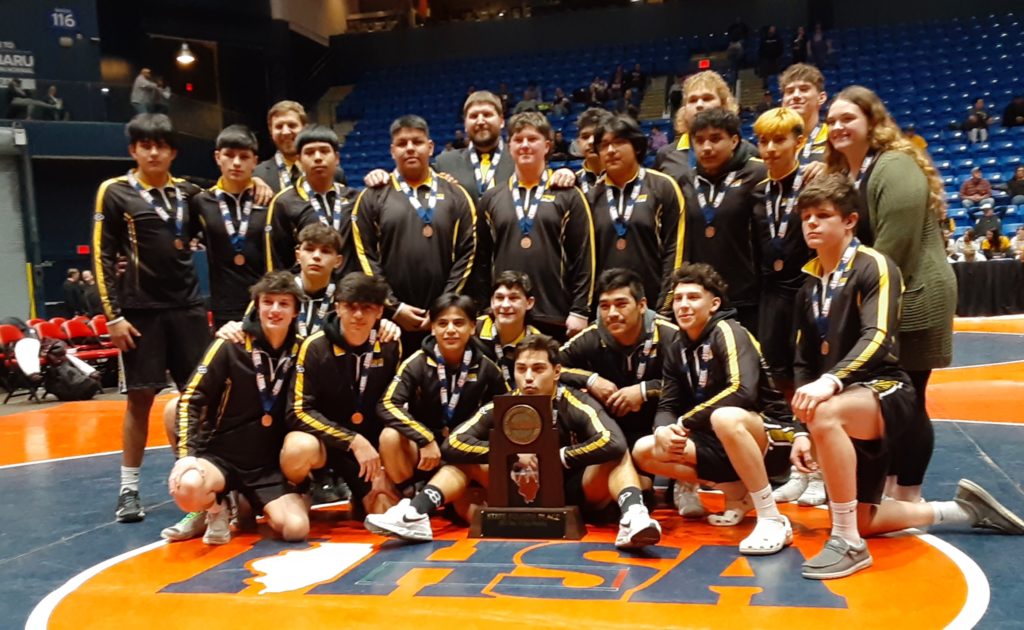 Harvard – Fourth place
Harvard (19-5) overcame health issues early in the season to not only get back to the state dual team finals this season but one of the state's winningest programs in the sport captured its sixth state trophy, including its first since 2000. Coach David Schultz's Hornets also did something that the program last accomplished in 2000-01 when it made consecutive appearances in the state finals, which Schultz also did as an athlete while competing for the school.
Turning in 3-0 efforts for the Hornets, who were ranked 20th heading into the postseason, were Brian Hernandez (27-13 at 106) and Bailey Livdahl (42-11 at 160/170) while Marques Merida (34-14 at 126), Daniel Rosas (27-13 at 138), Ivan Rosas (39-9 at 145) and Nathan Rosas (44-7 at 195/220) all went 2-1.
"The kids wrestled really well and they've come a long way." Schultz said. "With last year, having the pandemic and all of the disruption. So coming into the season, we were hoping that we could get a full lineup, and then with all of the disruptions throughout the year because of COVID and other stuff, for them to be able to stay focused for this long and to continue working for this long with no promise of anything at the end is a real credit to them.
"We came out here and we competed, and that's exactly what we wanted to try to do. We talked about it before every one of the rounds that regardless of the outcome, as long as we could go out there and fight and as long as we'd leave it all out there on the mat, we could at least live with the outcome. And even though it was not the outcome that we had hoped for and that we wanted, it's still a pretty big accomplishment for the guys."
Harvard earned its latest trophy thanks to a 41-31 triumph over Sandwich in Friday's quarterfinals. It got falls from Aidan Gomez, Livdahl, Gabe Sanchez, Nathan Rosas and Will Harter, major decisions from Ivan Rosas and Kaden Vest and a decision from Hernandez to help it grab a 41-16 lead.
"We are definitely proud of how things turned out for us this year, especially after not having anything to compete for last with no regional or team state series," Kaden Vest said. "So to come back this year and place in the top four means a lot to us and this team. In the wrestling room, we always see the great names of teams in the past who placed at state and we always talk about how we want to be up there making history for our school. It just feels good to be back up here in the top four in the state with all of our teammates because I feel like we worked our butts off all season to deserve this."
In their 41-28 semifinals loss to Tremont, the Hornets got falls from Ivan Rosas, Gerardo Cortez and Hernandez while Merida won a major decision and Daniel Rosas and Livdahl got decisions. And against Unity in the third-place match, which the Rockets won 46-28, Hernandez, Connor Flores and Daniel Rosas recorded falls, Livdahl got a major decision, Nathan Rosas won a 3-2 decision and Merida prevailed by a 1-0 score.
"It was definitely something, considering the last time we brought anything home was almost 20 year ago," Nathan Rosas said. "Especially considering that our season started with all of this COVID stuff and we were losing kids. It was really hard and it felt like we were getting split up because we couldn't all be together in the same room and working out. But we stuck together through all of it and made sure to check up on those who couldn't be in and told them what we were doing in practice. Coach (Tim) Haak was a legend and just wants to make sure that the Harvard program is still in good hands, and considering we're coming back with a trophy, I'd say that we're in pretty good hands."
Other Tournament Teams
IC Catholic Prep (12-3) made its second state appearance and first since 2018 but fell 39-34 to Tremont in a quarterfinals meet that came down to the final match. Recording falls for coach Jason Renteria's Knights were Joseph Gliatta and Isaiah Gonzalez while Omar Samayoa captured a major decision, Michael Calcagno and Andrew Alvarado both won decisions and Jadon Mims and Nick Renteria received forfeit wins. It was IC Catholic Prep's first loss to a Class 1A team.
The squad. which was ranked ninth, was hopeful that the momentum produced by getting state titles from Renteria (33-1 at 120), Calcagno (27-1 at 182) and Mims (32-3 at 220), a second-place finish from Gonzalez (34-2 at 285), a sixth from Gliatta (26-9 at 145) and a close call from Alvarado (25-15 at 113), who fell a win shy of a medal, but the Turks spoiled the plans and prevented them from winning their first trophy.
Vandalia (32-5) was looking to add to the second-, third- and fourth-place trophies that it had won from 2016-19, but coach Jason Clay's squad fell 41-30 to Unity in the quarterfinals in the program's 15th dual team finals trip since 2005. Unity, which took third, beat Vandalia 51-28 on December 17, the same day the Vandals fell to Tremont.
The sixth-ranked Vandals got a win by technical fall from Cutter Prater (49-6 at 138), a major decision from Owen Miller (41-14 at 132), a decision from Eric McKinney (48-7 at 160) and forfeit wins from Sophie Bowers (43-13 at 113), Pierson Wilkerson and Parker Ray. Ryan Kaiser (44-10 at 160) and Prater fell one win shy of state medals this season.
Sandwich (22-5) hoped that its 34-32 sectional victory over top-ranked Lena-Winslow/Stockton would give it a boost as it headed to the dual team finals for the first time since 2012. But Harvard jumped out to a big early advantage to capture a 41-31 victory in Friday's quarterfinals. It was only the team's second loss against a Class 1A team, with the other on December 4 to eventual state champion Yorkville Christian.
Coach Derek Jones' Indians, who were ranked 11th, received falls from Aidan Linden (49-6 at 160), Alex Alfaro (45-4 at 182), Anthony Sparti and Kadin Kern (19-10 at 120), a major decision from Evan Reilly (35-6 at 138) and a decision from Miles Corder (36-15 at 126). Linden finished third at 152, Alfaro took fifth at 182 and Reilly fell one win shy of a medal at 138.
Ridgeview/Lexington (23-6) also advanced to the dual team finals for the first time but could only win two matches against the eventual champions in the quarterfinals, which they lost 63-12. Coach Jeremy Lopshire's Mustangs, who were ranked 23rd, received a fall from Evan Antonio (41-6 at 220) and a win by forfeit from Danny Tay (38-9 at 113). Braydon Campbell (32-8 at 120) and Tay both fell one win shy of medals.
Thirteen individuals in all three classes finished with 18 team points during the two-day competition. Those in 1A tying for first were Yorkville Christian's Michael Esquivel, Braulio Flores and Aiden Larsen, Tremont's Cooper Wendling and Unity's Tavius Hosley. Next-best with 17 points was Yorkville Christian's Noah Dial while Unity's Grant Albaugh and Nick Nosler scored 16 points and Yorkville Christian's Isaac Bourge, Tyler Martinez and Drew Torza and Harvard's Brian Hernandez all scored 15 points.
FROM THE IWCOA: If you are enjoying these articles, please consider a small donation to the IWCOA so that we can continue funding feature stories for our website and social media. The IWCOA is non-profit, 501(c)(3) organization. Click this link to make a donation. Thank you!