Joliet Catholic Academy edges Washington, Rock Island also state-bound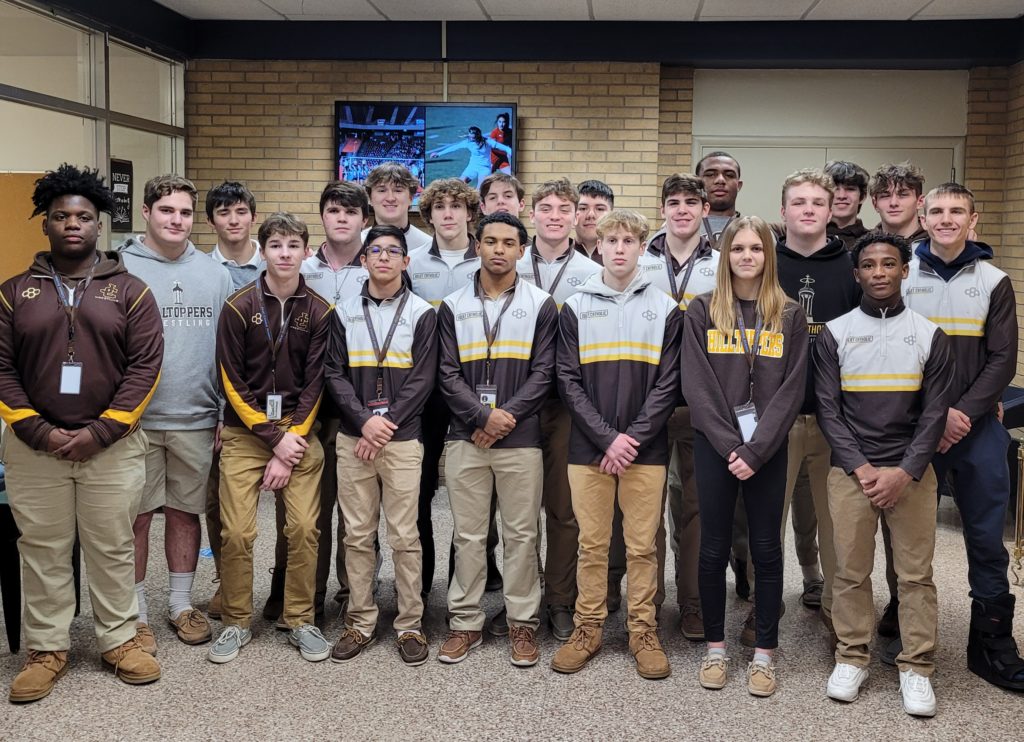 By Randy Whalen
For the IWCOA
WASHINGTON – As an undefeated individual state champion in 1999, who helped Providence Catholic to three IHSA Class AA titles from 1997 to 1999, Ryan Cumbee knows what it takes to be a champion.
When he came to Joliet Catholic Academy in 2017 as an associate head coach, he brought that knowledge and work ethic to the Hilltoppers.
Now, for the first time in school history, the Hilltoppers will be wrestling in the IHSA Dual Team State finals. In a tense, down-to-the-wire dual meet between the two top-ranked Class 2A teams in the state, they punched their ticket by defeating perennial power Washington 30-29 on its home mat on Tuesday at the Class 2A Washington Sectional.
It will be the first dual team state appearance for JCA, a program that hadn't won a regional in its history until two years ago. The Hilltoppers (13-1), who are the top team in Class 2A in the IWCOA rankings, will face Riverside-Brookfield (17-7), who was a 68-12 winner over Saint Ignatius College Prep at the Brother Rice Sectional, in a Friday 5 p.m. quarterfinals dual meet at Grossinger Motors Arena in Bloomington.
"This is the biggest moment in my coaching career," said Cumbee, who was 46-0 in winning state at 135 as a senior in 1999 and earlier in his coaching career led Marmion Academy to second- and third-place finishes in Class 3A in 2013 and 2014. "I took a program that had almost dropped wrestling five years ago and we did everything from scratch. We barely had a wrestling room then and no mats on the walls.
"We just defeated one of the toughest teams in the state in their home gym. Now we get to go for the gold, baby."
On the other side, Washington had wrestled for the IHSA Class 2A dual team championship the past six contested seasons. The Panthers won the title four straight years between 2016-19 and finished second in 2015 and 2020.
Although the two teams wrestled in the second dual of a triangular meet on January 20 at Washington and JCA was victorious by a 45-24 score, the Hilltoppers knew this one wasn't going to be easy and the teams split the 14 matches.
"We knew it was going to be tough," said JCA sophomore Connor Cumbee, who is Ryan's son. "The stakes were a lot higher this time."
They were and, with his team trailing 22-21, Cumbee registered a pin in 5:26 at 152 pounds to put the Hilltoppers ahead for good at 27-22.
"I knew I needed that pin," Cumbee said. "I had to do it for the team and it feels great."
Junior Mason Alessio, who took second at state at 145, followed with a 9-2 victory over sophomore Zane Hulet at 160 and JCA led 30-22. But a huge moment came at 170 pounds when Hilltopper freshman Nico Ronchetti was nearly pinned a couple of times in the third period. But he fought off the attempts and instead lost a 21-9 major decision to junior Blake Hinrichsen.
"In a dual meet everyone had their jobs," coach Cumbee said. "In certain situations that job is to not give up a lot of points on a tech or a pin. Nico did a great job of that."
With the Hilltoppers up 30-26, Caden Moore had a similar situation in the final bout. He lost 4-3 to fellow senior Joe Hoffer but the Panthers still fell a point short.
In the 145-pound match, JCA's Owen O'Connor was disqualified after it was ruled that Panther sophomore, Cael Miller, coach Nick Miller's son, couldn't continue due to an injury. The match was stopped a couple of times to see if he could continue, but he could not and had to be helped off the mat.
There were numerous conversations with the officials during that time and the Panther coach was given a deduction of one team point.
"I'm not happy with that," Nick Miller said of the one-point penalty. "He gave me an unsportsmanlike penalty and that was a team penalty, too.
"But we knew it would be a battle coming in. When we wrestled them earlier in the season, we had some guys out. I wish this wasn't a sectional matchup but I told our guys that it was pretty cool to have a state championship match in our own gym."
The meet started at 195 and Washington had a pin in 3:56 by senior Donnie Hidden, who took second at state . But JCA tied it with a couple of 3-1 wins. The first was by senior Owen Gerdes over junior Justin Hoffer at 220 and the other was at 285 when sophomore Dillan Johnson beat senior Tyler Casey with a takedown seven seconds into overtime .
Johnson, who pinned all his opponents at state in capturing the championship at 285 last weekend to become one of just 11 undefeated state title winners, improved ro 35-0. Casey bumped up a weight class after taking third at 220.
"I got called for stalling," Johnson said of surrendering a third-period point that tied the score at 1-1. "But I did a post-snap and it was the move I was looking for to take him down in overtime. This is what we've been working for. This was our goal all year long."
JCA freshman Noah Avina had a forfeit win at 106, Hilltoppers state champion junior Gylon Sims got a pin in 5:20 at 113 and sophomore Justus Snapp had a 7-5 victory over sophomore Eli Gonzalez at 120 as the Hilltoppers had a five-match win streak to go up 21-6.
But Washington came back with four-straight wins. That started with freshman Peyton Cox won 4-2 over senior Shay Korhorn at 126. Panthers senior Josh Biagini won 5-2 over junior Jake Hamiti at 132 and then 132 state champion junior Kannon Webster continued his success with a win by technical fall over senior Logan Kuhel-Trimmer at 138. That narrowed the team score gap to four points and the Panthers took their brief lead in the 145-pound bout.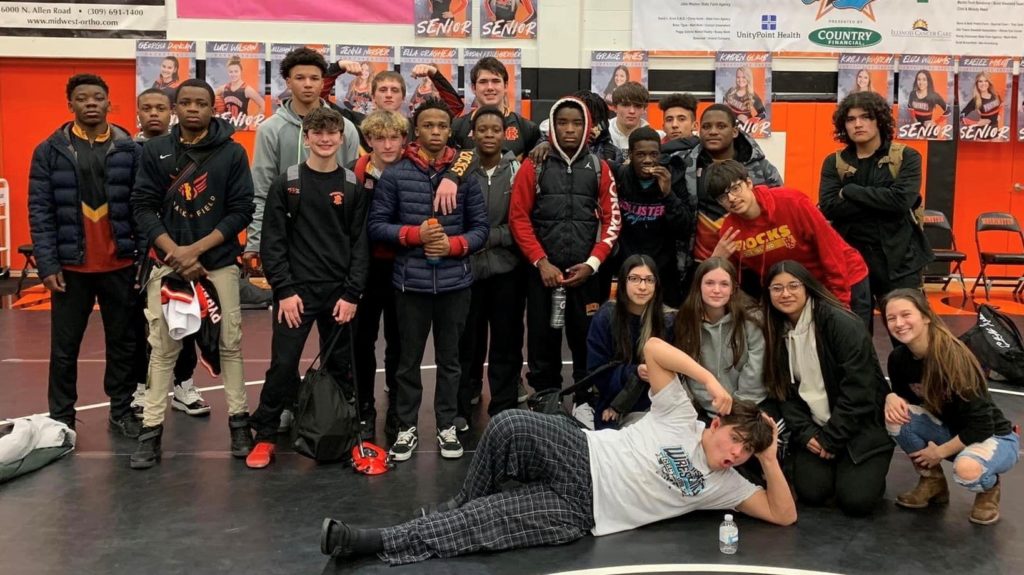 In the other dual at Washington, No. 6 Rock Island was a 42-27 winner over No. 12 Sycamore. That advanced the Rocks (14-9) to state for the first time since 1992. They face Deerfield (25-5) in a Class 2A state quarterfinal on Friday at 7 p.m. at Grossinger Motors Arena in Bloomington.
"We've just worked hard, talked about doing something in the postseason, and we did," said Rock Island coach Joel Stockwell, who is in his 14th season at the school. "Hopefully this is the start of something big and we're not waiting another 30 years to get to state."
Rock Island won eight matches but most were of the big-point nature. Sophomore Andrew Marquez started it off with a pin in 5:36 at 195. The Spartans (19-9) took a brief 9-6 lead but the Rocks rallied for seven-straight victories.
Those were from freshman Merrick Stockwell with a forfeit at 106, sophomore Truth Vesey with a pin in 55 seconds at 113, junior Sammy Niyonkuru had a 9-0 major decision at 120, Dominick Eckman-Allred received a forfeit win at 126, junior Tyler Barbee had a pin at the 5:00 mark at 132, senior Aoci Bernard, who was the 138 state champion, had a win by technical fall win and junior Tristan Willoughby won a 9-4 decision over fellow junior Jaden Cochran at 145 pounds.
"I bumped up to 113 pounds and was able to get a pin," said Vesey, who wrestled at 106 in the individual state finals. "It (advancing to state) is history. We worked so hard in the room, coach pushed us all week, and we knew we had to do it. I feel we can beat any team. We just have to go hard and push through."
Senior Jackson Funderburg had a pin in 4:25 at 220 and junior Lincoln Cooley had a 9-4 decision over sophomore Eli Gustafson at heavyweight to give Sycamore a brief 9-6 lead.
After Rock Island had clinched the match, the Spartans had a trio of forfeit wins. Those were awarded to senior Brayden Peet, who took second place at state at 152, junior Gus Cambier at 160 and junior Zack Crawford at 170. The 182-pound match was a double forfeit.
"I knew coming in that it was going to be tough," Sycamore coach Alex Nelson said. "We had to make some moves in bumping guys around.
"But we had a great season and we were regional champs. But Joel does a great job with those guys and I'm happy for them."
FROM THE IWCOA: If you are enjoying these articles, please consider a small donation to the IWCOA so that we can continue funding feature stories for our website and social media. The IWCOA is non-profit, 501(c)(3) organization. Click this link to make a donation. Thank you!