Lockport beats Yorkville in Oster matchup to advance to state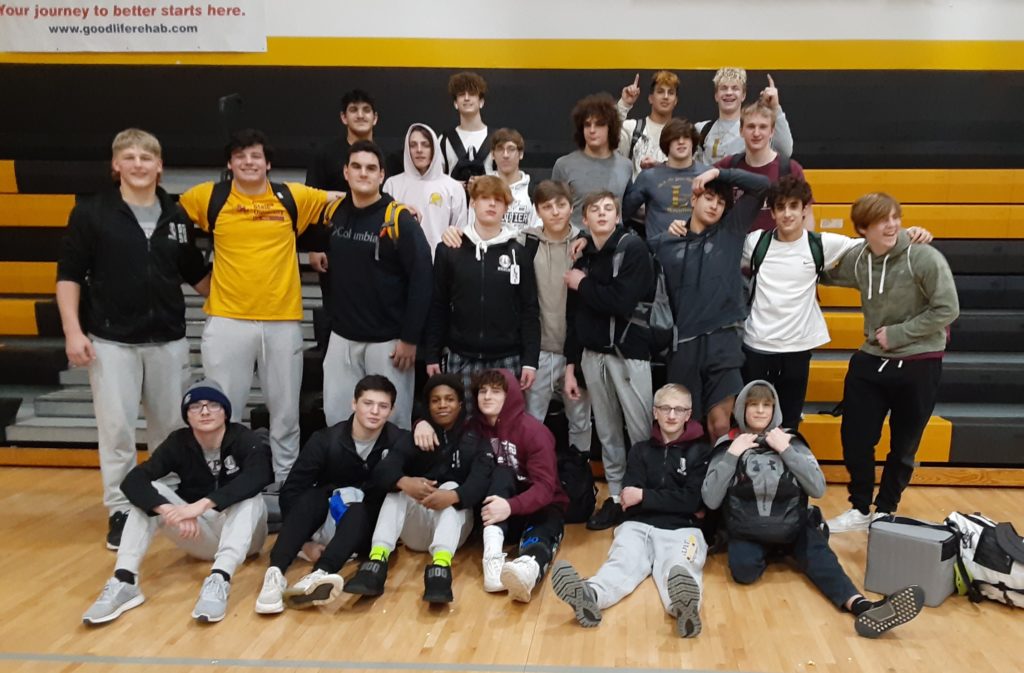 By Curt Herron
For the IWCOA
BURBANK – While there are plenty of examples of brothers who were coaches that met up with one another throughout the regular season, those matchups have rarely ever happened during the postseason, which is probably a good thing if you want to keep harmony in the family .
But on Tuesday at the IHSA Class St. Laurence Sectional, a dual meet involving Lockport and Yorkville is believed to be the first time in the history of dual team state series that squads led by two brothers squared off to see which team would qualify for the state finals and which one would see its successful season come to an end.
Fifth-ranked Lockport, coached by Josh Oster, met up with eighth-ranked Yorkville, who's coached by his brother, Jake Oster, to see who would qualify for Friday's 7 p.m. Class 3A quarterfinals at Grossinger Motor Arena in Bloomington against second-ranked Marist.
While the unbeaten Foxes put up a good fight to try to advance to state for the first time in 10 years, the Porters won five of the first six matches to establish control of the dual meet and they went on to capture a 39-24 victory which advances them to state for the sixth time in the last seven years that the tournament has been held.
Lockport (17-5) capped a run of three-straight Class 3A trophies with a state title in 2017 but lost its quarterfinals dual meet at state in both 2019 and 2020. Meanwhile, Yorkville suffered its first defeat in 19 dual meets this season as it was attempting to get back to state for the first time since 2012, when it placed second in Class 2A.
After Shane McEntee won 11-9 over Cam Peach to put the Porters up 3-0 in the opener at 138, the Foxes grabbed their only lead at 6-3 when Cole Farren got a fall in 5:05 at 145. Lockport then collected wins in the next four matches as Logan Swaw won 5-1 over Luke Zook at 152, Paul Kadlec beat Nick Sinopoi 9-5 at 160, Paul Rasp claimed a 13-6 win over Brody Williams at 170 and Brayden Thompson, the unbeaten state champion at 170, recorded a fall in 2:23 at 182 to give the Porters an 18-6 lead.
"This is going to be a great team for the next few years because we have a really good young core, and I think that it's just going to keep coming. This was really cool," Farren said of the Foxes' successful season. "We've had more people show up for wrestling events and that's just helped to fuel the fire for our team. We battled as hard as we could. I'm a senior, so I'm graduating, but next year, it might be a different story. These guys are very good and they're going to work their butts off and they're going to come back.
Hunter Janeczko got a fall at 195 to pull Yorkville to within 18-12 but 220 champion Andrew Blackburn-Forst won by forfeit and after Ben Alvarez defeated Cody Silzer 6-3 at 285 to pull to Foxes to within 24-15, Liam Zimmerman got a fall in 5:04 at 106, Nore Turner won 1-0 over Jack Ferguson at 113 and David Vukobratovich got a fall in 3:42 at 120 to end the drama. The Foxes closed things out with a fall by Dom Coronado in 4:20 at 126 and Ryder Janeczko won 6-4 in overtime over Logan Kaminski to end the dual meet.
"I just feel like we put everything out there in team sectionals," Turner said. "We didn't give many bonus points up. We came here with a mission, to go to state, so we just came here and did what we had to do. We produce a lot of great wrestlers and I think we should keep that going. No one man makes a team, so we just have to come together as a welll-oiled machine, get in and get out, and go to state and hopefully win it and walk out as champions."
Josh Oster has a 219-47 record coaching the Porters since 2012, when he led his very first team to state. The 2002 Lockport graduate competed for and served as an assistant coach for eight years under IWCOA hall of famer Joe Williams, who built a great foundation for the program and won 294 duals meets in his 21 years as Lockport's head coach.
The Porters' coaching staff has truly been a family affair for the Osters, who at one time or another have had all of his brothers sit in the corner. Jameson, who won one of each of the four medals during his career from 2008-11 with a title in 2009, has been one of Josh's assistants for several seasons.
"This is about advancing and after the state tournament, everyone's a little beat up and it's a quick turnaround from Saturday to today," Josh Oster said. "We obviously wrestled some kids at different weights, and that was the plan all along, we just needed everyone to execute and those guys who wrestled out of weight did what they were supposed to do, so it worked out. It's always a little bit of a risk, but you're balancing that we have to be healthy and it's Friday now, instead of Saturday, so there's one less day.
"I was told on Saturday that this was the first time in IHSA history that siblings were wrestling to make the team finals, so we had a little bit of history, which is nice. But it's not the first time that we've coached against each other, but this was the biggest stage, obviously. I coached Jake in his state finals match and coached Jamie in the state finals match and coached with Jamie in a team state final. We've kind of done it all together. They've got a good team and they've got a young team so I know that he's pretty excited."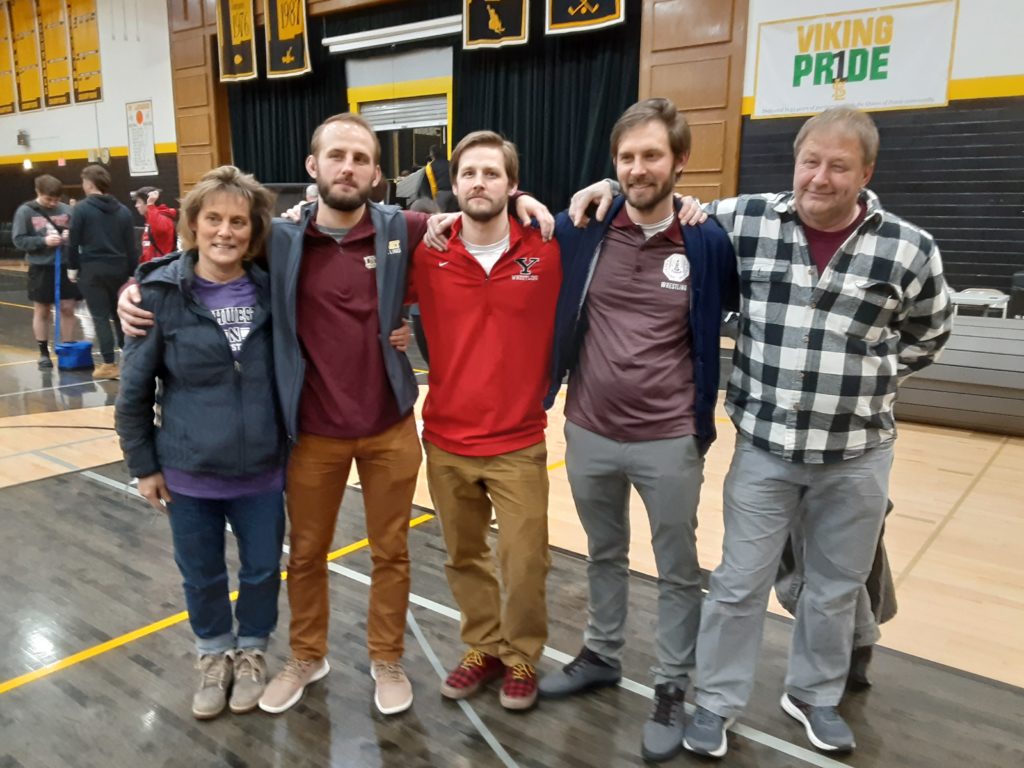 While Josh had a successful career for the Porters, Jake was the first in the family to win a state championship and to place at state, which he did in 2004 while his older brother was assisting Williams. Shayne was a three time medalist, winning a title in 2015, giving the family three titles and eight medals.
Jake Oster's sixth season as head coach at Yorkville produced one the best dual team winning percentages in the program's rich history. The Foxes won titles at Sycamore and the Southwest Prairie Conference to go along with their first regional title since 2013. With only one senior in their regional lineup to go along with a total of eight freshmen and sophomores, the future certainly looks bright for Yorkville.
"They showed a lot of heart today," Jake Oster said of his Foxes. "We knew that Lockport was good and they're tough, but we went out and they scrapped hard. There were a couple of matches where we could swing it the other way, we were in these matches and felt like we could really change the dual. But I'm proud of the way they all fought and wrestled hard and they did what they needed to do, but it just didn't happen for us today.
"We have a lot of young guys and in our regional lineup, we had one senior in it. So it will be good to have almost every single guy back. These kids expect to win and they're competitors and have been wrestling with each other since they've been five years old. They want to get better and want to win with each other and having that tight-knit group is really helpful.
"My brothers and I grew up together and we're competitive and we want to beat each other whenever we're going at it, it doesn't matter if it's dominoes or wrestling matches, we want to win. Having learned from my brothers and seeing their success, I can take things from that and watching them have success and then implementing it with our team. I think we're close and I'm looking forward to next year."
FROM THE IWCOA: If you are enjoying these articles, please consider a small donation to the IWCOA so that we can continue funding feature stories for our website and social media. The IWCOA is non-profit, 501(c)(3) organization. Click this link to make a donation. Thank you!