Little Giants come up big at Class 1A El Paso-Gridley Super Regional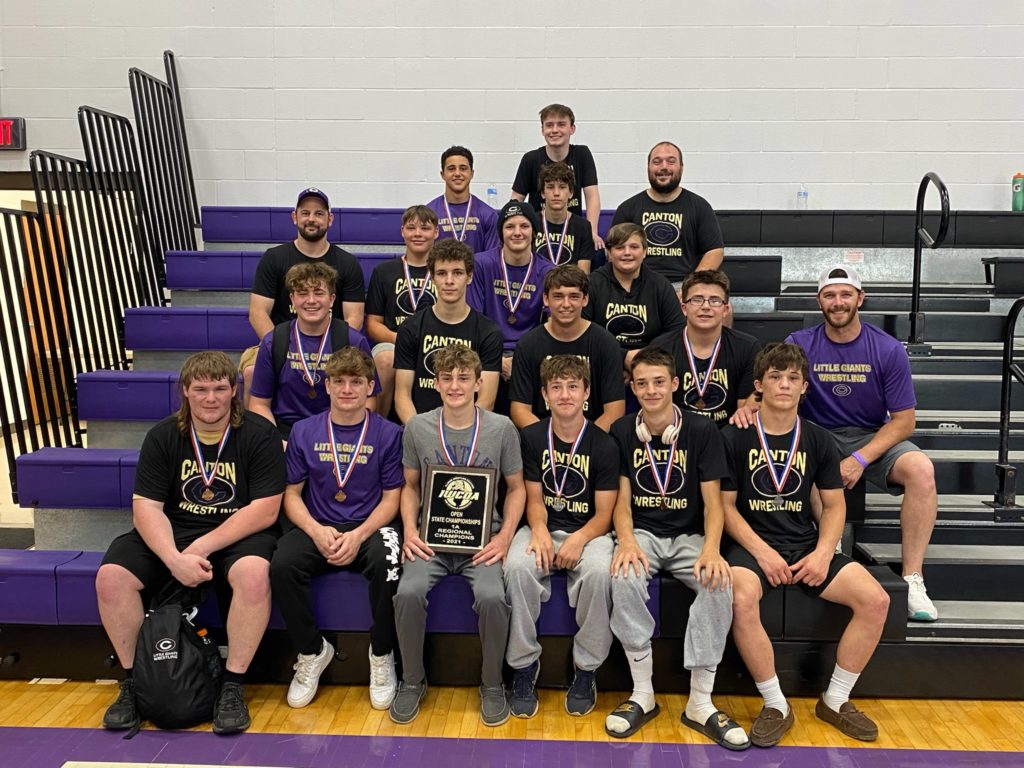 By Curt Herron  
Sunday's Class 1A El Paso-Gridley Super Regional definitely featured a little bit of something for all 19 teams who participated in the competition in El Paso.  
In the Illinois Wrestling Coaches and Officials Association's Open State Series super regional that featured central Illinois squads stretching from one side of the state to the other, each team advanced at least one individual to Saturday's Heyworth Sectional and 15 of the 19 squads qualified at least half of their contingents for the sectional.  
The makeup of the super regional was very similar to the 2020 regionals that were held at Dwight and Farmington which fed into the Olympia Sectional.  
Canton qualified 12 of its 14 competitors with nine of those finishing in the topthree to defeat Illini Bluffs 217-154 for the team title championship.    
It was only the third regional title that the Little Giants have captured and was the program's first championship since 2009. They just missed out on winning a regional title in 2020 when Mercer County edged them 134.5-133 to claim top honors in the Farmington Regional title.  
Farmington (third, 117), Mercer County (fourth, 89.5) and Ridgeview advanced all of their competitors while Clifton Central (fifth, 84) and Illini Bluffs had the second-highest total of qualifiers with eight apiece.  
Four teams had two title winners, Farmington, Illini Bluffs, Prairie Central and Ridgeview, while Canton, Dwight, El Paso-Gridley, Gibson City, Melvin-Sibley, Knoxville and Normal's University High each had one champion.
"It's been top-to-bottom from the kids club all the way up to the high school, there's been a lot of dedication going into making the program better by getting the numbers up and getting the right kids into the room," said Little Giants coach Zach Crawford, who's a Canton graduate and two of his three assistant coaches are also graduates of the school.    
"We have the family and the support staff around us and it's a big deal to be a Little Giant and a lot of people love it.  
"We had 12 kids advance to the sectional tournament, and that's a big deal. I've always been a huge supporter of what the IWCOA does for the wrestling community in the state as a whole, they just do great things. Just giving the kids the opportunity to get on the mat and do the thing that we all love, it means a lot to the boys."  
The Little Giants got their lone title at 113 when sophomore Trevor Hedges (18-1) won 8-1 over Mercer County senior Broctyn King (9-2). It looked like Trevor's brother Andrew, a junior, might win in the 138 finals, but he fell in overtime. Trevor Hedges was a sectional qualifier a year while King placed sixth at state.  
"We've had a little adversity, but we'll get through it in the end as a team," Trevor Hedges said. "We're coming together and have it going on now. We just work hard in practice and bust our butts."    
One of two freshmen who won titles was Illini Bluffs' Ian O'Connor (22-3), who beat Canton's other finalist, sophomore John Davis (17-4), by an 11-6 score in the 120 finals. It's been a busy spring for the Tigers freshman, who also was a member of the school's baseball team that advanced to the sectional finals.  
Ian's grandfather, Pat O'Connor, started the program at the school and coached there for 37 years, claiming over 500 wins to earn recognition as an IWCOA hall of famer and receiving a lifetime service award from the National Wrestling Hall of Fame, Illinois chapter. Ian's father, Shawn, a 1987 state medalist at the school, is the team's head coach.    
"I'm from a big wrestling family, so wrestling is the main topic in my house most of the time, so it's cool to be here and have a season when some sports didn't get one," O'Connor said. "I played soccer, baseball, wrestling and golf, so I did four sports this year. Baseball and wrestling were at the same time with my last game on Friday. Wrestling is probably my favorite sport. Today was a good day for me and I took first place, but next week where it counts, though, getting down to the state tournament is my big goal."  
Illini Bluffs received its other title from O'Connor's training partner, sophomore Paul Ishikawa (24-1), who won 15-3 over Herscher junior Austin Grise (7-1) in the 126 finals. Ishikawa fell one win shy of a medal a year ago while Grise is a two-time state qualifier.  
The second-place team in the super regional had a successful day, sending four to the finals and advancing eight of their 10 competitors.  
"I didn't think that we were going to have a season and it started off rough but I guess we pulled out of it," Ishikawa said. "I wrestled a lot in Wisconsin earlier this summer. I played soccer this year because I didn't know if we would have wrestling. I can definitely tell that a lot of people have gotten better as time went on as they put the work in."  
Farmington advanced all seven of its competitors. The Farmers had a pair of champions, freshman Keygan Jennings (21-2) at 106 and sophomore Rese Shymansky (13-2) at 160.   Jennings captured the 106 title when he prevailed with a 4-3 victory over another freshman, Mercer County's Ethan Munson (13-1).    
"It's nice being back after not being able to wrestle and It's cool that the IWCOA hosts this," Jennings said. "It's about trying to build up in order to get better and it's always about improving. So coming out here and winning this was awesome."  
Shymansky, who qualified for sectionals a year ago, recorded a fall in 1:23 over Knoxville sophomore Jaxin Johnson (19-4) to claim top honors at 160.  
"It'a privilege to still be able to compete because a lot of people weren't able to have their season or be able to compete at state," Shymansky said. "It's awesome that our whole team is going to sectionals so that will be a better environment for us since you'll have your whole team cheering you on."  
Although Ridgeview only brought four individuals to the super regional, two of them won titles, senior Billy Tay at 145 and junior Evan Antonio at 220, and both improved to 16-0 on the season.  
Tay, a two-time state qualifier who placed third at state in 2019 and fell a win shy of another medal last year, needed just 28 seconds to record a fall over Illini Bluffs senior Connor Speck (22-3), a sectional qualifier last year, to win at 145.    
His unbeaten record is more impressive considering that he was in two sports this spring, also playing baseball. He's hoping that his third state visit is even better than his first two, which were really good.  
"It was nice that they put something together to give people an opportunity to go to state this year," Tay said. "It was different having a tournament because I was just used to being in meets. I did both wrestling and baseball, and baseball just ended."  
Antonio, who was a state qualifier a year ago, obviously feels good about his perfect mark as a two-sport spring athlete after winning the 220 pound title with a fall in 1:26 over Monmouth-Roseville senior Jesus Rojas (2-1), who won a regional title last season. But Antonio wasn't always so upbeat, especially when he learned that there would be no IHSA tournament.    
"It was pretty disappointing since I was a state qualifier last year," Antonio said. "I also played baseball and that was hard at first but then it was easier after a while. It's quite exciting to come back and wrestle in a regional."

The other team that had two champions was Prairie Central, who got pins from sophomore twin brothers Owen and Connor Steidinger at 182 and 195.   Connor (12-3) didn't get to wrestle on the varsity a year ago since he was at 170, which was the same weight as unbeaten state champion Logan Deacetis. Connor took top honors at 195 after recording a fall in 1:02 over Knoxville sophomore Dilan Vanbeveran (17-5).  
"This is important for me because last year I didn't get much mat time and during this season I didn't get much either," Connor Steidinger said.     Owen (10-4), who did get to compete on the varsity as a freshman, captured the title at 182 with a fall in 3:09 over Mercer County freshman Ian Willits (8-6).  
"We weren't supposed to have a tournament so I'm just thankful that God allowed us to have regionals, even though it wasn't IHSA," Owen Steidinger said. "It was very exciting that my brother and I won. He's always been a little better than me so just to be able to be first with him was great."  
Another two-time state qualifier who fell one win shy of a state medal a year ago is Dwight junior Dillon Sarff, who improved to 18-2 after recording a fall in 4:38 over Illinois Valley Central senior Mitch Connor (22-2), a returning sectional qualifier, in the 132 finals. Like many others, he's thrilled to get the chance to try to make a third-straight state trip.  
"This was very interesting because I like to be able to wrestle a variety of kids, and I didn't wrestle one of these kids," Sarff said. "It was fun, for sure, to be able to wrestle some people that we've never wrestled before. I was actually pretty concerned and I didn't think that we were going to have anything like this, so I'm pretty glad that we did and I hope to make a pretty good run at state."  
The 152 title match featured a clash between a pair of returning state qualifiers. Gibson City-Melvin-Sibley senior Kaden Gream (16-1) captured a 9-5 victory over Peoria Notre Dame junior Joey Mushinsky (30-1).   "I'm a senior and this is my last year, so I'm really excited that we had a state series and I'll see what I can do," Gream said. "Some of us had worked our whole lives for this so to get that opportunity away would have been a bumber."  
The host Titans (sixth, 80) got in on the championships in dramatic fashion when sophomore Dax Gentes (18-2) rallied to beat Canton junior Andrew Hedges (16-3) with a 7-5 sudden victory at 138.    
Gentes, who was a regional champ last year, rallied late to force overtime and then scored to prevent Hedges, who was a sectional qualifier last year, of joining his brother Trevor as a regional champ.  
"We had kids from everywhere and there were big schools and little schools here," Gentes said. "The weird thing is that we went a whole season and this is our first tournament, and it's regionals, sectionals and state. This is all just training to get better. I'd love to make it to state and being in the grand march has always been one of my dreams."  
Knoxville junior Hunter Fox (22-0) takes a perfect record into his third sectional appearance after winning the 170 title over Ridgeview sophomore Connor Feit (9-4) with a fall in 1:40. Fox is hoping that the third time is the charm and he gets to state this year.  
"I'm glad that we're having this," Fox said. "I thought that we weren't going to have a state tournament, so I was kind of bummed out about that. But then we found out that we were having this and it's the first tournament of the year, so there's a lot of jitters in it. But if you're a junior like me, you can get experience on a big stage if you can make it down to state."  
And in the 285 championship, a pair of returning sectional qualifiers went at it and University High junior Hunter Otto (14-4) won the title with a fall in 33 seconds over Illini Bluffs senior Ethan Patterson (10-4).  
"It was really nice to have this," Otto said. "I was so worried that I would go through the season and just have a couple of meets and that would be it. I usually had about 35 matches a season and I only had 11 true matches, which is bizarre. Hopefully I can go to state and if I wrestle well enough, I can place."