Marian shines at Antioch's 2A IWCOA Regional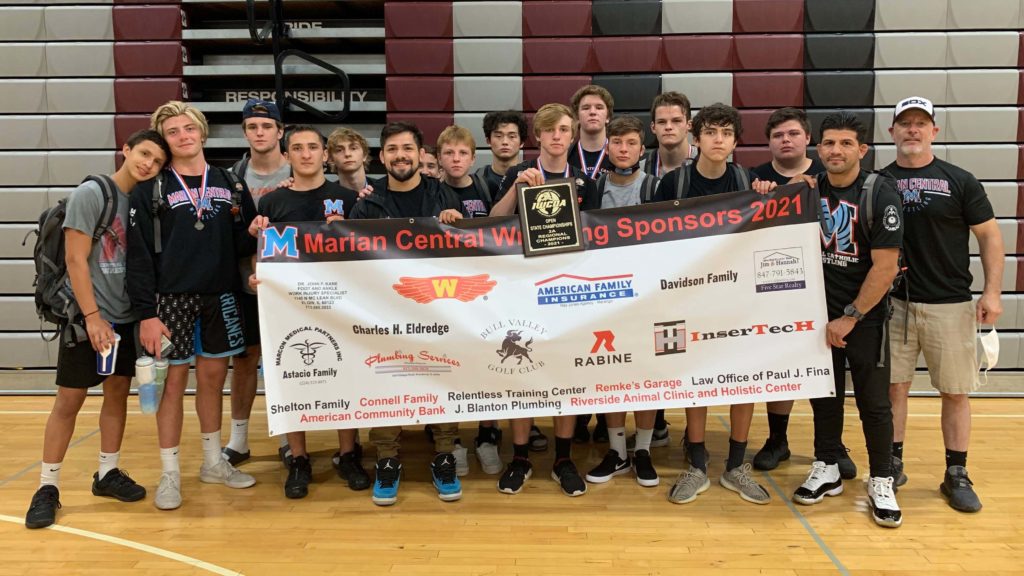 By Mike Garofola

In a season like no other, one which has been significantly affected by the Coronavirus pandemic, the sport of wrestling reappeared. And Marian Central Catholic continued to show remarkable consistency during these turbulent times.  
The resilience and togetherness of the Hurricanes was on center stage Sunday afternoon at Antioch, when the East Suburban Catholic Conference power swept away the competition at the Antioch 2A regional, during the kickoff weekend for the Illinois Wrestling Coaches and Officials Association's 2021 state tournament.  
"It's great to be wrestling on a weekend and to have the guys wrestle multiple matches, and to be back in the atmosphere that we all enjoy, and have missed," said Hurricanes head coach David Silva, who celebrated eight individual champions, including three-time state champ Dylan Connell and teammate Scotty Burke.  
"It would have been great to have a regular IHSA sponsored state tournament, but this is the next best thing, and I know all of us appreciate the IWCOA putting all of this together – especially for the seniors, who might not have had anything if not for this," said Connell, who won easily at 182 pounds to run his 2021 record to 17-0, after a perfect 44-0 season in 2020.
Connell, who will wrestle this fall at the University of Illinois, will leave for Champaign in the middle of July, while Burke (15-2 at152) on his way to wrestle at Loras College. Burke will stay home and train a little while longer before heading to Dubuque where he will have a chance to crack the starting lineup.  
"I cannot wait to wrestle at Loras – the coaching staff, wrestling program, and campus — it's a great fit for me," said Burke, a three-time state qualifier, and fourth-place medal winner. Burke will room at Loras with Jack Sullivan of Wauconda, who finished third in a loaded 126-pound bracket. Two-time state medal winner Elon Rodriguez of Marian Central Catholic won the bracket at 126, topping Antioch sophomore Caleb Nobiling (14-3) on the title mat.  
Nobiling enjoyed a sensational rookie season for Antioch, which lifted the team trophy at regional with ease last season, then sent a program record nine wrestlers to the 2A state tournament.   "It was a really good freshmen year for me (obviously) I would have liked to have done better at state, but fourth overall was pretty good, and I know what I have to do to be better," said Nobiling, who won 41 in 2019, and will soon turn his attention to the start of football camp, where he is deployed as a running back.   Nobiling conceded a fall late in the third period to Rodriguez (18-0), who finished second at the 2020 state tournament.  
"We have a lot of new faces on our team, but (David) Silva and our coaching staff have done a great job of sorting out our lineup, and getting us ready for this tournament – which I really appreciate the IWCOA putting together for us," said Rodriguez, who will wrestle at Triton College this fall.  
Two of the new faces to the Hurricanes this season are former Aurora Christian star Chris Moore (138), who won a state title in 2020 at 106 pounds, and Harvard four-year veteran Nik Jimenez, the 126-pound 1A runner-up.  
Crystal Lake Central collected a trio of first place trophies at Antioch: Dillon Carlson (145,17-1), Caden Ernd (170, 6-0) and Julian Ryerson (195) who was a state qualifier a year ago with a 30-19 record.   Ernd, third overall at state with an impressive 39-5 record last year, will be joining Connell at Illinois in the fall, after taking a long look at Davidson, Northwestern, and Campbell in North Carolina.  
"I've been training at Poeta since eighth-grade, and (Mike) who was the assistant for awhile, and now the head coach, had a tremendous influence on me as to where I would go to college, so it's a great fit to be there with him, and several other wrestlers that I know," said Ernd.  
"I was really excited to hear there would be a state tournament schedule for us after we lost last season," said Carlson, whose postseason a year ago was cut short due to an elbow injury which required surgery.  
"This coming high school season is really big for me – beginning with the IWCOA tournament, then continued workouts at Poeta to help get me ready for my senior year," added Carlson.   The affable Grayslake Central senior, Jake Lester, who lost in the blood round at sectionals in 2020, defeated Joe Swanson of Cary-Grove with a 5-2 decision to win the 220 pound division.  
"THIS is my state tournament," Lester said with a smile.  
"We all lost a season because of Covid, and there was nothing any of us could do about it, but I've been lifting, working out, putting extra time in with Joey Jens (Lesters' former teammate, and 2020 state runner-up) as well as Apollo Gothard (state champion from Lemont) – in order to make a serious run at a state title," said Lester, who will join the work force at his father's family business when the season is over.  
"Jake has been working hard – he's doing everything he needs to get himself ready for these next three or four weeks," said Grayslake Central head coach, Matt Joseph.  
"We've had 14-15 kids in our room on a consistent basis, three of which are freshmen, who if they continue to work hard will give us a very good core of young guys to build from, including Joey Jens' younger brother (Matthew) at 170.   Coaches Mike Buhr of Wauconda, Justen Lehr of Crystal Lake Central and Will Petersen of Cary-Grove all share the same stories when it came to roster numbers, and turnouts, and varied degrees of success during the fractured half-season that teams just completed.  
"There were a lot of factors to how many kids were in our room – thanks in part to some of the guys playing another sport, like (Colin) Husko, who's a great shortstop," said Buhr. Buhr had a steady 17-18 wrestlers with a solid bunch from 126-152, which he hopes to build from.   Mike Ness of Antioch won the heavyweight division in Antioch after his 7-4 decision over JP Sullivan from Lakes, who is also a nationally-ranked power lifter.   Other individual champions on this day were: Josh Glover (106), Charlie Fitzgerald (113) and Nick Davidson (120) from Marian Central Catholic, in addition to Lake Forest senior Bennett Duggan (160, 23-1) who was also a 2020 regional champ.  
"I would call this day a huge success," proclaimed Antioch's long-time coach, Wilbur Borrero, who also served a meet director at his own venue.  
"Since this regional was at a school facility, and not an independent location, we had to follow certain guidelines such as temperature checks, and mask wearing – but everyone cooperated, and followed the rules, and it turned out to be a fantastic day for everyone. I was thrilled we could host this regional," added Borrero.  
The top six from each weight class advanced to the sectional meet at Pure Elite Fitness venue in Arlington Heights on June 19.   The final numbers on the leader board went like this:   Marian Central Catholic 293 overall points; Antioch 151.5; Crystal Lake Central 146.5; and Lake Forest with 101, rounding out the top four.  
"Congrats to Marian, they have a very good team, with several of their guys four-year wrestlers, who have made the commitment to the program and David (Silva)," Borrero said. "And for us, I was happy with our effort. We're obviously missing a few of our guys but we got ourselves some good results, and now we hope to get some of them through at sectionals."