Lockport Township captures title at Ottawa Township Girls Invite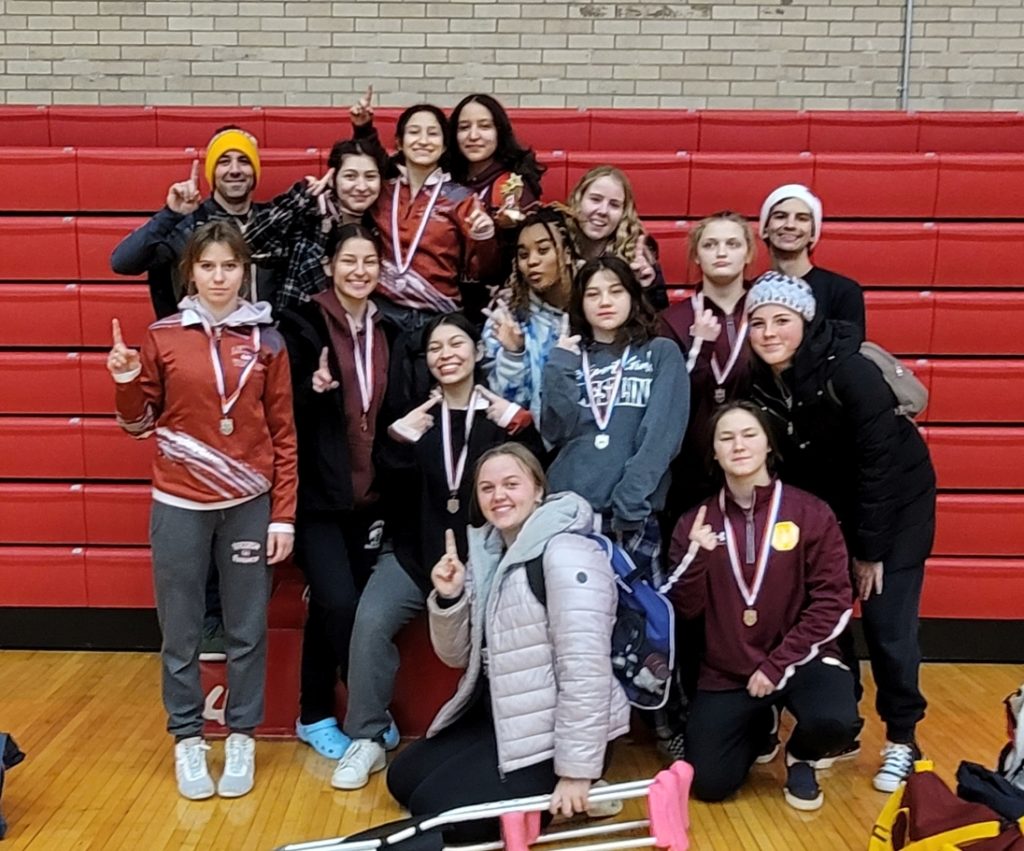 By Curt Herron
OTTAWA – It's already been a memorable season for Lockport Township's girls wrestling team and the 2023 part of the schedule still awaits coach Nate Roth's Porters.
After opening the 2022 portion of its slate with a title at the inaugural Niles West Invite, which featured 22 teams, Lockport Township ended December with another championship at a large event, claiming top honors at the Ottawa Township Girls Invite, a 24-team event in Ottawa.
The Porters have been very busy thus far, also competing in the initial girls tournament at the Dan Gable Donnybrook in Coralville, Iowa and then taking part in Palatine's Sally Berman Classic on Thursday. Freshman Claudia Henney leads the way, capturing championships in each of those four tournaments.
On Tuesday at historic Kingman Gym, Lockport Township finished with 132.5 points while Richwoods was second with 104 points and Conant and Glenbard North tied for third with 88 points while Geneseo was also in the mix for a top-three showing and took fifth with 84 points.
Others that filled out the top half of the field were Phoenix Military Academy (64), Morris (50), Kaneland (46), Curie (36), Lane Tech (36), Ottawa Township (34) and Harvard (33). There were 11 bracketed weight classes and four others determined by round-robin competition.
Winning titles for Lockport Township in the bracketed weight classes were Heeney (125) and Lizzie Rock (120/125) while Monica Skibicki (100), Averi Colella (105) and Liz Ramirez (115) were second, Mayte Manteca (120/125) was third, Maya Hernandez (115) took fifth and Lucy Madrigal (130) placed sixth. In round robins, Lydia Chirobak (170) was second, Sophie Kelner (190) was third and Deylin Manteca Claros (145) and Kelli Watkins (170) were fourth.
"One of the coolest things about coaching the girls team is that we see them at the beginning of the season with most of them not knowing anything but then with the way they've progressed, they've turned into wrestlers," Roth said. "It's really cool to see the evolution of 'I know nothing' to 'I can do all of these moves, it's great.' Even in basketball when you're starting from square one, you still know how to play basketball. But with wrestling, these girls have never experienced anything like it before. Some of them are absolutely starting from square one."
Roth, who competed for and graduated from Lockport, knows all too well about the school's successful boys program, which he's coached in since 2012 under head coaches Josh and Jameson Oster. The Porters have qualified for the IHSA dual team finals in six of the last seven seasons and captured four trophies, including a state championship in 2017, and that provides plenty of motivation for the girls that are in his program.
"We try to live up to the boys' name," Roth said. "The boys wrestling team has been dominating for the last 10 years or so. Sometimes it's a little bit of a challenge since we have girls like Claudia, who've been wrestling for six years but then we have a lot of other girls that have never wrestled before. It's still great because Claudia helps all of those girls. A lot of the girls who just wrestled last year are a super big help. You've got girls who were super successful last year and now they're helping the new girls to be super successful for this year. Having those girls being the leaders and showing the new girls that this is what wrestling is, this is how you do it and how you succeed and how you prosper, it's really great having all of these experienced girls and all of these new girls. We have a lot of depth, which is great. We want to get as many of those girls matches as we can."
The top finisher for coach Rob Penney's runner-up Lady Knights was Jaida Johnson (170), who won a round-robin weight class while Kaila Williams (145) fell one point shy of winning a title at 145, which was also round-robin. Leading Richwoods in the bracketed weight classes were runners-up Kyley Bair (110) and Indhira Moore (125), while Nakiza Williams (140) took third and Heaven Sewell (105), Isabella Motteler (120) and Manar Salem (125) all placed fifth.
Other champions in bracketed divisions were Glenbard North's Nadia Shymkiv (105) and Gabriella Gomez (115), LaSalle-Peru's Kiely Domyancich (100), Morris' Ella McDonnell (110), Lane Tech's Nyah Lovis (120), Seneca's Sammie Greisen (130), Conant's Maddie Anderson (135), Lemont's Suzie Knutte (140) and Phoenix Military Academy's AJ Grant (155). Also placing first in round-robin weight classes were Geneseo's AJ Juarez (145), Oak Park and River Forest's Trinity White (190) and Curie's Aaliyah Grandberry (235).
Other second-place finishers in bracketed weight classes were Kaneland's Brooklyn Scheaffer (120), Glenbard North's Samira Benevides (120/125), Geneseo's Phoebe Shoemaker (130), Streator's Jaylen Richardson (135), Harvard's Ithandehui Rosas (140) and Phoenix Military Academy's America Cabrera (155). And others who took second place in the round robins were ROWVA's Tori Kness (190) and Oak Park and River Forest's Sarah Ephstein (235).
Close championship matches involved Lovis 4-2 over Sheaffer (120), and McDonnell 9-5 over Bair (110) while Juarez prevailed 14-13 over Williams in the conclusion of the 145 round robins.
Also claiming third-place finishes were Geneseo's Bella Curcuru (125) and Mady Mooney (155), Curie's Evelin Martinez (100), Phoenix Military Academy's Diana Lopez (105), Glenbard North's Cristal Jacinto (110), Maine East's Guadalupe Montesinos (115), Erie/Prophetstown's
Michelle Naftzger (120), Conant's Ewa Krupa (130) and Kaneland's Dyani Torres (135). Others who were third in round robins were Geneseo's Taylor Krueger (145), Conant's Lana Ton (170) and Ottawa's Juliana Thrush (235).
And additional fourth-place finishers were Morris' Jocelyn LaZier (115) and Jordan Wilson (120/125), Geneseo's Gwen Burbridge (120) and Sierra Krueger (155), Conant's Nallely Zaragoza (100), Harvard's Alexa Herrera (105), Naperville Central's Annika Hull (110), Chicago Military Academy Bronzeville's Tyhesia Goss (125), Oak Park and River Forest's Pearl Lacy (130), Curie's Ayanna Mathis (135) and ROWVA's Ava Johnson (140). Also, Conant received fourths in round robins from Analyse Aberman (190) and Rye Reyes (235).
The tournament was organized and overseen by veteran Pirates coach Peter Marx, a 2022 IWCOA hall of fame inductee who has done much for promoting the sport throughout the Illinois Valley region. He was also a two-time Class AA champion and won 85-straight matches at Conant, where he competed for IWCOA hall of fame coach Jim Cartwright. He also earned All-American honors in 1993 and 1994.
Summary of Ottawa Township Girls Invite title matches and top round-robin matches:
100 – Kiely Domyancich (LaSalle-Peru) F Monica Skibicki (Lockport Township)
105 – Nadia Shymkiv (Glenbard North) F Averi Colella (Lockport Township)
110 – Ella McDonnell (Morris) D 9-5 Kyley Bair (Richwoods)
115 – Gabriela Gomez (Glenbard North) F Liz Ramirez (Lockport Township)
120 – Nyah Lovis (Lane Tech) D 4-2 Brooklyn Sheaffer (Kaneland)
120/125 – Lizzy Rock (Lockport Township) F Samira Benevides (Glenbard North)
125 – Claudia Heeney (Lockport Township) D 8-1 Indhira Moore (Richwoods)
130 – Sammy Greisen (Seneca) F Phoebe Shoemaker (Geneseo)
135 – Mannie Anderson (Conant) F Jaylen Richardson (Streator Township)
140 – Suzie Knutte (Lemont) F Ithandehui Rosas (Harvard)
145 – AJ Juarez (Geneseo) D 14-13 Kaila Williams (Richwoods), round-robin
155 – AJ Grant (Phoenix Military Academy) F America Cabrera (Phoenix Military Academy)
170 – Jaida Johnson (Richwoods) F Lydia Chirobak (Lockport Township) round-robin
190 – Trinity White (Oak Park and River Forest), F Tori Kness (ROWVA), round-robin
235 – Aaliyah Grandberry (Curie) F Sarah Ephstein (Oak Park and River Forest), round-robin
Here's a look at the Ottawa Township Girls Invite champions and their weight classes:

100 – Kiely Domyancich, LaSalle-Peru
Kiely Domyancich decided to take up wrestling so that she could be in shape in the spring when she intends to compete in both track and field and soccer for LaSalle-Peru.
Although a newcomer to the sport, the Cavaliers freshman didn't look like it after winning the title at 100. She won by fall over Lockport Township's Monica Skibicki in the finals following a pin in the semifinals over Curie's Evelin Martinez. The Lady Cavaliers' lone individual to earn a spot on the awards stand began her day with a major decision.
"I am very proud of myself," Domyancich said. "I appreciate the work that my coaches and my family have put into this, especially with this being my first season of wrestling. I feel like I couldn't have done it without them. I'm definitely going to do this again next year because a lot of people have been very supportive and it's just a positive sport that has a lot of benefits.
"This is pretty big because you're going out and putting your body through things that a lot of people would not do. To be rewarded, while getting those benefits, is just really nice. You feel very happy once you get those certain achievements, like your first takedown, pin or tournament win."
Skibicki advanced to the title mat with a pair of falls, pinning Conant's Nallely Zaragoza in the semifinals. Martinez claimed third place with a fall over Zaragoza and in the fifth-place match, Lane Tech's Sofia Guerrero recorded a pin over Curie's Gisselle Aranbula.
105 – Nadia Shymkiv, Glenbard North
After capturing the championship at 105, Nadia Shymkiv admitted that she couldn't say much about her accomplishment, not because she didn't want to, but because she's from Ukraine and doesn't speak much English.
But actions speak louder than words and the Glenbard North freshman, who's ranked third at her weight class, added to an earlier championship at Larkin by recording a fall in the title match over Lockport Township's Averi Colella. After opening with a fall, Shymkiv captured a 14-9 decision over Phoenix Military Academy's Diana Lopez in the semifinals.
"It's really fun to see someone from Ukraine coming to Glenbard North," teammate Gabriella Gomez said of Shymkiv. "Out of all of the high schools, she picks Glenbard North and to become a Panther. It's a big thing seeing a girl who is also helping this team build. She's hard working and comes in every day for practice and always has a smile on her face and no matter what, she's always giggling. It's good seeing her in the room and seeing how this sport is growing."
Colella earned her spot on the title mat after recording three-consecutive falls, with the last of those coming in the semifinals over Harvard's Alexa Herrera. Lopez claimed third place by fall over Herrera while in the fifth-place match, Richwoods' Heaven Sewell was an 11-9 victor over Streator Township's Isabella Gwaltney.
110 – Ella McDonnell, Morris
After making history last year by placing fourth at 105 in the inaugural IHSA finals not only as her school's lone qualifier but also its only competitor in the sport, Ella McDonnell hopes that having more teammates this season at Morris helps her to move higher up the awards stand.
The junior, who competed in golf in the fall and plans to once again play soccer while also being in track and field, captured her first title of the season when she built up a big lead and held off a late challenge by Richwoods' Kyley Bair to capture a 9-5 decision in the 110 title match. That was actually a rematch of a quarterfinals match at the state finals, which McDonnell won by fall. McDonnell opened with two falls, pinning Glenbard North's Cristal Jacinto in the semifinals.
"I really like the competitiveness and she's a good competitor," McDonnell said of Bair. "I've been working a lot on my shots, I didn't really do that last year as much, my partners have really helped me with a lot of good defense and taught me to do better. Last year I was the only girl (at Morris), so this year we've tried to recruit more and have eight girls that are really working hard.
"I'm super excited. Last year was just kind of like getting introduced as a first year. But now that we had a state tournament and a lot of girls are now like, 'we don't have to wrestle guys any more.' I have a good shot at it this year, but there's a lot of good competitors out there."
Bair, a senior who also made history last season by placing sixth at 105, is ranked eighth at 105. She earned her spot in the finals after recording two pins, winning by fall over Naperville Central's Annika Hull in the semifinals.
Jacinto took third with a fall over Hull. In the fifth-place match, the host Pirates got one of their top finishes when Kailee Lane pinned Chicago Military Academy Bronzeville's Melany Corona.
115 – Gabriella Gomez, Glenbard North
A tournament that is hoping to quickly establish itself as a major event couldn't ask for a better individual to showcase than Gabriella Gomez. While there were definitely a lot of top performers at the 24-team Ottawa Township Invite, few events can boast that they not only have someone competing who not only won a state championship as a freshman but also has won national titles in the offseason and advanced to the finals in world competition in freestyle in 2022 and enters the season ranked among the very best competitors throughout the nation in the sport.
The Glenbard North sophomore, who entered the season ranked fifth nationally among all weights and top-ranked in the U.S. at 100, is ranked first at 115 in Illinois' rankings. She was the IHSA's first 105-pound champion and in July, she won a silver medal at 46 kg in freestyle in the U17 World Championships in Rome. As for this season, she added to a tournament title at Larkin by recording a fall in the 115 finals over Lockport Township's Liz Ramirez after opening with a 26-14 major decision over Lockport Township's Maya Hernandez in the only two matches that she competed in during the event, receiving a victory by forfeit in her semifinals match.
"This is nice to see," Gomez said . "Last year, there weren't a lot of high schools that had girls wrestling so I'm happy to see a lot of these girls try it. It's something that's definitely different and challenging, it's not any easy sport, so seeing girls that never had even done a sport in their life and they pick wrestling is an awesome experience. I started wrestling when I was younger, so it's good to see other girls who may watch me wrestle and are coming out here and trying it.
"This sport doesn't just help you with learning certain things about wrestling, it's also helped me with life. It's getting you ready for the challenges, like getting ready for that team experience and getting ready for the independent experience. And showing what responsibility is like in the real world and this is what this sport does.
"High school season is something that I look forward to because I get to be with my team, Glenbard North, and being able to represent them. Being their first girls state champ was an honor. So I'm following in my brother's (Austin) footsteps, trying to be a four-time state champ. It's definitely a different feel because it's folkstyle, so hopefully when I'm a junior or senior these tournaments are freestyle. If these girls really like the sport and they want to go to college, we're not doing folkstyle, we're doing freestyle. I think if the coaches start to push for freestyle, it will happen, and I think it should."
Ramirez advanced to the finals with three falls, pinning Morris' Jocelyn LaZier in the semifinals. In the third-place match, Maine East's Guadalupe Montesinos won by fall over LaZier. And Hernandez recorded three falls in the consolation bracket, with the last one coming against Deer Creek-Mackinaw's Samantha Lauer, to finish in fifth place.
120 – Nyah Lovis, Lane Tech
If girls wrestling is going to be as big of a success as early signs suggest, then one city in the state that must embrace the IHSA's newest sport is Chicago. Three athletes representing Chicago Public Schools won titles and as a competitor for one of the most historic schools, Lane Tech, Nyah Lovis is excited about how the sport is becoming increasingly popular.
The sophomore, who's ranked seventh at her weight and also was a state qualifier last season, prevailed in one of the closest title matches, claiming a 4-2 decision over Kaneland's Brooklyn Sheaffer thanks to a late takedown. After kicking off the day with another decision, Lovis won her next two matches by fall, recording a pin in the semifinals over Geneseo's Gwen Burbridge.
"I think that it's really important getting more girls, especially in the city, to do wrestling," Lovis said. "In it's a lot of suburbs but you don't see it at many city schools. Our team was really small but we've gotten more girls. And there's enough girls for City this year, which is really cool. Before it was like there were no girls so now seeing how it's grown, we had state last year and we'll have City this year.
"There's definitely a lot of good people that are coming in. I like going to matches against really good girls, because even if I get beat, it gives me something to look at and to learn from. For this season, I've worked on my stamina, and especially seeing my stamina improve at this tournament. I hope that I can do some big things in this sport."
Sheaffer had two other close matches as well as a fall to reach the title mat. After opening with a 5-3 decision over Richwoods' Isabella Motteler, who wrestled back to take fifth, Sheaffer got a pin before winning 5-2 over Erie/Prophetstown's Michelle Naftzger in the semifinals.
Naftzger bounced back from her tough semifinals loss to claim third place with a fall over Burbridge and in the fifth-place match, Motteler, a sophomore who took sixth place last season at 115, won by fall over Phoenix Military Academy's Mia Thomas.
120/125 – Lizzy Rock, Lockport Township
After playing soccer for much of her life, Lizzy Rock decided to give wrestling a try this season. And based on how things have been unfolding for the Porters, the sophomore is really excited about her new sport, especially after Lockport Township added to a title win at Niles West, where she won a 125 B title, with a team championship at Ottawa Township and Rock typified the Porters' overall depth by winning the 120/125 title.
With Claudia Heeney leading the way with four tournament titles, coach Nate Roth's title squad has the luxury of utilizing a lot of competitors, which allowed it to claim first and third at the dual weight class with Mayte Manteca also high on the awards stand. Rock took first with a fall over Glenbard North's Samira Benevides after recording a pin in the semifinals over Morris' Jordan Wilson which followed a decision in her opening match.
"Our team is building up, practice by practice, and we're just drilling until we get the moves right," Rock said. "Claudia is a good leader. It's really fun and I'm so glad that I joined the program. I like our team building. we're a really big team and we do a lot of activities together.
"We just make sure that everybody is having fun and is engaged and we don't let anybody fall behind. If we see someone needing help, we step up and help them through it. I've always wanted to do another sport. I decided to step up and try another sport to help get cardio in and get muscle. I'm so glad that I joined."
Manteca recorded a fall over Wilson to claim third place while Richwoods' Manar Salem bounced back from a quarterfinals loss to Rock to capture fifth place with a win by fall over Geneso's Rachel Roodhouse, who earned her spot in that match with a 7-6 decision over Deer Creek-Mackinaw's Cadence Martinez.
125 – Claudia Heeney, Lockport Township
A lot of freshmen would be thrilled to have one tournament title at this stage of the season but Claudia Heeney already has four championships to her credit, including two this week.
The Lockport Township standout won a title at the first Dan Gable Donnybrook girls tournament shortly after taking top honors at Niles West to kick off the season. Two days before claiming first place at Palatine's Berman Classic, Heeney, who's ranked fourth at 125, captured an 8-1 decision over Richwoods' Indhira Moore in the 125 title match at Ottawa Township after pinning Geneseo's Bella Curcuru in the semifinals and claiming a win by technical fall in her opener.
"It was really exciting and I was ecstatic that I did that," Heeney said of the Donnybrook. "But it didn't happen without my teammates. It takes a lot for the team to be there all of the time, and practicing all of the time, and that helps me immensely. I think that we have a lot of talent in the room and we can do great things in the future. Obviously it's hard for girls who are coming in, because they don't know what to expect, and I know that a lot of girls are afraid, and I completely understand that.
"It's amazing to be there and wrestle at Lockport, since the boys have a history. So for us girls to come in and make new history is amazing, there's so many opportunities now. They (her teammates) put a lot of hard work in and they really go at it in practice and I think that's what makes them better. I train all year around. Every day, all day, whenever I can, it takes a lot and it's everything. I go to bed early, I eat the right things and I train every day."
Moore advanced to the finals with two falls, pinning Chicago Military Academy Bronzeville's Tyhesia Goss in the semifinals. Curcuru claimed third by recording a fall over Goss and Conant's Brooklyn Jones bounced back from a pin in her opener with three-straight falls in the wrestlebacks, with the last against Oak Park and River Forest's Mayan Alwaeli to finish fifth.
130 – Sammie Greisen, Seneca
For her freshman season, Sammie Greissen decided to take two different routes for athletics. In the spring, she'll compete in softball, which has been a successful program at her school, Seneca. But during the winter she wanted to wrestle, which meant that she would have to compete against boys in a program that has been led for over 25 years by coach Todd Yegge.
After taking fourth at Pontiac and then competing for a title in a junior-varsity tournament with boys, Greisen finished on top of the awards stand at 130 after prevailing in a bracket as the lone Class 1A medal winner, while three of the six were from Class 3A programs. She recorded three-straight falls, pinning Geneseo's Phoebe Shoemaker in the finals after getting a fall over Oak Park and River Forest's Pearl Lacy in the semifinals. It was Seneca's first championship won in an IHSA-sanctioned girls wrestling event.
"My cousin did it and I really look up to him," said Greisen about her introduction to the sport. "I've wrestled for a couple of years. My first tournament was at Pontiac and I took fourth and then I went to a JV tournament with the guys from my team and I took second at that one."
Shoemaker used two falls and a decision to earn her spot on the title mat, including getting a pin in the semifinals over Conant's Ewa Krupa.
Krupa, who won a title at Larkin, claimed third place with a fall over Lacy. And in the fifth-place match, Ottawa Township's Ava Weatherford had three pins in the consolation bracket, capping the run with a fall over Lockport Township's Lucy Madrigal.
135 – Mannie Anderson, Conant
Mannie Anderson took a little while longer to step down from the top of the award stand at the Ottawa Invite than some of the other champions at the event, and one of the reasons for that was that the 135 title winner was flexing for some of her teammates as they took pictures.
While that provided some laughs, the Conant senior, who's ranked fourth at her weight, has been all business in trying to improve upon last season, when she took sixth at 135 in the IHSA finals. One thing that she has done to get better is powerlifting. After getting three falls, including one over Streator Township's Jaylen Richardson in the finals and another over Curie's Ayanna Mathis in the semifinals, she won her third title, adding to firsts at Niles West and Larkin.
"This was really nice, especially since the other tournaments we've been to so far were upstate, so we got to see all of these other girls that we never see," Anderson said. "After I placed at state last year, my program doubled in size, which has been amazing. This is really exciting. In my first year that I joined as a sophomore, the IHSA hadn't recognized girls wrestling yet. So to come from that, all of a sudden we had our own tournament and it was very incredible.
"Girls will always have each others' backs because our sport is so small and we're so together. Even though I got sixth, I felt like we all won. I powerlift and did a lifting program with one of my coaches. And I'm also in the powerlifting club at my school. So I've bulked up a little bit and lost a lot of that body fat. I'm a senior, so I'm hoping to get to the top of the podium."
Richardson advanced to the title mat after opening with two falls, with the second of those coming in the semifinals against Kaneland's eighth-ranked sophomore Dyani Torres, who fell one win shy of earning a medal at 125 in last season's IHSA finals.
Torres claimed third place with a fall over Mathis while in the fifth-place match, Geneseo's Emily Bropes bounced back from a quarterfinals fall against Anderson by capturing a 9-6 decision over Morris' Tessa Neikirk.
140 – Suzie Knutte, Lemont
It's safe to say that Suzie Knutte is a talented student in many ways. The Lemont senior plays the trumpet in several bands and gives lessons. She was all-state in soccer as a forward after scoring 27 goals for coach Rich Prangen in 2022 and also coaches youth soccer. And she's in numerous honor societies and plans to study biomedical engineering and continue her music career while in college. In addition, she was Lemont's 2022 St. Patrick's Day Parade Queen.
So it's no surprise that she intends to also be successful in her latest venture, girls wrestling. After getting involved with weightlifting, she was talked into competing in the sport by coach Rob Hammerschmidt and so far, the first-year performer has been on a roll. She recorded three falls, including one in the 140 finals over Harvard's Ithandehui Rosas, which followed a 9-0 major decision over Richwoods' Nakiza Williams in the semifinals. Two days later, Knutte did it again, adding to an earlier title at Waukegan with a first at Palatine's Berman Classic.
"I wasn't really into it until the fall of this year when I was talking to coach (Rob) Hammerschmidt about weight lifting, because I've been really into that the past year," Knutte said. "And he was like, 'oh, you should try wrestling.' It's definitely good conditioning and I feel like for soccer players, it's probably a little easier because we have that hip strength already. Since Molly (O'Connor) and I are the only two girls that wrestle, we get to practice with the varsity team, so it's nice seeing all of those people who have experienced it all and been on that team with those other people who have done really well.
"It's definitely been really fun. I was a little nervous at my first tournament but I've gotten more confidence since then, seeing how different people wrestle and the different styles and learning so much at practice. I enjoy it a lot, but I just get a little confused some times."
Rosas reached the title mat with a fall and then a 6-0 semifinals decision over ROWVA's Ava Johnson. The third-place match was one of the most competitive with Williams capturing an 8-6 decision over Johnson. And the fifth-place match also was close with Conant's Aubrey Mueller claiming a 9-6 decision over Erie/Prophetstown's Jayda Rosenow.
145 – AJ Juarez, Geneseo
There was a little bit of confusion following the last round robin match in the competitive 145 weight class when it was unclear who would take top honors following a high-scoring matchup between AJ Juarez and Kaila Williams.
After the coaching staffs and officials looked over the points, it was determined that the score on the board stood, with Geneseo's Juarez prevailing 14-13 over Richwoods' Williams, allowing the Maple Leafs' lone first-place finisher to cap a 5-0 day where she recorded four falls, including one over teammate Taylor Krueger, who had the third-best showing at the weight class.
"I've been in a lot of matches, but that was probably my most exciting so far," Juarez said. "I'm planning to win state, and state is my biggest opportunity. We really want to make a mark on Geneseo's history as the first girls team. If we continue going the route that we are, we'll definitely make it. This group just has a lot of hard-working girls, so I feel like we are going to make it very far."
Williams also finished with four falls to become one of five Lady Knights to place third or better, which helped coach Rob Penney's squad to a second place in the 24-team event, 16 points ahead of third-place Conant and Glenbard North.
Krueger went 3-2 in the round robin while Lockport Township's Deylin Manteca Claros won two matches and another Geneseo competitor, Emily Kennedy, took fifth place.
155 – AJ Grant, Phoenix Military Academy
With three falls apiece to their credit, AJ Grant and America Cabrera were on a collision course in the last bracketed division of the Ottawa Invite, at 155 pounds, and that meant good news for Phoenix Military Academy since both of the finalists happened to be teammates.
In a real win-win scenario for the Firebirds, Grant won again by fall to become one of three Chicago Public School champions in the event and the lone one of that trio who is a first-year competitor. Grant, whose previous-best effort was a runner-up showing at the Beat the Streets Brawl, pinned Geneseo's Sierra Krueger in the semifinals to earn her spot on the title mat.
"I'm actually determined to learn something new," Grant said. "It's not something that I'm just doing, you have to like it. I like the interactions and I like my coaches and my teammates, who really help me and push me to be better."
Cabrera advanced to her spot opposite of Grant with a fall over Geneseo's Mady Mooney, as the Maple Leafs were also trying to advance a pair of teammates to the title match.
In the all-Geneseo clash for third place, Mooney won a 7-4 decision over Krueger. Kaneland's Amanda Rogers followed an 8-7 decision over Maine East's Alena Oshana to advance to the fifth-place match, where she recorded a fall over ROWVA's DaLonna Buckley.
170 – Jaida Johnson, Richwoods
When you're 3-for-3 in tournament championship matches and your team turns in a second-place showing in a 24-team competition, which happens to be their best finish yet, then things are going really well. Throw in an unbeaten start to the campaign and you know why Jaida Johnson was so happy after winning the title at 170 and by how her teammates performed.
The Richwoods junior, who was runner-up at 155 to Unity's Lexi Ritchie at last year's inaugural IHSA finals and placed third in the IWCOA finals at 170 in 2021, ranks second at 170 after adding a title at Ottawa to previous championships at Normal Community and Pontiac. In the round-robin competition, Johnson recorded three falls and won a decision, pinning Lockport Township's Lydia Chirobak, who won her other three matches.
"I am very happy with how I'm competing this year," Johnson said. "So far, I'm undefeated and that' a really great feeling. Everybody is pushing everybody and the team has gotten a lot better. We had a lot more placers this tournament than in our last tournament. I'm very proud about that and that makes me happy.
"The whole team has made a lot of progress but there's always room for improvement. I feel like we are going to finish really strong and have a lot of people going to state and placing."
Chirobak went 3-1 with two falls and a win by default to place second. Conant's Lana Ton won two matches to finish third and Lockport Township's Kelli Watkins, who lost to Johnson 8-2, claimed fourth place.
190 – Trinity White, Oak Park and River Forest
Old memories provide plenty of motivation and few are as inspired to be state champions as is Trinity White, who reached the 160 title mat at the IWCOA finals in 2021 as a freshman but got pinned by Alton's Khaila Hughes in that championship match.
After settling for a fifth-place finish at 170 a year ago at the inaugural IHSA finals, the Oak Park and River Forest junior wants to move past the consolation prizes and get to the top of the awards stand this season. Ranked fourth at 190, White is excited about her prospects after claiming top honors at 190 at Ottawa Township following a 4-0 effort in the round-robin matches. She won three of those by fall, including over ROWVA's Tori Kness, who took second place.
"It was really crazy to see the IWCOA tournament and then the next year the IHSA tournament," White said. "It was 10-times bigger, it was a big change. I work out every day with my dad (Walter). And I feel like a big part of wrestling is being really strong. I'm excited for the state tournament and I'll see how I do there and I'm hoping that I get first, but I'll also take second."
Kness, one of three competitors at the weight who went 2-2 in the round robin competition, had a fall and a 10-8 decision. Lockport' Township's Sophie Kelner and Conant's Analyse Aberman both also posted 2-2 records with Kelner getting the nod for third with Aberman taking fourth.
235 – Aaliyah Grandberry, Curie
After capturing a championship on the first weekend of December at Waukegan, Aaliyah Grandberry was definitely ready to get back into tournament action and she demonstrated that by winning four matches, with three of those being falls, including one over Oak Park and River Forest's Sarah Ephstein, who was next-best in the round-robin bracket with a 3-1 record.
The Curie junior became one of three champions from Chicago Public Schools at Ottawa
Township and she realizes that for the sport to continue to experience great growth, having more girls competing at the schools in Illinois' biggest city is essential. Last season at the initial IHSA finals, Grandberry was the lone finalist from a Chicago school and took second at 235 to Belleville East's Kiara Ganey and the two are ranked first and second at 235 this season.
"It's been awhile since I've been in a tournament," Grandberry said. "I guess you could say that my last tournament was probably downstate. It was so exciting and it was like nothing that I had ever experienced before. My school is a CPS school, so it's a big thing for me and my school and all of the other girls that I got to join.
"Representation (from Chicago) is very important because it gives more outreach to other girls that are out there. I'm practicing hard, as always. Drilling with the boys is my favorite thing to do since it helps me to prepare, and I'm like, 'oh yes, I got this."
Ephstein, a junior who's ranked fifth at 235, also wants to get back to improve on her visit to the inaugural IHSA finals, where she placed fifth at 235. This year's finals at that weight class again figures to be a battle with all six placewinners hoping to be back vying for medals. Ottawa Township's Juliana Thrush went 2-2 to finish third and Conant's Rye Reyes placed fourth.