Mahomet-Seymour edges Warren at Neuqua Valley Scuffle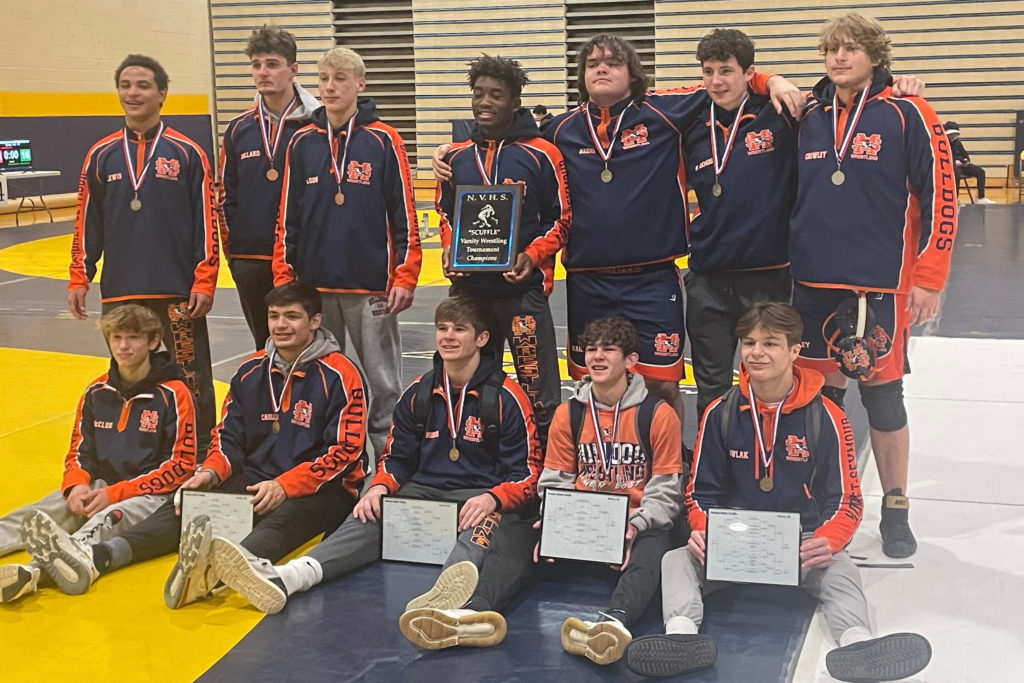 By Patrick Z. McGavin

Wrestlers like Caden Hatton are never content just to stay in place.
One of two outcomes typically happens to the best athletes: you either get better or you decline. Nothing rarely stays the same.
"I think we're coming back bigger and better this year," Hatton said. "We're filling good weights."
Last season, Hatton was one of three Bulldogs who achieved all-state distinction. Mahomet-Seymour was a Class 2A state powerhouse who had five state qualifiers.
The Bulldogs defeated Antioch 35-34 for the third-place trophy in the 2A state dual championships.
"We want to add on that," Mahomet-Seymour coach Rob Ledin said. "We had some guys last year who definitely did not perform how they wanted to.
"We are upper-class heavy, so we are expecting big things."
The Bulldogs had a tournament-best four individual winners and captured the 12-team championship of the Neuqua Valley Scuffle on Saturday, December 3.
Mahomet-Seymour had four champions, four runner-ups, and a third-place finisher in amassing 211 points to the 184 points of second-place Warren.
Harlem finished in third place with 159.5 points.
Montini, who finished sixth with 105.5 points, had a second-best three individual champions. Montini's David Mayora, who was third in Class 2A at 152 pounds last season, earned the most outstanding wrestler award.
Warren and Loyola had two champions apiece. The host Wildcats, Bolingbrook and Taft had one individual winner each.
The tournament featured five athletes who finished all-state last season.
Mahomet-Seymour dominated despite not fielding wrestlers at 120, 132 and 138 pounds.
The Bulldogs prevailed with top-end talent and skill.
"We are putting in a lot of work," said Brennan Houser, who captured the 182-pound championship.
"A lot of us have the same partners that we had last year, and it builds the chemistry to be great. Today was really fun to go all over, and you see different styles and that prepares you for the state championships."
Ledin views a team with a high ceiling, and one that has aspirations of winning a state dual team championship at Bloomington at the end of February.
The Neuqua Valley Scuffle was an important step.
"Hopefully this year maturity, another year of strength, another year of practice, off-season workouts, and we can continue to build and be a better team throughout the year," Ledin said.
Results by weight class
106
Warren's Jonathan Marquez showed an impressive command of discipline, quickness, and point of attack.
He captured the individual championship with a third-period pin of Taft's Bernie Roque. Capable at both the neutral and top positions, Marquez punctuated a strong performance with the fall at 5:12.
After a first-round bye, he defeated Mahomet-Seymour's Colton McClure 6-1 in the semifinal round.
Despite the loss, Roque was impressive in his own right with second-period falls in his two preliminary matches.
Loyola's James Hemmila posted the third-period fall of McClure in the third-place match. Angel Godinez of Bolingbrook edged Montini's Maxwell Neal 8-6 for fifth place.
113
Nobody can lose without getting scored on. Hatton made the math work for him.
He conceded just one escape in posting two dominant victories en route to his weight class title.
After dispatching Warren's Carlos Ordonez 8-1 in the semifinals, Hatton captured the 9-0 major decision victory over Neuqua Valley's Arjun Bharadwaj in the championship match.
"I like to wrestle quick—quick on my get, quick on top, quick on bottom, and be explosive," Hatton said.
"Top, for sure. I worked really well on top today."
Bharadawaj reached his half of the bracket with a first-period pin of Harlem's Justin Lewis.
Ordonez defeated Lewis by pin for third-place honors. Elgin's Julius Avendano needed just 13 seconds to defeat Taft's Lance Rosales for fifth place.
120
Kameron Luiz was in a zone, keying the Broncos' tournament-best three individual champions.
Fast, explosive, and overpowering, he was virtually untouchable in cruising to his championship title.
He put the finishing touches on his extraordinary day with the 16-0 technical fall over Jared Craig of Bolingbrook for his personal title.
He also posted a technical fall and a second-period pin in running roughshod over his competition.
Craig edged Bartlett's Ryan Richey 6-4 to capture the upper bracket.
Warren's Jose Ordonez pinned Richey in the first period for third-place distinction. Elk Grove's Nicasio Acino also posted the first-period fall of Harlem's Izayah Olejniczak for fifth-place honors.
126
Massey Odiotti of Loyola is one of the state's best wrestlers.
After he was upset by Aurora Christian's Josh Vasquez at the Moore-Prettyman Tournament last week, he went seeking his own brand of personal satisfaction. A defending state finalist in Class 3A last season finished 40-5 at 120 pounds, Massey showed technical prowess and precision with three dominant individual performances.
Following up two falls in his preliminary matches, Odiotti claimed the individual title with the 12-0 major decision over Elk Grove's Grant Madl.
For his part, Madl showed range and explosiveness in capturing the lower bracket by posting two falls.
Harlem's Ethan Hagerman defeated Warren's Jorge Valenzuela 7-5 in the third-place match.
Reese Wilson of Mahomet-Seymour earned fifth place with the second-period pin of Elgin's Jacob Rosas.
132
Bolingbrook's Aaron Camacho secured the Raiders' lone individual title with his fall in the closing seconds of the second period of Harlem's Myles Babcock.
Interestingly, Loyola's Patrick Zimmer provided the toughest resistance with a tight 6-4 decision in the quarterfinals.
Camacho also had a fall in his second-round match against Elk Grove's Anthony Ochoa.
Babcock captured the lower bracket with a technical fall and second-period pin over Neuqua Valley's Jay Chidley in the semifinal round.
Chidley responded with the 12-1 major decision over Ochoa for third place. Zimmer earned the first-period fall of Warren's Dylan Grunwald.
138
Warren's Evan Onstad put in the work.
He decimated the field by registering two technical falls and two major decisions for his individual title.
Fast and explosive on his feet, he performed at a higher level, overpowering the opposition with his excellent footwork, throws, and top actions.
He defeated Harlem's Donavin Vanderheyden 15-0 in the championship match.
Vanderhayden recorded two falls in winning his side of the bracket.
Elk Grove's Niko Thanopoulos defeated Taft's Austin Dempsey for third place. Bolingbrook's Tom McDermott posted the first-period fall of Loyola's John Walsh to capture fifth place.
145
Tallen Pawlak saw a recognizable figure in his tournament final, his teammate Donovan Lewis, in the only example of the tournament where a team fielded two athletes in the same weight class.
Pawlak took care of business with the second period fall. A state qualifier who finished 36-16 last year, he has a very familiar shape and pattern.
"I get a takedown, and I like shooting singles—that's my thing. I like to get that takedown, and go to work," he said. "On top, I really just turned everybody that I went up against today."
He captured his side of the bracket with a first period fall, and a 12-0 major in the semifinal.
Lewis was no typical second-stringer. He posted two falls to reach his half of the bracket.
"I think our expectations are to be a state dual team champion," Pawlak said.
Harlem's Aidan Zacharuk earned the second-period fall of Warren's Zachary Piskiewicz for third-place recognition.
A state qualifier last season, Marian Catholic's Joey Baranski edged Atzin Bazan of Bolingbrook 2-1 in the fifth-place match.
152
Without question, the headliner of the tournament and match of the tournament was Mayora's 4-2 decision over Warren's Aaron Stewart.
This clash of the titans featured a contrasting and brilliant showdown of two dominant performers. Mayora captured the lower bracket with a second-period fall and 20-5 technical fall of Deandre Hughey of Mahomet-Seymour in the semifinal.
Stewart posted back-to-back technical falls in dominating the upper bracket.
Harlem's Andrew Ryder edged Hughey 7-6 in the third-place match. Bolingbrook's Marcus Poe secured the first period pin of Bartlett's Zain Yasoob for fifth place.
160
Will Prater secured the Broncos' third individual title with his second-period pin of Mahomet-Seymour's Nick Demos.
Prater captured his bracket with the 10-5 decision over Warren's Royce Lopez in the semifinals.
Demos clipped Ben Larsen of Harlem 4-2 in his semifinal match.
Lopez defeated Larsen in the third-place showdown with the third-period fall.
Loyola's Hunter Pacholski beat Elk Grove's Jacob Eisner by third-period fall in capturing fifth place.
170
Neuqua Valley's Silvano Spatafora delivered for the hosts, using his blitzing, aggressive style with the 16-4 major over Elgin's Fabian Ramirez.
Spatafora literally ran away with the title.
The metaphor is apt, given he is a bruising, gifted running back who helped the Wildcats win the DuPage Valley Conference and reach the second round of the Class 8A state playoffs.
"I think I emulate how I run the ball, and how I wrestle, just being tough," he said. "I think there's definitely a correlation."
His relentless pace established a go-for-broke rhythm.
"My double-leg takedown was great today," he said. "I think that is the best thing in my arsenal. I think in that championship match, what really helped is I was able to get that double leg."
Mahomet-Seymour's Cale Hillard posted the third-period fall of Harlem's Wyatt Hoffman for third-place honors.
Lloyd Mills of Marian Catholic earned fifth-place recognition with his 13-6 decision over Warren's Justice Humphreys.
182
Mahomet-Seymour's Brennan Houser rarely wastes an effort or throwaway action.
Everything has a purpose.
"My style is all about working on being quicker than the other guys," he said. "I wrestle very physically, and I like to score a lot of points, with lots of outside shots and high crosses."
Last season, he finished 44-11 and sixth at 182 pounds. He remains at the top of his craft.
Houser registered three lightning-fast first period falls in overpowering the field in his weight class. He pinned Bolingbrook's Emiliano Gil-Lane in 1:37 for his personal title.
Gil-Lane posted two third-period falls en route to winning the upper bracket.
Bartlett's Ryan Gura provided his school's top place finisher with the first period fall of Marian Catholic's Tanner Clasen in the third-place match.
Harlem's Kaden Christensen posted the second period pin of Neuqua Valley's Joseph Metlicka in the fifth-place match.
195
Mahomet-Seymour's Mateo Casillas is virtually in a class by himself. A state runner-up as a sophomore, he posted a stunning 57-2 record in finishing third at 195 pounds last season.
Two top state finishes have only deepened his desire for the ultimate.
"I'm just trying to stay hungry with what I have," he said.
"I am hungrier than ever to get that state title. I know I am definitely capable, with my abilities. I know that if I wrestle to my ability, I can win state at 195."

Casillas orchestrated one of the most impressive performances with two falls and a one-sided championship match with the 13-0 major over Jeremija Hixson of Warren.
Hixson had a fall and major decision in capturing the upper bracket.
In the third-place match, Elk Grove's Benny Schlosser earned the first period pin of Harlem's Andrew Redmon.
Bartlett's Kaivin Robles secured fifth place with the 10-1 major over Frankie Macieo of Marian Catholic.

220
Most freshmen who excel tend to be on the lighter side. Loyola's precocious Kai Calcutt is an outlier, big, bold and brazen.
He seized control of the championship match against the Bulldogs' experienced Colton Crowley with the third period pin in raising his record to 7-1 on the season.
The fall came at the 5:54 mark.
"At first, I was a little bit hesitant at first with my offense." he said. "I'm just a freshman, and this is my first year. I'm really just working on getting to my offense quicker against these bigger guys."
Last season he participated in elite national age-group tournaments, underlining his ability to operate well above his birth certificate.
"I was at national tournaments throughout eighth grade, and that really helped me out a lot, especially learning how to make small kid moves on bigger guys," Calcutt said.
Crowley won by decision and first period fall to capture his half of the bracket.
In the third-place match, Elk Grove's Dylan Berkowitz closed out his strong showing with the second period fall of Montini's Evan Jocic.
Bolingbrook's Dominic Hargrove edged Warren's Anthony Sote 6-5 in the fifth-place match.
285
Taft's Grzegorz Krupa achieved his ultimate objective with the 6-3 decision over the Bulldogs' Camden Harms for the Eagles' sole individual championship.
"I thought I performed well," he said.
"I was disappointed I didn't get the pin in the finals, but I'm still trying to get my cardio to where it needs to be. I know once I'm in better shape there's no one that can beat me. These tournaments with ranked guys and state qualifiers are great, because I'm trying to win state this year. So getting these tough matches early helps prepare me for state."
He posted two falls in the preliminary rounds.
Harms also registered two falls in capturing side of the bracket.
In the third-place match, Elgin's Adam Lambaz responded sharply with the first-period fall of Elk Grove's Mike Milovich.
Neuqua Valley's Mahomet Nurundinov posted the pin over Montini's Michael Ranquist for fifth place.