Downstate Roundup from December 3rd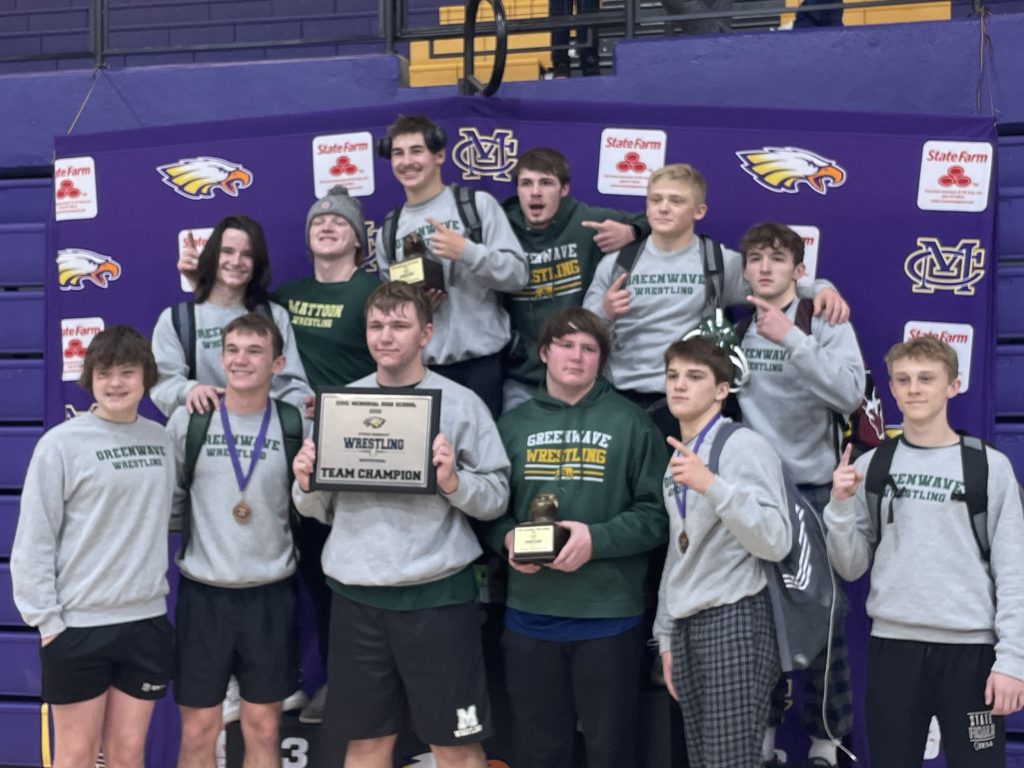 By Curt Herron
Mattoon edges hosts for Civic Memorial Bradley Invite Title
The two squads battling for top honors at Saturday's Steve Bradley Invitational couldn't have been much closer as Mattoon edged host Civic Memorial 191.5-188 to capture the title of the 20-team event that was held in Bethalto.
Jacksonville beat Murphysboro 168.5-159.5 for third while Vandalia (147.5), Alton (110), Olympia (93), Bloomington (92), Benton (82.5) and Champaign Central (77.5) rounded out the top half of the field.
Leading the way for coach Brett Porter's champion Greenwave were champions Korbin Bateman (132) and Leo Meyer (220), runners-up Logan Blackburn (126) and Aidan Blackburn (145) and third-place finishers Tristan Porter (113) and Ben Capitosti (138). Placing fifth were Vincent Gibson (120) and Jason Skocy (160) while TJ Owens (195) claimed sixth place.
Coach Jeremy Christeson's runner-up Eagles won five titles as Bradley Ruckman (106), Caleb Scott (126), Bryce Griffin (152), Abe Wojcikiewicz (182) and Logan Cooper (195) all took firsts, Ayden Wesley (170) placed second and Mason Walker (145) was fourth.
And top performers for coach Dustin Secrist's third-place Crimsons were champions Deshawn Armstrong (120) and Collin Reif (145) and second-place finishers were Luca Thies (182) and Oliver Cooley (220). Taking third-place were Abram Davidson (160) and Aiden Surratt (285) while Mason Meyer (195) finished fourth.
Other champions were Carlyle's Tyson Waughtel (113), Benton's Mason Tieffel (138), Vandalia's Eric McKinney (160), Murphysboro's Dayton Hoffman (170) and Jersey Community's Jaydon Busch (285).
Additional second-place finishers were Murphysboro's Jackson Graff (106), Kaiden Richards (113), Aiston Holt (120) and Bryce Edwards (132), Vandalia's Owen Miller (138) and Wyatt Dothager (195), Bloomington's Maddox Kirts (160) and Stephen Carr (285) and Olympia's Bentley Wise (152).
In title matches decided by decisions, Armstrong nipped Holt 8-7 (120), Scott edged Logan Blackburn 4-3 (126), Cooper got past Dothager 6-5 (195), Waughtel beat Richards 7-1 (113), Reif won 9-3 over Aidan Blackburn (145), McKinney defeated Kirts 7-1 (160) and Meyer beat Cooley 10-4 (220).
Bateman won by fall in 5:45 over Edwards (132), Griffin pinned Wise in 0:50 (152), Hoffman won by fall over Wesley in 1:16 (170), Wojcikiewicz recorded a pin in 0:17 over Thies (182) and Busch won by fall in 0:25 over Carr (285). Ruckman won by technical fall over Graff (106) and Tieffel won by technical fall over Miller (138).
Other third-place finishers were Vandalia's Pierson Wilkerson (120) and Dillon Hinton (132), Alton's William Harris (126) and Antoine Phillips (152), Bloomington's Eli Satterfeal (106), Murphysboro's Liam Fox (145), Champaign Central's Asher Kotowski (170), Benton's Gavin Hedger (182), Highland's Ashton Zobrist (195) and East Alton-Wood River's Drake Champlin (220).
Also finishing fourth were Highland's Gavin Merkle (106), Dalton Balint (113) and Tyson Rakers (132), Alton's Aslan Merioles (120) and Chris Jones (138), Centralia's Lane Griffin (126), Bloomington's Noah Misukonis (152), East St. Louis' Pierre Walton (160), Olympia's Cole Bauer (170), Vandalia's Justin Proctor (182), Champaign Central's Zavier Neill (220) and Murphysboro's Franklin Eovaldi (285).
Bateman (132), Busch (285) and Wojcikiewicz (182) all scored 28 team points, Griffin (152) and Tieffel (138) each had 27.5 team points, McKinney (160) and Reif (145) both scored 27 team points while Hoffman (170), Scott (126) and Waughtel (113) had 26 team points.
Belleville East girls capture title at Granite City Tournament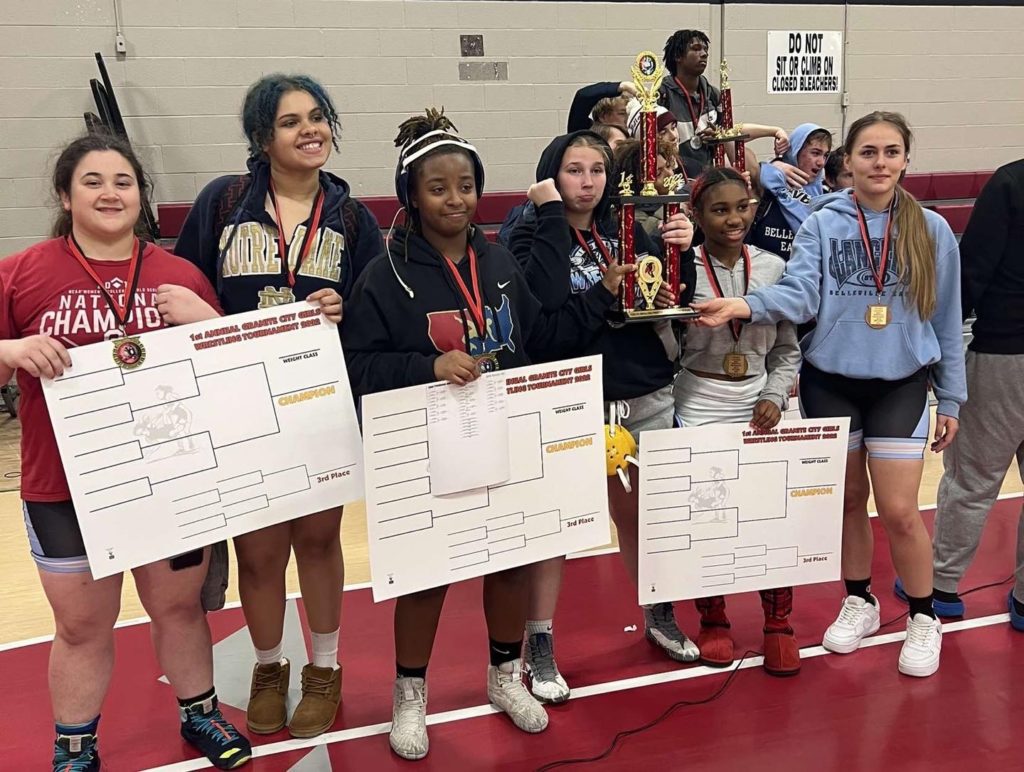 Belleville East claimed top honors in Friday's 19-team Granite City Tournament with 134.5 points while Edwardsville beat out Mt. Vernon 87-81 for second. Jacksonville (72), Belleville West (67), Granite City (58), Alton (50), Collinsville (45) and Triad (45) were next in line.
Coach Rashad Riley's champion Lancers got first-place finishes from Alexis Bernal (100), Alexcia Harden (105), Brionna Lattin (135), Kami Ratcliff (190) and Kiara Ganey (235) while Keely Rulo (190) and Alonna Rehmer (235) finished second and Lea Kuc (145) took third.
"I'm just proud of our girls and the progress that we're making," Riley said. "We're led by Kiara Ganey and she pretty much gets us going. Just the growth of Kiara, Alonna, Keely, Kami and Alexcia is just marvelous and every week we get better. The energy on our team is contagious right now. The girls are just happy to come to practice and they want to be pushed like the boys."
Top performers for coach Jon Wagner's runner-up Tigers were champions Gigi Linhorst (110), Holly Zugmaier (125) and Mackenzie Pratt (140) while Allison Kirk (100) and Olivia Coll (105) both took second and Maddy Allen (110) finished fourth.
Leading coach Alejandro Wajner's third-place Rams were runner-up Madison Teriet (155), third-place finishers Jai Anna Terry (110) and Faith Barrett (190) while Ava Derry (125), Deshay Gradford (135), Addison Stamper (140) and Addy Barrett (235) all finished fourth.
Others who won championships were Alton's Antonia Phillips (145) and Elanna Hickman (155), Lanphier's Ella Miloncus (115), Jacksonville' Alexis Seymour (120), Collinsville's Taylor Dawson (130) and Granite City's Samir Elliott (170).
Also finishing in second place were Carbondale's Faith Loyd (125) and Ariel Lipe (145), Triad's Kelsey Davis (120), Glenwood's Jenna Tuxhorn (130), Jacksonville's Vada Gregory (135), Belleville West's Jubri Edwards (140), Hazelwood Central, Mo's Carrington Reed (110) and Clayton, MO's Elise Martin (115)
One week after Ratcliff and Rulo didn't compete in the finals of the Normal Community Invite, they met in the first round of five at 190 with Ratcliff capturing a 2-0 decision. Ganey, a two-time state champion, made her season debut in a tournament by recording a fall in 1:00 in the 235 title match over teammate Rehmer.
Beside the top two scoring teams in the field, the only other team to have two champions was Alton, who won titles at both 145 and 155. Returning state champion Phillips won her title at 145 with a fall in 1:02 over Lipe while Hickman claimed first at 155 with a pin in 1:24 over Teriet.
In other championship matches, Linhorst prevailed 12-10 over Reed at 110 and Miloncus was a winner by fall in 3:41 over Martin at 115.
In round competition, Bernal beat Kirk by fall in 3:43 and by technical fall at 100, Harden won by fall in 3:14 and 1:43 over Coll at 105, Seymour defeated Davis by fall in 1:47 at 120, Zugmaier captured a 10-3 win over Loyd at 125 and Dawson pinned Tuxhorn in 3:05 at 130. Lattin won by fall in 4:24 over Gregory at 135, Pratt pinned Edwards in 0:15 at 140 and Elliott had no contests at 170.
Also claiming third place finishes were Belleville West's Brooke Zeller (115) and Daniela Hernandez (135), Lanphier's Anna Miloncus (120), Carbondale's Ayda Williams-Collins (125), Jacksonville's Haily Dewitt (130), Waterloo's Kenzie Youngman (140), Triad's Payton Markovic (155) and Granite City's Chloe West (235).
Additional fourth-place finishers were Granite City's Yanneli Velazquez (155) and Briana Moore (190), Triad's Abigail Schaft (115), Belleville West's Dwyriha Blanchard (130) and Collinsville's Alanni Torres (145).
Dawson (130) had the most team points with 34 while Ratcliff (190) had 32 points and Lattin (135), Pratt (140), Rulo (190) and Tuxhorn (130) all scored 26 team points.
Glenwood claims championship of own invite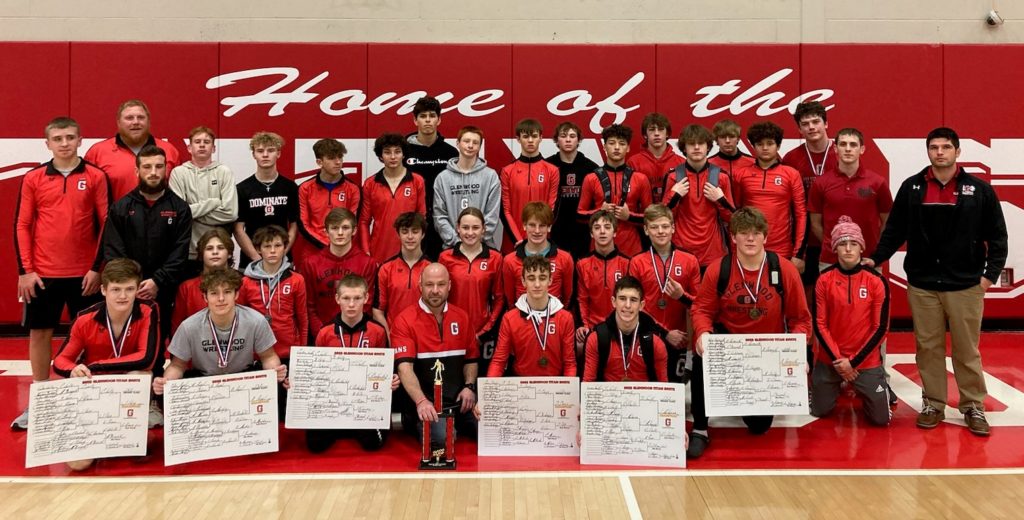 Glenwood had six champions and three second-place finishers to help it capture top honors in its own 15-team Glenwood Invite on Saturday in Chatham.
Triad defeated Centennial 241-194.5 for second place while Grayslake Central (157), Mt. Vernon (153), Collinsville (122), Carbondale (112) and O'Fallon (88.5) rounded out the top eight teams in the field.
Winning titles for coach Jerod Bruner's first-place Titans were Kayle Blankenship (106), Drew Davis (120), John Ben Maduena (132), Aden Byal (152), Justin Hay (182) and Alex Hamrick (220) while Tyler Clarke (106), Bradley Dollus (138) and Mark Helm (285) took second place.
Finishing in fourth place for the hosts were Anny Williams (138) and Brandon Bray (195) while Jaxon Ferguson (106), Owen Ottino (132), Braxton Warren (145), Jonah Broughman (152) and Maximus Wiezorek (182) all took fifth place.
Top performers for coach Russ Witzig's runner-up Knights were champion Colby Crouch (138) and second-place finishers Aiden Postma (145) and Nate Engler (220). Taking third was Ben Baumgartner (126) while Will Kelly (106), Brayden Rowe (132) and Braden Carlson (152) finished in fourth place and Brody Smith (113) and Matt Hobbs (285) were fifth.
Leading the way for coach Andrew Nyland's third-place Chargers were title winner Tyler Easter (160), runner-up Nick Pianfetti (152), third-place finishers Jaiden Smith (113), Declan Pate (120) and Brandon Harvey (220) and finishing in fifth place was Darell Dugar (126).
Other champions were Grayslake Central's Anthony Alanis (113) and Aaron Cramer (195), Mt. Vernon's Dillon White (126) and Rider Searcy (145), Carbondale's Brenden Banz (170) and Southeast's Robert Hull (285).
Also taking second place were Carbondale's Isaac Smith (132) and Aiden Taylor (195), Peoria Notre Dame's Ian Akers (113), Mt. Vernon's Ethan Verdeyen (120), Grayslake Central's Tyler Weidman (126), Decatur Eisenhower's Isaiah Hayes (160), Dunlap's Nick Mueller (170) and Collinsville's Cody Lutz (182).
Title matches decided by decision included Maduena 9-7 in sudden victory over Smith (132), Banz won 9-7 over Mueller by sudden victory (170), Blankenship won 4-1 over Clarke (106), Alanis was a 10-4 winner over Akers (113), Byal won 6-2 over Pianfetti 6-2 (152), Hay was a 5-3 winner over Lutz (182) and Cramer won 17-7 over Taylor (195)
In other first-place matches, White pinned Weidman in 1:03 (126), Crouch won by fall over Dollus in 3:01 (138), Searcy won by fall over Postma in 0:54 (145), Easter pinned Hayes in 5:23 (160), Hamrick won by fall in 2:44 over Engler (220), Hull pinned Helm in 5:43 (285) and Davis won by technical fall over Verdeyen (120).
Also claiming third-place finishes were Mt. Vernon's Maddux Randall (170), Ethan Rivera (182) and Mason Randall (195), O'Fallon's Kalib Schultz (132) and Andrew Orlaski (138), Collinsville's Jordan Thigpen (106), Notre Dame's Chase Daugherty (145), Carbondale's Aiden Murphy (152), Southeast's Adrian Mack (160) and East Peoria's Skylar Carr (285).
Other fourth-place finishers were Collinsville's Mason Hare (113) and Nathan Cagg (160), East Peoria's Cole Brooks (126) and Jose Del Toro (285), Notre Dame's Eddie Couri (120), MacArthur's Shaundell Watson (145), Dunlap's Joe Weeks (170), O'Fallon's Gavin Gentille (182) and Peoria Heights' Isaac Coleman (220).
Hamrick (220), Hull (285), Searcy (145) and White (126) led the way with 30 team points while Crouch (138) had 29.5, Cramer (195), Davis (120) and Easter (160) all had 29 team points, Alanis (113), Byal (152) and Hay (182) had 28.5 points and Maduena (132) had 28 team points.