Marian Central Catholic takes DeRousse crown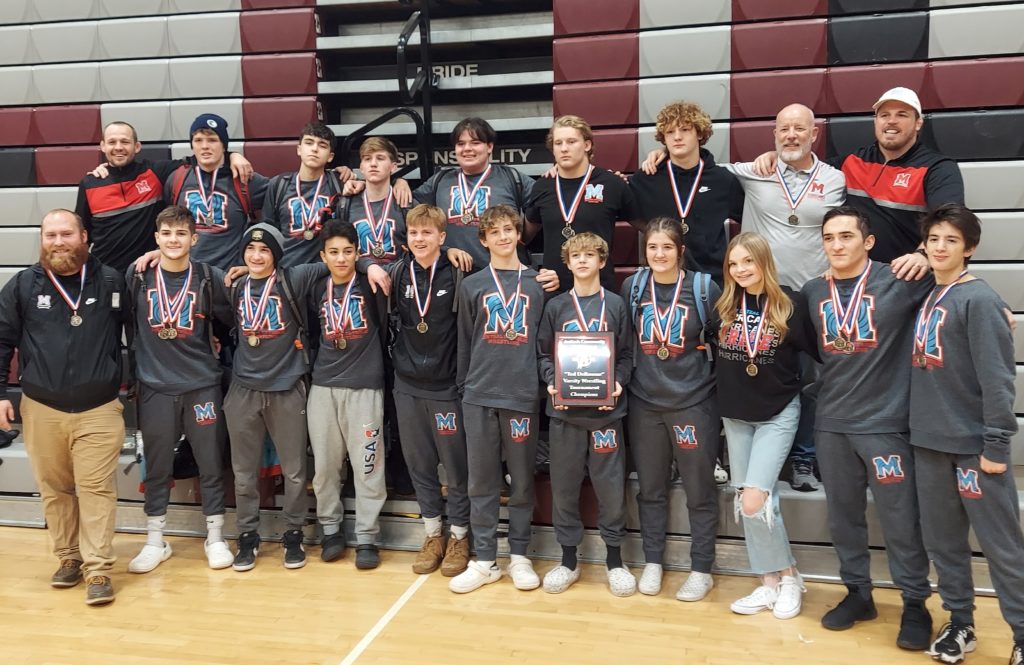 By Gary Larsen

Marian Central Catholic's new coaching staff features a pair of co-head coaches that Illinois wrestling fans know all too well.

Head coaches Jordan Blanton and Ryan Prater won individual state titles as high school wrestlers at Richmond-Burton and Plainfield Central, respectively, and then wrestled at the University of Illinois together.

David Silva had the program at Marian humming at a high level before handing the head coaching reins to his nephew, Fernie Silva, last season. Blanton and Prater plan on maintaining the high standard set by the Silvas and building on it.

Class 1A Marian Central posted a 164.5-144.5 edge over second-place and host Antioch, at this year's Ted DeRousse Individual tournament. Normal West placed third with 140 points and Grayslake Central was fourth with 135.5 points.

"My expectations are high and I'd say today we wrestled awesome, but I wouldn't say we met my expectations," Blanton said. "This was an opportunity to come somewhere close to home and wrestle some great competition, and that's what it was. There are a lot of areas we need to get better but we had some big wins today and showed that we're a team that can contend."

Marian Central sent three champions to the top of the awards stand in Antioch. Kaden Harman (126), Vance Williams (132), and Ray Hughes (285) each won individual titles, and the Hurricanes got a second-place finish from Hunter Birkhoff (195) to lead the charge.

Marian Central also got third-place finishes from Charlie Fitzgerald (145), Ethan Struck (152), and Max Astacio (160), a fourth from Andrew Alvarado (120), and a fifth from Nick Davidson (138).
Second-place Antioch got a first from Gavin Hanrahan (113), seconds from Edgar Albino (132) and Caleb Nobiling (145), and third-place finishes from Logan Perez (106) and Seth Gomez (195).
"The guys wrestled well," Antioch coach Wilbur Borrero said. "There were some situations we probably could have done better but at this stage of the season, we're okay with it. We'll be better by the end."
Third-place Normal West got second-place finishes from Abram Rader (106) and Matt Hanold (285), plus thirds from Austin Johnson (132) and Evan Willock (138).
Fourth-place Grayslake Central got individual titles from Matty Jens (182) and Aaron Cramer (195) and a second-place finish from Anthony Alanis (113) to lead the way.
With less than half its varsity lineup entered in the tournament, fifth-place Yorkville Christian (124.5) — defending 1A team champion and ranked No. 1 heading into this season — had three individual champions in Drew Torza (152), Tyler Martinez (160), and Jackson Gillen (170).
Marian Central enters the season ranked 17th in 1A but with a tournament team title already under their belts, the Hurricanes aim to just keep proving themselves as the season gets rolling.
"We have serious potential," heavyweight Hughes said. "We had a few transfer kids come in and kids that have been wrestling for three or four years on varsity. I think we'll be a huge hammer in our division."
2022 Ted DeRousse Individual Tournament champions:
106: Daniel Goodwin, St. Patrick
The Shamrocks' Goodwin went 3-0 in a four-man round-robin format among four 106-pounders to win the 106 A bracket. Goodwin and Normal West's Abram Rader both went 2-0 before squaring off for the title, with Goodwin winning by 7-0 decision.
Goodwin pinned West Aurora's Dehmoni Dean and won 2-1 against Antioch's Logan Perez before topping Rader, who had first-period pins over Perez and Dean before taking on Goodwin.
113: Gavin Hanrahan, Antioch
In a battle between two of Illinois' best 2A wrestlers at 113, the Sequoits' sophomore won a 5-2 decision on the title mat over Grayslake Central junior Anthony Alanis.
Hanrahan opened with a pin over St. Patrick's Calvin Stahl, then won by major decision in his semifinal over West Aurora's Robby Wyland. Stahl went on to place fifth and Wyland took third, so finishing 3-0 and knocking off eventual place-mat winners at every turn made for a fine day of wrestling for Hanrahan.
Hanrahan's title win had additional significance.
"He never beat (Alanis) before. He finally got him," Antioch coach Wilbur Borrero said. "Gavin wrestled well and had a good tournament. He's a tough kid, competitive and he's only a sophomore. We expect good things from him and that win was a big stepping stone for him."
Alanis used a pin and then a major decision in his semifinal match to reach the title mat. Wyland won a 12-5 decision over Carmel's Matthew Lucansky on the third-place mat, and Stahl won 9-4 for fifth against Wheeling's Max Katz finished sixth.
120: Co'Ji Campbell, St. Joseph Catholic Academy (WI)
Campbell capped his 3-0 day with a 5-1 title-mat decision at 120 over Mundelein's Bryce Durlacher. Campbell opened with a pin and then won 9-7 in overtime against Yorkville Christian's Ty Edwards in their semifinal match. Edwards then won by fall on the third-place mat against Marian Central's Andrew Alvarado.
Durlacher reached the title mat with a pair of pins over Normal West's Jaxxon Long and Alvarado. The fifth-place match saw Long win by fall against Deerfield's Luke Reddy.

126: Kaden Harman, Marian Central Catholic
The Hurricanes' senior won his first Ted DeRousse title as the first of Marian's three individual champions on the day.
Harman went into Saturday's action prepared by an opening triangular during the week.
"We had a tri against Marmion and Lockport on Wednesday and I saw two of the top three guys in 3A, so that was a good warmup for this," Harman said. "I was able to kind of compete with some of the best of the best so I guess it kind of showed up here today. And I just won a tournament so it can't get much better than that."
Harman, who placed fifth in Illinois at 113 last season, won a major decision Saturday before winning his semifinal match 10-5 over Mundelein's Benji Albavera. Harman then locked horns with St. Patrick's Olin Walker in the finals, taking a 3-0 lead into the third period on his way to a 6-1 decision win.
Walker opened his tournament with a 5-4 tiebreak win over Deerfield's Jordan Rasof, then won his semifinal by 10-5 decision over Grayslake Central's Tyler Weidman.
Weidman topped Albavera via 9-2 decision on the third-place mat, while Normal West's Froylan Racey won 5-1 over Rasof for fifth.
132: Vance Williams, Marian Central Catholic
Williams posted pins in his first two matches to reach the finals, winning his title by 10-5 decision over Antioch's Edgar Albino in a title match between two of Illinois' best at 132 pounds.
"Vance Williams is a big leader on our team and he beat Edgar Albino, who I'm super high on," Blanton said. "Edgar will be right there for a state title in 2A and that was two bulls locking horns. So for Vance to get that win today was huge for his confidence."
Albino reached the finals with a fall and then a semifinal tech fall win. Normal West's Austin Johnson took third by fall against Wheeling's Patrick Tinsley, and West Aurora's Jesse Clayton won by fall on the fifth-place mat against Richards' Muath Jilani.
Williams placed fourth in Illinois at 132 last season.

138: Wilson Wright, New Trier
Wilson won an 8-7 decision in his semifinal match against Normal West's Evan Willock, then won another hard-fought battle, 3-2 over West Aurora's Dayne Serio on the title mat at 138.
The Trevians' senior placed second in Antioch last year and he felt stronger as the day unfolded on Saturday en route to winning his first DeRousse title.
"In the morning I had a little weight cut so I was a little slow but as the day went on I felt better and better," Wright said. "My re-shots felt really good and my leg defense was good. I worked so hard on defending my leg in the off-season and I feel a lot better about it this year."
Gutting out two wins to win a title should only bring confidence in tight situations for the New Trier senior. Wright is happier with his defense and like every wrester, intends to tackle the next thing he wants to improve upon.
"My chain wrestling. I need to take multiple shots because it can't just be one and done," Wright said. "It's all about that mat time. Last year I struggled with it but I put in a lot of time in the off-season to get better at that."
The freshman Serio opened with a 3-1 decision over Richards' Luke Kawa before Mundelein's Ethan Thomas injury defaulted in their semifinal match. Willock won by fall against Thomas on the third-place mat and Marian Central's Nick Davidson won by major decision for fifth against Kawa.
145: Nasir Bailey, Rich Township
The returning state champion and top dog this year at 138 pounds wrestled up at 145 and buzz-sawed his way to a DeRousse title, posting three pins on the day.
Illinois' top-ranked wrestler at 138 in 3A took on the top-ranked wrestler at 145 in 2A in Antioch's Caleb Nobiling in the finals, with Bailey winning by fall at 1:47.
Wrestling up a weight is always a challenge Bailey embraces.
"The challenge against bigger guys is just to go out there and continue to dominate," Bailey said. "But the way I train I'm ready for 145, 152, whatever."
Bailey went 41-0 in winning his IHSA state title last season and he went 41-2 in winning a 2A state title at 120 as a freshman.
"I just stay hungry by focusing on another title and I don't overlook anybody," Bailey said. "Every time I go out there I wrestle the same match. Ever since my first state title as a freshman, I felt like that's the way I should approach it."
Nobiling opened with a major decision win over Carmel Catholic's Nicholas Asilani, then won 3-1 in his semifinal match against Marian Central's Charlie Fitzgerald.
Fitzgerald won by fall for third place over Normal West's Cody Sears, and New Trier's Eli Polacek won an 8-7 decision against Asilani on the fifth-place mat.

152: Drew Torza, Yorkville Christian
Yorkville Christian ran the table at 152, 160, and 170, and that momentum started with senior Drew Torza. Torza won 3-2 in his semifinal match against Marian Central's Ethan Struck and then put an exclamation point on his day with a 9-1 major decision win for the title at 152, against New Trier's Tagg Miller.
Miller opened his tournament with a fall, then won 6-3 in his semifinal match against Normal West's Xavier Edwards. Struck then won by fall for third place against Edwards, while Richards' Xavier Lara won a 10-5 decision on the fifth-place mat against Deerfield's Will Holtz.

160: Tyler Martinez, Yorkville Christian
Nobody managed a single point scored against Martinez on Saturday, as he posted a 17-0 tech fall win, a 1-0 semifinal win over Marian Central's Max Astacio, then a 5-0 title-match win over West Aurora's Noah Quintana.
One year after placing third in Illinois at 160, Martinez is ranked second at 160 in 1A and Quintana is ranked second in 3A to start the season.
"Noah was an old club teammate of mine," Martinez said. "I knew he was a solid wrestler and he's comfortable in weird positions. I just wrestled to the best of my abilities and tried to get it done."
Quintana posted a fall and then a tech fall win to reach the finals. Astacio placed third thanks to a 5-1 decision against Antioch's Ben Vazquez, and Mundelein's Ty Murray won by fall for fifth against Deerfield's Grant Goldsmith.
It was a pair of low-ankle singles that earned Martinez both of his takedowns in the title match, one in the second and one in the third period.
After placing third last year, Martinez is hungry to scale the top of the podium in Champaign this year. And he's put in the work to try to get there.
"I trained all season, I've been lifting all summer, and I trained a lot of Greco over the summer," Martinez said. "I don't think I shot two or three times all of last year but I'm shooting a lot this year."

170: Jackson Gillen, Yorkville Christian
The top wrestlers in Illinois typically wrestle all year round. Gillen is one of those, and asked if he ever wakes up and just doesn't feel like training, he had a quick reply.
"That's every day," Gillen joked.
Gillen won a state title at 170 last season and enters this year ranked No. 1 at that weight. His goal is obvious.
"I want to win another one," Gillen said. "And I even shot a couple times today, so that was good. You can shoot all day at practice but it's totally different once you're in a match. I felt good today. Not great, not bad, just good."
The senior posted a pair of pins to reach the finals in Antioch, but Deerfield's Aiden Cohen had to injury default and couldn't wrestle in the title match.
Gillen pinned Richards' Jeremiah Gill and then pinned Mundelein's Mac Restrelli in his semifinal match. Cohen edged West Aurora's Francisco Solis 2-1 to open his tournament, then won by tech fall in his semifinal against Grayslake Central's Carter Vincent.
Restrelli went on to pin Vincent for third place, while Solis pinned Gill on the fifth-place mat.

182: Matty Jens, Grayslake Central
Top-ranked Jens burned through the competition in Antioch. Jens posted a fall, a tech fall, then a fall on the title mat against St. Patrick's Gio Hernandez.
Jens dominated his way to a 19-6 lead in the third period against Hernandez before winning by fall. The junior played football in the fall and is working his way back into wrestling shape.
"It's a long football season but I have to get past that and just get in shape quick," Jen said. "Last year I could wrestle for hours and I was good. Other than that, my hands felt super-heavy today and that's good, and I just have to keep moving my feet. But my body feels strong and that's a positive, so I just have to get in wrestling shape."
Hernandez won 10-8 over Jeremy Loomis of Yorkville Christian and then won his semifinal 5-1 over New Trier's Tyler Jackson. Jackson won 11-9 for third place against Normal West's Gus Schreiber and Loomis placed fifth with a fall against Antioch's Josh Sanchez.
Jens placed second in Illinois at 182 last year — a fact that he's not about to let himself forget. "That one still stings," he said. "I still watch that match daily to keep me going. It's my background on my phone and every time I see it I have to go get a workout in."

195: Aaron Cramer, Grayslake Central
It was a short bracket with only five wrestlers entered at 195 and Cramer took care of business as the top-ranked 2A wrestler in Illinois. Cramer won a major decision in his semifinal match and then won by fall at the 1:00 mark on the title mat at 195 against Marian Central's Hunter Birkhoff. Birkhoff won by fall against St. Patrick's Jack Clancy to reach the title mat.
Antioch's Seth Gomez won by major decision for third place against Clancy, while West Aurora's Payton Corral placed fifth.
220: Adnan Abuzir, Richards
Abuzir opened with a 5-1 decision win against Antioch's Donald Carson, then gutted out a 4-3 overtime decision in his semifinal match against Mundelein's Abisai Hernandez. Waiting for Abuzir on the title mat was St. Patrick's Aiden Gomez, who posted a pair of pins to reach the finals.
Abuzir persevered, winning by fall against Gomez at the 2:53 mark.
Hernandez won by fall on the third-place mat at 1:58 against Normal West's Gage Hutchinson, and Lakes Katimahmud Goldsmith won by fall at 1:27 on the fifth-place mat against Carson.

285: Ray Hughes, Marian Central Catholic
Hughes gave Marian Central its third individual title of the day via 6-0 decision in the finals against Normal West's Matt Hanold. Both wrestlers reached the title mat with a pair of pins each.
At a hair under 6-foot tall and weighing around 270, Hughes figures to use a superior gas tank to great effect this season against some of the bigger and heavier wrestlers he'll face.
"What it comes down to for me is conditioning," Hughes said. "Other kids can be gassed in the third period so I have to keep my conditioning up. I know that if I can take them to the third period, I can have that advantage."
His coach has no doubt that Hughes will do just that.
"Ray Hughes is a big, strong, experienced wrestler and a perfect example that with confidence and keeping it simple, and being the best-conditioned guy, you can turn a corner real quick," Blanton said. "He's one of the hardest workers on the team and one of our leaders."
Hughes was happy with the way he wrestled Saturday.
"It was good. I had a reversal in the second period after I put a lot of pressure on in the first period and got a stalling call," Hughes said. "Hand fighting is obviously important in heavyweight matches to wear guys out.
"I had an average season last year, maybe a fifty percent win rate. The big thing for me was realizing I had to get stronger so I spent a lot of time in the weight room. I also worked on a lot of footwork things and a lot of small things."
Grayslake Central's Armando Castaneda won a 9-3 decision on the third-place mat against Wheeling's Joseph Schaefer, while Antioch's James Kasprzak won by fall for fifth place against New Trier's Michael Abiantoun.