Mount Carmel gets past DeKalb to capture Class 3A title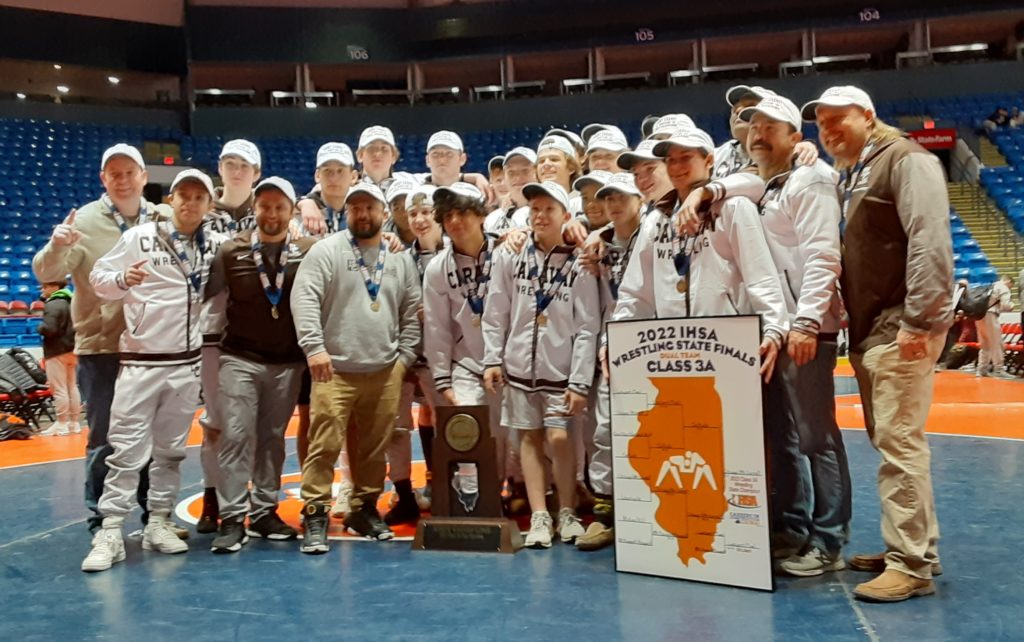 By Mike Garofola
For the IWCOA
BLOOMINGTON – The IHSA Class 3A Dual Team State Finals usually carries that special magic with it, and this season was no different.
Fans were treated to a mouth-watering 2022 state final when after two-plus hours of action, Mount Carmel became the new Class 3A king when it was crowned as state champions following its 32-27 victory over DeKalb at Grossinger Motors Arena.
Mount Carmel's heavy medal wrestling had been a delight to watch for Caravan fans amidst a very challenging race for the title.
The Caravan went through a demanding three-week schedule in December, making trips to the Dan Gable Donnybrook, The Ironman and the Dvorak before New Years.
A program that won its fourth state championship and first since 1994 pulled off a stirring comeback in its final before a raucous crowd in Bloomington Saturday night, when it chased the Barbs through 285 pounds before Seth Mendoza put his club in front when he followed teammate Ryan Boersma's pin to give the Caravan a 23-18 advantage.
"We all pulled together in these final few weeks of the season to get to Bloomington, then advance into the final, it is what this season was all about," said Boersma, who contributed three pins over the two days to finish his brilliant senior year at 44-2.
Damian Recendez' 9-7 decision over Rory Burright at 113 increased the Caravan lead to 26-18 but the Barbs used three-straight decisions to claim a 27-26 advantage. Danny Aranda edged Jairo Acuna 3-2 at 120, Ethan Schultz was a 4-1 winner over Caleb Drousias at 126 and Danny Curran captured an 11-5 win over Eddie Enright at 132.
However, waiting in the wings was nationally-ranked and recent state champion Sergio Lemley, who registered the match-winning pin at 3:41 over Austin Martinat 138 to help the Caravan take home the big trophy in dramatic fashion in the final bout of the evening.
"We can all dream of having the state championship decided by you in a situation like this, and it is one that I wanted to have happen to me, and I was thrilled to be the guy who won the state title for my team," Lemley said.
The Caravan (19-4) last lifted the championship trophy in 1994 when there were two classes, their third-straight title under IWCOA Hall of Fame coach Bill Weick.
Weick's club defeated Waubonsie Valley 44-16 for the second straight year, and coincidentally, DeKalb, in its tournament opener.
The 1994 championship team was led by the fabulous quintet of state champion Tony Davis and placewinners Milton Blakely, Ron and Ryan Stonitsch and of course, the remarkable TJ Williams, who would go on to win four state titles with just one loss, before becoming an All-American at Iowa, where he was a two-time NCAA champ, and three-time Big-10 champion with a career record of 98-1. Williams was also in Bloomington, leading his Tremont team to a second-place finish to Yorkville Christian in Class 1A.
This season, Mount Carmel smashed the competition at the Chicago Catholic League Tournament, outscoring runner-up Marmion Academy 327.5-295.5 and Brother Rice, which was third with 198.0 points
Eventual state champions Mendoza, Lemley and Boersma were three of the seven who earned championship rings, just a few days in advance of back-to-back defeats to-then, No. 5, Marist, 30-29, and the No. 1 team in Indiana, Crown Point, 31-29.
After a sensational state tournament that saw four win individual state titles from Mendoza, Lemley, Colin Kelly and Boersma, the Caravan overwhelmed the competition at their own regional, while advancing 13 into sectionals.
The Marist Dual Team Sectional was top-loaded with the Caravan beating league rival Marmion Academy 42-27 and Marist advanced with a win over Downers Grove South.
To each and every senior on the DeKalb roster, this was the season all had been pointing to, and why not.
The fantastic foursome of Danny and Tommy Curran, Damien Lopez and Bradley Gillum were now in the Barbs' room, and together with a handful of others who served their apprenticeship behind upperclassmen, this was a team built for success.
"We all were talking about our senior year at DeKalb even before we came in as freshmen and we knew if we continued to work hard during the season, and offseason, we could be something special," Gillum said one week before the state tournament at the Conant Sectional.
One week earlier, the Barbs squashed the competition at their own regional, claiming individual titles from Tommy Curran, Lopez and Gillum, as well as seniors Lukes Schmerbach, Bryson Buhk and Gavin Engh, all key figures in the Barbs' rise to prominence since 2019.
"This was a terrific group that went through our room during the past four years, they worked hard, and the focus was always getting downstate to have a chance at winning our first dual team title in our history," Barbs head coach Sam Hiatt said.
The Barbs marched past Conant 63-12 at the South Elgin Dual Team Sectional and headed to Bloomington as the number one 3A team in the IWCOA rankings, with their own Flavin Invite and DuPage Valley Conference titles claimed, plus a third-place finish at the Dvorak, and a spotless 21-0 overall record.
The aforementioned group of seniors, Danny Curran (33-6), Tommy Curran (37-1), Lopez (34-5), Schmerbach (34-4), Gillum (31-3), Buhk (29-10), Engh (28-10) and Rory Burright (19-11) amassed 21 state qualifying spots, 13 state medals and 22 major titles this season, plus so much more.
"We were like family, we all worked hard for each other and would support each other as well. It was something I know all of us will remember for a long time," said Danny Curran, who along with his brother will wrestle next fall at North Carolina State.
With that said, here is a closer look at the two days of competition in Bloomington:
Championship
Mount Carmel 32, DeKalb 27
Both Mount Carmel and DeKalb did not let down a passionate audience on this evening, showing their faithful just why they were the last two teams standing in Class 3A inside Grossinger Motors Arena and the dual went down to the wire with the Caravan winning 32-27 to capture their first state title since 1994.
The Barbs enjoyed the perfect start to get them up and running when Tommy Curran started things off with a pin at 5:09 after he pushed his lead to 9-2, followed by a superb effort by Damien Lopez, who recorded a 23-8 tech fall at 4:20.
State champion Colin Kelly took a bite out of the Barbs' 11-0 advantage when he recorded a tech fall at 4:56, with Caleb Wall doing his best to stay away from conceding a pin to the Caravan senior.
Bradley Gillum, state runner-up at 182, dropped down to 170 and with a last-gasp move, registered an 11-3 major decision to pick up valuable points to increase the Barbs' lead to 15-5.
A wild scramble just before time saw Michael Kelly pull out a key 3-1 sudden victory decision over Lukes Schmerbach and bring this comment from senior Ryan Boersma.
"We had to stay close in the early going and to have a guy like Michael Kelly step up to get us an important win when we really needed it was huge," said Boersma, who one week earlier won his second state title in a row.
Bryson Buhk used a first-period takedown and then another just before the second period came to an end, to help him claim a 6-3 decision over Rylan Breen to extend the Barbs' advantage to 10 points at 18-8.
The Caravan responded in style with four consecutive victories, beginning with Elliott Lewis' 7-2 triumph over Gavin Engh at 220, a fall from Boersma at 0:48, another pin from state champion Seth Mendoza in 1:05 and Damian Recendez' 9-7 thriller over Rory Burright at 113.
Burright drew close at 9-6 with a takedown in front of his bench with 90 seconds remaining, but was unable to solve Recendez, whose hard-fought victory gave the Caravan a 26-18 lead.
"The guys did what they had to when they needed to all night long, and especially when we were able to take the lead with those four straight wins," Caravan coach Alex Tsirtsis said.
Danny Aranda's late escape gave the Barbs a much-needed boost at 120 with a 3-2 decision over Jairo Acuna, and when his teammate, Ethan Schultz scored a takedown with 30 seconds remaining, his 4-1 win over Caleb Drousias insured an exciting finish.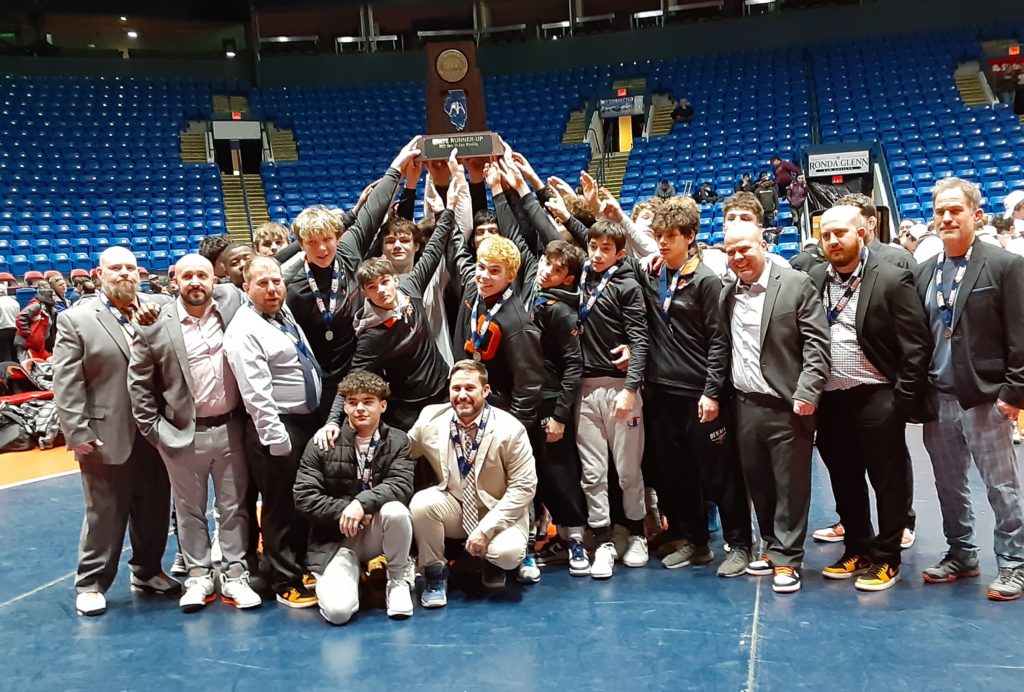 "That win from Ethan was big for us, he really stepped up when we needed him to do so, because it got us back in the match," Barbs coach Sam Hiatt said.
With the Caravan now in front by just two at 26-24, it was clear a pin was what the Barbs would need to keep the pressure on, but despite doing all that he could to earn the much needed six points, Danny Curran could not pry open the feisty, hard-nosed Eddie Enright.
The 11-5 decision at 132 gave the Barbs a 27-26 lead but when the nationally-ranked state champion Lemley stepped onto the mats, the Caravan faithful rose out of their seats in anticipation of success.
The junior did not let them down and when he registered the match-winning, state championship performance with a pin at 3:41 over Austin Martin, it sent the Caravan bench into orbit, as well as their fans.
"We've all been pointing towards this weekend all season long, so to get into the match, and come away with a state title is something all of us will have forever," Boersma said.
"It was just a great dual between two great teams, both teams showed a lot of heart and fight to give the crowd the absolute best match of the weekend," added Tsirtsis.
"I am obviously very proud of this team, and their accomplishments all throughout a long, tough season, and I congratulate DeKalb for their great season as well."
On the other side of the stadium, Sam Hiatt and his fine coaching staff consoled a team that came so close to realizing a dream they all have had since entering the Barbs' room.
"There's a lot of shock, disappointment, and tears all around this team right now, and although it's very tough for these guys right now, later they will realize what they have done this season, and in their career as well," Hiatt said.
"This was an incredible field down here, there were 21 state qualifiers, 14 place winners, and seven state champions just in our state final, it was an all-star game between two great teams, and it took a really great team to give us our first loss in the season.
"I am very proud of everyone on this roster, and I know I won't forget this season for a long time."
Third place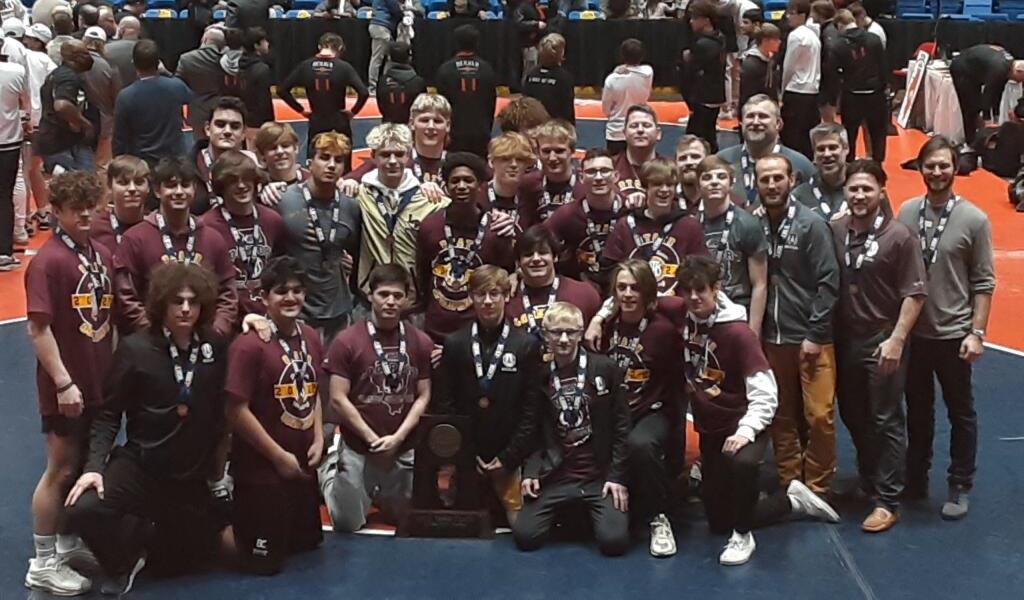 Lockport 46, Prospect 19
The Porters never looked back during its 46-19 victory to claim its fourth state trophy, and first since 2017, when they came home with its first championship trophy in program history. This was the sixth time in the last seven seasons that the tournament was held that coach Josh Oster's Lockport program competed in the event.
After Damien Puma staked the Knights to a 6-0 lead with his pin at 145 pounds, the Porters ran off 34 unanswered points, which included a third win on the weekend by 220-pound state champion Andrew Blackburn-Forst (38-5) who is off to Northern Colorado University in the fall where he will play football and wrestle.
"We would compete in a very difficult schedule all season long, lost a few here and there, but that schedule really prepared all of us for this final weekend of the season so we were ready to battle our way through to get a trophy, which is something we all came here for," said Blackburn-Forst, who leaves with a pair of state titles to his name, and three state medals overall.
Logan Swaw got a fall for the Porters' first win at 152 before Paul Kadlec won 9-4 over Connor Munn, Paul Rasp captured a major decision, Brayden Thompson won by fall in 1:02 at 182, Aidan Nolting beat Jacob Grzesiak 7-3, Blackburn-Forst won by default in 0:43 and Cody Silzer completed the run with a fall in 0:32.
Lockport later got three-straight wins from Nore Turner, David Vukobratovich and Jad Alwawi while Prospect also got victories from Joel Muehlenbeck, state 132 runner-up Will Baysingar and Lennon Steinkuhler to cap the program's fourth state appearance since 2015 with its first trophy.
"To just get here took a helluva effort from the guys, they showed a lot of heart, spirit, and fight to get through a tough season long schedule, so this third place trophy is something all of them should be proud of, and to take with them for the rest of their lives," Oster said.
Despite its defeat at the hands of Lockport, there still were plenty of happy faces all around the Prospect Knights, who huddled up one last time to hear what Dan Keller, and assistant, John Joseph had to say just before accepting their fourth-place trophy.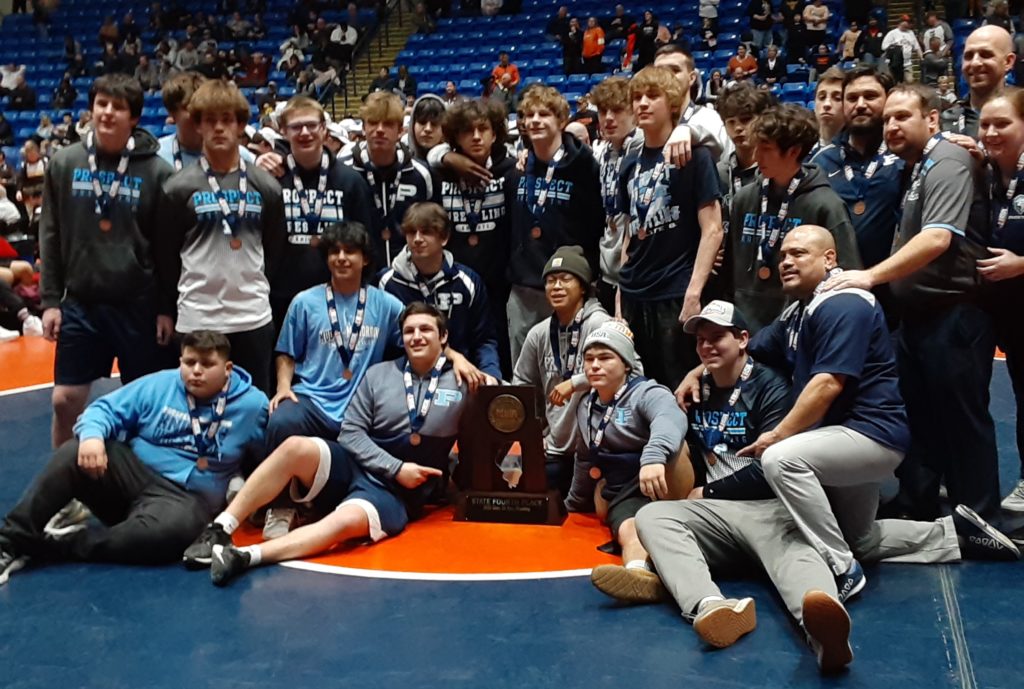 "We won the Mudge-McMorrow back in November, and obviously a regional, but despite that, if you had told me we qualify, and come home with our first trophy, I would have been surprised," Keller said.
"But we had a roster of guys who were strong willed, and wanted to put the work in, and the 40 guys we had in the room were all on the same page, and we found had so many of them contribute in so many ways, which makes this state trophy really something special."
"This team overcame adversity, and really pulled together for each (that) was something that impressed me so much with these guys, and to see so many guys on the roster contribute when we really needed to come through was very satisfying, and with a solid nucleus coming back, our hope is we back down here again next season," added Joseph.
Semifinals
DeKalb 34, Lockport 30
Mount Carmel 48, Prospect 21
Both DeKalb and Mt. Carmel left little doubt as to who would belong in the state final as each club marched through their semifinal rivals to record impressive victories to book their place in the championship match.
The Barbs' four-point win was a bit misleading in that they took a 12-0 lead after Austin Martin won 8-5 over Carlos Munoz-Flores at 138, Tommy Curran recorded a fall in 0:55 and Damien Lopez was a 5-1 winner over Logan Swaw at 152.
The teams exchanged wins in the next half dozen matches as Paul Kadlec got the Porters' first win with a 9-4 decision over Caleb Wall at 160, Schmerbach countered with a fall in 3:49 and Thompson edged Gillum 3-1 in sudden victory in a clash of state finalists at different weights.
After Buhk beat Aidan Nolting 8-0 at 195 and state champion Andrew Blackburn-Forst answered with a fall in 0:47, Lockport closed to within 22-12 but the Barbs claimed wins in the next three matches to end the drama.
Engh beat Cody Silzer 7-2 at 285, Kaden Klapprodt followed with a fall in 3:48 and Burright made it 34-12 with a 4-2 victory over Nore Turner. David Vukobratovich, Jad Alwawi and Logan Kaminski received forfeit wins to end the dual.
In the other semifinals meet, Prospect got falls from Damien Puma and Connor Munn to take a 12-4 lead over Mount Carmel after 152, but Colin Kelly got a fall, Michael Kelly and Rylan Breen followed with major decisions and Lewis added a fall to put the Caravan up 24-12.
The final bout of this contest would see 132-pound state runner-up Will Baysingar defeat 126-pound state champion, Sergio Lemley, 5-2.
Quarterfinals
Lockport 34, Marist 33
In the marquee quarterfinal on the first day, two of the giants in the state met with No. 5 Lockport taking the lead for good on consecutive pins from state champion Brayden Thompson at 170 and Paul Rasp at 182 to help inspire its 34-33 victory over Marist, which finished with a 24-3 record and made its first state appearance since 2014.
"If we wrestle 10 times, we likely each win five, it was a match between two very good teams, and fortunately for us, we were able to come away with a win. It's too bad a team like Marist had to go home early," Lockport head coach Josh Oster said.
The lead would change three times before Thompson helped the Porters take a 15-13 advantage, which eventually rose to 31-24 after a Liam Zimmerman major decision at 106.
Nore Turner's thrilling 7-6 win in overtime over Michael Esteban, was canceled out by a Will Denny decision that brought the score to 34-27, making the 126-pound finale inconsequential.
Other winners for the Porters were Carlos Munoz-Flores, Logan Swaw and Andrew Blackburn-Forst while coach Brendan Heffernan's RedHawks also received wins from Owen Dunlap, Ricky Ericksen, Tommy Boland, Peter Marinopoulos, Ghee Rachal and Jesse Herrera.
"Once we saw the draw, and a quarterfinal with Marist, we knew what we had to do in order to stay alive for a state medal, and the guys went out and did their jobs to get a very important win for themselves, and the program," Oster said.
DeKalb 53, Glenbard West 18
Although the stay was short for Glenbard West, the trip down to Bloomington was well worth the drive for Nick Posegay's club.
The Hilltoppers were sent packing by No. 1 DeKalb, 53-18, yet despite the defeat, Posegay could not have been more proud of his men when interviewed afterwards.
"It's been quite a season for this program, and it's been an unbelievable final year for me," said Posegay, who will retire when the school year comes to an end.
The Hilltoppers went 25-6 overall, the second-highest win total during Posegay's 16 years as head coach, bested only by the 29-3 record in 2016.
"We had an unbelievable group of guys in our room, who gave me a great going away present, which I am very thankful for," added Posegay.
DeKalb got falls from Martin, Tommy Curran, Gillum, Engh, Klapprodt and Burright while Lopez and Schultz won by technical fall, Schmerbach won a major decision and Hudson Ikens got a decision. Glenbard West got falls from Philip Dozier and Morley Coval and decisions from Jacob Lachs and Brennan Skoda.
The Hilltoppers defeated perennial state power Glenbard North to capture the Wheaton North Regional, using their strength in the middle of the lineup to outscore the Panthers by 33 points, and had seven regional champions, to advance into the South Elgin dual-team sectional, where they rolled over Maine South to earn its first-ever dual team state appearance.
In between: Jacob Lachs, Brennan Skoda, Max Konopka, Phillip Dozier, and Morley Coval all qualified to compete in Champaign, bringing over 170 victories combined with them.
Mount Carmel 46, Libertyville 27
When No. 12 Libertyville drew into the eventual state champions from Mount Carmel, head coach Dale Eggert knew it would take a herculean effort to spring a major upset over the Wildcats' quarterfinals opponent.
While the North Suburban Conference and regional champion Wildcats were unable to work enough magic to surprise the Caravan, they did, however, bring a smile to the face of one of the best in the coaching business following its 19-point defeat.
Mount Carmel got falls from Enright, Lemley, Colin Kelly, Lewis, Boersma and Mendoza while Carlos Perez and Resendez won by technical fall. Libertyville received falls from Anthony McClendon, Josh Knudten and Caelan Riley while Austin Gomez, Cole Matulenko and Luke Berktold won decisions.
"That was a great team we wrestling today, and one that could end up being the state champion, but we won six matches, and fought hard against a team with four state champions and seven overall state medal winners in their lineup, so I am very proud of the guys, and the effort they gave," said Eggert, who, just finished his 35th season in charge, now has 630 career victories, 121 state qualifiers and 37 all-staters. This was his seventh team that he's taken to state and the first since 2014.
"You never know how your season is going to unfold, but after an early season win over Stevenson, I then felt like we could compete, and be a very good team before the season would end."
The Wildcats will lose six seniors, two of which will be near-impossible to replace in Caelan Riley (42-5), who was third at state at 120, and 182-pound state champion, Josh Knudten, who went 41-3 overall.
"Just two great leaders, and even better young men, who worked so hard, and conducted themselves like true gentlemen," Eggert said.
Riley will wrestle next fall at The Citadel while Knudten will be at the University of Michigan.
"We're losing a lot of quality seniors, so we'll lean on a very good group of sophomores, who did well at their level, but were unable to break through on the varsity level because of who were in front of them (now) it will be their turn," said Eggert.
Prospect 35, Moline 30
After it weathered an early storm against the Moline dynamic duo of state champion Kole Brower (48-1) and his teammate, Noah Tapia (49-3), Prospect slowly pulled away from the Maroons (16-5-0) enroute to a 35-30 victory to insure the first-ever state trophy in program history.
"We came down here with the intent of going home with our first trophy and now that we've accomplished that, we're going to do our best to finish as strong as we can," said Knights head coach, Dan Keller.
"This is a team that believes in itself, and each other, and a team that has come to count on guys who, when given the chance, have come through to win some big matches at regionals, dual team sectionals, and today to help us advance," continued Keller, who went on to praise Alex Bootz and Jacob Grzesiak (31-12) for their effort in this match.
"(Will) Baysingar always comes up big for us, while Joel Muehlenbeck (106, 43-12) and Connor Munn (160, 33-14) have been big-time contributors as underclassmen, but against Moline, Bootz got us a big win after pins from Brower and Tapia, and later, Grzesiak's major at 220 put us in front 26-18."
Prospect received falls from Will Baysingar, Nate Lopez and Joel Muehlenbeck, a major decision from Connor Munn and decisions from Alex Bootz, Conor Mitchell and Elijah Garza. Moline got pins from Kole Brower, Noah Tapia and Carmelo Cruz while Alec Schmacht won a major decision and Trystan Duyvejonck won a decision.
Despite its early exit from the tournament, Jacob Ruettigers' men from Moline enjoyed a wonderful season, led of course by Brower and Tapia, plus senior Alec Schmacht (35-11) and sophomore, James Soliz (38-15) who along with Tapia return to be the core of the club next year.
"It was definitely a fun year to say the least while we did not wrestle he same lineup once this year which was kind of crazy, we still were able to find a way to get back to the dual team state tournament for the first time in 22 years," Ruettiger said.
"We had four kids on the team whose parents were part of past Moline teams, which was also a fun thing to see.
"To be able to watch the success of both Brower and Tapia was special, but we all really enjoyed watching the team get to Bloomington last Tuesday night at sectionals."
The Maroons stunned Edwardsville by scoring the last 10 points to overcome a 27-19 deficit to win 29-27 when Carmelo Cruz, Schmadt, and Bradley Ledbetter provided the late heroics.
"We have a good thing going out here in Moline, and with a great coaching staff, and some great kids, all of us were happy to be a part of it all," said Ruettiger.