Mt. Carmel take IWCOA 3A crown in Springfield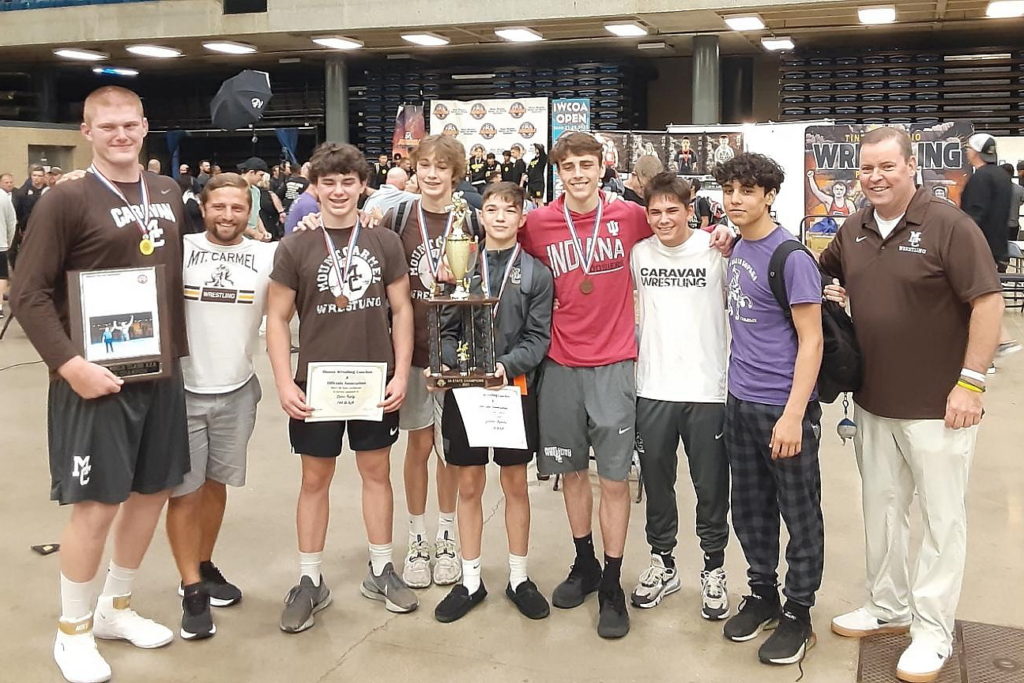 By Curt Herron
Although Mount Carmel had the fewest number of qualifiers of the three squads that were in the battle for the team title at last Saturday's Illinois Wrestling Coaches and Officials Association Class 3A Open Championships in Springfield, it got maximum points from the six individuals that it had on hand for the tournament.
The Caravan averaged 16.5 points per individual to score 99 points, which was 5.5 points better than DeKalb and Glenbard North, who tied for second place with 93.5 points. The Barbs averaged 11.7 points for each of their eight qualifiers while the Panthers received 8.5 points on average from their 11 competitors.
In an effective combination of scoring bonus points and winning close decisions, Coach Alex Tsirtsis' squad went 24-7 with seven falls, two wins by technical fall and three major decisions to account for half of their wins and another quarter of their victories came in matches that they won by two points or less. The team champs also won their two head-to-head matchups against Glenbard North and the one against DeKalb.
While the team champions in Class 1A, Lena-Winslow/Stockton, and Class 2A, Marian Central Catholic, both won state, sectional and super regional championships, the Caravan's only title in the IWCOA series came in the state finals. They finished third in the other two tournaments.
The last time that Mount Carmel won a state title was in 1994, when it completed a run of three-straight years as IHSA Class AA dual team champions and its coach was one of Illinois' legendary figures, National Wrestling Hall of Famer Bill Weick.
Mount Carmel got a state championship from Ryan Boersma (285) while Damian Resendez (106), Zack Rotkvich (152) and Colin Kelly (160) all placed third, Eddie Enright (120) took fourth and Caleb Drousias (113) fell one win shy of a medal. Rotkvich was the only senior among them.
"We had five out of the six place and the one that lost in the blood round had a great tournament and he scored a lot of points for us, too," Tsirtsis said. "So they came here to wrestle and that's all that you can ask for and they got better in every match."
Boersma completed a 12-0 season by winning 4-0 over Belleville West's previously-unbeaten Dustin Olmstead (26-1) in the final championship of the day at 285. The junior, who competed for Providence Catholic the past two years, improved on his fifth-place medal from a year ago at the same weight by collecting a fall and a 6-0 decision before claiming a 2-1 win on an overtime tiebreaker in a key semifinal match against Glenbard North's Paulie Robertson (26-2).
Resendez (14-3), a freshman, went 5-1 with two wins by technical fall and followed up on a 10-4 quarterfinal loss to Andrew runner-up Max Siegel (8-1) with four-straight wins to claim third place with a 9-1 victory over Jacobs' Dominic Ducato (27-2).
Rotkvich (15-2), a senior, went 4-1 to take third place at 152 with all of his victories by two points or less. After falling 7-2 to Schaumburg runner-up Grant Hansen in the semifinals, he won 3-1 in sudden victory over Lockport's Nate Ramsey (25-3) and then claimed a 3-2 victory over McHenry's Brody Hallin (31-2).
Kelly (16-3), a freshman, claimed third place at 160 after going 5-1 with a fall and two major decisions with his lone loss coming to Batavia's first-ever champion, unbeaten Mikey Caliendo (34-0). In the third-place match, he captured a 7-2 win over Sandburg's Zach Bateman (15-4).
Enright (13-4), a freshman, went 4-2 and recorded three falls and won a tiebreaker while falling 3-1 in the 120 quarterfinals to Prospect's unbeaten champion Will Baysingar (20-0) and then losing 6-4 to Stevenson's Lorenzo Frezza (31-2) in the third-place match.
Drousias (11-7), a sophomore who recorded two falls and lost to St. Charles East's unbeaten champ Ben Davino (30-0) in the 113 quarterfinals, fell a win shy of being the Caravan's sixth medalist.
Also competing for the Caravan in the Elmhurst Sectional and the Marist Super Regional were freshman Carlos Perez (138), sophomore Joshua Kwiatkowski (126) and junior Owen Jacobson (170). Earlier in the week, Perez won the 138 title at the IWCOA's Frosh-Soph Championships.
Trying to put together a successful season during a pandemic has certainly been one of the greatest challenges that coaches will ever face. But thanks to a lot of hard work and increased dedication, the Caravan were able to put together a truly memorable season.
"It's been a weird year with how the regular season was and then kind of leading into this, but I think they really took it in stride toward these last two weeks," Tsirtsis said. "I think with everything that's been going on the last 14 or 15 months that everyone's been chomping at the bit to have a little bit of the feeling of getting back.  
"Basically, we shut down everything two and a half weeks after the high school state tournament. So we went from a high of competing to nothing, so it felt good for everyone to get out here and compete against people that you haven't seen in a little over a year. It really gets your competitive juices going again and it makes you feel alive."
Tsirtsis has already accomplished a lot during his five seasons as the program's coach, which isn't that surprising considering his impressive credentials. He was a four-time Indiana state champion at Griffith and had a 236-0 record and then was an All-American and also a four-time Big 10 placewinner with 96 wins while competing for the University of Iowa, where he was on two NCAA DI championship teams.
Boersma is his fifth champion at the school, joining David Riojas (2017), Colton Drousias (2019), Sergio Lemley (2020) and Noah Mis (2020). He also led the Caravan to the IHSA dual team finals in 2020, where they finished in second place to Montini Catholic, which was the program's best showing since Weick's 2002 squad placed second to Providence Catholic.
The Caravan coach feels privileged to be able to coach at a school with a rich history that now boasts 23 champions who have won 35 titles.
"It's crazy with the teams from the 1990s and the support we get from the alumni," Tsirtsis said. "But it's not only from the alumni, it's from the school itself, they know how important wrestling is to Mount Carmel and they do a great job of supporting it. 
"This is more satisfying than competing yourself. You see kids go through highs and lows and you go through it with them. And then when you see them accomplish what they want to accomplish or even just make improvements, that's what it's all about. It's just a process of growing and improving and the goal is to make an impact on peoples' lives in a positive way."