Marian Central wins IWCOA 2A Team Title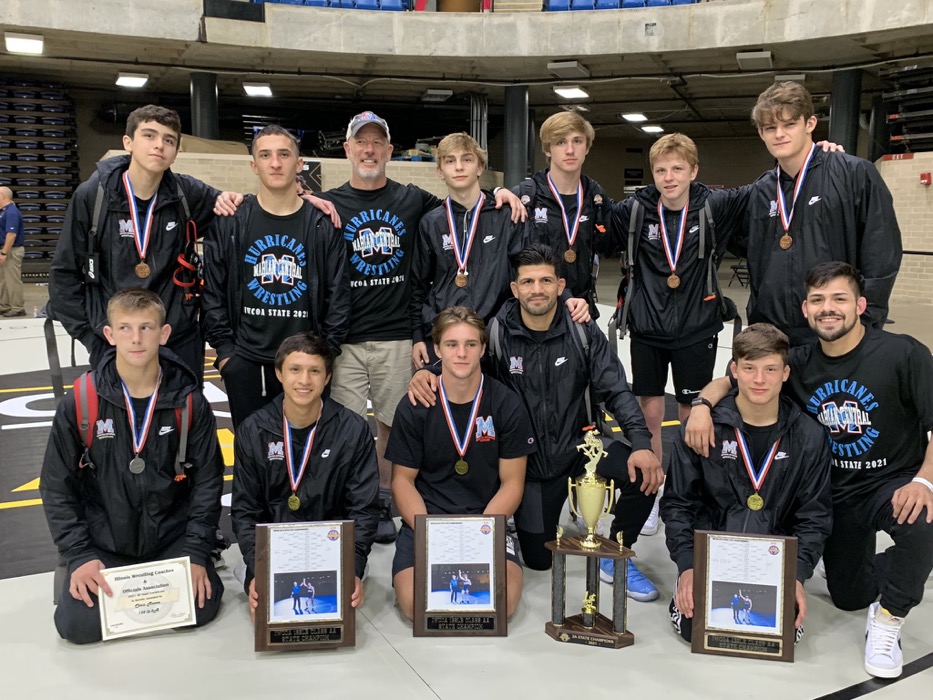 By Curt Herron
There are very few programs that will get the opportunity to do what Marian Central Catholic accomplished when it competed in last Friday's Illinois Wrestling Coaches and Officials Association Class 2A Open Championships in Springfield.
What the Hurricanes achieved that day was to set school records for most champions with three, finalists with four and medal winners with nine to help them to pile up a total of 178 points, which was 30.5 points better than runner-up Civic Memorial, to easily win the team title in the competition at Bank of Springfield Center.
In coach David Silva's final day of his five-year tenure at the Woodstock school, his team had more champions and individual placewinners than the program had in the years before he took over in 2016-17 and the nine medals was one shy of the total that the school won in 20 years from its first medal winner in 1985 to 2016.
Silva, who is moving to Nashville, Tennessee to take a new job, also led the Hurricanes to their first three appearances in the IHSA dual team finals from 2018-20 and their third-place finish in 2019 marked the first time that they won a trophy in the sport. His teams went 108-13 in dual meets, losing just five times in four years with no losses this season.
Winning championships for Marian Central Catholic were seniors Dylan Connell (182) and Elon Rodriguez (126) and junior Nik Jimenez (132), who all finished unbeaten. Connell (24-0) is a four-time state champion while Rodriguez (25-0), a finalist for the second-straight year and three-time medal winner, and Jimenez (25-0), who was a finalist at Harvard last season, both won their first titles.
Connell won 9-1 over Civic Memorial's Colton Carlisle in the 182 finals to join the exclusive four-time champions club. Rodriguez pulled out a thriller in the 126 finals, beating St. Patrick's Sean Conway 3-2 in an overtime tiebreaker and Jimenez captured a 4-0 victory over Deerfield's Rory Perlow in the 132 title match.
Right after Rodriguez and Jimenez won their titles, sophomore Chris Moore (138) hoped to capture another championship for the Hurricanes. But the 2020 champion while competing for Aurora Christian, suffered his only loss and finished with a 16-1 record after falling 7-2 in 138 finals to Civic Memorial's Caleb Tyus, who also was unbeaten.
Third-place finishers junior Josh Glover (106) and senior Scott Burke (152) both fell in the quarterfinals to eventual champions, but then won their next four matches. Glover (11-2) bounced back from a loss to Joliet Catholic Academy's Gylon Sims by claiming four-straight wins to take third and Burke (22-4) did the same thing after falling to Civic Memorial's Vinny Zerban. It was the second state medal won by both Burke and Glover.
Sophomore Nick Davidson (16-9) fell in the 120 semifinals to Morton's Connor Kidd and then split his next two matches to finish in fourth place and sophomore Charlie Fitzgerald (20-5) lost in the 113 quarterfinals to the eventual champion, Joliet Catholic Academy's Shay Korhorn, and won three of his next four matches to finish fifth.
Senior Joe Miller (21-9) went 2-2 after falling in the 220 quarterfinals to Glenwood's Conner Miller to claim sixth place and freshman Max Astacio (14-4) was the team's other qualifier and he went 1-2 at 145.
"These guys performed very well at the state tournament and I'm so proud of them because we worked really hard," Silva said. "Our season kept being pushed back but even during that time we were finding opportunities to wrestle and compete and we'd travel out of state or do what we needed to do to keep these guys busy and active. I'm just super proud of their consistency in the room and their hard work.
"Some of these guys were sacrificing a lot of the senior year when normally they'd be hanging out with their friends or enjoying the summer. They were dedicated and they were loyal and they just followed through on everything and I'm so glad that they did because we ended in the right way. Finishing on top is obviously the goal, but we put so much time and effort into it so it was very fitting to go the way that we did."
There were significant differences in the IWCOA and IHSA tournaments. The IWCOA competition was one day for each of the three classes, instead of everyone competing for three days. In addition, the champion being determined by the scored meet was the IHSA practice from 1937-83, but that was replaced in 1984 by the dual team finals, which takes place one week after the individual finals.
"I liked it," Silva said of the IWCOA state finals format. "Having the one-day tournament was different, but it really had a spotlight on the guys who were performing well, and fortunately for us, our guys performed very well that day so these guys got the attention that they deserved. "The guys that score the most points win tournaments, and we were prepared to do that. It was kind of cool since guys were still going for majors, techsand pins and ordinarily you wouldn't do that."
"The competition was there but the only difference was that there weren't quite as many fans and the venue was different. But other than that, wrestling is wrestling and it didn't matter if we had it in Springfield or if we had it in Champaign, the true competitors were going to come. I kept telling our guys to not be distracted about what other people were saying. If you're a true competitor, you show up and you compete. I think it was a great showing for everyone."
Other members of Hurricanes who competed when the team won the Naperville Athletic Center Sectional and Antioch Super Regionals were seniors Lou Gaddy (170) and Hugh Holian (160) and sophomores John Herff (195) and Ray Hughes (285).
Silva is very happy with the progress that the Hurricanes have made during his five years of leading the program. His nephew, Fernie Silva, who was a two-time finalist and 2016 Class 3A champion at Hononegah and wrestled at Indiana University, assisted him this season and will take over as the head coach of the program.
"I really put in a lot of time into this group," said David Silva, who competed at Dundee-Crown and Elmhurst College. "When I started at Marian five years ago, a newspaper guy interviewed me and asked me what my goals and aspirations were and I told him that I wanted to create a program from the ground up that was very competitive and I wanted to win the state title. I wanted a team that competed not only at the tournament level to get state championships, but also on the dual team state level and to be at state every year. He kind of laughed and said that we could never do that at Marian, but we did, and I'm super proud of that.
"At Marian, we got kids who wanted to be elite, not only in the classroom, but in all aspects of their life. I tell people if you want what's best for your kids you have to put them in the right environment. These kids have made that decision and when they're at Marian, they thrive and I think it's definitely worked out to everyones' benefit. It's been so rewarding for me to help these guys get to their goals. I really cherish the five years I've been able to spend with these guys and I'll never forget, I know I won't. I even get emotional thinking about it because it's the relationships and we've spent some special times together.
"There's going to be a change at the top with the coach but nothing will really change since they'll keep training hard and there will be new guys coming in every year who have the same goals to be state champions. It's going to be business as usual. I have a lot of faith in this program and what I built and I think it will continue on for years to come.