Naperville Central edges DG South at 3A Regional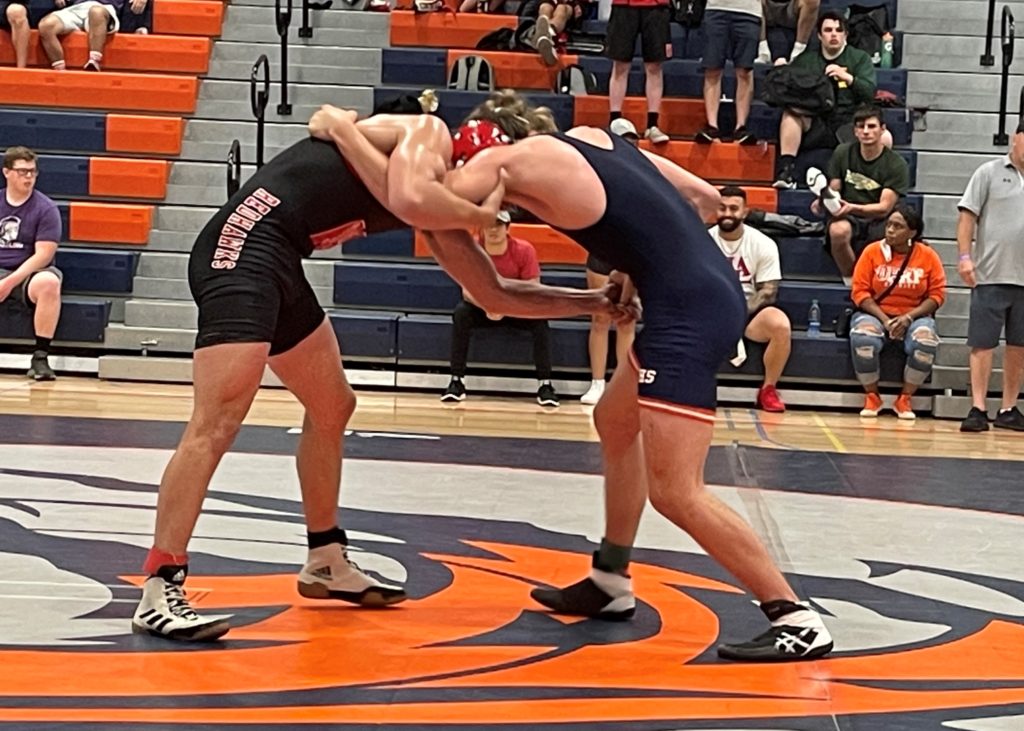 By Patrick Z. McGavin  
Ayden Lutes spent the long and cruel winter months pondering his future.   It was not always a pretty sight given the discouraging news about persistent and pervasive actions of the coronavirus that put seemingly everything on hold.  
Deemed a high risk sport and working in consultation with the Illinois Department of Public Health, the IHSA moved the sport out of its typical November start.   It only added to the uncertainty, as the weeks passed, and little suggested a change of fortunes.  
"In December I was mentally preparing myself for not having a season," Lutes said.    The winter sports, beginning with basketball, got the jolt and the word of the resumption of sports, at the end of January. Wrestling would go on—albeit at a weirdly strange time, beginning in April and ending the final week of June.   Lutes still remembers his reaction to the news.  
"It's kind of crazy," he said. "When we found out it was going to be in the spring, I was pumped and hyped. I was hitting the weight room six times a week."   A junior at Naperville Central, Lutes has a style best described as a kind of manic intensity, relentless and always seeking to find a vulnerability in his opponent.   His season was delayed. Lutes has seized the platform to showcase what he was capable of.  
At the IWCOA Class 3A regional at Naperville North on Sunday, June 13, he did everything imaginable to provide a sense of immediacy and closure.   The state tournament is back, now under the auspices of the Illinois Wrestling Coaches and Officials Association (IWCOA).  
Lutes showed a dazzling athletic and overpowering style as he dominated on his feet with his aggressive and punishing style in defeating Marmion's Jaden Morga 14-8 in the championship at 152 pounds.   He helped the Redhawks capture the team title, edging Downers Grove South by the narrowest of margins, 197 to 196.   Naperville North was third at 159.5 and West Aurora fourth with 151.  
Naperville Central also matched Downers Grove North with three individual champions.   Naperville North and West Aurora had two champions, and Downers South, Marmion, Hinsdale Central and Oak Park and River Forest had one apiece.  
Under the modified format of the state tournament, the top six wrestlers in each weight class advance to the sectional Saturday in Elmhurst.   The quality and skill on display underscored the seriousness of the moment.   Lutes conceded the first take down. Otherwise, he was firmly in control, bending the match to his own will. He was too quick and explosive for Morga to contain.  
"What we teach at Central is that you just break kids until they don't want to go anymore," Lutes said. "He was taking bad shots, and I just wanted to capitalize.   "That's what I did. I just kept coming."  
The most spirited and dynamic match played out at 195 pounds in the local showdown involving Naperville Central's David Pirozhnik and Naperville North's Gavin McCormick.   Locality only intensified the rivalry. The two have gone at each other since middle school. The teams did not have a dual meet during the improvised regular season.   The two circled and made contrasting and jutting moves against each in order to hunt the early advantage. The first period was largely neutral.   Pirozhnik seized control late in the second period. He executed a deft throw he turned into a five-point sequence with the near fall.   The suddenly tight match was 8-3 to start the third period, and Pirozhnik rode the momentum to the 11-5 victory.  
"I just had a feeling at that moment," Pirozhnik said. "He was trying to throw me the whole bout. I'm naturally a thrower, so when I knew he was trying to do that, I used it against him."  
Antonio Torres, who was fifth at 170 last year wrestling at Waubonsie Valley, made his delayed debut at Naperville Central.   He went 3-0 in winning by a technical fall and majority decision before capturing the title by forfeit.   Torres was one of three wrestlers who won by forfeit.
Nico Takano of Naperville North defeated Marmion's Tyler Perry at 160.   At 182, Ben Bielawski of Downers North won by forfeit over Caleb Yu of Naperville North.   West Aurora senior Dzhabrail Khurshidov engineered takedowns in the second and third period to edge Downers North's previously unbeaten Drew Bielawski 4-3.   He rode Drew Bielawski the final 40 seconds to secure the victory. After finishing second last year, Khurshidov is the top-ranked wrestler.   He was not very happy with his actions.  
"It was a terrible performance," he said. "I was wrestling sloppy the whole day. I should have run the scoreboard early. Whenever I need to, I can always hold on."   He has wrestled only six matches for the Blackhawks, winning them all.    "The season has been tough," he admitted. "I've been competing nationally. But I feel as though I have made a lot of improvements.  
"I've had more national tournaments because I've wanted to showcase that part of my talent. It has definitely been an adjustment. I would have liked an actual wrestling season with my teammates."  
His teammate, Jordan Lishman, survived the defensive tactics of Oak Park-River Forest's Malcolm Gray to prevail 3-1 in overtime.   In the overtime period, Lishman and Gray each secured an ankle. Lishman was able to power through for the winning takedown.   He was clearly rewarded for being the more aggressive of the two.  
"I think he was told to only play defense against me," Lishman said. "I think he saw I was more of an aggressive, or offensive person.  
"I think I had to adjust against that, but I wasn't as tired as him late in the match and I was more comfortable in that situation."   One immediate consequence of the altered season is that wrestlers entered the state series fresher. At the lower weights, Marmion's Tyler Aters and Hinsdale Central's Cody Tavoso each wrestled about 10 matches during the abbreviated regular season.  
Aters overpowered OPRF's Jalen Dunson 8-2 to capture at 120 pounds.   He secured two takedowns to gain the early advantage. He put the match away late in the third period by neutralizing the single hold Dunson had by taking him to his back.   "I usually like to wrestle from the outside and go for singles," Aters said. "When I am tying up, I usually like to go for sweeps."   He was alert and quick in his decision making. It turned the match.  
"On that last move, when I saw him dive, I just bowled him over," Aters said. "Ten matches coming into today was a nice figure.   
"Without all the beatings from wrestling 30 to 40 matches a year, it got me ready, and I liked it a lot more."   Progression is not always linear. In the case of Tavoso, he finished sixth at 120 pounds last year. He wrestled more than 50 matches.   The experience proved crucial.  
"I just want the experience," he said. "We're trying to mak the most out of this season. Last year I loved it because I was able to wrestle so many matches. It was a lot of fun."   At 126 pounds, Tavoso exhibited a clean and highly efficient style in dispatching Downers South's Anthony Sanchez 6-0.   His late first period takedown created the template. Working from the bottom at the start of the second period, he negotiated a quick reversal.   He rarely allowed Sanchez any space to operate.  
"It was really important for me to get that first takedown," he said. "In the second period, my focus was being able to ride him.  
"I have been able to break a lot of guys mentally by riding them out or getting some turns."  
At 106, Downers North's Kai Tacadena registered the only pin of the championship round, defeating Lyons's Patrick Jesse at 1:54.   The Trojans also unveiled a very promising freshman in Harrison Konder at 138. He edged Aidan Waszak of Wheaton Warrenville South 12-10.   In the 145 pound championship, Naperville North's Jake Newton survived a near fall at the end of the second period in beating Marmion's Walter Green 9-8.   OPRF's Connor Nagela defeated Luke Swan of Downers South 7-5 at 132.  
"I'm a really gritty wrestler, so I like getting two on ones," Nagela said.   Like most of the more than 150 wrestlers who took part in the regional, its very existence turned out to be an exhilarating moment.  
"It's been a very weird season, but I am also very grateful to have any matches at all," Nagela said.