Stevenson breaks through at Pure Elite 3A Regional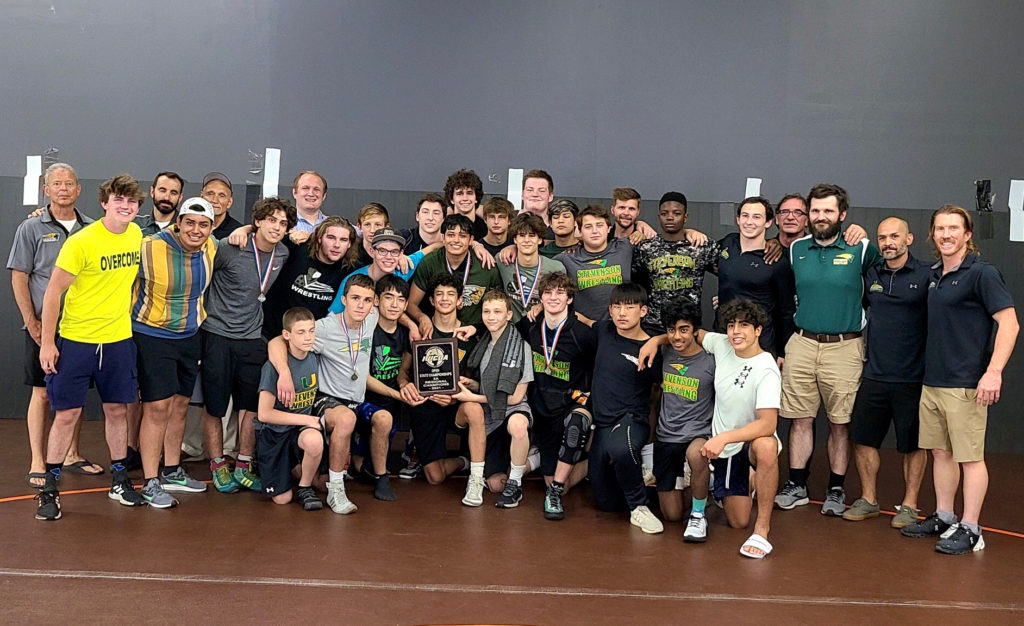 By Mike Garofola
Stevenson held off a late charge by Barrington to lift a 3A regional trophy Monday evening before a packed house at Pure Elite Fitness Center in Arlington Heights.
The raucous crowd kept the atmosphere lively all throughout a long day of competition as it watched several thrilling matches in the front draw – setting up a fitting finish by two long-time rivals who gave the audience plenty to cheer down the home stretch.
"It (Pure Elite Fitness) had all the elements and feeling of a summer tournament – people stacked up all around the mats, which were in close proximity, and enough noise and cheering right up until the very end of the tournament," began Stevenson head coach, Shane Cook.
"It was great to be a part of a tournament like this one – and I can tell you all of us are very thankful for the efforts of the IWCOA for putting together this state series for all of the boys."
Cooks' men would build a near 50-point advantage before holding a 21-point cushion (188.5-167) over Barrington heading into the final round of action – which Dave Udchiks' club made a valiant effort to overcome, only to fall short at the final whistle by 8.5 points.
"Stevenson wrestled off the charts to build their big lead, and our guys did really well to take a bite out of their advantage," Udchik said. "Credit Shane and his boys, they wrestled well all day long to finally get that monkey off of their back of not winning a regional title."
"Every year we have the likes of Barrington, Deerfield, Libertyville and Prospect standing in our way at regionals and for the last six years we've finished second to one of those teams," Cook said said. "So obviously that was a motivating factor for our guys coming in today, and they met the challenge, won the regional title, and in the process set a program record (of 11 qualifiers) into next week's sectionals in Joliet."
While both clubs each claimed ten top six medals on the day, the Patriots were able to nab a trio of second-place medals with Lorenzo Frezza (120), Kai Yamato (126) and junior Jacob Whiting earning his at 195 to help the cause.
"It's fun to be back competing with your teammates in a tournament that counts, I'm glad we were given this opportunity to do so by the IWCOA," said Patriots junior Cole Rhemrev, who kept his 2021 record clean at 21-0 after his wonderful performance at 132 to give his club its lone title on the day.
"It was hard for all of us to lose our postseason, but I was really happy to hear we would have regionals, sectionals, then a state tournament. It means a lot to all of us in the sport," added Rhemrev, a 2020 state qualifier who went 36-7 overall.
Frezza was one of three opponents of Prospect sophomore Will Baysinger (16-0), who dominated an all-star cast at 120 pounds en route to his individual title.
"I don't think any of us were sure if this state series given by the IWCOA was going to actually happen, but I was really happy to hear it was, and I know all of us are going to treat it like it really is a postseason," said Baysinger.
Last year, the affable Knight brought his relentless attacking style into the 2020 state tournament undefeated, as the No. 1-ranked man at 106-pounds, until stunned by eventual state champ Joe Fernau of Montini in his semifinal contest.
"I still look back at that day, and match and I use that to make me work harder, so if I get back into that match again, I'll make sure it doesn't happen again," said Baysingar, who continues to fine-tune his game with Freestyle, Greco and Folk-style wrestling.
The MSL East champion Knights led the field with three individual titles, along with Barrington. Prospect junior Tom Miller (113, 13-4) and 2020 state qualifier Damien Puma (138, 14-3) took home the top prize, with Puma winning by fall against another state qualifier from a year ago, George Gonzalez (15-2) of Lake Zurich.
LZ's big man, Alan Pantoja (17-1) avenged a blood-round loss at the 2020 Barrington sectional when he pinned Stevenson heavyweight Keegan Houlihan in his semifinal, before going on to record yet another fall in his match against Brian Clay (17-3) of Fremd.
"That was a rough day for me at sectionals" admitted Pantoja, who will wrestle this fall at Harper Community College.
"Since then, I have worked hard on my take-downs and shots, because I've always felt I'm very strong on top. So I look forward to keep on advancing into the state tournament and doing well there."
Barrington junior Jon Fier (17-10) surprised the top seed at 145 in his opening bout, then pinned his way into the semifinals, where a 4-2 overtime victory sent him through and into his final with Thomas Schoolman of Stevenson.
Once there, Fier recorded yet another pin to garner the first of three titles for the Broncos, followed by Jack Hartman (21-3) and then Evan Roper (24-0), who pinned his way to his title at 220.
"Fier started the day unseeded so his effort today for us was easily one of our highlights for the team," said Udchik.
Roper, was somewhat of a giant killer in 2020, emerging from the shadows to defeat one top ranked 220-pounder after another throughout the regular season. In the postseason, Roper beat then-No. 1 Ben Stemmet (Yorkville) in the quarterfinals with by fall, before his run was stopped by eventual state champion Josh LaBarbera of Montini Catholic in a heart-breaking 3-2 decision.
Roper would later win his third place bout to finish his season at 36-6.
"I'm just glad we had one last postseason after losing one from the IHSA," said Roper, who will study Mechanical Engineering at Carnegie-Mellon University.
Hartman, a two-sport star (football, wrestling) will call it quits from both sports when he attends Northern Colorado University in the fall, after taking a long look at Montana State and the University of Wyoming.
It was another wrestler named Jack – Jack Cummings of New Trier – who concluded a marvelous day of play at 195 with a technical fall victory over Jacob Whiting to win what he hopes is the first of two more title-mat wins when this IWCOA season is over.
"I cannot tell you how happy I am to have see this opportunity for all of us come from the IWCOA after having the disappointment of the IHSA calling off our postseason," began Cummings, who has suffered consecutive defeats in the blood-round at the Barrington sectional to put an abrupt halt to to both his freshmen, and sophomore season.
"Last year was so disappointing, not only because of my loss at sectionals, but also when there was no Frosh-Soph state tournament, so I have really increased my focus and work-outs – paying particular attention to improving my shots to help me get ready for these next three weeks."
Cummings was part of a trio of successful outings from his Central Suburban League rivals on Monday, which included wonderful work from Will Collins of Glenbrook South, and Evanston's Ricardo Salinas, who recorded an amazing 50-5 overall record a year ago, which ended with the Wildkits star taking home the fourth place medal at 170 pounds.
"I'm excited to have one last state tournament, and for me, my health is the key to my success in these next three weeks," said Salinas, who has had more than his share of poor luck during the later part of his last two seasons.
"It's not an excuse, but I've dealt with both pneumonia, and bronchitis during my last two times downstate, so for me, it's been really important to do my best to be healthy for these next three weeks so I can give myself the best chance to win a state title."
Salinas, who will move on to wrestle in the fall at Northern Illinois University, was part of sensational trio of Wildkits during the 2019 season, including his older brother Rafael (170), who would celebrate a brilliant senior campaign, and heavyweight Ramin Abraham, who not only lifted the 285 pound championship trophy but in doing so, recorded a perfect 52-0 overall record.
Like Salinas, Glenbrook South's Collins has had his fair share of setbacks, including a shoulder injury that slowed the start of his 2020 season after recovering from surgery in December of 2019.
"Injuries are always tough, and in this sport, sometimes inevitable, but I worked hard to get myself fit and back in wrestling shape to get myself downstate a year ago," Collins said. "Now it's all about staying healthy, being consistent on the mat, and working as hard as I can to get myself in a position to compete for a state title in two weeks,"
Collins improved to 6-0 after recording a second period fall in his 152-pound final.
The GBS junior came back from his injury to win both a regional, and sectional title at 145, to earn his first state appearance, finishing the year with an impressive 20-2 record.
Salinas (31-0) stayed undefeated this season following his 3-1 decision over Cooper Wettig of Loyola, who advances into sectionals with a 12-2 record.
Fremd would jump in front of Lake Zurich to earn sixth place (114.5) – just one-half point behind fifth place Hersey, which garnered its lone individual title from Billy Spassov (14-3) at 160 pounds.
Unseeded Wiley Jessup (16-4) gave Fremd the first of its two titles at 106, before sophomore, Maddox Khalimsky 13-0) collected the second for the Vikings when he earned a hard-fought 4-3 decision against Kai Yamato (Stevenson, 23-2) in a battle between the top two seeds.
"Maddox has been putting in a lot of extra time and doing all of the work, and it's been showing during our regular season, and obviously today," said his head coach, Jeff Keske.
"I finally made the commitment to being a hundred percent all-in to the sport, not like the fifty-fifty approach I had during my freshmen season," Khalimsky said. "With me spending so much time with coach (Keske) during the offseason, I'm starting to see the results from that hard work."
"It was a long, non-stop day of wrestling, but still a good day, and one where the MSL had a very good showing and again, I'm very happy for Cook and his guys from Stevenson," said Udchik.
Cook was pleased with his guys as well.
"Everyone bumped up order to give ourselves the best chance to win today – it was a totally selfless act on behalf of the guys, and I am very proud of all of them to do what was best for the team first, and then themselves," began Cook.
"Lorenzo (Frezza) made the move to 120 where Will Baysinger was, and he got himself into the final at that weight, and from 126-152 we were able to compete and earn spots in sectionals next weekend.
"Two fantastic stories for us today were at 195 with Jacob Whiting, out nearly all year because he was on the state championship water polo team. He came through with a second-place finish against Cummings from New Trier. And our heavyweight Keegan Houlihan was recently up at 360 pounds and he worked his butt off to lose (71) pounds in order to wrestle today.
"It was a great day for Stevenson wrestling, and we appreciate the opportunity the IWCOA gave everyone here a chance to wrestling, including the people here at Pure Elite."
Pure Elite Fitness owner and operator Mike Dragonich, himself a wrestler and graduate of nearby Hersey, was thrilled to have the chance to host for the IWCOA, the first being a 2A regional two days prior, followed by Monday's 3A contest.
"I'm close with head coaches at Elk Grove (Danny Vargas) and Charlie Curran at Wheeling, and Jim Wormsley," said Dragonich. Wormsley was head coach at Hersey when Dragonich, a 2010 grad, competed there. "So when I heard the IHSA would cancel its state series, and the IWCOA was looking for venues, I was all over it," Dragonich said.
"We saw hosting as a great opportunity to assist the wrestling community, as well as our business, so to help the sport and ourselves, it was the perfect marriage."
Dragonich opened Pure Elite Fitness in February of 2020, just 30 days before the COVID pandemic struck, so he turned to personal physical training to help pay the bills and keep the name of his company in the forefront as he waited things out.
"The Small Business Association was not lending to gyms and fitness centers, so with the help of our landlord, we took this big empty space and did a lot of in-person personal training to help pay the bills, which included connecting with skate-boarders. At times, we had up to 300 kids in here for fitness, and durability training," said Dragnovich.
Pure Elite will go into a full build-out after it hosts one last sectional this coming weekend. Dragonich hopes to be up and running to full capacity in two to three weeks, and become a business that will be a partner with the business community as well as wrestling and other sports.