Northern Illinois round-up from December 10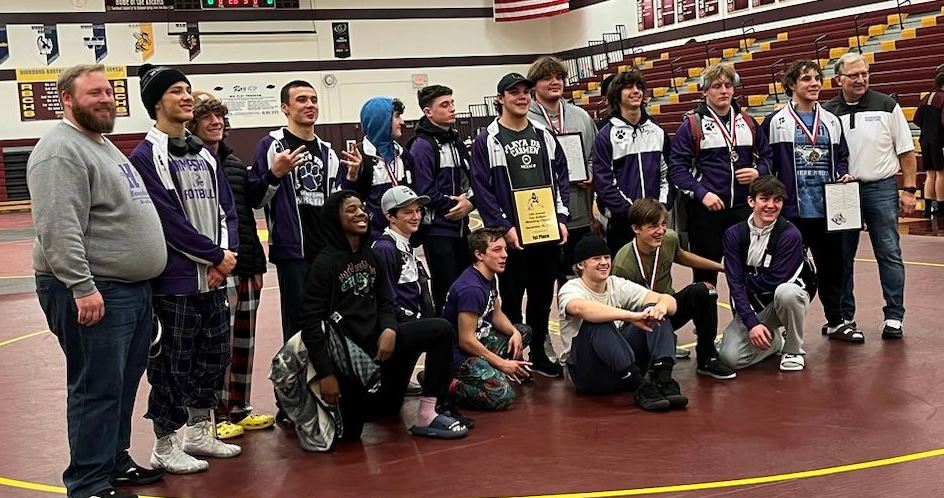 By Gary Larsen
Richmond-Burton's Tom Dubois tournament
Richmon-Burton's Tom Dubois tournament saw 16 teams square off in Richmond on Saturday, and when the dust settled it was Hampshire lining up for the group photo as the 2022 team champion.
Hampshire posted a 204-191.5 edge over second-place Quincy, with Wauconda a close third with 190 team points. Wheaton Academy (169) finished fourth followed by host Richmond-Burton (144.5) in fifth and Marengo (141.5) in sixth.
Hampshire got individual titles from Niko Skoulikaris (170) and Joey Ochoa (285) in spearheading the win for Whip-Purs coach Matthew Todd. Aric Abbott (132), and Will Ardson (220) placed second for Hampshire while Chris Naprikowski (145) and Tyler Boyd (195) placed third.
Adding to the team total for Todd were a fourth from Dawson Smith (126), fifths from Yani Nikolav (138), Michael Brannigan (152), and Aidan Rowells (160), and a sixth from Camden Smith (182).
"Our wrestlers did a great job," Todd said. "They wrestled hard against great competition. We had six freshmen step up into varsity roles and wrestle a great tournament.
"Our upperclassmen have helped guide our freshmen all season with their hard work in the room.  Our kids have done a fantastic job this year working hard and improving.  Our staff is excited to see how they will continue to develop."
Second-place Quincy coach Phil Neally got individual titles from Owen Uppinghouse (160) and Bryor Newbold (182), seconds from Dom Demming (120) and Brody Baker (138), thirds from Hugh Sharrow (106) and Todd Smith (285), and afourth from Wyatt Boeing (113).
Third-place Wauconda and Marengo tied for the tournament lead in individual champions with three each on the day. Wauconda got titles from Gavin Rockey (106), Cooper Daun (132), and Nick Chesier (152) for coach Trevor Jauch. Cole Porten (145) and Zac Johnson (160) also placed second for a Bulldogs team that only had 11 wrestlers entered in the tournament.
Also winning individual titles in Richmond were Genoa-Kingston's Shayden McNew (113), Wheaton Academy's Lincoln Hoger (120) and Taggart Kazmierczak (145), Richmond-Burton's Emmet Nelson (126), Marengo's Logan Miller (138), Eddie Solis (195), and Hunter Smith (220).
Placing second were Richmond-Burton's Kyan Gunderson (106) and Clay Madula (113), Wheaton Academy's Will Hupke (126), Lake Forest's Seth Digby (152), Winnebago's Charley Murray (170), Genoa-Kingston's Julian Torres (182), Rockford-Jefferson's Karlondo Dubois (195), and North Boone's Ethan Delgado (285).
The day's closest matches on the championship mat included McNew's 9-6 win over Madula at 113, and Smith's 6-5 decision over Ardson at 220.
Third-placers included Wheaton Academy's Oscar Smith (113), Deonta Giles (160), and George Truitt (220), Lake Forest's Bobby Biddle (120) and Julian Olenick (126), Richmond-Burton's Dane Sorenson (132), Johnsburg's Landon Johnson (138), Genoa-Kingston's Brady Brewick (152), Woodstock's Zachary Canaday (170), and Winnebago's Lucas Cowman (182).
Placing fourth in Richmond were Wheaton Academy's Ben Aniker (106), Tyler Jones (132), and Chasen Kazmierczak (138), Durand's Ethan Foster (120), Marengo's Mason Lampe (145) and Connor Sacco (170), Grayslake North's Jacob Ronsman (152), Richmond-Burton's Dominick Dickens (160) and Alex Reyna (182), Winnebago's Javier Flores (195), Rockford-Auburn's Joseph Grail (220), and Rockford-Jefferson's Antonio Osorio (285).
Hampshire's Joey Ochoa scored the most team points in the tournament with 30, followed by fellow champions Solis, Uppinghouse, Newbold, and Rockey with 28 team points scored apiece.
Buffalo Grove's Rex Lewis Invitational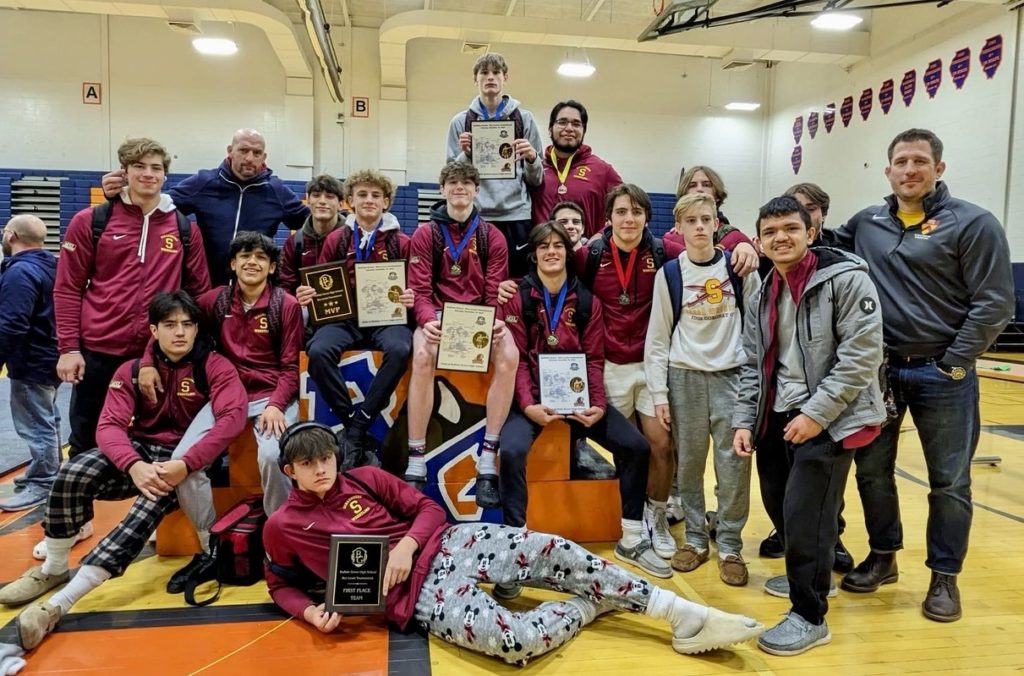 Schaumburg left no doubt who the best team was at this year's Rex Lewis Invitational, sending six individual champions to the top of the awards stand and seeing 12 wrestlers place in the top four of their weight classes.
The Saxons dominated the field with 265.5 team points. Second-place St. Patrick scored 154, followed by Geneva (150), Elk Grove (148), and Romeoville (120) to round out the top five finishers.
Completing the top 10 team finishers were host Buffalo Grove (114), Vernon Hills (96), Bartlett (87), Palatine (75) and Morris (73).
Schaumburg coach Mike LeVanti sent eight wrestlers to the title mat and got individual crowns from Brady Phelps (113), Callen Kirchner (120), AJ Quevedo (132), Gavin Hinkle (145), Caden Kirchner (152), and Jacob Acevedo (182).
Phelps was named the outstanding wrestler of the tournament after winning by tech fall on the title mat.
"Brady (Phelps) and the Kirchner brothers (Caden and Cal) were pretty dominant today, but I was particularly impressed with few of our other guys who stepped out of the shadows a bit today," LeVanti said.
Placing second for the Saxons were Logan Meyer (160) and Sean Christoffel (170), who also got thirds from Rocco Fontela (126) and Kolin Little (145), fourths from Jimmy Zinchuk (195) and Cesar Alvarez-Cuatepit (285), a sixth from Dilon Najjar (220), and an eighth from Austin Phelps (106).
"(Sophomore) AJ Quevedo gave a pretty mature performance for his first varsity tournament and Gavin Hinkle was able to rebound from a tough weekend last week to earn his first tournament title," LeVanti said.
"Jacob Acevedo avenged his finals loss from last year with a first period fall and I think that's pretty emblematic of the progress this group has made thus far.
"I think we had a pretty good effort. Everyone gave really solid performances. We talked about starting fast and I think that allowed us to sort of jump out early and put it out of reach relatively quickly … we wanted a complete team performance and our guys definitely delivered on that."
Second-place St. Patrick had an individual champion in Niko Karamaniolas (138). The Shamrocks had four wrestlers place second in Calvin Stahl (113), Olin Walker (126), Gio Hernandez (182), and Aiden Gomez (220), and a third from Daniel Goodwin (106) among St. Patrick's nine wrestlers who finished in the top eight of their weight divisions.
Third-place Geneva had two champions among their 10 wrestlers who placed in the top eight, in Dylan Konkey (160) and John Schmidt (195). Placing second for the Vikings were Joey Sikorski (106) and Maguire Hoeksema (152), while Joe Petit (220) placed third and Cam McGoarty (145) finished fourth.
Other champions on the day in Buffalo Grove were Elk Grove's Grant Madl (126), Romeoville's Mason Gougis (170) and Johnathan Espinoza-Lun (220), and Vernon Hills' Max Accettura (285).
Second-place finishers also included Niles North's Trent Tono (120), Buffalo Grove's Isaac Wilson (132), Elk Grove's Niko Thanopoulos (138), Morris' Tyler Semlar (145), Vernon Hills' Kevin Halley (195), and Palatine's Parker Brault.
The closest title-mat matches included Madl's 3-1 decision over Walker at 126, Hinkle's 3-2 overtime win at 145 against Semlar, and Konkey's 4-1 win at 160 over Meyer.
Rex Lewis third-place finishers were Romeoville's Alex Bahena (113), Mt. Carmel's Caleb Drousias (120), TF-South's Trayvonne Roberts (132), Buffalo Grove's Max Turner (138) and Vlad Fedorchenko (182), Elk Grove's Anthony Macina (152), James Keigher (170), and Mo Burt (195), Vernon Hills' Ilya Dvoryannikov (160), and Romeoville's Tony Galloway (285).
Fourth-place finishers included Buffalo Grove's Dawson Horvath (106), David Rodriguez (126), and John Sarracco (220), Bartlett's Max McCaan (113), Filip Szeszko (132), Nick Barton (138), Zain Yasoob (152), and Ryan Gura (182), Elk Grove's Nicasio Acino (120) and Jacob Elsner (160), and Larkin's Chris Valentin (170).
Hoffman Estates' Mickey Marchese tournament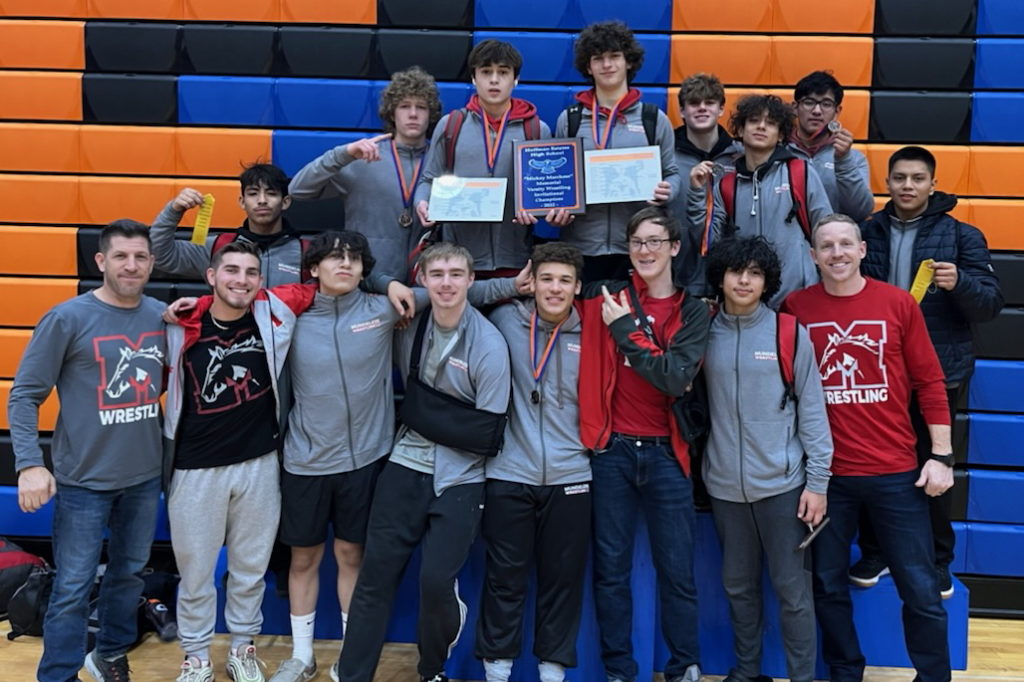 Mundelein sent five wrestlers to the title mat, won two individual titles, and had 11 wrestlers finish in the top seven of their weight classes to take this year's Mickey Marchese team title.
The Mustangs posted a 190-149 edge over second-place Lane Tech for coach Craig Stocker. Harlem (135) finished third followed by South Elgin (129.5), and Notre Dame (109) to round out the top five teams in the 16-team field.
Willowbrook (105) placed sixth, followed by Plainfield East (102.5), Rolling Meadows (101), Wheeling (95.5), and tenth-place host Hoffman Estates (68.5)
Mundelein got individual titles from Bryce Durlacher (120) and Benji Albavera (126), and second-place finishes from Pablo Bacerrar (113), Ethan Banda (132) and Ty Murray (160). Mundelein also got third-place finishes from Mac Rastrelli (170) and Abisai Hernandez (220), fourths from Gael Diaz (152) and Michael Nieves-Pena (182), a fifth from Ethan Thomas (138), and a seventh from Kevin Hernandez (145).
"It was absolutely a team effort," Stocker said. "We only brought eleven guys, so we needed every one of them to contribute, and we needed bonus points. Both of those happened.
"All eleven won at least two matches on the day and we had twenty-six falls throughout the tournament. The five that made the finals led by example from the start. I'm extremely proud of the way all eleven competed. We're looking forward to getting a few guys back from injuries and competing the rest of the season."
Second-place Lane Tech led all teams with three individual champions in Alex Valentin (113), Finn Merrill (138), and Fernando Lopez (152). Lane Tech also got seconds from Evan Coles (106) and James Zavala (120), and a fourth from Felix Zavala (145).
Third-place Harlem tied Mundelein with 11 wrestlers placing in the top eight of their divisions, led by individual champion Ben Larsen (160). Harlem also got a second-place finish from Aiden Zacharuk (145) and thirds from Ethan Hagerman (126) and Myles Babcock (132).
Other individual champions in Hoffman Estates were South Elgin's Demetrios Carerra (106) and Nico Clinite (145), Wheeling's Patrick Tinsley (132), Rolling Meadows' Skip Rozanski (170), Notre Dame's Jim Amatore (182) and Karl Schmalz (285), Hoffman Estates' Josh Ellery (195), and Cary-Grove's Logan Abrams (220).
Second-place finishers also included Rolling Meadows' Braeden Towle (126), South Elgin's Leo Rosas (138) and Tommy Roath (285), Plainfield East's Niko Duggan (152) and Roderick Burnett (220), Elgin's Fabian Ramirez (170), Streamwood's Max Dominguez (182), and Notre Dame's Aiden Rice (195).
The day's closest match on the title mat was Amatore's 6-4 decision at 182 against Dominguez. Nine of the 14 championship matches were won by fall.
Placing third at Hoffman Estates were Notre Dame's Johnny Sheehy (106), Stagg's Jamie Corral (113), Plainfield East's Aiden Villar (120) and Jerry Nino (160), Homewood Flossmoor's Jaylen Augustave (138), Hoffman Estates' Julian Bonilla (145), Maine West's Jason Hidan (152), Cary-Grove's Gabe Simpson (182), South Elgin's Danny Viscuso (195), and Elgin's Adam Lambatz (285).
Fourth-place finishers were Willowbrook's Aris Neal (106) and Elias Samayoa (285), Elgin's Julius Avendano (113), Willowbrook's Chris Giroux (120) and Elijah Smith (138), Wheeling's Alex Lucas (126), Streamwood's Uli Rojas (132) and Jace Wolf (195), Rolling Meadows' Ayden Steffler (160) and Eladio Castillo (220), and Streamwood's Gabe Inorio (170).