Northern Illinois tournaments roundup for January 7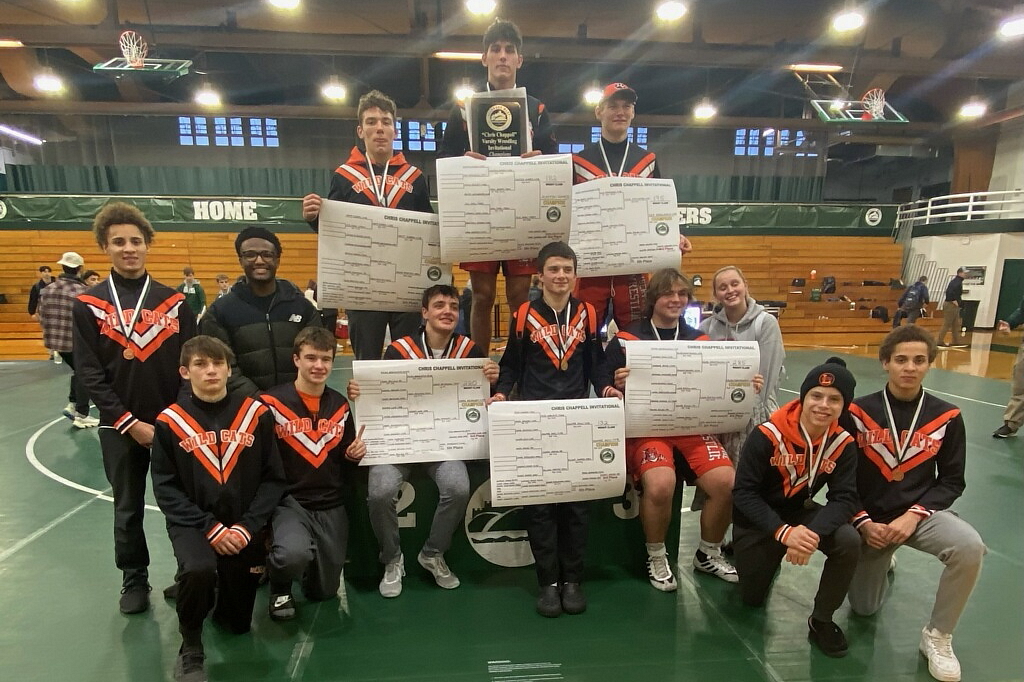 By Gary Larsen
Glenbard West's Chris Chappell Invitational
Coach Dale Eggert's Wildcats went on a five-match win streak in the finals, from 170-285, and got bonus points in four of the night's final five title matches in posting a 227-174 edge over second-place Fremd at this year's 13-team Chappell Invite at Glenbard West.
Libertyville went 5-for-6 on the championship mat, getting individual titles from Hunter Hill (132), Matt Kubas (170), Austin Gomez (182), Cole Matulenko (195), Owen McGrory (220), and Caleb Chistensen (285), and a second-place finish from Orion Moran (126).
"We have been getting great performances out of our upper weights all season, lots of wins, lots of pins," Eggert said. "Winning the last five individual titles is the kind of performances we have been getting to expect out of them.
"Today we were getting points out of our lighter weights as well and that was what we needed to take us to the title."
Libertyville got thirds from Luke Berktold (120), Antonio Kelly (138), and Anthony Kelly (145), and a fifth from Charlie Clark (160) help carry the Wildcats to the team title in Glen Ellyn.
Second-place Fremd got titles from Evan Gosz (126) and Maddox Khalimsky (145) and a second-place finish from Ali Adel (182). Vikings coach Jeff Keske also got thirds from Jake Crandall (152), Peter Mondus (160), and Jared Werner (195).
Host Glenbard West finished third with 161.5 points, getting an individual title from Jacob Lachs (138) and six second-place finishes from Carson Prunty (106), Advin Murtic (113), Elliot Torres (132), Brandon Watson (145), Trevor Skoda (160), and Sasha Boulton (170) for coach Paul McCluskey.
Montini (129), Prairie Ridge (112), Elk Grove (95), Cary-Grove (60), Thornton (50), Proviso East (39), Bartlett (29), Larkin (20), Waukegan (19.5), and Illinois Lutheran (9) rounded out the field.
Glenbard West's Jacob Lachs (138) and Montini's David Mayora (152) tied for the most team points scored in the tournament with 28, followed by Libertyville's Cole Matulenko (195) and Matt Kubas (170) with 27 apiece. Montini's Mick Ranquist (220) posted the most falls in the least amount of time, with four pins in 4:15.
Tournament history:
The Chappell Invite is named after 1986 Glenbard West graduate Chris Chappell, who wrestled for long-time Hilltoppers coach Bernie Botheroyd. Chappell died in 2002 and Botheroyd named the tournament after him in 2007, in his 29th and final year as head coach.
Glenbard West's 2023 Chris Chappell Invite championship match results:
106: Jake Lowitzki (Prairie Ridge) TF 5:28 Carson Prunty (Glenbard West)
113: Hunter Lenz (Cary-Grove) F 2:29 Advin Murtic (Glenbard West)
120: Tyler Evans (Prairie Ridge) F 3:07 Kameron Luif (Montini)
126: Evan Gosz (Fremd) F 2:52 Orion Moran (Libertyville)
132: Hunter Hill (Libertyville) D 8-3 Elliot Torres (Glenbard West)
138: Jacob Lachs (Glenbard West) F 3:08 Niko Thanopoulos (Elk Grove Village)
145: Maddox Khalimsky (Fremd) MD 16-4 Brandon Watson (Glenbard West)
152: David Mayora (Montini) F 5:05 Xander York (Prairie Ridge)
160: William Prater (Montini) D 9-2 Trevor Skoda (Glenbard West)
170: Matt Kubas (Libertyville) MD 16-6 Sasha Boulton (Glenbard West)
182: Austin Gomez (Libertyville) MD 10-0 Ali Adel (Fremd)
195: Cole Matulenko (Libertyville) F 1:03 Evan Jocic (Montini)
220: Owen McGrory (Libertyville) D 5-1 Casey Bending (Fremd)
285: Caleb Christensen (Libertyville) F 0:11 Lucas Burton (Cary-Grove)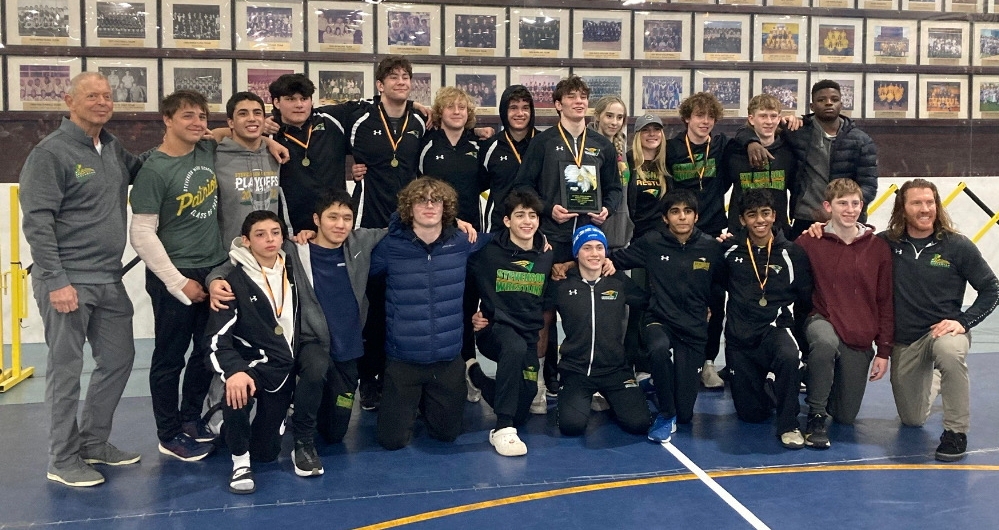 Leyden's Randy Conrad Invitational
Stevenson edged Conant at Leyden's Randy Conrad Invite, named for the 1977 East Leyden state champion and long-time former Leyden athletic director.
The Patriots posted a 184-177 edge over Conant, followed by Harlem (165), Jacobs (143), and De La Salle (142) to round out the top five team finishes.
Stevenson's lone individual title came from Yash Jagtap (120) but coach Shane Cook's boys fought tooth-and-nail across the board to make up ground on Conant, which led the tournament for much of the day.
"Oftentimes the phrase 'team effort' can sound cliche, but that's the case here," Cook said. "This was indeed a total team effort. Eleven out of fourteen of our wrestlers placed in the top five, and all day we stressed the importance of working hard for bonus points and our team responded.
"We finished the tournament with nineteen pins. We're looking to carry this momentum as we move forward towards the state tournament series."
Cook got seconds from Everett Ciezak (152) and Thomas Schoolman (160), thirds from Josh Zimring (182) and Blake Duvall (220), and fourths from Evan Mishels (106) and Andrew Timmons (285). Stevenson's fifths came from Ayush Bajaj (113), Shawn Kogan (126), Unubold Badral (138), and Erick Wade (145).
Conant sent six wrestlers to the title mat and got individual championships from Sam Santangelo (126), Ethan Stiles (160), and Harley Stary (220), and seconds from Matt Goolish (113), Luis Flores (120), and Tanner Cosgrove (138).
De La Salle's Zion Nix (220) recorded the most pins in the least time with four falls in 6:16, while Conant's Harley Stary (220), Jacobs' Dominic Ducato (113), and Harlem's Kaden Christiansen (170) all tied for the tournament lead in team points scored with 28. Conant's Ethan Stiles (160) scored the most points in any single match with 25, and Stevenson's Shawn Kogan (126) accumulated the most match points in the tournament with 49.
Leyden's Randy Conrad Invitational championship match results:
106: Jeremiah Lawrence (De La Salle) D 6-2 Owen Vail (Harvard)
113: Dominic Ducato (Jacobs) F 3:27 Matt Goolish (Conant)
120: Yash Jagtap (Stevenson) F 5:25 over Luis Flores (Conant)
126: Sam Santangelo (Conant) MD 11-1 Doug Phillips (Burlington Central)
132: James Wright (Jacobs) F 1:05 Myles Babcock (Harlem)
138: Mark Martinez (Highland Park) MD 12-4 Tanner Cosgrove (Conant)
145: Daniel Rosas (Harvard) D 6-1 Evander Lands (Jacobs)
152: Dmitry Derbedyenyev (Highland Park) D 9-3 Everett Ciezak (Stevenson)
160: Ethan Stiles (Conant) TF 4:31 Thomas Schoolman (Stevenson)
170: Kaden Christensen (Harlem) D 16-12 Diego Mendoza (Leyden)
182: Gabe Sanchez (Harvard) D 6-5 Jim Amatore (Notre Dame)
195: Aiden Rice (Notre Dame) D 7-3 Jacques Munkhjargal (Highland Park)
220: Harley Stary (Conant) F 1:33 Adnan Abuzir (Richards)
285: Karl Schmalz (Notre Dame) D 5-0 Max Accettura (Vernon Hills)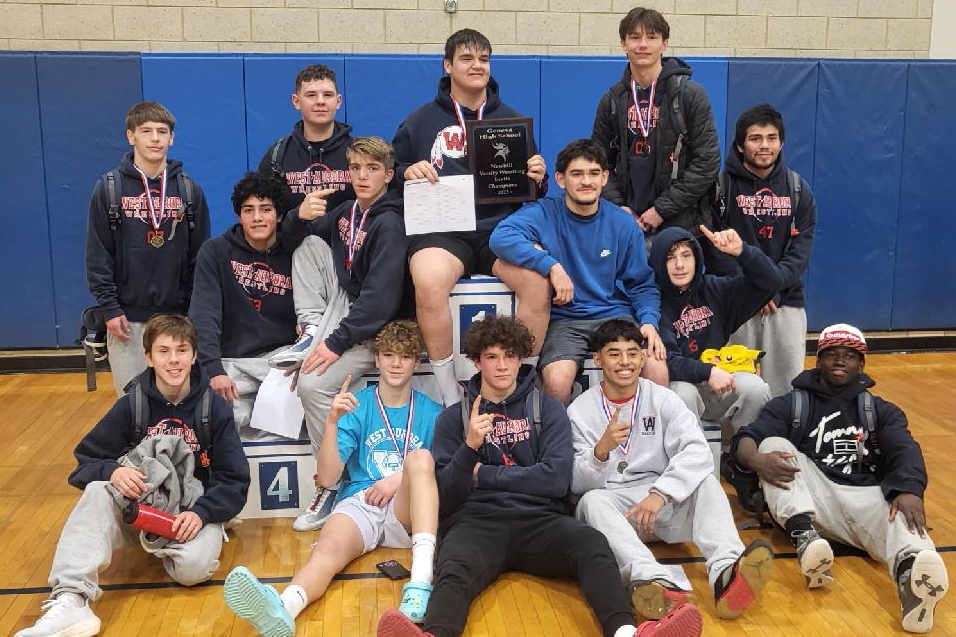 Geneva's Newbill Invitational:
After Saturday's 18-team Newbill Invitational at Geneva, West Aurora coach Andrew Plata uttered a phrase that wrestling coaches love to be able to say:
"It was great a great performance by the entire lineup," Plata said.
Plata sent five wrestlers to the title mat and got four individual champions in Robby Wyland (113), Adrian Ortiz (132), Noah Quintana (160), and Tyler Johnston (285) and a runner-up finish from Dominic Serio (145). The Blackhawks also got a third from Dayne Serio (138), a fourth from Francisco Solis (170), a fifth from Aiden Massaro (126), sixths from Angelo Regalado (152) and Payton Corral (195), and an eighth from Evan Matkovich (120).
Geneva's 44th Annual Newbill Invitational saw Plata's Blackhawks post a 199.5-188.5 edge over second-place Wheaton Warrenville South to win this year's team title.
"Robby (Wyland) and Noah (Quintana) were dominant all the way through the finals," Plata said. "Adrian typically has a hard time finding a spot in the line up but was able to take advantage of an opportunity this weekend and it paid off. Tyler is a Senior that hasn't wrestled since his freshman year, and we are grateful to have him back, healthy and competing for us."
Wyland (24-2) posted a fall and two major decisions on the day, while Quintana (25-4) pinned his way to a Newbill title. Ortiz (6-2) won a 7-3 decision over top-seeded Aiden Rudman (22-7) of Plainfield Central in a semifinal at 132, then won 3-2 for the title over second-seeded Damian Valdez (15-5) of Addison Trail.
Top-seeded Johnston (13-2) opened with a pair of pins at 285 before winning 4-2 over Metea Valley's Jesus Rojas (3-1) for the title. Second-seeded Serio (19-2) had a fall and a tech fall to reach the finals at 145 before losing 12-6 in the finals to top-seeded Scott Busse (28-2) of Lake Zurich.
Second-place Wheaton Warrenville South got an individual title from Sedeeq Al Obaidi (170) and a second-place finish from Jaidyn Buziecki (138), plus thirds from Aarav Ledvora (106), Cooper Hollis (132), and Zean Al Obaidi (160).
Three wrestlers tied for the tournament lead with the most points scored for their respective teams with 30, in Alton's William Harris (126), Dundee-Crown's Teigen Moreno (220), and West Aurora's Noah Quintana (160). Lane Tech's Felix Zavala (145) posted the most pins in the least time, winning four matches by fall in 5:24.
Tournament history:
Per the IHSA website, Jim Newbill was Geneva's head wrestling coach from 1973-76, its head baseball coach from 1978-83, and its athletic director for 10 years. Newbill passed away in 2014 at the age of 72 and according to the Kane County Chronicle at the time of his passing, "(Newbill) introduced new sports, raised money for an elite weight room and gym, and modernized the school's sports facilities. He was particularly proud of his efforts to expand the participation of girls in high school athletics, believing that boys and girls should have equal opportunities to compete and excel."
Geneva's Newbill Invitational championship match results:
106: Joey Sikorsky (Geneva) MD 17-7 Evan Coles (Lane Tech)
113: Robby Wyland (West Aurora) MD 16-2 Alex Valentin (Lane Tech)
120: Oliver Davis (Brother Rice) D 3-2 Alex Kahler (Lake Zurich)
126: William Harris (Alton) F 3:30 John Vega (Brother Rice)
132: Adrian Ortiz (West Aurora) D 3-2 Damian Valdez (Addison Trail)
138: Finn Merrill (Lane Tech) F 4:45 Jaidyn Buziecki (Wheaton Warrenville S.)
145: Scott Busse (Lake Zurich) D 12-6 Dominic Serio (West Aurora)
152: Jack Seacrist (Stillman Valley) D 9-7 Fernando Lopez (Lane Tech)
160: Noah Quintana (West Aurora) F 2:58 Dylan Konkey (Geneva)
170: Sedeeq Al Obaidi (Wheaton Warrenville S.) INJ Gabino Perez (Brother Rice)
182: Max Bowen (Plainfield Central) D 9-4 Blake Salvino (Glenbard East)
195: Porter Leith (Dundee Crown) D 3-1 John Schmidt (Geneva)
220: Teigen Moreno (Dundee Crown) F 3:57 Joe Pettit (Geneva)
285: Tyler Johnston (West Aurora) D 4-2 Jesus Rojas (Metea Valley)
Sarah Goode Knights Invitational
The 11-team Knights Invitational was a nail-biter to the end, with Northridge Prep ultimately edging out second-place host Sarah Goode in Chicago by a mere half-point, 140.5-140.
Northridge Prep only entered eight wrestlers in the tournament, but coach Joseph Rhee's Knights led all teams with five wrestlers on the finals mat, and four individual titles. Adam Haddad (152), John Suter (160), Michael Kopecky (170), and Steven Kopecky (182) were all individual champs and Northridge got a runner-up finish from George McShane (138).
The Knights also got a third from Nathan Betancourt (220) and a fourth from Mason Wagner (195). Bonus points carried the day in the finals for Northridge Prep, which got pins from Suter and Michael Kopecky, a tech fall from Steven Kopecky, and a major decision from Haddad.
Second-place Sarah Goode got a title from Elijah Edwards (220) and second-place finishes from Kwan Washington (113), Kendall Martin (152), and Malek Howard (182).
Little Village (116) finished third, followed by Crete-Monee (103), Curie (101), Bowen (94), Ridgewood (84), and Chicago Military Academy-Bronzeville (52).
Michael Kopecky led all wrestlers in the tournament in earning 26 team points for Northridge Prep, followed by Steven Kopecky with 25.5. The Knights' Haddad was fifth with 23 team points scored while Suter earned 22. Bowen's Steven Prince had the most pins in the least time, posting three falls in 3:06.
Sarah Goode's Knights Invitational championship match results:
106: Brian Bahena (Little Village) F :25 Mohamad Khater (Ridgewood)
113: Islam Khater (Ridgewood) F 1:56 Kwan Washington (Sarah Goode)
120: Monica Griffin (Bowen) F 1:20 Sal Reina (Ridgewood)
126: Porfirio Govea (Curie) F 3:38 Donovan Depakakibo (Ridgewood)
132: Brandon Manzo (Little Village) F :23 Giovanni Scumaci (Curie)
138: Jerome Brown (Crete-Monee) F 3:27 George McShane (Northridge Prep)
145: Josiyah Holland (Crete-Monee) F :33 Ron Tyler (Bowen)
152: Adam Haddad (Northridge Prep) MD 14-6 Kendall Martin (Sarah Goode)
160: Jon Suter (Northridge Prep) F 2:44 Caleb Gordon ( Military Academy Bronzeville)
170: Michael Kopecky (Northridge Prep) F 1:43 Julian Luna (Ridgewood)
182: Steven Kopecky (Northridge Prep) TF 18-2 Malek Howard (Sarah Goode)
195: Sean Brown ( Military Academy Bronzeville) F 1:04 Isaac Lovett (Crete-Monee)
220: Elijah Edwards (Sarah Goode) F :25 Miguel Tovar (Little Village) 6-4, Jr. (Fall 0:25)
285: Israel Fabila (Curie) D 3-2 Adrian Chavez (Little Village)