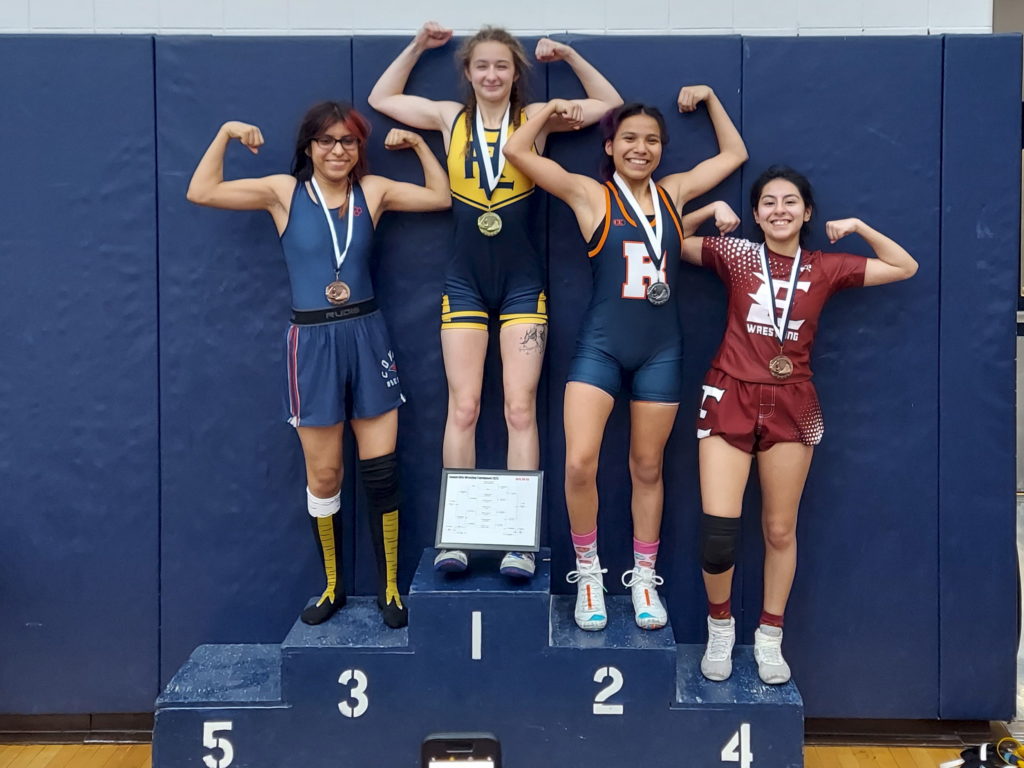 By Gary Larsen
Conant's 32-team field featured more than 200 girls and no shortage of storylines about returning state placewinners, finals matches between highly-ranked wrestlers, and close matches on the title mat.
But Hoffman Estates' Eunice Ji has a story to top everything.
Ji won a tournament in December of 2021 before getting hurt in January of 2022, tearing a nerve in her leg. That's when she faced a challenge that most high schoolers could never even fathom.
"I was in a wheelchair for six months and got out of it around July (of 2022)," Ji said. "So I thought I was done in the sport."
She wasn't. Ji rehabbed well, so much so that five months after discarding that wheelchair, she won a tournament title on Saturday at Conant's 32-team tournament in Hoffman Estates.
Ji's second-period pin in the finals at 123-128 earned her a first tournament title of the season, in a tournament that used 27 different weight classes of 8-person brackets each, in order to give every wrestler three matches for the day.
"I was nervous at the beginning because I wasn't expecting to wrestle this good today," Ji said. "But I felt really strong today. Normally I've been getting really tired but today I really wanted to win."
No team champion was crowned but Lockport led all teams at Conant with seven wrestlers reaching the finals and four champions crowned. Oak Forest had three champions and five finalists, and Round Lake had three champions and four finalists. Schaumburg, Warren, Palatine, and host Conant had two champions apiece
Lockport's four champions were Liz Ramirez (110-116), Maya Hernandez (117-122), Claudia Heeney (121-127), and Kelli Watkins (157-171). Heeney squared off on the title mat with a 2022 state medal winner in Yorkville's Yami Aguirre, who placed fourth in Illinois at 115 last year.
The freshman Heeney and the junior Aguirre each fought off takedown attempts through a scoreless first period and Aguirre started in down position in the second. Aguirre nearly got to her feet for an escape point when Heeney took her to her back and won by fall at 3:55.
"She tried to escape and she left her chest up, so I used an over-under," Heeney said. "It was mostly muscle memory in those situations so I just knew what to do."
Heeney started fast and seemed to gain speed as the title match with Aguirre wore on.
"I was just ready to go, right away. I had a lot of acceleration," Heeney said. "I was ready. "I wrestled her on Wednesday at Batavia and I won 3-2. She has a lot of strength so I had to go to my technique and just stay focused."
Ji's remarkable comeback story and a marquee match between Heeney and Aguirre were fine storylines, and Illinois wrestling fans would be hard-pressed to find another wrestler anywhere with more positive energy than Palatine sophomore Sabrina Cargill.
Cargill won a Conant title at 151-160 on Saturday with a pin on the title mat against Minooka's Jaiden Moody.
Sports might build character but Cargill showed up with that quality at Palatine.
"I just go in with the mindset to never give up," Cargill said. "If I'm tired I just tell myself 'Sabrina, I'm not tired'. So I always try to encourage everyone to never give up because I know how hard it is.
"Put in the work, show up, and wrestle like you've never lost. You don't have to win every match but if you keep that mindset and do your best — you can accomplish anything in life."
It's no secret that the vast majority of wins in girls' wrestling come by fall, and Conant's title matches kept to that script: 21 of Conant's 27 championship matches were decided by fall, with one decided by tech fall and one by major decision.
And of the four straight decisions on the title mat, none were more hard-fought than the one between Conant's Mannie Anderson and Minooka's Bella Cyrkiel at 134-144.
After a scoreless first period, Anderson rode Cyrkiel out in the second and then used a third-period escape to win a 1-0 decision. Anderson is ranked No. 3 at 135 in Rob Sherrill's Illinois Matmen rankings.
Cyrkiel kept coming in the third, getting in on two single-leg takedown attempts. Anderson fought tooth-and-nail in avoiding being taken down, which was tough against a wrestler as big and strong as Cyrkiel.
"That was a ten-pound difference for me so I felt her weight," Anderson said. "But it was nice to wrestle her because my coaches limited me to wrestling 135 this year. It was a good lesson today that my brute strength isn't always going to be a factor to win.
"I think we've been in six tournaments this year and I've won four. I'm just staying focused on my first opponent and then just working my way up. I plan on doing something at state this year and I don't want to psyche myself out. I just want to work my rep up so I can get the highest seed possible this year."
Another marquee match between ranked wrestlers occurred at 100-110. In a battle between two wrestlers who won titles at Palatine's Sally Berman tournament less than two weeks ago, Oak Forest's Alex Sebek won by fall at 100-110 against Round Lake's Riley Kongkaeow at the 2:00 mark.
Sebek went into the match ranked No. 2 at 100 pounds against No. 5 Kongkaeow.
Sebek won by fall at 2:00.
"I watched her wrestle last weekend and saw her win her finals match, so I was really nervous," Sebek said. "But once I took her down I was a little more confident in the match. Getting that first takedown helps me, knowing that I'm up, and then I know she's worrying about it."
Two more ranked wrestlers squared off in the title match at 128-138. As Illinois' No. 2-ranked wrestler at 140, Schaumburg's Valeria Rodriguez has come a long way since placing third downstate last year at 155 pounds. She won her title Saturday with a fall on the title mat against Kaneland's Dyani Torres, who is currently ranked No. 6 at 135.
"I lost fifteen pounds since last season and really worked at getting stronger and more fit," Rodriguez said. "With the help of our coaches, we've spent so much time working on my confidence, the mental part of this sport, and my technique."
In the finals at 180-189, Oak Park and River Forest's Trinity White stayed on the path to another potential state place medal with an 8-1 decision over Oak Forest's Isabel Peralta.
White finished fifth in Illinois at 170 last year and is currently ranked No. 5 at 190.
She doesn't plan to stay at 190 for the state tournament.
"I'm wrestling a weight class up and it's a lot harder," White said. "It was hard at 170 last year but this year has been twice as hard. But it makes me want to work two times harder to be on top.
"I got second my freshman year but I was fifth last year. Last year just made me want to grind even harder to get first."
Conant's Natalie Aguirre not only won the title at 190-198, she also posted the most pins in the shortest amount of time. Aguirre pinned all three of her opponents in a combined total of 55 seconds.
Hoffman Estates' Sophia Ball scored the most points in any single match with 23, and Schaumburg's Madyson Meyer scored the most total match points with 31.
2023 Conant Girls Wrestling Tournament championship match results:
90-98: Autumn Turner (Round Lake) F 2:46 Josefina Orozco (Romeoville)
99-105: Vianey Hernandez (Round Lake) F 1:46 Dani Turner (Yorkville)
100-110: Alexandra Sebek (Oak Forest) F 2:00 Riley Kongkaeow (Round Lake)
104-110: Alyssa Bentley (Warren) TF 15-0 Sophia Moyer (Yorkville)
110-116: Liz Ramirez (Lockport) F 1:05 Marjorie Rodriguez (Oak Forest)
111-120: Eleanor Aphay (Riverside-B.) F 2:37 Sofia Gold (Neuqua V.)
113-121: Karen Herrera (Elk Grove) F 3:11 Lizzie Rock (Lockport)
114-118: Madyson Meyer (Schaumburg) F 2:37 Uliana Shevtsova (Metea V.)
117-122: Maya Hernandez (Lockport) F 1:53 Elizabeth Paredes Torres (Evanston)
121-127: Claudia Heeney (Lockport) F 1:56 Yamilet Aguirre (Yorkville)
122-126: Emily Pizano (Elgin) MD 15-6 Paige Bonilla (Schaumburg)
123-128: Eunice Ji (Hoffman Estates) F 2:23 Kira Cailteux (Minooka)
127-130: Sophie Dolinar (Warren) F 1:53 Wendy Morales-Salinas (Evanston)
129-138: Valeria Rodriguez (Schaumburg) F 4:22 Dyani Torres (Kaneland)
131-137: Laura Kowalczyk (Fremd) F 2:16 Paige Forbes (Warren)
132-136: Clara Ugaz (Highland Park) F 2:30 Ashley Bridges (Warren)
134-144: Mannie Anderson (Conant) D 1-0 Bella Cyrkiel (Minooka)
135-142: Brianna Perez (Round Lake) F 4:25 Aubrey Mueller (Conant)
140-148: Dylanie Cecala (Minooka) D 11-4 Axel Warzecha (Mundelein)
143-150: Natalie Graettinger (Evanston) F 1:26 Deylin Manteca Claros (Lockport)
151-160: Sabrina Cargill (Palatine) F 5:49 Jaiden Moody (Minooka)
152-162: Jasmine Hernandez (Palatine) D 12-6 Alicia Tucker (Plainfield Central)
157-171: Kelli Watkins (Lockport) F 1:07 Julianna Conroy (Buffalo Grove)
164-180: Riley Ensing (Oak Forest) F :47 Lydia Chrobak (Lockport)
180-189: Trinity White (OPRF) D 8-1 Isabel Peralta (Oak Forest)
190-198: Natalie Aguirre (Conant) F :31 Peyton Kueltzo (Minooka)
202-221: Jessica Komolafe (Oak Forest) F 1:08 N`Dyia Mahon-Godfrey (Kelly)