OPRF edges Schaumburg for girls title at Hoffman Estates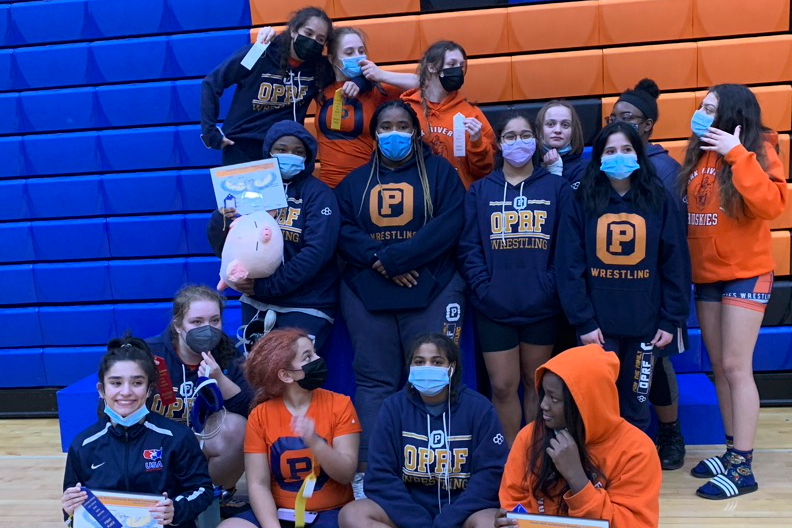 By Mike Garofola
For the IWCOA
In its heyday, when the circus came to town, people would drive from miles around to be treated to hours of entertainment never seen before.
The sport of girls wrestling had one of its most entertaining days of the year play out Saturday, as 26 teams and over 150 wrestlers descended on Hoffman Estates, thrilling fans for hours with quality and exciting competition.
Oak Park and River Forest would lose its day-long lead late in the day to Schaumburg, before sisters Tiffany and Trinity White won their respective weight classes to help the Huskies jump up and over Schaumburg to help OPRF lift the championship trophy by a mere four points (187-184). BRACKETS
"This was just a great tournament, well-run, and one that offered a complete tournament format with team points," began OPRF head coach, Fred Arkin.
"It was really touching to see how the girls cheered and supported each other throughout the day. Their spirit really raised each other up, and it was also great to see how each team developed healthy and competitive programs. It was just a great tournament, and a great day of wrestling."
Arkins' club collected 10 medals on the day, the same as Matt Gruszka's Schaumburg Saxons team, which made a valiant effort to overtake the eventual champion Huskies.
"Going into the final round we knew it was close, and it was just a lot of fun wrestling that last round because the girls knew it was for the team championship as well," Gruszka said.
"After coaching boys wrestling for so long, it was really cool to share this experience with the girls in such a big tournament, and a close team race. It was awesome."
Gruzska made a point of praising host Hoffman Estates and its tournament director, Leo Clark, who continued to add teams in the week leading up to the tournament. Clark and his staff kept the action moving, provided clear and concise announcements throughout the day, and provided the wrestlers and fans plenty of memorable moments.
"Credit OPRF and Schaumburg and their coaches for their achievements, and for our girls we're excited to finish fourth overall in this tournament," said Clark.
"Our girls were really fired up, and now have made it their goal to go out and recruit others to help fill our weight classes so we can compete with teams like OPRF and Schaumburg," added Clark, who also complimented his captain, Evelyn Simon (13-4), who placed third at 120 and led by example for her team throughout the day.
The host Hawks fell just short of third-place Glenbard West (93.0-92.0)but had enough in its gas tank to outscore fifth-place Lockport (89.0) and Porters head coach Nathan Roth.
"Our girls wrestled great all day long, each one of them is a first year wrestler, and it was their first bracketed tournament," Roth said. "Despite getting up earlier than normal to compete in so many matches, their spirits remained high to the end of the tournament.
"This tournament was a really fantastic experience and a ton of fun for all the girls. It will definitely help them be better prepared for sectionals later on."
"It was really nice to have all of the mats on the floor, with the fans in the balcony, it kind of added to the drama of it all. I can tell you when it was all over, we brought the team together and asked them if they had fun and in unison they yelled out 'yes!'"
Oak Forest (88.5), Maine East (65.0), Lane Tech (60.0), Homewood-Flossmoor (57.0) and Downers Grove South with 53 overall points would round out the top ten here.
Champion OPRF will host an 18-team tournament this coming Saturday, January 22, in advance of what Arkin believes will be the first ever conference tournament in the state when Addison Trail welcomes the West Suburban Conference on Tuesday, January 25.
"All of our seniors – Bentley Hills, Maria Dias, Bella Tyma and Kennedi Dickens – have shown incredible resilience. The entire team had to go through dealing with Covid but through it all, they remained focused and dedicated. They trained in basements, back yards, bedrooms, and porches over zoom sessions — so today, we are incredibly proud of all of them," Arkin said.
"The awards ceremony is nothing like I've seen before, it was a true celebration," said Gruszka in closing.
"The thing I've noticed is the girls are making their own community in this sport – they become friends, follow each other on social media, and hug a lot."
But make no mistake, when they get on the mat, they are out for blood, they want to win and succeed, but when they're done, they are friends again."
Hoffman Estates championship matches:
100 – Kat Bell, Montini Catholic
Montini Catholic freshmen Kat Bell (14-7) left little doubt as to who was the best at 100 on this day after her impressive effort in her final with top seed Ava Anderson (13-4) of Homewood-Flossmoor.
With her father Pat in her corner, Bell followed up her semifinal pin with another at 3:14 to claim the her first top prize of the season.
"There's a lot of tradition at Montini with our boys program, so it feels good to start to kind of continue that tradition in girls wrestling, and especially with my dad in the corner, who wrestled at Montini," said Bell.
"Obviously I got into the sport because of my dad but it's such a great sport, I think I would have gotten into anyway," continued Bell, whose tilt led to a near-fall just before the first period came to a close to give her a 7-3 advantage.
Bell, who went 1-1 last weekend at the Schaumburg Invite, with her loss coming at the hands of Anderson, started the second period in neutral and immediately added a take-down off the whistle. Bell then went to work on her eventual pin to finish her tournament with a flurry.
105 – Gianna Gagliani, Conant
Gianna Gagliani put on a devastating attack during all three of her matches with an explosive, quick, and technical finishing touch that never allowed any of her opponents time to breathe against this power-packed diminutive dynamo from Conant.
The Cougars' senior needed just 60 seconds to capture her title, after using up a mere 104 seconds in her two previous bouts to send her into the final.
"Gianna is a four-year veteran, who is a three-time state qualifier, and fifth place medal winner at 106 last year," said Conant head coach Andrew Guilde.
"She is an absolute workaholic who is never afraid of hard work, or her competition, and is without a doubt, one of the hardest workers in our program.
The biggest improvement for her this year is her positioning, and mat awareness.
"Gianna has always been very aggressive; however, she would often find herself in trouble because she would throw caution to the wind. This year she has made it a point to work on position, before points, and as you can see it has really paid off for her."
With her three victories, Gagliani is now 11-1 overall.
110 – Camila Neuman, Oak Park and River Forest
Neuman gave her club its first of three individual titles with a pin at 3:45 to capture the 110-pound trophy over Harika Matakumall of Schaumburg.
The four-year veteran, who wants to continue to wrestle at the collegiate level, where she plans on a secondary education degree, wasted little time taking the lead with an early take-down, before riding out her opponent hard for the remainder of the period.
"I've been working a lot on improving my shots, stance, and with being more patient in my approach and because of that I've become a better wrestler this season," said Neuman, who needed just 46 seconds in her semifinal to book her spot in the finals.
"(Cam) began wrestling as a freshmen, and is super dedicated to the sport," began OPRF head coach, Fred Arkin.
"Her work ethic is incredible, and her focus on strength training during covid (lifting) in her basement has made her so much better, as has the extra time spent during the offseason training at Beat the Streets.
"After her fifth place finish last summer at the IWCOA state finals, her focus is squarely on the first-ever IHSA State Championships in Bloomington."
115 – Sophia Ball, Hoffman Estates
Host Hoffman Estates enjoyed a wonderful day on the mats, earning its fourth-place team finish, five overall medals, and a pair of individual titles beginning with Sophia Ball at 115.
"Sophia is a gymnast and she's extremely athletic, so when you watch her wrestle you see how she moves really well, and has a natural instinct to know where she needs to be on the mat," said head coach Leo Clark.
"Being a freshman and already having this level of body awareness out there has made her very difficult to beat and really exciting to watch."
Ball defeated top seed Madyson Meyer (Schaumburg, 16-3) in her semifinal to advance to meet No. 2 seed Sharon Moreno (15-3) and after finding herself trailing the Lane Tech star (4-0) in the early going, Ball got back level at 4-4 with a pair of take-downs before the period ended.
"I got myself into a little bit of trouble at the start of my final," Ball said. "Nothing was really working for me in that first period, but that first take-down really helped me get back into the match and after that, everything seemed to work for me.
"I like everything about this sport – the friendships developed, and just being in the room, and around my teammates."
Meyer went on to finish third overall after recording a pin in her final bout of the tournament.
"As a first-year freshman in the sport, Madyson has developed by leaps and bounds," Gruszka said. "She literally gets better each day because of her competitive spirit, which keeps her in every match when she goes out to wrestle."
120 – Hannah Suboni-Kaufman, Maine East
You would hard pressed to find a better ambassador for the sport or for Maine East girls wrestling than this four-year veteran who continues to shine for the Blue Demons program.
The senior Suboni-Kaufman pinned her way to her second major of the season, needing just over six minutes on the day to claim a well-deserved crown at 120-pounds.
"I like the fact that it's an individual sport so it's all on me, but I like that it's also a team sport. I love everything about it," said the affable Suboni-Kaufman, sixth at the IWCOA tournament last summer at 113, and now a perfect 13-0 on the season.
Suboni-Kaufman, who won her first title of the campaign on her home mats at the 3rd annual Emiliano Hernandez Girls Open in late December, does so many things well that it makes her a handful to take on.
Technically sharp, Suboni-Kaufman is a defensive wizard and shows wonderful positioning and balance, but can attack with lightning quickness to send her opponents out of their comfort zone and rhythm.
"It's really exciting to be a part of a big tournament such as this one, and to a part of the first ever IHSA sanctioned state tournament next month," added Suboni-Kaufman, who plans to continue to wrestle next fall should she attend Augustana College, with either Loyola Chicago, or Bradley on the radar if wrestling is not in the cards.
125 – Bethany Regione, Schaumburg
A proud Matt Gruszka would heap plenty of praise on his two individual champs (Regione and Valeria Rodriguez), beginning with the senior Regione, who dominated from start to finish to earn top honors at 125.
"This is the third season in the sport for Bethany, and much of her success has come from always being in the room," Gruszka said. "She has put a ton of offseason work in and right now she is seeing the benefits of all of that hard work."
Regione has her eye on the big prize this season.
"I was injured my sophomore year, but I worked hard last year, and came back to get a fourth place medal at state," she said, "so now it's all about continuing to put the work in so I can go after a state championship."
"To be honest, Bethany's better days are still ahead of her because her plan is to wrestle in college, and that's all the motivation she needs to reach her goal of doing so," said Gruszka.
Regione (15-1) recorded a nicely-played near fall late in the first period to go up 5-0 on junior Eunice Ji (Hoffman Estates), and extended her advantage to 10-2 with a high-crotch single in the third period before registering a 15-3 major decision victory.
130 – Abby Ji, Hoffman Estates
Freshman Abby Ji (11-7) treated the home side faithful to its second championship of the day after her hard fought contest with league rival, Madeline Zerafa-Lazare (11-3) which ended when the Schaumburg freshman was forced to concede to an injury with just 43 seconds remaining in their title match.
"Madeline wrestled each other the day, and we're also friends, so to see her re-injure her shoulder during our match was very hard to watch," said Ji, who connected with Zerafa-Lazare shortly after the Saxons young star was attended to in order to console her fallen opponent in a terrific show of sportsmanship.
"We were actually talking to one another during our match – even complimenting each other after a certain move for points," Ji continue with a big smile.
"(But) I knew she was in trouble after my near fall late in the match, and I never want to see anyone I'm wrestling be injured."
Ji, the younger sister of Eunice Ji, who placed second at 125, says the sport of wrestling allows her to channel her anger in the Hawks room, which of course, includes the Hoffman Estates boys, who have been helpful in her development.
"Abby has greatly benefited from being able to watch Eunice," coach Leo Clark said. "They are both very close, but always pushing each other in the room, and her ability to be strong and tough out there could lead to making some waves at sectionals."
135 – Keira Dafnis, Wauconda
Keira Dafnis (16-1) found herself in a couple of hard-fought bouts in the semifinals and finals at 135, but the Wauconda senior showed her mettle when it was needed to prevail in style, en route to her first big win of the season.
"I was a cheerleader for ten years so you always had to be a certain type of person to be in cheer," Dafnis said. "But when I left that to become a wrestler my freshman year, the hard work in the room and away from it kind of changed things for me.
"I am always still upbeat about things, but I just love this sport, so you kind of change your approach to things because of it."
Wauconda coach Anthony Piltaver likes what Dafnis brings to the sport.
"Keira is very coachable and will apply given feedback during tournaments, or in the room to make adjustments where needed," he said.
"She has a lot of ways to get into her shots and set-ups, and she's constantly looking to add pressure on the top and bottom."
Dafnis conceded a late take-down to Noemi Marchan (12-4) in the second period to allow the Lane Tech star to draw back even at 4-4, until a nifty escape and then a takedown seconds later gave Dafnis the lead at 7-4.
"Keira was able to to secure a takedown to put Marchan on her hip, and from there she reached a cross-face pinning combination," said Piltaver after Dafnis' pin at 4:44.
"Noemi is a great opponent. We saw her at Larkin and then Schaumburg last week, so we knew she would give Keira a real battle in the final."
Marchan was a state qualifier in 2020 and 2021.
140 – Anika Navarro, Glenbard West
Glenbard West secured its top-three finish with seven medals overall on the day, with junior Anika Navarro leading the way with her win at 140 pounds over Wauconda sophomore, and No. 1 seed, Hazel Hartwig.
"To win my first tournament championship at such a big invite feels real good right now, and makes all of the hard work I've put in thus far really worth it," said Navarro with a smile.
The one-time soccer player and current field hockey player at Glenbard West used a pin at 37 seconds in her semifinal to reach the final. Navarro and Hartwig went back-and-forth to a 7-7 tie on a reversal from Hartwig with 90 seconds left in the second period.
Inspired by the roar of the crowd, these two combatants traded the lead until the final whistle of the third period, with the score level at 11-11.
"It was a wild and crazy match but all of that helped keep me going, even into overtime where I was able to surprise her with a head lock to win," said Navarro, whose match-winning effort came with 13 seconds remaining in overtime.
"The atmosphere in the room next to the boys program really helps all of us push ourselves to improve, and that's one of the things that I like so much about the sport," added Navarro.
Hartwig's coach liked what she showed on Saturday.
"This is Hazel's first real season of wrestling (after two COVID-shortened seasons) so to advance into the final against such a great opponent like Anika was really good for her," Piltaver said.
"They pushed each other right until the end to make it a worthy final for both girls, and for Hazel, going through a traditional tournament and making the final, is an experience she can build from as we begin to prepare for the state series."
145 – Jasmine Hernandez, Palatine
The success enjoyed last summer at the IWCOA championships by Jasmine Hernandez has carried over into the 2021-2022 campaign for the extraordinary junior from Palatine, who easily won the 145-pound crown.
Hernandez won an IWCOA state title after a dominating performance in Springfield, and once again showed why she will be considered the favorite to repeat when the IHSA offers the first-ever girls state tournament late next month.
"That's the goal," said Hernandez when asked if another state title is in the cards for this gifted athlete, who is technically and tactically advanced beyond her years.
"It's all about working hard, in and away from the room. (coach Javier) Rivera has really helped me go from being defensive to being the aggressor, so that's something that I continue to work on each and every day," added Hernandez, who won her title when her opponent defaulted to the Pirates' star.
Palatine coach Krista Semkiv expanded on Hernandez's talent:
"Jasmine is so strong, and really tough on top, and when she has your wrist there's little you can do to defend that hold," Semkiv said.
"She is fearless on the mat but is very personable, and is the best role model you could ever ask for in the room for both the girls, and boys in this sport."
Hernandez has committed to enter the armed forces, with a desire to become an Army Nurse, while she continues to wrestle as well.
"I've known as long as I can remember that I wanted to go into the service, just like my father, who did so in Mexico. So that's the direction I'm headed towards."
155 – Valeria Rodriguez, Schaumburg
Rodriguez gave her club its first lead in the team race with her victory at 155 pounds after a superb three-match effort which produced a trio of pins. Her third pin came in the final over a terrific opponent in Violet Cherap (12-3) of Downers Grove South.
"I really like the physical nature of this sport, and now that I feel so much more confident out there, I feel like I can compete with anyone," said the Saxons sophomore, who admitted that a season-long case of the nerves was her undoing during her rookie season a year ago.
"I was so nervous last year it led to me losing every single one of my matches," said Rodriguez, who is now a dazzling 18-0 following her pin at 2:58.
Rodriguez's evolution is not lost on her coach.
"Val is just a sophomore but she is progressing at a really high rate," Gruszka said. "It took her a year to understand positioning and technique, but look at her now.
"Her first season was a difficult one for her, cut short by COVID, but between then and now she missed very few days in the wrestling room during the offseason, and her love of the sport, fantastic work ethic, and desire to be a student of the game has made her into a terrific wrestler."
Cherap, the freshman from Downers Grove South, competed against boys when she began her career in middle school, recently won the 155-pound title at Maine East.
"Violet is an aggressive wrestler who is highly motivated, and an extremely physical wrestler for a freshman," said DGS coach Sean Lovelace.
170 – Trinity White (Oak Park and River Forest) / 190- Tiffany White (Oak Park and River Forest)
Before leaving Oak Park and River Forest, Isaiah White made a massive imprint on his sport with three consecutive boys state titles, and later earning All-American honors at the University of Nebraska.
Trinity and Tiffany White showed they are ready to follow in the footsteps of their older brother when their individual performances at 170 and 190 pounds showed both are ready to make their own statement in the sport of girls wrestling.
The White sisters garnered well-deserved titles, and their success helped fuel the Huskies late surge to overtake Schaumburg for the team title at Hoffman Estates.
"It was a real team effort for all of the girls to help us win the team championship, but Trinity and Tiffany really came through for us when we needed it most," said Huskies head coach Fred Arkin.
"We were really excited to be at this tournament, and for my sister and I to win our weight class and our team to win the title at just a big tournament, is really amazing," offered senior Tiffany White, whose 12-0 season record helped the White sisters to come away from the weekend with a combined sparkling 25-0 overall record.
"There's a lot of tradition in our family in this sport with our brother and it's one of the reasons we're both wrestling," Tiffany White said. "And now that we're in it we want to have success also."
The senior roared through her bracket with a trio of pins, using just 3:38 minutes to advance onto the top of the podium.
"Like her brother, Tiffany is a very physical wrestler," says Arkin.
Tiffany White was a state runner-up in her rookie season and again at last summer's IWCOA state tournament.
"Neither of the girls wrestled before high school but have been around the sport all of their lives," Arkin said. "Girls wrestling has given each of them the opportunity to participate and succeed.
"Trinity (190), who is just a sophomore, was in a real battle during her final against (Lockport's Kelli Watkins). It was a great match that was tied with just 20 seconds remaining when she reversed (Watkins) with just seconds on the clock for the win."
Watkins impressed her head coach all day.
"Kelli had a fantastic day and fought her way into the final," Lockport coach Nathan Roth said.
"She really gets a lot of the mechanics of wrestling, and she knows how to shoot, and sprawl, she has very good body positioning, and she can really drive when she shoots.
"We have high hopes for her as we approach sectionals. She has the talent to do some very good things during the state series, which says a lot about her considering she's just a first-year wrestler."
235 – Aaliyah Grandberry, Curie
Aailyah Grandberry delivered a performance worthy of an individual championship when the Curie sophomore captured the attention of her teammates, peers and student body following her award-winning effort at 235 pounds.
Grandberry needed a late take-down near the edge to defeat top seed Sarah Ephstein (OPRF, 5-1) to give the Condors their lone title on the day.
"This feels really good right now," said Grandberry moments after accepting her first-place medal. The Condors also got a second-place finish from junior Vanessa Torres at 120 pounds.
"I was kind of setting up that final takedown. (Ephstein) was a tough opponent but I really felt like I had things right where I wanted them, so when the chance was there for me, I just took it," said Grandberry, who is also a National Honor Society member at school.
"We've all been working real hard this season (and) props go to coach (Yahya) Muhammad, who kept us together when we've been kept out of school by CPS – always finding somewhere for us to train and work out. He's the reason that I was able to win today."
Muhammad has watched Grandberry grow into a formidable force on the mat.
"Aailyah was our team manager last year and although she always worked out with the team, I saw something great in her," Muhammad said. "She's a real diamond in the rough when you consider she's a first year wrestler.
"She continues to work on her conditioning, and needs to improve on her ties and set-ups to allow her to get to her great double-leg shot. But she is a lot stronger than she looks – she can bench press 155 pounds – and she's also a great swimmer. She is a very good athlete." Muhammad also heaped plenty of praise on his co-captain Torres, whom he said "is always the first in the room, and the last to leave."