Washington snares Batavia team title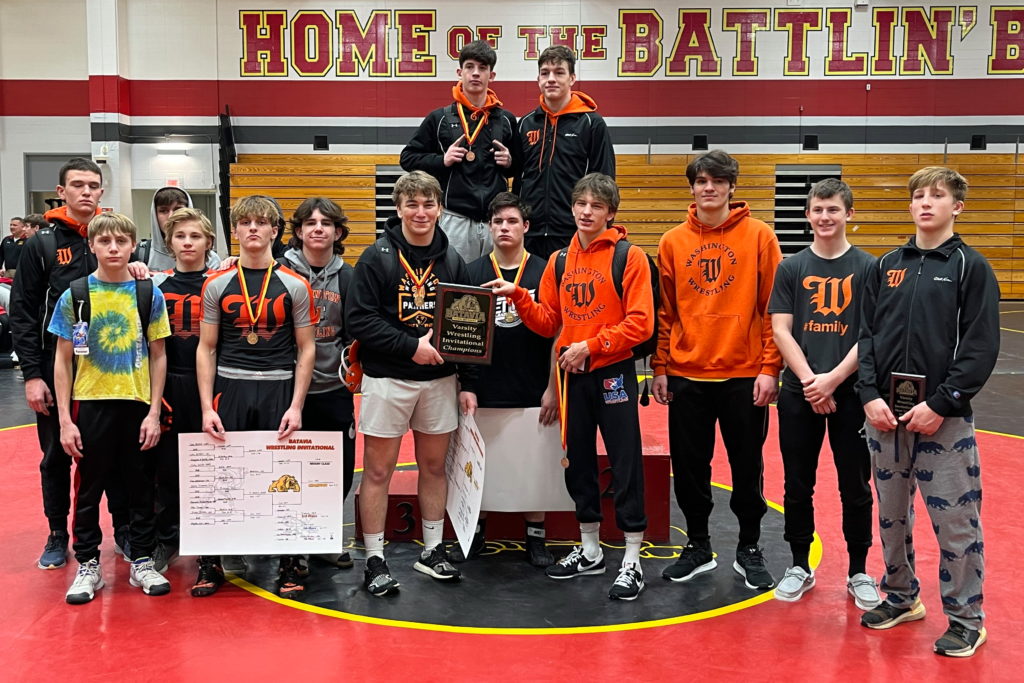 By Kevin McGavin
For the IWCOA
Class distinctions are immaterial to Washington and Lemont in the sport of wrestling.
In a potential preview of the Class 2A team-dual state series, Washington, th top-ranked program in the state, crowned five champions Saturday at the Batavia Invitational to earn a 199.5-184 triumph over Lemont.
Two years ago, at the last contested IHSA Class 2A team state tournament, No. 4 Lemont ended the Panthers' four-year state-championship run in the title dual match.
"It's nice to see we get to see competition that is either outside our geography or outside of our class system," Batavia coach Scott Bayer said of the two Class 2A powers headlining the Class 3A-dominant 17-team field. "These are quality wrestling programs; that's why we added them to our tournament. They make us better."
Washington is clearly exploring all options to meet any potential contingency as the twin state-series events beckon.
Fellow competitors certainly took notice.
"They bumped everybody up this week," said Lemont 126-pounder Sam Schuit, who was denied by the Panthers' Peyton Cox, ranked No. 3 at 120 pounds, in the title match.
Washington's Donnie Hidden has been a one-man wrecking crew to elite wrestlers from the highly-regarded West Suburban Silver in recent weeks.
The only competitor to win a title by fall on Saturday in the championship matches, Hidden ended the undefeated run of Hinsdale Central sophomore Marko Ivanisevic in the finals at 220.
Over the holidays, Hidden, committed to St. Cloud State in Minnesota, handed Glenbard West senior Philip Dozier his first defeat at the schools' bracketed dual-team match at Flavin in DeKalb.
Hidden and Dozier are the consensus top-ranked athletes in the state in the upper-two classes at 195.
"It's still undecided," Hidden said of his postseason weight-class designation. "Time will only tell. It's a matter of bettering ourselves for the team race."
"We had a good battle with them," Lemont senior Mo Khalil said of the matches he and his teammates had with Washington in Batavia. "A couple of matches didn't go our way. We need to turn that around. We will see Washington at our (individual) sectional and team state."
But there are no guarantees in laying the groundwork of a potential Class 2A state championship.
Six of the top-eight teams are housed in the same team sectional complex Washington will host in the aftermath of the individual state tournament in Champaign.
Lemont and second-ranked Joliet Catholic are destined to collide at the LaSalle-Peru regional.
"It has happened to us before," Lemont coach Erik Murray said of a tortuous path simply to reach a team sectional.
In addition, fifth-ranked Geneseo and No. 8 Rock Island will knock heads at United Township in East Moline for a coveted team bid to Washington.
Aurora Christian, ranked sixth in Class 2A, will be a prohibitive favorite to advance out of the Rockford East regional.
The Panthers will also host a regional with several Peoria-area neighbors.
At Batavia, however, the striking difference between the two Class 2A threats for a state championship was Washington crowning five champions; Lemont, conversely, had all four of its finalists settle for runner-up status.
"It's a little tough to swallow seeing how we had an ever bigger lead in the team score," Lemont 195-pounder Cole Brannigan said of the team spread Lemont enjoyed over Washington entering the finals. "There were a lot of positives out of this. It will just lead to later success in the year."
McHenry, No. 10 in Class 3A, was third with 168.5 points behind back-to-back champions at 160 and 170; Batavia, like Lemont, failed to have any of its four finalists mount the top of the podium in placing fourth with 153.5 points.
Downers Grove North had a pair of champions to place fifth with 128 points.
Marian Central Catholic was a fourth program with at least two champions as Charlie Fitzgerald prevented Andrew from claiming the first three championship matches by triumphing at 120 pounds.
The Hurricanes' Nik Jimenez, top-ranked at 145 in Class 1A, justified his reputation with a dominant win to further anchor the MCC sixth-place finish (120.5 points).
Andrew opened the championship festivities with titles at 106 and 113 pounds; the Thunderbolts lacked the depth for an upper-echelon finish by scoring 112 points for eighth overall.
Harlem was coming off an extended break due to the lingering effects of the pandemic; Marshal Cunz delivered the lone title for the Rockford-area school in highlighting a 11th-place showing (55 points).
Naperville North was paced by freshmen Zac Mally and Tyler Sternstein, who were both fourth in consecutive classes at 113 and 120 pounds.
"Having those two freshmen in the lineup has energized the rest of the team," Naperville North coach Tom Champion said. "It's hard to fill those weights with
upperclassmen. It helps to have freshmen who are highly experienced and highly motivated."
The Huskies were seventh with 115.5 points.
Maine South (78) and Hinsdale Central (70.5) rounded out the top ten.
Buffalo Grove (53.5) West Chicago (51), Jacobs (32), Addison Trail (13) and (Chicago) Hope (13) and Leyden constituted the remainder of the field.
Batavia Invitational championship matches:
106–Max Siegel, Andrew
The second-ranked athlete in Class 3A, Siegel held off Jacobs' Dom Ducato, the No. 5 106-pounder in the highest division, 3-1 to extend his season-opening winning streak to 16 matches. "I just went for it," Siegel said of the only offensive points of the match, a late-first-period takedown. "There were 15 seconds left. I knew it was going to be low-scoring. (Ducato) knows how to keep matches close. I wrestled him at state (in the semifinals) last year."
A junior, Ducato fell to 20-5 on the season. "I lost focus and got taken down," Ducato said. "Other than that, I felt I wrestled pretty well."
113–Trevor Silzer, Andrew
Silzer has alternated between 113 and 120 pounds for much of the season, but the junior has an ironclad commitment for the postseason. "I will be 113 for the state series," Silzer said moments after dispatching Batavia sophomore Aidan Huck (19-6), 9-2, in the finals.
"All of my (offensive) points were on takedowns," Silzer said. "I got to my single-leg pretty well on him. I kept working on him and got him. I am going to keep working hard with Max (Siegel) in the wrestling room. I am going to keep getting better and better." Silzer, 18-1, is ranked seventh in Class 3A.
120–Charlie Fitzgerald, Marian Central Catholic
Fitzgerald, the third-ranked competitor in Class 1A, prevented Andrew from monopolizing the first three championships when he terminated his match with the Thunderbolts' Casey Griffin 38 seconds into the third period with a technical fall. Fitzgerald (14-2) advanced to the championship with a fall and a 12-point major in the semis.
"I got into my offense," Fitzgerald said of his ability to score points at will. "In the finals, I was kind of nervous as it was the first time being in the finals, especially at this tournament. In the end, my offense was better than the rest. I felt getting into my offense is what really got me going today."
126–Peyton Cox, Washington
Cox, the No. 3-rated 120-pounder in Class 2A, began the Washington inexorable tide to victory by becoming the first athlete in the program to win a title. All five victorious Washington wrestlers competed in unaccustomed classes.
"We have quite the schedule," Cox said of the Panthers' ultimate roads to Champaign and Bloomington. "Getting those matches makes you better. I try to learn certain things from working on those matches."
In a match with potential widespread state implications, Cox denied No. 10-ranked Sam Schuit of 2020 team state champion Lemont.
"I didn't get any turns but had pressure on top the whole time," Cox said of his two takedowns and a reversal in the 6-2 victory. "I kind of dogged it the last two periods," Schuit said.
132–Kannon Webster, Washington
Webster, an unblemished 106-pound state champion as a freshman, skipped the IWCOA-sponsored state tournament last spring to concentrate on a national schedule and won the 120-pound freestyle title at Fargo over the summer.
Webster, the top-Class 2A athlete at 120, is 32-1 after destroying the field with a fall, technical fall and 18-5 major over Phillip Baldwin, the sixth-ranked Class 3A senior from West Chicago.
"I just have a little more confidence in myself," said Webster, the Outstanding Wrestler in the lower-weights at Batavia. "I have to continue to push the pace and get on the attack. I have a couple more weeks to put in that really hard work to solidify that preparation process for getting to state."
Baldwin eked past 2020 Hinsdale Central all-stater Cody Tavoso in the semifinals. "`The difference was being prepared and staying calm, even at the beginning when I was losing," Baldwin said of the semifinals.
138–Harrison Konder, Downers Grove North
Konder, fresh from an all-state freshman campaign, is a Class 3A underclassman to remember after his 10-2 major decision over Kaden Fetterolf of host Batavia. The No. 4 Konder had few issues with the fifth-ranked Fetterolf with his 5-1 plurality in takedowns.
"In the first takedown, I had a blast-double and took him from the outside," Konder said. "Right there, I felt like he was already done in the first 20 seconds of the match. I felt confident for the rest of the match. I am ready for the state series."
Konder won for the 25th time in 26 attempts with his finals victory.
145–Nik Jimenez, Marian Central Catholic
Jimenez, the No. 1 145-pounder in single-A, handed the host Bulldogs a second straight 10-2 loss in a championship match. Jimenez prevented Cael Andrews, a Batavia junior, from securing a 29th victory on the season.
"I do have a couple of losses under my belt this season," said Jimenez, 21-2. "I felt like the difference (against Andrews) was my stamina. He was a strong kid. He started to tire out in the second period and the third period; that's where I started to take advantage."
"Finishing some of those takedowns could have helped," Andrews lamented. "It would have changed the whole momentum of the match, I think, if I had finished the first one."
152–Marshal Cunz, Harlem
In the only championship match in which neither the top or second seed gained entry, Cunz, wrestling in earnest for the first time since mid-December due to the pandemic, secured his second takedown of the title match only seconds before the final buzzer to turn back Batavia junior Noah Ajazi 5-1.
"This is my first time winning (an invitational) title this year," said Cunz. "I think the most satisfying (win) was the semifinal (a first-period fall over Marian second-seed Max Astacio)."
Cunz, the third seed, intentionally allowed Ajazi (26-11) to escape late in the period. "I started losing my breath toward the end," said Cunz, who improved to 16-4. The strategy paid off when Cunz had a match-cementing takedown with five seconds remaining.
"It was just a last-second of adrenaline," Cunz said.
160–Chris Moore, McHenry
On paper, it had all the hallmarks of a tournament-defining championship encounter, but Moore left no doubt as to who is the incontrovertible top athlete in the state at 160 pounds.
Moore, the top-ranked Class 3A 160-pounder and former state champion for Aurora Christian as a freshman two years ago, accrued points like a pinball savant in ending the match with the Panthers' Blake Henrichsen, anointed the best in the land at 160 in Class 2A, with a third-period technical fall.
Moore extended his season-opening winning streak to 34 matches in the process; Henrichsen is 25-8. "I was just going out there, getting my offense under control and doing what I needed to do to win those matches," said Moore, who scored 28 points in a semifinal tech fall as well.
Moore was lethal on his feet.
"I just went out there and did what I did in the rest of the matches (against Henrichsen)," Moore said of his 24 points in the finals. "It was all takedowns."
170–Brody Hallin, McHenry
The Warriors have arguably as potent a one-two combination in consecutive weight classes in the higher divisions in Class 3A as Hallin, ranked No. 2, captured his fourth major tournament title of the season with a hard-fought 3-1 victory over Lemont senior Alex Tagler, the fourth-ranked competitor in Class 2A.
Hallin is 33-1; Brayden Thompson, the undefeated and top-ranked Lockport junior, handed the Warriors' senior standout his only defeat over the holidays in the finals at Dvorak tournament in December.
"I felt like my pace was really good," said Hallin. "I knew (Tagler) was a strong kid. I knew I had to move him around, get to his legs and get him tired. My conditioning has really improved from this year (compared) to last year. I feel like I have adjusted all my techniques to win. I just knew I could beat him."
Tagler was momentarily discouraged but optimistic about the future.
"At this point in the season, this (loss) doesn't matter as much as three, four weeks later," he said.
182–Ben Bielawski, Downers Grove North
Downers North continued the trend of victorious programs crowning multiple champions when Bielawski sent another Lemont finalist home disappointed. The Trojans' senior was clearly the aggressor in handing top-seeded Moe Khalil an 8-3 loss.
Bielawski (24-2) eased past sophomores Matt Murphy (Naperville North) and Ben Brown (Batavia) to meet Khalil, the fourth-ranked athlete in Class 2A.
Biewlawski augmented earlier major invitational crowns at Hinsdale Central and Wheaton Warrenville South. Brown turned back McHenry junior Caleb Rezmer for third place.
195–Justin Hoffer, Washington
Washington ended all suspense to the final team outcome as Hoffer, ranked No. 6 in Class 2A, beat Lemont senior Cole Brannigan by 7-3 decision at 195 pounds.
The Panthers ultimately swept the final three title matches as Hoffer began the unanswered run with the four-point win over No. 8 Brannigan.
220–Donnie Hidden, Washington
Hidden and the Washington coaches will have decisions to make with the state series looming. But there can be little doubt Hidden is virtually unassailable at either 195 or 220 pounds in Class 2A.
Despite missing multiple weeks of training and conditioning, Hidden continued his unbroken swath against the western suburbs' finest. Marko Invanisevic, the undefeated Hinsdale Central sophomore, had his day ended unceremoniously by Hidden, 11 seconds before the second-period buzzer.
Like Dozier–his fellow West Suburban Silver Conference member from Glenbard West–Ivanisevic is no longer unblemished after encountering Hidden.
"I am always looking for some kind of cradle," Hidden said of his decisive–not to mention signature–move. "That's what I am looking for fall-wise. I was out for a couple of months. I am ready to bounce back and have never felt better."
Hidden, the IWCOA state champion last spring, is 11-0 since rejoining the Panthers' lineup. Hidden was the MVP of the upper-weights at Batavia. 
285–Tyler Casey, Washington
The final Washington championship was not nearly as one-sided as the Hidden masterpiece.
Casey, the Panthers' normal 220-pounder, moved to heavyweight at Batavia. The Panthers' senior was pitted against Downers North senior Jordan Lewis, the No. 5 285-pounder in Class 3A, in the championship match.
As is frequently the case in a critical match between gifted athletes at the upper end of the weight spectrum, the finals quickly evolved into a highly tactical affair. But Casey prevailed in the end, winning a 3-2 decision in overtime, the only finals match to be extended into extra time.
The top-seeded Casey improved to 26-3 overall between his two contested weight classes; Lewis, who beat Lemont sophomore and second-seed Alex Pasquale by 7-0 decision in the semifinals, is 23-3.