Prospect champions of Mudge-McMorrow Invite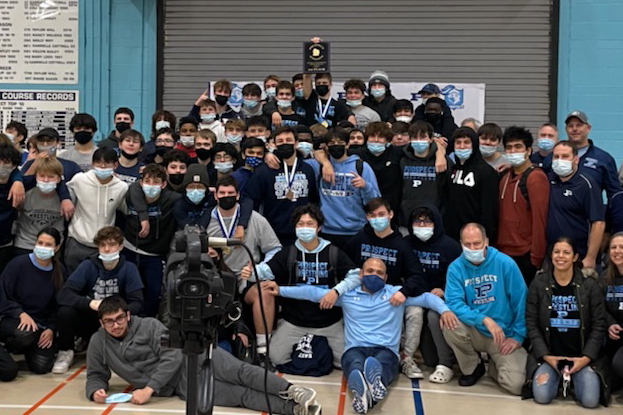 by Mike Garofola.
With four teams in the top 20 and an all-star cast that featured six men who could vie for a state championship, the stage was set for an exciting day at the 61st annual Mudge-McMorrow Invitational inside Jean Walker Fieldhouse in Mt. Prospect.
This ultra-competitive field did not fail to excite the crowd who watched the favorites compete brilliantly to claim well-deserved individual championship medals. In the team race, it was the home team that outlasted four other challengers, including runner-up Libertyville and third-place Hersey to lift the big trophy.
"It was a good overall effort from the guys today," Prospect coach Tom Whalen said. "We collected eleven medals all together, three championships, and we found a way to win when and where we needed to. But you know, I always like more so going three-for-five in the finals has to be better down the road when it really counts."
Prospect's Will Baysingar bedazzled his competition to win the 132-pound division to help lead his club to its eventual victory.
"We're getting everyone back from football so our lineup is nearly at full strength," Baysingar said. "And when we are, we should be in very good shape for the second half of the season.
The Knights, who at one time led Libertyville by just 2.5 points (187.5-185) would finish its day atop the leader board with 220.5 overall points, followed by Libertyville at 200, Hersey (197), McHenry (162) and Fremd with 158.50.
"Caelan (Riley) and Josh Knudten were just fantastic for us today and they, along with others helped us keep things close," offered Libertyville head coach Dale Eggert. "But Prospect was just too strong for all of us so in the end, it wasn't very close."
Hersey, which will meet Prospect Friday night in a dual that could likely decide the Mid-Suburban League East division, did well all across the board but still fell short of the team title.
"We leave here with our heads up after a pretty solid effort, but we all know we could have done better," said Hersey head coach, Joe Rupslauk, whose club led all teams with 12 medals won overall."We'll get back in the room and get ourselves ready for our dual with Prospect at the end of the week."
McHenry and Fremd stayed close during most of the day, with an undermanned Fremd club making the most of things for coach Jeff Keske and his staff.
"Having only nine today, we knew we were going to have to score bonus points whenever we had an opportunity, so with our heavyweight out with an injury, and our sixty-pounder taking his ACT test, I was very impressed with the fact our overall record on the day was 21-11," said a proud Keske.
McHenry coach Jake Guardalebene left Prospect pleased with his squad.
"I liked the way our team wrestled today," he said. "We placed 11 out of 13 we brought, and I'm happy with the way our guys battled back in wrestle-backs to help us finish top four in our first tournament of the year."
Not to be forgotten on the day was the man who shared the name of this long-running tournament, Gary McMorrow. McMorrow celebrated his 50th year of wrestling, which began under Hall of Fame coaches Dick Mudge and Tom Porter, who led Hersey to back-to-back state titles in 1971 and 1972.
McMorrow was a three-year starter at Prospect and a two-time sectional qualifier, before going on to wrestle at Western Illinois, where he earned his Bachelor's Degree in Sociology/Anthropology, and his teacher certification.
Upon graduation, McMorrow joined Porter as his assistant, and sophomore head coach for the next 11 years, before serving as freshmen coach for yet another future Hall-of-Fame coach, Rick Mann.
McMorrow took over at his alma mater in 1983, and retired after the 1993-1994 school year, but remained head coach one last season, a season in which he would help guide the first ever state champion in program history, Matt Boggess.
In 2011, the Dick Mudge Memorial was renamed the Mudge-McMorrow in honor of McMorrow's 34 years as both a wrestler and coach. Since 2010, 'G-Mac' — as he is widely known — has been the Knights' freshmen head coach.
McMorrow was inducted into the IWCOA Hall-of-Fame in 2014.
The Knights family also recognized the contribution of Larry Ellen, who for 25 years has volunteered his valuable time and expertise to the program, and especially in the production of the annual tournament.
Let's take a closer look at the weight classes:
106 — Wiley Jessup, Fremd
One thing opponents of Fremd can be sure of is seeing a powerful one-two punch at the start of the Vikings lineup beginning with Wiley Jessup at 106 and talented freshman Evan Gosz at 113.
Jessup, who was runner-up Thanksgiving weekend at the 30th annual Moore-Prettyman, pinned his way into the final where he used a strong third period to defeat Joel Muehlenbeck to claim his first major title of the season.
"Getting that first takedown is always so important, but I thought my ability to block his shots in the third period was the key to victory," said Jessup (17-1) after his 5-2 decision over Muehlenbeck.
The affable Vikings senior, who came in as the No. 4-rated six-pounder in the state, drew first blood with a takedown near the edge with 17 seconds left in the opening period, then later used an escape and another deuce five seconds from time.
"Having Evan in the room as my partner is great for both of us," continued Jessup.
"He's tough with his leg riding, which helps me prepare to get out of those types of situations, and we are always doing our best to make things difficult for each other, which ultimately helps us better prepare for competition."
"Wiley was an IWCOA all-stater last summer," Fremd coach Jeff Keske said. "Although he is battling a few injuries of late, he found a way to win today, despite not being a hundred percent healthy, and that says a lot about his effort."
113 — Evan Gosz, Fremd
Gosz continues to sparkle in the first half of the season, earning his second major of the campaign (Gosz won at the Moore-Prettyman) and doing so in spectacular fashion all throughout the day.
"Evan was dominant today with two pins, plus a tech-fall and he just loves to perform on the big stage," Keske said of his rookie sensation, who is now 17-1 on the season. "He seems to wrestle his best when the lights are bright."
"I'm in a great room, with a great partner, and I really enjoy being a part of a high school wrestling program," said Gosz, who before this weekend was No. 6 in the latest IWCOA state poll.
"There was a period of adjustment coming into high school after wrestling IKWF but having Wiley in the room has been great for me. We really get after each other and coach (Keske) has been fantastic helping me improve in all parts of my game."
Gosz spent just 25 seconds on the mat in his opener and then went nearly a full six minutes before recording his tech-fall in the semifinals to advance into the final against Zach Parisi of York.
Once there, he wasted little time building a 6-1 advantage, before another pin at 3:25 sent him atop the podium.
On his way to the final, Parisi upended No. 2 seed Jimmy Norris of McHenry with a tech-fall in his semifinal. Norris later would claim third place overall in a wild high scoring affair (23-21) with Maxim Mukhamedaliyev of Hersey.
120 — Caelen Riley, Libertyville
Riley's drive to the 120-pound title was a thing of beauty, as the Libertyville four-year veteran left little doubt as to who was the best in his respected weight class.
The Wildcat senior brought a creative flair in his attack, with constant movement, well designed shots, and an ability to pry open his opponents. That was particularly evident in his final with the No. 7 rated twenty pounder in 2A, Tyler Evans of Prairie Ridge, who dropped a 16-5 major decision to the two-time state qualifier, and sixth-place medalist in Springfield.
"Since the Moore-Prettyman, I've been working to improve my hand-fighting, and in all positions, as well as getting an early lead and continuing to put more points up in order to keep the pressure on my opponents," said Riley, No. 5 in the IWCOA polls.
"(Coach) Eggert is such a great technician, so there's always something we're working on to fine tune things. Improving my fitness is something that has also become very important to me."
Riley makes the five-mile trip to the Poeta Training Center in Lake Forest a couple of times a week to sharpen his skills – extra work that appears to have paid off with his recent commitment to wrestle next fall at The Citadel in Charleston, South Carolina.
"I looked around at UW-LaCrosse, and Campbell University (North Carolina) but everything fits real well both academically and with my wrestling at The Citadel, where I'll have the chance to start at 125 pounds," said Riley, who plans to study marketing.
126 — Massey Odiotti, Loyola Academy
For a guy who was flying far under the radar at the start of this season, Massey Odiotti is fast becoming a rather large 'blip' on the screen following yet another terrific weekend effort to claim his third tournament championship.
The Loyola Academy star won the Moore-Prettyman, then won the title at the first ever McLaughlin Classic, and then turned in some marvelous work to take home the big prize in Mt. Prospect.
"It's all about wrestling six hard minutes each time I go out there and to continue to work hard in the room in order to compete at a high level," said the senior, who is No. 4 in the state polls at 120, but has won his last two tournaments at 126.
Ramblers head coach Matt Collum, who starred at Neuqua Valley and then at the collegiate level at Iowa Central, where he was a three-time All-American and national champ, noticed a distinct difference in Odiotti after his two-day effort at the Moore-Prettyman
"Last year Massey would find a way to lose the close ones," Collum said. "This year his focus is much more clear, and he's winning those close, hard-fought matches, and that's the secret to success in this sport."
"(Collum) is right," Odiotti said. "In the past I'd be down in the second period and that seemed to be it for me in those matches. But he's been so good for me because after I compete, we go back to work to pinpoint the little things that need to be cleaned up. That, plus a lot more confidence, makes me go out expecting to win."
Alex Schmacht of Moline would finish second overall after his 9-0 defeat at the hands of Odiotti, while Sean Berger from York earned third place with consecutive pins to close out his day.
132 — Will Baysingar, Prospect
Once again, Will Baysingar was unstoppable.
The Prospect junior, No. 3 in the IWCOA polls, unleashed a masterclass effort to dispatch all three of his opponents — the first two via lightning-quick pins and a third against the talented Maddox Klaminsky of Fremd, with a methodical 12-6 decision to win his second title in three weeks.
"So far, so good, but there's a lot of work ahead of me, so the plan is to continue to work in order to be my best," said Baysingar, whose clinical finishing was a thing of beauty to watch over the course of the day.
"Lately I've been fine-tuning a lot of things in my attack, and with my partners in the room — Lennon Steinkuehler and Damien Puma — we've been pushing each other every day."
"As good as Will is right now, the drive and work ethic to be the absolute best is what impresses me so much about him," said Knights assistant Dan Keller. "I feel like there's so much more to come from him at the rate he works."
"It's 24-7, 365 days of wrestling for Will, yet he manages to have a 4.0-plus GPA at the same time. That says a lot about his discipline and desire to succeed."
138 — Kole Brower, Moline
Kole Brower and teammate Noah Tapia form a devastating partnership in Jacob Ruettiger's lineup, and the dynamic duo showed just how dangerous they are with their dazzling display all throughout the day.
Brower (13-0) dominated his competition with a trio of pins, including his final against Prospect's Lennon Steinkuehler. Brower won by fall at 1:41 to earn his championship crown at 138 pounds.
"I am very fortunate to have a great like Noah in the room, we challenge each other every day and I know he's made me a much better wrestler," said Brower, who not only is the reigning 132-pound state champion, but also No. 1 in the latest IWCOA state polls.
"I like being the No. 1 guy," Brower said. "It makes me work harder and it challenges me to be the best that I can be, knowing others will be coming after me each time out."
Brower, who went 23-0 last season, recently committed to wrestle next season at Illinois, where he'll pursue a degree in teaching at the high school level, with an eye on coaching some day as well.
"I am very comfortable with coach (Mike) Poeta, and I really like the direction the program is going. It's going to be a great fit for me," said Brower, who estimates he'll compete at 141 on the collegiate level.
145 — Noah Tapia, Moline
Noah Tapia squashed the field from start-to-finish in explosive fashion, needing just 6 1/2 minutes to dash the hopes of a trio of opponents en route to his 145-pound title.
"Just like (Brower) it's good to be one of the top guys in the state," Tapia said. "Each guy you wrestle is looking to be the one that beats you." The Moline junior went into Prospect as the No. 2 man in the state behind another junior, Ethan Stiles of Conant, who won it all last summer at 145.
Tapia collected the first state title of his career last season at 138, one year after earning his first trip downstate. He flashed terrific balance, skill, speed and superb movement to ensure victory, which included his third and final pin of the tournament in his final with Charlie Fifield of Fremd.
"We see a lot of 1A and 2A competition in our area so it's great we traveled this weekend to come to an amazing tournament like this to compete against talented 3A guys who normally we wouldn't see," said Tapia, after improving to 12-0 on the season.
152 Connor Munn, Prospect
Connor Munn may have surprised some on his way to the top of the podium, but it was no surprise to Tom Whalen and his assistant, Dan Keller.
Munn marched into his title match against league rival Matthew Iliynkh of Hersey, where he unleashed an unstoppable attack on the way to securing his first ever varsity title with a pin at 2:20.
"As a sophomore, Connor has been very good for us in the middle of our lineup," said Whalen. "His work ethic is very good, and he's come a long way in a short time."
"(Munn) is a real coachable kid," added Keller. "Once he was over the usual freshmen mistakes, he has combined hard work and a dedication to putting in the extra work to make himself a valuable guy in our lineup."
Top seed Jack Downing of Glenbrook South finished third overall, with Zander Ealy (Moline) rounding out the top four in this weight class.
160 — Chris Moore, McHenry
Chris Moore appears ready to settle down after two previous stops before ending up at McHenry under head coach Jake Guardalabene.
The Warriors' junior made an immediate statement as a freshmen at Aurora Christian, where he carried off the top prize at 113 pounds, before moving over to 2A state power Marian Central Catholic, where he finished second overall in 2A at 138.
Moore came home to McHenry during the offseason and together with teammate Brody Hallin, he gives Guardalabene a spectacular one-two upper weight punch, and one that should give the club enough firepower to challenge for top honors in the Fox Valley Conference and beyond.
"It's great to be back wrestling at McHenry where I have so many of my friends, in and out of the sport," said Moore, who validated his spot as the No. 1 man at 160 in the state with a wonderful effort in all three of his matches, which included his pin at 3:27 over Patrick Downing of Glenbrook South in the finals.
"I am attacking with more confidence than ever before, and I am getting an early lead, and I've been looking to score more. I'm adding points to put pressure on my opponents as the match goes on," added Moore, who will compete next fall at Illinois.
"Chris had a great tournament," Guardalebene said. "He ran into a tough wrestler (Jack Seacrist of Stillman Valley) in his semifinal, and with the match close early on, he went into the next gear to pull away. It was good to see him grind out a hard fought victory."
170 — Brody Hallin, McHenry
Hallin received an early Christmas present with the arrival of Chris Moore to the McHenry program, and that brought a smile to the three-time state qualifier, whose tenacious and combative style was too much for his opponents to handle at Prospect.
"We already had a great room but with the addition of Chris, who immediately became my partner and someone that will help push me to be at my best, it was the perfect gift for me," Hallin said with a smile.
"COVID really messed me up mentally last year and even though I was able to finish fourth at the IWCOA state tournament, I still wasn't really feeling it after that tournament.
"But this season, thanks to Chris being here, and my teammates and coaches, I've found myself really loving the sport more than ever, and I believe it's showing in my wrestling and how I compete."
Hallin's coach liked what he saw, particularly after Hallin's late takedown gave him a 4-3 title-mat decision.
"Brody had a great tournament," Guardalebene said. "I really enjoyed seeing him get pins in his first two matches. His opponent in the finals, Austin Gomez (Libertyville), had a good game plan against us but Brody did a good job of finding a way to win that match in the third period."
182 — Josh Knudten, Libertyville
Josh Knudten proved to be a strong candidate for OWA honors following his superb effort in the 182-pound weight class, which included a trio of pins just 55 seconds in his opener, and then at 62 seconds in his title match against Aidan McCain of Round Lake.
It was Knudten's first tournament title of the season after falling just short at the Moore-Prettyman.
"I learned a lot from that loss in the finals at Barrington," said Knudten, who cruised into the finals as the No. 1 seed before being stopped by Marmion Academy's Jack Lesher.
"(Coach) Eggert says we always learn something – win or lose – and for me in that match with Lesher, I learned to never overlook any opponent, whether they're ranked or unranked," said Knudten, who's ranked No. 4 in the IWCOA polls and who won a fifth-place state medal in June.
"Since (Barrington) I've worked hard on all parts of my game, including scoring points early, adding to my lead, and learning the importance of closing out matches."
The two-time state qualifier believes time spent with the well-respected Eggert and his staff, in addition to the trips to the Poeta Training Center where he works alongside Zachary Brunson, has provided the impetus for his success thus far.
195 — Cole Matulenko, Libertyville
Matulenko made it two straight for runner-up Libertyville when he edged Mike Williams (Loyola Academy) 4-3 in his 195-pound final to earn his first championship trophy of the season.
The Wildcats' junior had an easy time of it in his first two bouts. Matulenko recorded a pair of falls to advance to face Williams, before using an escape one minute from time to ensure victory.
"I feel like my conditioning and fitness was the difference in my final," Matulenko said.
"Every day in the room, I go head-to-head with our heavyweight (Caleb Christensen) who is big, fast and really tough. Time spent with Caleb has really helped prepare me for guys who are bigger and a little stronger than me.
"It definitely helps me against bigger guys and I've been spending a lot of time lifting to get stronger, so I know all that extra work will pay off when it really counts."
220 — Manny Mejia, Hersey
Manny Mejia can still remember those dreadful days when the program at Hersey had a difficult time with numbers, and an equally difficult time filling out its lineup card. It was a situation which led to far more losses than victories.
Things are different now for Mejia and his teammates, who last weekend lifted the championship trophy at Joliet Central. That team title came one week after Hersey defeated reigning league champion Conant and then perennial powerhouse Barrington on the same evening.
"It was pretty bad when I first got to Hersey," Mejia said, "but the reason in my opinion for our big turnaround this season is coach (Joe) Rupslauk.
"(Coach) treats us all like family. He works us hard, makes us accountable, gives us his full support, sacrifices all of his time for us, and he'll do anything for us as long as we put the time in and commit ourselves to each other and to the team."
Mejia (17-2), an IWCOA sectional qualifier a year ago, recorded a late takedown in the first period of his final with Luke Zunkel (14-1) of McHenry, then went in front for good with an escape and another takedown in the second period en route to an 8-2 decision.
"Manny is a great leader in the room, and I was very proud of his effort today to get himself a well deserved individual title," said Rupslauk.
285 — Sean Mitchel, Prospect
There's plenty of depth in the room at Prospect and the Knights received an extra boost when a handful of players returned from its football team, whose deep playoff run ended in a loss 7A state semifinal to St. Rita.
The arrival of big man Sean Mitchel, the Knights starting left guard, has already made a mark in Tom Whalens' starting 14, giving the long-time head coach quality and pin power at the heavyweight position.
"It's great having Sean back and in our lineup," Whalen said after Mitchel pinned his way to the title. "He's been with us since he was a sophomore, he put on a lot of weight, spent the time in the weight room to get himself bigger and stronger, and today you saw that hard work pay off."
"I'm excited to be back and with my win today, but I'm really excited about the team winning the championship in our own gym," said Mitchel.
Mitchel spent just five minutes on the mats on Saturday, including 1:52 in his last bout of the day against the aforementioned Christensen, who entered the tournament as the No. 10-rated man at 285.
Oleg Simankov (Hersey) was third overall and Alex Enkhbaater of Glenbrook South rounded out the top four finishers in the heavyweight division.