DePaul College Prep shines at Walther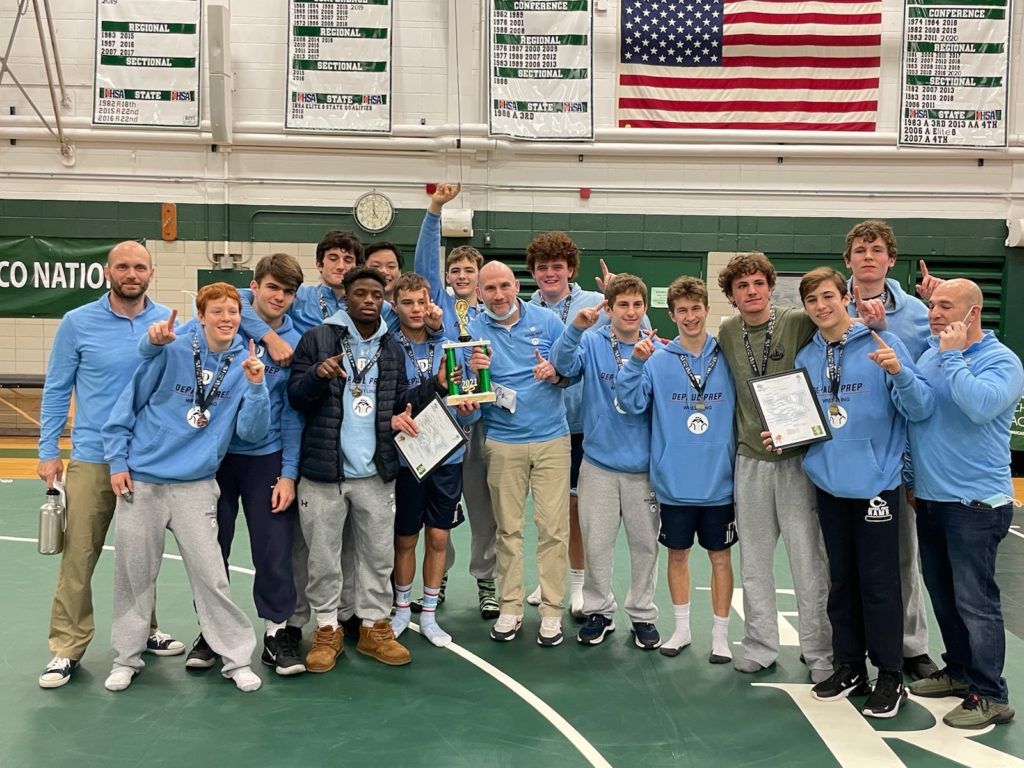 By Gary Larsen
DePaul College Prep senior Mikekal McLarin is one of the Rams' top wrestlers. He may be an even better team leader, as reflected in his comments on DePaul's domination of the field at Saturday's 13-team Warren G. Hoger Invitational, hosted by Walter Christian.

"My team came here and showed up," McLarin said. "This is the best we've been in a long time so this is a blessing. I'm proud of the guys who showed up and executed today. It was awesome to see.
"We're young but we're not scared to go out there and fight, and we're always willing to learn something new. When you come in with an open mind and the right mindset, that's how you grow and get better."
DePaul posted 244.5 points to the 179 points scored by second-place finisher Seaholm (MI). Elmwood Park (134) placed third, Peotone (123.5) was fourth, and Mather (118) rounded out the top five teams.
McLarin won an individual title at 132 pounds and improved to 8-0 on the season as one of four individual champs for the Rams. A young Rams team also got titles from freshmen Max Rosen (120) and Drew Gerstung (126), and senior Jake Kelly (160), plus second-place finishes from sophomore Jack Myers (113), seniors Jaxon Kaminski (138) and Michael Skory (152), and freshman Brenden Lilla (170).
DePaul coach Pat Heffernan also got thirds from freshman Johnny Cunningham (106) and junior Emmet Jeske (285) and fifths from freshman Matthew Brendel (145) and senior Brian Ngo (195). DePaul led all teams with 12 wrestlers finishing in the top six of their weight classes. The Rams had no wrestlers entered at 182 and 220 pounds.
Class 1A DePaul also placed third at Fenton's 16-team Weiss Invitational a week earlier, in a field full of 2A and 3A teams.
"We're a little bit better than I thought we would be, so I'm a little surprised at how well we're doing right now," Heffernan said. "The kids are really getting better every day."
"We had two freshmen step up in their first varsity tournaments today, with Matthew Brendel and Brenden Lilla, and Max Rosen is doing a great job, wrestling up a weight as a freshman and winning two tournaments this year."
It was also a special day at Walther Christian, which dedicated its multi-purpose room to longtime coach Bruce Tuomi. Tuomi's teams at Walther went 304-114-0 over his 20-year coaching career there, including his state-qualifying teams of 2015 and 2016. Tuomi finished with a career coaching record of 523-230-9.
Here's a breakdown of Saturday's individual champions:

106 — Jack Dombeck, Elmwood Park

Dombeck followed his individual title win at Fenton's 16-team Weiss Invitational on Dec. 4 by improving to 14-1 en route to his second title of the season. Dombeck used a pair of pins to win his crown, capped by a fall on the title mat against host Walther Christian freshman Caleb Peterson (7-1).
The two got into a wild exchange early in the first period, with both fighting off potential takedowns. Dombeck chose the down position to start the second period, ultimately reversing and pinning Peterson at 3:13.
"It would have been nice to feel him out a little bit but I'm alright with that much action right at the start of the match," Dombeck said. "It is what it is. No complaints.

"I wasn't getting to my offense enough in that match but I took down (position) in the second period, and that was something we'd been working on in practice this week. But I have to work on hitting my offense more. I have shots to score a lot of points so I have to be working on those."
Dombeck is opening some eyes early on in his high school career. Including his own.

"I wasn't a very good kids club wrestler. I didn't start winning tournaments until I was 12 or 13 years old," he said. "I struggled but now my mentality has changed. I'm more confident in my wrestling now."

DePaul's Cunningham won by fall over Amundsen's Matthew Nguyen on the third-place mat, one week after placing second to Dombeck at Fenton's Weiss Invitational. Mooseheart's Tilan Murphy pinned Noah Toth of Lutheran Northwest (MI) for fifth.

113 — Cameron Murray, Seaholm (MI)

Murray improved to 3-0 with a pair of falls on the day, with neither of his matches lasting more than one minute. He pinned Rickover Naval Academy's Kemely Trujillo (8-2) 47 seconds into their semifinal match before pinning DePaul's Myers (6-2) 39 seconds into their title match.

Murray was one of three individual champions for Seaholm on the day.

Trujillo won his first match by fall over Ridgewood's Sal Reina and Myers pinned Elmwood Park's Dillon Vazquez in their semifinal match. Myers also placed third last week at Fenton. Vazquez pinned Trujillo at 2:58 of their third-place match and Reina finished fifth.
120 — Max Rosen, DePaul College Prep

One week after posting three pins and winning an Outstanding Wrestler Award at Fenton's Weiss Invitational, DePaul's Max Rosen posted two more pins to win the title at Walther in improving to 11-0 on the season.

Rosen pinned Seaholm's James Postema in a semifinal match before winning by fall at 1:30 of his title match against Walther's Josh Peterson.

Rosen showed throughout the title match that waiting around to react to an opponent's offense just isn't his style. The freshman has brought the attacking heat against his opponents all season.
"If I don't go out there and attack, I'm not going to win," Rosen said. "Every match I try to attack first and attack hard. That's how I win, is by being way more aggressive. (Peterson) is a senior, I'm a freshman. He's a state qualifier. I just went out expecting a battle and I just worked as hard as I could."

Rickover's Nathaniel Sales won by fall for third place against Ridgewood's Luisa Valtierrez, while Postema placed fifth with a fall over Mather's Malachi Holmes.

126 — Drew Gerstung, DePaul College Prep

One week after placing third at Fenton's Weiss Invitational, DePaul's Drew Gerstung improved to 8-3 on the year when he won an 8-6 title-mat decision over Ridgewood's Kris Popovich in Melrose Park. Gerstung opened his day with a semifinal fall at 0:56 over Lutheran Northwest's James Wilson.
"I thought everyone else wrestled up to my expectations, but I think (Gerstung at 126) wrestled beyond our expectations," DePaul coach Pat Heffernan said. "He had a tough match in the finals and he wrestled great."

Popovich opened with a 12-10 decision over Peotone's Mohammed Abunijmeh before pinning Westmont's Sean Patterson in their semifinal match. Abunijmeh pinned Patterson on the third-place mat and Wilson placed fifth with a fall against Westmont's Magie Anders.
132 — Mikekal McLarin, DePaul College Prep

After posting two falls and a tech fall win on the title mat, DePaul College Prep senior Mikekal McLarin improved to 8-0 this season. McLarin pinned Elmwood Park's Christian Campos and Nazareth's Andrew Fowler, before winning by tech fall over Westmont's Dominic Wagner for the title.
But being content is never part of a wrestler's makeup.
"I'm not satisfied. I started the day with a pin, then another pin, and I was looking for a pin in the finals," McLarin said. "I got the tech fall so I got some work in. Now I just have to keep conditioning and keep putting the hammer down. I feel more confident in myself this year, and I've been working hard on and off the mat."

McLarin is aiming to provide leadership by example to a young DePaul team, based on a simple message:

"I just tell them to be mean. You're not trying to be anybody's friend out on the mat," McLarin said. "You can shake hands when you get off the mat. Be aggressive and be the one who wants it more."

One week after placing second at Fenton's Weiss Invitational, Wagner (9-4) pinned Amundsen's Michael Burks and Peotone's Santino Izzi to reach the finals at Walther Christian. Izzi placed third with an 8-4 decision over Fowler, and Campos took fifth with a 9-3 decision over Rickover's Julian Hernandez, one week after he placed fourth at Fenton.
138 — Ian Kreske, Peotone

After opening his day with a tight, 9-8 decision win, Peotone's Ian Kreske(5-2) reeled off a pair of major decisions to win the title at 138. Kreske won 17-4 over DePaul's Kaminski on the title mat.

Kreske found his groove in the title match, and he stayed there to pile up points.
"As I felt him out I realized I could shoot the single on him, so I started going to that a lot. Then I rode him out and got my chicken wing," Kreske said.

Kreske won 9-8 over Seaholm's Dylan Alati in a quarterfinal match before winning a 10-2 major decision in his semifinal against Mooseheart's SanQuan Bufford. In his title match, Kreske scored a late first-period takedown for a 2-0 lead, then opened up an 11-2 lead by the end of the second period and cruised from there.
The sophomore Kreske started last year at 120 before wrestling at 113 by season's end. He plans on wrestling at 132 moving forward.
"I'm feeling good," Kreske said. "I'm better on bottom this year,better at getting out, which was kind of hard for me last year.I've always been pretty good on top and I'm always looking to score more points."
Kaminski (6-4) pinned Elmwood Park's Konrad Treska and Lutheran Northwest's Ethan Dodson to reach the finals, one week after placing fourth at Fenton. SanQuan pinned Alati on the third-place mat and Treska pinned Dodson for fifth.
145 — Joey Lewand, Seaholm (MI)

Seaholm's Joey Lewand learned late what wrestlers who began the sport in grade school already knew. The junior had never wrestled prior to this season and he's already hooked on the sport.

"I like it so much more than I thought I would," Lewand said. "There's just something about all the hard work and pressure that goes into it. I've played football, basketball, and baseball my whole life — this is the hardest sport I've ever done and there's something about the hard work I really like."
Lewand (3-1) reeled off three pins to win the title at 145, capped by a fall at :30 on the title mat against Elmwood Park's Mark Gomez. Lewand pinned Rickover's Alejandro Olvera and Mather's Yovany Coronel to reach the finals.

Gomez (9-8) won a 10-2 major in his quarterfinal match against Amundsen's Asaph Matis, then a 12-7 decision over Seaholm's Alex Tappen to reach the finals.

Olvera pinned Coronel on the third-place mat and Brendel won by injury default for fifth against Tappen.

152 — Kevin Hogan, Peotone
With weekend tournaments not allowed last season due to COVID, this year's return to a more normal schedule has been welcomed by high school wrestlers throughout Illinois.

"I really am excited. I really missed this," Peotone senior Kevin Hogan said. "We're already in December and it already feels like it's going quick."

Hogan is making the most of his senior season thus far. He won the Hoger title at 152 and improved to 6-1 on the season with a pin on the title mat of DePaul's Michael Skory.

Hogan is in his fourth year as a varsity wrestler, having wrestled at 113 as a freshman, 132 as an IHSA state qualifier as a sophomore, and an IWCOA state qualifier at145 last season. He's currently ranked 10th at 145 in 1A per Rob Sherrill's IWCOA rankings.
"For the state series I'll probably go 145," he said. "I feel more aware this year and I'm a lot more confident in my shots and my setups."

Hogan pinned Elmwood Park's Josh Dascola in the first period of a quarterfinal match, and then won by 17-2 tech fall in his semifinal against Seaholm's Matthew Windsor. Hogan pinned Skory at 4:54 on the title mat.

A week after placing fifth at Fenton, Skory (9-3) pinned Walther's Leslie Velazquez before winning a 3-2 ultimate tie-break in his semifinal against Lutheran Northwest's Luke Burmeister. Burmeister posted two pins in the consolation round, capped by a pin of Windsor on the third-place mat, while Rickover's Adonal Zora-Awni won by fall on the fifth-place mat over Mooseheart's Chris Wallace.
160 — Jake Kelly, DePaul College Prep

Mather's Arlo Johnston had a 4-2 lead on DePaul's Jake Kelly after one period of their title match, before Kelly used a takedown and back points in the second period to grab a 7-4 lead. Kelly then pinned Johnston, 22 seconds into the third period.

Kelly won his title one week after placing third at Fenton's Weiss Invitational.
Kelly (7-4) pinned Seaholm's Dalton Fines in his semifinal match, while Johnston (3-1) pinned Rickover's Tony Goris in their semifinal. Fines then posted a first-period pin over Goris on the third-place mat.
170 — Ashton Bossardet, Seaholm

Three pins in three matches that took a combined 2:52 earned a Hoger title at 170 for Seaholm's Ashton Bossardet. Bossardet pinned Ridgewood's Kevin Mimini and Mather's John Ho to earn a spot in the title match, where he pinned DePaul's Lilla at :16 of the first period.

Wrestling in his first varsity tournament, Lilla pinned Amundsen's Adrian Zepedon in their semifinal match to reach the finals. Mimini pinned Ho on the third-place mat and Zepedon pinned Lutheran Nortwest's Nate Cummins for fifth.

182 — Michael Tuomi, Lutheran Northwest (MI)

Two pins earned the title at 182 for Lutheran Northwest's Michael Tuomi (4-0), capped by a fall at 2:53 on the title mat against Mather's Jacob Scott. Tuomi opened with a pin of Peotone's Jackson Bergeron in their semifinal match.

Scott (3-2) won a 15-4 major decision in his semifinal match against Seaholm's Eduardo Ferdinand. Bergeron pinned Ferdinand for third place and Ridgewood's Jose Castro won by injury default on the fifth-place mat against Nazareth's Scott Creviston.

195 — Jaylan Lacy, Westmont

So far, Westmont's Jaylan Lacy is making his senior year count. Lacy improved to 14-0 and garnered his second tournament championship medal of the year, having also won the crown at 195 at Fenton's Weiss tournament a week earlier. Lacy was an IWCOA state qualifier last year as a junior.

Lacy's three falls on the day left no doubt who the top 195-pounder was at Walther on Saturday, once he got his engine revved up.

"I was tired coming in here. But I got warmed up and took care of business," Lacy said. "I scouted my opponent before I wrestled and started thinking of a game plan. In my title match I knew I'd beat (Elmwood Park's Jack Pedersen) before, so I was confident.

"I'm more confident in myself. Last year I was too hesitant to take shots against people who I thought could beat me. But not this year."
Lacy — currently ranked No. 10 in Illinois at 195 in 1A — pinned Seaholm's Luke Johnson and Peotone's Oscar Villalobos to reach the finals, where he pinned Pedersen at the 2:17 mark of the match.
Pedersen (10-7) pinned DePaul's Brian Ngo and Mather's Jens Marino to reach the finals, a week after his fourth-place finish at Fenton. Villalobos won a 10-3 decision for third place against Marino, while Ngo pinned Walther's Zach Zawila on the fifth-place mat.
220 — Gabe Kaminski, Nazareth

There are 33 Class 1A wrestlers ranked at 220 in Rob Sherrill's IWCOA rankings, and 32 of them are either juniors or seniors — a typical breakdown of upperclassmen among the upper weights.

The lone underclassman ranked at 220 is only a freshman — Nazareth's Gabe Kaminski, who's listed on the honorable mention list. After pinning his way to a Hoger title and improving to 8-0 on the year, Kaminski has shown that he can match up physically in a division loaded with upperclassmen.

"I just came off the football season so I'm not in wrestling shape yet," Kaminski said. "I've only had a couple of weeks of wrestling to get back into it. Coach (Denis Laughlin) told me I have the potential to go all the way this year. I know I have a lot more work to do but with hard work, anything is possible."
Kaminski won his title with three pins on the day, capped by a pin of Seaholm's Jacob Vance on the title mat at 220. Kaminski pinned Amundsen's Michael Wojtach and Westmont's Severin Vorotnjak before pinning Vance on the title mat at the 2:58 mark.
Kaminski won an Illinois kids club state title in seventh grade and has acclimated fast to the high school varsity level.
"The (varsity) competition level is way harder and you have to get rid of all the funk moves you can get away with at the kids club level," Kaminski said. "(Vance) was strong as hell and I was just able to use that elbow slide-by and got two takedowns off of it."
Vance pinned Mather's Jonathan Alvarado and Elmwood Park's Olmari Evans — both within the first 20 seconds of the first period — to reach the title match against Kaminski. Alvarado pinned Wojtach for third while Evans won by injury default for fifth over Vorornjak.
285 — Kevin Olsen, Amundsen

Olsen opened his day with a fall against Lutheran Northwest's Derek Friedman, then won a 9-2 semifinal decision over Westmont's Angel Ortiz to reach the finals. In a battle of unbeaten wrestlers, Olsen won 5-0 for the title against Rickover's Osmar Mora to improve to 5-0 on the year.
"I was able to get (Friedman) down and pin him in the first match, and the second match (vs. Ortiz) was tough. It went to overtime and I was able to take a double-leg and get it," Olsen said.
"I woke up feeling good today. I just went out there and got the win. My conditioning is good so I think that's one of the main reasons I won — I was able to keep working. Now I have to engage more offensively and I need to keep working on conditioning, so I can beat guys with pace."

Mora (7-1) reached the finals with a pair of falls, respectively, over DePaul's Emmet Jeske and Mather's Tofarati Fatoki. Jeske pinned Fatoki for third while Ortiz pinned Elmwood Park's Marty Lozano for fifth.