Prospect shows depth at Mudge-McMorrow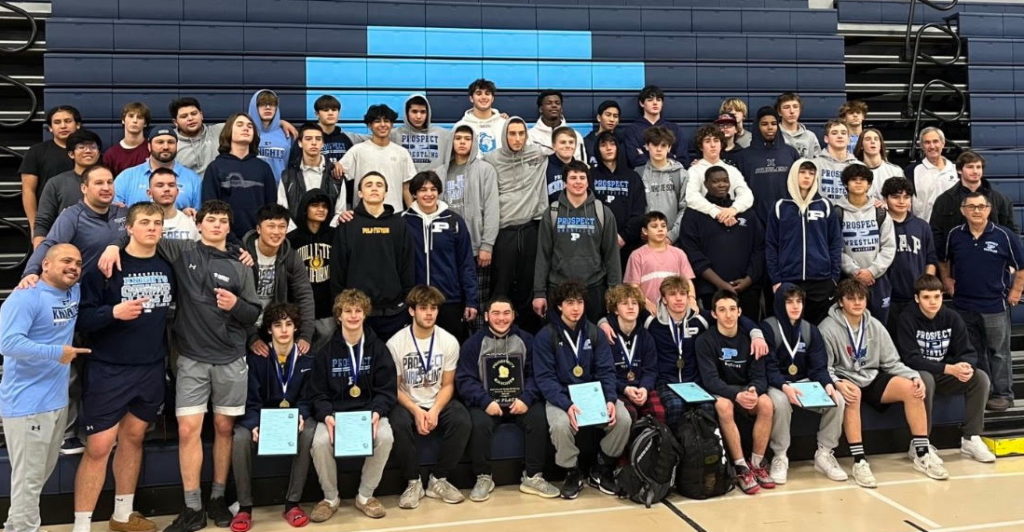 by Mike Garofola
Even when Dan Keller's lineup was not complete – it still was able to stay within close distance of eventual champ Hersey at Barrington's Moore-Prettyman on Thanksgiving weekend.
Saturday afternoon at Jean Walker Fieldhouse in Mt. Prospect, the Knights — now with its lineup at near full strength — proved to have far too much firepower for the field as it easily claimed the top prize at the 62nd Mudge-McMorrow Invitational.
The Knights used five individual champions and four other top-three medal winners to collect 253 overall points, to run away from its nearest challenger, reigning 2A state champion, Joliet Catholic Academy (186.5).

Joliet Catholic placed second despite having its No. 1 trio of Gylon Sims, Mason Alessio, and big man Dillon Johnson all competing at the Walsh Jesuit Ironman Tournament in Cuyahoga Falls, Ohio on Saturday.
Libertyville finished in third with 158.5 points, with McHenry (119.5) and Grayslake Central (115) both off the pace to round out the top five.
"It's good to see us finally getting everyone back healthy and close to being aa hundred percent," Keller said. "We've seen the intensity in the room improve two-fold, and the work rate just as impressive. But the guys know there's a lot of wrestling ahead of us, which means more hard work for everyone."

Prospect senior Will Baysingar also likes the way his Knights are rounding into form.
"I really like the way this team is beginning to come together from top to bottom, and I'm really anxious to see how we perform at DeKalb in a few weeks, and at the (Wisconsin) Cheesehead, which we just got into," Baysingar said.
"We have to continue to come to work each and every day in the room in order for us to compete at the highest level – if we do, I don't see why we can't compete with anyone out there."
Next up for the Knights this week is division rival Elk Grove, followed by a quad at Oak Forest quad Saturday. Joliet Catholic Academy travels to the prestigious 56th annual Rex Whitlach at Hinsdale Central this weekend.
Third-place Libertyville will begin to prepare for the two-day monster at the Harlem Machesney's Dvorak tournament.
"There's not too much to say about Prospect, I know we are not in their league this season and as a public school that has all that homegrown talent, and to be able to put a lineup together like they have, is just mind-boggling to me," Libertyville veteran coach Dale Eggert said.
106: Elijah Garza, Prospect
Prospect sophomore Elijah Garza won his first-ever major following his 6-2 decision over Joliet Catholic junior Noah Avina, who himself enjoyed a solid showing on the day.
"I missed the first part of this season, but right now I feel like I am getting closer to where I want to be, so it felt good to win at our own tournament," said Garza, who was on the Knights' varsity roster a year ago, and in the Knights' starting lineup at the 3A dual-team state tournament in Bloomington at 113.
"I was at 113 last year because (Joel) Muehlenbeck (43-12) was at 106 – but I was still able to get a lot of experience as a freshman," continued Garza.
"It's good to get Elijah back in our lineup, and starting things off for us at our lower weights," Keller said. "He still has a ways to go, but he's getting closer to where he needs to be."
Garza extended his lead to 6-2 midway through the second period after Avina drew closer at 4-2 with an escape to start the period.
Prairie Ridge's Jake Lowitzki finished third with a 4-2 decision over fourth-place finisher James Hemmila of Loyola Academy.
113: Anthony Alanis, Grayslake Central
There's a lot of angst that still shows on the face of Grayslake Central's Anthony Alanis (14-1) when asked about his loss in his 2A state final last season.
"It really stung losing in that final. It's something that has stayed with me but in a positive way, because it was the motivation needed to work harder than ever to get back to Champaign and on top of the podium in February," said Alanis, who cruised into his 106-pound state final last year before Andrew Davis of Glenwood dashed his hopes.
"It was the bottom that cost me in that final, so you know that's something that I paid a lot of attention to during the offseason," continued Alanis, who went 48-5 a year ago.
"I fell just short of placing at both Fargo and the National Showcase, but I wrestled well and haven't stopped working since then."
"Anthony's focus is clearly on getting back into the state finals," Rams coach Matt Joseph said. "It was a hard loss he took last year, but his work rate and work ethic throughout the offseason was amazing. He's a guy who will grind and grind, so if he stays healthy there's no reason why he won't reach his goal."
Alanis won a 5-2 title-mat decision over a stubborn Jason Hampton of Joliet Catholic Academy.
"Anthony is very business-like in the room, and is a great example for our younger guys in the room," Joseph said.
Round Lake's Alejandro Cordova, who lost 3-1 to Hampton in the semifinal round, won a major decision on the third-place mat against Loyola's Gavin Pardilla.
120: Tyler Evans, Prairie Ridge
There was just no stopping Prairie Ridge star Tyler Evans, who not only pinned his way to the top of the podium, but in doing so walked away with outstanding wrestler honors when this storied tournament came to an end.
The pin-happy No. 4-rated man in 2A dashed the hopes of three rivals, including No. 9 Zach Parisi of York, who he beat by fall at 4:34 to ensure his title.
"The biggest difference for me this season is feeling really good about my weight," Evans said. "I haven't had to cut so I am really doing things the right way in regards to eating smart, training hard, and really putting a lot of effort into improving my overall fitness."

Evans is a two-time state qualifier and IWCOA fourth-place medal winner as well.
"With my weight not an issue this year, it has also helped me be more comfortable in the mental part of my game, with the combination of the two making a big difference in the way that I'm wrestling thus far," continued Evans, who was 35-6 a year ago.

Prospect's Jeremy Huf won by major decision on the third-place mat against Grayslake Central's Tyler Weidman.
126: Evan Gosz, Fremd
Evan Gosz continued his perfect start to the season with yet another magnificent performance that ended with the Fremd sophomore claiming his second major of the season, via 12-2 major over Prospect's Joel Muehlenbeck in his 126-pound final.
"I was happy with the way I wrestled today, but I was really hoping (Loyola's Massey) Odiotti would be in this weight class," said Gosz (15-0) who envisioned a final with the top-rated Odiotti at 120, a state runner-up last year who competed at the Ironman over the weekend.
Gosz was highly functional, fluid, and superb in his positioning, and attacked from several different angles to validate his status at No. 3 behind St. Charles East's No. 1 Ben Davino and Marmion Academy's No. 2 Jameson Garcia.
"Evan has an outstanding record this season, and is scoring a lot of points in his matches," Fremd coach Jeff Keske said. "He knows in order to finish the year better than last year (third in Illinois) he still has some things he needs to refine in his technique.
"It's been a pleasure watching him be his best in the finals here and at the Moore-Prettyman, because he gets up for the big matches and really pushes the pace of the match."
Prairie Ridge's Mikey Meade won a hard-fought 4-3 decision for third place over Naperville Central's Ethan Olson.
132: Will Baysingar, Prospect
It was another day at the office for Will Baysingar, who continues to impress, and — unfortunately for his opponents – improve as the Prospect senior recorded back-to-back tech falls en route to his second consecutive championship on his home mats.
Baysingar (14-1) took big first-period leads with a devastating take-down attack before finishing things off, including his tech-fall victory in the final over York star Sean Van Sleet, one of three Dukes who are returning state qualifiers.
"I'm an underhook guy – most of my opponents know that, but I've been working on adding different looks to my game," Baysingar said. "So when I'm in a match and opponents are looking for it, the'll have a tough time figuring out what I'm throwing at them." s
Baysingar is looking forward to seeing how his club fairs at DeKalb in late December, and then the Cheesehead in Wisconsin.
"We need to continue to challenge ourselves against quality competition. It's the only way we'll improve as a team in both duals, and tournaments," added Baysingar, who will wrestle next fall at the University of Illinois.
Joliet Catholic's Nolan Vogel won by injury default for third place over Addison Trail's Damian Valdez.
138: Lennon Steinkuhler, Prospect
Lennon Steinkuhler came close to joining five of his teammates in Champaign last February, so it comes as no surprise the blood-round loss at the Barrington sectional last year provided all the inspiration needed by the Prospect senior during his offseason.
"I worked really hard last season, so it didn't feel real good not to make it downstate," Steinkuhler said. "But to be honest, it was my overall fitness that kind of (hurt) me in big matches last year. So I spent a ton of time improving my cardio so I'm not gassed when it counts the most."
Steinkuhler went 37-9 last year and won a regional title as well.
"I'm just back from being out, and got a lot of good matches in last weekend at the Plainfield mega-duals," Steinkuhler said. "So I felt pretty good coming into this weekend and even better after winning today and helping the team win the tournament championship."
Steinkuhler recorded a take-down with nine seconds remaining in the first period against his finals opponent, Joliet Catholic's Jake Hamiti, but Steinkuhler surrendered that advantage when Hamiti grabbed a take-down near the edge midway through the third period.
Seconds off the whistle, Steinkuhler took the lead for good at 4-3 with an escape, then quickly added some insurance to his 6-3 decision with a take-down.
"There's still a lot of room for improvement for me, but we have a great room, and I have great partners, so I know I can get better as the season goes on," Steinkuhler said.
York's Fabian Serrano won 7-2 on the third-place mat against Libertyville's Antonio Kelly.
145: Noah Tapia, Moline
The 'wow' factor for Moline wrestling a year ago on its way to the 3A dual-team state tournament was the dynamic and lethal duo of Kole Brower and Noah Tapia, who built a staggering 97-4 combined record a year ago.
The Moline duo claimed plenty more hardware along the way before Brower won a state title and Tapia took second in Illinois at 145.
"Last year's state final was disappointing, but it helped motivate me to work as hard as I could during the offseason in the room, and at tournaments, in order for me to reach my goal of being a state champ," said Tapia, who soon will announce his collegiate plans for next fall.
"I went 4-2 at Fargo in freestyle and Greco, and I really feel like my work on the bottom and on my feet has improved tremendously from where it was last year," Tapia said.
The No. 1-rated Tapia defeated a determined No. 7 Scott Busse of Lake Zurich, who lost a hard-fought affair in his final at the Moore-Prettyman against Belvidere North star Antonio Alvarado.
"I miss having Kole (Brower) in the room with me this year, but we talk all of the time – he's really happy at Illinois, so it's great to stay in touch with him," Tapia said.

Tapia enjoyed all of the action in the first period of his finals match, which he led 2-0 before an an early-second period escape made it 3-0. Tapia went on to win a 6-3 decision to win his title.
McHenry's Pedro Jimenez won 7-3 on the third-place mat against New Trier's Wilson Wright Wilson Wright.
152: Damien Puma, Prospect
Two-time state qualifier Damien Puma — one of four Knights back from the injury list — made his presence felt in Dan Keller's lineup when he won his exciting final against Joliet Catholic's Connor Cumbee, the No. 8-rated man at 152 in 2A.
The see-sawing title match saw Puma hold a 10-6 advantage early in the third period before conceding a take-down to make it 10-8 moments later.
The Hilltoppers' corner thought Cumbee had enough at the edge to even the score sixty seconds later, but the referee disagreed.
Cumbee did his best to pull Puma back in from the edge at 5 1/2 minutes, but Puma fought him off and then finished with a take-down with 13 seconds before time to ensure a 13-8 victory.
"(Cumbee) was a tough opponent, it was a good match to be a part of and one that I'm proud of because I'm just coming back from an inflammation of my sternum," said Puma, who won 34 matches last season.
"I know I still have a ways to go, especially with my fitness, but I feel a lot stronger mentally than last year. Those two quick losses at state a year ago has really pushed me to be a lot better this season."
Lake Zurich's Aiden Foley won by major decision to place third against Jake Crandall of Fremd. Crandall gave Cumbee all he could handle in the semifinals, losing 8-7 in their semifinal before placing fourth.
160: Connor Munn, Prospect
After experiencing a two-loss exit in Champaign last season, a determined Connor Munn has stayed the course this season with a terrific start to his junior year, which now includes his first major of the 2022-23 campaign.
None of Munn's four counterparts threatened as he opened tourney play with back-to-back pins that combined took under two minutes. Munn followed that with a 6-0 shutout decision in his semifinal to help book his place in the final against Glenbrook South senior Patrick Downing, who lost in the blood round last season at the Barrington sectional.
Munn — who went 33-14 last year including two wins at dual-team state – had all of the play during his marvelous effort which ended in a 15-4 major decision victory.
"I was a little disappointed in my loss (7-3) in the final at the Moore-Prettyman to (Hersey's Aaron) Hernandez, but it's a long season and I really feel like I've improved a lot of parts of my game since then, so in a way it was a good loss," admitted Munn.
"It wasn't fun being eliminated so quickly at state last year but it was a really good experience to get down there, and I know things will be different for me when I get back."
Fremd's Matt Meehan, who placed sixth at the Moore-Prettyman, won a 9-6 decision on the third-place mat against New Trier's Tag Miller.
170: Chris Moore, McHenry
McHenry's Chris Moore has enjoyed a memorable ride during his prep career thus far, and the McHenry senior is looking to make a successful finish across the line come February.
Moore, the No. 2-rated man in 3A at 170 pounds, turned in another masterclass performance on Saturday, ending his perfect day with a 14-5 major decision victory over Libertyville junior Matt Kubas to win his second consecutive Prospect title.
"This is it for me, so I want to go out on top," said Moore, a former 2A state champion at 113 pounds at Aurora Christian as a freshman, winning nearly 50 matches that year to help AC claim a third-place trophy at the dual-team state tournament.
One year later, Moore was second at the IWCOA state tourney, before finishing second to current top-rated 170-pounder, Colin Kelly from Mt. Carmel.
"I worked harder than ever during the offseason," Moore said. "I competed at Fargo and the Super 32 (in North Carolina), and I've been real diligent about watching my weight, and I'm working on my footwork and quickness as well."

After considering North Dakota State, and North Carolina, Moore committed to wrestling for Illinois next fall.
Moore opened the tournament with a tech fall at 4:20, then followed up with a pin at 3:11 to advance into his title match with Kubas, who needed just under five minutes to pin three opponents to reach the final.
Prospect's Michael Matuszak won a 1-0 decision over Joliet Catholic's Isaac Clauson on the third-place mat.
182: Austin Gomez, Libertyville
A highly-anticipated final between Libertyville's Austin Gomez and Grayslake Central's Matt Jens never materialized, after Jens defaulted due to an injury suffered earlier in the day.

Gomez had a sensational late-season surge a year ago resulted in the Coe College-bound Wildcats senior to earn a third-place state medal — quite an accomplishment for one of those rare three-sport athletes.
"My focus is always on the current sports season, just nothing else but that sport," said Gomez, a safety on the Wildcats football team and outfielder-pitcher on the diamond in the spring.
Gomez, 35-11 last season, dropped a hard fought 3-2 decision in his final at the Moore-Prettyman last month.
"I've just been working on cleaning a few things up since then and working on my technique and fitness," added Gomez.
A banged-up Jens erred on the side of caution after winning his semifinal match.
"It just made sense not to take any chances," said Jens, who cruised into the final with a 23-8 semifinal decision.
"Matty is just a great kid to have in our program," Grayslake Central coach Matt Joseph said. "He works hard, and takes pride in leading the team and being a great teammate. His dedication to the sport that helps him excel at a very high level."
Jens' heart-breaking loss in his 2A state final last season fueled an extensive offseason program prior to the football season.
"Matty didn't take any time off from wrestling until the football season began, and then he was just locked into football," added Joseph.
Moline's James Soliz placed third with a 5-2 decision over Libertyville's Caleb Baczek.
195: Aaron Cramer, Grayslake Central
Grayslake Central fans suffered a trio of tough losses in the state finals last February, with then-junior Aaron Cramer the third man to fall just short after Alanis and Jens.

Cramer doesn't dwell on it.
"What happened last year at state is in the past, so my only focus from here on out is to get back downstate and on top of the podium," said Cramer, who went 47-2 last season before placing second in 2A at 170.
"Matty (Jens) will be at 182 this season, and I'll handle things at 195," Cramer said. "I feel like I'll be strong enough and quick enough to compete at this weight, especially after I get back to being healthy after being sick for a week."
Cramer recently committed to wrestle next fall at SIU-Edwardsville.
"Aaron spend a lot of time in the weight room during the offseason to prepare for his jump from 170 to 195," Joseph said. "It's matches like the one in this final against an elite opponent like (Prospect's Jaxson) Penovich that will help later on. It was a great win for him."
Penovich, who has been quite the sensation early into his rookie season, came into this contest with a dazzling 15-0 record. Jens earned the first takedown of the title match but Penovich evened the score at 2-2 at the buzzer to end the first period.
Cramer thought he pulled Penovich back onto the mat near the edge at three minutes to claim two points, but officials did not agree and the period tied 3-3. Cramer escaped to start the third period to take a 4-3 lead that lead stood up for win.
Libertyville's Cole Matulenko, who lost to Penovich in the Moore-Prettyman final, won by tech fall on the third-place mat against Joliet Catholic's Zach Pomatto.
220: Owen McGrory, Libertyville
When Matt Kubas won his 170-pound title at the Moore-Prettyman three weeks ago, the Libertyville junior was quick to heap plenty of praise upon his teammates from 182 and above for getting him ready for his championship run.
Teammate Owen McGrory would do the same following his marvelous four-match effort on the day that saw the Wildcats' junior lift the big trophy at 220 pounds, after his hard fought 7-5 victory over Fremd senior Casey Bending.
"We've got some great guys in our room at the upper weights: Kubas, Austin Gomez, Cole (Matulenko) and our heavyweight, Caleb Christensen," McGrory said. "It's those guys who have made the difference for me this year."

"I don't get too amazed too often by something in high school wrestling. Development is done slowly, and with a lot of effort," Libertyville coach Dale Eggert said. "But what Owen has accomplished this year has been amazing.
"But he has always had a lot of mat awareness, and is a very bright wrestler, with a lot of tricks up his sleeve."
McGrory was 11-0 as a freshmen, then 24-0 on the JV a year ago, with three victories coming at 170 for the varsity.
"He was at 126 in eighth grade, and you usually do not see wrestlers who grew so much in two years continue to grow," Eggert said. "But he got up to 190 for this season, and with Matulenko at 195 it has been great to slot (McGrory) into our lineup at 220."
Bending (16-5) — called a 'team first kind of guy' — grabbed the early lead before McGrory got back even at 2-2 after the first period.
It was 3-3 heading into the third period when an escape and take-down gave McGrory his first lead of the match, which he held onto the rest of the way.
"I figured Owen had enough savvy to have a winning record at 220, but I did not see him beating some of the huge guys that he has, and have a 15-1 record," Eggert said.
"He has scored from every situation on the mat, and although I'm not sure what weight he will eventually end up at, he has already proven he could go either at 195 or 220 for us."
Joliet Catholic's Maximus Hrvatin won by fall on the third-place mat against Naperville Central's Niko Besteiro.
285: Drew Duffy, Glenbrook South
Drew Duffy got a late start to his season a year ago, but the Glenbrook South senior made up for lost time when he pinned his way to a regional title on his home mats, then a week later booked his first trip downstate with a well- deserved third place sectional finish.
"With our football team advancing into the state quarterfinals last year, Drew wasn't with us at the start of the year," Titans coach Pat Castillo said. "He didn't wrestle his sophomore year, so he's basically wrestled for one year and he's been just terrific.
"His biggest improvement is his ability to put wrestling moves together, and instead of trying a move then bailing out, he's now putting them all together."
Duffy assessed his title match against McHenry's Jesse Saavedra.

"(Saavedra) was short and stocky, and had a great base, so I knew it was important to stay composed and be smart when I was setting up shots and moves, especially later on in the match," said Duffy, who plans on majoring in political science and/or economics, with his goal to be an attorney after college.
Duffy lists Washington University (Missouri), Denison University (Ohio) and DePauw University in Greencastle, Indiana among his college choices, and intends to play football wherever he ends up.
"Drew is a great young man, who has a very bright future ahead of him," Castillo said.
The title match was scoreless after two periods, with Duffy ridig Saavedra hard for the entire second period. Duffy went up 1-0 with an escape to start the third period.
Saavedra got back level at 1-1 before Duffy posted a takedown with 30 seconds remaining, and then rode things out to ensure his victory.
"Drew wrestled smart against an opponent who was tough to score on, and stayed in good position himself," Castillo said. "I'm glad we didn't force a bad shot, and thrilled he did such a great job with his mat wrestling."
There's still a lot of work ahead, but it feels good to win at a big tournament like this one," said Duffy.
Libertyville's Caleb Christensen won by fall on the third-place mat over York's Dominic Begora.
Team Results:
Prospect 253.0, Joliet Catholic Academy 186.5, Libertyville 158.5, McHenry 119.5, Grayslake Central 115.0, Naperville Central, York 107.50 each, Fremd 99.5, Glenbrook South 95.0, Prairie Ridge 86.5, Moline 85.5, Loyola Academy 83.5, Lake Zurich 61.0, New Trier 49.5, Round Lake
35.0, Addison Trail 32.0