Downstate tournament roundup for December 10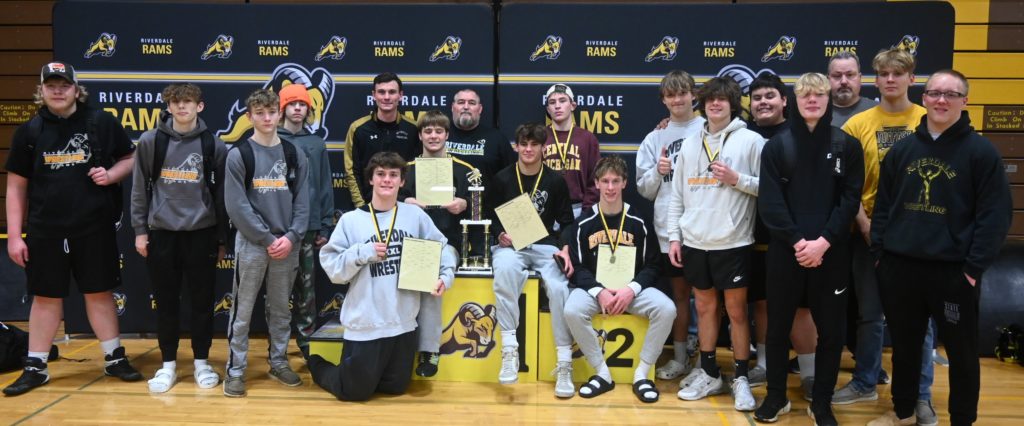 By Curt Herron
Riverdale captures championship honors at own Jim Boyd Invite
Riverdale had five individuals who won championships to help it outscore Sterling by a 187-160 margin to claim the title of its own Jim Boyd Invite in Port Byron.
Rock Island edged Seneca 142-139 to finish in third place in the 15-team competition. Wilton, IA (127), Byron (118), Polo/Eastland/Forreston/Milledgeville (112.5) and Mercer County (109) were next in line.
Winning titles for coach Myron Keppy's champion Rams were Brock Smith (138), Eli Hinde
(152), Collin Altensey (160), Alex Watson (170) and Zach Bradley (182) while Kolton Kruse (132) placed second, Tharren Jacobs (113) took third and Jake Baustian (285) was sixth.
"I was very satisfied with the way that we wrestled and especially my three placewinners," Keppy said. "And we had some other guys who stepped up,"
Returning Class 1A champions for Riverdale are Smith at 132 and Altensey at 152 while Watson placed fifth at 160.
Top performers for coach Kevin Heller's runner-up Golden Warriors were runner-up Thomas Tate (160), third-place finishers Chase Ullrich (182), Diego Leal (195) and Javier Luna (285) while Karson Strohmayer (126) and Isaiah Mendoza (152) both finished fourth.
Leading the way for coach Joel Stockwell's third-place Rocks were champions Truth Vesey (113) and Andrew Marquez (220) and runner-up Amare Overton (170). Placing third were Samuel Niyonkuru (106), Matthew Cook (160) and Israel McGowan (220) while Kameron Gay (106) and Merrick Stockwell (113) finished fourth.
Also claiming first-place finishes were Seneca's Nate Othon (145) and Chris Peura (195), Mercer County's Ethan Monson (120), United Township's Xavier Marolf (126), Polo/Eastland/Forreston/Milledgeville's Wyatt Doty (132), Wilton, IA's Liam Adlfinger (106) and Davenport North, IA's Jeremiah Henderson (285).
Repeating as champions in the tournament were Riverdale's Smith, Watson and Bradley. Other champions who were Class 1A placewinners last year are Doty (132), who was third at 126 and Monson (120), who was fourth at 120.
Others finishing second were Byron's Carsen Behn (152), Kyle Jones (182), Josh Harris (195) and Jared Claunch (220), West Carroll's Connor Knop (106), Polo/Eastland/Forreston/Milledgeville's Lucas Nelson (126),and Mercer County's Payton Coppla (285) while Wilton, IA received runner-up finishes from Owen Adlfinger (113), Kale McQuillen (120), Clay Ledger (138) and Jensen Boorn (145).
Capturing titles by decision were Marolf over Nelson 8-5 (126), Hinde over Behn 11-8 (152) and Bradley over Jones 14-11 (182). Getting wins by major decision were Vesey over Owen Adlfinger 8-0 (113) and Altensey over Tate 17-6 (160).
Winning title matches by fall were Liam Adlfinger over Knop in 2:40 (106), Monson over McQuillen in 2:50 (120), Doty over Kruse in 1:34 (132), Smith over Ledger in 1:31 (138), Othon over Boorn in 1:40 (145), Watson over Overton in 1:27 (170), Peura over Harris in 2:37 (195), Marquez over Claunch in 2:00 (220) and Henderson over Coppla in 1:56 (285).
Other third-place finishers were Mercer County's Zeke Arnold (145) and Bodie Salmon (170), United Township's Kayden Marolf (152), Pleasant Valley, IA's Abe Swanson (120) and Chase Macey (138), Davenport North, IA's Jacob DeWispelaere (126) and Wilton, IA's Blaine Dohrmann (132).
Also claiming fourth-place finishes were Polo/Eastland/Forreston/Milledgeville's Chase Bremmer (138), DeAngelo Fernandez (160) and Maddux Hayden (195), Sherrard's Blake Pender (120), Seneca's Collin Wright (170), United Township's Chase Cassini (182), Davenport North, IA's Jeffery West (132), Max Smith (145) and Joseph Thomas (220) and Pleasant Valley, IA's Jackson Klingaman (285).
Leading the way in team points scored with 30 were Marquez (220), Othon (145), Peura (195) and Watson (170) while Doty (132) and Monson (120) were tied with 29.5 points and Altensey (160) and Smith (138) were next with 29 points, Marolf (126) had 28 points and Hinde (152) finished with 26 points.
PORTA wins own Avery Invite for first time since 2010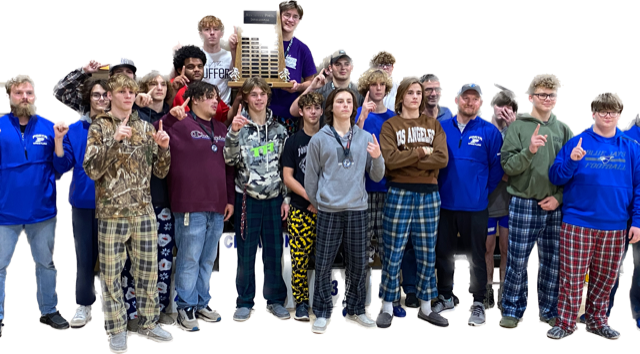 It's been awhile since PORTA took top honors in its own tournament – 2010 – to be precise.
But that stretch without a championship in the Rex Avery PORTA Invite ended on Saturday when coach Jeff Hill's Bluejays scored 199 points to defeat runner-up LeRoy/Tri-Valley, who had 170 points, for top honors in the 27-team competition. Kewanee beat Shelbyville 157-150.5 for third place in the tournament that took place in Petersburg.
Some of the other top scoring teams that took part in the competition were Canton (135.5), Auburn/Franklin/New Berlin (129), Orion (119), Litchfield/Mt. Olive (105), Farmington/Cuba (98), Ridgeview/Lexington (94), Cahokia (90.5), Mt. Zion (90.5) and Monticello (89).
PORTA, which co-ops with A-C Central and Greenview, received titles from Braden Barner (152) and Bryar Lane (182) while Jacob Vogel (138) and Issak Espenchied (285) took second place. Finishing fourth was Zach Bryant (106) while Logan Peterson (195) was fifth, Hunter King (120) took sixth, Mitchell Horn (145) and Cael Cotner (160) were seventh and Tyler Miller (132), Russell Mattson (170) and Trace Shaub (220) placed eighth.
Hill, an IWCOA Hall of Fame inductee in 2011 who wrestled at Plano for IWCOA hall of fame coaches Mick Ruettiger and Joe Cliffe, is the state's all-time leader in dual meet wins with 739 entering this season at PORTA, where he took over in 1991 after beginning his career in Iowa. He was selected as Illinois' National Wrestling Coaches Association Coach of the Year in 2022.
Top performers for coach Brady Sant Amour's second-place Panthers were champions Brady Mouser (106) and Jacob Bischoff (220), runner-up Tyson Brent (170) and third-place finishers Colton Prosser (132), Connor Lyons (145), Ethan Conaty (160) and Tate Sigler (285). Brent placed sixth at state at 170 last season.
Leading the way for coach Charley Eads' third-place Boilermakers were title winner Will Taylor (138) and fourth-place finishers Max Kelly (145) and Garett Pettit (152). Kingston Peterson (106), Jaxson Hicks (160) and Alejandro Duarte (182) took fifth while Chance DeSplinter (113), Landon Mason (132) and Jackson Hawkins (170) were sixth.
Other champions were Auburn/Franklin/New Berlin's Anthony Ruzic (120) and Cole Edie (285), Canton's Trevor Hedges (126) and Joseph Norton (170), Warrensburg-Latham/Mt. Pulaski's Logan Roberts (113), St. Joseph-Ogden's Holden Brazelton (132), Shelbyville's Kaz Fox (145), Carlinville's Jake Schwartz (160) and Sacred Heart-Griffin's Cory West (195).
Three of those champions are returning placers. Ruzic (120) took first at 113, Norton (170) was third at 170 and Brazelton (132) was sixth at 120.
There were six individuals who repeated as tournament champions, Brazelton, Hedges, Norton, Ruzic, Schwartz and West.
Also taking second place were Farmington/Cuba's Keygan Jennings (120) and Rese Shymansky (182), Shelbyville's Calvin Miller (126) and Will Fox (160), Litchfield/Mt. Olive's Vinny Moore (106), St. Joseph-Ogden's Emmitt Holt (113), Beardstown's Jonny Marquez (132), Cumberland/Newton's Owen Mcginnis (145), Hillsboro's Zander Wells (152), Ridgeview/Lexington's Gray McCue (195) and Orion's Phillip Dochterman (220). Jennings (120) also is a returning state placer, taking sixth at 113
Fox edged Mcginnins 11-9 in sudden victory to win the title at 145. Others capturing decisions in title matches were Mouser over Moore 7-1 (106), Roberts beat Holt 5-0 (113) and Schwartz over Fox 10-5 (160).
Winning titles by major decision were Ruzic over Jennings 11-2 (120), Hedges over Miller 11-1 (126), Barner over Wells 10-2 (152), Norton over Brent 14-3 (170) and Edie over Espenschied 3-2 (285).
Finishing in first place with falls were Brazelton over Marquez in 3:04 (132), Taylor in 4:23 over Vogel (138), Lane pinning Shymansky in 5:44 (182), West over McCue in 1:10 (195) and Bischoff in 2:56 over Dochterman (220).
Additional third-place finishers were Orion's Luke Moen (120) and Maddux Anderson (195), Canton's Maddux Steele (106), Litchfield/Mt. Olive's Alex Powell (113), Ridgeview/Lexington's Braydon Campbell (126), Shelbyville's Nate Sanders (138), Monmouth United's Jake McElwee (152), Cahokia's Nick Deloach, Jr. (170), Auburn/Franklin/New Berlin's Skylar Fay (182) and Mt. Zion's Remington Hiser (220). Powell (113) also placed at state last year, taking sixth at 106.
Others who finished fourth were Cumberland/Newton's Hank Warfel (113) and Braydon Olmstead (138), Knoxville's Gage Fox (132) and Dilan VanBeveran (195), Warrensburg-Latham/Mt. Pulaski's Kaden Roberts (120), Cahokia's Demerious Mcgill (126), Mt. Zion's Kaden Becker (160), Auburn/Franklin/New Berlin's Joey Barrow (170), Pittsfield/Pleasant Hill's Tucker Cook (182), Litchfield/Mt. Olive's Devin Hansel (220) and Shelbyville's Andre Townsend (285).
West (195) led all competitors with 32 team points. Brazelton (132), Norton (170) and Ruzic (120) all scored 31 points. Bischoff (220), Edie (285), Schwartz (160) and Taylor (138) all scored 30 team points while Barner (152), Hedges (126) and Lane (182) all collected 29 points.
 J. Sterling Morton edges Joliet Central for Pontiac's Munch Invitational title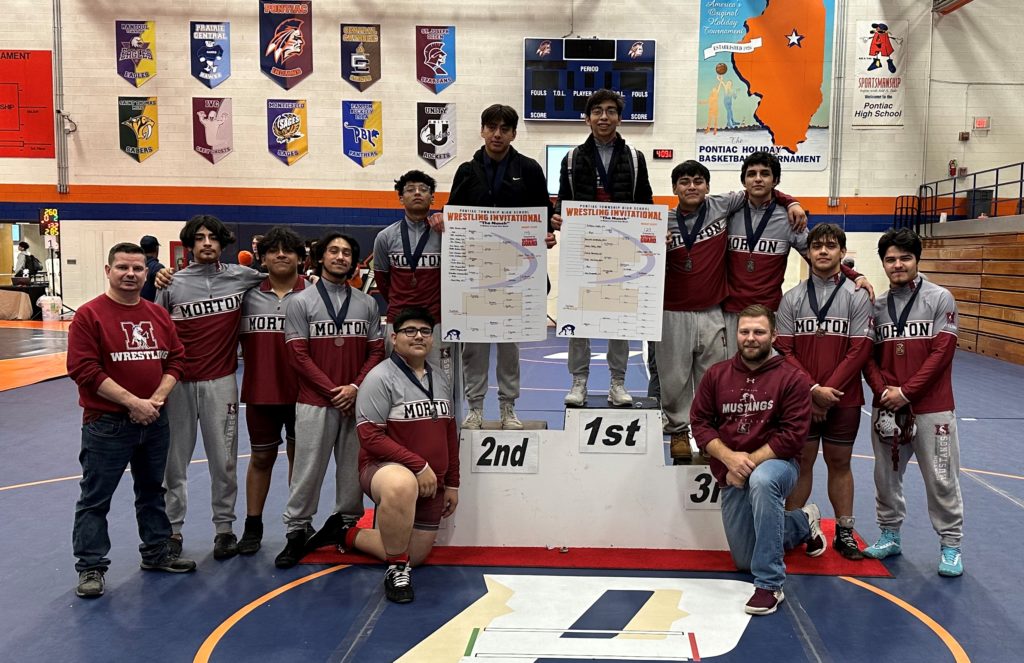 The J. Sterling Morton co-op, featuring athletes from Morton East and Morton West, prevailed in a tight battle involving multiple teams at Pontiac's Munch Invitational.
Coach Joe Helton's champion Mustangs edged Joliet Central 158.5-156 for top honors while Macomb (153) and host Pontiac (144) were also in the title hunt. Olympia/Heyworth (131), Morton (120), Springfield (108.5), Herscher (86), Prairie Central (84.5) and Dwight/Gardner-South Wilmington (81) were next in the 16-team competition.
Top performers for the first-place Mustangs were champions Anthony Lopez (120) and David Roa (145), runners-up Noe Cintora (132), Edwin Rangel (160) and Miguel Rojas (285) and third-place finisher Adrian Comas (170). Taking fifth was Aaron Rojas (126) while Fabian Lepe (152) and Ricardo Caldera (220) both finished sixth.
Leading the way for coach Patrick McGovern's runner-up Steelmen were champions Jorge Robles (138), Charles Walker (220) and Gustavo Vicencio-Ramos (285), runner-up Alex Fernandez (120) and fourth-place finishers Brody Walsh (106), Isaiah Kan (113), Eduardo Mendez (132) and Roberto Lara (170).
Coach Luke Ladd's third-place Bombers were led by champions Cohen Green (132), Carter Hoge (160) and Max Ryner (195) and second-place finisher Ethan Ladd (220).
And coach Vinnie Hobart's host Indians were paced by champion Aidan Scholwin (106) and runner-up Carlito Lattin (182) while Dylan Ramsey (160) took third and Hunter Melvin (195) finished fourth.
Other title winners were Decatur Lutheran's Clinton VerHeecke (113), Morton's Payton Ferrill (126), Olympia/Heyworth's Bently Wise (152), Dwight/Gardner-South Wilmington's Austin Burkhardt (170) and Prairie Central's Connor Steidinger (182), who finished sixth at 195 last year in the Class 1A finals.
Also taking second place were Olympia/Heyworth's Ryan Ballinger (106) and Cole Bauer (170), Springfield's Gabe Ruvalcaba (138) and Armani Emery (152), Urbana's Cordero Sims (113), Dwight/Gardner-South Wilmington's Dylan Crouch (126), Morton's Ayden Bencher (145) and Taylorville's William Blue (195).
Title matches determined by decisions were Walker 4-2 in sudden victory over Ladd (220), Ferrill over Crouch 7-3 (126), Green beat Cintora 4-3 (132) and Hoge over Rangel 13-9 (160) while Ryner won a 15-5 major decision over Blue (195).
Championships that were won by fall were turned in by Scholwin over Ballinger in 1:07 (106), VerHeecke in 2:46 over Sims (113), Lopez over Fernandez in 3:33 (120), Robles in 1:58 over Ruvalcaba (138), Roa over Bencher in 1:20 (145), Wise in 0:28 over Emery (152), Burkhardt in 0:51 over Bauer (170), Steidinger in 1:07 over Lattin (182) and Vicencio-Ramos in 1:28 over Rojas (285).
Additional third-place finishers were Morton's Cash Hill (106), Harrison Dea (113) and Clay Mckee (152), Olympia/Heyworth's Cooper Phillips (132) and Nolen Yeary (220), Kankakee's Caleb Dickens (145) and Michael Bannerman (195), Decatur Lutheran's Garrett VerHeecke (120), Springfield's Kaden Rios (126), Herscher's Gerrit Osenga (138), Urbana's Malik Mosley (182) and Dwight/Gardner-South Wilmington's Michael Gamble (285).
Also finishing in fourth place were Olympia/Heyworth's Mateo Martinez (120), Trevor Soice (138) and Kelton Graden (160), Morton's Caiden Robinson (126) and Brody Wolters (182), Springfield's Alex Souva (145) and Hunter Reid (220), Prairie Central's Ethan Ziller (152) and Kankakee's Rhojelo Cornejo (285).
Leading all competitors in team points was Vicencio-Ramos (285), with 30. Wise (152) scored 29.5, Burkhardt (170) had 29 points and Clinton VerHeecke (113) had 28.5. Robles (138), Steidinger (182) and Walker (220) all had 28 points while Ryner (195) scored 27 team points.
Marion captures championship of its own dual team tournament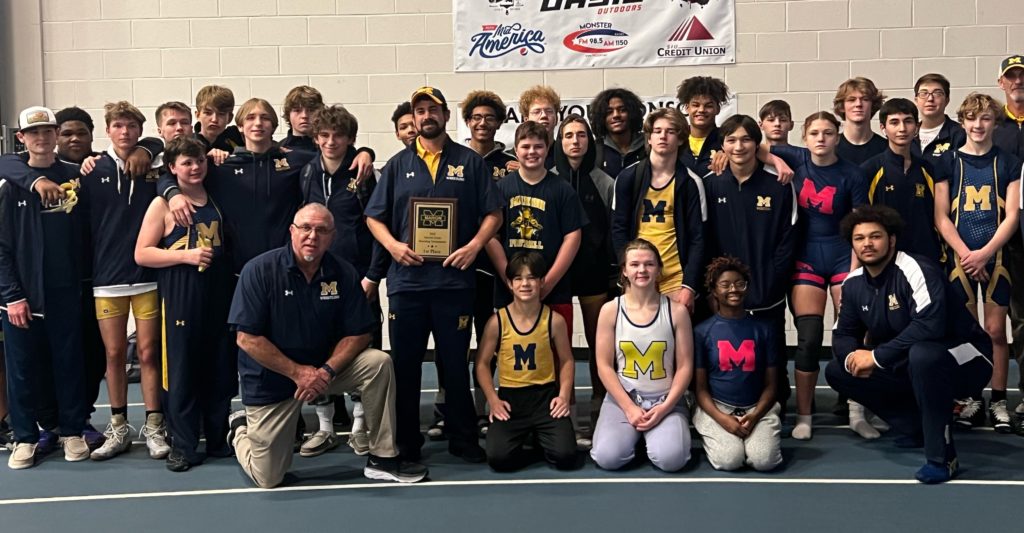 Marion claimed top honors in its fourth-annual dual team tournament after going 4-0 in pool competition and then beating Red Bud 48-36 to capture the overall title.
But the key dual meet for coach Darren Lindsey's Wildcats was when they faced Carbondale to determine the winner of the A pool, which featured the bigger schools in the 12-team event.
After rolling to wins over Centralia (66-18), Waterloo (54-30) and Kennett, MO (65-12), Marion figured to have a battle on its hand when it faced the other team that was 3-0 in its pool, Carbondale, and the two ranked teams in Class 2A went back and forth before the hosts were finally able win the final two matches to capture a 48-36 victory over the Terriers.
Goreville had been the expected team to beat in the B pool, but it entered its girls team members in the girls individual competition that was also taking place. As a result, Marion got to see Red Bud/Valmeyer for the second time in just over a week and while the Musketeers put up a better fight than in their earlier 50-19 defeat, Marion improved to 12-1 with a 48-36 triumph.
Red Bud/Valmeyer earned its spot in the title meet after claiming wins over Carmi-White County (48-24), Johnston City (60-18), Sparta (54-22) and Carlyle (54-12). Carbondale bounced back from its loss to beat Carmi-White County 63-6 to claim third place.
Leading the way for the champion Wildcats was Caleb Ohnesorge, who went 5-0 at 145 to improve to 12-0 on season and he also earned the OW award for his day's performance.
Also going 5-0 for the hosts were Bryan Madinger (220) and Kanye Gunn (285) while Tate Miller (132) went 4-0 and Max Wade (120/126) went 3-0. Wildcats wrestlers who went 4-1 during the competition were Dustin Melvin (120), Brennan Vogt (126/132), Malakei Weatherly (182) and Jordyn Beverly (195).
Goreville/Vienna wins five titles at Marion girls tournament
The Goreville/Vienna co-op captured five first-place finishes at the Marion Tournament while Carbondale had two individuals who finished first.
Capturing titles for coach Bart Pulliam's Goreville/Vienna Blackcats were Savanna Oslay (100), Ariel Board (120), Alivia Ming (140), Mikah Merrill (145) and Liberty McBride (235) while Maddy Lapatas (125) and Krista McBride (170) both took second place. Ming placed fourth at state at 135 in the first IHSA finals.
Winning titles for Carbondale were Ada Williams-Collins (125) and Faith Loyd (130) while Marion got a title from Haylie Nappier-Feth (155) and a second-place finish from Brooklyn Phemister (140).
Mt. Vernon's Faith Barrett (170) also took first place while her teammates Hannah Younger (100), Deziarre Jones (120), Dayton Phillips (145), Madison Tried (155) and Addy Barrett (235) placed second. Benton's Mia Balota (130) also took second place.
Normal Community takes second at Maquoketa, Iowa invite
Normal Community took second place and Fulton was seventh as the only two Illinois entrants at the 18-team Zimmerman Invitational in Maquoketa, Iowa.
Coach Trevor Kaufman's Ironmen scored 203.5 points to finish behind champion Dubuque Hempstead, IA, who scored 259.5 points. Anamosa, IA finished third with 191.5 while the seventh-place Steamers finished with 101 points and Normal Community's junior-varsity entrant placed 12th with 62.5 points.
Winning titles for the Ironmen were Caden Correll (106) and Cole Gentsch (113) while Jordan Campbell (138) and Cooper Caraway (220) finished second, Austin Chiesi (120) and Mitchell Mosbach (160) were third and Vallen Thorpe (132) and Jayden Campbell (145) took fourth.
Top performers for Fulton were champion Zane Pannell (170) and second-place finisher Ben Fosdick (145). Pannell placed fifth in Class 1A last season at 170.
Leading the way for Normal Community's J-V were second-place finishers Jackson Soney (106) and Ethan Stoops (113) while Jaren Frankowiak (132) took third place.
The title match at 106 featured two Normal Community competitors, Correll and Soney, while two Ironmen, Gentsch and Stoops, were the top two performers in round-robin competition at 113. Pannell and Caraway met individuals from champion Hempstead, IA in their title matches and Jordan Campbell and Fosdick both fell to competitors from Anamosa, IA in the finals.
Correll won by technical fall over Soney in the 106 title match while Gentsch, who also won a title in the same tournament a year ago, recorded a fall in 0:24 over Stoops at 113. Pannell won by fall in 1:25 over Hempstead, IA's Camden Smith in the 170 title match.
Correll recorded three falls to reach the 106 title match, Gentsch won with first-period falls in all five of his matches at 113 and Pannell recorded three pins to earn a spot on the 170 title mat.
Campbell lost by fall in 1:34 to Anamosa, IA's Easton Wheeler in the 138 title match, Caraway got pinned in 4:27 by Hempstead, IA's Joseph Lewis in the 220 finals and Fosdick lost 10-2 to Anamosa, IA's Hudson Scranton in the 145 title match.
Pannell and Lewis tied for the most team points with 30 while Correll was next with 29.5.