Ranking the rankings: a way-too-early look at the state tournament field – Class 3A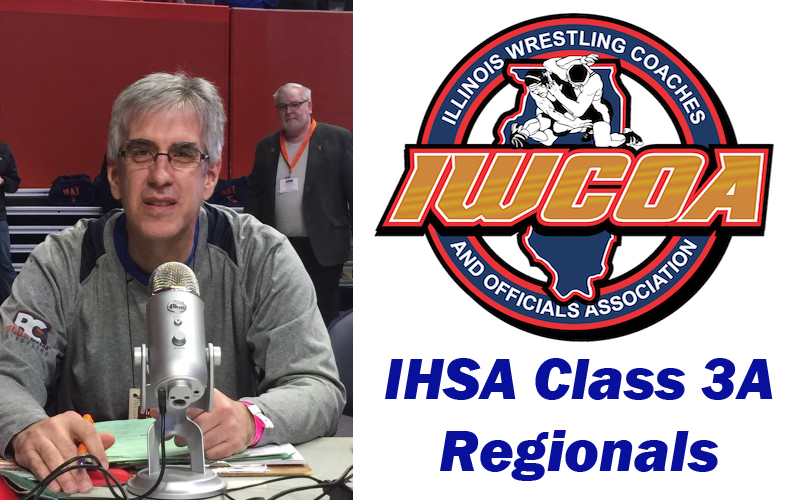 By Rob Sherrill
We made it!
Illinois high school wrestling experienced a fun, thrill-filled regular season the past 10 weeks. Most important, the season was wrestled – the beginning, the middle and the end. Teams across the state had to survive the occasional COVID-19 pause, but of the more than 100 regular-season tournaments that were scheduled, only four were canceled – and one of those was made up a month later. Cheers to all those who persevered and overcame numerous obstacles to give us a wrestling season we can all be proud of.
I've done my best to help us keep up with the weekly rankings diary. As we head into the state tournament series, with 48 regionals set to take place this coming weekend, I thought it would be fun to see where the rankings leave us as a predictor of who we'll see on the mats at the State Farm Center Feb. 17-19. Based solely on the rankings as they stand today, I've put together a schematic of what the state tournament field might look like at each weight class in each classification, sectional by sectional.
I'm not guaranteeing 100 percent accuracy. You'll probably see some of these wrestlers competing in their regionals at different weight classes than where I've listed them. After all, it's all about two things: teamwise, winning the regional, which assures a berth in the dual state series, and individually, giving each wrestler the best chance to get to the State Farm Center. Some may even use this list as a roadmap to the most advantageous weight class. That happens every year.
The following list will include the top four wrestlers in each sectional, along with an alternate, at each weight class as things currently stand. At some weight classes, I don't have enough wrestlers listed in the rankings to fill out the field – which means plenty of opportunities for plenty of wrestlers, at the right time of the season!
So let's take a look at the state tournament field the rankings would bring us – and good luck flipping those orders starting on Saturday!
Class 3A
106 pounds
Barrington – Wiley Jessup, Fremd; Dominic Ducato, Jacobs; Joel Muehlenbeck, Prospect; Grayson Kongkaeow, Round Lake; Alternate – Luca Poeta, Lake Zurich
Conant – Inocencio Garcia, Batavia; Kalani Khiev, Glenbard North; Brady Phelps, Schaumburg; Kaden Klapprodt, DeKalb; Alternate – Julius Avendano, Elgin
Granite City – Deion Johnson, Homewood-Flossmoor; Nore Turner, Lockport; Max Siegel, Andrew; Ethan Spacht, Bradley-Bourbonnais; Alternate – Cole Gentsch, Normal Community
Hinsdale Central – Seth Mendoza, Chicago Mount Carmel; Donny Pigoni, Marmion Academy; Rocco Hayes, Carl Sandburg; George Marinopoulos, Marist; Alternate – none ranked
113 pounds
Barrington – Evan Gosz, Fremd; Bryce Durlacher, Mundelein; Maksim Mukhamedaliyev, Hersey; Yash Jagtap, Stevenson; Alternate – Alejandro Cordova, Round Lake
Conant – Zach Parisi, York; Dominick Marre, Glenbard North; Aidan Huck, Batavia; Joey Phelps, Schaumburg; Alternate – Grant Madl, Elk Grove
Granite City – Trevor Silzer, Andrew; David Vukobratovich, Lockport; Nathan Knowlton, Lincoln-Way Central; Anthony Lawryn, Bradley-Bourbonnais; Alternate – Jack Ferguson, Yorkville
Hinsdale Central – Jameson Garcia, Marmion Academy; Damian Resendez, Chicago Mount Carmel; Ryan Hinger, Carl Sandburg; Michael Esteban, Marist; Alternate – Donnie Fields, Downers Grove South
120 pounds
Barrington – Caelan Riley, Libertyville; Massey Odiotti, Loyola Academy; Tom Miller, Prospect; Wilson Wright, New Trier; Alternate – Lucas Van Diepen, McHenry
Conant – Ben Davino, St. Charles East; Daniel Aranda, DeKalb; Sammy Santangelo, Conant; Chris Kish, Maine East; Alternate – Dylan Schlegel, Geneva
Granite City – Joey Malito, Lincoln-Way Central; Tyson Zvonar, Lincoln-Way East; Caleb Scott, Granite City; Jase Salin, Lincoln-Way West; Alternate – Isaiah Rogers, Lockport
Hinsdale Central – Sammy Hayes, Carl Sandburg; Will Denny, Marist; Tyler Aters, Marmion Academy; Jalen Dunson, Oak Park-River Forest; Alternate – Jairo Acuna, Chicago Mount Carmel
126 pounds
Barrington – Will Baysingar, Prospect; Lorenzo Frezza, Stevenson; James Wright, Jacobs; Brian Beers, Barrington; Alternate – Jacob Jensen, Huntley
Conant – Paul Woo, Glenbard North; Dominic Mallinder, Lake Park; Caden Kirchner, Schaumburg; Ethan Penzato, St. Charles East; Alternate – Jacob Luce, DeKalb
Granite City – Vincent Robinson, Homewood-Flossmoor; Jacob Macatangay, Plainfield North; Billy Meiszner, Providence; Dominic Schiavone, Minooka; Alternate – Dominic Coronado, Yorkville
Hinsdale Central – Sergio Lemley, Chicago Mount Carmel; Jesse Herrera, Marist; Gunner Garelli, Lyons Township; Christian Favia, Marmion Academy; Alternate – Cooper Lacey, Oak Park-River Forest
132 pounds
Barrington – Maddox Khalimsky, Fremd; Chuck Jones, Barrington; Sam Henkle, Huntley; fourth and alternate – none ranked
Conant – Danny Curran, DeKalb; Tyler Guerra, St. Charles East; Pierre Baldwin, West Chicago; Peter Floyd, Conant; Alternate – Colin Roque, Taft
Granite City – Nasir Bailey, Rich Township; Carlos Munoz-Flores, Lockport; Conor Smetana, Lincoln-Way Central; Tyler Boyd, Granite City; Alternate – Cale Stonitsch, Minooka
Hinsdale Central – Eddie Enright, Chicago Mount Carmel; Cody Tavoso, Hinsdale Central; Luke Swan, Downers Grove South; Joe McDermott, Bolingbrook; Alternate – Brandon Weber, Marist
138 pounds
Barrington – Cole Rhemrev, Stevenson; Scott Busse, Lake Zurich; Philip Chapa, Barrington; Colin Young, Belvidere North; Alternate – Lennon Steinkuehler, Prospect
Conant – Kaden Fetterolf, Batavia; Michael DiBenedetto, Lake Park; Austin Martin, DeKalb; Gavin Connolly, St. Charles East; Alternate – Diego Garcia, Glenbard East
Granite City – Kole Brower, Moline; Dylan Gvillo, Edwardsville; Elijah Munoz, Minooka; Jermaine Butler, Homewood-Flossmoor; Alternate – Warren Zeisset, Belleville East
Hinsdale Central – Harrison Konder, Downers Grove North; Jimmy Nugent, Downers Grove South; Santino Scolaro, Marmion Academy; Owen Dunlap, Marist; Alternate – Dominic Serio, West Aurora
145 pounds
Barrington – Charlie Fifield, Fremd; Damien Puma, Prospect; Antonio Alvarado, Belvidere North; Thomas Schoolman, Stevenson; Alternate – Matt Impastato, Dundee-Crown
Conant – Tommy Curran, DeKalb; Cael Andrews, Batavia; Trevor Skoda, Glenbard West; Nico Clinite, South Elgin; Alternate – Nicky O'Keefe, Geneva
Granite City – Noah Tapia, Moline; Keegan Roberson, Lockport; Jaydon Robinson, Homewood-Flossmoor; Will Dahm, Belleville West; Alternate – Drew Landau, Edwardsville
Hinsdale Central – Noah Quintana, West Aurora; Ricky Ericksen, Marist; Nate Pacetti, Blue Island Eisenhower; Christopher Ramirez, Naperville Central; Alternate – Carlos Perez, Chicago Mount Carmel
152 pounds
Barrington – Matthew Boyer, New Trier; Will Collins, Glenbrook South; Matt Kubas, Libertyville; Niko Skoulikaris, Hampshire; Alternate – Marshal Cunz, Machesney Park Harlem
Conant – Ethan Stiles, Conant; Damien Lopez, DeKalb; Lane Robinson, St. Charles East; Devin Medina, Wheaton North; Alternate – Brennan Skoda, Glenbard West
Granite City – Logan Swaw, Lockport; Jack Marion, Lincoln-Way East; Luke Zook, Yorkville; Jorden Johnson, Edwardsville; Alternate – Owen Uppinghouse, Quincy
Hinsdale Central – Damari Reed, Shepard; Ayden Lutes, Naperville Central; Moses Quintana, West Aurora; Collin Carrigan, Marmion Academy; Alternate – Andrew Dado, Marist
160 pounds
Barrington – Chris Moore, McHenry; Billy Spassov, Hersey; Justin Warmowski, Grant; Patrick Downing, Glenbrook South; Alternate – Jon Fier, Barrington
Conant – Joe Olalde, Lake Park; C.J. Gilbert, Conant; Brody Murray, St. Charles East; Caleb Wall, DeKalb; Alternate – Max Konopka, Glenbard West
Granite City – Jared Gumila, Plainfield North; Dominic Adamo, Lincoln-Way East; Paul Kadlec, Lockport; Zach Lusk, Belleville West; Alternate – Brody Williams, Yorkville
Hinsdale Central – Colin Kelly, Chicago Mount Carmel; Antonio Torres, Waubonsie Valley; Tom Boland, Marist; Kenny Siwicki, Marmion Academy; Alternate – none ranked
170 pounds
Barrington – Brody Hallin, McHenry; Cooper Wettig, Loyola Academy; Austin Gomez, Libertyville; fourth and alternate – none ranked
Conant – Lukes Schmerbach, DeKalb; Cody Dertz, Glenbard North; Elijah Chiaro, St. Charles East; Nick Mabutas, Willowbrook; Alternate – Pat Shadid, Glenbard West
Granite City – Brayden Thompson, Lockport; A.J. Mancilla, Bradley-Bourbonnais; Matthew Janiak, Plainfield South; Ari Zaeske, Lincoln-Way East; Alternate – Romeo Williams, Homewood-Flossmoor
Hinsdale Central – Tyler Perry, Marmion Academy; Jacob Liberatore, Marist; Will Schuessler, Downers Grove South; Cooper Schodrof, Lyons Township; Alternate – Owen Jacobson, Chicago Mount Carmel
182 pounds
Barrington – Josh Knudten, Libertyville; Ryder Hunkins, Huntley; Matt Luby, Lake Zurich; Aiden McCain, Round Lake; Alternate – Quinn Herbert, Loyola Academy
Conant – Bradley Gillum, DeKalb; Jackson Tonkovich, Batavia; Drew Surges, St. Charles North; Brandon Swartz, St. Charles East; Alternate – A.J. Hernandez, Conant
Granite City – Dominic Thebeau, Belleville East; Gavin Jones, Lincoln-Way East; Haku Watson-Castro, Homewood-Flossmoor; Paul Rasp, Lockport; Alternate – Shamon Handegan, Pekin
Hinsdale Central – Jack Lesher, Marmion Academy; Rylan Breen, Chicago Mount Carmel; Ben Bielawski, Downers Grove North; David Pirozhnik, Naperville Central; Alternate – Luke Liberatore, Marist
195 pounds
Barrington – Jack Cummings, New Trier; Zach Meyer, Barrington; Jacob Whiting, Stevenson; Cole Matulenko, Libertyville; Alternate – Porter Leith, Dundee-Crown
Conant – Philip Dozier, Glenbard West; Bryson Buhk, DeKalb; Colin O'Neill, Leyden; Henry Chang, Conant; Alternate – John Schmidt, Geneva
Granite City – John Pacewic, Plainfield South; Hunter Janeczko, Yorkville; Evan Holderer, Edwardsville; Cooper Caraway, Normal Community; Alternate – Cruz Ibarra, Oswego
Hinsdale Central – Peter Marinopoulos, Marist; Elliott Lewis, Chicago Mount Carmel; Cooper King, Lyons Township; Ashton Phillips, Waubonsie Valley; Alternate – Teddy Perry, Marmion Academy
220 pounds
Barrington – Manny Mejia, Hersey; Ty Stringer, New Trier; Casey Bending, Fremd; Betim Jahovic, Niles North; Alternate – Luke Zunkel, McHenry
Conant – Gavin Engh, DeKalb; Blake Maday, Glenbard North; Chance Guziec, Elk Grove; Ryan Porebski, Taft; Alternate – Gustav Tosterud, Leyden
Granite City – Shawn Blackburn-Forst, Lockport; Liam McDermott, Providence; Ben Alvarez, Yorkville; Justin Thomas, Homewood-Flossmoor; Alternate – Karson Lamb, Pekin
Hinsdale Central – Ghee Rachal, Marist; Marko Ivanisevic, Hinsdale Central; Sean Scheck, Marmion Academy; Gio Amaya, West Aurora; Alternate – Jacob Housour, Waubonsie Valley
285 pounds
Barrington – Caleb Christensen, Libertyville; Oleg Simakov, Hersey; Reyes Gonzalez, Warren; Patryk Barnas, Hampshire; Alternate – none ranked
Conant – Paulie Robertson, Glenbard North; Morley Coval, Glenbard West; Austin Barrett, St. Charles East; Grzegorz Krupa, Taft; Alternate – Adam Lambatz, Elgin
Granite City – Jake Ziemniarski, Lincoln-Way West; Kaden McCombs, Plainfield North; Wyatt Schmitt, Joliet West; Isaiah Hill, O'Fallon; Alternate – Tyler Haynes, Pekin
Hinsdale Central – Ryan Boersma, Chicago Mount Carmel; Kevin Zimmer, Carl Sandburg; Jared Durian, Marmion Academy; Jordan Lewis, Downers Grove North; Alternate – Jordan Lishman, West Aurora