St. Charles East takes DuKane crown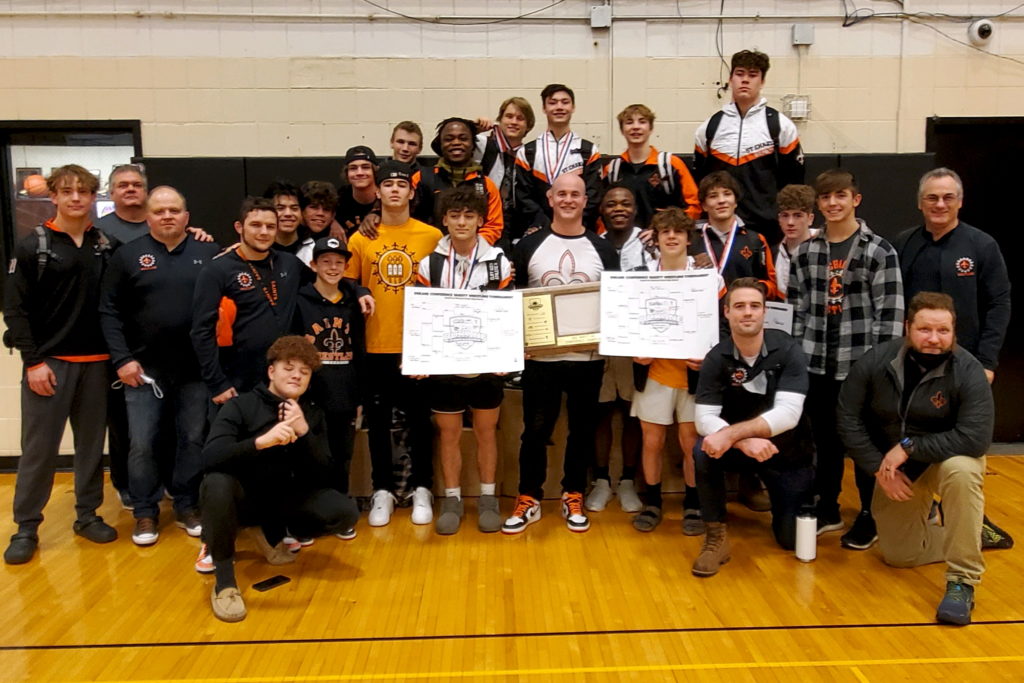 By Mike Garofola
For the IWCOA


St. Charles East reaffirmed its status as the best in the DuKane Conference when the Saints held off perennial league power Glenbard North and Batavia to win its first DuKane title in program history.


Jason Potter's men held the lead for most of the day inside Neal Hudson Gymnasium at tourney host Glenbard North, holding a slim advantage at the lunch break before claiming the top prize by just eight points (256-248) over North, and 31.5 points over a very talented club from Batavia (225.5).


Wheaton North (127.5) and Wheaton-Warrenville South with (111.5) rounded out the top five.


"It's very satisfying to see us win our first DuKane championship, but it was way too close for all of us," said a relieved Potter, who celebrated a trio of individual titles. Glenbard North led all teams with five champions, followed with Batavia with four.


"We got bonus points and some big wins when we really needed them from everyone, which was really important because we only brought thirteen here today," Potter said.


"Ben Davino and Tyler Guerra gave us what we expected, but Lane Robinson's comeback win at 152 came when we needed it – especially when you saw Glenbard North win at 170, 220 and 285. A loss from Lane might have been disastrous for us."


"We had a few guys really step up, and come through for us today, but there were others who just did not carry their weight when we needed it," said disappointed Panthers head coach, Travis Cherry, whose club was looking to capture its 33rd conference title.


"We have a lot of work to do before our regional next weekend at Wheaton North, so we'll move on from today and concentrate on cleaning things up to meet the challenge ahead and get ourselves in position to make it to dual-team state."


Batavia head coach, Scott Bayer was pleased with the effort from his lads following difficult times in the Bulldogs wrestling family.


"I'm very proud of all of our guys, who went out and performed at a high level despite the fact we were dealing with the death of Clint Arlis, one of our own, and the son of my assistant, Tom Arlis," said Bayer.


"There were plenty of heavy hearts around our room, but the guys pulled themselves together today, and went out to compete at a high level."

Clint Arlis, 34, was a 2005 Batavia graduate, who enjoyed a brilliant career at Batavia, finishing second all-time in program history with 141 wins, while also a three-time state qualifier, and three-time conference champion.


Batavia will join Geneva, St. Charles East, St. Charles North at the DeKalb regional this coming Saturday, while Glenbard North will be the favorite at Wheaton North.


2022 DuKane Conference individual champions:


106 – Ino Garcia, Batavia


There are several very good six-pounders in the state and Ino Garcia is one of them.


The Batavia sophomore, No. 9 in the most recent IWCOA polls, went through his weight class here at the DuKane Conference tournament to collect his third major of the season, after winning titles at Glenbrook South and Granite City.


"Ino just dominated out there today and if he stays healthy, and continues to work as hard as he has, there's no reason why he cannot get himself on the podium next month in Champaign," declared his head coach, Scott Bayer.


"I feel like I can compete with anyone in my weight but right now, it's all about just working hard and doing the right things when the state series begins," said Garcia (31-4) moments after his impressive 12-1 decision over Glenbard North's Kalani Khiev (24-8) in his final.


Garcia, who was runner-up last summer at state Frosh-Soph, took over his title match with seven third-period points, highlighted with near-fall points late in the contest.


"I expected (Khiev) to try some big moves in that third period, so I defended his shots and scored off of them to control the match," said Garcia.


113 – Dominick Marre, Glenbard North


Dominick Marre (25-3) used up just under one minute on the mats on Saturday to win his championship medal at 113.


Following his first round bye, the Glenbard North sophomore needed 23 seconds to win his semifinal, then 26 seconds to close out Batavia's Aidan Huck (21-7) to earn the first of five individual titles on the day for the Panthers.


"It was all about getting bonus points for my team, and getting on and off the mats as quickly as I could today," admitted Marre, fifth last year at the IWCOA State Championships.


"This is a good way to start the last part of the season, but I have much bigger goals that I am looking to reach, and a top-three finish at state is one of them," continued Marre, who currently sits at No. 10 in the state rankings, and has a 8-5 decision win over No. 3 David Vukobratovich from Lockport on his resume.


"I've been working harder than ever – my shots, scoring early and often to put pressure on my opponents."


Marre will be one of the favorites at the Wheaton North regional, then one of the top guys at the Conant sectional along with No. 9 Zach Parisi from York.


120 – Ben Davino, St. Charles East


When asked what he's doing well right now, sophomore Ben Davino replied, "I'm having fun."


It may not be much fun for Davino's opponents, but it's clear for this marvelous talent from St. Charles East that the fun is just beginning.


"Ben is like this giant sponge who just soaks up everything you give him and then wants more," Saints coach Jason said of the top-rated 20-pounder in the state.


"He's the consummate hard worker and student of the game who wants to be the very best, and I can tell you he's on his way to becoming the very best."


"I love the sport of wrestling," Davino said. "I'm always looking for ways to be better. To be in a room like ours, and to be around a coach like coach Potter is the best of both worlds."

Davino (28-1) won by fall over Glenbard North's Christian Chavez to claim his first DuKane Conference crown of his young career.


Davino's second pin of this day gave him 15 falls on the season, with 21 of his victories providing bonus points.


Chavez advanced into the final after his 10-2 upset of No. 2 seed Dylan Schlegel (Geneva, 24-12) who came back to earn third-place honors


126 – Paul Woo, Glenbard North


The stars appeared to be aligned for a second Paul Woo-Dominick Mallinder contest within a week, but when Lake Park's Mallinder (23-5) sustained a minor injury in his semifinal bout with Ethan Penzato (St. Charles, East, 21-5) it ended the chance for a rematch.


"I was really looking forward to seeing (Mallinder) in the final today, and was ready to go, so hopefully we'll see each other again at sectionals," offered Woo (26-5) who advanced into the finals with a pin at 1:06 before accepting an injury default victory.


"I've been working very hard in the room and at Izzy Style, which has helped me with the mental part of my game. I feel like I can compete with anyone from here on out," said the Glenbard North senior, who is considering being a teacher and high school coach after college.


Lake Park coach Mark Cameron appreciates the evolution Mallinder has shown this year.

"Dominick has always been a high-energy guy who would just outscore his opponents in order to win," Cameron said. "This year he has learned to put kids on their back and earn the pin, and he has 18 pins on the season thus far."


Penzato went on to earn valuable points for the Saints' cause when the junior recorded a tech-fall in his third-place bout.


"Penzato can hang with the top guys in the state," Saints coach Jason Potter said. "I'm proud of his effort as he tried to dig himself back out of a hole, but he knows he can't give up big points against an opponent like Mallinder."


132 – Tyler Guerra, St. Charles East


Leading up to the tournament, Saints coach Jason Potter would comment on how both Davino and Tyler Guerra (23-5) have been dominant all season, and have set the tone for his team throughout.


The No. 5 man in his weight class looked dangerous from the opening moments of this day,
never allowing his opponents to get anything going, including during his technical fall win over Glenbard North's Solomon Gilliam in their title match.


"I went into my final looking for bonus points with a pin, but I just wasn't able to close him out and had to settle for the tech-fall," said the Saints sophomore after collecting his second major of the season – the other coming at the Illini Classic.


"It's all about going out and scoring points early on in order to put my opponents under pressure right away, then go to work at adding to my lead and not allowing my opponent to get back in the match," said Guerra, who lost to No. 4, Eddie Enright (Mt. Carmel) in overtime (5-3) early on.


Guerra followed his tactical plan perfectly when his take-down 30 seconds into this final quickly became 7-1, then 10-1 when he registered a near fall just before the period ended.


A nicely-executed throw from the neutral position, followed by another takedown made it 14-2, with Guerra unable to produce a pin against a stubborn Gilliam (21-11) who did well to keep Guerra from adding an extra bonus point associated with a pin.


"I'm having fun and putting a lot of extra time in the room," Guerra said. "I know if I stay healthy, I'll be able to compete for a state medal next month."


138 – Kaden Fetterolf, Batavia


It was a clash between two of the top 38-pounders in the state and for the third consecutive time, No. 5 Kaden Fetterolf (33-5) of Batavia won another heart-stopping bout against No. 6 Mike DiBenedetto (30-5) from Lake Park.


The Bulldogs' junior used a third period reversal to extend his lead before riding out the final 60 seconds to secure his 3-0 decision.


"All three of our matches have been really close," Fetterolf said. "The last one ended in overtime so I expected this one to be like the first two. That's why it was important to score first and to stay composed."


"It's always tough to beat someone for a third time, especially after the last time they met, so it took a real gritty performance by Kaden against a tough opponent to win that match," Batavia coach Scott Bayer said.


DiBenedetto was unable to get Fetterolf off his hips when the Lancers junior started down in the second period. DiBenedetto nearly escaped with 30 seconds left in the period, only to get hit with a penalty point for stalling just seconds before the referee whistled the period over.


"I've been training hard in the room, and at Izzy Style, and I really feel like I am ready to compete with the best from here on out, especially at the state tournament," said Fetterolf.


"The first two times these guys met were real barnburners," began Lake Park head coach, Mark Cameron. "Mike has been wrestling real tough of late, not allowing his opponent to become comfortable at any time while doing a much better job of dictating the match."


With his pin in the semifinals, DiBenedetto now has 15 pins on the season.


145 – Cael Andrews, Batavia


Cael Andrews (32-7) made it two in a row for Batavia with his 6-0 decision over St. Charles East sophomore Gavin Connolly.


The Bulldogs' junior scored the opener off a missed shot attempt to take a lead he would never let go of.


"I knew (Connolly) was a really good scrambler so it was important to stay away from his strength, be clean with my shots, and be the first to score," said Andrews.


"Kaden (Fetterolf) is a great partner in the room for me," Andrews said. "He's helped me become a better all-around wrestler, so this year I feel much more confident than ever before. I feel ike I can do some very good things in the state series coming up."


"Cael split his with Connolly (23-6) in their two prior matches, so I was anxious to see how he would come out today in his final," began Scott Bayer.


"He was calm and in control from the very beginning, he wrestled smart, and never allowed (Connolly) to get into any kind of rhythm – it was a complete six-minute effort for him."


Connolly, whom Potter said has flown under the radar all season long, has been a key figure in the Saints success thus far. He went in as the No. 1 seed and immediately won an important head-to-head match with a major decision over Glenbard North junior Osmany Martinez to help the cause.


Andrews registered a pin in his first contest of the day, then followed up with a dominating effort en route to a 17-1 technical fall to book his place in the final.


152 – Lane Robinson, St. Charles East


Robinson has enjoyed a rapid rise since being with the big club after earning a spot in the IWCOA state tournament last summer.


The junior has continued to solidify his spot as a valuable member of the Saints, which he did with flying colors on Saturday afternoon with a thrilling 7-6 decision over the talented junior from Wheaton North, Devin Medina.


Medina (34-8) put a scare into the Saints hopeful when he went out to a 5-0 second period advantage, only to have Robinson (14-7) stun the Falcons star with a late take-down to insure his first DuKane title.


"Lane's championship was a big confidence booster for him," Saints coach Jason Potter said. "We've been trying to get him to realize how much talent he has, have him stop overthinking and just attack his opponents.


"He found himself down late in the match, and the only thing he could do was to throw as much offense at Medina as possible. If he goes out with a mindset to attack, and score as many points as possible, he'll shake things up going into the postseason."


Robinson is well aware of what he needs to do moving forward.

"I was really tentative at the start, and got myself in big trouble," Robinson said. "(Potter) told me to get on my attack, so I just went after him relentlessly, and it paid off for me."


160 – Joey Olade, Lake Park

There was plenty at stake when Lake Park's No. 8 Joey Olade (27-2) met St. Charles East's No. 10 Brody Murray (24-6) in this 160-pound final.


Not only were important points out there for his St. Charles East team for Murray, but the impetus to jump up and over Murray and likely into the higher seed at the Conant sectional in two weeks with a victory all made this contest one of great interest.


With the all-important first takedown in the scorebook for Olade, the Lake Park senior slowly added to his lead, taking a 6-2 advantage into the third period before claiming a well-deserved 8-4 decision.


"Maybe I am under the radar in the state at 160 and maybe I'm not — it doesn't matter what others think, because I know I'm right there with everyone else," said a confident Olade, who with his finals victory now has four majors to his name on the year.


"My family and I moved away to Texas and then moved back to finish up my senior year in wrestling at Lake Park.I know all of the hard work and dedication will pay off for me in the next few weeks."


"Joey suffered an injury around winter break, and missed a little time, but he is just starting to get back into shape, and hitting his stride," said Lancers head coach, Mark Cameron.


"He has really been able to to start focusing on wrestling his style on the mat, and he has become a better practice wrestler, which has made him a better competitor as well."


170 – Cody Dertz, Glenbard North


Cody Dertz kept his Glenbard North mates within striking distance of eventual league champions St. Charles after his head-to-head victory over St. Charles East's Elijah Chiaro, 2-1.


"I just had to grind that one out for my teammates and myself," said Dertz, now 14-6 after his 2-1 thriller over the No. 7 rated Chiaro, who cruised into his final.


"Coach Cherry saw something in me early on, and all of my success and development as a wrestler is a hundred percent on him," said Dertz, who was a 2021 IWCOA state qualifier. Dertz now has two major titles on his resume, the first coming on Thanksgiving weekend at the Hruska Invite at Conant.


Chiaro also threw plenty of praise upon his head coach, Jason Potter, for his development on the mats.


"(Potter) believed in me right from the start, and he's always been there to help me – both in this sport and away from it," said Chiaro (17-4), who will continue to wrestle on the collegiate level, with an eye on Wisconsin-Oshkosh, Wisconsin-Platteville, Wabash College, and D-1 University of Chattanooga-Tennessee.


"Elijah has his USA Card, and helps us at the kids club – he's such a great kid, who will succeed at whatever he does in life," said Potter.


182 – Jackson Tonkovich, Batavia


A takedown 30 seconds from time was enough to give Batavia's Jackson Tonkovich a hard-fought 8-7 victory over previously undefeated Drew Surges (24-1) of St. Charles North to claim the 182 pound title.


That Surges was in this one to the very end said plenty about the heart of the North junior, who suffered an injury after a Tonkovich (24-3) throw and takedown gave Tonkovich a 6-5 advantage midway through the third period.


"That was a very good match between Jackson and Surges, who came back and fought hard to make for a great finish by Jackson," said Scott Bayer.


Surges stayed on the mat while his leg injury was attended to by the medical staff for an extended period of time. He worked his way to his feet and eventually took a 7-6 lead, before conceding the late takedown to Tonkovich, who came in ranked No. 5 in the state.


"I've been working a lot on pushing the pace and riding guys out which is what I did in that third period after getting the lead back," said Tonkovich, who will attend Chadron State College in Nebraska, where he will pursue a degree in Agribusiness.


"Jackson is coming off an injury so get this win, and especially when the pressure was on late in the third period, is a huge confidence boost for him," said Bayer.


195 – John Schmidt, Geneva


Six hard-fought minutes is what Geneva head coach Tom Chernich has come to expect from John Schmidt, and the Vikings junior came through once again with another sterling three-period performance to capture top honors at 195, with a 7-3 decision over St. Charles East's Anthony Chiarro.


"There's not a lot of style or flair in the way John competes, but he's going to bust his butt for six minutes, and make his opponents work for everything. Today, you saw him in action," said Chernich.


"John lost twice before to Chiarro before, so maybe he had a little advantage coming into this final, but he worked hard throughout his match, adding points here and there to keep his lead."


"Conditioning is important to me because I'm a guy who likes to slow things down, get that first takedown, then outwork my opponents," said Schmidt, now 31-13 overall after his finals win.


Schmidt, an IWCOA state qualifier a year ago, opened with a pin and then edged eventual third-place medal winner, Ben Brown (Batavia) by the score of 3-2 in his semifinal.


"John is going to give you a real honest effort out there all of the time," Chernich said. "He'll fight, and like I said, he'll work for the entire six minutes, which almost always keeps him in every one of his matches."


220 – Blake Maday, Glenbard North


After winning the title at 220, Glenbard North's Blake Maday was asked if his 0-0 season record printed on the bracket sheets at the start of the tournament was a misprint.


"No, it's correct, 0-0," said Maday.


"I broke the plate that I had in my foot over four months ago, and today is the first official competition of the season. I'm really happy to be here," continued Maday, who celebrated his long-awaited return in fantastic fashion with a pin at 1:18 to defeat Christian Allen of Batavia.


"I'm so happy to be back because at some point, I was beginning to wonder if I would be able to come back at all," added Maday.


The Panthers junior admits he's not back in wrestling shape of yet, but teammate and heavyweight Paulie Robertson has been just what the doctor ordered to help put him back on track.


"I'm not totally ready to go hard with Paulie in the room, but he's been a great help to cheer me up while I've been out, and helping me keep focused both physically and mentally to get me back on the mats, helping the team.


"There's a lot of challenges after dealing with an injury that's kept me out so long, but having someone like Paulie has made it so much easier."


285 – Paulie Robertson, Glenbard North


The No. 2-rated big man in the state delivered yet another powerful statement of intent, in his desire to be the best in the state come February, when Glenbard North's Paulie Robertson dismissed both of his opponents on Saturday in just under three minutes combined.


Robertson (24-1) was in complete control of the 285-pound division right from the start, opening with a pin in 55 seconds to advance into his final, where a nicely-played effort led to his pin of St. Charles junior Austin Barret (19-11).

The win gave Robertson his his second league crown, and second major of the season.


"For me, this year, it's all about being more confident in myself. And an increased confidence in my abilities has been a big reason for my success thus far," said Robertson, who recently made a commitment to play football next fall at Saginaw Valley State University, where he'll turn his academic attention towards physical therapy, and/or a degree in Chiropractic Care.


Robertson admitted he can't wait for these last few weeks of the season when he'll look forward to a potential rematch from the Dvorak against No. 1 Ryan Boersma from Mt. Carmel, where he hopes his quickness and agility could be the ticket to success in Champaign.


"Boersma is big, and strong – a big push and pull guy, so I learned a lot in my final with him in that 4-1 loss," said Robertson.