Ranking the rankings, Part 2: a way-too-early look at the state tournament field – Class 2A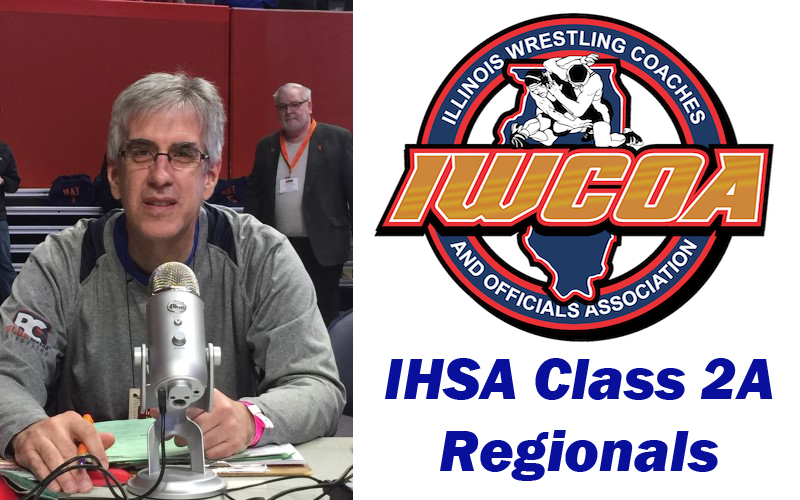 By Rob Sherrill
Here's our look at what the Class 2A state tournament field might look like, based on the rankings.
To repeat: I'm not guaranteeing 100 percent accuracy. You'll probably see some of these wrestlers competing in their regionals at different weight classes than where I've listed them. After all, it's all about two things: teamwise, winning the regional, which assures a berth in the dual state series, and individually, giving each wrestler the best chance to get to the State Farm Center. Some may even use this list as a roadmap to the most advantageous weight class. That happens every year.
The following list will include the top four wrestlers in each sectional, along with an alternate, at each weight class as things currently stand. At some weight classes, I don't have enough wrestlers listed in the rankings to fill out the field – which means plenty of opportunities for plenty of wrestlers, at the right time of the season!
So let's take a look at the state tournament field the rankings would bring us – and good luck flipping those orders starting on Saturday!
Class 2A
106 pounds
Deerfield – Anthony Alanis, Grayslake Central; Lucas Galdine, Wauconda; Gavin Hanrahan, Antioch; Jack Dombeck, Elmwood Park; Alternate – none ranked
Hinsdale South – Raymond Alvarado, DeLaSalle; second, third, fourth and alternate – none ranked
Mahomet-Seymour – Drew Davis, Chatham Glenwood; Caden Hatton, Mahomet-Seymour; Bradley Ruckman, Civic Memorial; Jaymz Young, East St. Louis; Alternate – Angel Bateson, Normal West
Sycamore – Deven Casey, Aurora Christian; Cameron Phillips, Kaneland; Carter Mikolajczak, Lemont; Truth Vesey, Rock Island; Alternate – Ivan Munoz, Ottawa
113 pounds
Deerfield – Josh Glover, Crystal Lake South; Olin Walker, St. Patrick; Luke Reddy, Deerfield; Tyler Weidman, Grayslake Central; Alternate – Kon Papadopoulos, Fenton
Hinsdale South – Austin Dangles, St. Rita; second, third, fourth and alternate – none ranked
Mahomet-Seymour – Brady Foster, Mattoon; Cordero Sims, Urbana; Matt Bicknell, Normal West; Brennan Vogt, Marion; Alternate – none ranked
Sycamore – Zachary Montez, Geneseo; Gylon Sims, Joliet Catholic Academy; Zane Ely, Morton; Sammy Niyonkuru, Rock Island; Alternate – none ranked
120 pounds
Deerfield – Tyler Evans, Prairie Ridge; Edgar Albino, Antioch; Amador Castro, Crystal Lake South; Caleb Sciame, Woodstock; Alternate – none ranked
Hinsdale South – Bob Conway, Brother Rice; Donavon Allen, St. Rita; Tyler Evitts, Oak Forest; Quintavius Murrell, Riverside-Brookfield; Alternate – Oscar Choi, Hinsdale South
Mahomet-Seymour – Colby Crouch, Troy Triad; Carson Nishida, Bloomington; Froylan Racey, Normal West; Logan Blackburn, Mattoon; Alternate – Gavin Hearren, Waterloo
Sycamore – Peyton Cox, Washington; Connor Kidd, Morton; Shay Korhorn, Joliet Catholic Academy; Gauge Shipp, Galesburg; Alternate – Josh Vasquez, Aurora Christian
126 pounds
Deerfield – Cooper Daun, Wauconda; Mike Meade, Prairie Ridge; Rannin Gruen, Cary Grove; fourth and alternate – none ranked
Hinsdale South – Caden Muselman, Oak Forest; Mateo Costello, Riverside-Brookfield; Griffin Duffin, St. Rita; James Bennett, Brother Rice; Alternate – Joey Baranski, Marian Catholic
Mahomet-Seymour – Thomas Vansacik, Chatham Glenwood; Austin Johnston, Normal West; Trevor Schoonover, Centennial; Korbin Bateman, Mattoon; Alternate – none ranked
Sycamore – Kannon Webster, Washington; Markel Baker, Freeport; Joe Fernau, Aurora Christian; Rocky Almendarez, Galesburg; Alternate – Tyler Barbee, Rock Island
132 pounds
Deerfield – Sean Conway, St. Patrick; Renzo Morgan, Deerfield; Seth Digby, Lake Forest; Anthony Streib, Antioch; Alternate – Jack McGowean, Vernon Hills
Hinsdale South – Sean Larkin, St. Rita; Zachary Carter, Lindblom; Dylan Kabance, St. Ignatius; fourth and alternate – none ranked
Mahomet-Seymour – Santino Robinson, Mascoutah; Ricky Wade, Marion; Joey Biciocchi, Civic Memorial; Nolan Mrozowski, Rochester; Alternate – Ben Maduena, Chatham Glenwood
Sycamore – Logan Kuhel-Trimmer, Joliet Catholic Academy; Johnny O'Connor, Lemont; Josh Biagini, Washington; Steven Marvin, Morton; Alternate – Tyler Calam, Freeport
138 pounds
Deerfield – Kai Neumark, Deerfield; Garry Gurevich, Vernon Hills; Caleb Nobiling, Antioch; Armen Jerikian, Grayslake North; Alternate – Cole Porten, Wauconda
Hinsdale South – Alvaro Perez, Brother Rice; Jovan Williams, Hillcrest; Phillip Lullo, Kennedy; fourth and alternate – none ranked
Mahomet-Seymour – Bryce Griffin, Civic Memorial; Chase Hall, Troy Triad; Collin Reif, Jacksonville; Cole Peters, Rochester; Alternate – Tallen Pawlak, Mahomet-Seymour
Sycamore – Owen O'Connor, Joliet Catholic Academy; Aoci Bernard, Rock Island; Evan Schiffman, Lemont; Sam Young, Rockford East; Alternate – Jacob Redington, Freeport
145 pounds
Deerfield – Jayden Colon, Montini; Lucio Morgan, Deerfield; Colin Husko, Wauconda; Ben Vazquez, Antioch; Alternate – Cayden Parks, Crystal Lake Central
Hinsdale South – Connor Nowicki, Oak Forest; Isaac Gayton-Reilly, St. Rita; third, fourth and alternate – none ranked
Mahomet-Seymour – Kiefer Duncan, Mattoon; Trey Elliott, Jacksonville; Aden Byal, Chatham Glenwood; Aiden Postma, Troy Triad; Alternate – Ben Skaggs, Civic Memorial
Sycamore – Mason Alessio, Joliet Catholic Academy; Taythan Silva, Aurora Christian; Drew Kested, Sterling; Caleb Nadig, Rochelle; Alternate – Cael Miller, Washington
152 pounds
Deerfield – Ben Shvartsman, Deerfield; Dillon Carlson, Crystal Lake Central; David Mayora, Montini; Will Ludolph, Vernon Hills; Alternate – Evan Vazquez, Antioch
Hinsdale South – Chuck Connolly, Brother Rice; Nikola Malovic, Riverside-Brookfield; Ivan Corral, Oak Forest; Donovan Hall, Noble/Comer; Alternate – George Akkawi, St. Ignatius
Mahomet-Seymour – Nate Dampier, Marion; Braeden Heinold, Mahomet-Seymour; Ben Mitchell, Highland; Tyler Easter, Centennial; Alternate – Braeden Banz, Carbondale
Sycamore – Braden Stauffenberg, Aurora Christian; Brayden Peet, Sycamore; Tarrone Jackson, Freeport; Connor Cumbee, Joliet Catholic Academy; Alternate – Nick Mueller, Dunlap
160 pounds
Deerfield – Will Prater, Montini; Stamos Tsakiris, Deerfield; Connor Lezama, Crystal Lake Central; Eddie Ferree, Prairie Ridge; Alternate – Zac Johnson, Wauconda
Hinsdale South – Nathan Chirillo, Brother Rice; Manny Wallace, Hinsdale South; Max Corral, Oak Forest; Joshua Butler, Kenwood; Alternate – Dorian Vaughns, Kennedy
Mahomet-Seymour –Noah Passoni, Normal West; Sam Wheeler, Troy Triad; Isaiah Duckworth, Carbondale; Aden White, Marion; Alternate – none ranked
Sycamore – Blake Hinrichsen, Washington; Anthony Montez, Geneseo; Gus Cambier, Sycamore; Mike Jabaay, Lemont; Alternate – Thomas Tate, Sterling
170 pounds
Deerfield – Aaron Cramer, Grayslake Central; Aiden Cohen, Deerfield; Ben Butler, Crystal Lake Central; Nick Bennett, Wauconda; Alternate – Gio Hernandez, St. Patrick
Hinsdale South – Tom Bennett, Brother Rice; Mike Torres, Evergreen Park; Joe Castaneda, Oak Forest; Brock Hoyd, Riverside-Brookfield; Alternate – Jovani Piazza, Hinsdale South
Mahomet-Seymour – Abe Wojciekiewicz, Civic Memorial; Brennan Houser, Mahomet-Seymour; Brandon Lloyd, Waterloo; Logan Will, Mascoutah; Alternate – Gabe Orosco, Lanphier
Sycamore – Alex Tagler, Lemont; Zack Crawford, Sycamore; Nathan Kim, Burlington Central; Harrison Neumann, Geneseo; Alternate – none ranked
182 pounds
Deerfield – Matt Jens, Grayslake Central; Shane Moran, Crystal Lake South; Charlie Heydorn, Lake Forest; Braeden Wittkamp, Deerfield; Alternate – Henry Goetz, Woodstock North
Hinsdale South – James Williams, Evergreen Park; Colin Ashley, Brother Rice; Liam Cote, Riverside-Brookfield; fourth and alternate – none ranked
Mahomet-Seymour – Colton Carlisle, Civic Memorial; Brock Leenerman, Normal West; Jared Shafer, Mount Vernon; Phillip Shaw, Danville; Alternate – Jordan Clines, Troy Triad
Sycamore – Mo Khalil, Lemont; Gable Carrick, Sycamore; Steven Marquez, Rock Island; Charles Medrow, Ottawa; Alternate – Jashon Parks, Galesburg
195 pounds
Deerfield – Jake Psaras, Vernon Hills; Wade Abrams, Cary-Grove; third, fourth and alternate – none ranked
Hinsdale South – Alex Jackson, TF North; Rodney Sims, Hillcrest; Gambino Perez, Brother Rice; fourth and alternate – none ranked
Mahomet-Seymour – Mateo Casillas, Mahomet-Seymour; Anthony Curry, Bloomington; Aidan Spurgeon, Mattoon; Aiden Taylor, Carbondale; Alternate – Clayton Tanner, Marion
Sycamore – Donnie Hidden, Washington; Nathan Wemstrom, Aurora Christian; Connor Lorden, LaSalle-Peru; Owen Gerdes, Joliet Catholic Academy; Alternate – Cole Brannigan, Lemont
220 pounds
Deerfield – Alex Goworowski, St. Patrick; Aodan O'Sullivan, Niles Notre Dame; Gavin Loiselle, Woodstock; Matthew Merevick, Wauconda; Alternate – Kevin Olson, Amundsen
Hinsdale South – Eduardo Antunez, Evergreen Park; Adam Achebe, Kenwood; third, fourth and alternate – not ranked
Mahomet-Seymour – Jordan Sommers, Waterloo; Jack Weltha, Bloomington; Jack Barnhart, Centennial; Colton Crowley, Mahomet-Seymour; Alternate – Leo Meyer, Mattoon
Sycamore – Justin Hoffer, Washington; Jeremiah Morris, Galesburg; Tim Stohl, Geneseo; Joey Pineda, Rockford East; Alternate – Tyler Wilms, Lemont
285 pounds
Deerfield – Karl Schmalz, Niles Notre Dame; John Sullivan, Lakes; Andy Burburija, Crystal Lake South; Leo Diaz, Crystal Lake Central; Alternate – Max Acettura, Vernon Hills
Hinsdale South – Raymond Begay, Kennedy; Leno Campbell, Kenwood; Vincent Arebalo, Crete-Monee; Eric Perez-Nava, Bremen; Alternate – Damian Lassak, St. Ignatius
Mahomet-Seymour – Alex Hamrick, Chatham Glenwood; Camden Harms, Mahomet-Seymour; Jayden Busch, Jerseyville; Logan Cooper, Civic Memorial; Alternate – Matthew Hobbs, Troy Triad Sycamore – Dillan Johnson, Joliet Catholic Academy; Braden Hunter, Aurora Christian; Lee Smith, Rockford East; Tyler Casey, Washington; Alternate – Lincoln Cooley, Sycamore