Rock Island uses balance to win Sycamore Invitational championship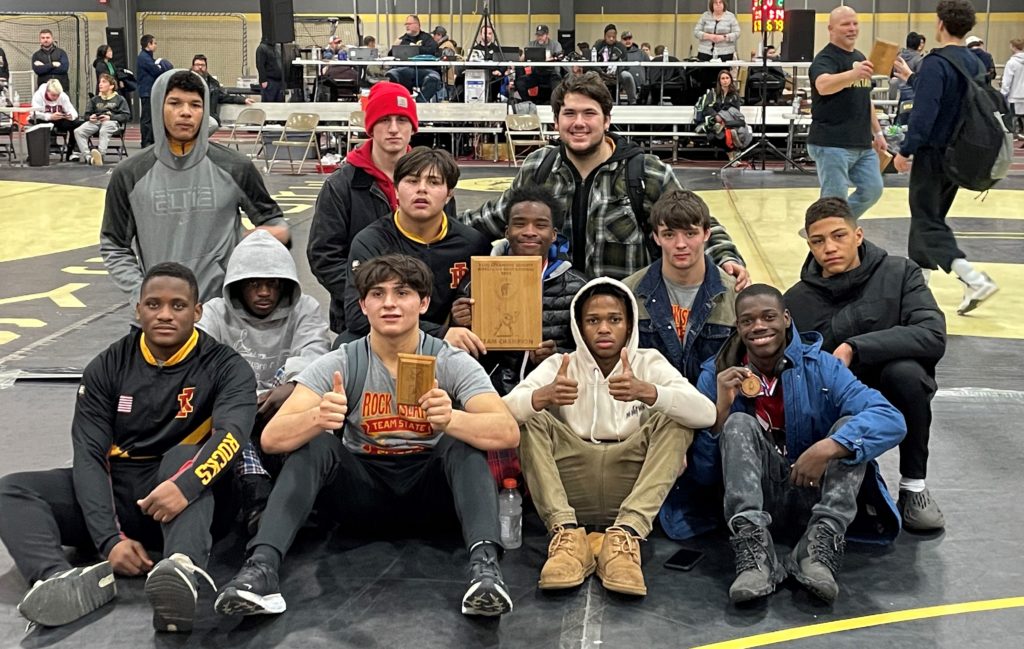 By Patrick Z. McGavin
SYCAMORE— At the Sycamore Invitational, every point matters.
"One of our goals as a team heading into a tournament is to not have any 'ghosts,' a wrestler that does not score any team points," Rock Island coach Joel Stockwell said.
"We also talk about the importance of wrestlers scoring points in the consolation brackets."
The Rocks used their elite scoring in the lower and upper weight classes to secure the championship of the Sycamore Invitational on Saturday.
The Rocks finished with three finalists and two individual champions score 418 points to capture the 24-team title.
In a deep and competitive field, the top four teams were separated by just 30 points. Lyons Township finished as the runner-up with 393.5, York was third with 390.5 and Rochelle took fourth with 387.5. Glenbrook South (371.5), Unity (370), McHenry (363.5) and Sycamore (359) were next in line.
Ranked No. 8 in Class 2A, the Rocks overcame the structural disadvantage of competing in just 12 weight classes – not fielding any wrestlers at 132 and 138 pounds.
"We have had issues with those two weights all year," Stockwell said. "Injuries and grades have led to them being mostly open. With those two open spots, we know in order to compete as a team all of our wrestlers must score points and look for bonus points whenever possible."
Even the Rocks' secondary performers scored a minimum of 15 points, or what turned out to be their winning margin.
The 14 individual titles were spread out among 10 teams.
York had a tournament-best three individual champions, with a brilliant consecutive run at 120, 126 and 132 pounds, respectively. Rock Island and Belvidere co-op each had two champions.
Bloomington, Lyons Township, Sycamore, Oak Forest, Unity, Nazareth Academy and Rockford East had one champion apiece.
The Sycamore Invitational showcased elite individuals and standout teams. Rock Island was a quarterfinalist in the Class 2A dual team championship last year while Unity finished third in Class 1A.
(All team and individual rankings are courtesy of Rob Sherrill, at Illinois Matmen.)
The tournament also featured two ranked 3A teams No. 18 Lyons Township and No. 24 McHenry, as well as honorable mention teams in the largest class such as Belvidere, Glenbrook South, Hampshire, Hononegah and Mundelein.
Rock Island was one of five ranked participants in Class 2A—joined by No. 9 Rochelle, No.14 Oak Forest, No. 17 Sycamore and No. 22 Bloomington, as well as honorable mention selections Kaneland and Rockford East. Unity is ranked No. 13 in Class 1A and Marengo is honorable mention.
"I am proud of the performance and effort," Stockwell said. It has always been a good tournament to measure how we are doing as a team and as individuals.
"Anytime we can finish in the top five is a good indicator that we are moving in the right direction heading toward the postseason. Placing first as a team was a great accomplishment."
Champions of the XLVII Sycamore Invitational and their weight classes
106 – Brayden Teunissen, Belvidere
The No. 2 ranked wrestler in Class 3A, Brayden Teunissen proved he was second to none.
He dominated the field with three falls, punctuating his individual championship with an 0:46 fall over Lyons Township freshman Griff Powell.
As a freshman, Teunissen finished fifth at the invitational last year.
"I like to wrestle very aggressively," he said. "I'm very good on top, and takedowns.
"My mentality is always to be more aggressive than the other person. That helps with my offense, and gets me into my shots."
He improved his record to 28-2. Both of his losses are against St. Charles East's top-ranked Dom Munaretto.
"This is a really good tournament," he said. "At this point, it's all about getting ready for the really important part of the season with the state series, and I am going to go back at it on Monday."
In the third-place match, McHenry's Ryan Hanson defeated Rock Island's Sammy Niyonkuru 5-2. Hononegah's Jackson Olson defeated Bloomington's Tyler Barlow by technical fall for fifth place. And Portage, WI's Cole Beckett captured seventh with a fall in 4:52 over Rochelle's Keagan Albers.
113 – Truth Vesey, Rock Island
In a showdown of two top-10 wrestlers, Rock Island's Truth Vesey was the answer.
Ranked No. 4, he captured the high-profile championship with a 9-0 major decision over Rockford East's Joseph Young, who's ranked ninth.
Vesey (24-1) reached the championship bracket with a fall, a victory by injury default and major decision. The junior finished third at 106 pounds at the tournament last year.
Despite the loss, Young (27-5) made his own statement. He posted three consecutive falls to win his part of the bracket.
"I think my success is just staying active on my feet," Young said. "Keeping up with the matches, and learning the lessons from each match.
"I have a fun style. I have a lot of funky moves that kids just don't expect at this level. I always look to make a move off what they try to do against me."
McHenry's Jimmy Norris won by technical fall over Rochelle's Tommy Tourdot for third place. Hononegah's Angelina Cassioppi had an 8-0 major decision over Sycamore's Tyler Lockhart for fifth place. Belvidere's Bryson Teunissen won by injury default over Sterling's Zyan Westbrook for seventh place.
120 – Zach Parisi, York
York's Zach Parisi reached the magic 30 number.
Revealing a superb blend of body control, power and versatility, he punctuated a brilliant tournament championship with a 6-0 victory over Rochelle's previously-unbeaten Xavier Villalobos.
Ranked No. 7 in Class 3A, Parisi (30-1) registered two first-period falls in the preliminary action. He secured an efficient and detailed 10-4 victory over Kaneland's Kamron Scholl in the semifinals.
"I like to be able to push the pace and work on my feet a lot," Parisi said. "The other part I feel I am very good at is getting on top, and going to work.
"So far this season, I have just one loss, and I want to be able to keep that up."
As a junior last year, he finished second at 113 pounds in the invitational.
Rock Island's Daniel McGhee edged Scholl 4-3 for third place. Kaneland's Alex Gochis defeated Bloomington's Javier Enriquez-Lynd 12-10 in the fifth-place match. And Glenbrook South's Marcus Santos won by fall in 1:24 over Hononegah's Javier Escobedo for seventh place.
126 – Sean VanSleet, York
Sean VanSleet maintained the Dukes' brilliant run in the lower weights with a sharp blend of technique, toughness and power.
An honorable mention wrestler at 132 pounds, Van Sleet (28-2) posted two falls and a major decision in reaching the final.
He captured the title after Mundelein's Benji Albavera suffered an injury at the end of his semifinal match and was unable to compete in the final.
"My style is about going really hard for all six minutes of the match," VanSleet said. "I always want to be picking up the pace throughout the match."
His balance and footwork proved exceptionally effective.
"I think my strongest point is on top," he said. "I am able to ride guys, and still be able to work out and do things in neutral. It's not fancy, just basic and very effective."
VanSleet has made extraordinary strides since finishing 17th at the invitational last year.
"My mentality now is just not looking back, and treating every match like it's my final one," he said.
In the third-place match, Rochelle's Joseph Nadig won by fall in 3:26 over McHenry's Lucas Van Diepen. York's Jackson Hanselman defeated Unity's Hunter Shike 4-2 in sudden victory in the fifth-place match. And Glenbrook South's Andrew Haritos beat Marengo's Robel Addis 14-7 in the seventh-place match.
132 – Sean Berger, York
York's Sean Berger is hungry and skilled, an imposing combination that annihilated the rest of the field.
He posted three first-period falls to reach the championship match.
Berger (23-2) completed his superb run with a fall in 3:39 over Oak Forest's Caden Muselman (21-3) for his championship.
"I just like pushing the pace, and getting into my ties and getting my moves in, like the two on ones, and forcing the other guy to always be on the defensive," Berger said.
"That opens up my shots, and I am able to work on top as well, just go from turn to turn, and everything is very fluid out there."
Musselman was second at 126 pounds at last year's tournament while Berger took ninth at 126 pounds.
"It's a great opportunity wrestling some of these different kids, like these 2A guys," Berger said. "I won't get a chance to see them probably for the rest of the year."
Willowbrook's Isaiah Smith won 15-3 over Glenbrook South's Max Brown in the third-place match. For fifth place, Kaneland's Caden Grabowski beat Lyons Township's Claudio Rodriguez by fall in 2:44. And Unity's Kaden Inman defeated Oak Forest's Austin Perez by fall in 3:32 for seventh place.
138 – Dylan Watts, Bloomington
Bloomington's Dylan Watts ran over the field with his explosive athleticism and superior technique.
The combination of his power and quickness created a series of advantages he utilized brilliantly. Ranked No. 10 in Class 2A, Watts completed a perfect day with a fall in 3:02 over Marengo's Logan Miller.
Watts (18-5) recorded five falls to repeat his tournament championship. He won at 132 pounds last year.
In the third place match, Willowbrook's Elijah Smith captured a 9-4 decision over Mundelein's Ethan Thomas. For fifth place, Oak Forest's Hunter Hale defeated Belvidere's Dom Girardin 8-4. And McHenry's Ryan Nagel beat Sterling's Dylan Ottens by fall in 3:02 for seventh place.
145 – Antonio Alvarado, Belvidere
Antonio Alvarado was a force of nature who proved virtually untouchable during his impressive performance.
Ranked No. 4 in Class 3A, Alvarado (33-1) won all five of his matches by first-period falls. His first round match lasted just 18 seconds, a foreshadowing of his exceptional work.
His blend of quickness, power, and strength was a thing of beauty.
"I am really fast, so I like to be on my feet a lot," Alvarado said. "I want to be able to work my hand fighting, and keep the pace up and get into my shots.
"In a tournament like this, against the best guys, I have to keep working at my pace and stay aggressive with my offense."
Alvarado ended the storybook run against Oak Forest's Hunter Daniel in the championship with a fall in 1:17. He also defended his title at the same weight class from last year.
Hononegah's Connor Diemel edged McHenry's Pedro Jimenez 3-1 in the third-place match. Rochelle's Brenden Voight won by fall in 4:27 over Lyons Township's Calum Rogers for fifth place. For seventh, St. Charles North's Colin Thompson won by fall in 1:32 over Lyons Township's Andrew Fowler.
152 – Gunnar Garelli, Lyons Township
Lyons Township's Gunnar Garelli is almost certain to move up the charts.
Listed in the honorable mention in Class 3A, he exhibited superb balance, strength and footwork.
Quick and explosive on his feet, he showcased elite skills and toughness with three falls and a major decision to reach the championship.
Garelli (21-7) completed his sharp and compelling work with the disciplined and hard-fought 3-1 decision over Belvidere's seventh-ranked Colin Young.
Sycamore's Gus Cambier defeated McHenry's Ruben Melgarejo 8-0 in the third-place match. Rochelle's Grant Gensler won by technical fall over Portage, WI's Luke Paulsen in the fifth-place match. And Mundelein's Gael Diaz took seventh with a fall in 1:38 over Grayslake North's Jacob Ronsman.
160 – Zack Crawford, Sycamore
Few wrestlers have quite the flair for the dramatic like Zack Crawford.
He personifies the wrestler as entertainer and performer, playing off his quickness, power and athleticism.
Ranked No. 2 in Class 2A, he provided the host Spartans with their finest moment with his dominant four-fall showing.
Crawford (23-1) won by fall over Glenbrook South's Patrick Downing at the 1:36 mark for his individual title. He also improved on his finish from a year ago, where he was runner-up at 170 pounds.
Ranked No. 3 in Class 2A, Sterling's Thomas Tate captured third place with a fall in 2:36 over Rock Island's Matthew Cook. For fifth place, Bloomington's Maddox Kirts won by fall in 3:43 over Mundelein's Ty Murray. Oak Forest's Jack Castenada defeated teammate Steve Strelow for seventh place.
170 – Max Corral, Oak Forest
The odds were seemingly stacked against Oak Forest's Max Corral.
He overcame a grueling semifinal match for a sensational close to a first-rate performance.
Corral posted a fall in 2:26 over York's highly-skilled Danny Decristofaro for the individual championship.
In an electrifying semifinal, Corral rode out Hampshire's Niko Skoulikaris in the third period to force overtime. He secured a 4-3 sudden victory with a reversal.
Despite the title loss, Decristofaro impressed with two falls and a major decision through the preliminary rounds. He made a statement in the semifinals with his 6-4 decision over Unity's Kyus Root.
"I think my style has evolved, and I like to be more in control and on the defensive, depending on what the situations are," Decristofaro said.
"Last year I was quick on my feet, but sometimes I'd make a minor mistake that would cost me the match. I like to be either offensive or defensive, and I have gotten very good with my shots."
Ranked No. 8 in Class 1A, Root earned a 12-2 major decision over the exhausted Skoulikaris for third place. Rock Island's Amare Overton won by fall in 4:53 over Portage, WI's Landon Heitmeier for fifth place. For seventh place, Hononegah's Elliot Diemel captured a 7-1 decision over Glenbrook South's Ilkin Badalov.
182 – Steven Marquez, Rock Island
Call it the battle of the brothers.
Rock Island's Steven Marquez posted a 6-0 victory over Hampshire's Dimitri Skoulikaris, who was previously unbeaten.
Steven Marquez's brother Andrew finished runner-up at 195 pounds. Dimitri Skoulikaris' twin brother Niko finished fourth at 170 pounds.
Dimitri Skoulikaris outlasted Rochelle's Brock Metzger 4-1 in the semifinal round. His record is now 13-1.
"I used to be more traditional, and go for throws, but starting with the offseason, I have been working on taking shots and working a little bit more freestyle," Dimitri Skoulikaris said.
"More shots, and just try to throw when I need to. I am working to become a more well-rounded wrestler."
Ranked No. 4 in Class 2A, Steven Marquez (16-2) demonstrated exceptional quickness and explosiveness on his feet, yielding dazzling takedowns he converted into back points.
After posting consecutive pins in the preliminary rounds, he dominated Unity's highly-regarded Hunter Eastin with an 11-3 major decision in the semifinals.
Ranked No. 4 in Class 1A, Eastin won by fall in 0:43 over Metzger in the third-place match. Glenbrook South's Anthony Prieto edged Hampshire's Chadler Jernigan 4-3 in the fifth place match. And Bloomington's Kenner Bye won by forfeit over Sterling's Chase Ullrich in the seventh-place match.
195 – Nick Nosler, Unity
In a top-heavy and highly-competitive bracket, Unity's Nick Nosler achieved a profound and highly-satisfying double.
He beat Rock Island's Andrew Marquez 5-0 for the championship. Ranked No. 2 in Class 1A, Nosler (29-2) recorded two falls and a win by technical fall to reach the championship round. Nosler, last year's state runner-up at 195, remains unbeaten against in-state competition.
Andrew Marquez (21-4) posted two falls in the preliminary action. In a showdown with Lyons Township's No. 7 Cooper King, he secured a 5-2 decision. Andrew Marquez is ranked No. 5 in Class 2A.
King defeated Marengo's Eddie Solis 7-2 in the third-place match. For fifth place, Sycamore's Gable Carrick won by fall in 0:47 over Hampshire's Tyler Boyd. And Kaneland's Max Pietak pinned Willowbrook's James Duffecy in 1:38 for seventh place.
220 – Gabe Kaminski, Nazareth Academy
Gabe Kaminski had the best reason for the delayed start to his new season.
He was helping Nazareth Academy to win the Class 5A state football championship as a two-way standout, and one of the top-rated defensive ends in the country.
Kaminski showed the rest of the state what a powerful force he is to reckon with.
Ranked No. 1 in Class 1A, the state runner-up at 220 last year, showed his elite blend of power, size, quickness and overwhelming force.
Kaminski won by fall in 2:42 over Hampshire's Will Ardson to complete his superb championship run.
Kaminski (6-0) knocked out Oak Forest's Adam Richtor by technical fall in the quarterfinals and then defeated Rochelle's Kaiden Morris by fall in the semifinals.
Morris edged Glenbrook South's Alex Enkhbaatar 4-3 in the third-place match. For fifth place, Richtor won by fall in 1:56 over Marengo's Hunter Smith. And in the seventh-place match, Hononegah's Isaak Smith won by injury default over York's Austin Bagdasarian.
285 – Lee Smith, Jr., Rockford East
The tournament ended, fittingly, with the most competitive championship match, a natural by-product of two elite Top-5 wrestlers.
Rockford East's Lee Smith, Jr. defended his tournament championship with a mesmerizing 1-0 victory over Sycamore's No. 5 Lincoln Cooley.
Ranked No. 4 in Class 2A, Smith (29-1) registered three falls to capture his side of the bracket.
His most impressive performance was his second-period fall of Glenbrook South's Drew Duffy (20-2), an honorable mention performer in Class 3A.
"I had my first loss during the winter break at Hinsdale Central, where I got concussed, and I wanted to make up for that," Smith, Jr. said.
"I am not as big or probably as strong as most heavyweights, so I have to be way smarter than them. I have to be more technical and way faster, and use my speed to get around them."
Cooley (17-2) danced on the razor's edge to qualify for the championship. He pulled out consecutive one-point victories in his quarterfinal and semifinal rounds.
Duffy recovered for a fall in 3:36 over Willowbrook's Elias Samayoa in the third-place match. Portage, WI's Javir Moyotl-Hernandez won by fall in 5:35 over McHenry's Jesse Saavedra for fifth. Grayslake North's Dallas Dinkla won by fall in 2:53 over Kaneland's Jacob Nonnemacher for seventh place.
Championship matches for the XLVII Sycamore Invitational
106 – Brayden Teunissen (Belvidere) F 0:46 Griff Powell (Lyons Township)
113 – Truth Vesey (Rock Island) MD 9-0 Joseph Young (Rockford East)
120 – Zach Parisi (York) D 6-1 Xavier Villalobos (Rochelle)
126 – Sean VanSleet (York) INJ 0:00 Benji Albavera (Mundelein)
132 – Sean Berger (York) F 3:39 Caden Muselman (Oak Forest)
138 – Dylan Watts (Bloomington) F 3:02 Logan Miller (Marengo)
145 – Antonio Alvarado (Belvidere) F 1:17 Hunter Daniel (Oak Forest)
152 – Gunnar Garelli (Lyons Township) D 3-1 Colin Young (Belvidere)
160 – Zack Crawford (Sycamore) F 1:36 Patrick Downing (Glenbrook South)
170 – Max Corral (Oak Forest) F 2:26 Danny Decristofaro (York)
182 – Steven Marquez (Rock Island) D 6-0 Dimitri Skoulikaris (Hampshire)
195 – Nick Nosler (Unity) D 5-0 Andrew Marquez (Rock Island)
220 – Gabe Kaminski (Nazareth Academy) F 2:42 Will Ardson (Hampshire)
285 – Lee Smith, Jr. (Rockford East) D 1-0 Lincoln Cooley (Sycamore)