Schaumburg claims girls title in Normal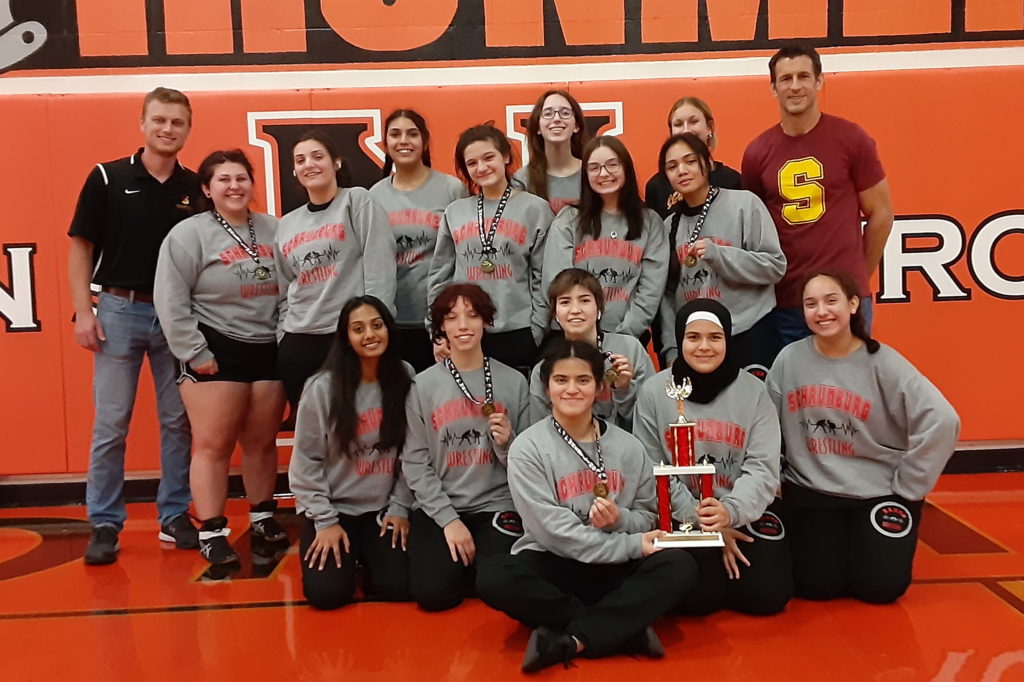 By Curt Herron
For the IWCOA
NORMAL – There aren't very many firsts that both competitors and spectators will be able to experience in an Illinois high school sport.
But Saturday provided one of those rare events at the Normal Community boys' JV and Girls Invite and a large crowd was on hand to witness the special occasion.
For the first time as an Illinois High School Association-approved sport, girls could compete against one another in a tournament format to highlight the initial week of girls wrestling.
Sixteen of the 25 schools who brought girls to the competition had individuals who advanced to title matches with eight of those teams capturing individual championships.
Schaumburg led the way with three champions and placed eight of its 13 competitors in the top four to easily claim top honors with 172 points.
Joliet Central edged West Aurora 100-97 for second place and the Steelwomen were one of four teams that had two champions, with Richwoods (fourth, 73 points), Normal West (sixth, 63) and Yorkville (ninth, 54) the others.
Andrew/Sandburg/Stagg co-op took fifth with 68 points but had no first-place finishers. Other teams who had individual champions were Homewood-Flossmoor (seventh, 56.5), Larkin (eighth, 56) and Mahomet-Seymour.
In a fascinating historical twist, the first champion of the event, Normal West's Sammy Lehr (100), is the daughter of Margaret LeGates Lehr, who was the first girl to compete in the sport in IHSA competition and began her three-year career for the boys' team at Libertyville 30 years ago.
Schaumburg received titles from Madeline Zerafa-Lazarevic (135), Valeria Rodriguez (155) and Lili Reyes (235), had three others who placed third, and two more who took fourth.
The Saxons are coached by Matt Gruszka and his son, Luke. Matt wrestled for his father, Stan, at Naperville North while Luke wrestled at Schaumburg. Stan, a Class of 2003 IWCOA hall of famer, was involved in 79 seasons of coaching in 33 years, which also included football and track and field.
"I've been around the sport for a long time and have seen it come to this, where girls are competing," Matt Gruszka said. "The girls are awesome and this is certainly adding to our sport. Our girls' national team always does well and our U.S. Olympic team has done well, so it just makes sense that the state has taken this initiative and let the girls have their own venue.
"Just the amount of girls was unbelievable. It's just great for the sport and it's fun to be a part of. We're a big wrestling state so we have good coaches scattered throughout, so when something like this comes along, they see what's going on and the grassroots movement in Illinois is unbelievable and it trickles down to our freestyle and greco teams. We saw the majority of the girls were in the upper weights. The lower weights weren't very crowded but there were 13 heavyweights today, and that was unbelievable. Just to see that is very encouraging for the sport."
Winning titles for Joliet Central were Dioselina Tenorio (115) and Stephany Serna (140). Richwoods' title winners were Kyley Bair (110) and Arie Johnson (170), Yorkville got titles from Yamilet Aguirrre (120) and Natasha Markoutsis (130) and Normal West also received a first from Angel Bateson (105).
Other champions were Mahomet-Seymour's Isabelle Leyhe (125), Homewood-Flossmoor's Attalia Watson (145) and Larkin's Maria Ferrer (190). A total of 134 girls took part in the competition with Joliet Central (19), Andrew/Sandburg/Stagg (17), Homewood-Flossmoor (15) and Schaumburg (13) leading the participants.
Here's a breakdown of the girls champions:
100 – Sammy Lehr, Normal West
Normal West's Sammy Lehr made history as the first champion of an IHSA-sanctioned girls' tournament when she used three falls to go 3-0 in round-robin competition to capture top honors at 100, while Galesburg's Hannah Almendarez went 2-1 to take second place and Olympia/Heyworth's Mya Down placed third.
Lehr, whose mother Margaret LeGates Lehr was the first girl to compete in the IHSA in the sport, was thrilled to be able to capture the initial tournament title and in the process, make history just as her mom did 30 years ago.
"I'm very excited," said Sammy Lehr, who's a junior. "Being able to be a part of the first one in the state is also really exciting. Coming from my mom's background, I only started in high school and I'm able to follow in her footsteps. It's a lot different of an experience to wrestle with other girls compared to guys since it gives you a whole new perspective. It's a whole new skill set and being able to be a part of this as it grows is really important, as well."
Margaret, who competed for three seasons at Libertyville for coach Dale Eggert, a Class of 2000 IWCOA hall of famer, was in the corner to help lead the Wildcats' two finalists to become the sport's first tournament champions.
"All day I've just been amazed by it all, seeing all of these girls with this opportunity," Margaret Lehr said. "I love it and I'm so excited for the future of girls wrestling. It's just exploding in growth, so that's awesome. This is very special. And within my own community this is pretty awesome since we're Normal West and this is our neighbor. I'm very thankful to Trevor Kaufman for pulling this together and really seeing the future for girls wrestling."
105 – Angel Bateson, Normal West
Normal West claimed the first two titles at the state's initial tournament as an approved IHSA sport when Angel Bateson won by fall over East Peoria's Bailey Lusch to capture top honors at 105. In the third-place match, Homewood-Flossmoor's Ava Anderson won 8-3 over Metea Valley's Uliana Shevtsova.
After recording three falls, Bateson joined teammate Sammy Lehr as champions in the historic competition, and achieving the feat in her hometown made the accomplishment that much better.
"I think it's very important for girls to have their own sport," said Bateson, who's a junior. "To not have to wrestle the boys and to be one-on-one with another girl because girls wrestling is a totally different sport than boys wrestling. It was a fun day."
110 – Kyley Bair, Richwoods
Richwoods' Kyley Bair, who's a junior, recorded a fall over West Aurora's Fatima Mogollan and went 3-0 in the round-robin to win the title at 110 to become the first of two champions from the Lady Knights, who have had a large number of girls in their program during the past few years.
115 – Dioselina Tenorio, Joliet Central
Joliet Central was assured of a title at 115 after Dioselina Tenorio and Scarlett Chavez both advanced to the title match with a pair of falls. Tenorio, who took fourth at 106 in the IWCOA finals in June, got a pin in the championship to become one of the two Steelwomen who claimed
first place finishes. Deer Creek-Mackinaw's Samantha Lauer claimed third place by fall over Schaumburg's Harika Matukamilli.
Tenorio is not only pleased that she is finally able to compete against other girls in high school but also with how many more girls are now participating in the sport.
"From my freshman year, I've seen girls wrestling expand and that's made me so happy," said Tenorio, who's a senior. "When I first started, it was like just one or two girls trying it, but as the years have progressed, girls keep joining us. Now we get our own tournaments so in my last year, I'm happy to have all of this."
120 – Yamilet Aguirre, Yorkville
Yorkville's Yamilet Aguirre claimed her team's first of two titles when the sophomore captured a 4-1 victory over Joliet Central's April Ortiz in the 120 finals after winning three matches by fall. The Foxes only brought two individuals to the tournament and both of them captured championships. Schaumburg's Nina Akimoto took third place by injury default over Joliet Central's Itsel Vivanco.
125 – Isabelle Leyhe, Mahomet-Seymour
Mahomet-Seymour captured its first title in a girls tournament when Isabelle Leyhe won by fall over Normal Community's Pyper Wood in the 125 finals to cap a day where she had two other pins and a win by technical fall. The Bulldogs had the most individuals who competed in the event with 22, but Leyhe was the only girl to take part. In the third-place match, Schaumburg's Madison Meyer won by fall over Canton's Naomi Luedtke.
Leyhe, who placed eighth at 113 at the IWCOA finals, enjoyed being on hand for the special day and has been inspired by a famous alumni of her school, Mary Kelly, a Class of 2019 IWCOA hall of famer who was a three-year starter for the program and the first girl to win a match at the IHSA dual team finals.
"Today was just a day full of emotion and I'm really thankful that I could be a part of it," said Leyhe, who's a sophomore. "Working so hard for the past couple of years, I'm really glad that I can come out here and show what I can do. As long as I can remember, I've always looked up to Mary Kelly and other female wrestlers. I just really wanted to follow in their footsteps and help other girls come out if this is what they want to do. I'm just really glad that this is growing so fast."
130 – Natasha Markoutsis, Yorkville
Yorkville became one of five teams to have multiple champions when Natasha Markoutsis won by fall over Gibson City-Melvin-Sibley/Fisher's Avery Schlickman in the 130 title match, which was her third pin of the day.
Schaumburg's Bethany Regione, who took fourth at 132 in the IWCOA finals, claimed third place after recording a pin over Larkin's Quetzali Lara.
After being a runner-up at 132 at the IWCOA finals, Markoutsis not only has her sights set on being one of the first IHSA champions but also is excited about what other girls might be able to achieve in the new sport.
"To me, it means a lot," said Markoutsis, who's a senior. "I've never actually had the chance to go to a girls-sanctioned event for high school. So to do it with my high school coach there meant the world to me. It's eye-opening to see how the sport is evolving and just how much it's getting better, especially for younger girls. They'll have this opportunity at their fingertips and it's really inspiring. I'm really thankful for all of those older girls who've paved the path for them so they don't have to battle the boys and they can have their own little space to do what they need to do."
135 – Madeline Zerafa-Lazarevic, Schaumburg
The champion Saxons captured their first individual title at 135 when Madeline Zerafa-Lazarevic won by fall over Pekin's Jaylah Dalton to record her third pin of the day. The third-place match at the weight featured a clash of Andrew/Sandburg/Stagg teammates with Delilah Freyman recording a pin against Noemi Concha.
After receiving a bye, Zerafa-Lazarevic recorded three straight falls to not only be the initial Saxon to capture a tournament title but also become the first freshman to capture a first-place finish in an IHSA-sanctioned event.
"There was a packed crowd and it was awesome," Zerafa-Lazarevic said. "It is so much fun and I have a really great team that's full of really great people so I think that I'll be able to do well with them."
140 – Stephany Serna, Joliet Central
Joliet Central claimed its second title when Stephany Serna prevailed in the highest-scoring match of the competition by capturing a wild 26-14 triumph over Olympia/Heyworth's Jordan Bicknell in the 140 finals. The Steelwomen also claimed third and fourth place at the weight class when Ana Franco won by fall over teammate Mariah Crosley-White.
After finishing eighth in the IWCOA finals at 132, the Joliet Central senior looks to finish her high school career on a high note when she gets the opportunity to compete in the IHSA tournament and hopes that she can put her name among the elite wrestlers at her school, which has enjoyed a rich legacy in the sport.
"We've been working really hard in the room and this is my senior year and I think that my hard work has been paying off and I'm happy to get this place today," Serna said. "Competition between girls and boys is really different so I'm excited for our girls to have their own division for the first time and I'm excited to compete. It was really exciting especially with all of the people that were here and I'm just really happy to put everything out on the mat and to get first today. On the wall there's a lot of boys' names so we just want to keep adding girls' names onto the wall."
145 – Attalia Watson, Homewood-Flossmoor
Attalia Watson became the first Homewood-Flossmoor girl to capture a tournament title after she won by fall over West Aurora's Dyanni Rivera in the 145 finals to finish with two pins and a win by technical fall. Ottawa's Sara Meyer captured third place when she recorded a pin against Canton's Aubrianna Putman.
The Vikings junior is looking forward to seeing her program start making its mark at a school that has enjoyed success in most of its girls programs and also is excited about seeing the growth of her sport throughout Illinois.
"This was fun and It was really interesting and eye-opening to see how many girls were here," said Watson, who's a junior. "There was a lot of good things, especially since a lot of them are new, and they've come a long way in the first couple of weeks since we started. The IWCOA state was out of season so a lot of girls didn't compete in it but now that we have a state tournament in season, a lot of girls will be able to compete."
155 – Valeria Rodriguez, Schaumburg
Schaumburg's Valeria Rodriguez picked up her team's second title of the day after recording a pin against Andrew/Sandburg/Stagg's Amber Schwider in the 155 championship in a matchup of two placers from the IWCOA finals where Rodriguez was sixth at 160 and Schwider was eighth at 152. For third place, Larkin's Giselle Ayala, who took fourth at 152 in the IWCOA finals, won 7-0 over Plainfield South's Teagan Aurich.
The Saxon sophomore went 4-0 on the day with three of her victories coming by fall to become one of three individual champions who helped their team to capture top honors in impressive fashion. She was pleased to see her and her teammates compete at a high level against the quality field that participated in the tournament.
"I think this is a really good opportunity for all of us," Rodriguez said. "We're from Schaumburg, so we really don't see a lot of these schools so this is the first time that we get to get experience against everyone else."
170 – Arie Johnson, Richwoods
Richwoods' Arie Johnson, who captured the 152 state title at the IWCOA finals in June, gave the Lady Knights their second
championship of the day when she posted a 7-2 victory over West Aurora's Ionicca Rivera in the 170 finals to follow up on three falls. Thesenior standout doesn't just compete in wrestling, she's also a member of Richwoods' cheerleading team. Morton's Kristiana Bass claimed third place after recording a fall against Andrew/Sandburg/Stagg's Emma Akpan.
190 – Maria Ferrer, Larkin
Larkin's Maria Ferrer recorded four falls, including one in the title match against West Aurora's Brittney Moran, to lead the Royals, who had three of their four individuals place in the top-four. Ferrer, a junior, was the IWCOA champion at 170 and now owns a 21-match winning streak over the past two seasons. In the semifinals, Moran beat Richwoods' Jaida Johnson, who placed third at 170 in the IWCOA finals. Johnson went on to claim third place with a 10-0 victory over Normal West's Henriette Bustgaard.
235 – Lili Reyes, Schaumburg
Lili Reyes capped an historic day for Schaumburg by claiming her team's third championship in the competition. In the 235 finals, Reyes, who was the IWCOA champion at 220, won by fall over Homewood-Flossmoor's Ini Odumosu to claim the title with her fourth pin of the day. Host Normal Community received a 3-0 victory from Shelby Hailey in the third-place match against Joliet Central's Janiya McMurtry.
Beside hoping to become one of the first individuals to capture both IWCOA and IHSA championships in the sport, the Saxon junior is excited about what her program might be able to achieve during this truly historic season.
"This is a really good feeling," said Reyes. "It feels like all of the hard work that we've been doing is really paying off. It's great, it's a new feeling for everything. With all of the new girls stuff that has been opened up, so many more girls are joining because of that."
Normal Community wins title at own junior-varsity tournament
The hosts claimed top honors in the junior-varsity boys competition as coach Trevor Kaufman's Ironmen scored 197.5 points while Mahomet-Seymour was second with 150.5 points and Gibson City-Melvin-Sibley/Fisher beat out Pontiac by a 115.5-110 margin to claim third place honors. Ten of the teams in the 31-school field won individual titles.
Capturing titles for Normal Community were Caden Correll (106), Dylan Conway (126) and Jayden Campbell (132). Mahomet-Seymour's Deandre Hughey (145) and Camden Harms (285) also won titles and Gibson City-Melvin-Sibley/Fisher received title wins from Shawn Schlickman (120) and Gavin Johnson (220).
Other tournament champions were LeRoy/Tri-Valley's Kobe Brent (113). Metamora's Dylan Baitinger (138), Pontiac's Dylan Ramsey (152), Centennial's Leon Gordon (160), Richwoods' Gabe Martinez (170), East Peoria's Kaden Rowland (182) and Peoria High's Malachi Washington (195).